Connect with your audience and keep them informed when you publish new content on your Ghost publication with built-in email newsletters.
Ghost can be used to send different kinds of emails to your audience depending on your email design settings. For example, you can deliver:
Simple emails — Send emails to your members that look more like personal letters, notes, or survey invites.
Announcements or marketing emails — Promote your paid subscriptions and special offers, or send announcements.
Roundup emails — Share a roundup of your latest posts, or share curated articles from around the web.
Newsletters — Send the content you publish on your site in a post format, with the post titles and feature images included.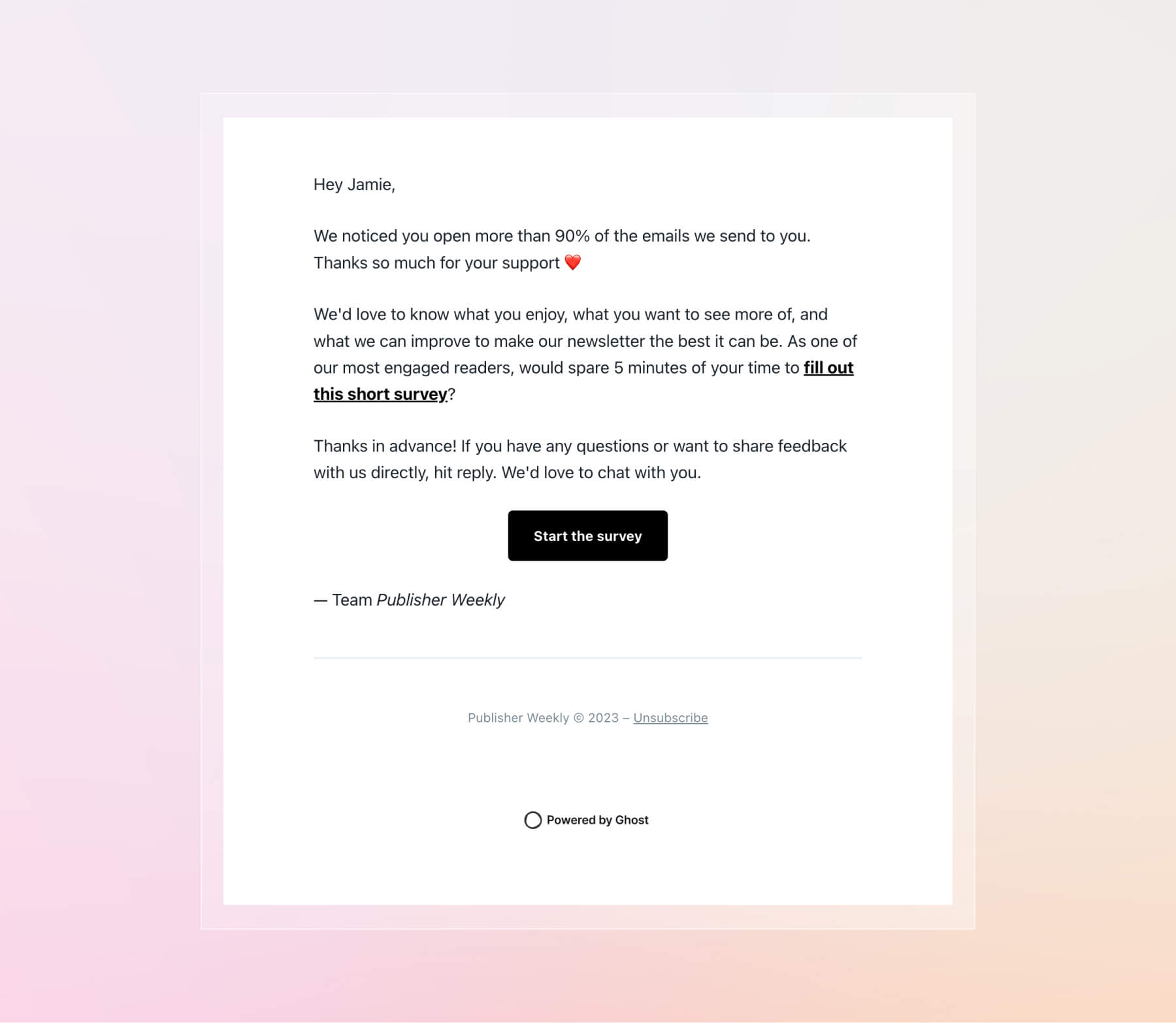 1. Create a new post
Using the editor, create a new post and start writing your email newsletter. You can use any of the dynamic cards in your email, including email content and calls to action, and Ghost will handle delivering that content in your newsletter.
2. Preview
Clicking on Preview shows you how your content will look when published across the web, in an email and on social media.
Ghost uses a clean, optimized HTML email template and renders your content beautifully in all popular email clients.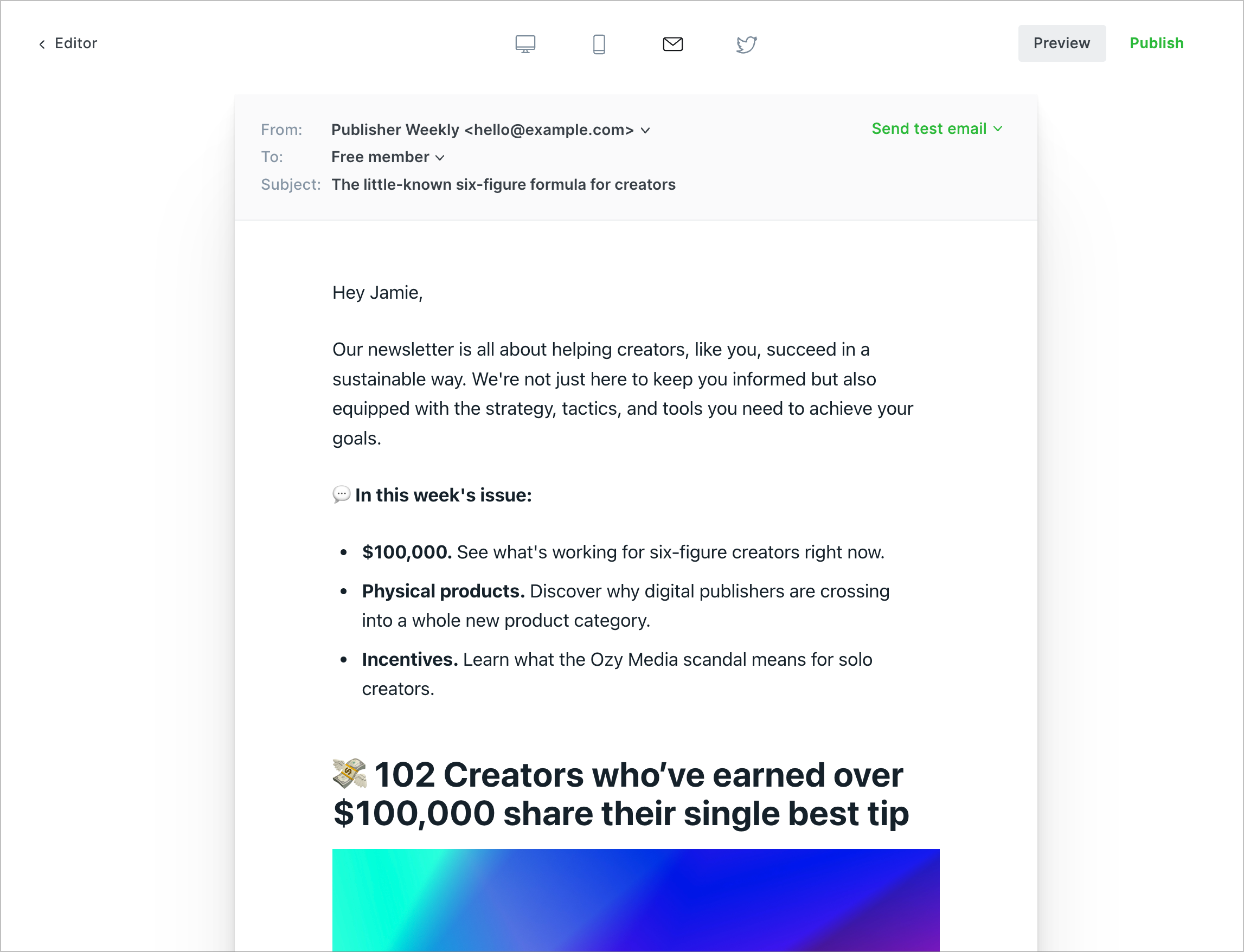 If you'd like to see how your email newsletter will look in an inbox prior to sending it to your member list, send a test email to yourself from the preview area.

By default, Ghost will use the post title as the subject line of your email newsletters. If you'd like to customize the subject line, this can be done from the preview area.

3. Send your email
When you click Publish, you'll be guided through all of the publishing options. The first step is to decide how you'd like to publish you content from one of the following options:
Publish and email — ideal for publishing new posts and sending directly to subscribers at the same time.
Publish only — for when you don't need to send a newsletter but would like to publish new content.
Email only — deliver a newsletter without publishing, great for sending a roundup of the latest content or to promote a special offer to free members.

Ghost allows you to deliver emails to any segment of your members based on any combination of which newsletter they're subscribed to, their level of access (free, paid or a specific tier), and by using labels to select specific people.
Use the publishing menu to decide which members your post will be delivered to: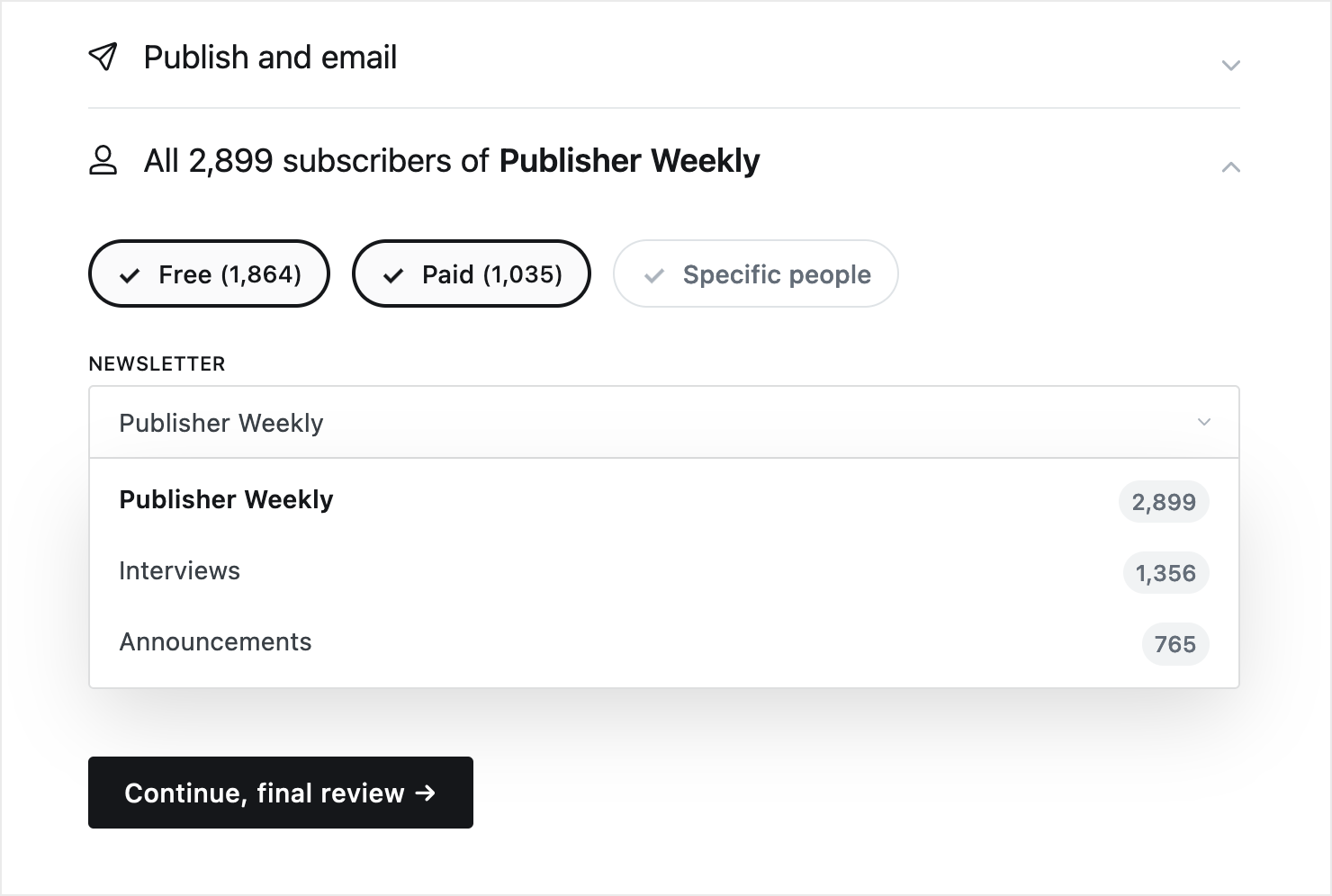 Before hitting send, you'll see a summary of what you're going to publish, and who you're delivering emails to. You can go back at any time to change your publish settings, or head back to the post preview to make sure your content looks good.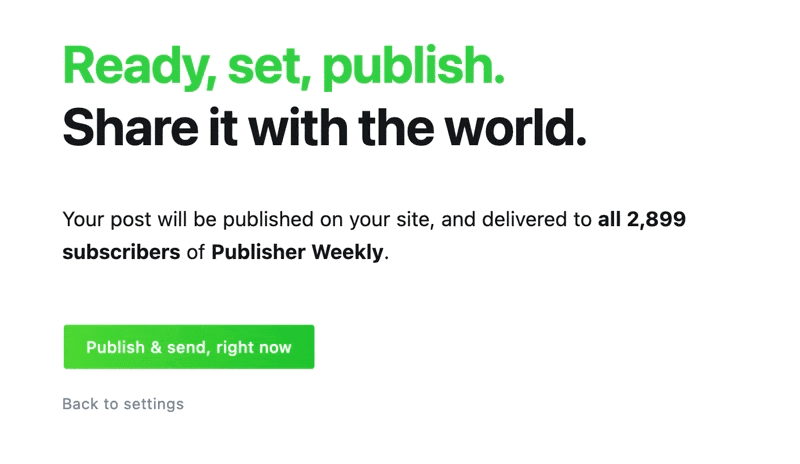 💡
Emails sent from your Ghost publication include an unsubscribe link by default, so your subscribers can decide if they'd like to receive future emails from you. This won't affect their membership status to access the content on your site.
---
Newsletter analytics
Once content has been delivered to your members as a newsletter, you'll have access to post analytics, and plenty of insights to find out how your content is performing.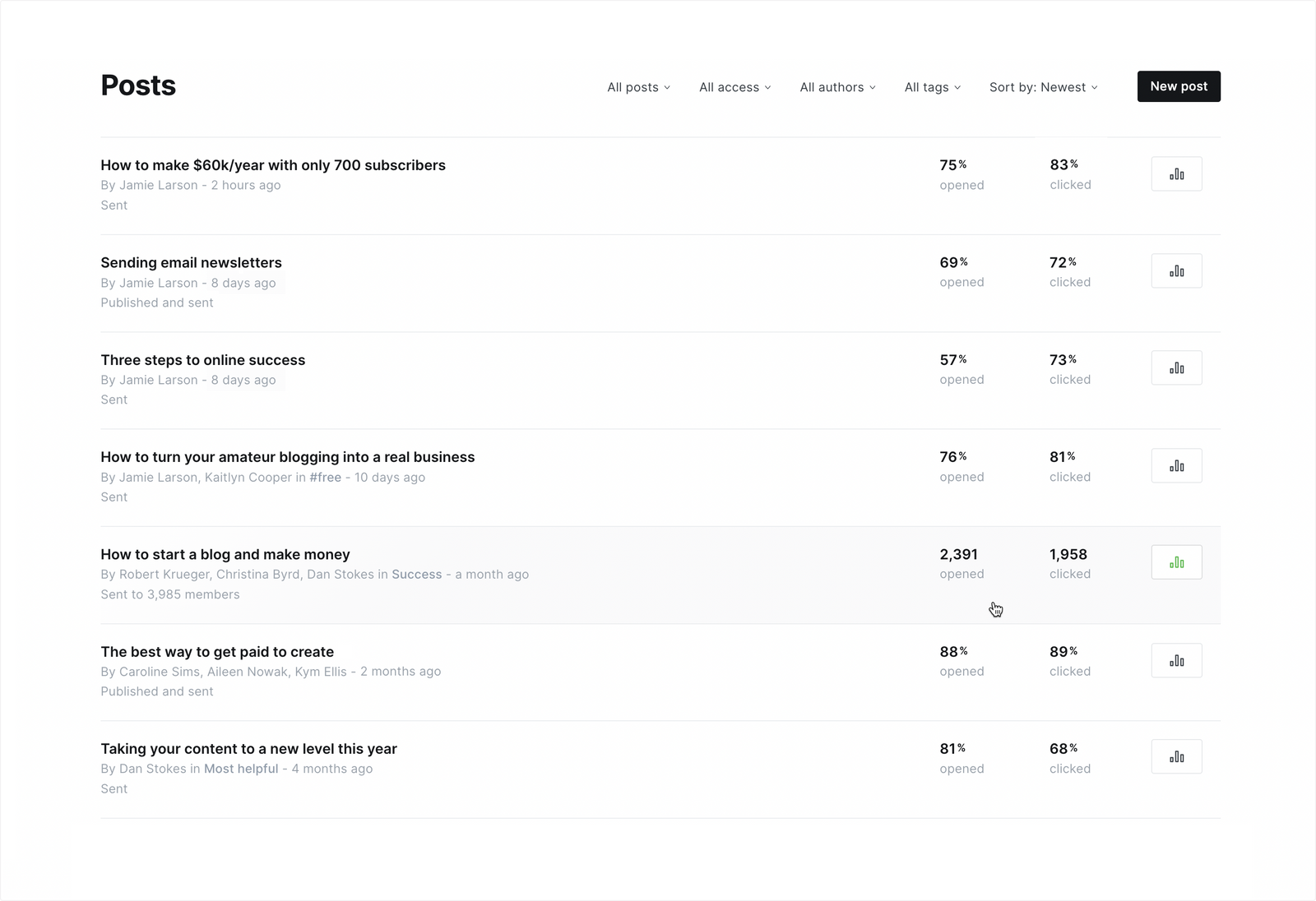 The full post list shows the number of opens and clicks for all posts that have been delivered as a newsletter:
Opens indicates the number of members that opened the newsletter.
Clicks indicates a count of the number of unique members that clicked any link contained within your newsletter.
Each individual post also has it's own analytics page with lots more information about your newsletter sends, including audience feedback, and detailed newsletter click data: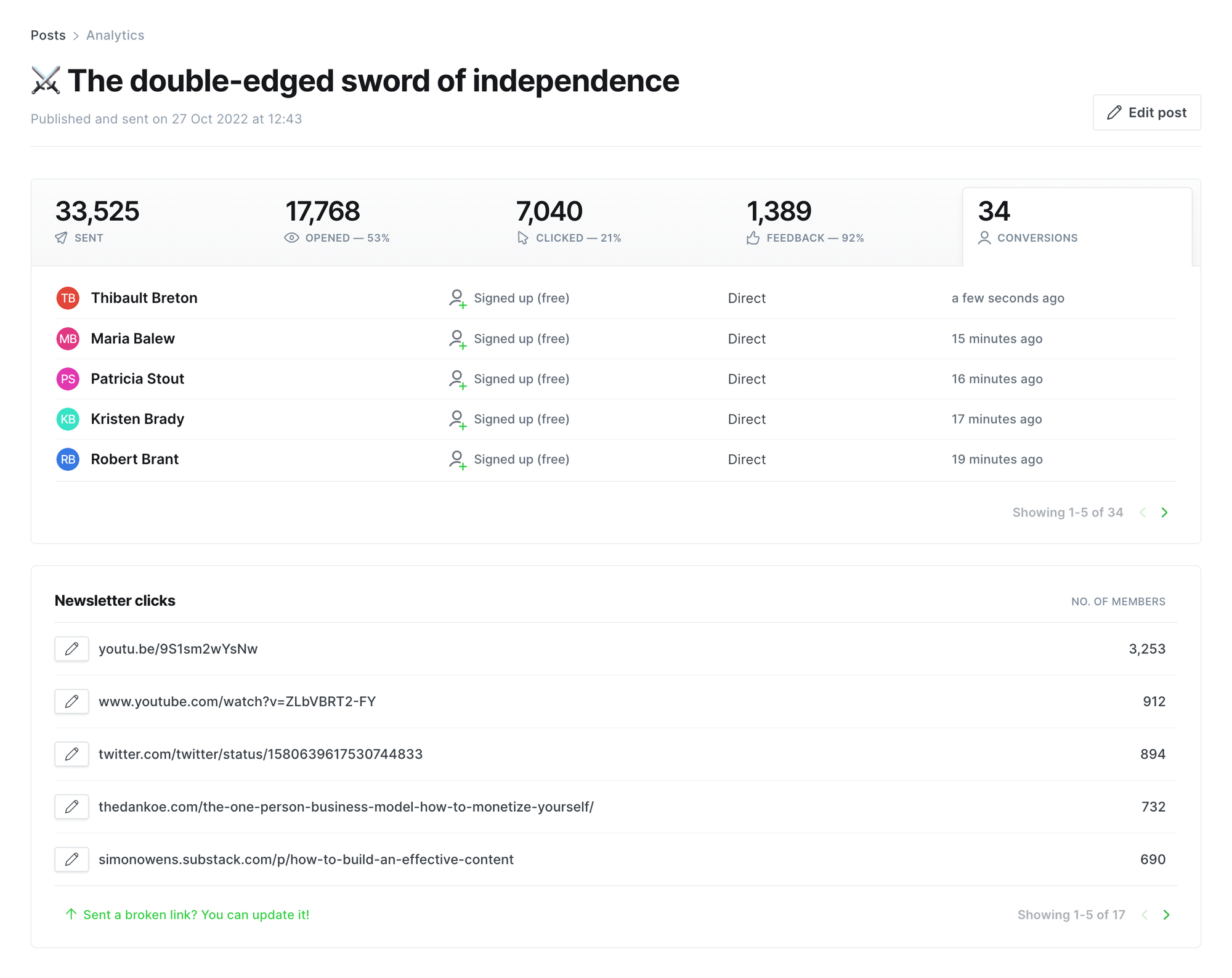 To get the most out of newsletter analytics, checkout the guide on understanding post analytics in Ghost.
---
Further reading