How to increase the open rates of your email newsletter
Everyone wants to get more subscribers to open more emails, and these tips will help you do that.
---
It's not uncommon for writers to spend hours, days, and even weeks creating an effective email. Whether it's the latest edition of a newsletter or a surprise announcement for a new product, crafting a great message takes research, planning, and editing.
But no matter how excellent your email may be, whether a reader engages with it or not comes down to one single factor: the open rate.
A great newsletter no one opens is a wasted effort. A surprise sale customers ignore is a missed opportunity.
This article offers 8 ways to increase your open rates so that every email sent accomplishes its goal.
💡
Pro Tip: Open rates are only one way to measure the success of your email campaigns. However, they can have a direct impact on your monetization strategies, such as the amount you're able to charge for sponsorship spots or the conversion rates to premium offerings. By increasing your open rates, other important metrics will follow suit.
#1 Write great subject lines
Subject lines are the first thing readers see when they open their inbox. Because of this, there's an entire science to generating the most clickable email subject lines.
Here are a few of the most helpful tips you can implement right away:
Shorter subject lines tend to work best (5 – 10 words)
Reference your brand directly in the subject line
Limit the number of emojis and punctuation used
Include a bit of personality so readers learn to recognize your sends
Use headline analyzer tools to guide word choice (see our recommendations on this newsletter checklist).

Great subject lines are subjective. Different ones work best for different types of content and audiences.
For example, Ghost's Publisher Weekly newsletter experienced an increase in open rates when the subject lines included "how to" statements. By using this phrasing more frequently, the newsletter now has a consistent open rate of at least 43%.

#2 Create a professional sender name
The next most visible element of your email will be the sender's name. Like subject lines, this element should align with what your audience expects to receive.
Some emails use the company name in the "From" portion, while others choose to put an individual's name. There are pros and cons to both.
If your communication is more conversational or personalized, consider using an individual's name (like your own). If the message is intended for a professional audience, stick with the company or product's name.

Along with the sender's name, it's important to ensure the email address is also optimized for professional communication.
A custom address linked to your company's URL (e.g., sarah[at]company.org) will build more trust with your customers than a personal one your audience may not recognize (e.g., cupcake99[at]hotmail.com).
#3 Avoid spam filters
One of the most common hurdles to email deliverability is having your messages accidentally marked as spam by your customers' inboxes.
By following the first two tips mentioned above (writing good subject lines and using a professional sender name), you'll be ahead of many creators.
Spam filters are usually activated by:
Strange sender names that use confusing abbreviations or untrustworthy URLs.
Trigger words such as "free," "act now," or "please read."
Emails stuffed with too many images or links.
A recommended step is to pass your email through an inspection tool to see what suggestions it has for eliminating potential spam triggers. Mailgenius, Mail Tester, and GlockApps all provide free versions of their deliverability tools to review your content.
As an example, MailGenius gives Publisher Weekly #154 a score of 88/100. Most of the core elements passed the test such as having a clear subject line, no broken links, and a trusted domain name.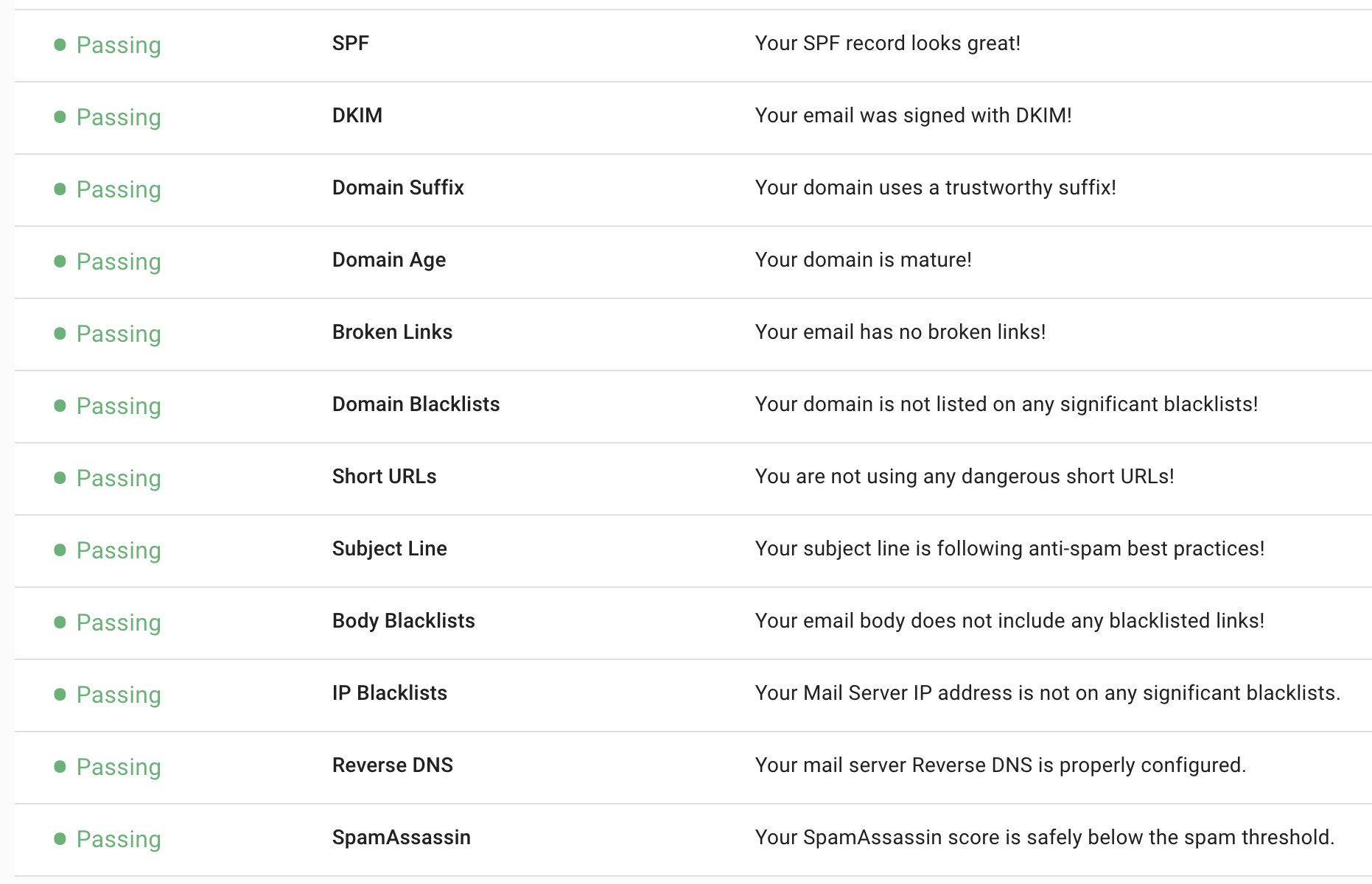 The service did offer three suggestions for improvement: include fewer references to financial terms, shorten hyperlinks to 120 characters or less, and include no more than 12 links per email (which can be difficult for curated publications, like this one).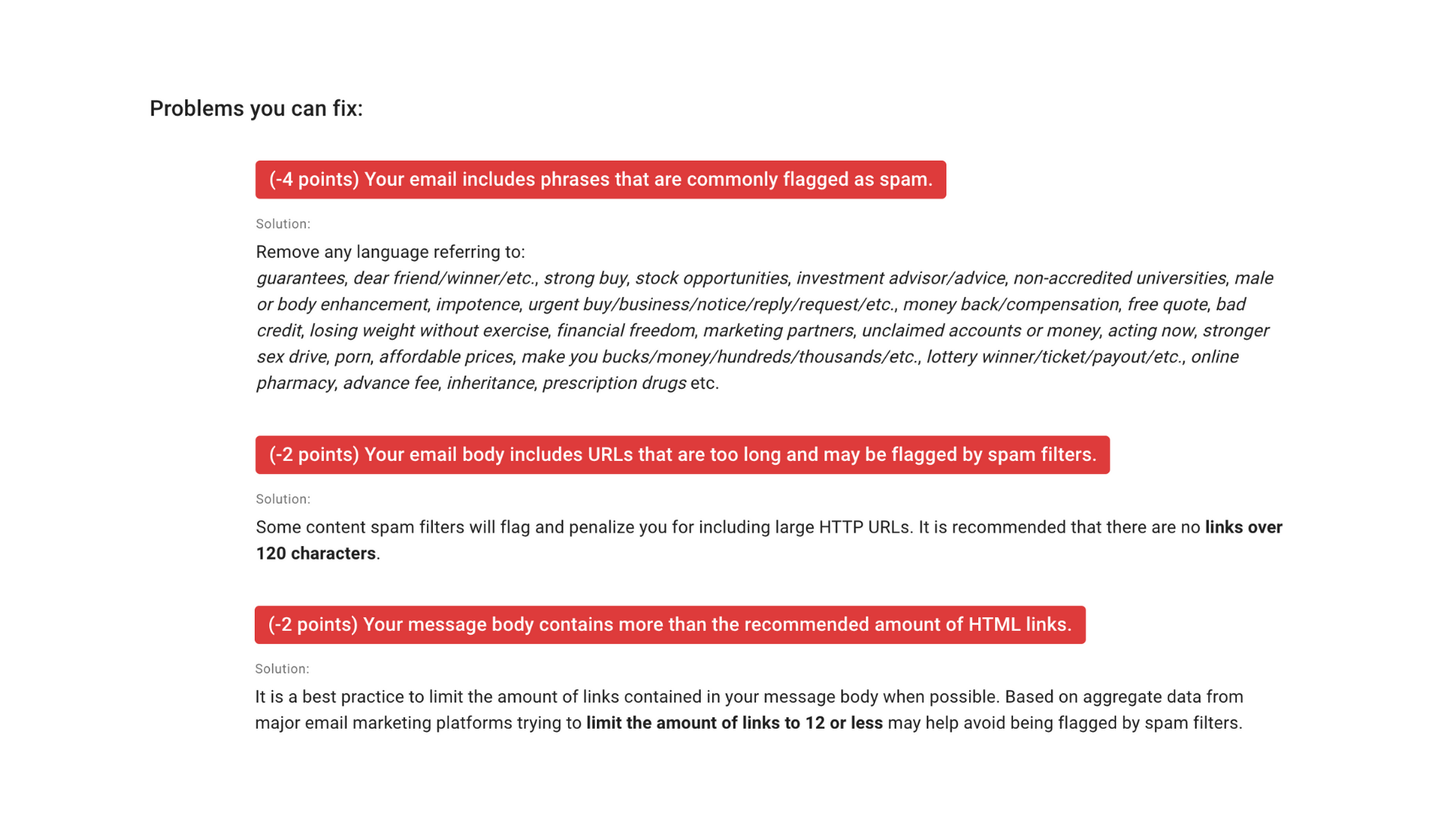 #4 Send your emails on time
Sending emails at the same time, day after day or week after week will build trust with your audience and consistency in your open rates.
Managing subscriber expectations is one of the least discussed elements when it comes to increasing email open rates, but it can have a dramatic impact when done correctly.
When a new visitor subscribes to your newsletter or email list, tell them when they should expect to hear from you again.
Do you send a new message daily, weekly, or monthly? Is it always on the same day of the week or does it fluctuate? What time should they expect to see it hit their inbox (morning, afternoon, or evening)?

Communicating these details helps customers know what to expect and shows that you, the creator, have also thought through these particulars.
💡
Pro Tip: In Ghost, you can schedule posts and emails ahead of time so that they always arrive exactly when they're supposed to.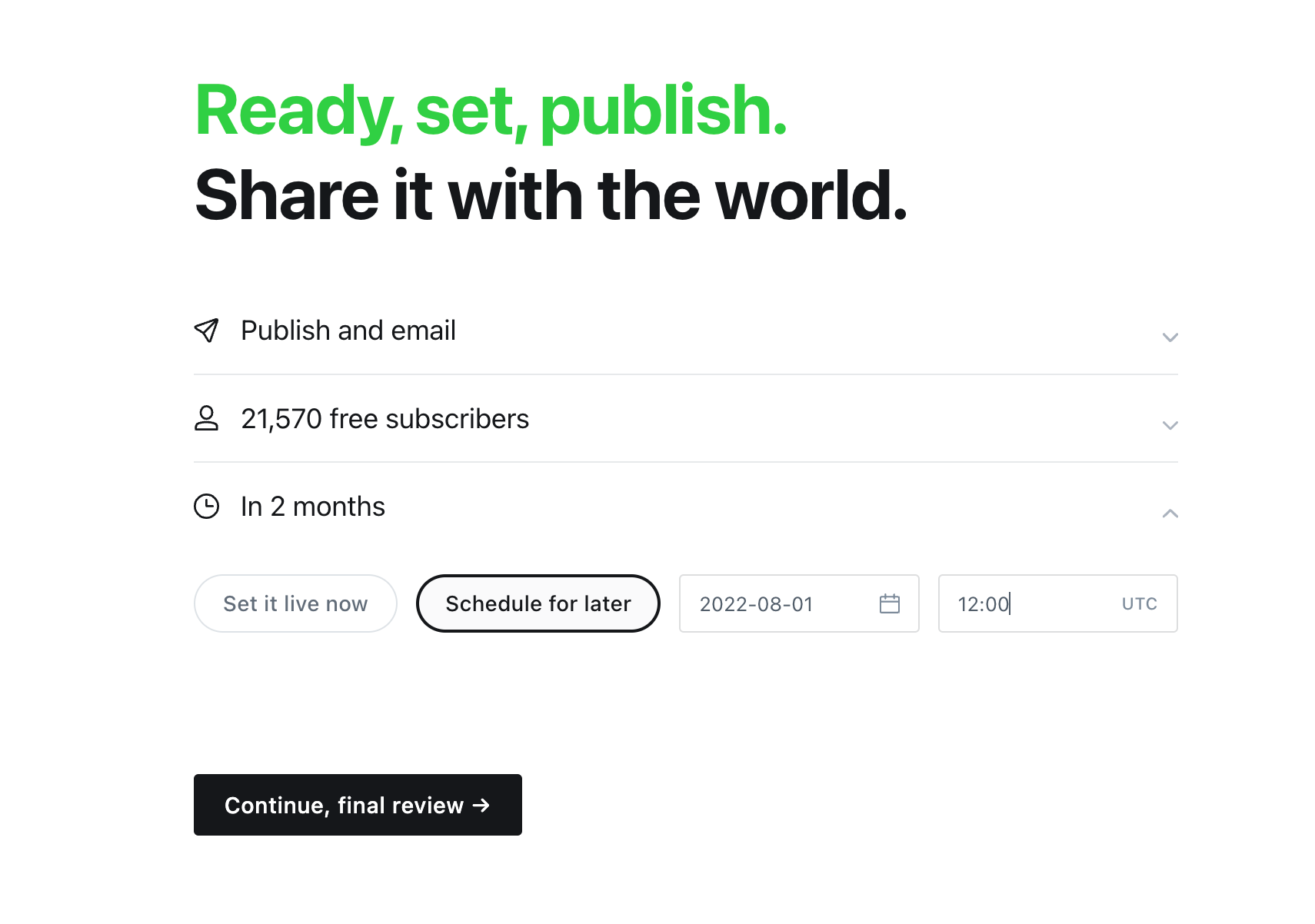 #5 Only send subscribers what they asked for
Another component of managing subscriber expectations is to create an enticing value proposition and then deliver on it.
Suppose a reader wants to receive weekly insights about the shoe industry, but instead, you send them vegan recipes. In that case, it should come as no surprise when they stop opening your emails and eventually unsubscribe.
Although this is an extreme example, natural changes to your content over time are expected. The best way to deal with these changes is to proactively communicate them with your audience.
On your homepage or landing page, explain the type of content customers can expect to receive (and if it might vary).
If there's a topic a portion of your members is especially interested in, consider segmenting your list so that you can send them additional, targeted content.
Create a one-off special edition of your newsletter or insert a dedicated section into your standard email to test new content with your audience.
#6 Segment your email list into groups
As mentioned in tip #5, segmenting your list allows you to send different types of content to specific groups of your audience.
Segments also allow you to change the frequency of content.
For example, Product Hunt's popular newsletter is a daily digest of new products, software deals, and industry news. They also have a weekly digest option that takes the top items from each day and delivers them in a summarized format every Monday.
In Ghost, you can segment your audience by using labels. These allow you to add descriptive elements to your members, such as their profession or the type of content they produce. Then, when you want to reach out to their group, you can choose the "Specific People" option in the editor and select the appropriate label(s).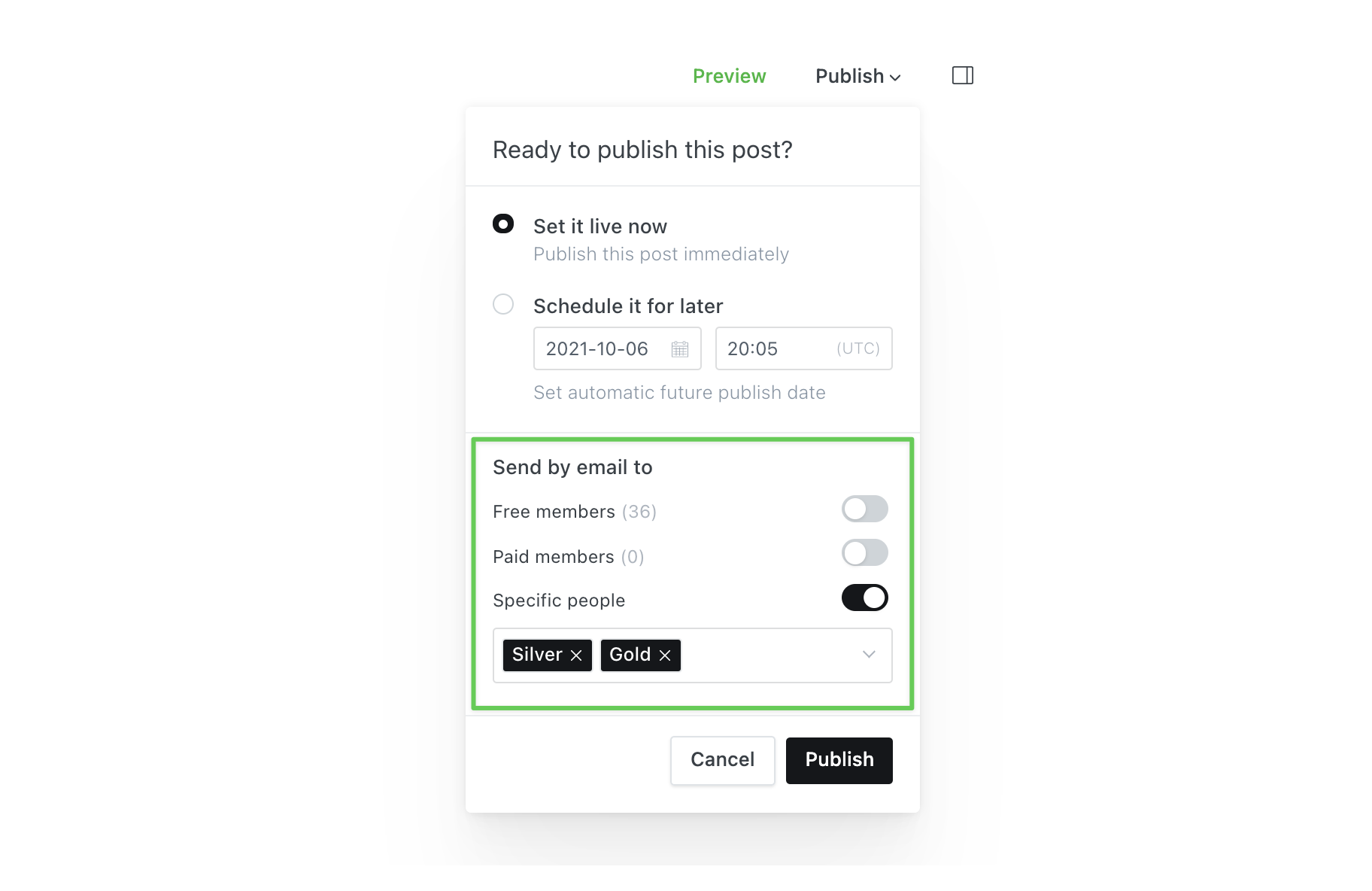 Using groupings like these will increase your open rates by ensuring your customers' expectations are met, and they only receive the type of content they want when they want it.
#7 Keep your list clean and up to date
Like subject lines, list cleaning is a broad topic with a scientific approach to doing it correctly. However, the most effective steps are also some of the simplest ones to implement.
Use double opt-in for new subscribers to avoid spam sign-ups (Ghost does this automatically).
Keep subscribers' information up to date by sending them periodic questions or surveys.
For readers with low open rates, send them a targeted message to reengage them. This strategy is called a win-back campaign.
Remove inactive subscribers. A smaller list with a higher open rate is more useful than a bigger list with a lower one.
Ask readers to add your "from" address to their contact list of trusted senders.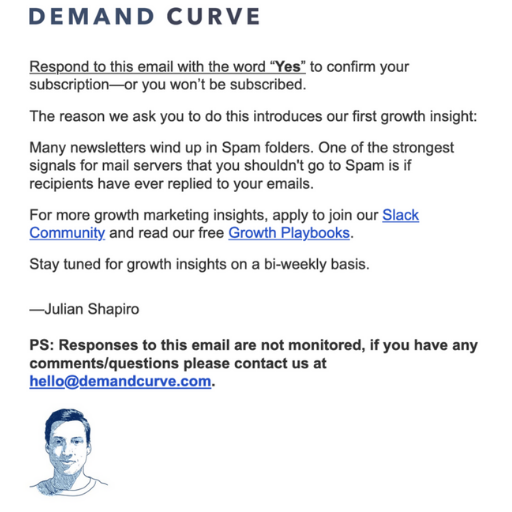 A clean list is like a pruned plant. Plants that get regular prunings grow faster, stronger, and healthier. The removal of dead parts also discourages further damage from pests.
Clean lists are cheaper to maintain, receive fewer spam reports, and lead to more effective monetization campaigns.
#8 Always preview your emails before sending
Today, the majority of emails are opened and read on mobile devices, even though most creators use desktops or laptops to compose them.
This disconnect can lead to poor user experiences: images that don't quite fit, spacing or formatting that hurts readability, and items that won't appear on mobile email applications or smartphone browsers.
One way to preemptively resolve this issue is to preview what your email will look like in different formats.
Ghost users can see four different previews of their content directly in the editor:
Desktop
Mobile
Email
Social media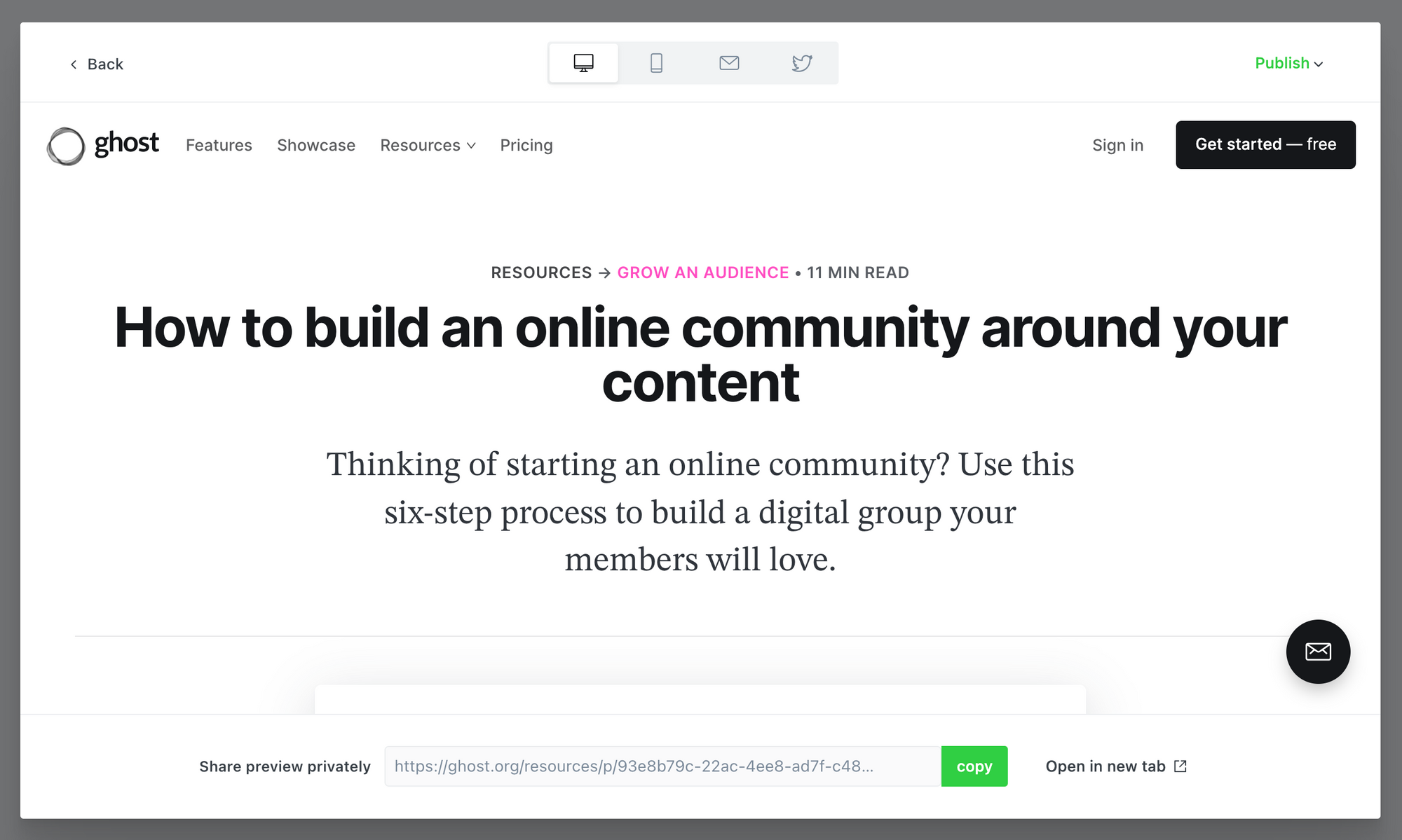 This feature enables you to catch and fix any problems before they reach your customers. In turn, better experiences will lead to higher, more consistent open rates.
How to measure your success
You might be wondering how to measure your email newsletter open rates over time after you've implemented these tips, or what is considered to be a good open rate.
The average open rate as depicted by several studies such as this one by GetResponse can range from 15% to 30% depending on your audience and industry. However, these studies are generally based upon samples of more traditional email marketing.
When it comes to email newsletters, average open rates are often higher than this. For example, our free newsletter Publisher Weekly receives a consistent open rate above 40%.
Another good way to source benchmark data is to take a look at newsletter sponsorship marketplaces like Letterwell, a public database of popular newsletters that displays their average statistics. This resource allows users to filter by category, location, and language to discover what the standard is for any given niche.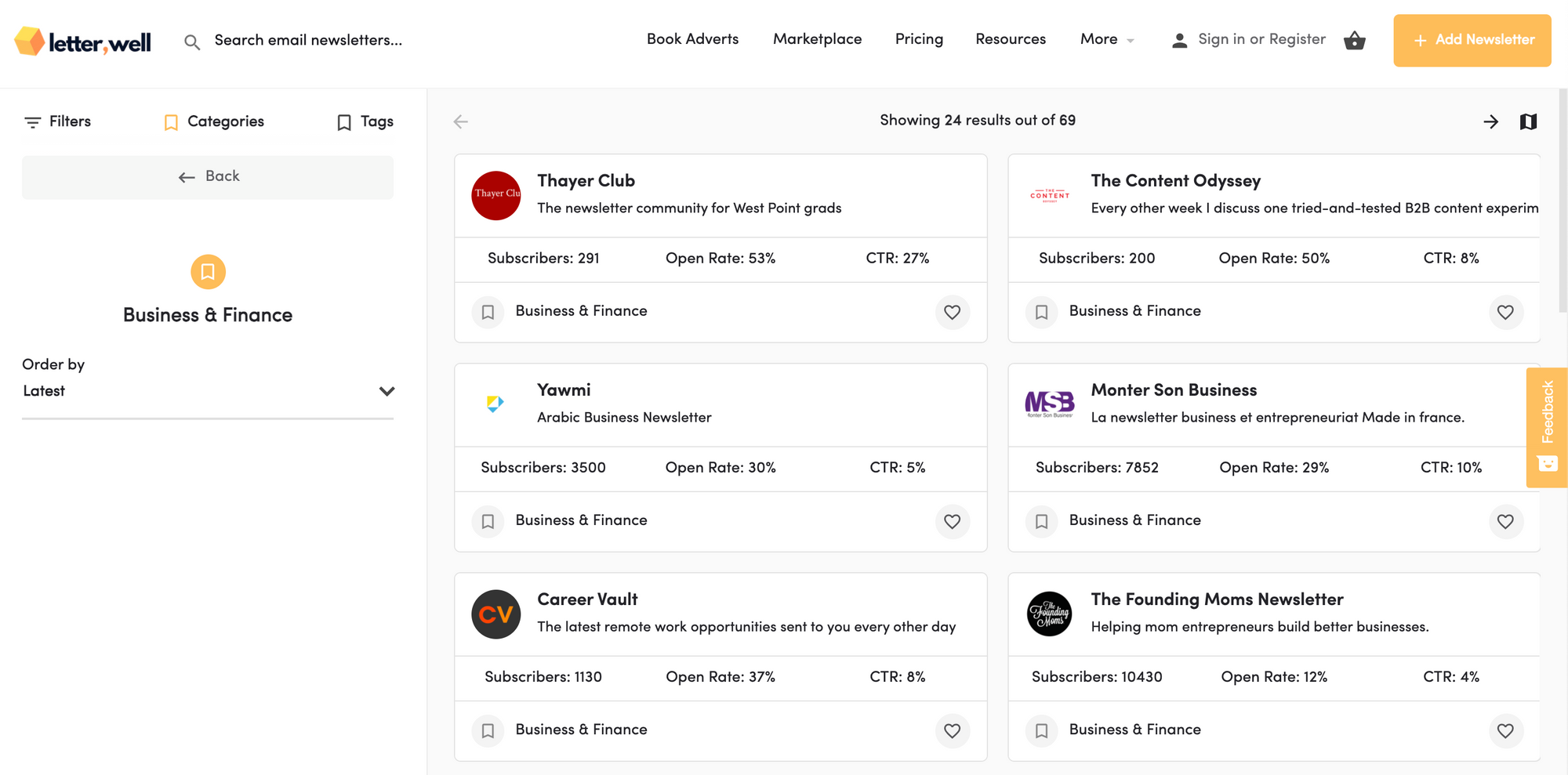 While benchmarks like this are certainly useful, the most important benchmark to take notice of is your own. It's important to measure your own open rates over time and to take into consideration the things which may have impacted its growth or decline.
Remember, if you're seeing a consistent decline in open rates (over several weeks), then it's probably time to revisit the tips in this article and focus on making your content deliver as much value as possible.
Iterate your way to better open rates
These 8 tips will help you increase your open rates one element at a time.
Be willing to experiment with your content, see what your audience responds to, and iterate as you continue your publishing journey.
Open rates can be a tricky metric to master. But at the end of the day, doing the basics well is what will keep readers engaging with your content.
---