How to get paid sponsorships for your email newsletter
Ready to incorporate sponsorships into your newsletter? Read this first.
---
It's time to monetize your newsletter, and you've answered "yes" to the question, is sponsorship right for me?
So, what are the next steps you need to take in order to secure your first sponsor? What do you need to know and do to stand out from the competition?
This article will walk you through:
the different types of sponsored content used in newsletters
what pricing models are available
how to attract sponsors that align with your audience and content
and where to find ready-to-pay sponsors.
By the end of this post, you'll have a clear action plan for landing your first newsletter sponsorship. Let's begin!
Why are newsletters attractive to potential sponsors?
Email communications possess some of the highest ROI figures of any marketing channel, with some studies showing that advertisers can achieve nearly $38 for every $1 invested in email campaigns.
All that is to say, by creating a newsletter you are building an incredibly valuable asset.
Attracting initial sponsorships can be challenging when you're unfamiliar with the process and when advertisers may be unfamiliar with your product. But it's essential to enter the process fully confident of the value you bring: a devoted audience, solid content, and a fresh perspective people are eager to read.
Keep this context in mind as you decide how sponsorships will work in your newsletter.
Step 1: Choose what kind of sponsored content to include

The first step to landing sponsorships for your newsletter is to decide what format they will take.
There are three categories that placements fit into:
Classifieds – typically a 1-2 sentence block of text containing a single, trackable link to the sponsor's product.
Shoutout – a multi-paragraph block placed near the middle of the newsletter. Can include one or multiple links to offer. It's also common for these items to contain different formatting or color options than the rest of the content to stand out.
Deep dive – all of the newsletter's content, or its majority, is dedicated to a single company or product. This option usually combines the newsletter writer's style with the advertiser's marketing goals to create a unique edition.
💡
Pro tip:
You can easily create any of these types using Ghost. You could use
content snippets
to organize classifieds, callout cards and markdown to format shoutouts, tags to categorize deep dives, or a combination of all the above.
It's not uncommon for longer publications to include multiples or combinations of the different types.
For example, theSkimm often uses "sponsored by" advertisements near the beginning of their newsletters and then lists of classifieds near the end.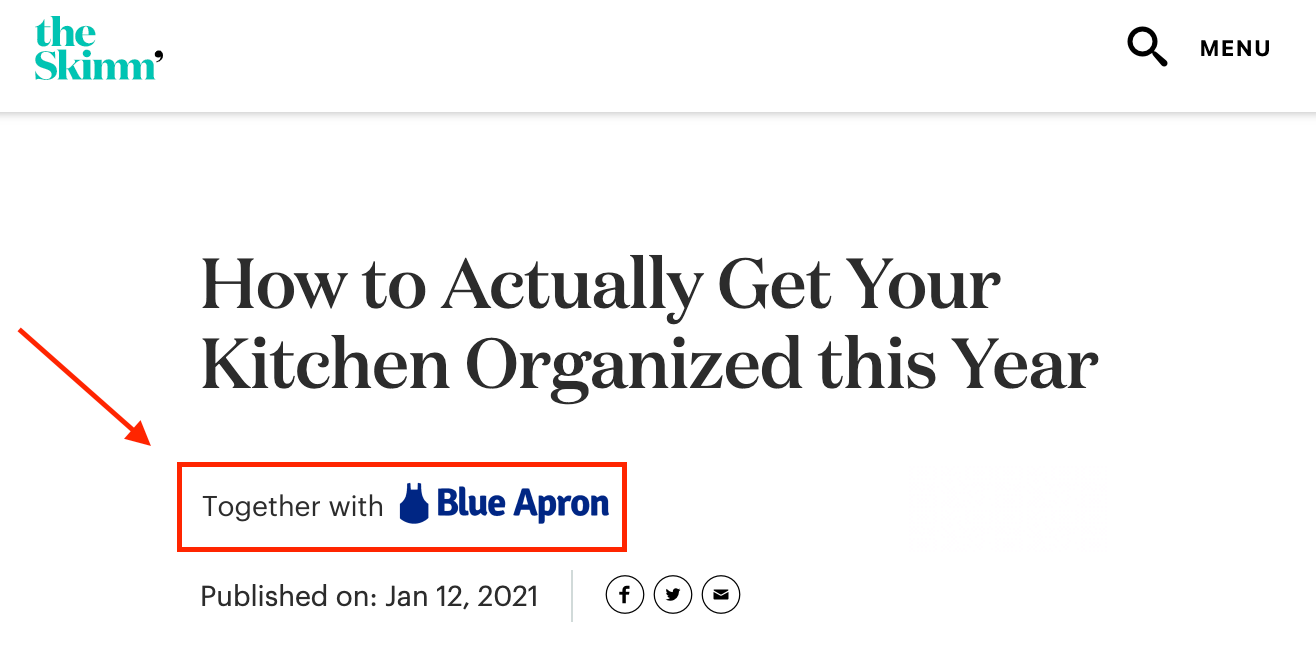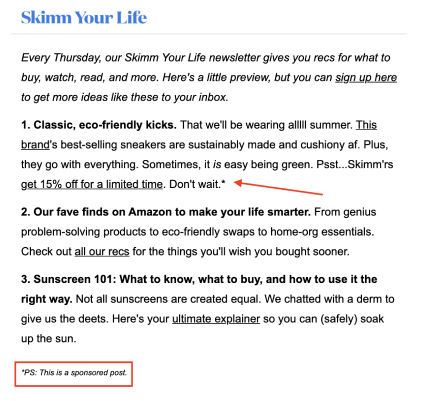 There are pros and cons to consider for each type.
Because classifieds are shorter, it's easy to include multiple ones in the same newsletter. However, these tend to cost less since advertisers expect theirs to appear alongside several others.
Publishers can charge more for shoutouts, but it can be tricky to format these so that they don't disrupt the reader experience. Although it's common for newsletters to pair a shoutout with a list of classifieds, it's a best practice never to include more than one shoutout per issue.
Deep dives are the most premium option and can become a significant revenue source depending on your list size and niche. However, they can take a toll on audience trust if used too frequently or for companies with questionable values.
Take some time to review the newsletters you subscribe to and see how they display sponsored content. How are they formatted, and where are the advertisements located? Do you find them helpful or annoying? What changes would you make and why?
Step 2:  Decide how much to charge sponsors
The next step is to choose a pricing model that can grow with you as your newsletter develops.
If you research how sponsorships are priced, you're going to find lots of acronyms, math formulas, and competing theories about what works.
The best advice is to:
Keep it simple
Price higher than you think
Increase your prices as you grow.
A simple model that many successful newsletters use is to charge in the region of $50 per 1,000 opens based on their average open rates.
The acronym for this would be CPO — Cost Per Open. This is a helpful model because it's based on the real value sponsors receive since they're paying for how many people are likely to see the sponsorship, rather than a model based on the overall size of the list.
Dense Discovery is a great example of this model in action: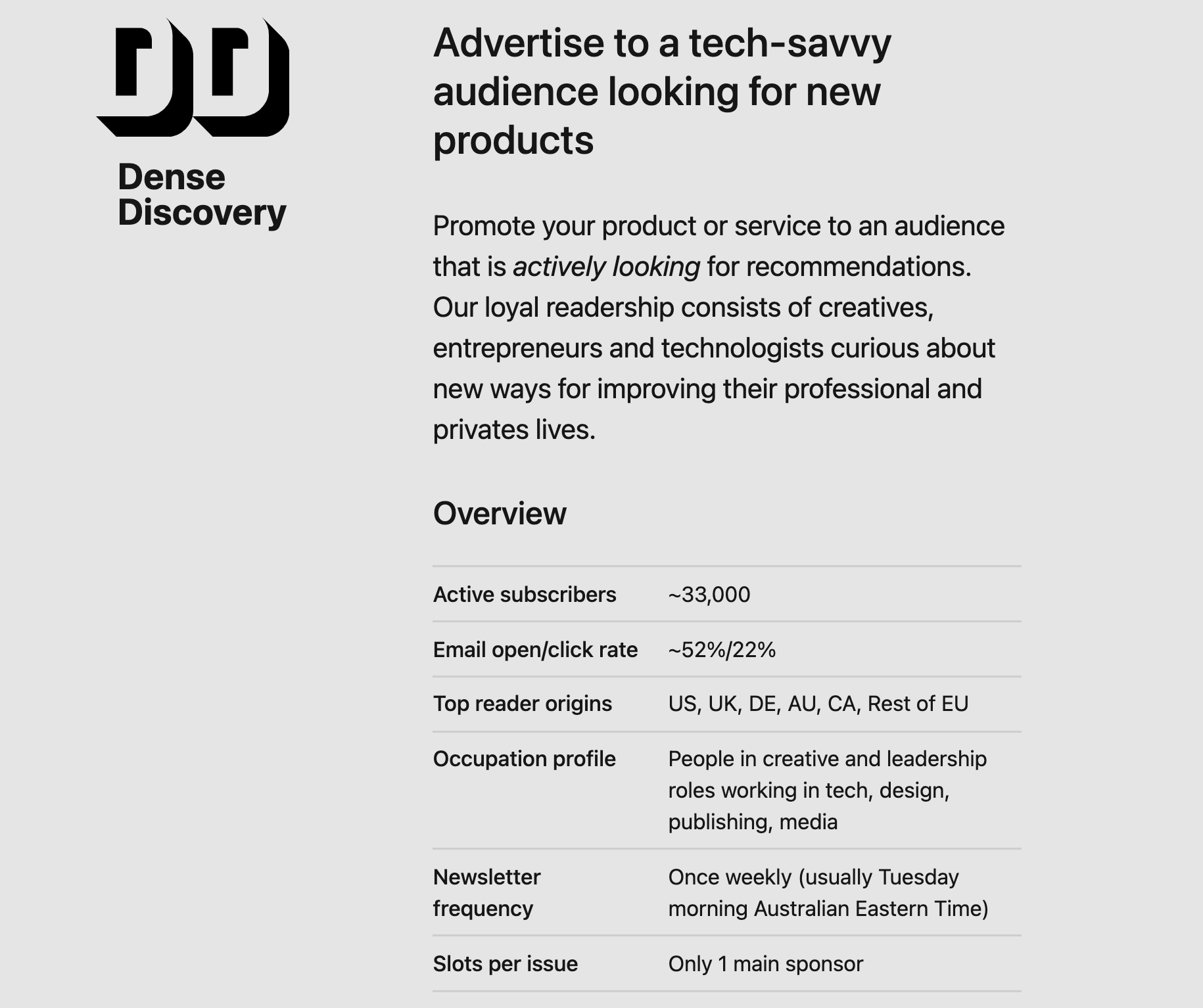 At the time of writing, they have 33k active subscribers and a very admirable open rate of 52% — their main sponsor slots cost $549 and they also offer classifieds at $90 each.
If anything, this newsletter is charging less than they potentially could with such great open rates, but they have been experimenting with this by slowly increasing their prices every few months.
Smaller newsletters just getting started with sponsorships
If you're still working towards your first 1,000 subscribers, the CPO model might not work out to be very lucrative to begin with, so start with a reasonable base price and try to attract sponsors who are well-aligned with your audience and values.
For example, a newsletter with 1,000 subscribers could use the following base pricing as a starting point:
Shoutout – $50 for a main sponsorship slot
Classifieds – $15 for a single sentence slot
Deep dive – $200-$300. Note: this is where you need to be very careful of underpricing your value, since you're giving up an entire newsletter for a sponsor.
As you develop relationships with advertisers and become familiar with pricing tactics, you can begin experimenting with pricing formulas and bundles.
For your first few sponsorships, focus on getting the momentum started. Positive sponsor experiences and testimonials will lead to more opportunities down the road.
Step 3: Create a dedicated sponsorship page on your website
Once you've decided how sponsorships will fit into your content and how much you plan to charge for them, the next step is to compile the information potential sponsors want to see on a single page.
Here are few key items they will want to see:
Audience size or total subscribers
Audience engagement (open and click-through rates)
Reader demographics (where they live, age and gender statistics, income figures, job titles)
List of past sponsors (once you have them!)
The type of sponsorship slots available and how much they cost
Your contact information.
TLDR, a daily tech newsletter, has an excellent sponsorship page that showcases all of the need-to-know information right in between a gallery of logos from past sponsors.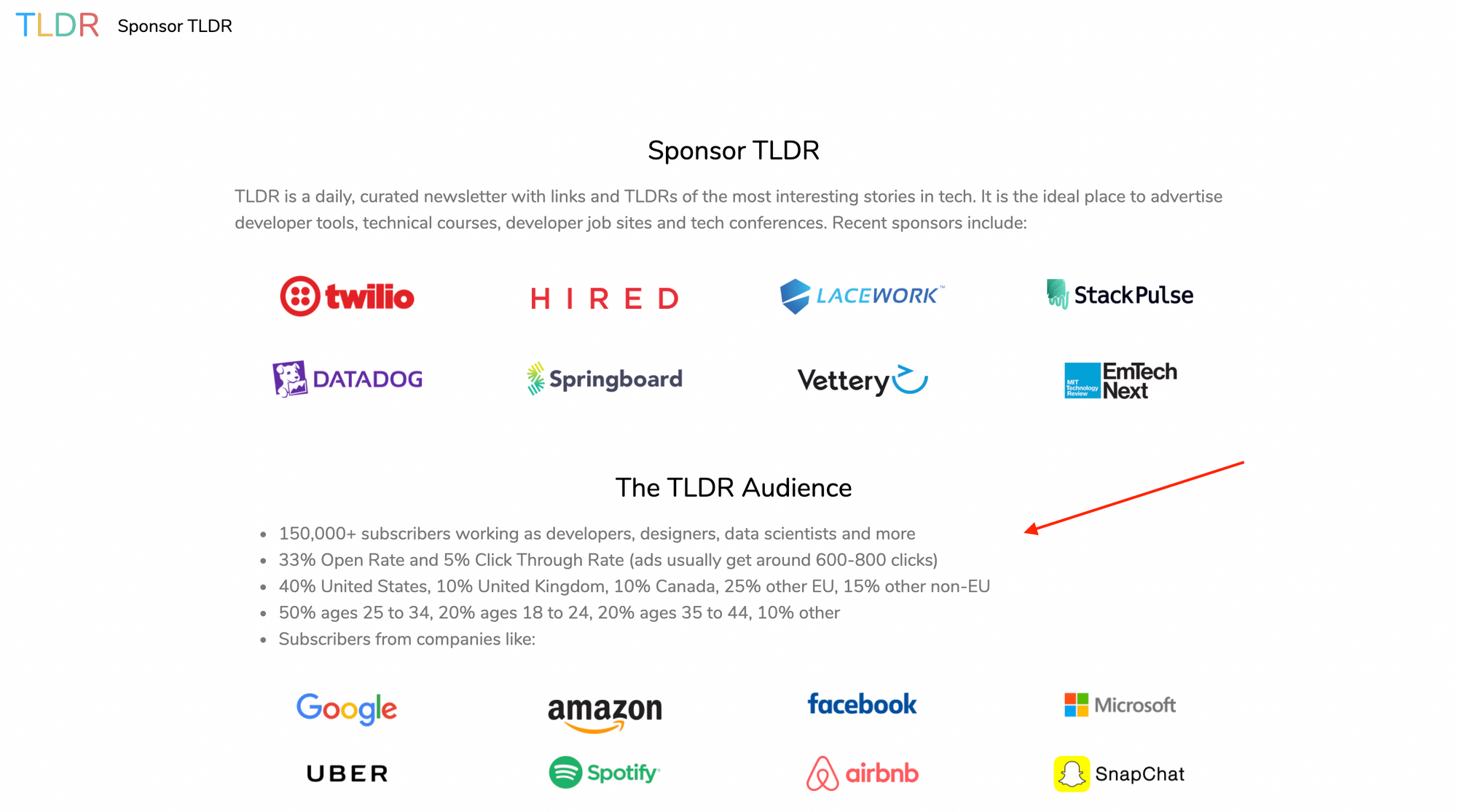 For a more in-depth example, Troy Hunt's sponsorship page includes everything a potential sponsor could want to know, including how their sponsorship will look on their website and newsletter.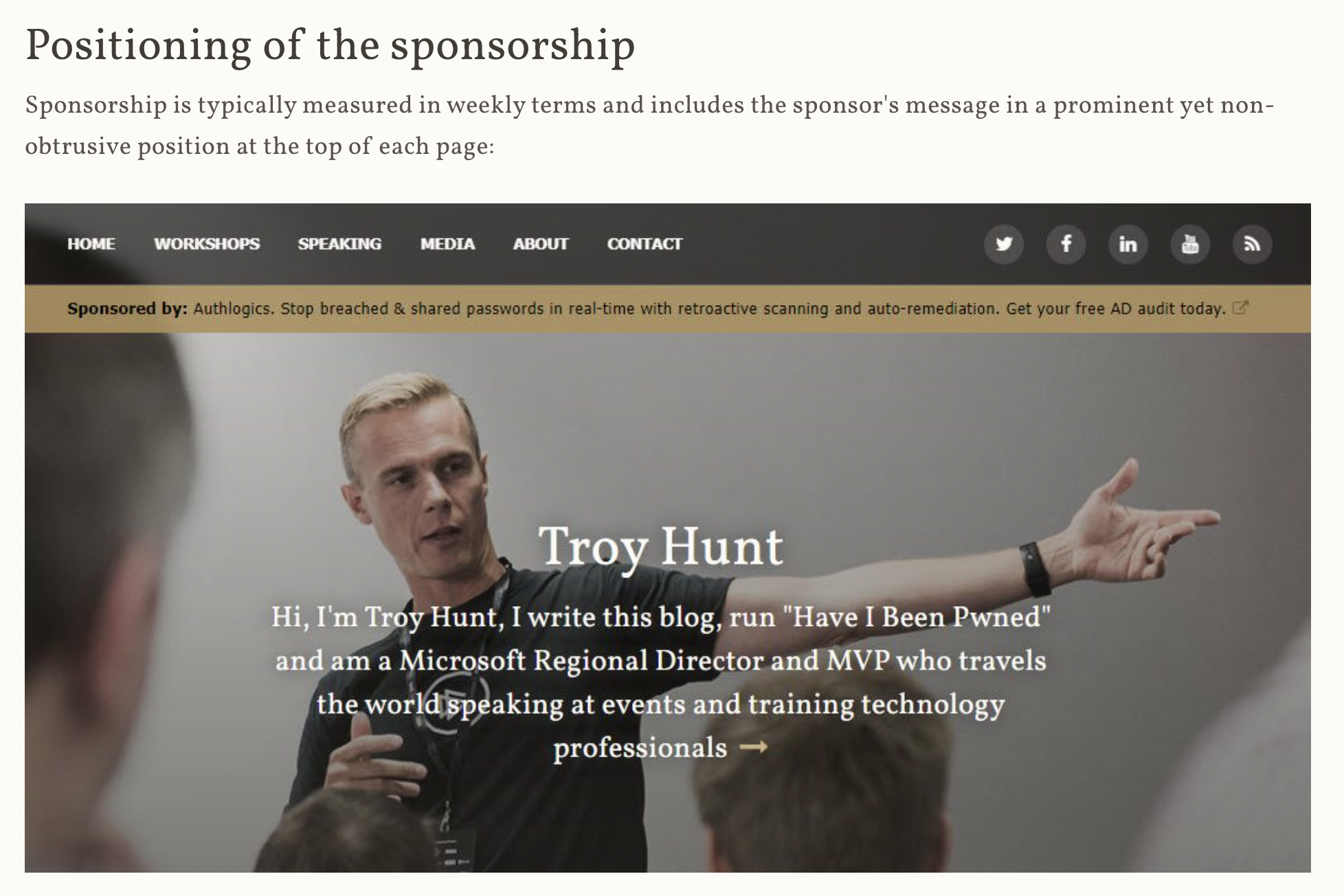 The goal of this page is to make potential sponsors feel confident in their purchase. The more they know what to expect, the more comfortable they'll be making a financial commitment.
Step 4: Make a list of sponsorship questions to guide your search
In the early stages of publishing a newsletter, it can be tempting to take any interested sponsor that's willing to pay. Remember, trust is the most valuable currency there is for creators.
Guarding your audience's trust will pay dividends in the long run and enable you to build a sustainable content-based business.
Here are a few questions to help you filter through potential sponsors.
Does this sponsor align with my readers' interests?
Alignment is critical. The quickest way to erode your audience's trust is to bombard them with irrelevant promotions. Make sure the sponsored content you include meets real, expressed needs.
Is there a possibility of an ongoing relationship?
Unlike subscriptions, sponsorships do not offer a consistent revenue stream. That's why it's important to partner with advertisers who will likely become repeat customers of your newsletter. This allows them to build trust with your audience while providing you with a semi-reliable income source.
Have they sponsored other newsletters?
Convincing a business that has never sponsored email newsletters to begin with yours can be an uphill battle. It's better to go after companies that are familiar with the medium and know what to expect, especially as you pursue your first sponsors.
Are they able to meet your budget?
No one will respect your work until you do. If you begin by offering numerous free sponsorship spots or always providing deep discounts when asked, sponsors will come to expect this behavior in the future. Stick to your pricing and work with sponsors who believe your product is worth it.
List out any additional questions that will help filter your sponsor search.
Step 5: Find and contact your first potential sponsor
At this point, you've laid the foundation so that you can enter conversations with potential sponsors with both knowledge and confidence about your offering.
Locating potential sponsors can be incredibly time-consuming. Thankfully, a number of fellow creatives have made networks (some free, some paid) to connect the two parties.
Below is a curated list of sponsor sources, along with brief explanations of each one. Visit the following link for a complete list of newsletter directories (including ones that attract sponsorships).
Each of these serve a slightly different purpose. A good strategy might be starting with one of the free platforms, reaching out to a handful of potential sponsors, and expanding to additional platforms only after you've signed your first sponsorship deal.
Sponsorships are a long game
Sponsored content is one of many ways to monetize your newsletter. Like most elements in the creator economy, the biggest upsides are reserved for those who are willing to play the long game.
It can be intimidating to reach out to potential sponsors, so remember that many of them are creators just like you. Regular people who are working hard to create something they believe in. And by partnering together, everyone can win.
---