How to get discovered in newsletter directories (+ a complete list)
Use this guide to spread the word about your newsletter with free directories.
---
There's never been a better time to start a newsletter.
However, with so many new voices entering the space, discovery can be challenging. That's where directories and aggregators come in.
They are the perfect additions to a well-rounded creator funnel.
What are newsletter directories and newsletter aggregators?
These tools make it easier for potential readers, sponsors, and fellow niche creators to find your publication online.
Directories accomplish this by providing searchable databases visitors can use to discover newsletters. These tools usually sort publications by specific categories such as travel, politics, food, crypto, and more.
Aggregators promote discovery by sharing your content on their platform. Some aggregators send readers samples of various newsletters, while others create feeds that users can browse.
Benefits of using newsletter directories
There are a few common benefits to using directories and aggregators, especially for greener newsletters that are working to build their core audiences.
Improve SEO. Every site that links to your newsletter contributes link equity or authority to your publication. These backlinks, along with sending direct traffic, signal to Google and other search engines that your public content is a trustworthy source, thereby increasing the likelihood of ranking high for your topic.
Wider sharing on social media. Each newsletter and aggregator wants to build their audience just as much as the newsletter writers they're helping. Many of these platforms are active on social media, sharing content aimed at getting eyeballs on their site and your newsletter.
Community-building. As a newsletter owner, you can use these platforms to find other creators covering your same topic. These relationships can then be leveraged into partnerships, list-sharing campaigns, joint giveaways, and even in-person events.
Sponsorship opportunities. Some directories positioned themselves to help businesses find publications reaching their target audiences. Listing your newsletter on these can be a great way to find your first sponsors.
In many ways, using these tools is like free advertising. These platforms offer a mutually beneficial path to growth that can easily compliment any growth strategy.
The key is understanding how to stand out on directories and aggregators filled with interesting content.
Best practices to help your newsletter standout
Listing your newsletter on a dozen or more directories can seem both overwhelming and tedious.
But it's important to remember that each site represents a potential subscriber. Taking the time to put your best digital foot forward by getting the basics right will go a long way towards capturing their attention and earning their trust.
Fill out 100% of the information
People use directories to find something specific. Maybe they're interested in a growing category or want to read a publication that publishes more frequently.
The first way to stand out is to make sure you give potential readers every bit of information they're looking for. This usually consists of:
Newsletter's name
Author(s)
Categories
Sending frequency (daily, weekly, etc.)
Cost
Short 1-sentence description
Longer description consisting of a few paragraphs
Current size of readership
Link to subscribe
Link to past issues
Link to related social media account
Not every platform will ask for each of the above items, but having them available will help you move through the listing process quickly while presenting a complete picture of what your newsletter has to offer.
Perfect your value proposition
For many browsers, the only aspects of your newsletter they will ever encounter are the title and one-sentence description.
That's why your value proposition is one of the most critical tools in your arsenal. The best ones answer a few questions:
Who is this for?
What is it about?
How is this unique?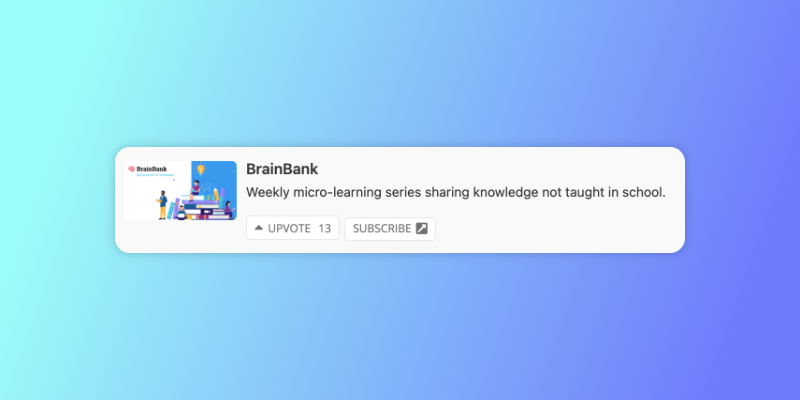 The more specific your offer, the stronger your conversion rate. It's not about being a good option for many, but the best for a few.
Use a great image
The final element that will help you stand out in directories and aggregators is to use a clear image that is readable, professional, and recognizable.
Many of these platforms only allow for one image to be uploaded: a profile picture. Most newsletters use this space to display their logo, an author photo, or the front page of their newsletter.
Because this space is usually small, the best use is to upload a logo with a colorful background. Uploading an image that contains several elements or words can appear busy or warped, leading to a poor first impression for readers.

The first two newsletter images are easy to see on this directory's page. The third image includes too much detail, which gets lost in such a small image size.
Complete list of newsletter directories and aggregators
Below is a full list of directories and aggregators with links where you can submit your newsletter. Please read the details before submitting your newsletter to any website — terms, conditions, and pricing are subject to change.
Conclusion
Newsletter directories and aggregators are an excellent, accessible way for creators to reach new audiences.
Make sure you take the time to stand out on these platforms by clarifying the value you offer, utilizing great imagery, and providing potential readers with all of the information they need.
---