Getting setup with Members in Ghost involves connecting a Stripe account to take payments, setting up the Portal experience, and configuring outbound email settings for your newsletters. Using this guide you can get up and running in under an hour.
Start the setup guide
Once your site is up and running, you'll see a quick setup guide on the dashboard which walks you through the steps of customizing your site and connecting to Stripe.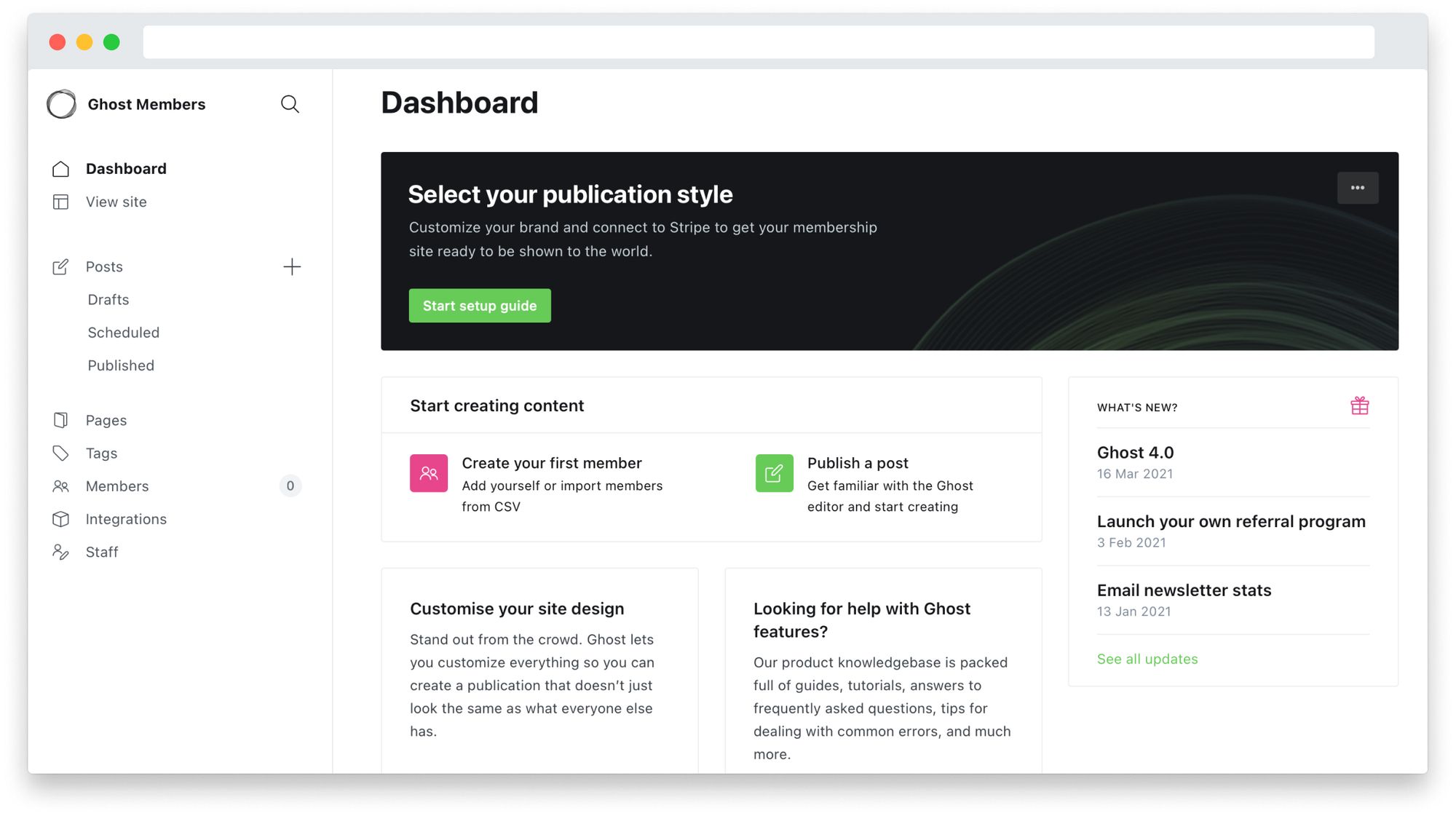 This is a great place to get started, but you can also access all settings at any time by clicking the settings icon at the bottom of the page.
Connect a Stripe account
If you intend to use Ghost to take payments from your readers, follow these steps to connect a Stripe account to your Ghost publication.
Create an account
Stripe is our exclusive payments partner. If you don't already have a Stripe account you can create one here. If you have an existing Stripe account for a different type of business, we recommended logging in to Stripe and creating a new account from the Stripe dashboard to use for your Ghost integration. If you're migrating from other platforms such as Substack, you'll need to use the same Stripe account.
Connect to Stripe
Head over to Settings → Memberships page and click the Connect with Stripe button at the bottom to begin the process: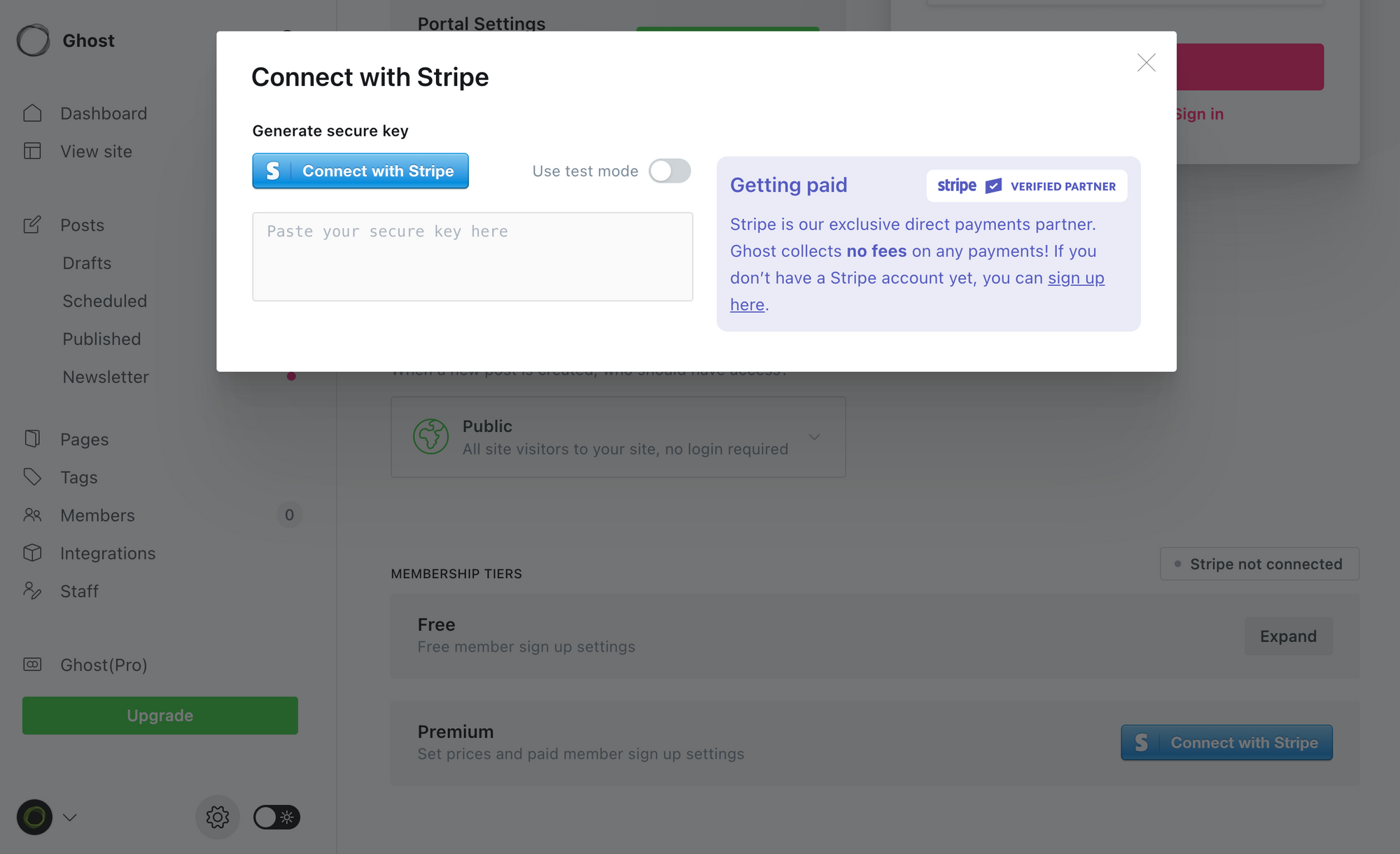 After logging in to your Stripe account, select the correct account to connect to Ghost: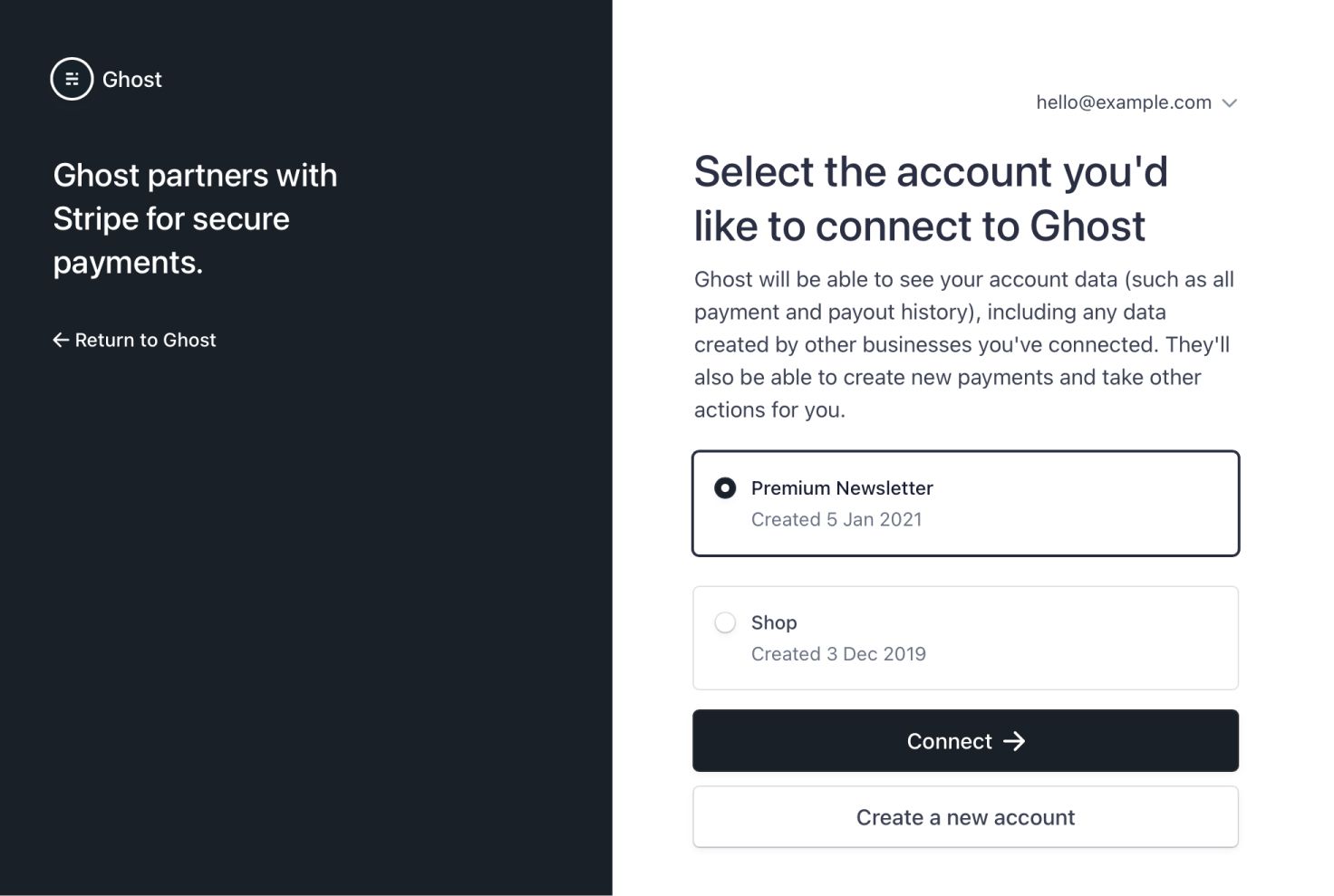 Copy the secure key generated to your clipboard, and go back to Ghost Admin: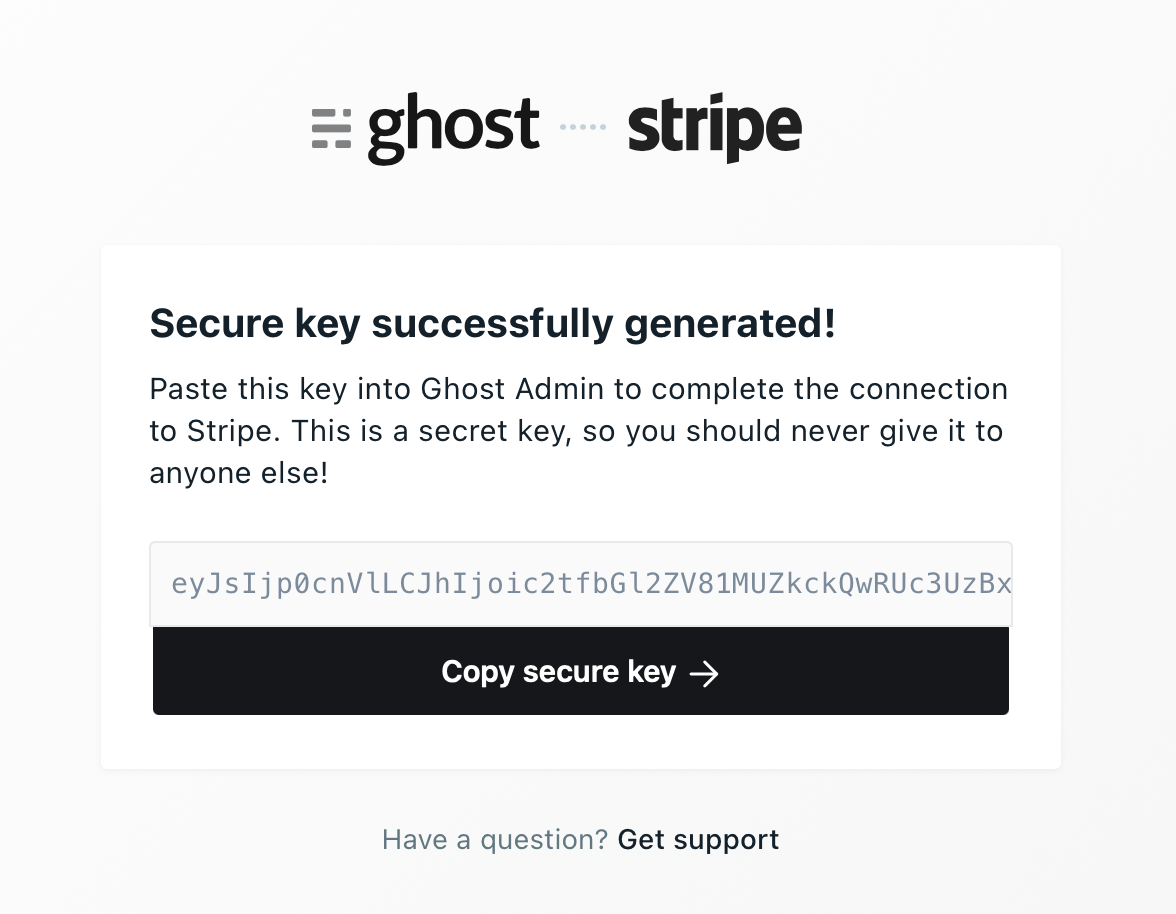 Paste the key into the provided box and click Save Stripe settings: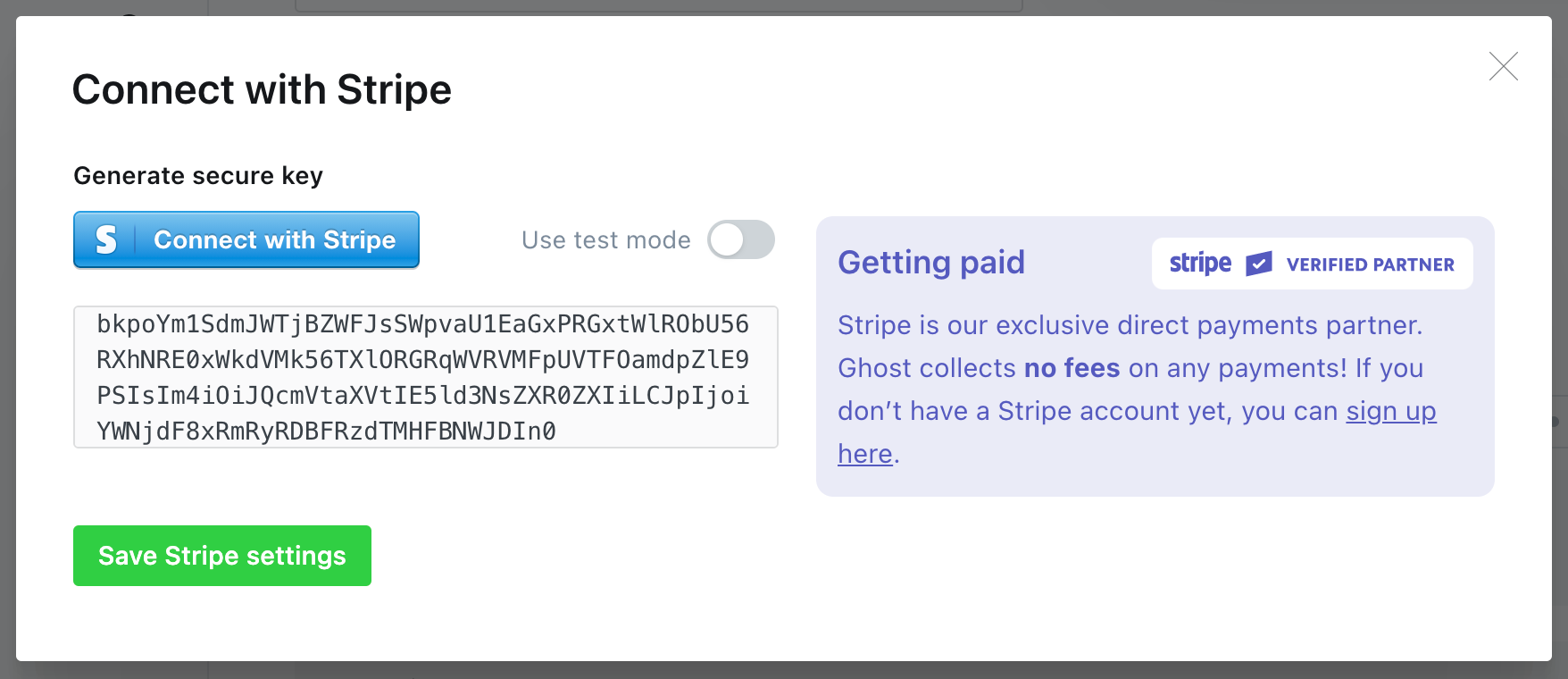 You're now connected to Stripe and able to take payments on your Ghost site.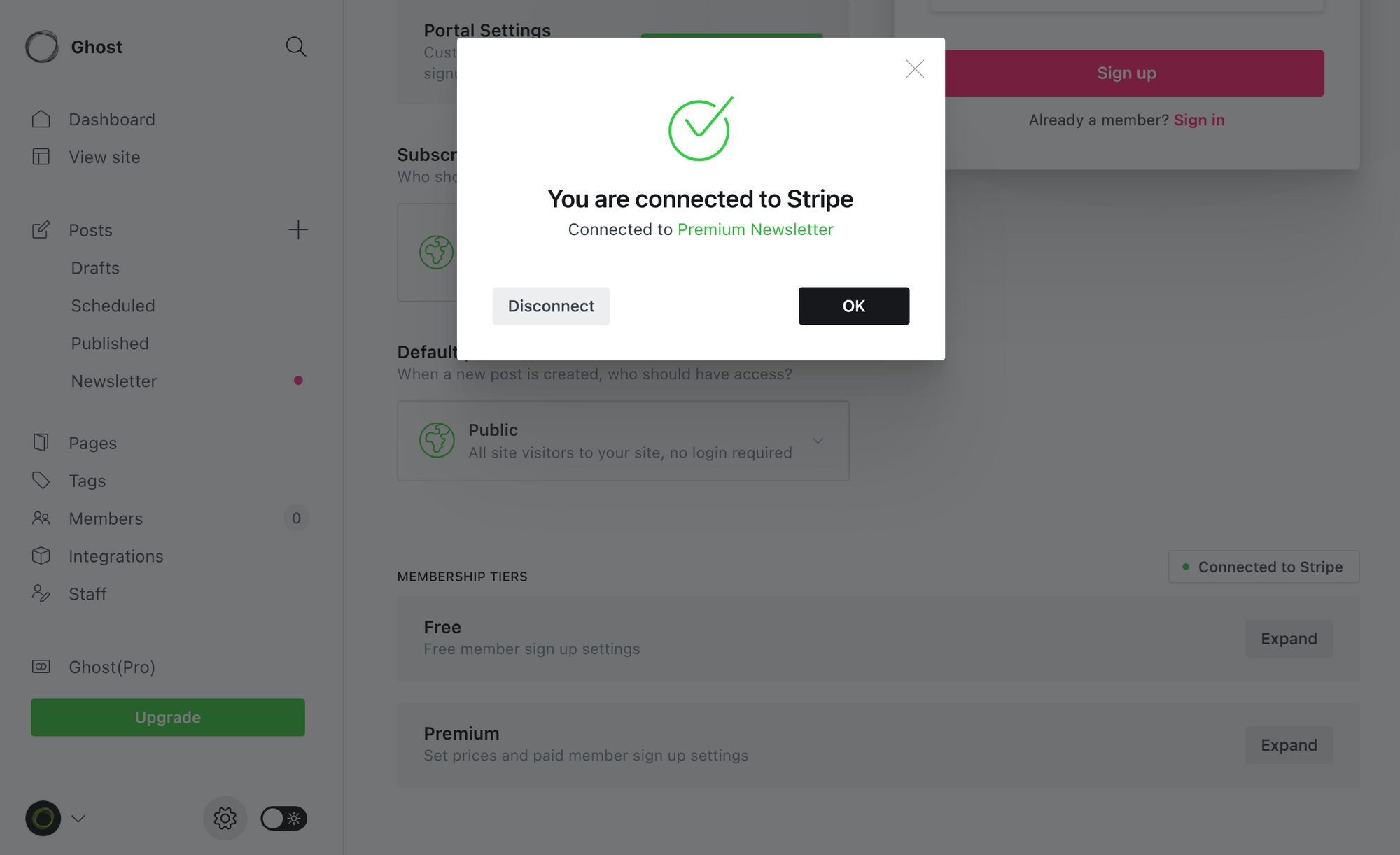 Create and price your plans
Once your account is connected, create and price your plans. Ghost gives you the option to create a monthly and a yearly subscription, so you can build a sustainable, recurring revenue business model.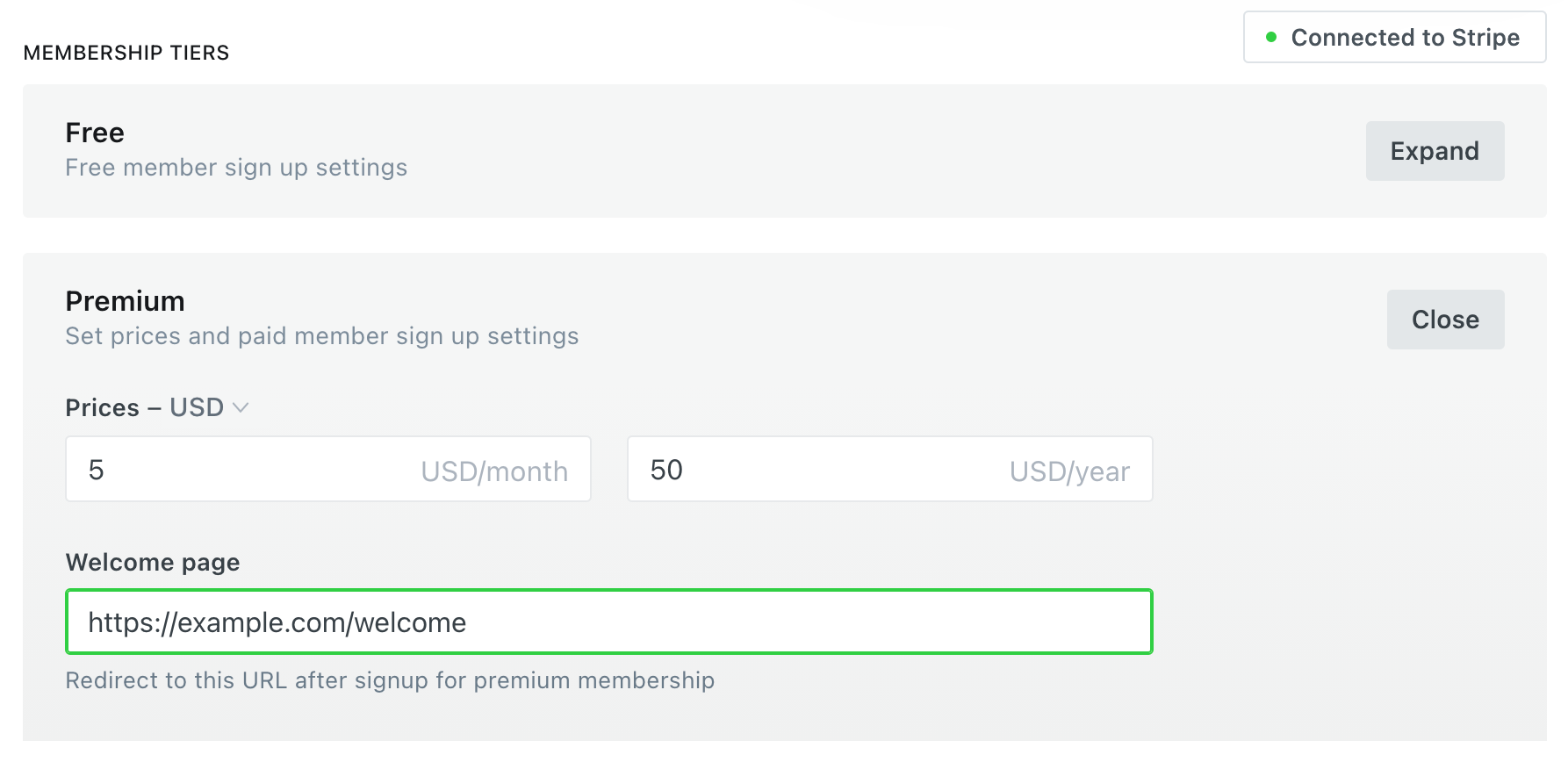 When you enter your pricing and currency in Ghost, plans are automatically created in Stripe for you. If you decide to change your pricing, simply change the values in Ghost and the new prices will sync in Stripe.
Tip: Existing customers will remain at the same price they signed up at when you change your prices. This is a great way to experiment with pricing or offer early adopter discounts if you're just getting started.
Choose your Membership settings
When you navigate to Settings → Membership you'll find options to customize your subscription access and default post access.
Subscription access options:
Anyone can sign up — member sign up and sign in is available to all visitors.
Only people I invite — if you'd prefer an invite-only community, use this option to prevent member sign up, imported members can still log in.
Nobody — turn off all subscription and sign in functionality on your site.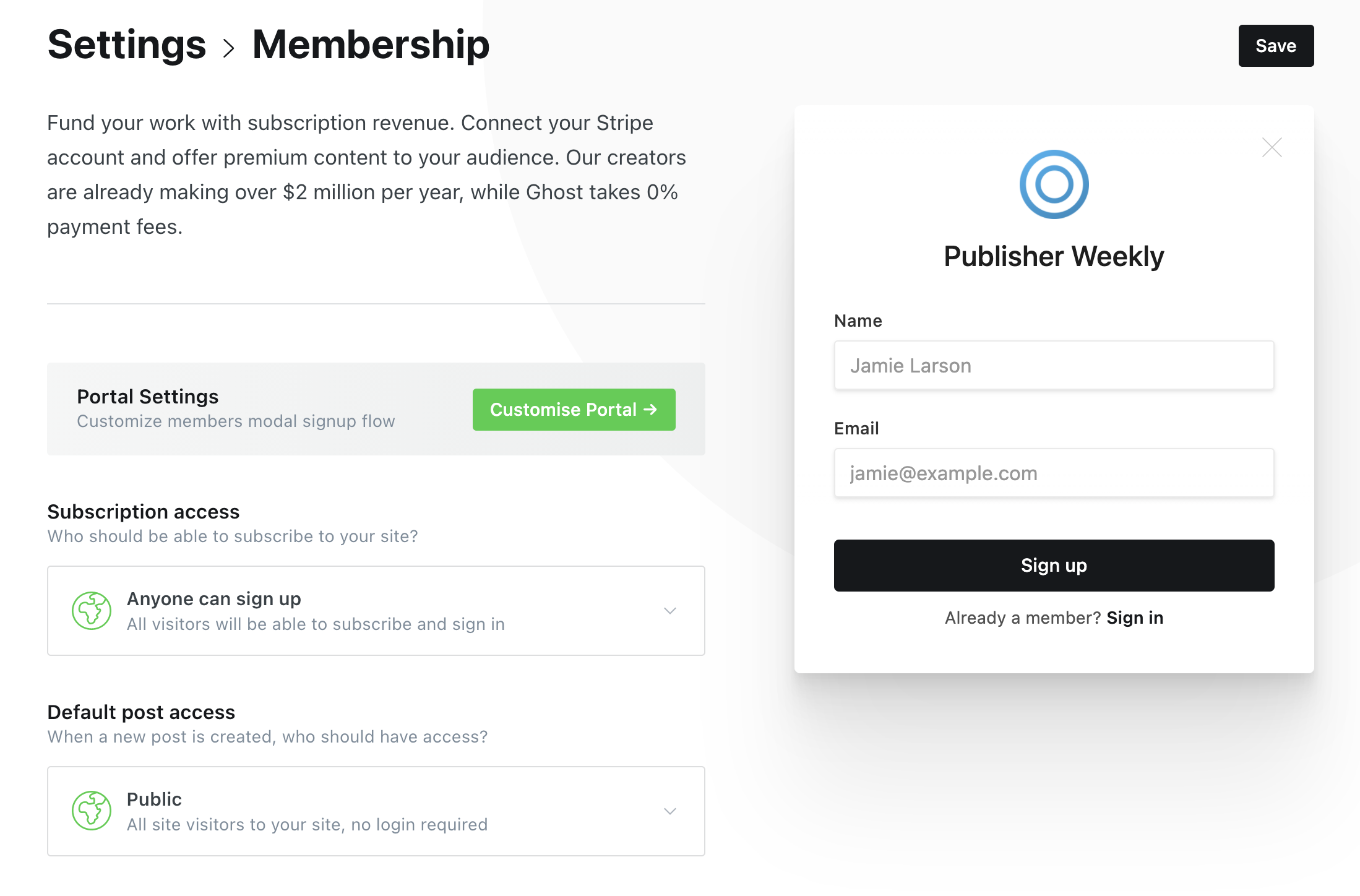 Default post access is what all new posts will be set to by default when new posts are created for ease of use, you can still switch post access levels on a per-post basis.
Customize Portal settings
With Stripe connected and pricing plans in place, the next step is to customize Portal, which makes it easy for visitors to sign up and support your work.
From choosing a plan to email notifications, right down to account management — Portal handles the full membership experience for your subscribers. Portal can be added to any Ghost site, using any theme, without needing to write code or edit your theme templates.
Go to Settings → Membership → Portal settings to customize Portal signup options, as well as the look and feel of the Portal interface. When you update Portal from the UI, changes save to your live Portal right away.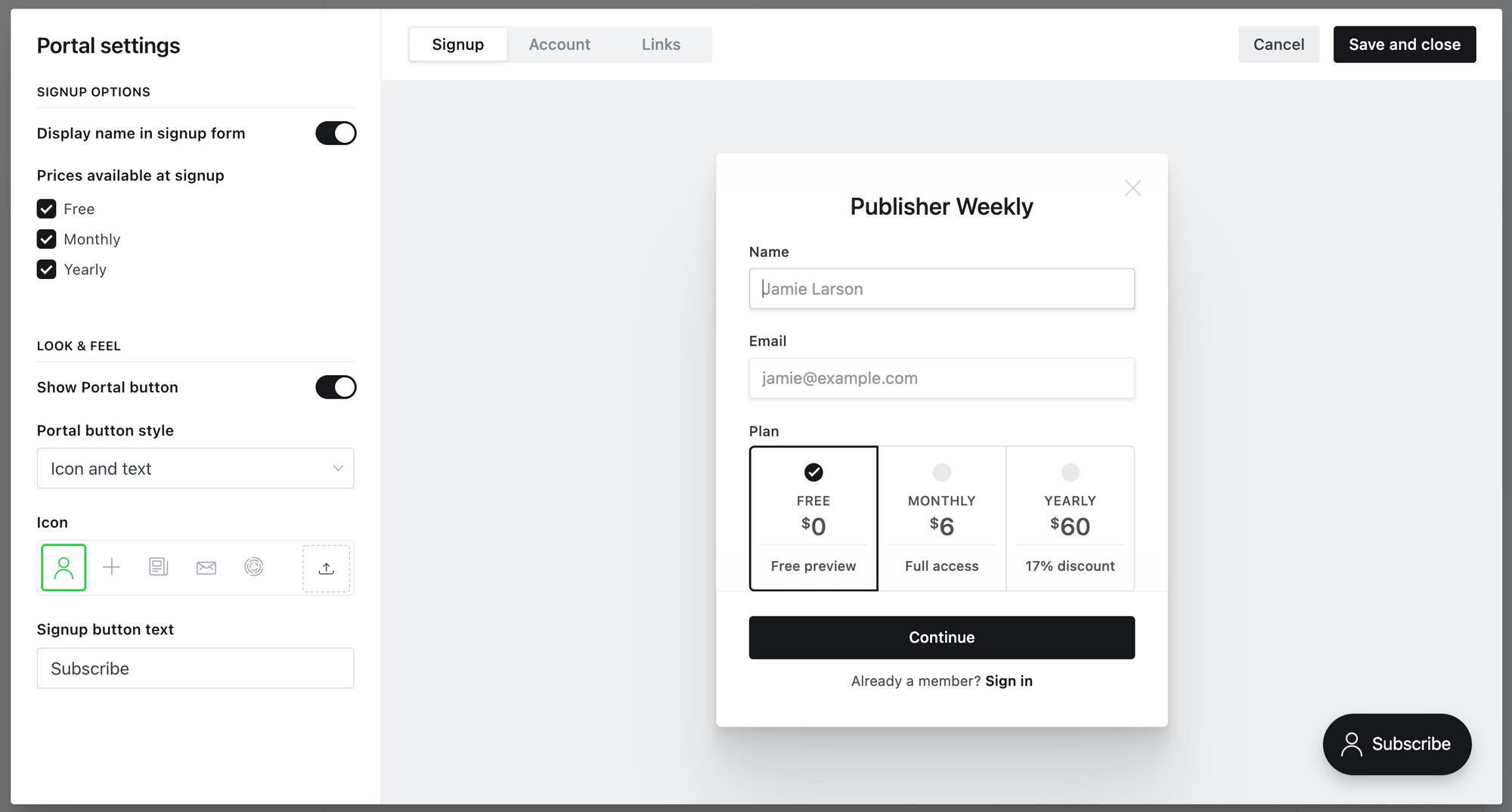 Signup options
Select which plans are available to visitors who want to signup. Use any combination of plans to suit your business: free-only, paid-only or a combination of the two. Leave all plans unchecked for an invite-only site, where your visitors have to contact you directly for access.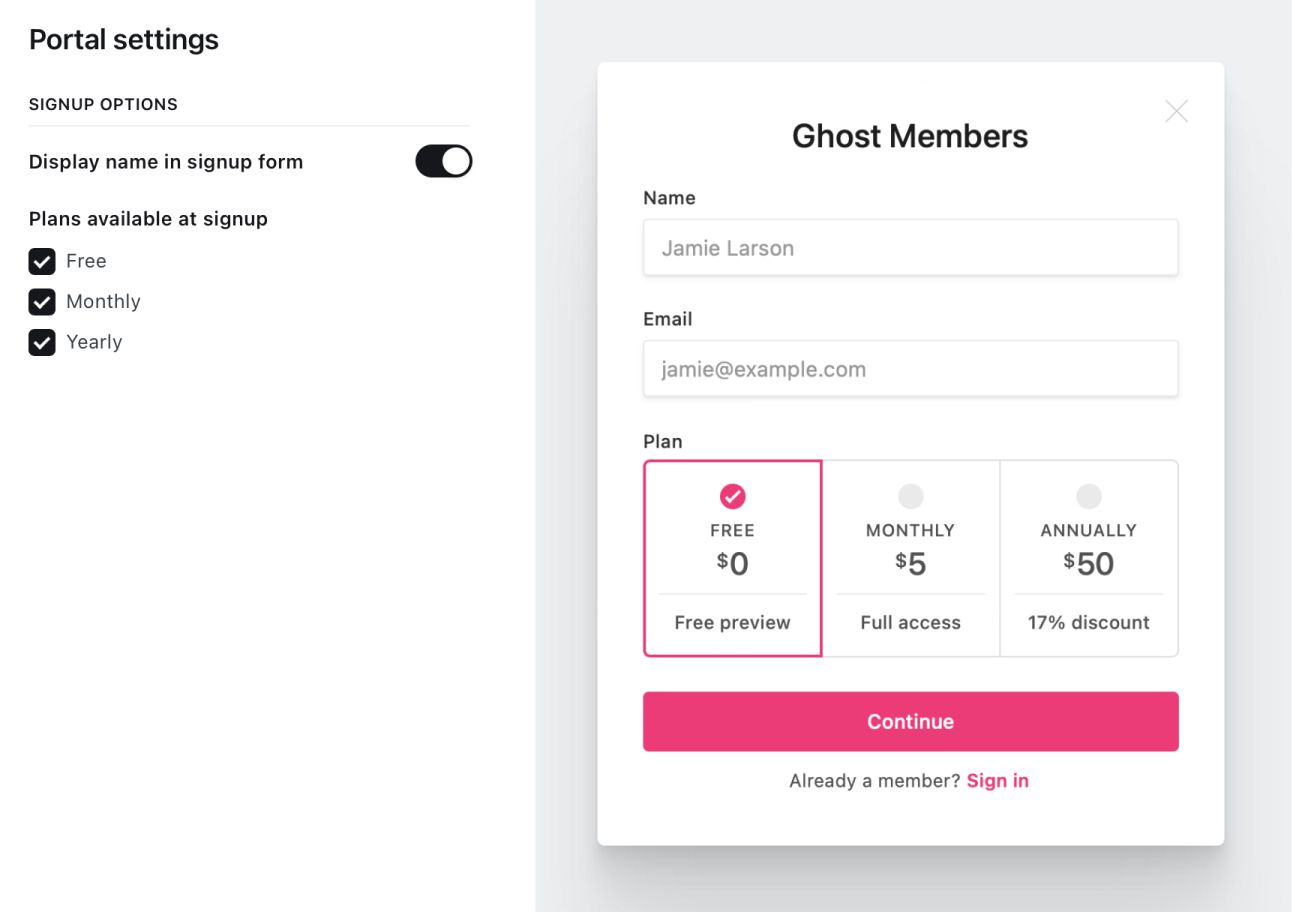 Look and feel
Create a Portal that matches your company brand or publication style. You'll see the Portal screens update in real-time as you make changes. Remember to hit the save button when you're finished editing.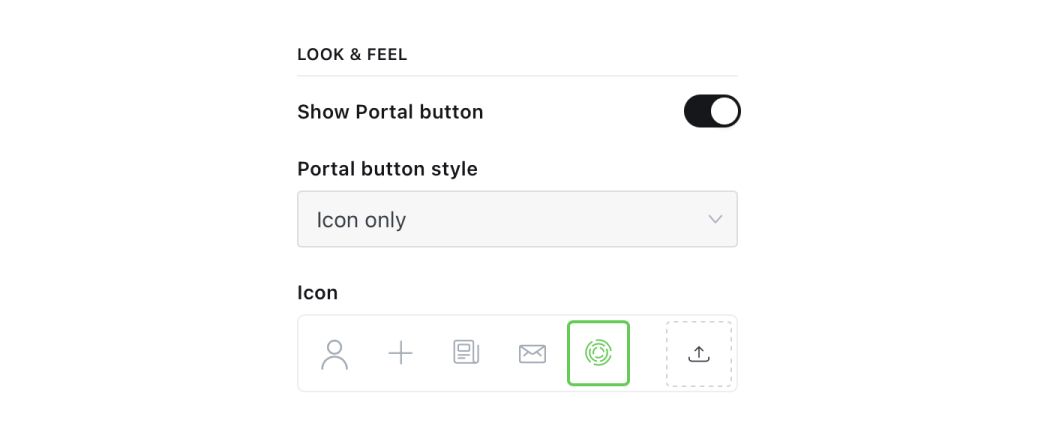 Accent color sets the color for buttons, links, and highlights in Portal. Add a HEX value or move the slider around to pick a color.
Show Portal button shows or hides the Portal button on your publication. Even if the button is hidden, all Portal screens can be accessed using Portal links — more on that below.
Portal button style controls what the Portal button looks like. If you choose Icon and text or Text only, a text box will appear for you to define the signup button text.
Icon allows you to choose an icon for the Portal button, or upload a custom icon. It's recommended to use an SVG, PNG, or JPG image no larger than 60x60.
Advanced setup
It's possible to hide the default Portal button and access specific Portal screens via URLs or data attributes in your theme. Read more about Portal links in the developer docs.
Setting up email newsletters
If you're using Ghost(Pro) email configuration is handled for you so long as you have enabled members on your site. The only thing you need to do is set up your default settings and email addresses from Settings → Email newsletter.
Default newsletter recipients
This setting allows you to create a segment of people who you send emails to most often, using any combination of post access level, free or paid status, and member labels.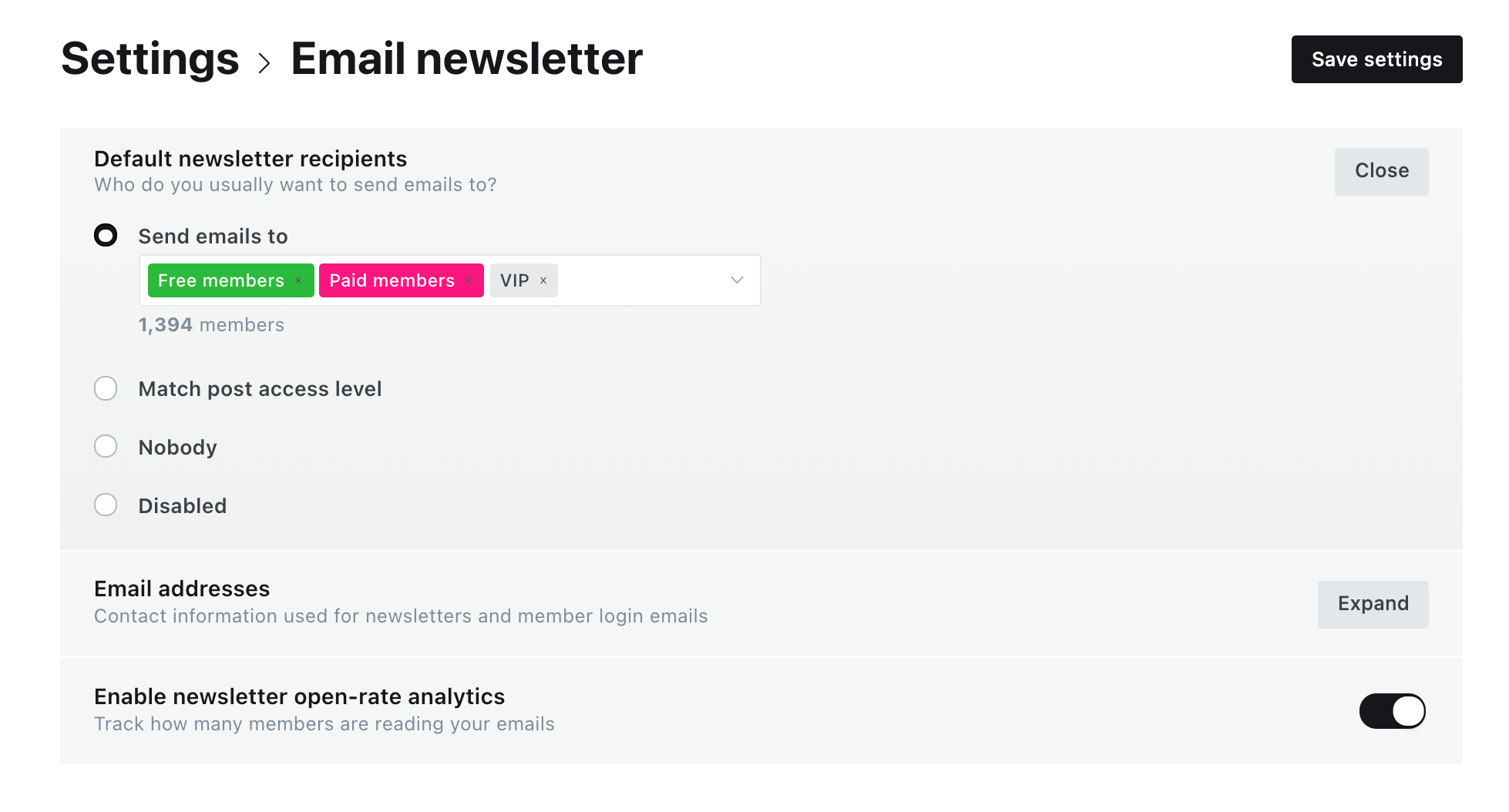 Support and newsletter address
Your support email address is used to send member login emails and is also the public email address that you can share on your site, so your members can contact you for help with their accounts.
Your newsletter email address is what your newsletter posts are sent from, and can optionally be a different address to your support address.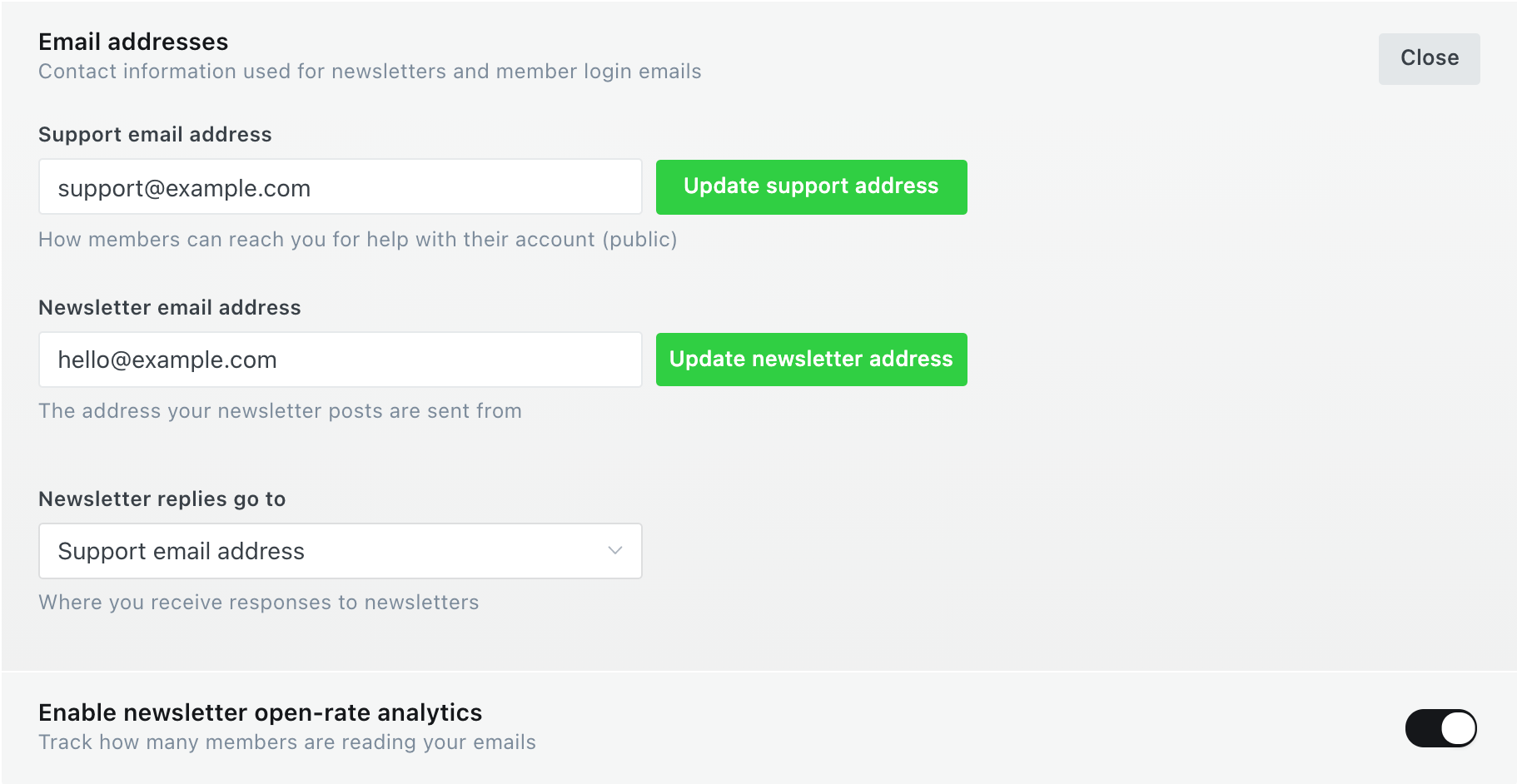 To change these email addresses, enter an email address you own, click the Update button, then click the confirmation link that is delivered to your inbox. If you don't click the email confirmation link, the email address will not update.
Newsletter open-rate analytics is turned on by default, but if you'd prefer not to use this feature, toggle it off.
Self-hosted
Self-hosted Ghost installs can configure bulk email by entering Mailgun API keys from the Members settings in Labs.
Delivering bulk email newsletters can't be done with basic SMTP. A bulk mail provider is a requirement to reliably deliver bulk mail. At present, Mailgun is the only supported bulk email provider. Mailgun is free for up to 600 emails per month and has very reasonable pricing beyond that. More info in the developer docs.