The native Members feature makes it possible to launch a membership business, develop a direct relationship with your audience and generate revenue from your creative work. This means it's possible to earn a sustainable income as an independent publisher with memberships and subscriptions, and run a custom site for members only-content
This article explains how Members works, who it's for, and what you can do with it. If you're looking for a step-by-step guide for how to get started, head to the requirements and setup articles.
What can Members be used for?
The members features in Ghost are suitable for publishers and creatives of all types, who need a reliable platform to share content and generate income from a membership business. For example:
Premium publications — create unique content that your audience can't find anywhere else and offer premium memberships with recurring subscriptions.
Paid newsletters — Publish to email and the web at the same time with a native email newsletter feature, or integrate with your favourite tools.
New media — YouTube creators or Podcast producers can use Ghost to grow a list of paying members who subscribe to support their work.
Communities — Create comments sections and communities for logged in or paid-only members to foster engagement with your work.

Free newsletters like Publisher Weekly, paid publications like Rediverge and premium podcasts like The Listener all rely on Ghost to power their work. We're excited to see what you'll create!
Do I need to know how to code?
Not at all - when using Ghost(Pro), all of the technical stuff like hosting and email delivery is handled for you so you can focus on your content.
All you need to do is spin up a new Ghost site, choose your favourite theme, configure your memberships and plan your launch.
It's also possible to customise a theme, or hire a developer to build one from scratch. But it's not necessary to get started. In fact, many publishers opt to start out with an existing theme. The option to customise is always there for you when you need it!
Ghost vs other platforms
Unlike closed platforms, Ghost is flexible, open source and stewarded by a non-profit organisation. You'll benefit from:
No transaction fees — We're a verified Stripe partner which makes taking payments extremely secure and simple. Plus, we don't take any transaction fees. All the money you make is paid directly to you.
Imports — It's possible to import an existing list of subscribers from anywhere. You can connect any mailing list, Patreon supporters or user database directly to any Ghost Members site.
Integrations — Bring all your favourite tools with you and integrate them in a few minutes or less. Ghost gives you the opportunity to use your preferred tools to speed up publishing workflows.
Open source software — All our code is released under an open source license. You own your customers, content and code always and forever. Ghost is the platform you can depend on!
Find out how Ghost compares to a wide range of platforms.
---
Memberships
Memberships allow you to turn anonymous visitors into members with secure member sign up and sign in flows. Ghost uses simple and secure email-link based logins to allow your visitors to become members. No passwords required!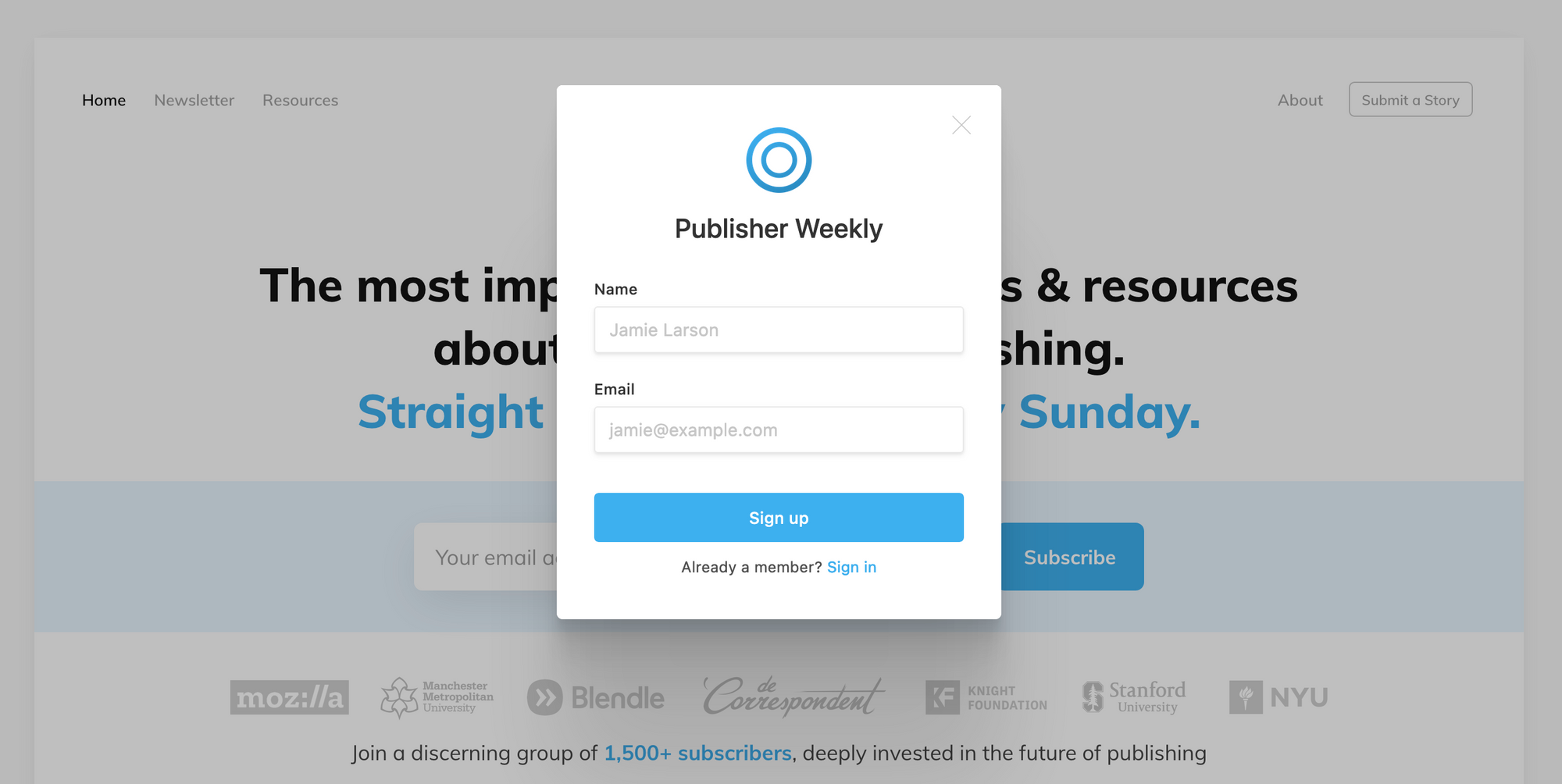 Memberships provide you with so much more than a list of email addresses. It unlocks the ability to offer a unique experience to your readers and collect real data about how your content is performing.

Sign up and sign in forms
Member sign up and sign in forms can be implemented inside Ghost Admin using the Portal feature, without needing to code anything. Portal adds a membership widget to your site which allows visitors to sign up for free or paid memberships, and existing members to sign in and manage their accounts.
All your visitors need to do is:
Enter an email address into a subscription form
Check their inbox and click the magic link to activate membership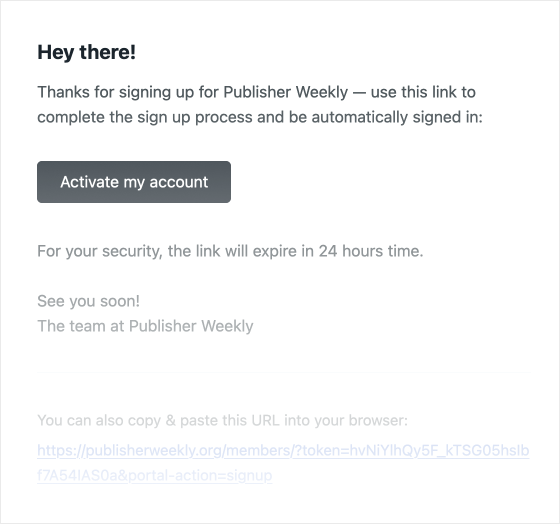 It's a secure method of building your members list which prevents spam and bots signing up to your site, and provides visitors with an industry standard method of verifying their membership — giving you permission to email them.
Bring an existing audience
Already have an audience elsewhere? No problem — you can import email lists from anywhere else or connect external tools and launch your new Members site with a pre-existing audience.
Protect your content
When using Members, you also have the option to protect your content so that only logged-in members can access it. Content protection in Ghost can be set to free or paid-members.
Unlike several other platforms, there's no secret way for people who are not members to access your content by using incognito mode or disabling JavaScript. Using Ghost, protected content is truly protected.
---
Subscriptions
Native subscriptions allow you to turn your members into paying subscribers and start generating predictable recurring revenue from your work. Once you have a way for members to sign in to your site, you can then ask them to support your work financially.
Take payments with Stripe
We've built an integration with Stripe that allows you to connect any activated Stripe account to Ghost to take credit card and Apple Pay payments. All customer information from your site is stored securely and automated with Stripe.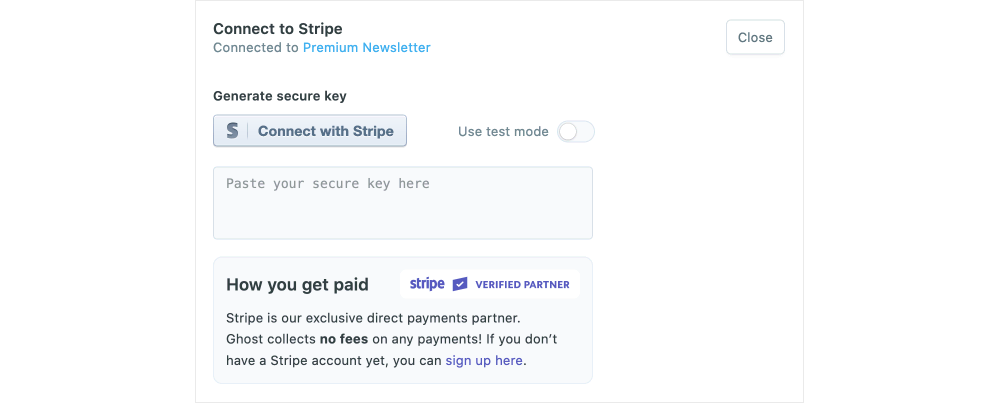 Using other payment gateways
It's also possible to connect to other payment gateways using a Zapier integration, or directly via our API if you have a developer.
Control your pricing model
Whether you want to attract a larger audience at a lower price point, or a dedicated following for a premium fee. Create your own pricing using a recurring revenue model which is a proven method of generating sustainable revenue.
You have full control and you can change or test your pricing structure any time!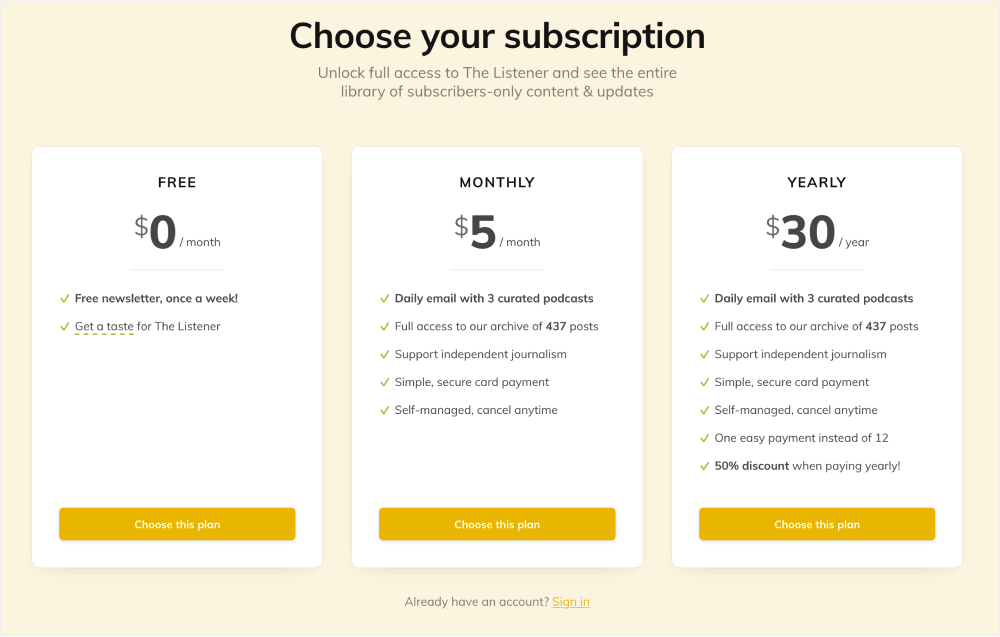 Getting paid
Best of all: Any revenue you make from your paid blog or newsletter is entirely yours. Ghost takes 0% of your sales.
You'll also benefit from the fastest possible payments, since your revenue will be paid directly to you from Stripe. We don't hold your funds or enforce monthly payment schedules.
---
Email newsletters
Create new content, and deliver it to the right people in a just a few clicks.
Ghost makes it possible to run your email newsletter directly from your members site, saving you time and money by keeping everything in one place. Create a new post, publish or schedule it, and send it directly to your member's inboxes.
Free or premium email newsletters
It's possible to send your email newsletters to different segments of members, based on whether their membership is free or paid. Emails are sent using a beautiful template that handles unsubscribe links for you. Here's an example of a newsletter sent from Ghost: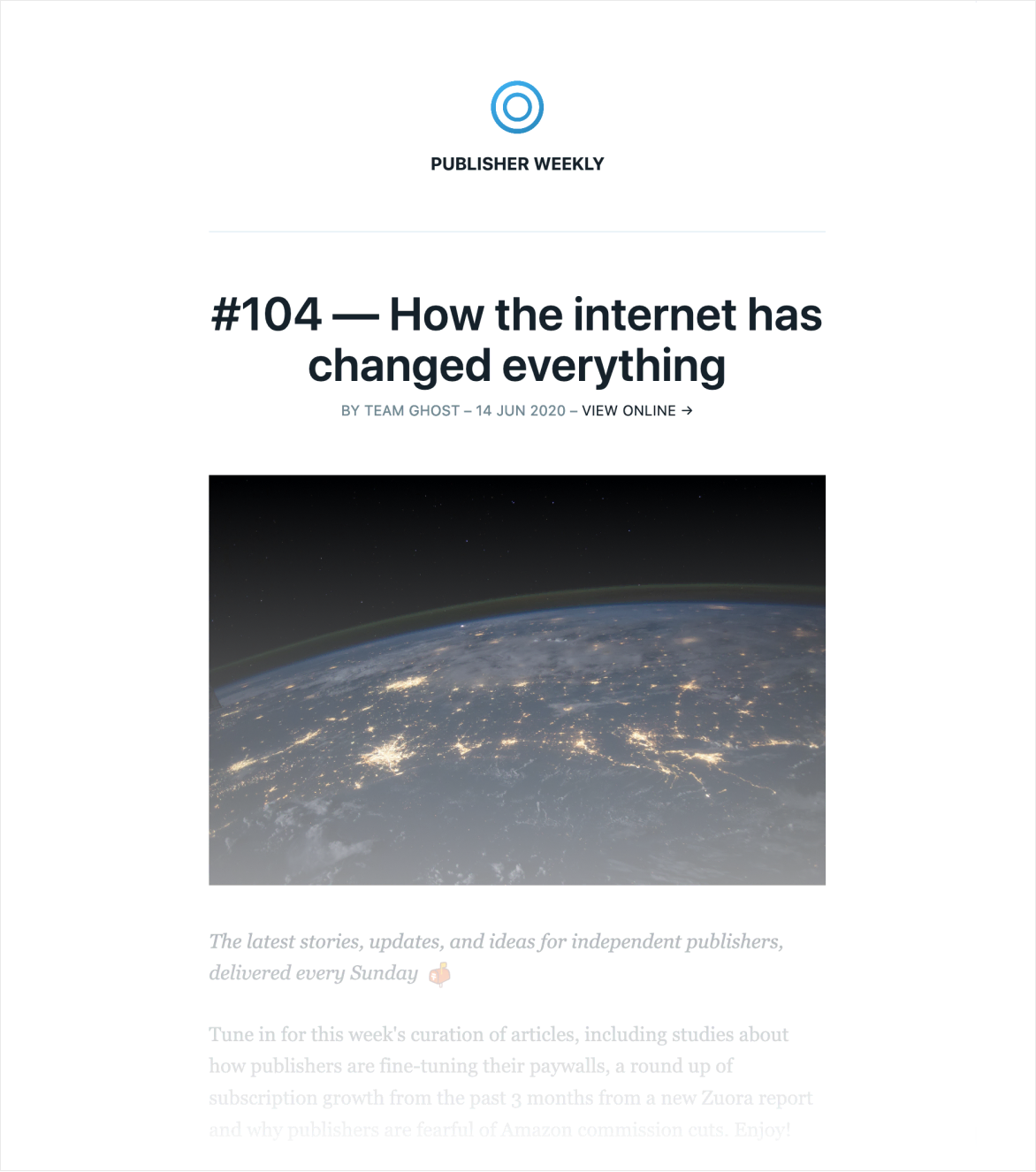 Getting started
Ready to take Members for a spin? Get started by making sure you have all of the requirements, and then follow the setup guide.