You may be wondering how to customize the look and feel of your website. Fortunately, Ghost provides a range of design settings that allow you to personalize your site's design to match your brand and personal preferences.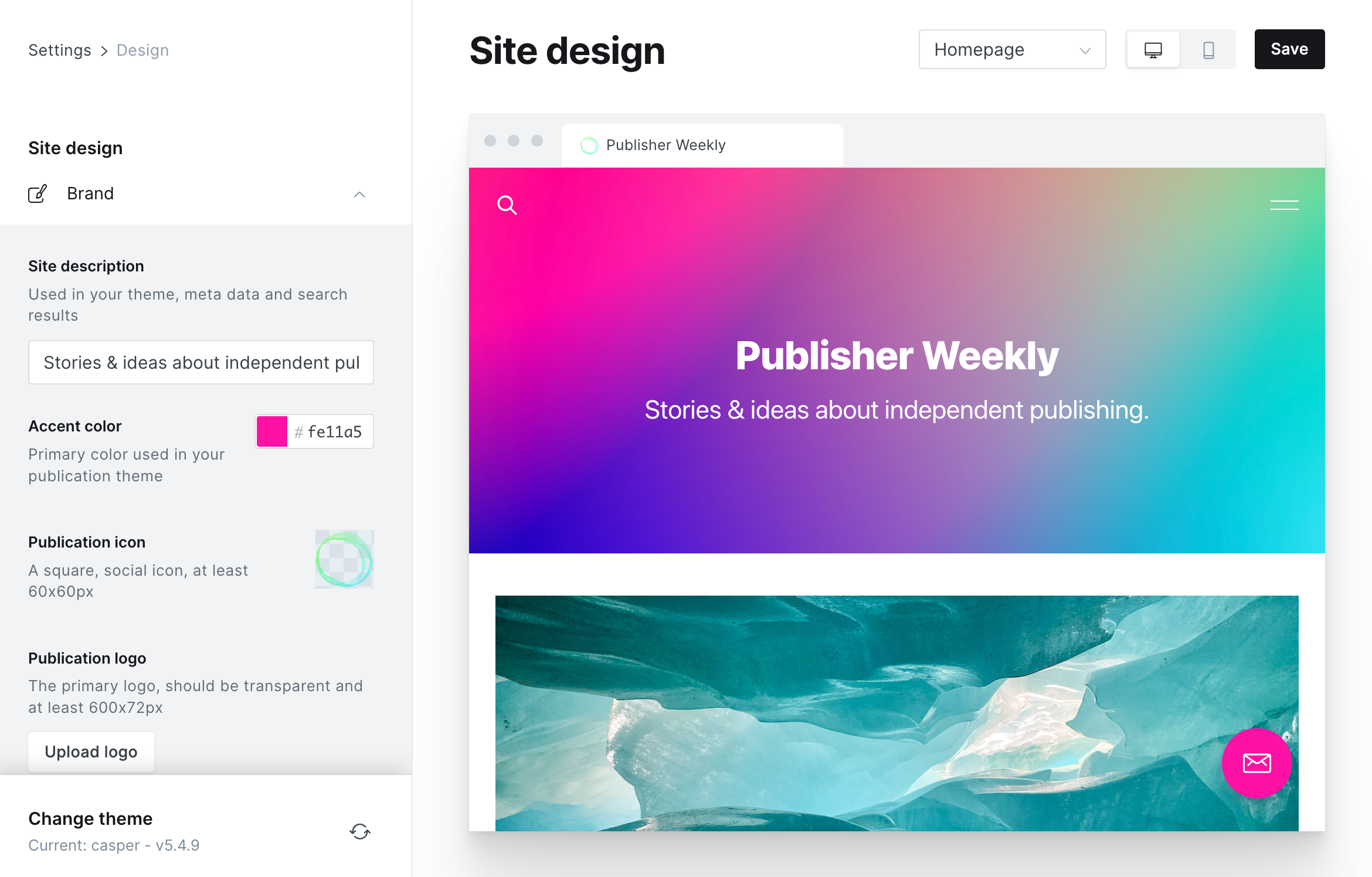 Each theme will have a range of options which can be found in the site settings under the design menu. The available options may differ between the themes, but they generally allow you to upload a logo, set a site icon, select an accent color, and more.
Using these design settings, you have the flexibility to create a unique and professional-looking website that reflects your brand and personality that engages your audience.
For further customization options, you can consider using code injection to add some custom styling or create a custom theme which can offer you endless possibilities.
Brand
Site description
This description is used in your theme when supported and is also used as the default description for site-wide metadata.
Accent color
The accent color is the primary color used in your site's theme (supported themes only). This includes links, buttons, and text colors.
💡
Try to use a color that contrasts well with your site's theme, for maximum impact.
Publication icon
This is a social icon that is used as the Favicon for your site. You'll also see this in the far corner when you're logged in to your publication. Publication icons must be square and at least 60px in size.
Publication logo
This is the primary logo for your brand and is displayed within your theme. Publication logos should have transparent backgrounds and be at least 600px x 72px in size.
Cover image
A cover image is optional and used in some themes, which displays as a large banner image on your index pages.
It's recommended to use images with a minimum width of 1500px to ensure your cover image looks good on most devices.
Site-wide
Options available in this section will generally be reflected on all pages and posts of your site. These are areas of the site that don't change as your visitors navigate through your site.
Homepage & Post
By using the options available in these sections, you can have more control over the layout and look of your page and post pages.