Email newsletters are a fantastic distribution mechanism for content. But no matter how great your deliverability is, a universal truth is that a small percentage of emails can get caught up in the wrong place due to overzealous spam filters, or arbitrary email client algorithms.
While it's not possible to avoid these problems completely, Ghost offers some helpful features to help you stay on top of things when it comes to maximizing your email deliverability.
Automatic list cleaning
Ghost helps keep your email list clean and deliverability rates high with automatic list cleaning. If emails sent to a member consistently fail, or are marked as spam, emails for that account will be disabled.
In the event that emails are mistakenly disabled for a member, they can easily re-enable them directly in their account settings.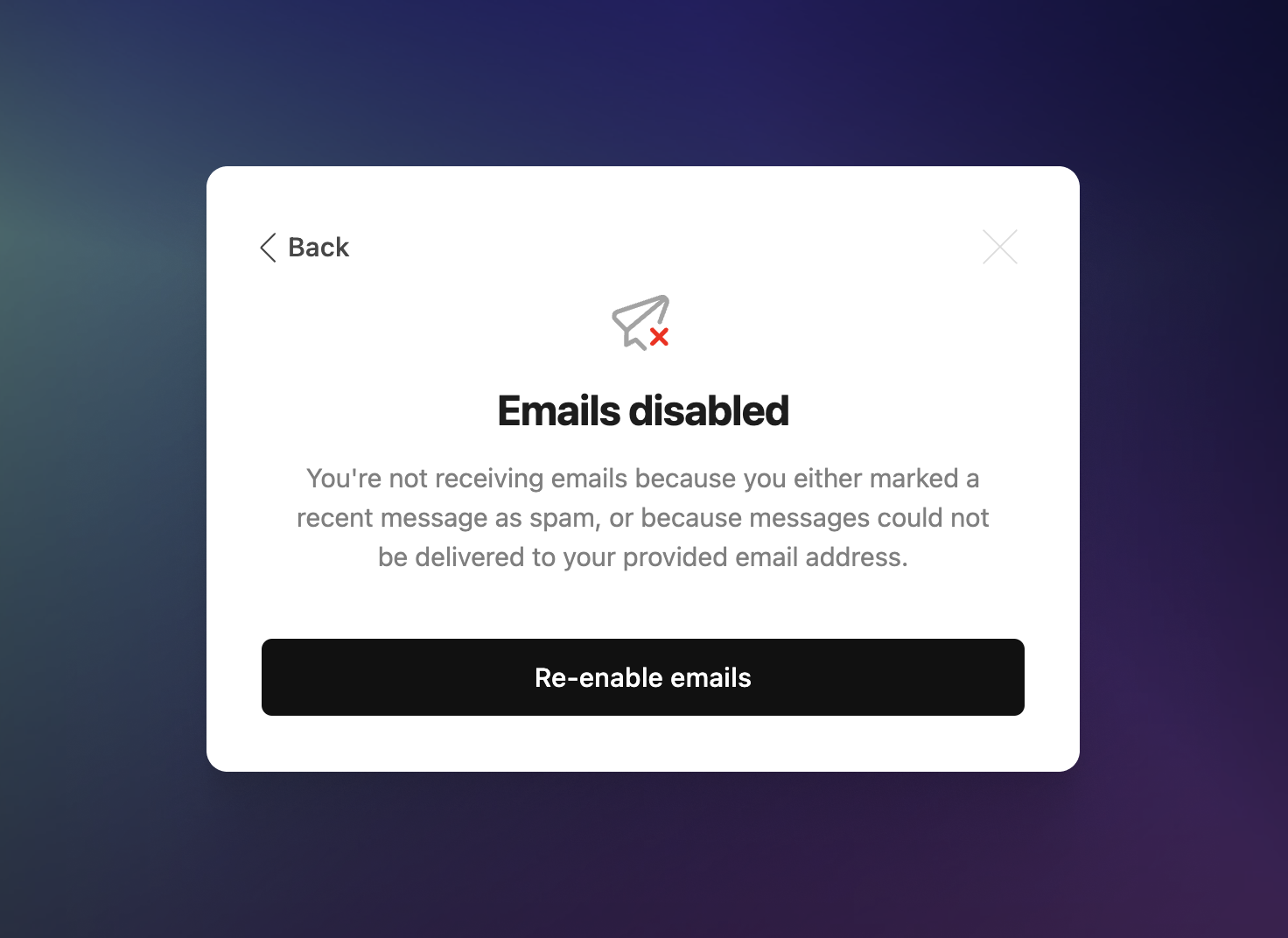 Staff users in Ghost can also view and manage disabled emails from Ghost admin.
Troubleshooting tips in member accounts
The member account area is populated with dynamically customized tips and suggestions for anyone who's having trouble receiving emails.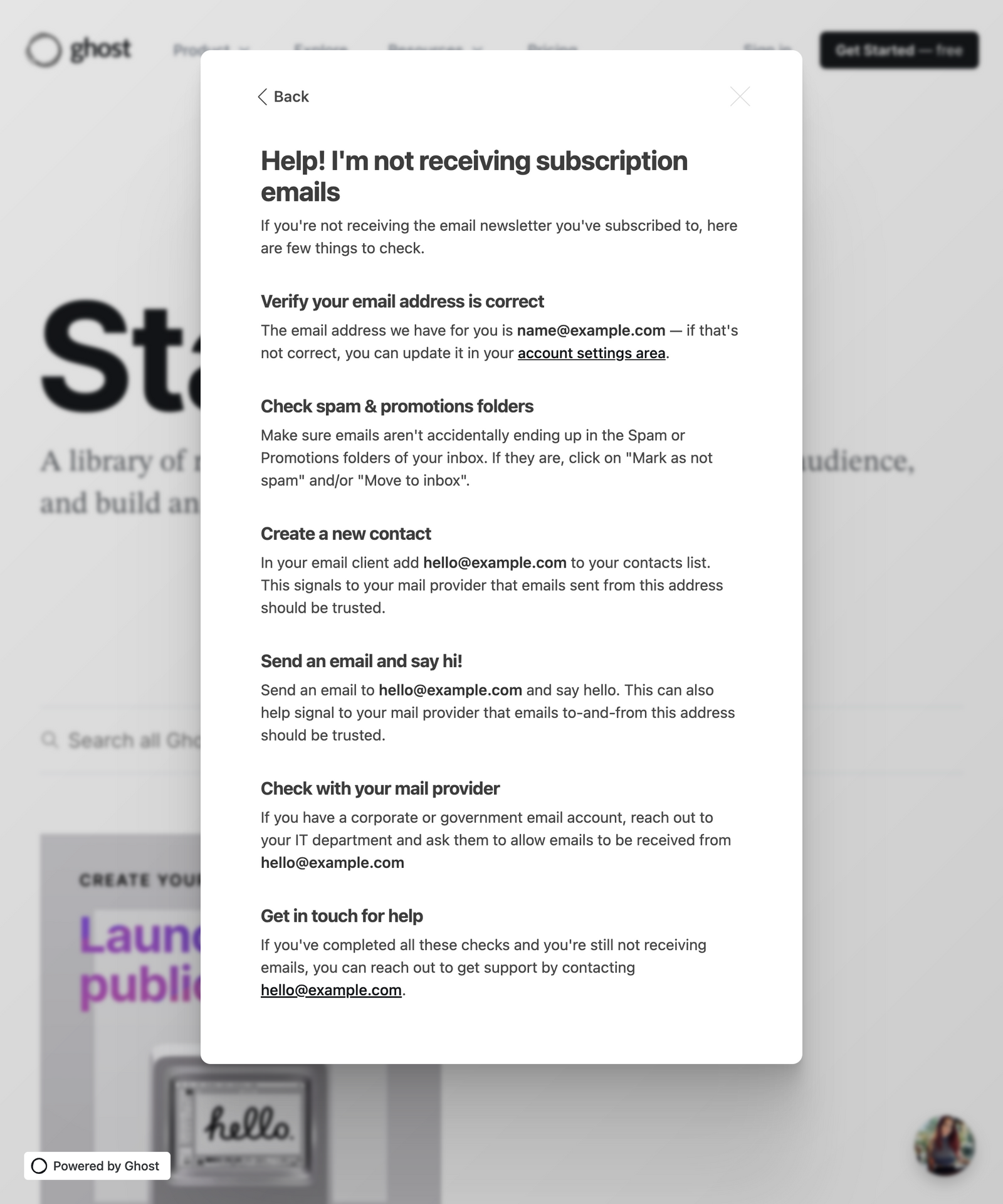 This information is at the fingertips of each of your subscribers, so they understand how to get to the bottom of any issues. Read more troubleshooting tips if your members are reporting that they aren't receiving your emails.
---
Beyond what Ghost does for you to provide a helping hand, there are a number of things you can do to ensure your content lands in the right place — the inbox.
Here are some tips about spam and promotions folders to help you manage your email newsletters for the best possible deliverability.
Spam prevention
No matter how great your deliverability game is, its always possible that a small percentage of emails may end up being marked as spam. This depends on many factors, such as the sending reputation of your from address, the email provider of the recipient (Hotmail and Outlook are notorious for poor spam handling), and the content of your email.

If you want to be proactive, there are some things you can do that may have a positive impact on your delivery rates:
Run your email newsletter content through a spam checker, to identify language that can trigger spam filters.
Encourage your members to add your address as a safe sender, or even better, encourage them to reply to your emails.
Keep your free subscriber list tidy by periodically removing inactive subscribers.
The members dashboard allows you to filter your member list and find out who the most and least active subscribers are using filtering, and also allows you to unsubscribe multiple members from email at once using bulk actions.

If you're using
Ghost(Pro)
, email delivery is handled for you. Our sending domain is fully optimized for maximum deliverability, has a strong reputation and we consistently see extremely high delivery rates and low spam rates.
All of the important technical things like authentication, monitoring and checking blocklists are managed by us as part of your service, so you can focus on what's important.
Thousands of creators deliver millions of emails using Ghost(Pro) and we see consistently above average delivery rates.
Promotions folders
Some email clients such as Gmail deliver your newsletters to tabbed inboxes based on their own algorithms that consider everything including the content of the email, subscriber engagement and sender information.
It is expected that some of your newsletters will be placed in the promotions tab by Gmail. While there are no proven methods to control the placement of your emails, you can use the tips in this article to support your members, and increase the chances of your emails landing in the Primary tab.
Gmail tabbed inboxes
Gmail introduced tabbed inboxes to improve deliverability, increase open rates and reduce spam complaints, by giving users the ability to understand the nature of the emails in their inbox at a glance. If your newsletter ends up in the promotions folder, it's not deemed as Spam, and studies have shown that Gmail users actually do use the tabbed folders.
Plus — this doesn't apply to all Gmail users, since many people turn the tabbed inbox feature off within their account.
Sending emails to the Primary tab
Although there is no way to guarantee all emails will end up in the promotions tab, these tips can help maximise your email delivery if your members email you about your newsletters landing in the Promotions tab.

1. Ask your member to add your newsletter from address to their contacts. This will increase the chances of your newsletters appearing in the inbox.

2. Ask your member to move any emails that appeared in promotions to their inbox. This sends a signal to Gmail that the recipient wants to receive these emails in their inbox.

3. Use a free spam checker tool like this one to check your email content before hitting send. The content of your email plays a huge role in how any email client (not just Gmail) decides to filter your emails. You can use tools like this to prevent newsletters from being flagged as spam.
---
Further reading