Portal is a Members feature which is an embeddable user interface that can be inserted on any Ghost site, using any theme, without needing to write code or edit your theme templates. It makes it easy for your readers to sign up and support your work with recurring subscription payments. From choosing a plan, to email notifications, right down to account management — Portal handles the full membership experience for your subscribers.
How are Portal subscriptions different to Members subscriptions?
Members subscriptions are embedded directly into Ghost themes, whereas Portal is a standalone add-on that has no relation to the theme you're using. Portal is flexible and you can set it up based on your needs. You can keep your sign-up page within your theme and have Portal enabled at the same time, or just one at a time. It's entirely up to you!
Enabling Portal
Click on the Settings icon at the bottom-left of Ghost Admin, click on Portal under Members, and toggle Show Portal button under Look & Feel.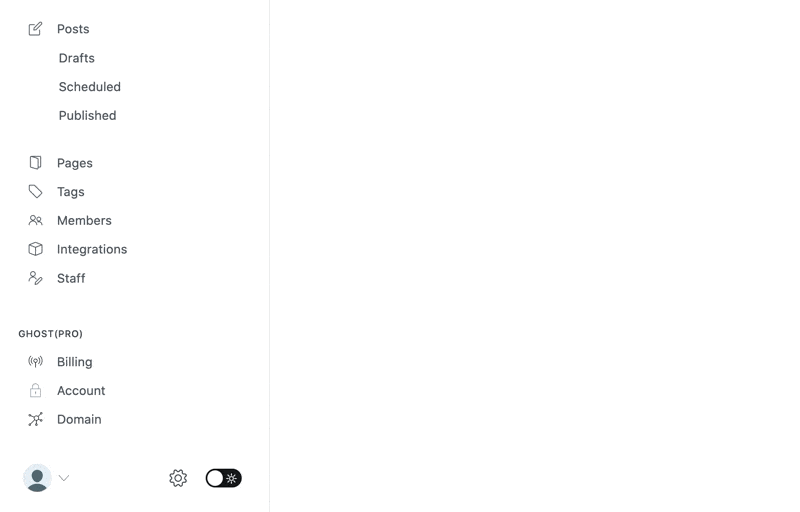 Customise Portal settings
The Portal settings page is used to customise Portal signup options, as well as the look and feel of the Portal interface. When you update Portal within Ghost Admin, changes save to your live site right away.
Signup Options
Display name in signup form - Toggling this feature on will add a text field in the signup form that allows your members to enter their name in and attach it to their account.
Plans available at signup - Depending on your subscription model, you can customise the plans available to your viewers. Your site can be entirely for paid-members only, or incorporate free content and use it as a means to convert members to a paid plan.
Look and Feel
Show Portal button - Toggles Portal on or off. Any changes made to Portal will remain saved if you disable it.
Portal button style - Customise the Portal button at the bottom-right of the page. You can select between icon only, text only, or icon and text.
Icon - Select between the 5 preset Portal icons available, or upload a custom one of your own.
Signup button text - The text displayed on the Portal button if you have text enabled.
Welcome Page
This section contains two URL fields for free members and paid members. These URLs determine the page that the member will be redirected to after a successful signup. If the field is empty, the homepage will be used as the default.