Manage your billing details and subscription by accessing the Ghost(Pro) → Billing section in the navigation menu within Ghost Admin. Only the site owner is able to access this page. See Transferring publication owner if you need to change the owner.
All new Ghost(Pro) accounts start on a 14-day free trial. You will not be billed when your trial expires, but to continue using Ghost(Pro) after your trial you will need to select a plan. See our pricing page for more information about plans.
Update your billing information
Ghost(Pro) subscriptions are billed at either a monthly, or annual billing frequency, using the card placed on file at the time of signup.
Should your credit card expire, or you'd like to change the card used for renewal of your subscription, this can be updated within Ghost Admin, in the Ghost(Pro) → Billing area of your account.
Note: Only the owner user of a Ghost(Pro) site has access to update billing information, or change plans. If you don't see the Ghost(Pro) section on your dashboard, you'll need to be sure that you're logged in with the publication owner email address.
To use a different card for payment, click Edit next to the existing card information.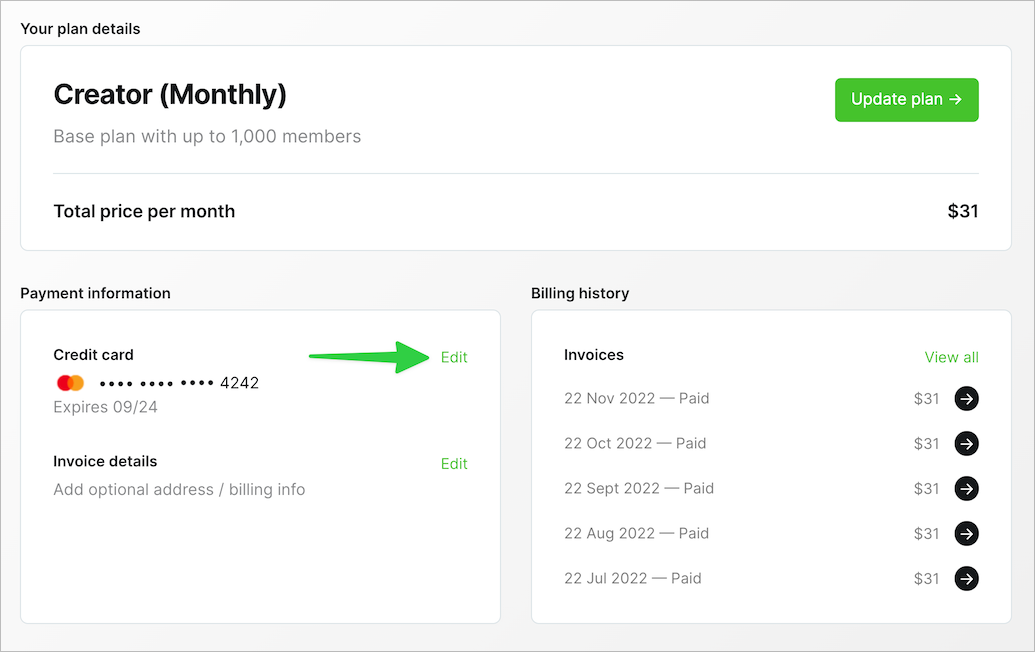 Once your updated card details have been entered, and saved, the new card will be used for future renewals of your plan.
If you're having trouble with your card being declined, see Troubleshooting payment issues.
Changing plans and billing frequency
You can change your Ghost(Pro) plan and billing frequency at any time from within Ghost(Pro) → Billing, while logged in as the publication owner.
When changing plans, or billing frequencies, the change will take effect immediately. Any unused time on your previous plan will be credited to your account, and the charge for your new plan will be prorated.
Once the change has been made, you can view the invoice directly from within the Billing area. Your invoice will also show the details of any credit which was applied, as well as the prorated amount of the charge.
Download invoices
All of your payment invoices can be found in Ghost Admin, in the Ghost(Pro) → Billing area. These are located under your Billing history.
To download an invoice, click on the arrow icon next to the payment in your Billing history, and select Download invoice on the proceeding page.
Update invoice details
Optional address and billing/Tax ID details can be added to your invoices from the Ghost(Pro) → Billing area, by clicking Edit next to Invoice details.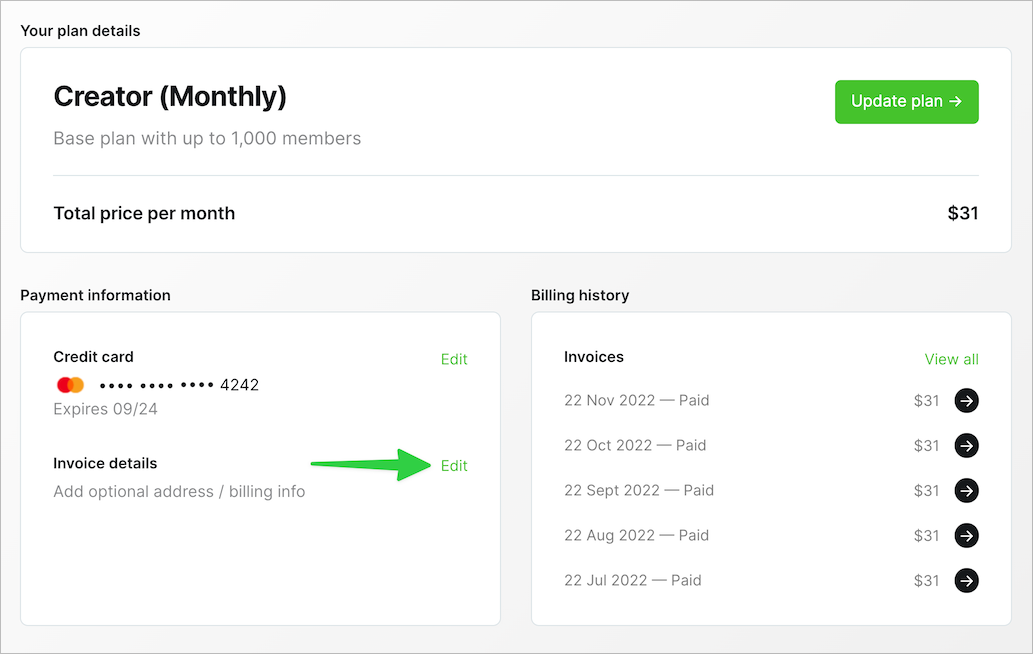 Once details have been applied they will appear on all future invoices.
⚠️
For security and privacy reasons, we're not able to alter past invoices for previous payments.
Billing account contact
The email address used to setup your Ghost(Pro) account will always be the default billing contact that receives billing notifications tied to your subscription.
If you'd prefer to use an alternate email address to receive billing communications (for renewal receipts and failed payment notifications), a second email address can be configured to receive this type of notification.
The billing email address can be configured in the Billing contact field, by clicking Edit next to the existing email address.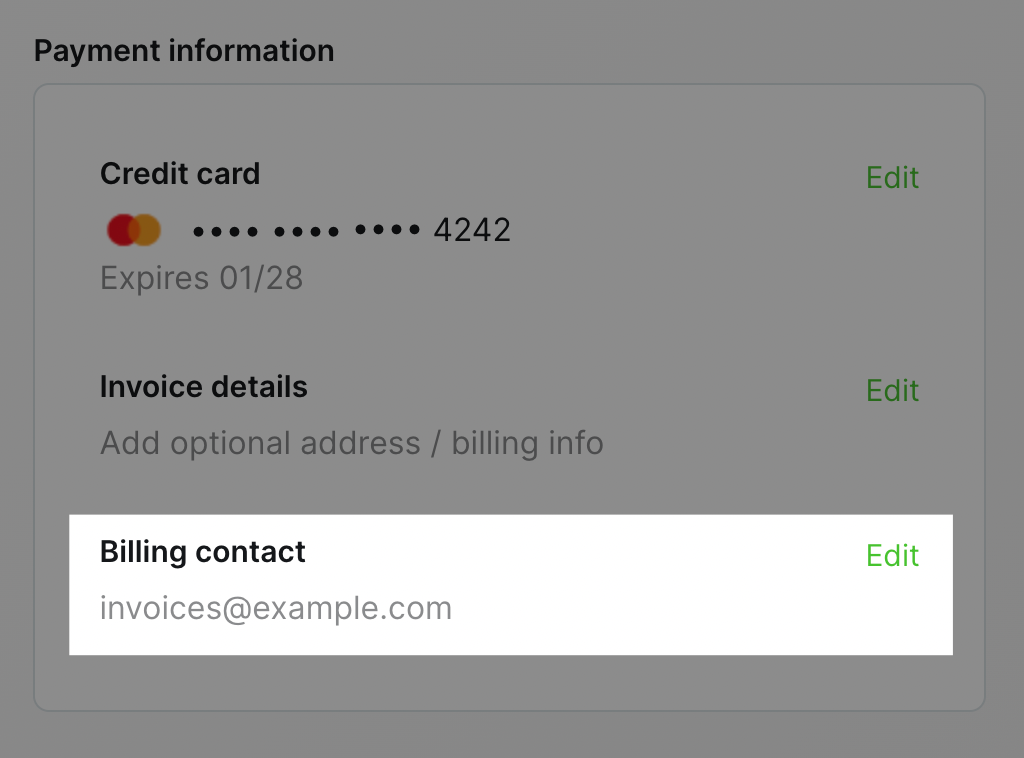 Exceeding plan limits
All Ghost(Pro) plans have a defined limits attached to them—see our pricing page for details. If your publication grows over your plan's current member limit, publishing content within Ghost Admin will be temporarily disabled.
When this occurs, you will see a banner across the top of Ghost Admin, indicating that it's time to upgrade. Additionally, if you try to publish content to send to your audience, you will see a similar notification, prompting you to upgrade your plan.
Clicking the prompts to upgrade will take you directly to your Ghost(Pro) → Billing area, in order to upgrade to the next tier of your current plan. Once upgraded, this will restore your ability to publish and send content to your members.
Cancel your subscription
Although we'd be sad to see you go, Ghost(Pro) plans can be cancelled at anytime.
To cancel your subscription, the owner user must login to Ghost Admin, and navigate to the Ghost(Pro) → Billing area. From there, you can click on the red Cancel account link in the lower-left corner of the billing page.
We strongly advise making a backup of any site content before you do this, using the Ghost export tool.
💡
Exports generated from the
Settings → Labs
area in Ghost Admin only include your content, tags, staff users and site settings.
Should you need a complete export of your publication data
(which would include your content, images, themes, and other files)
contact
support@ghost.org
to request this data prior to cancelling.
Cancelling a subscription will take any sites tied to the Ghost account offline immediately. This is an unrecoverable action.
As mentioned on our pricing page and terms of service, we do not offer refunds.