Manage your billing details and subscription by accessing the Billing section in the navigation menu within Ghost Admin. Only the site owner is able to access this page. See Transferring publication owner if you need to change the owner.
All new Ghost(Pro) accounts start on a 14-day free trial. You will not be billed when your trial expires, however to continue using Ghost(Pro) after your trial you will need to select a plan. See our pricing page for more information about plans.
Update your payment method
Your payment method can be updated at any time. To do this, under Payment information, click Edit next to your current payment method. If you're having trouble with your card being declined, see Troubleshooting payment issues.

View invoices
All of your payment invoices are located under Billing history. To download an invoice, left-click on the invoice and select Download invoice on the proceeding page.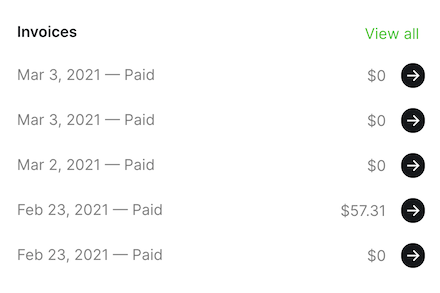 Update invoice details
Invoice details can be added from within Ghost Admin, in the Ghost(Pro) > Billing settings area. Once details have been applied they will appear on all future invoices.
Billing contact
The email address used to setup your Ghost(Pro) account will always be the default billing contact that receives billing notifications tied to your subscription.
If you'd prefer to use an alternate email address to receive billing communications (for renewal receipts and failed payment notifications), a second email address can be configured to receive these notifications. This email address can be configured in the Billing contact field, by clicking Edit next to the existing email address.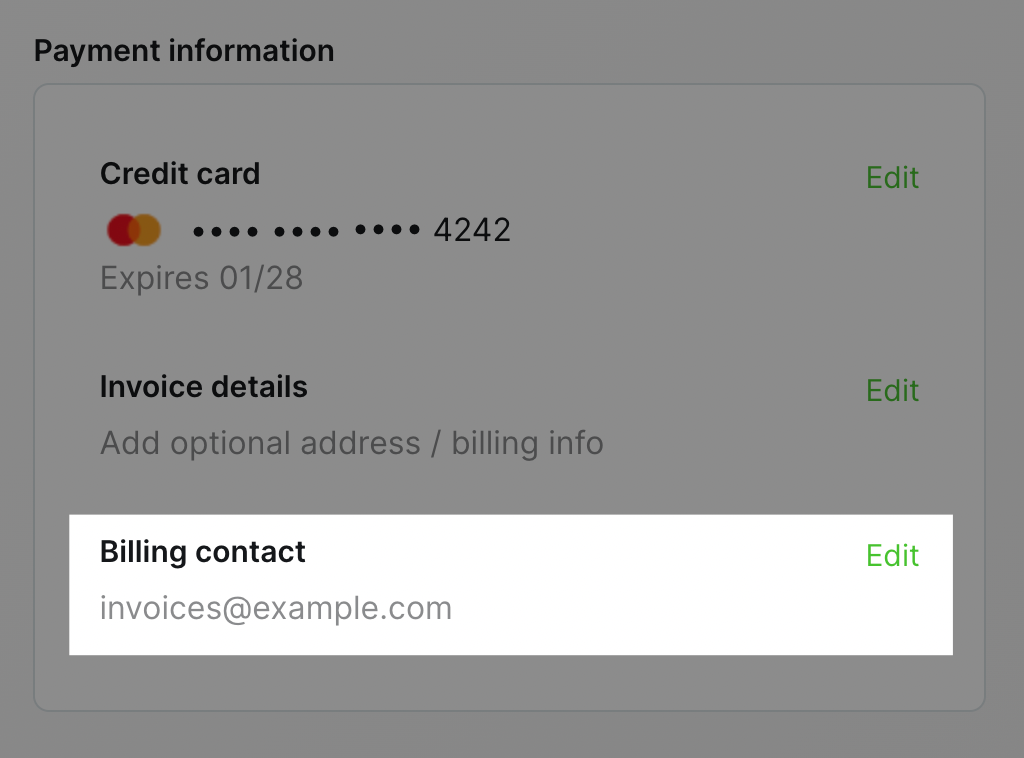 Cancelling your account
Although we'd be sad to see you go, Ghost(Pro) plans can be cancelled at anytime. To cancel your subscription, click the red Cancel account link in the lower-left corner of the billing page.
We strongly advise making a backup of any site content before you do this using the Ghost export tool. Cancelling a subscription will take any sites tied to the Ghost account offline immediately.
As mentioned on our pricing page and terms of service, we do not offer refunds.
Troubleshooting payment issues
When a card declines, or fails to process, it usually happens for one of a few different reasons.
Incorrect billing information
Virtual banks such as N26 and Revolut may require the card country to be set to as United Kingdom as that's where they're based. Also verify that your billing name, address, ZIP code, and CVV number for your credit card match what's in our system. The CVV number is a three-digit code printed on the back of most credit and debit cards. On American Express cards, it's a four-digit code on the front of the card.
Incorrect card type
We currently only accept Visa, MasterCard and American Express, all of which cannot be pre-paid. If you are trying to use a pre-paid card, or a card type we do not support (e.g. Discover) your card will be declined.
Transaction marked as fraud
Your bank may have falsely marked the transaction as fraud, due to our organisation being based in Singapore. When this happens, the transaction can be marked as "safe," but you'll need to contact your financial institution to correct this.
Card expired
Check the expiration date on your card and verify that we have the correct date in our system.
Browser issues
Web browsers can cache errors from previously failed attempts which will prevent the transaction from being processed. Clear your browser's cache and cookies, and try again after adding your payment method.