Email newsletters in Ghost are delivered with a beautiful, customizable HTML template that is polished and optimized for all popular email clients.
The email design settings in Ghost allow you to put your brand forward, and customize the template to suit your needs. Each newsletter you create in Ghost can have it's own design settings, too!
Header
Header image
Including a custom header image with your email newsletters is optional. To add a header image, click the upload icon and select your image. We recommend using a .JPEG, .PNG, .GIF, or .WEBP image that is 1200px by 600px for best results.
Publication title
Email newsletters can be configured to show or hide the publication title, which can be customized from the Settings  →  General area of Ghost Admin.
Newsletter name
When enabled, the newsletter name configured in your newsletter's general settings will be displayed under the publication title, within your newsletter template.
Body
Post title
The post title can be toggled on or off, giving you the flexibility to deliver different types of newsletters – from emails that look like posts with the title on, to personal letters and marketing announcements with the post title off.
By default, the post title is included. When the post title is toggled on, you can select from two header style options:
Clean, sans-serif
Elegant, serif
By toggling the alignment icons, you can also change the entire title alignment to be left-justified or centered.
Feature image
If a featured image has been included with your post, you can enable the option to include this image with your email newsletters. This featured image will appear just below the header of your newsletter.
Body style
Body style allows you to set the tone of your newsletter by selecting one of two font styles for the email template's main (body) text:
Clean, sans-serif
Elegant, serif
Footer
The email footer area can be customized to collect audience feedback, link to commenting, show subscription details and include any additional text or legal information you'd like to appear in your email newsletters.
Show subscription details
Make it as easy as possible for members to manage their accounts by adding personalized subscription information at the bottom of each newsletter, so your members can see what email address they subscribed with, the date they subscribed, and the renewal date for paid members.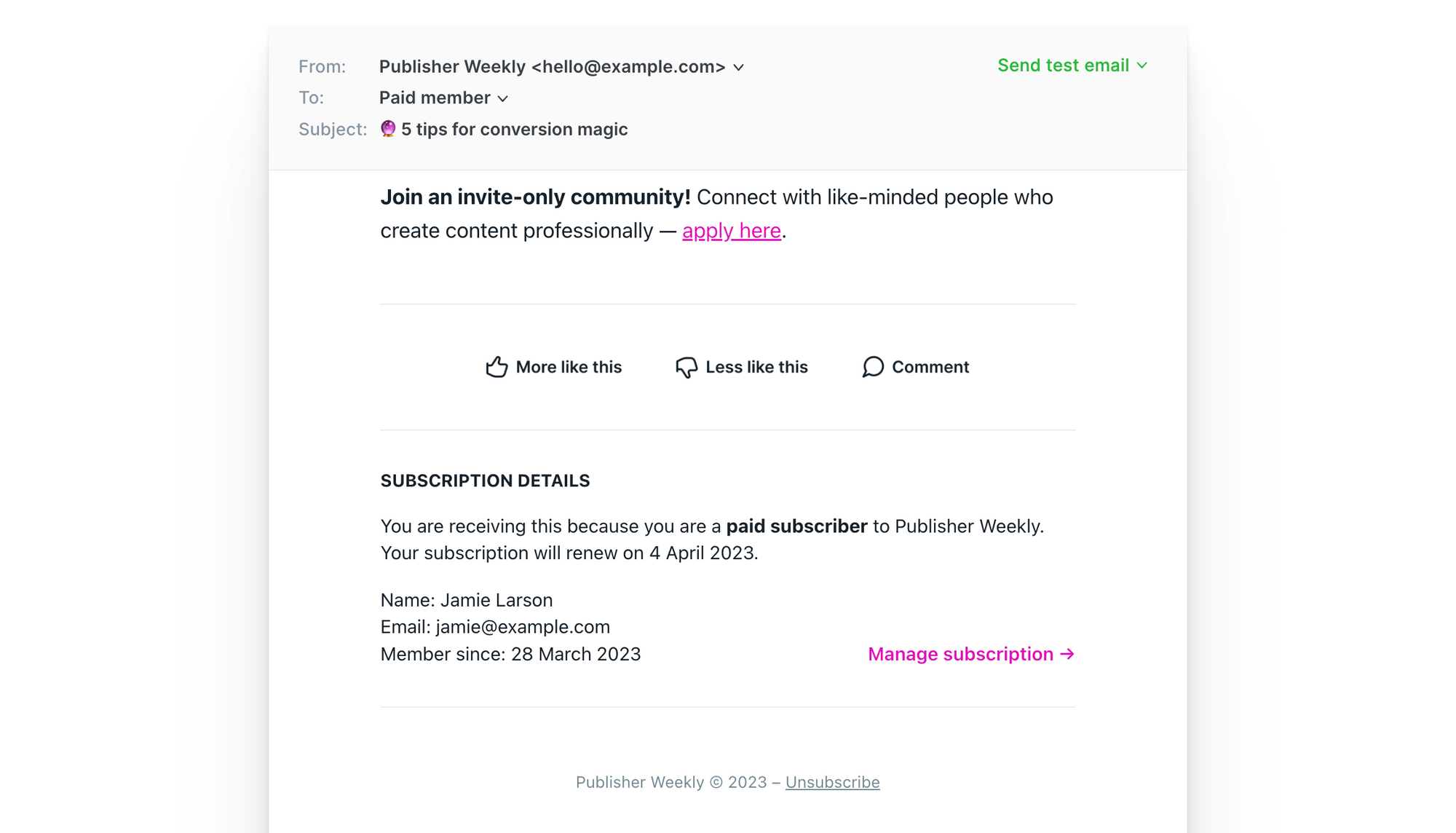 Promote independent publishing
The "Published with Ghost" badge can be enabled and disabled from appearing at the bottom of each newsletter.