The email newsletter template in Ghost has been designed to turn your post content into beautiful email newsletters in all email clients. All you need to do is create your newsletter using the editor, and deliver it to your audience.
The email design settings in Ghost allow you to customize elements of the email template to suit your brand.
To get started, go to Settings → Email newsletter → Customize design to add a custom header image, show or hide your publication icon and title, as well as change your font preferences and add email footer text. When you update your newsletter design from the UI, you can preview them instantly before saving.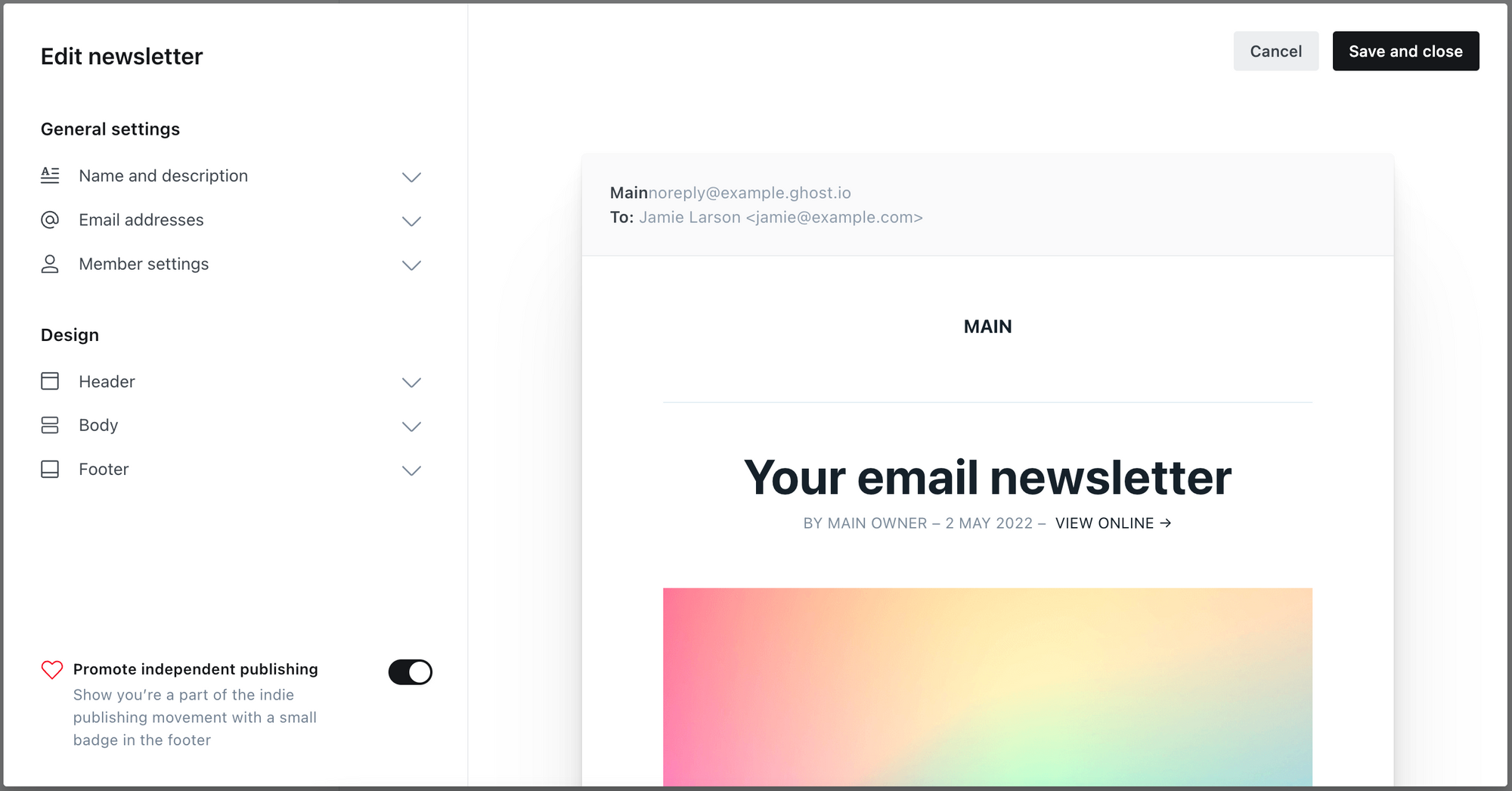 General settings
The email newsletter general settings in Ghost allow you to customize how your newsletter is accessed within Ghost Admin, as well as configure custom email addresses used for sending.
Name & description
Setting a custom name and description for your newsletter makes it easier to identify from within the Settings → Email newsletter area in Ghost Admin. You can also choose to display the newsletter name within your email templates, for each newsletter associated with your publication.
Email addresses
Set a custom sender name, 'from' email address, and 'reply-to' email address for your newsletter. Read more on using a custom sender names.
Sender Email Address
This is the email address your newsletters will appear to come 'from' when your members view your newsletter in their inbox. By default, this is configured as a noreply email address.
Reply-to Email Address
This email address is used for replies to your email newsletter, when your members reply directly from any newsletter they received.
If you'd like to change the Sender or Reply-to email addresses, enter the new email address to be used, then click Save and close. This sends a confirmation email to the new email address, containing a link which must be clicked to verify and activate the email address.
💡
Once custom Sender or Reply-to email addresses are activated, these email addresses will also be available to be set as the
support email address
for your members.
Member settings
Enable or disable whether or not your newsletter should be automatically applied to new member signups to your publication. When enabled, members will automatically be subscribed.
Design settings
The email design settings in Ghost allow you to customize elements of the email template to suit your brand.
Header
Header image
Including a custom header image with your email newsletters is optional. To add a header image, click the upload icon and select your image. We recommend using a JPEG, PNG, GIF, or webp image that is 1200px by 600px for best results.
Publication title
Email newsletters can be configured to show or hide the publication title, which can be customized from the Settings  →  General area of Ghost Admin.
Newsletter name
When enabled, the newsletter name configured in your newsletter's general settings will be displayed under the Publication Title, within your newsletter template.
Body
Newsletter title style
The title of your email newsletter includes the post title, author name, date and a link to view the newsletter as a webpage.
The header style options allow you to choose one of two text styles for the title of the newsletter:
Clean, sans-serif
Elegant, serif
By toggling the alignment icons, you can also change the entire header alignment to be left-justified or centered.
Body style
Body style allows you to set the tone of your newsletter by selecting one of two font styles for the email template's main (body) text:
Clean, sans-serif
Elegant, serif
Feature image
If a feature image has been included with your post, you can enable the option to include this image with your email newsletters. This feature image will appear just below the header of your newsletter.
Footer
The email footer area can be customized to collect audience feedback, include any additional text or legal information you'd like to appear with each email newsletter.
Promote independent publishing
By default, all email newsletters include a "Published with Ghost" badge in the footer of the template. You can remove this badge by toggling the option to promote independent publishing off.
Saving your changes
When you've finished customizing the newsletter design options, save your changes by clicking the Save and close button in the top right corner of the design window. Once saved, your changes will be reflected in the next email newsletter you send to your members.