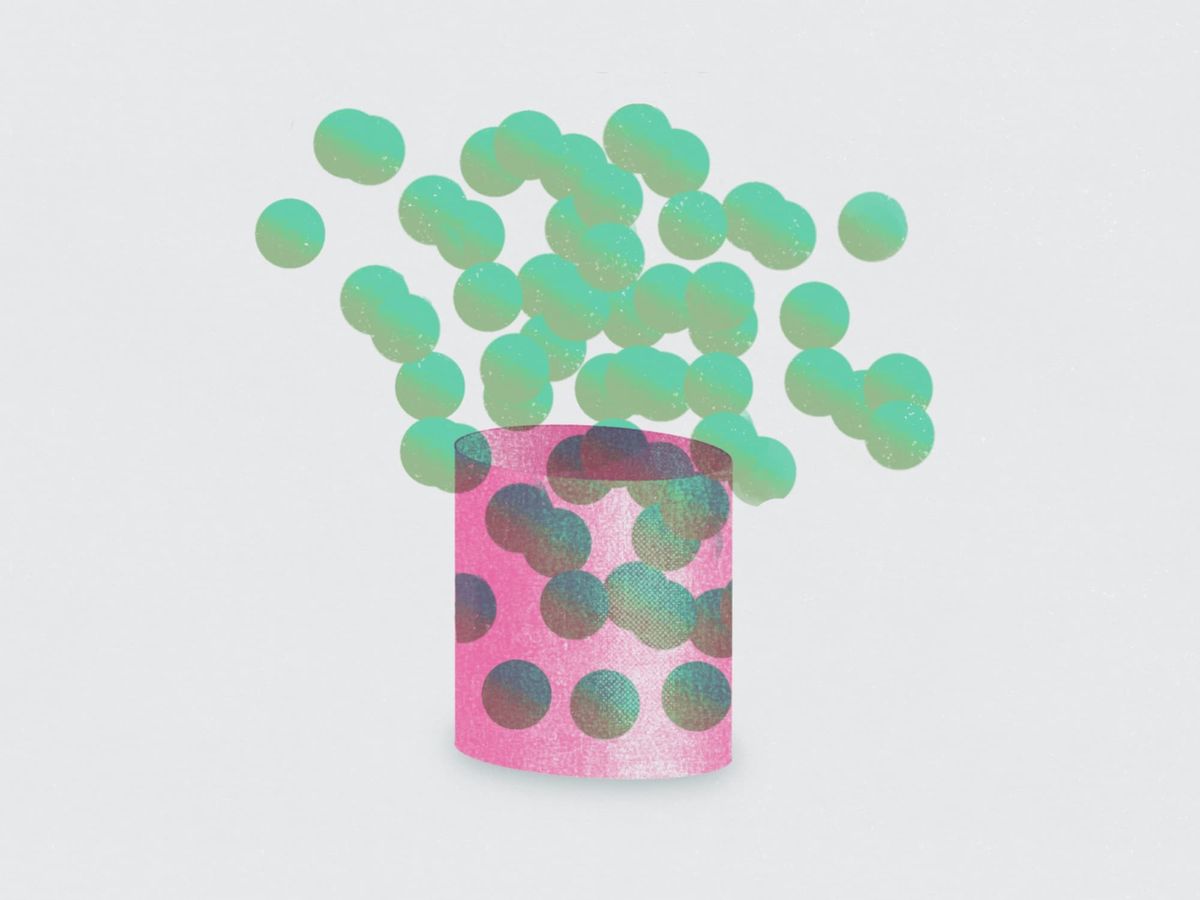 How to add a tip jar
Give your readers more opportunities to support your content (and boost your revenue) by adding a tip jar to your site. It's quick and easy, and this tutorial will walk you through everything you need to know.
---
Offer your most engaged readers multiple ways to support your content by adding a tip jar to your Ghost membership site with Stripe.
This tutorial will walk you through the steps of setting up the payment link in Stripe and how to add the link to your Ghost site as a navigation item, a page, and a content snippet.
Create a payment link on Stripe
Click this button to create a new payment link in your Stripe dashboard:
---
---
Next, fill in the details for your payment link. These details are entirely up to you. For most Tip Jars, people select "Let customers choose what to pay" — When everything looks good, click Create link.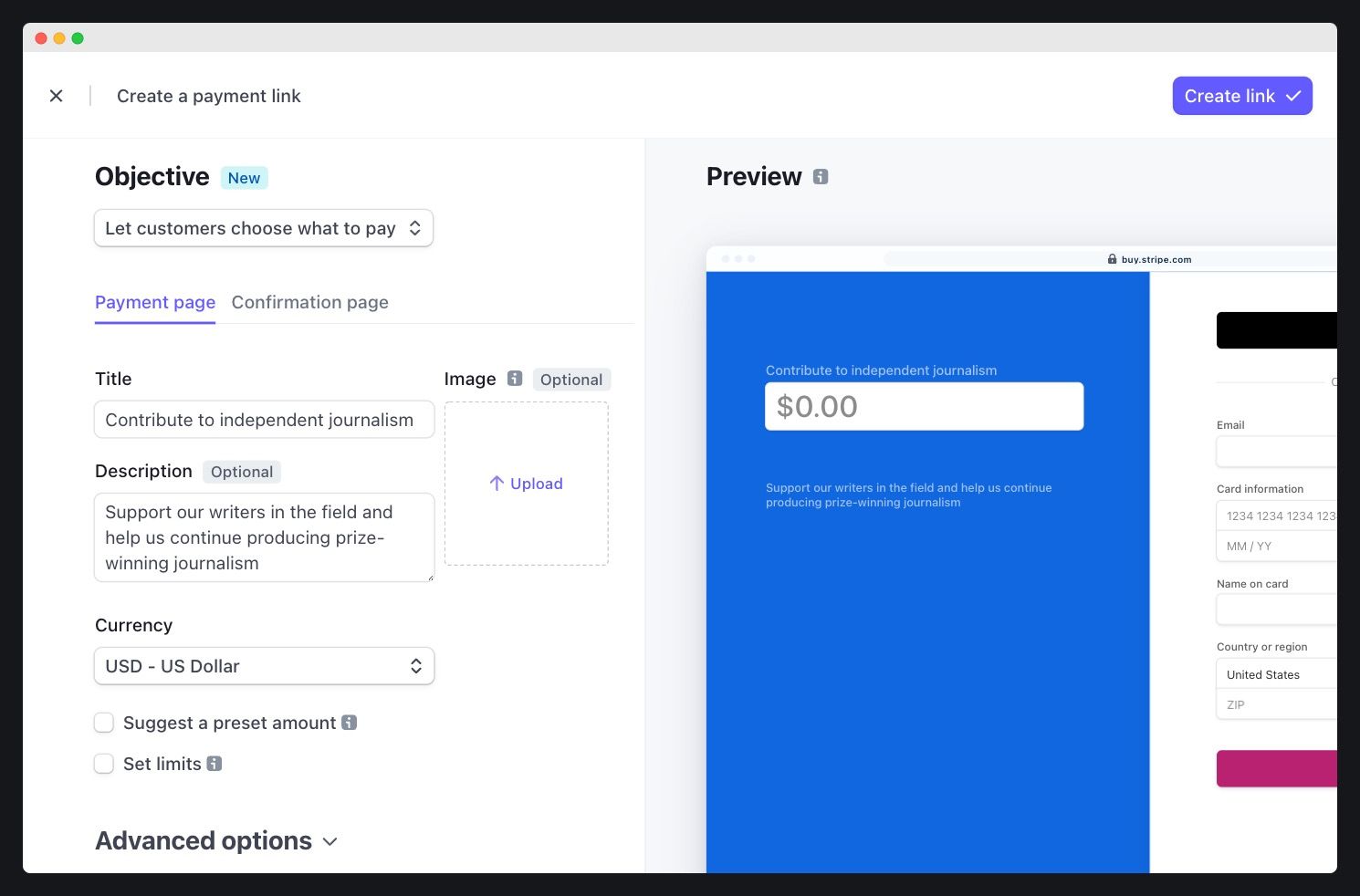 Once created, click Copy to get the URL for your payment link.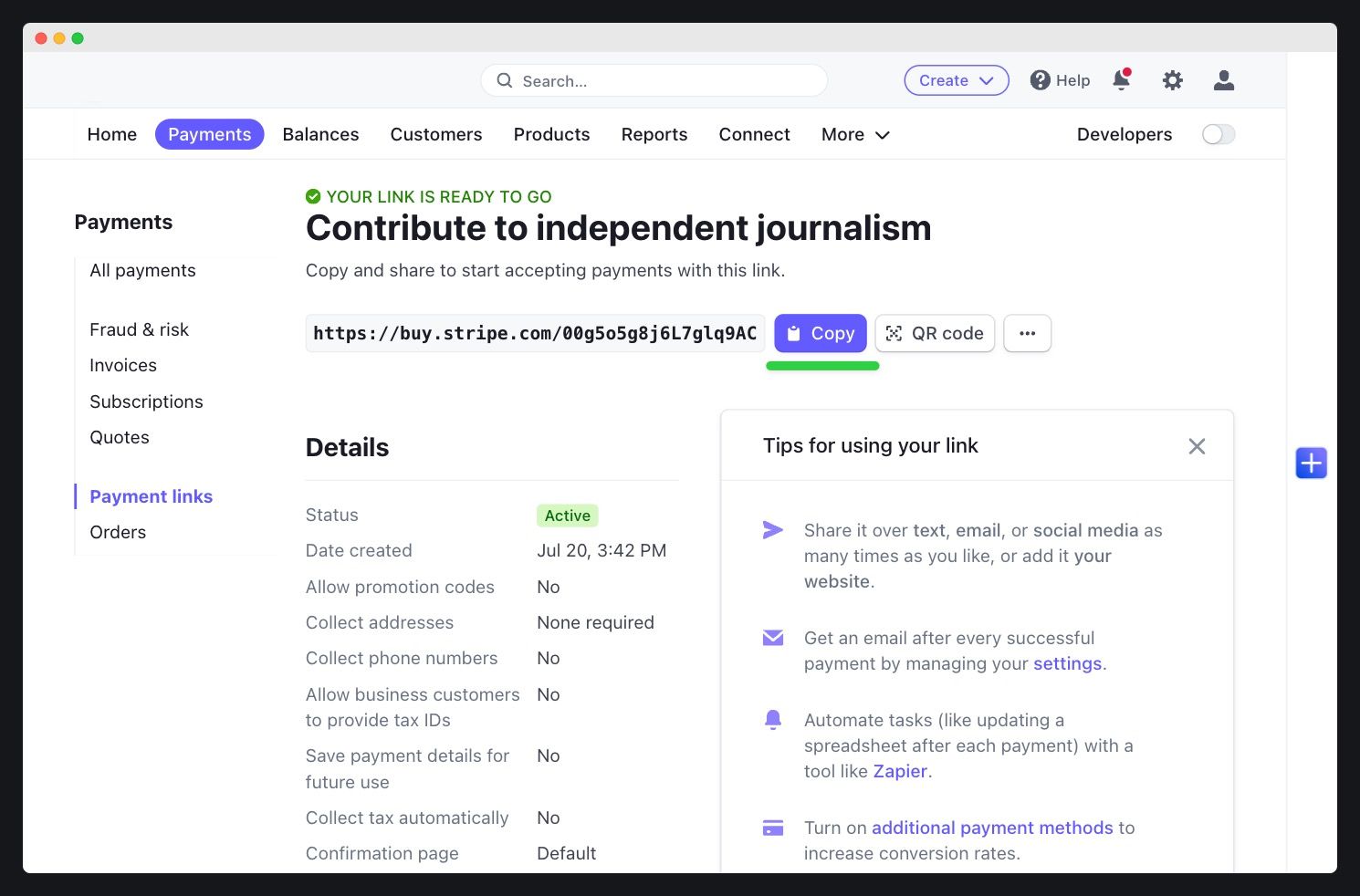 Add the payment link to Ghost
You can now add this payment link anywhere in Ghost to give people a direct link to your Tip Jar. There are several places to choose from!
Add a tip jar to your Ghost navigation menu
Place the link in your main navigation to show a global link on every page.
Add a tip jar to a Ghost post or page
Insert the link to a Button card in any content within the Ghost editor.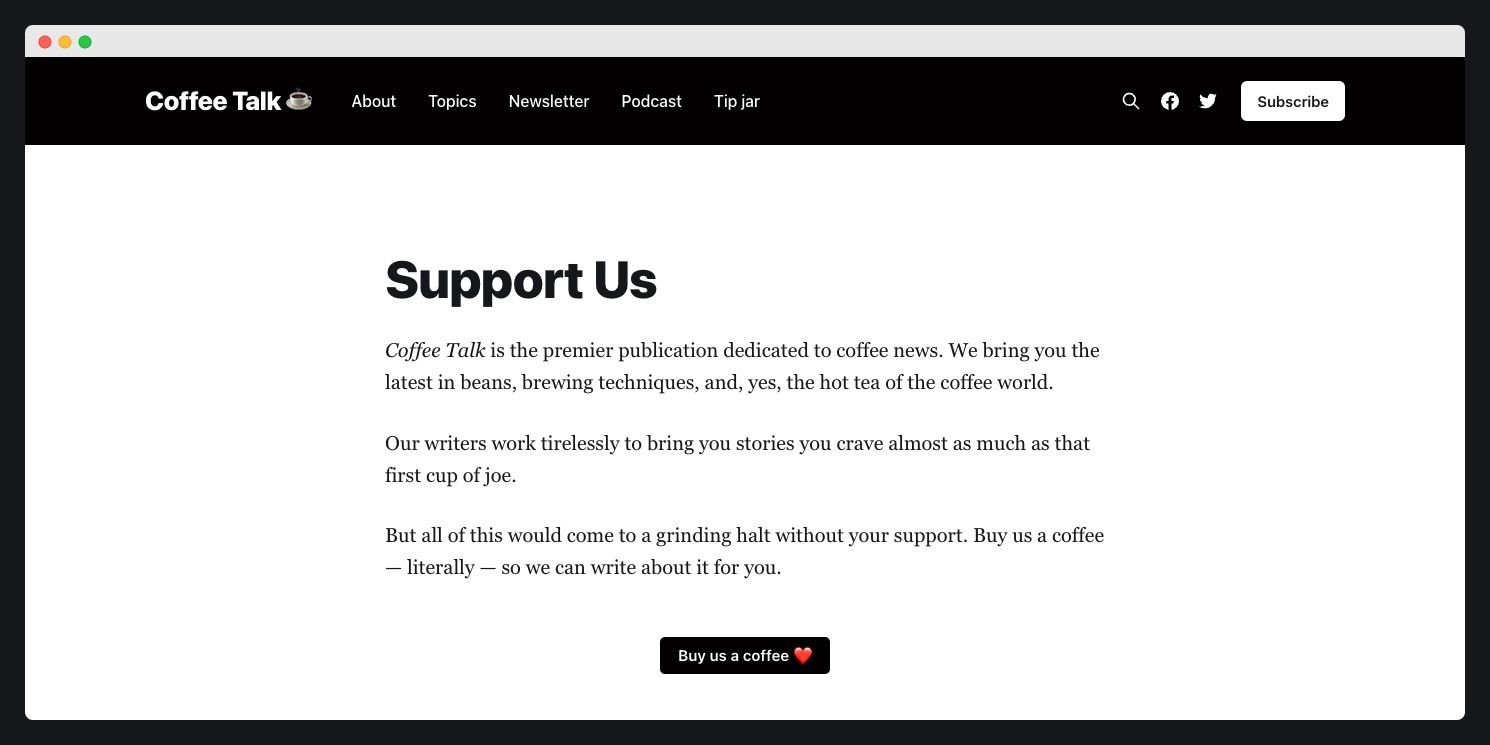 Create a re-usable tip jar content snippet
In Ghost, snippets are saved, reusable piece of content. They're perfect for quickly adding a Tip Jar link at opportune moments, which you can easily insert regularly in your posts again in future.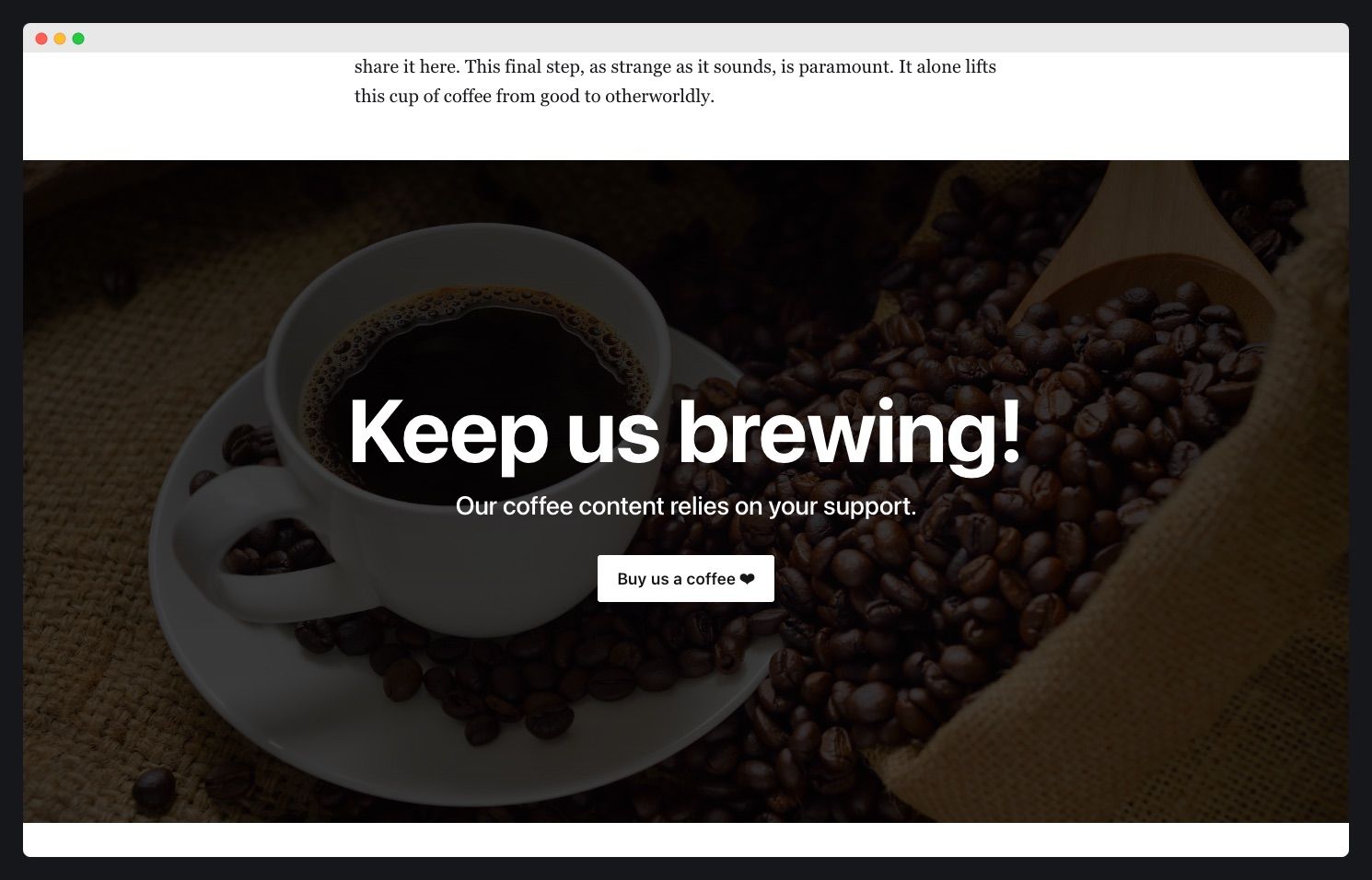 This example uses the Header card, which adds a beautiful, full-width element to the page.
To be able to use this on other posts and pages, turn the card into a snippet, and it will then be available to use in any post or page in future from the card menu.
Summary
Tip jars offer your visitors a simple way to contribute to your content financially with a one-off payment, and thanks to Stripe and Ghost, this is easy to set up for your publication
---