WordPress vs Ghost
Ghost is a simple, modern WordPress alternative which puts the excitement back into blogging.
Hello! Considering switching to Ghost?
If so, you're probably trying to figure out whether it will be the right decision for you – and we wanted to help make that process a bit easier.
Scroll down and you'll find as many details as we can squeeze onto a single page to help give you an overview of Ghost vs WordPress compared. We'll also give you a straight-up comparison of features, customer experiences, pricing and performance.
1. Ghost is much more simple
If you're sick of wading through menus and navigating complex options that you never use, we've got news for you: So were we.
Ghost is explicitly focused on doing one thing really well: Publishing. Everything revolves around your content:
Our rich editor is designed solely around providing the best possible writing experience - it makes formatting posts a great deal more flexible. You can accomplish more with dynamic content cards that allow you to work with image galleries, embeds, Markdown, HTML and more. This is significantly more powerful than a traditional, cumbersome WYSIWYG editor.
"I wrote my first post on Ghost this weekend and it was a real joy. I love the markdown editor, it is exactly what I need and perfect for how I write my posts. Excited about where this will lead, Ghost feels like a great platform."

Switched from Tumblr to Ghost
Ghost gets out of the way and allows you to focus on your writing.
Completely customisable
Ghost is fully open to being themed and modified to suit your needs and your style. Almost no two Ghost publications look the same, which is one of the biggest strengths of the platform.
You can integrate any of third party services that you already use and control the exact experience which you want your readers to have, so you're never locked into a single set of functionality or features for your site.
Whether you're growing a brand new blog from scratch, or running one of the world's leading online publications, Ghost can be adapted to suit your needs.
2. Ghost has SEO & social built-in
What's the point in publishing if nobody reads your content?
Ghost has the best support for search engine optimisation and social sharing features of any blogging platform in the world. You don't need any extra plugins or extensions, and you don't need to write any extra code. It just works.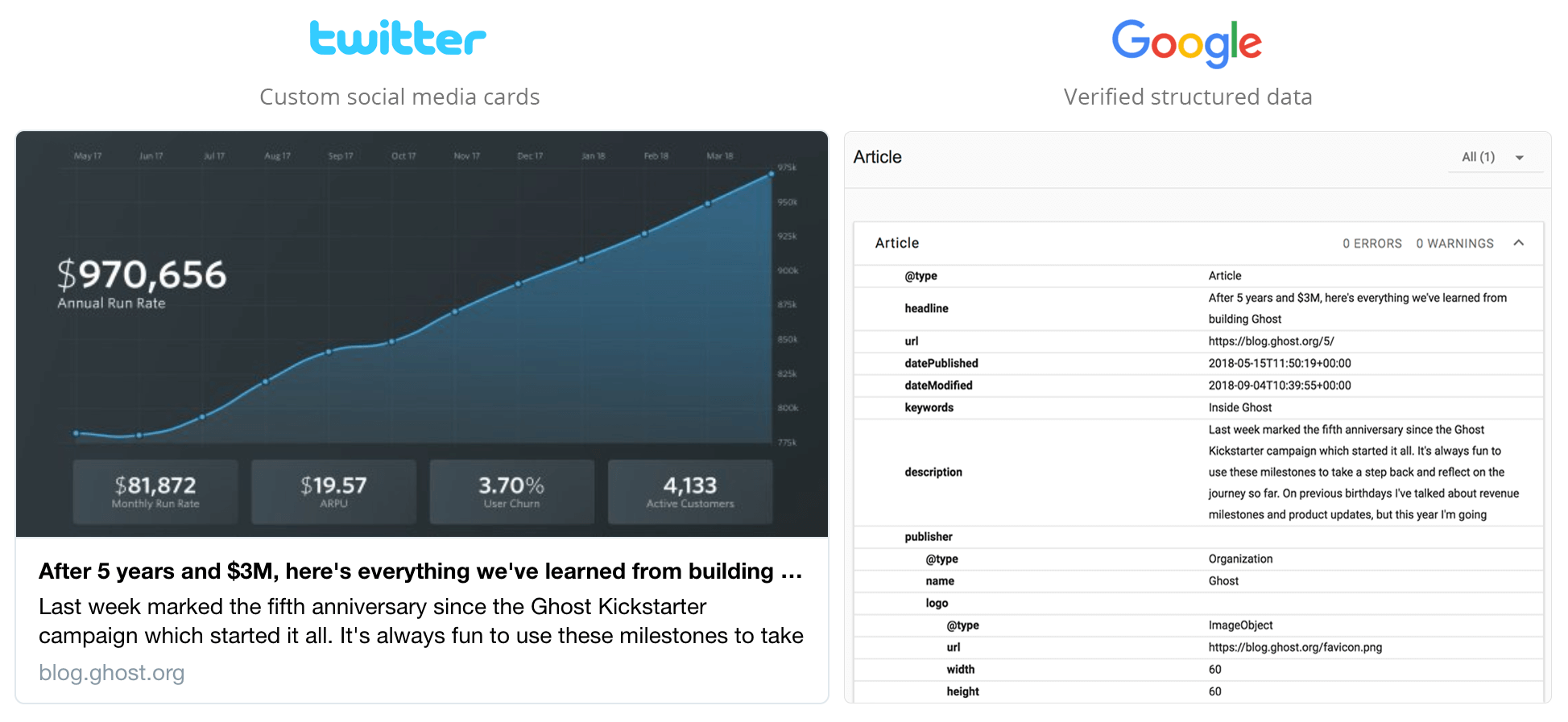 There are built-in XML sitemaps, Google AMP pages, canonical tags, optimised URLs, microformats, Facebook Open Graph tags, support for Twitter cards and clean semantic markup. All of this is done for you automatically, with no plugins needed.
3. Automated publication setup with Ghost
Getting up and running with WordPress, for the uninitiated, can be a long process. You have to download the software, find a hosting company, sign up for a new account, and then get all your files uploaded over FTP and setup a new MySQL database before you actually get to the install process.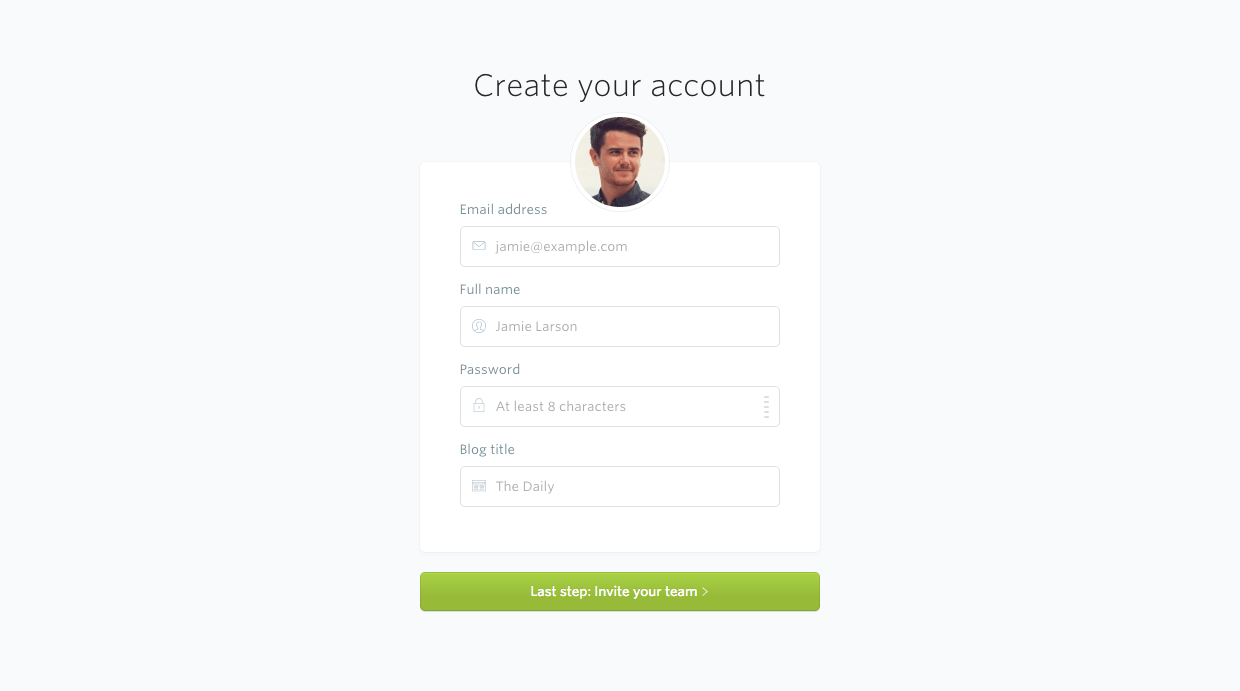 Because Ghost offers an official hosted service, you can have a new blog up and running in the space of about 3 clicks – with exactly the same level of control as if it were hosted anywhere else. Powerful automation simply saves you a lot of time.
4. Ghost is faster
Because Ghost is powered by a modern technology stack using Node.js – it's fast. Really, really, really, ridiculously fast.

Independent tests have found Ghost to be up to 1,900% faster than WordPress. What does that mean? In the amount of time it takes WordPress to respond to 1 request, Ghost will have already responded to 19 of them. The speed of your blog impacts everything, from search engine rankings to mobile user engagement.
5. Ghost is more affordable
We've built the best hosted service in the business, called Ghost(Pro). It's comparable to running WordPress on a fully-managed hosting service with a dedicated Content Delivery Network.
You get the same incredible infrastructure and fantastic support, whether you currently receive a few thousand views or you're already up to tens of millions. But, you get all of it at a rather more affordable price-point:

"We're using Ghost's Pro service to host the blog for us. Works really well. Great writing experience compared to WordPress. WordPress is an incredibly powerful framework but because it supports the needs of so many websites and demands, it has grown into a sizable and cluttered tool."

Switched from WordPress to Ghost
Build your subscribers
Ghost has email subscriptions built in at its core. Once you've done all the hard work of attracting a new reader, it's important to keep them coming back again and again. Rather than relying on complex external systems to manage your subscriber database, Ghost has all of that built right in.
Easily collect, view, manage and export subscribers to your publication and start growing a real audience.
The most important aspect of any publication is understanding and growing a core readership base.
tl;dr: The skinny
Cut to the chase? Ghost is better for publishing and blogging. WordPress is better for building a dynamic, complex website.
Ghost is best if…
You care about a well designed interface
Your content needs to work well for social and search
Speed and performance are important to you
You might be better off with WordPress when…
You want a full business website, not a blog or publication
Extra advanced functionality like ecommerce, is needed
You want to build your own custom features with plugins
One last thing you should know
Ghost is an independent non-profit organisation. We build publishing tools for modern journalism & publishing because we believe freedom of speech is important. Our software is released under a free open source license, our business model is completely transparent, and our legal structure means that 100% of the money we make is reinvested into making Ghost better.
We're building a socially responsible, sustainable business which empowers people to share important stories and ideas. We're in this for the long haul.
"I've been a blog minimalist from the start, and finding a truly open source platform which reflects that minimalism and focus is incredibly refreshing."

Switched from TypePad to Ghost
You're now armed with knowledge! Hopefully this short guide was useful to give you a general overview of WordPress compared to Ghost.

Switching to Ghost gives you the flexibility of a fully customisable publication, and we have a support team on hand if you need help migrating your data. If you still have questions, you can reach us any time on [email protected].

Hit the button below to give Ghost a try. It's completely free and unlimited for 14 days, no obligation.
Ready to give it a try?
Start a trial completely free for 14 days
and build your publication