Patreon vs your own site: Diversifying a membership business
Built an audience on Patreon but looking for more ownership of your revenue and content?
---
Subscription-based crowdfunding on Patreon has allowed thousands of creators to generate revenue from their work, with tens of $millions in estimated monthly payouts per month.
Along with this success comes an abundance of options for those creators to take their businesses to the next level by creating a membership website that they own.
This article is going to take a look at how you can diversify your revenue as a Patreon creator, and secure a long-term sustainable business from your creative work. We'll cover the pros and cons of Patreon vs running your own membership website, as well as a few different scenarios that will guide you towards the best decision for your own membership business.
Using Patreon to run a membership business
With more than 130,000 creators and millions in monthly payouts, Patreon gives creators of all kinds a platform for their biggest fans to pledge and support their work, either with one-off payments or recurring subscriptions.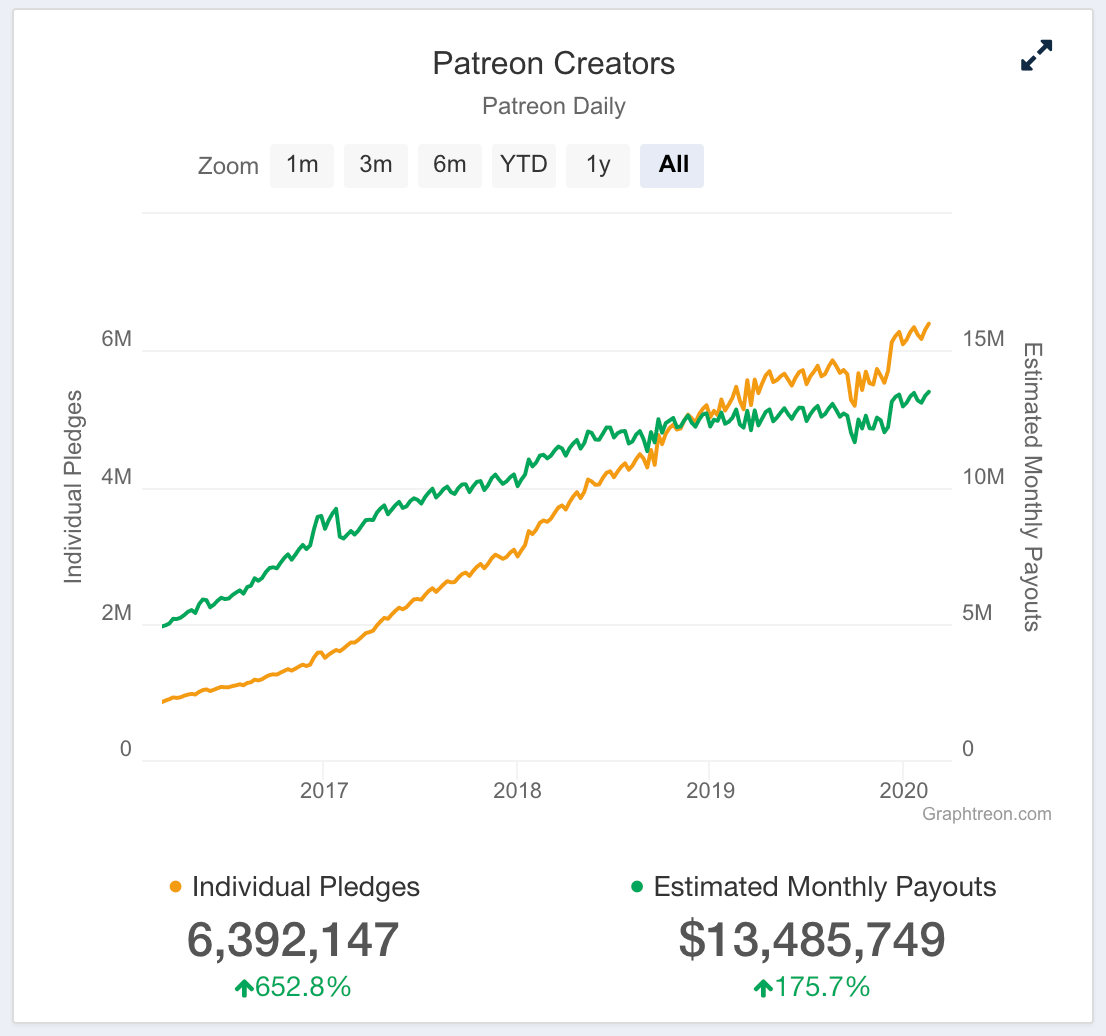 The platform has given some of the most popular independent creatives on the internet a way to generate revenue – so let's take a look at some of the pros and cons the platform offers.
When Patreon is most useful:
The platform allows you to create a profile relatively easily, and gives you a few different options for pricing tiers and promoting your work
Patreon handles chargebacks and failed payments for you which takes a load off and helps reduce churn or loss of revenue
The network effect can be helpful when starting out – for example, Patreon account holders can search all creators when logged in, and creators can launch with special offers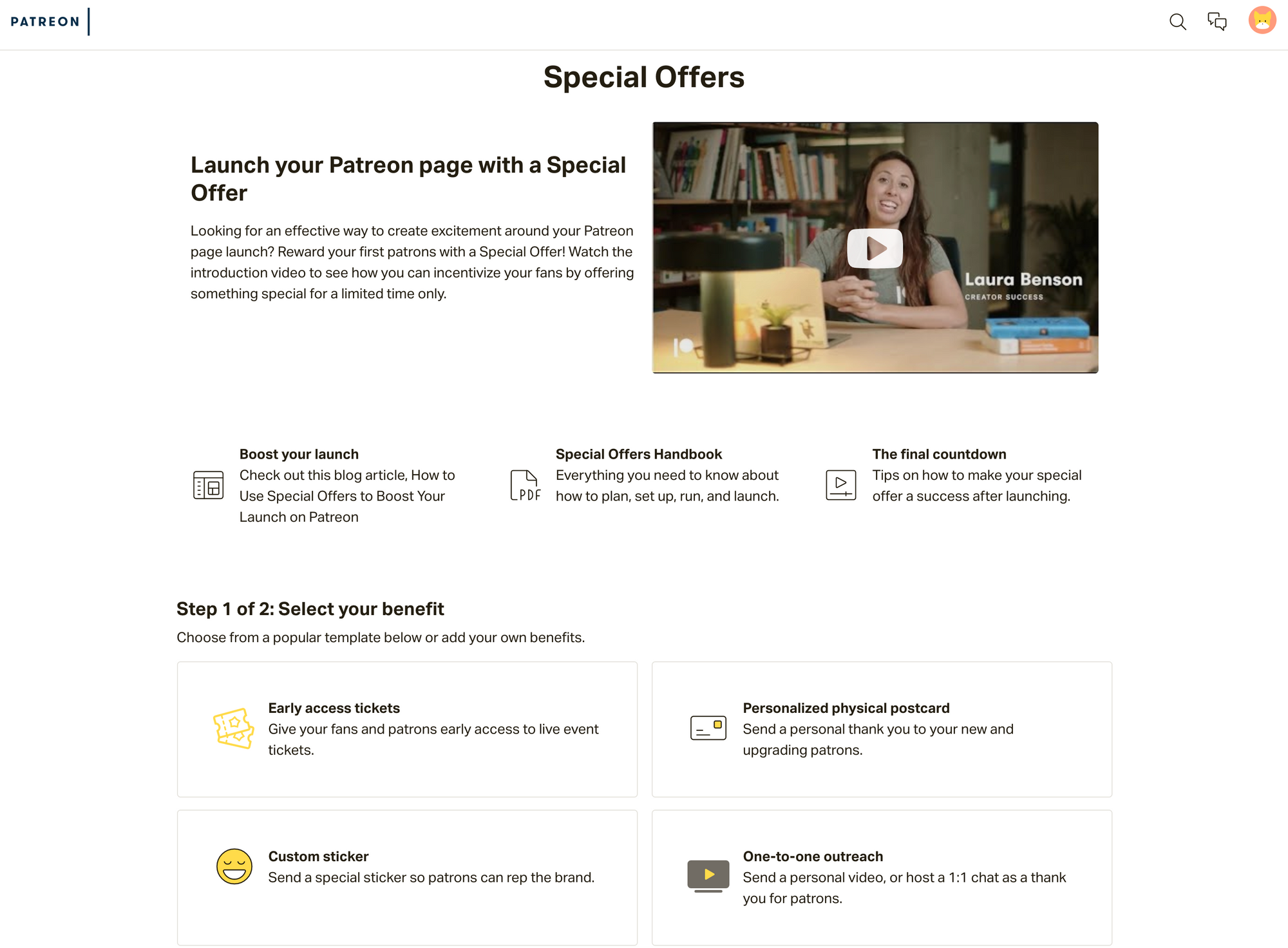 ---
Things to look out for:
Patreon charges transaction fees which means you'll pay between 5-12% per transaction (depending on your plan level) plus Stripe's processing fees. This means somewhere between 8-15% of your revenue will never be paid to you.
It's a closed platform, so they can change the rules, increase the pricing, or disappear entirely, whenever they want.
You don't really own your brand or your content when using any platform of this nature. It can be risky to depend on a single 3rd party platform with your entire business. The same applies to publishing on Medium, or building a brand on Instagram.
Creating your own membership website
There are plenty of options to create your very own membership website alongside or instead of using a Patreon creator account. Some of these options include Ghost (that's us!), Memberful, and Pico.
Using this type of software generally gives you the option to create something very similar to what you can achieve with Patreon: you sell premium content to your biggest fans. The difference with this approach is that your own website and you'll have much more control over your business.
---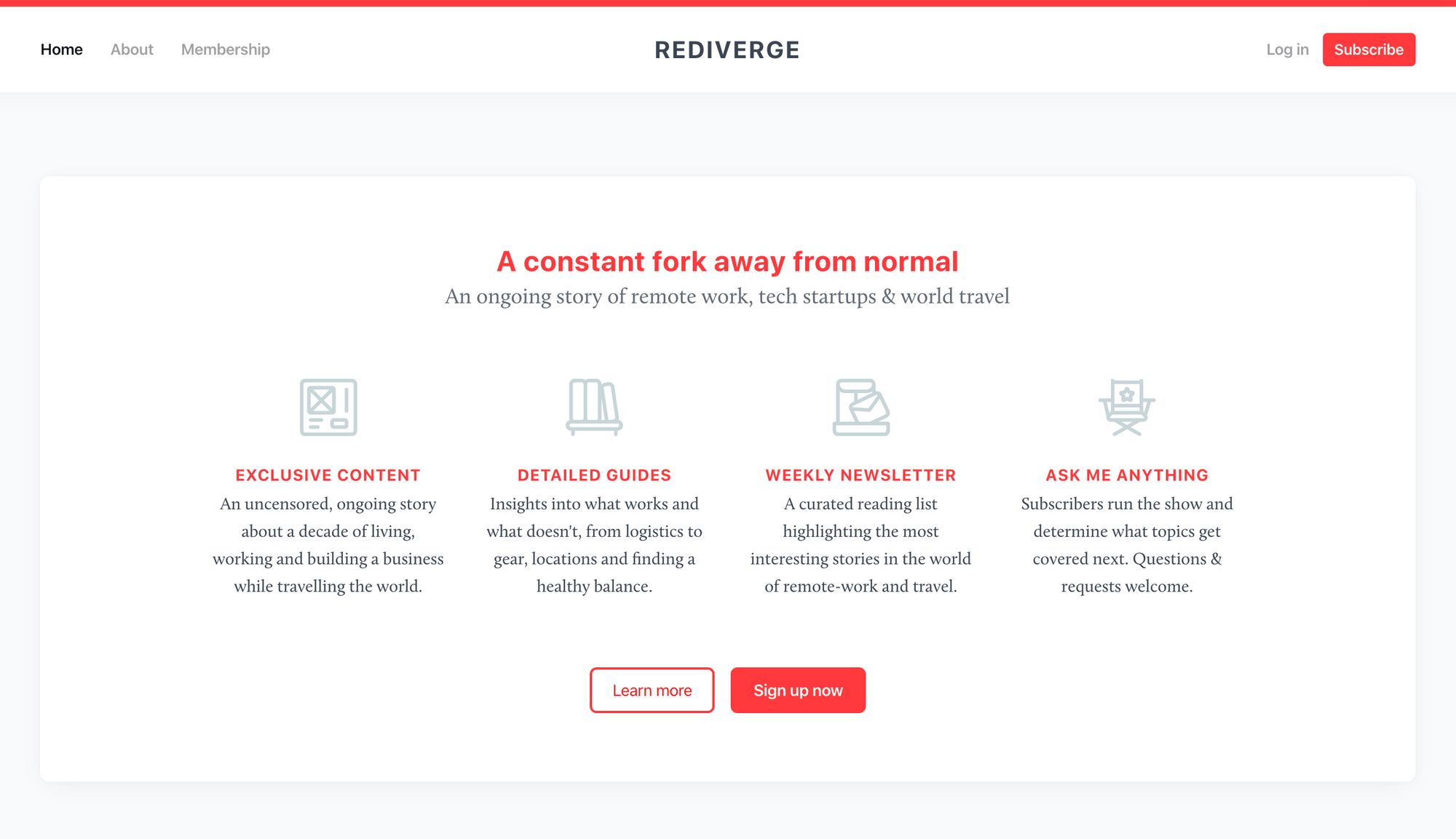 For example, Ghost is a CMS/blogging platform with native membership functionality, so you can create a new website and get up and running in no time without needing to touch any code, or download any extra tools. Ghost charges 0% transaction fees, and since it's open-source, you genuinely do have full ownership of your entire business. No one can take it away from you.
Compared to Patreon, creating your own custom membership website (using any tools, not just ours) is a much more independent & flexible option. While this might not sound important now, it's the one thing that troubles the most successful creators. Having all your revenue tied to a single platform you can't control is worrying for any kind of business.
Benefits of running your own membership website
You can create a website using software of your choice, use custom domains, custom design, and much more
It's often easier to migrate your content across platforms in the future
You still have the opportunity to offer additional perks to existing Patrons, or any other list of fans (like an email subscriber list)
Your own website allows you to create a whole new revenue stream entirely
Depending on what software you use, you can reduce your costs drastically
The difficult parts
Creating your own website and driving visitors to it isn't always easy. Here are some of the more difficult aspects of running your own membership site:
Owning your own website and brand generally means you have to spend more time setting things up
You'll need a stronger marketing plan since you won't be relying on the Patreon platform brand to attract new members
You can use Patreon alongside a membership website that you own (more on this shortly), but this usually requires creating more high-quality content for your fans

Tip: Check out our ultimate creators guide to membership websites.
Platforms vs Independent
Take a look at these examples. On the left are three popular Patreon creators, and on the right are three independent membership websites: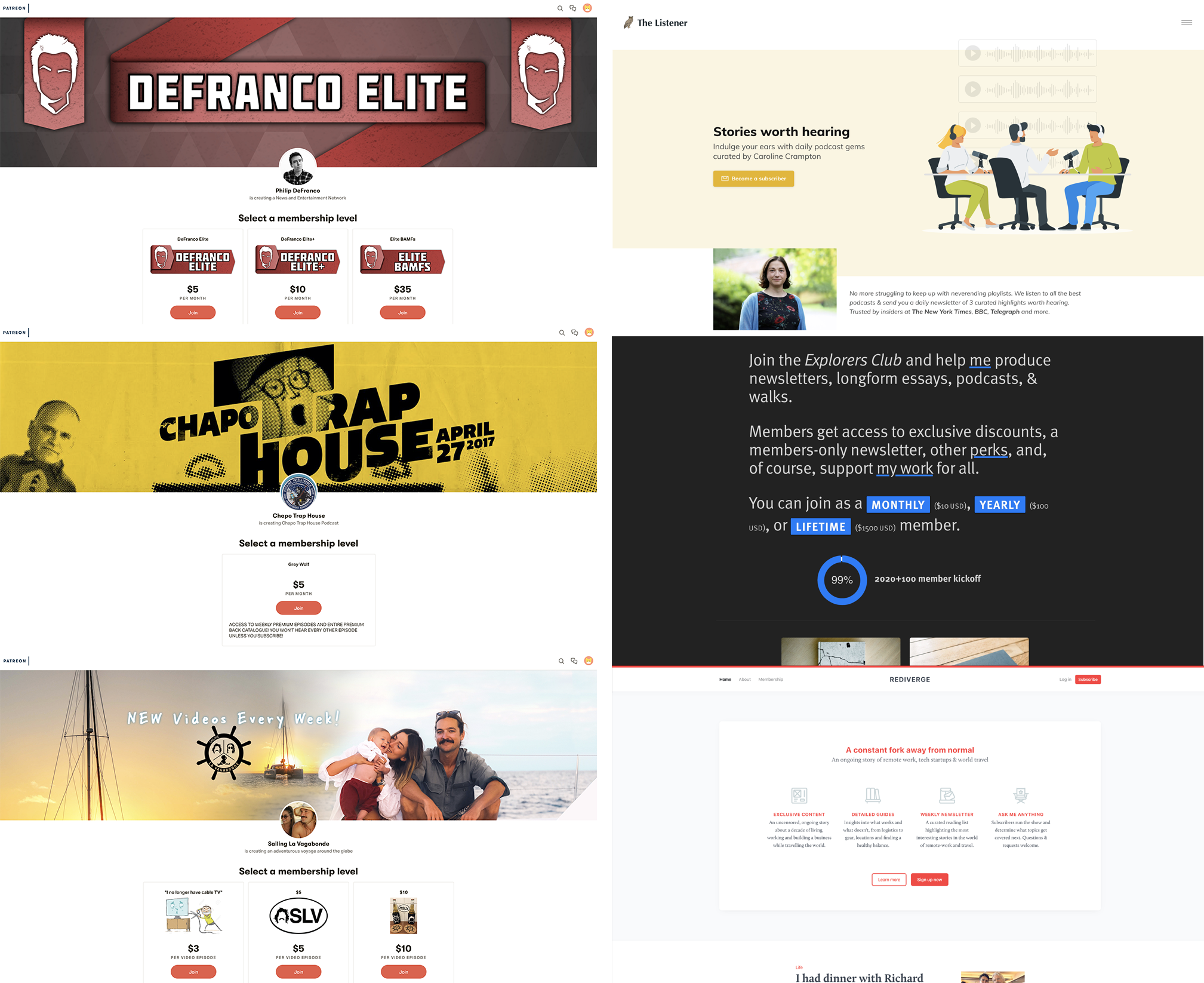 Patreon is like running a membership business on social media. All creators are in the same space, with very similar profiles, and tied to the features of the platform.
Having your own membership website is more like running an independent online business – it will likely require more of your time to begin with, but you benefit from being able to add some personality and create something totally unique.
Going independent for long-term success 💪🏽
Diversifying a growing business is a good strategy for long-term success and sustainability, especially if you create a new revenue stream that you own entirely.
Whether you're already a Patreon creator exploring your options, or trying to decide which is the right path to get started with, bear in mind the following:
You don't necessarily need any additional technical or coding skills to create your own membership website – most creators start out with something simple, and then hire a developer later on when they are making significant revenue and want to improve their brand.
You don't need to choose one or the other. It's entirely possible to run a Patreon creator account and a custom membership website together.
It's also possible to migrate all of your Patrons to a custom website that does the same thing, with fewer transaction fees or more flexibility.
We've investigated all of the pros and cons of using Patreon or a custom membership site to power your business in-depth.
You may decide that one or the other is better for you, or that you want to utilize the power of both. Here are three scenarios of how these configurations work in reality.
Scenario #1 – Supplement Patreon with your own site
Goal: Build a secondary home for your premium content that your Patrons can access as an extra benefit.
Works best for: Creators who have a large Patreon audience and want to create a custom website, but keep taking payments via Patreon.
How it works: Automatically send new Patrons to your membership website, where they will be able to log in to access additional premium content. For example, if you're creating a Podcast that your patrons pledge to, but also wanted to run a blog or an email newsletter, you could connect your Patreon to your website to do this.
In Ghost, this is made possible by creating member only content and turning off free member sign-up completely. You can connect Patreon to your site via Zapier and the end result would be a publication that only your Patrons can access.
Scenario #2 – Branch out with your own custom memberships
Goal: Create an additional revenue stream and take payments on your own website, while continuing to use Patreon as a source of income.
Works best for: Creators who want to sell additional memberships on their own site, and promote it to existing patrons, or run independent marketing campaigns.
How it works: Create a standalone membership website using software of your choice, differentiate its content from your Patreon content, and decide whether you want to promote it to existing Patrons or attract a new audience - or both!
This is a great way to diversify your existing Patreon revenue and make the best of both worlds. Here's some examples to get the creativity flowing:
Put your most premium/behind the scenes content on your website, so that your most engaged Patrons will sign up for a recurring monthly subscription. This is especially useful if you're using the "Per Creation" payment model on Patreon, since it gives your biggest fans the opportunity to support your work every month to get more frequent updates.
Try experimenting with other content formats on your website. For example, you might choose to use Patreon for short updates and community - but then offer unique content on your own website for a more premium cost.
Create a new brand on the side! Let's say you're a popular musician and your Patrons support your creative work, but you also want to create long-form essays about the music industry. You could expand upon this using an independent members site in a slightly different niche. The benefit of this is that some of your existing supporters might be interested, but you can also treat it as a second business that has its own target audience.
---
Using membership website software allows you the full freedom to create whatever you like. In Ghost, you can use the editor to write, share images, embed videos or audio, and much more. Plus, you can send it all as a newsletter which is great for engagement and retention!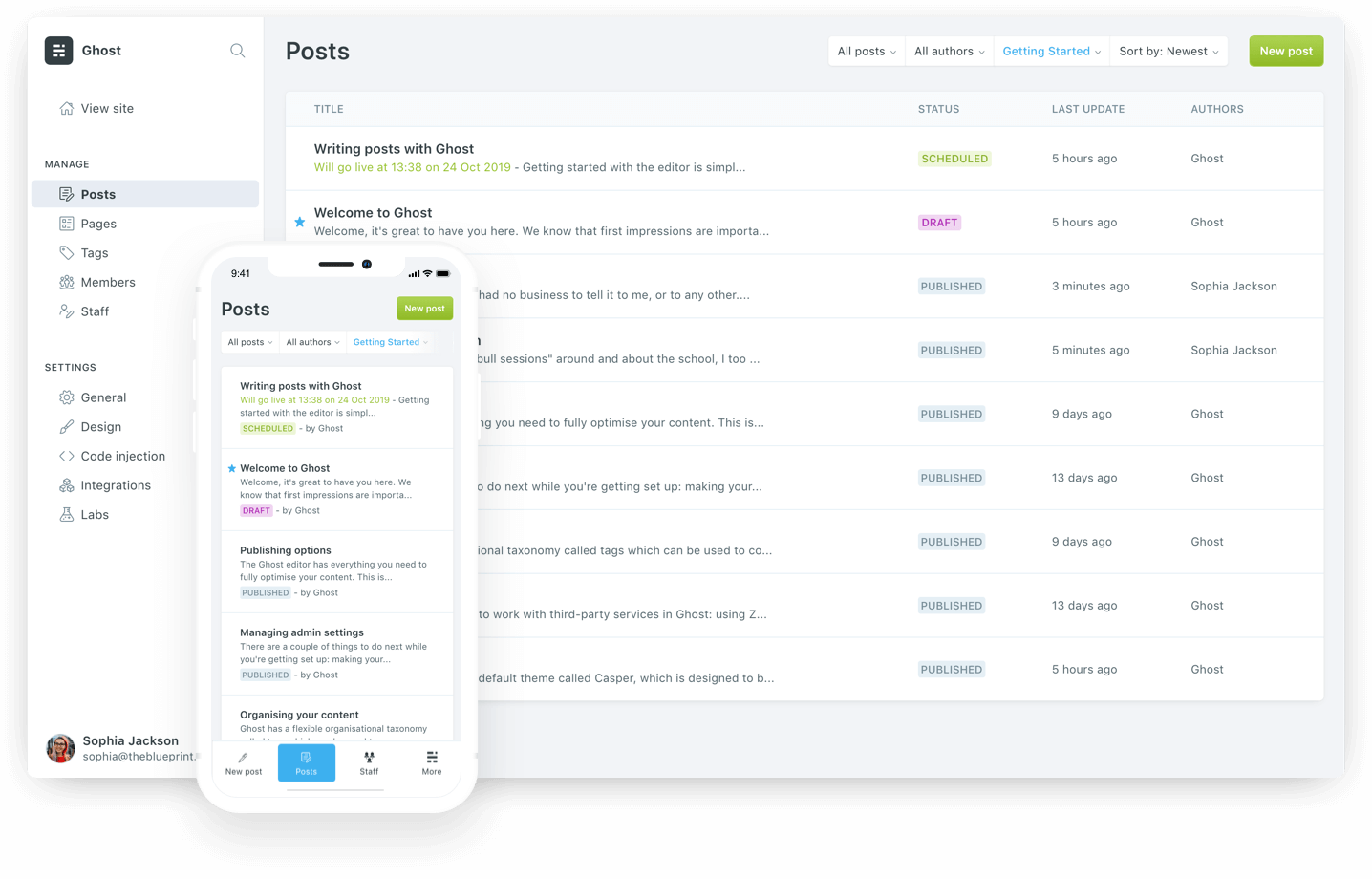 ---
Scenario #3 – Migrate patrons to an independent website
Goal: Move your business to your own membership site entirely and import your existing Patrons
Works best for: Those wanting to take full ownership of their brand or avoid Patreon transaction fees. Be warned - if you already have a lot of Patrons this can be a risky move, especially if your paying members are loyal to the Patreon platform and familiar with your content there. Consider the previous two scenarios as stepping stones towards an independent business first and foremost.
How it works: Choose your preferred software to run your membership website, and migrate/import your patrons. Let them know that you'll be continuing to provide content to them in a new location. You'd need to make sure the software you use allows you to import members, and that it supports all of the functionality you require.
---
Final thoughts
There we go! We've covered the pros and cons of using Patreon vs an independent solution to power your memberships. The simple truth is, there's no right or wrong answer. What we do know is that while Patreon has become a powerful tool for creators of all kinds, it's also worth considering diversifying your business, which gives you more opportunities to grow and customize what you offer to your members.
If you're already using Patreon, have you started thinking about layering in your own membership website yet? Do you have any questions for us? Drop them below!
---