How to switch from Patreon to Ghost
Built an audience on Patreon but looking for more ownership of your revenue and content?
---
Subscription-based crowdfunding on Patreon has allowed thousands of creators to generate revenue from their work, with tens of $millions in estimated monthly payouts per month.
But, as the creator economy matures, and more writers, podcasters and YouTubers build their independent businesses, creators are realizing that not all platforms are created equal.
"If you can't leave a subscription platform without leaving your customers behind, it's not your business." — Open Subscription Platforms
In this article, you'll learn why Patreon might be limiting your business potential and the steps involved to move your business to an open platform like Ghost, which offers more control, flexibility, and profit.
The pros and cons of Patreon
With more than 214,000 creators and millions in monthly payouts, creators of all kinds use Patreon to ask their biggest fans to support their creative work.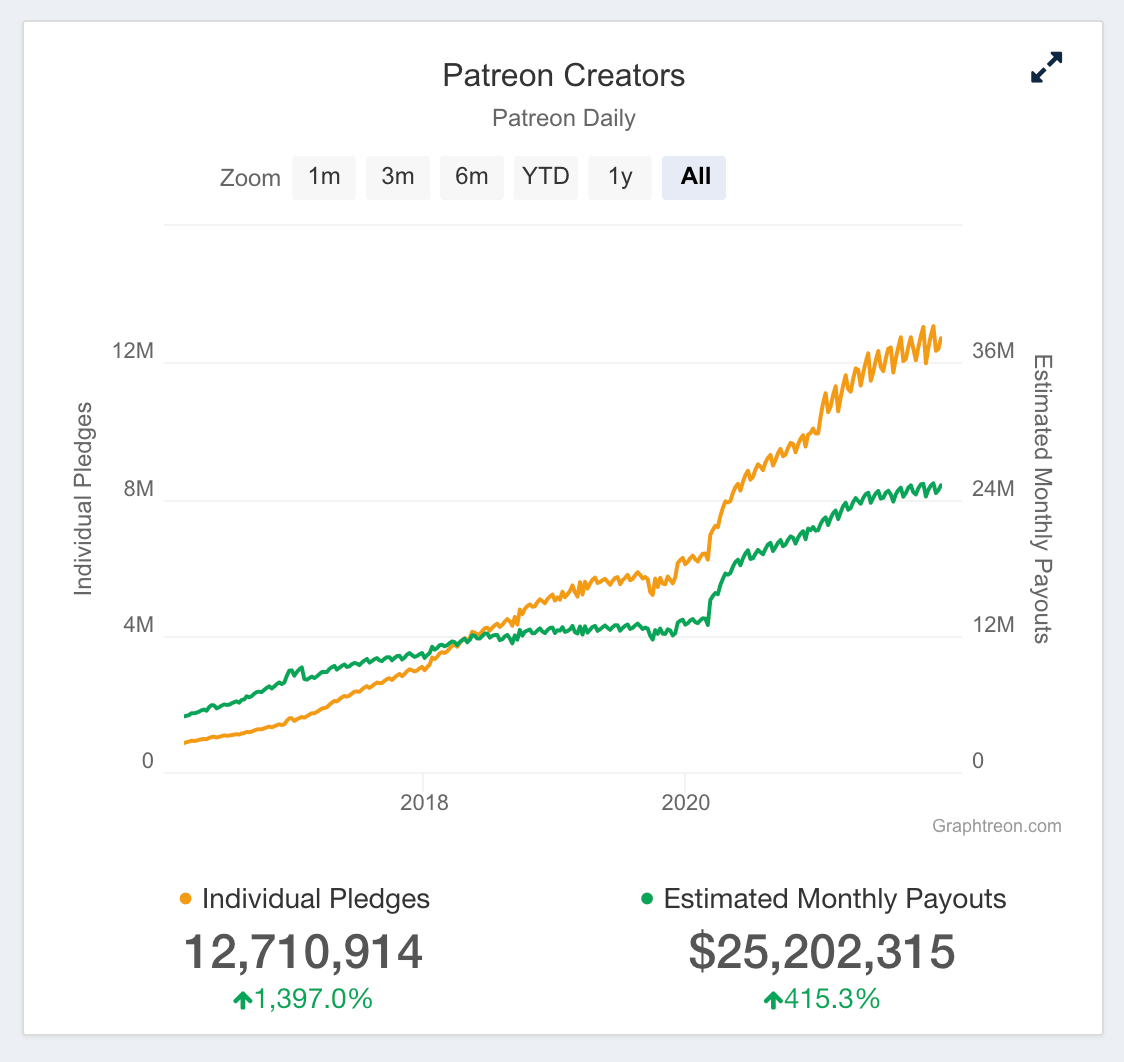 It can be a great way to get started as it's relatively easy to create a profile and start growing your paid audience. But as your business grows you may start to look for more flexibility, and this is where some of the limitations of Patreon begin to show.
Here are some of the reasons people decide to switch from Patreon to other tools:
Patreon takes 5 – 12% of creator's revenue, plus transaction fees.
As a company funded by venture capital and directed by investors, Patreon has the power to change its rules, fees, and your ability to access your audience at any time.
As a closed subscription data platform, it's not possible to migrate your business elsewhere without asking your fans to re-subscribe, which is a risky business decision.
There are limited customization options. Building your own custom branded website to host your content is not possible on Patreon.
When you're getting started, the appeal of convenience and visibility on Patreon is attractive, but once you start generating revenue on the platform, you're locked in.
So, what's a better option?
The advantages of open platforms
Open subscription platforms, like Ghost, offer a more flexible future for independent creators and publishers, because they give you full ownership.
Ghost is a non-profit, open-source, independent tool for creators. Caring for our users, and not our investors (we don't have any), is always the priority.
Here are a few things about Ghost that matter for your business:
Ghost takes 0% so you get to keep all of your revenue (Stripe transaction fees apply, larger businesses can negotiate these fees).
You have complete access to all of your content, email lists, and customer data, which means you're always in control of your destiny.
The website where your content is hosted is fully customizable with a variety of templates and integrations, as well as the ability to completely customize with code.
To summarize: Patreon is like running a membership business on social media. All creators are in the same space, with very similar profiles, and tied to the features of the platform.
Having your own membership website is more like running an independent online business – it will likely require more of your time to begin with, but you benefit from being able to add some personality and create something totally unique that you have full ownership of.
Considerations of switching platforms
Switching from a closed to an open platform is as much of a business decision as it is a technical one, and requires careful planning.
There are challenges involved, since Patreon gives you no ownership of your subscription data. This means you need to make some decisions about what to do with your existing paid customer base.
This comes with some risk of churn (subscribers cancelling or lapsing because they no longer sign in or read your emails). However, the benefits are that once you've made the switch, you'll retain all of your future revenue and have a flexible, customizable home for your creative work.

In practice, you have two options:
1. Run Patreon and Ghost alongside each other
Use a Zapier integration to keep Patrons and members in sync on both platforms, and use Ghost to provide bonus content on your own custom website.

Pros:
Less risk of churn since your existing audience won't need to do anything.
Benefit from the perks of both platforms.

Cons:
Still paying a percentage of your revenue to Patreon.
Still not having full ownership of your customers' information.
Audience confusion about where to consume your content.
Some fans may not want to support you through Patreon.
2. Redirect your audience to a Ghost publication
Close Patreon to new subscribers, and gradually move existing Patrons to Ghost so that all future financial support and content are hosted on your own website.
Pros:
Reclaim 5-12% of your revenue. Ghost takes 0%.
Move your content to a website that you own and can customize to suit your brand.
No lock in. You own your email list and customer payment data and can move at any time.
Cons:
Changing how and where your audience can access your content may lead to some churn (loss of subscribers).
Time consuming process to switch platforms.

Below, we're going to walk through all of the considerations you need to think about to redirect your audience from Patreon to Ghost.
How to switch from Patreon to Ghost
This process requires a long-term strategy, to minimize risk and make sure your existing audience are well informed. There is no one timeline to suit all, but the guidelines below will help you build a strategy that works for you.
Step 1 — Set up your new Ghost publication
The first step is to create a new Ghost site and customize it to suit your content and brand. While this does take a bit of time up front, it is time well spent. Don't worry — you don't need to write any code and there are plenty of guides to help you along the way.
If you haven't already, sign up for a free 14-day trial. This gives you access to all features in Ghost and you won't be billed at the end, so you still have time to figure out what's best for you.
Follow the initial setup steps to get your new publication up and running. We recommend keeping things simple and using a pre-built theme to start with — you can always modify things later.
Add some content to your site so Patrons don't visit an empty space when you move to the following steps. The simplest route would be to copy and paste some of your content from Patreon to Ghost, or you could consider using our concierge migration option. Read more about publishing your first post.
💡
Consider creating an about page to share more about you and your work. In Ghost, all you need to do is add a page, create your about content, and
add a link to your site's navigation
.
Step 2 — Replicate your Patreon tiers in Ghost
Once your site looks the part, create your membership product in Ghost to attract new paid members moving forward.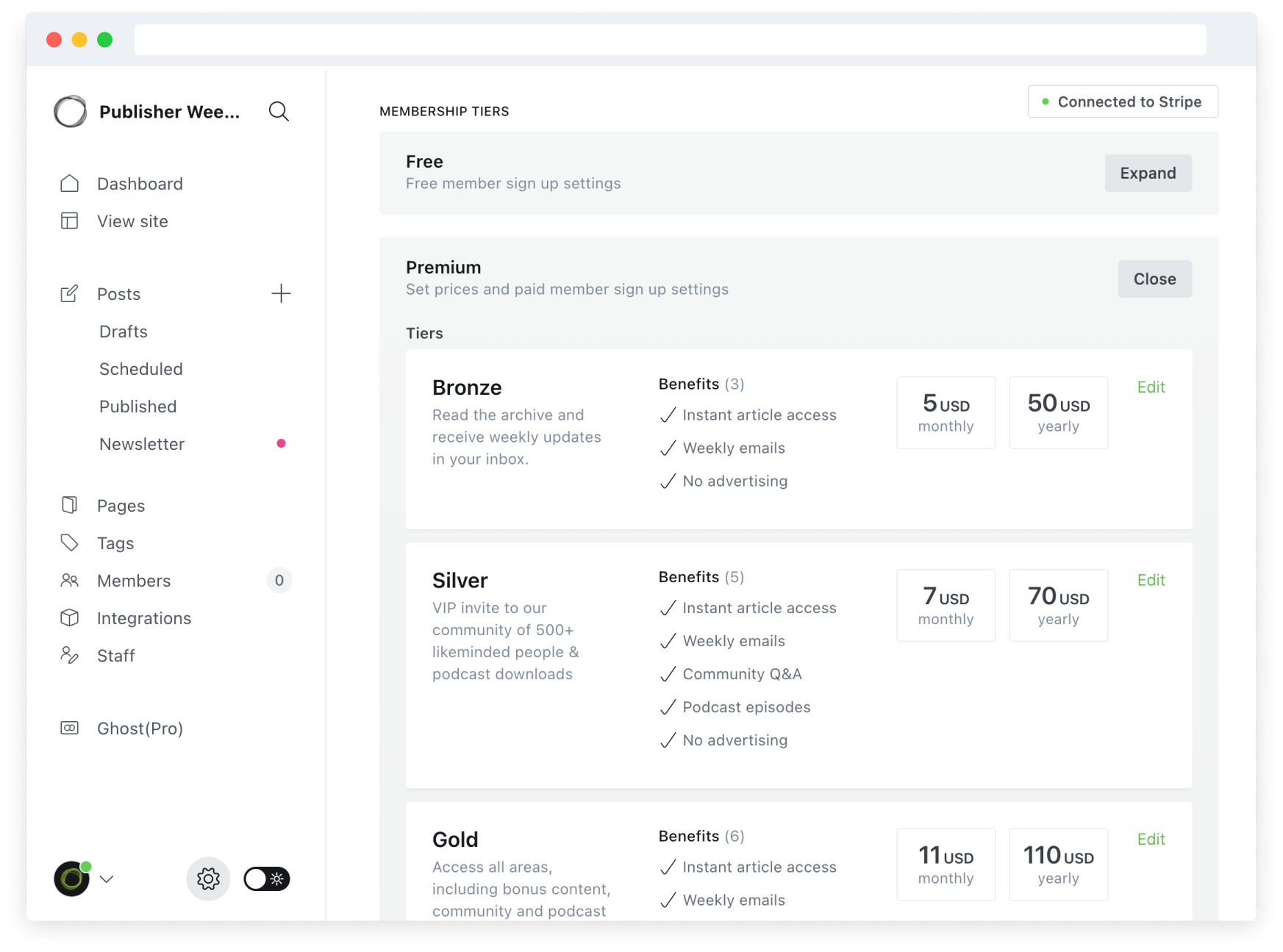 Once your membership tiers are in place, head to the Portal settings page to offer all of this to your visitors.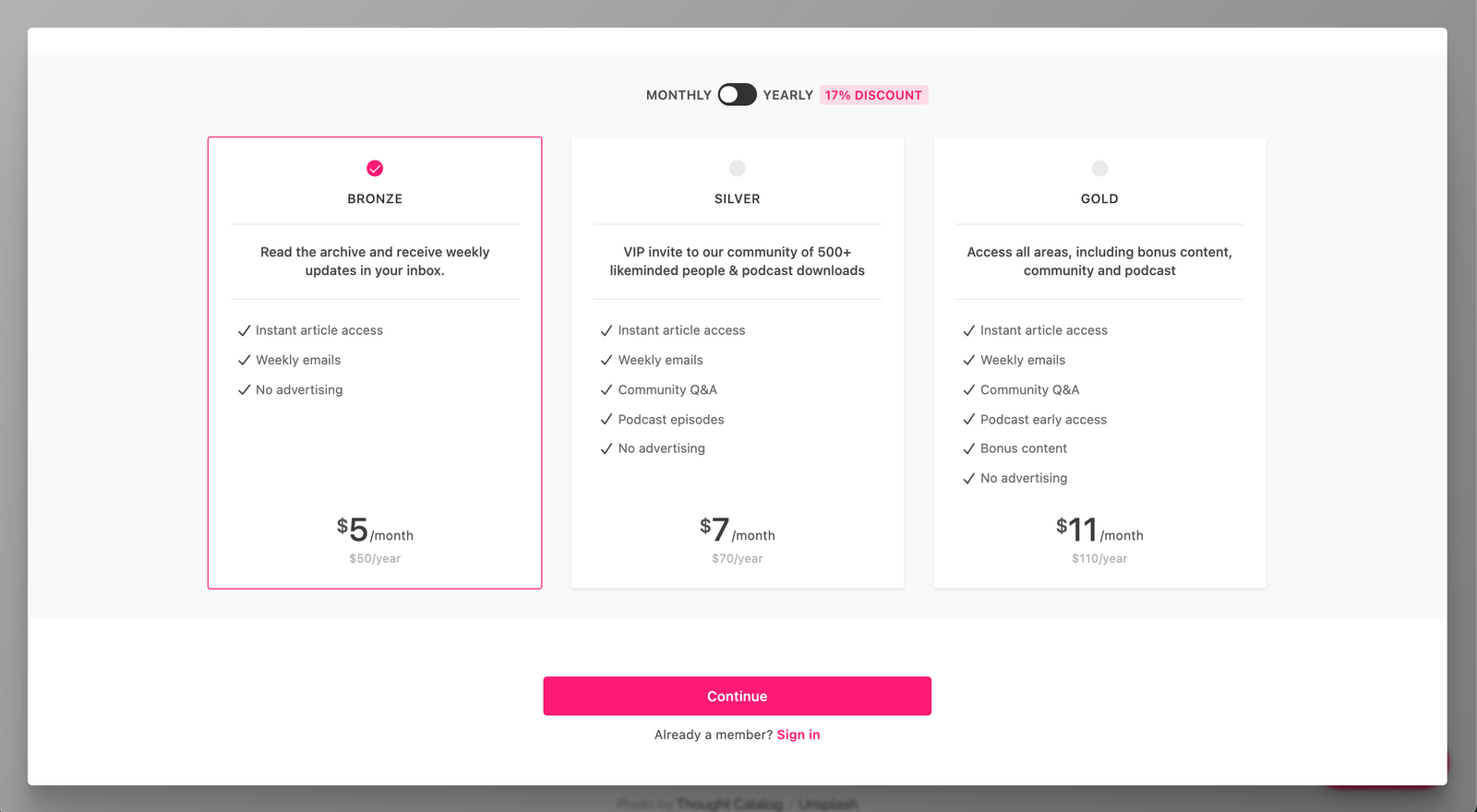 Step 3 — Import Patrons as free members
In Ghost, it's possible to have both free and paid members. The great thing about this is that you can deliver email newsletters to free members and encourage them to sign up for your paid tiers. You can also send newsletters and protect content that for paid members only.
It is useful in later steps to be able to deliver emails to your Patrons from your new Ghost publication, so to begin with, let's go ahead and import everyone in Patreon as a free member in Ghost.
To get started, export your current full list of subscribers in CSV format from this page in your Patreon account.
Then, import the list to Ghost following this guide. It is recommended to edit the .CSV file before attempting to import to Ghost, to ensure your file has all of the data you'd like to import.
To import Patrons as free members in Ghost, make sure the complimentary_plan field is set to FALSE, and to ensure you can deliver email to Patrons make sure the subscribed_to_email field is set to TRUE.
💡
In your CSV export from Patreon, consider adding a labels field, and applying a label of which tier each subscriber was on in Patreon. This makes it easy to segment them later, and see which members were imported from Patreon in future.
Step 4 — Unpublish tiers on Patreon
Now that you're able to accept new subscriptions on your Ghost site, it's time to prevent new signups on Patreon.
The best way to do this is to unpublish your tiers on Patreon. This will keep all existing customer subscriptions where they are, while discouraging new members from signing up.
💡
Tip: When unpublishing all Tiers, Patreon allows visitors to pledge an amount of their choosing. To prevent this, create a new tier with a high monetary value, and copy about your content moving.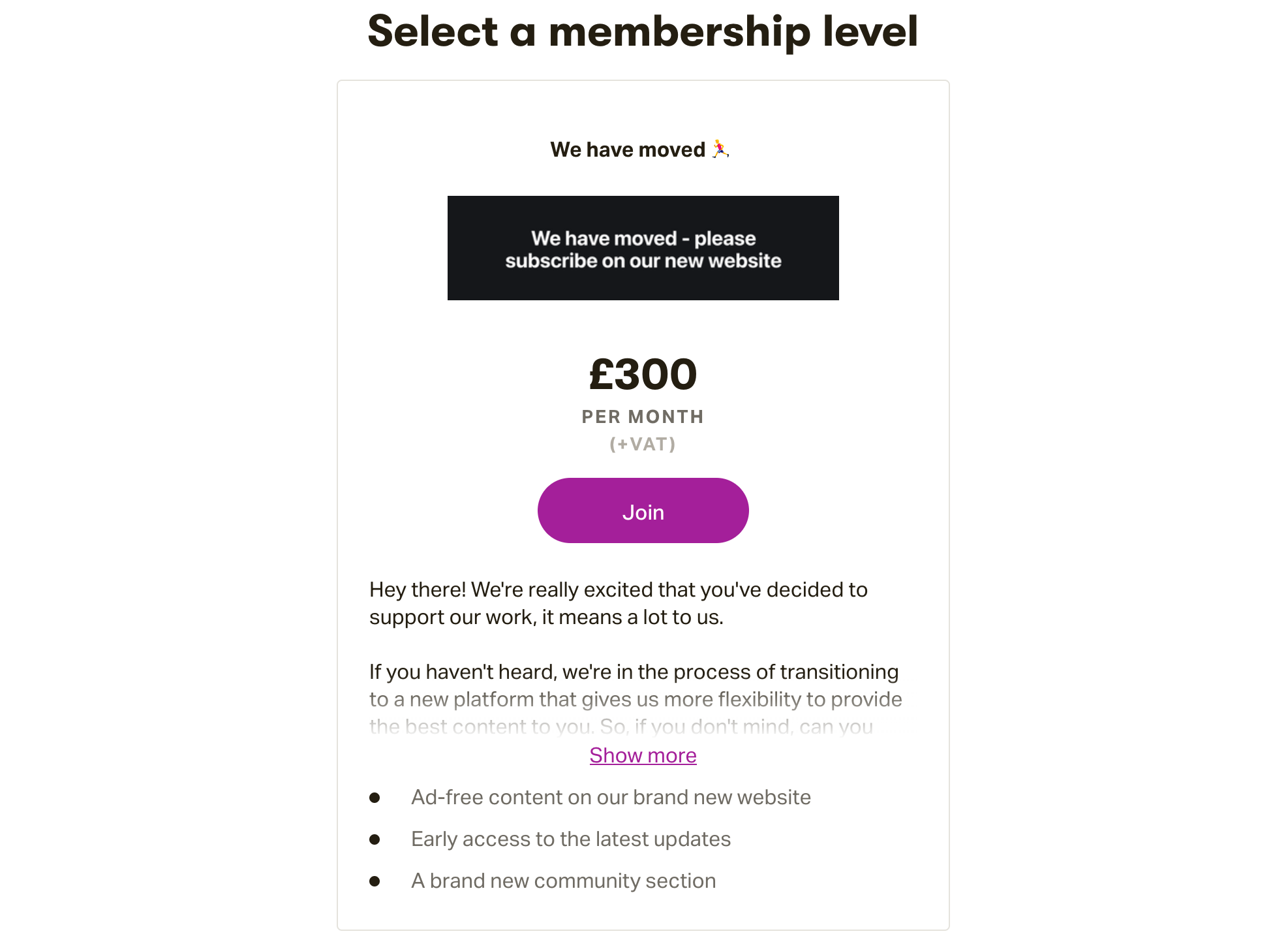 A few other things to think about doing at this point include:
Update links on your social channels so they point to your new Ghost site instead of Patreon.
Share your new Ghost site with any partners or affiliates that promote your work.
Update any areas of your Patreon creator page that might cause confusion for existing supporters.
Step 5 — Create & communicate your offer
Now that you're ready to make the switch, it's time to start communicating the changes with your existing audience.
There are a few ways to approach this, here are some ideas to consider for your strategy:
Create an announcement post on your Patreon account announcing the shift. Be open and transparent, and let people know why you're moving, and what they need to do to continue to support your work.
Send an email to your supporters from Ghost (since you imported everyone earlier). Again, let them know what to expect and be as clear as possible about the next steps.
An incentive is always a great way to encourage subscribers to make the leap. After all, you are asking them to cancel a subscription in one place, and subscribe again in another. Ghost has a flexible Offers feature which you can use to offer a discount when they make the switch.
💡
Tip: If you segmented your audience by Tier when you imported your Patron list in step 2, consider creating unique offers for each Tier. Then you can deliver segmented emails from Ghost containing the relevant offer for that Tier, and/or share the Ghost Offer link in posts on your Patreon page.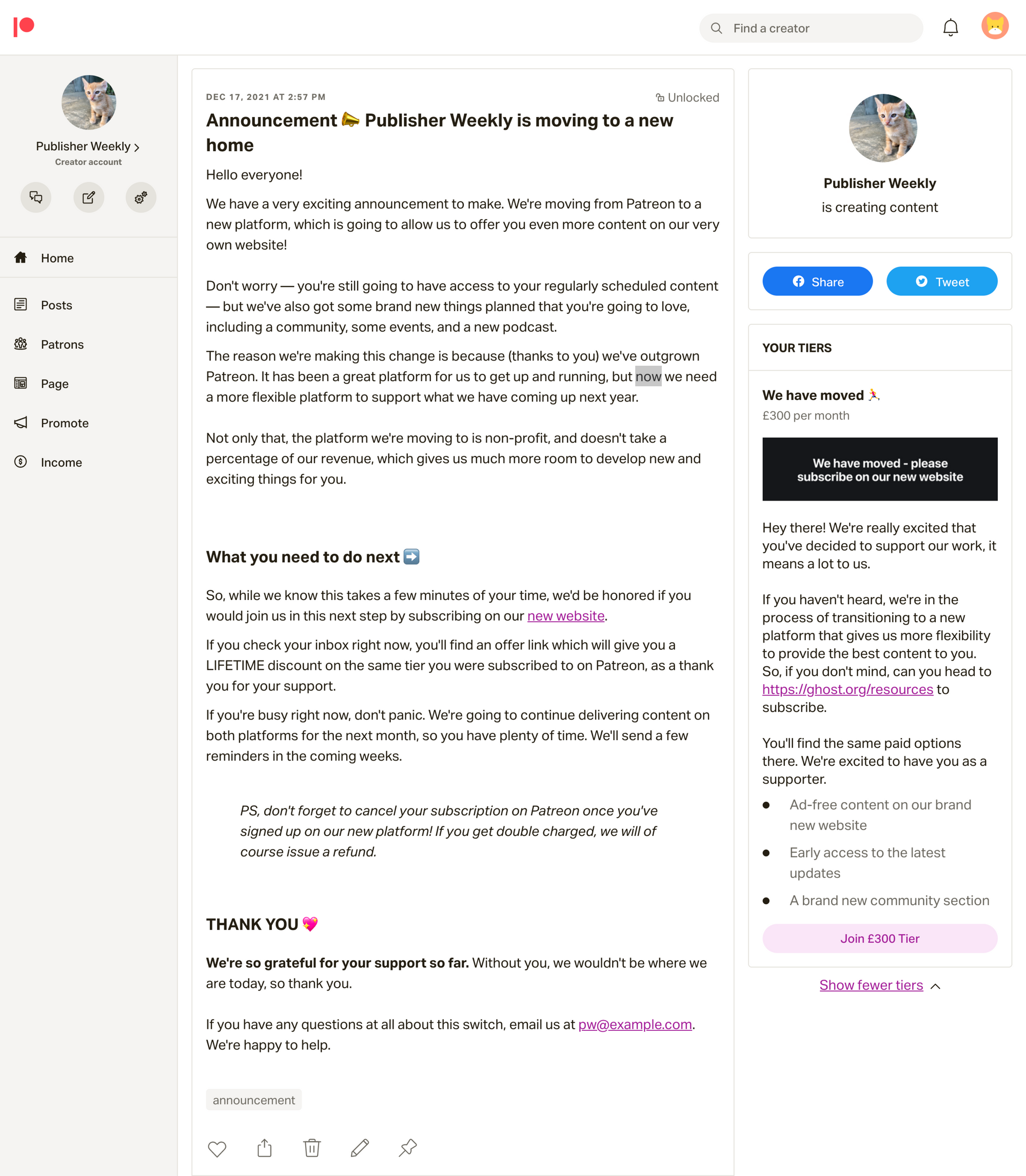 Step 6 — Ongoing maintenance
Now that the initial announcement has been made, you'll need to implement a plan for what you're going to do while you have paid subscribers on both Ghost and Patreon.
Here's a few things to think about:
✍️ Publishing schedule
To begin with, you could publish new content on both Ghost and Patreon, with a goal to gradually move all new content to Ghost in the future once your paid audience has switched.
Alternatively, try posting new content on Ghost only, and create a new post in Patreon each time with links to your Ghost site and instructions on how (and why) supporters should consider switching. This provides more incentives for people to move over.

🗓️ Switch over deadline
You could keep Patreon and Ghost running like this indefinitely, or until you have no paid subscribers left on Patreon.
Alternatively, try setting a strict deadline, and encouraging people to switch before then, otherwise their subscription will be cancelled and they will no longer have access to paid content. This is obviously more of a risky route, but it does offer more of a sense of urgency.

📮 Ongoing communication
While you still have paid subscribers in Patreon, it is a good idea to create a communication plan and outline how and when you're going to continue to communicate about your move, and offer discounts or incentives.
Going independent for long-term success
Thanks to the growth of the creator economy, individuals are now more empowered than ever.
If you'd like more creative and financial control over your work, leaving Patreon may very well be the right option for you.
Ghost, like the most successful creators, is built with the long game in mind. Fiercely independent, investor-free, and ready to help you share your work with the world.
---