How to start a blog and turn it into a profitable business
Here's everything you need to begin your blogging journey.
---
People underestimate the power of blogging. But if you're reading this, it means you recognize an opportunity most overlook.
A blog gives you control over your business and access to your audience in a way social media can't. It offers leverage, scale, and sustainability. As long as people search the internet for answers and community, blogging will be a viable business model.
This guide will walk you through, step-by-step, the tools and actions you need to start a blog today. Then, it will show you how to make money by building a real business around your content.
💡
Pro tip: Think of this article as the table of contents for your blogging journey. There are multiple, additional resources linked throughout, but you don't need to read all of them right away. Bookmark this resource so that you can revisit it any time you have a blogging-related question and want to know where to begin.
The tools you choose play a big role in your chances of success. If you try to start a blog with outdated platforms or poor services (hosting, email, etc.), it's like trying to hammer in a nail with a loaf of bread — frustrating and futile.
So, the very first hurdle you need to overcome is to do your research and find the right platform for your needs. This is important and should take some time, since you're investing in a platform that will be powering your future business.
Key considerations
Picking a platform requires some forward-thinking, since you'll need to anticipate what your growing business will need, and how the platform you choose fits into that.

Here's the most important things you should be thinking about at this stage, if your goal is to turn your blog into a business:
What features do you need?
Take stock of the things you need from your platform in order to turn a blog into a profitable business. At bare minimum you'll require a content management system that allows you to create and publish content on your own domain.

The most successful blogs that are turning a profit require much more than this, though, including: Email newsletters, memberships and subscriptions, SEO features, and the ability to integrate with external tools when needed.
Building a website of any kind comes with running costs. Hosting a website, delivering emails and accepting payments all come with fees, and these vary from platform to platform.

An important thing to bear in mind if you are going to use subscriptions as your business model is to consider whether your platform of choice takes a percentage of your revenue or not. A platform with free hosting may sound attractive when starting out, but this may become a burden down the line if that same platform takes 10% of your total revenue.
Who owns your content, email list and customer data?
One of the most overlooked considerations new bloggers make is understanding how the platform they choose may affect their business in the long-run. This is especially true when it comes to ownership of your content and data.
As a business owner, it's in your best interests to have as much ownership of your own data as possible, to prevent you from getting locked into any particular platform or way of doing things.
Read more about Open Subscription Platforms.

What is the user experience like?
Since you'll be using this platform every day as you grow your business, it's important that it does it's job — but it's also important that you enjoy using it.

How easy is it to navigate the admin area to update your website? What is the content editor like? Can you invite team members?

The single best way to figure this out is to try different platforms out for yourself. Most content management systems for bloggers and publishers have free trials that allow you to take them for a spin.
---
Ghost is a powerful solution for modern creators who want to publish content on a domain they own and generate revenue through paid memberships. Built-in features like native SEO, email newsletters and paid subscriptions means you don't have to spend time or money on additional tools.
For example, here's a simple chart comparing Ghost to WordPress: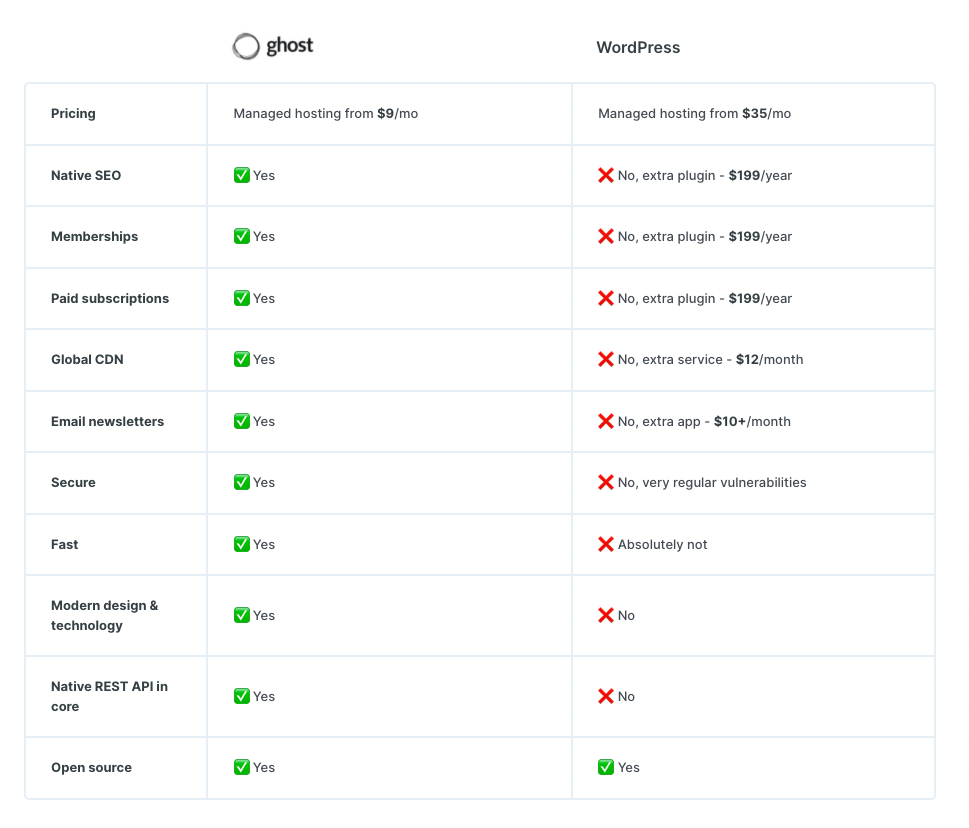 Regardless of the platform you choose, the following steps remain the same if you would like to turn your blog and content into a real business.
Step 2: Customize your blog
Most beginners spend too much time on elements that don't matter.
When you're starting out, your focus should be on getting the basics right: correct information, a great theme, and easy navigation. Then, as you get more traffic and grow your audience, you can refine the details.

The key factor that will help you move the needle towards building a successful publication is to get started, and by that we mean create your website and start publishing frequently.
Your content is the most important aspect of your future blogging business, and the sooner you can get to working on that the better. In order to get there, here are the five things you should focus on when customizing your new blog for the first time:
#1 Publication name and description
It sounds obvious but this part of the process can take some time and deliberation, especially if you're still in the throes of figuring out what your niche is.
This resource will help you with these thought processes as you start to lay down the foundations of your new business: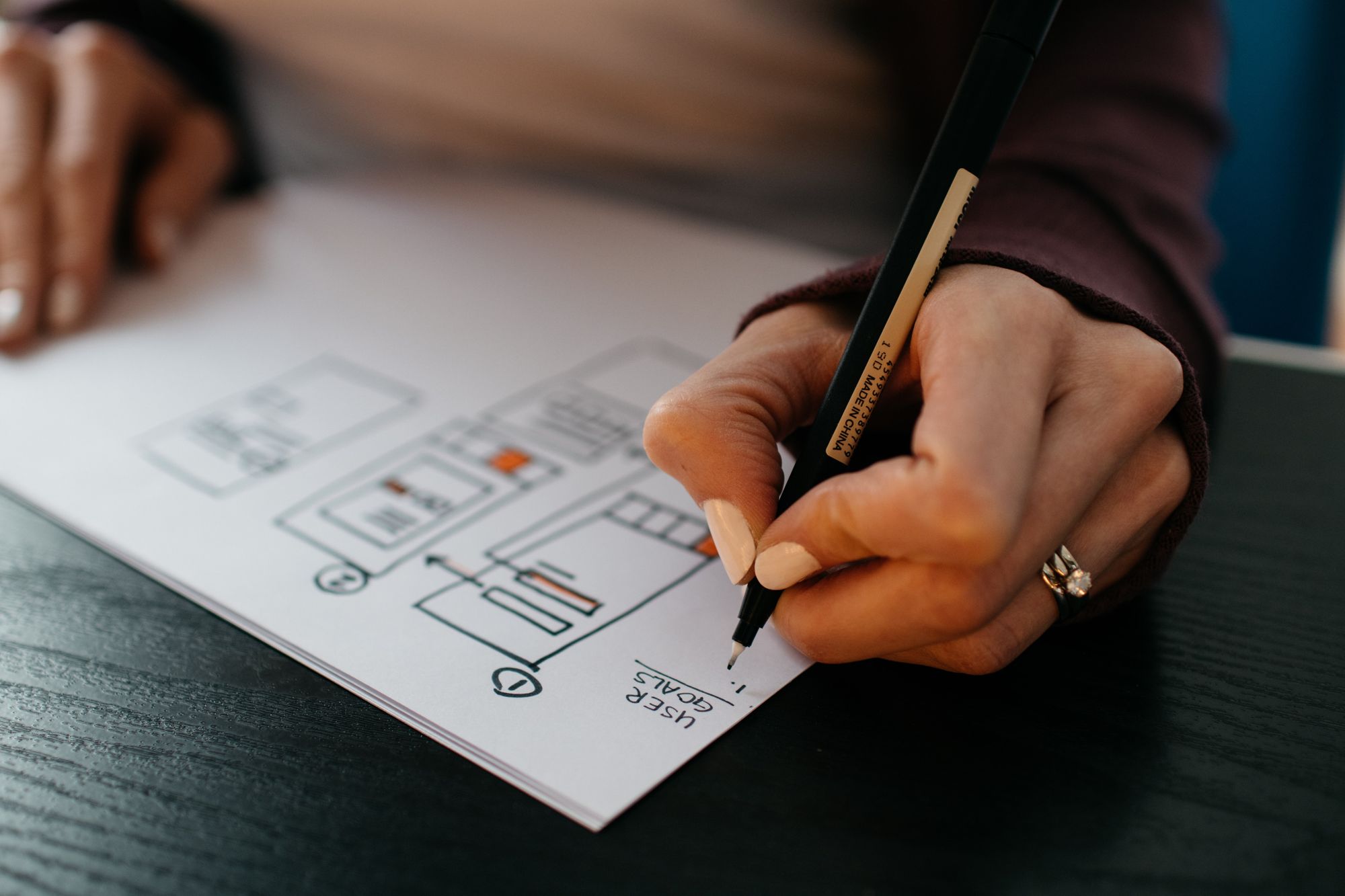 #2 Design and branding
Design is important, but that doesn't mean you need to spend a year building a custom website. For example, the majority of new publishers using Ghost get started with one of the beautiful, pre-built themes available from the marketplace.
Remember: keep it simple. The goal at this stage is to get all of the basics in place so you can start creating content consistently.

#3 Subscription forms
In order to build a business, it's important to have a method of collecting email addresses to grow your audience.
Email newsletters are the most common and effective delivery mechanism for sharing your content with your existing audience, and an email list that you own is the most valuable asset.
Ideally, there should be a subscription call to action on every page of your website. For example, in Ghost you can acheive this using the native signup form tool called Portal, to add a subscription widget to each page.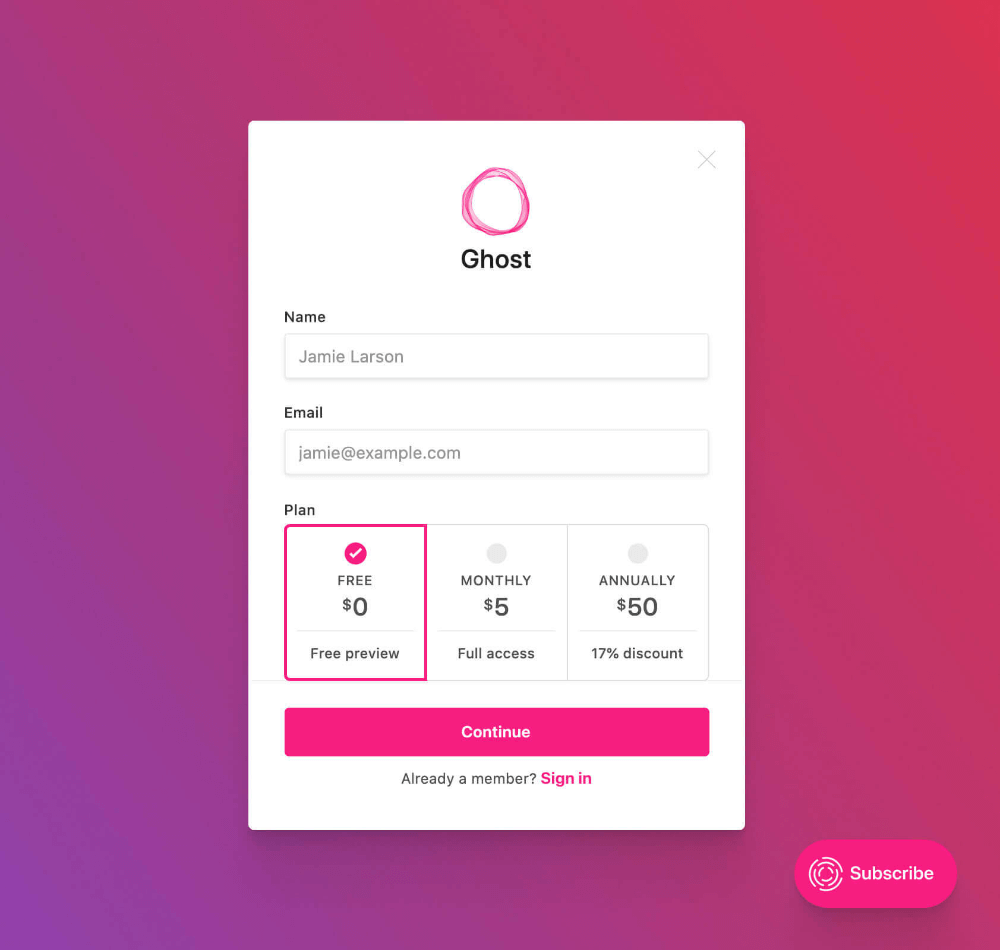 #4 About page
In the beginning, it's all about spending your time wisely. One area that you'll need to spend the most time on is your about page.
Once you start attracting new visitors, it's important to give them an idea of who you are, what your content is all about, and why they should care. This takes time, since you'll need to create compelling content for your about page.
Check out this resource with tips for how to create a great about page: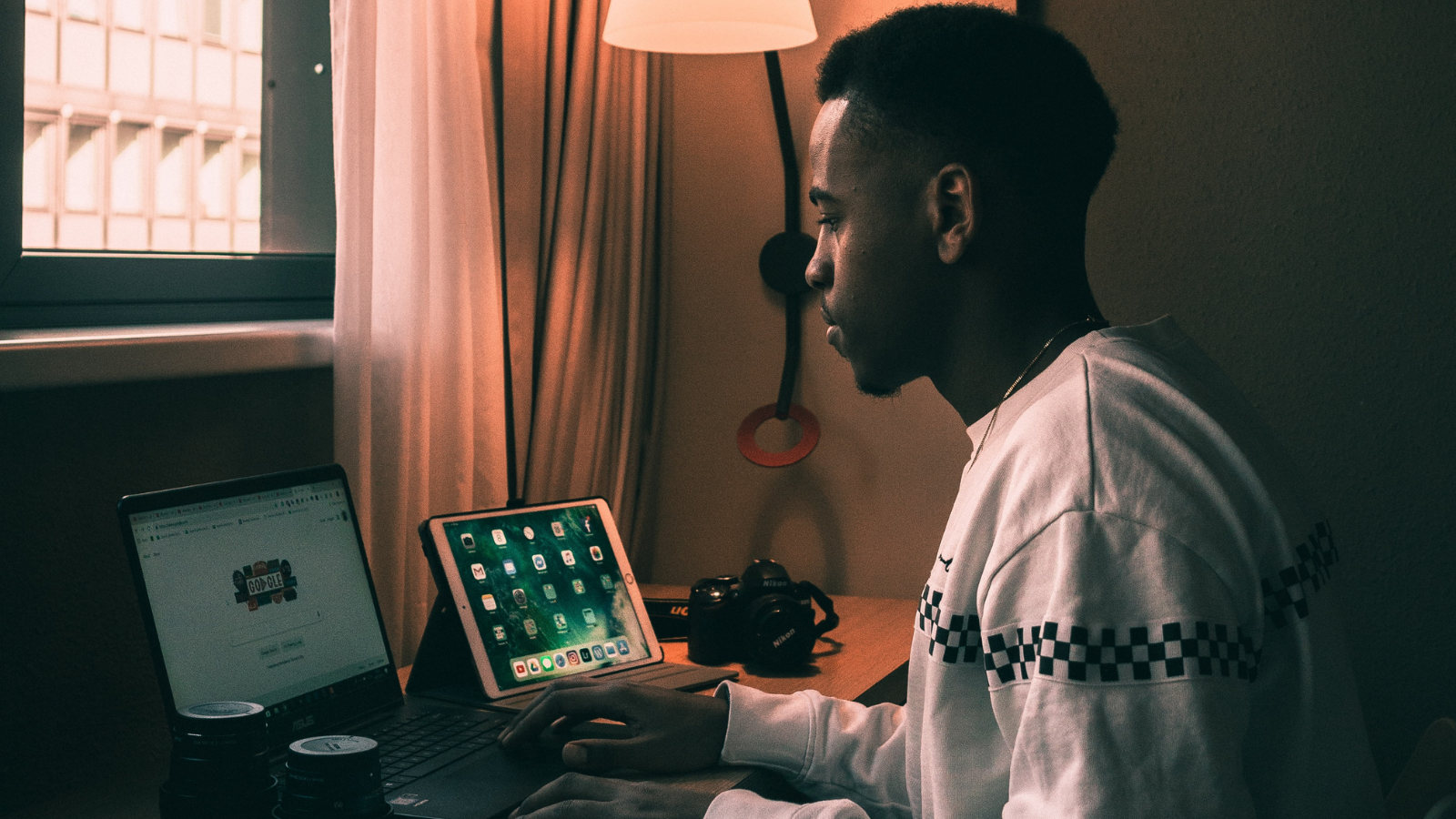 #5 Site navigation
It's important to make it easy for visitors to navigate your content and important pages that you want to draw attention to, like your about page.

Common methods of website organization include sorting content by topic (e.g. finance, politics, tech), or by type (e.g. articles, essays, newsletter issues), to make it easy for visitors to find what they are looking for.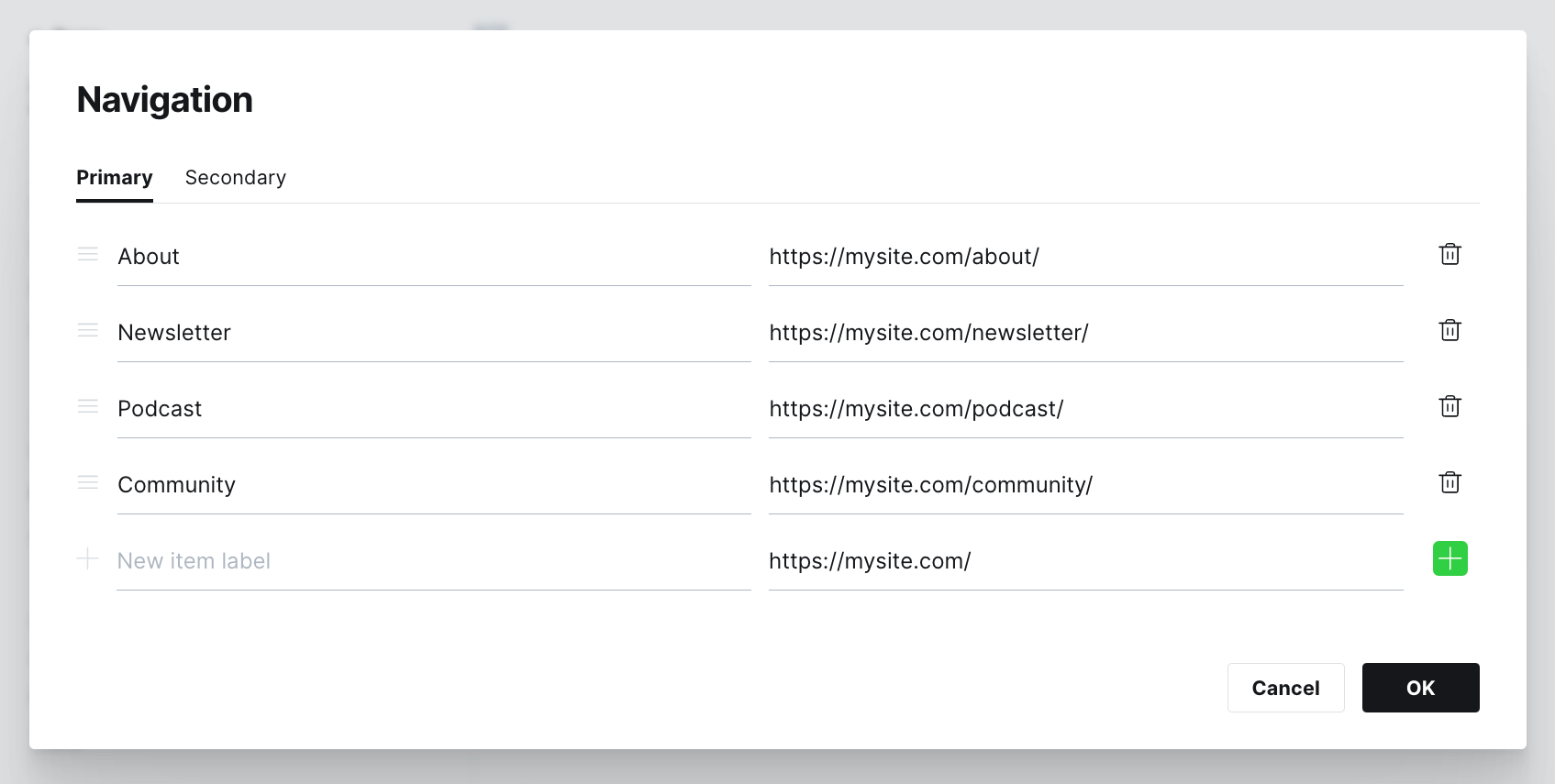 Step 3: Buy a domain name
📈
On average, Ghost sites that use custom domains receive 67% more traffic compared to those that don't.
Since you're well on your way towards building a real content business, it's now a good time to give your domain an even stronger brand presence and professionalism, by purchasing a domain.
What makes a good domain name or URL? From our experience, a memorable name has some combination of these three factors:
Clarity
Flexibility
Uniqueness
A great domain is clear, easy to remember, and not a complex jumble of letters. It should be flexible enough that if you decide to change what your blog is about, you can keep the same URL. Last, it must be distinct. A great blog can last for many years, even decades, so pick a domain name you're excited to share with others.
You'll need to use a registrar service to purchase a domain name. We recommend Namecheap because it's easy to use and cost-effective. Regardless of where you buy your domain from, you can use this guide to easily connect it to Ghost.
With your blog online and URL connected, it's time to move our attention towards the fun part: creating content.
❓
What should I write? How often should I publish new blog articles? How long should they be?
To start, here are a few high-level principles to guide your content creation:
Create what you can with the skills you have for the people you know. This is everything you need to know about content strategy boiled down into a single sentence.
Commit to a schedule you can maintain for the long run. Consistently publishing one piece of content a week is a perfect goal for beginners.
Your audience, subject, and style will determine the length of your content. Most articles and newsletters usually land in the 500-1,000 word count range. But that's just a guideline, not a rule.
For more in-depth answers to these questions and more, we recommend visiting our content collection called Start publishing. It has dozens of articles that will help you craft content that supports your goals.
Here are three posts we recommend starting with.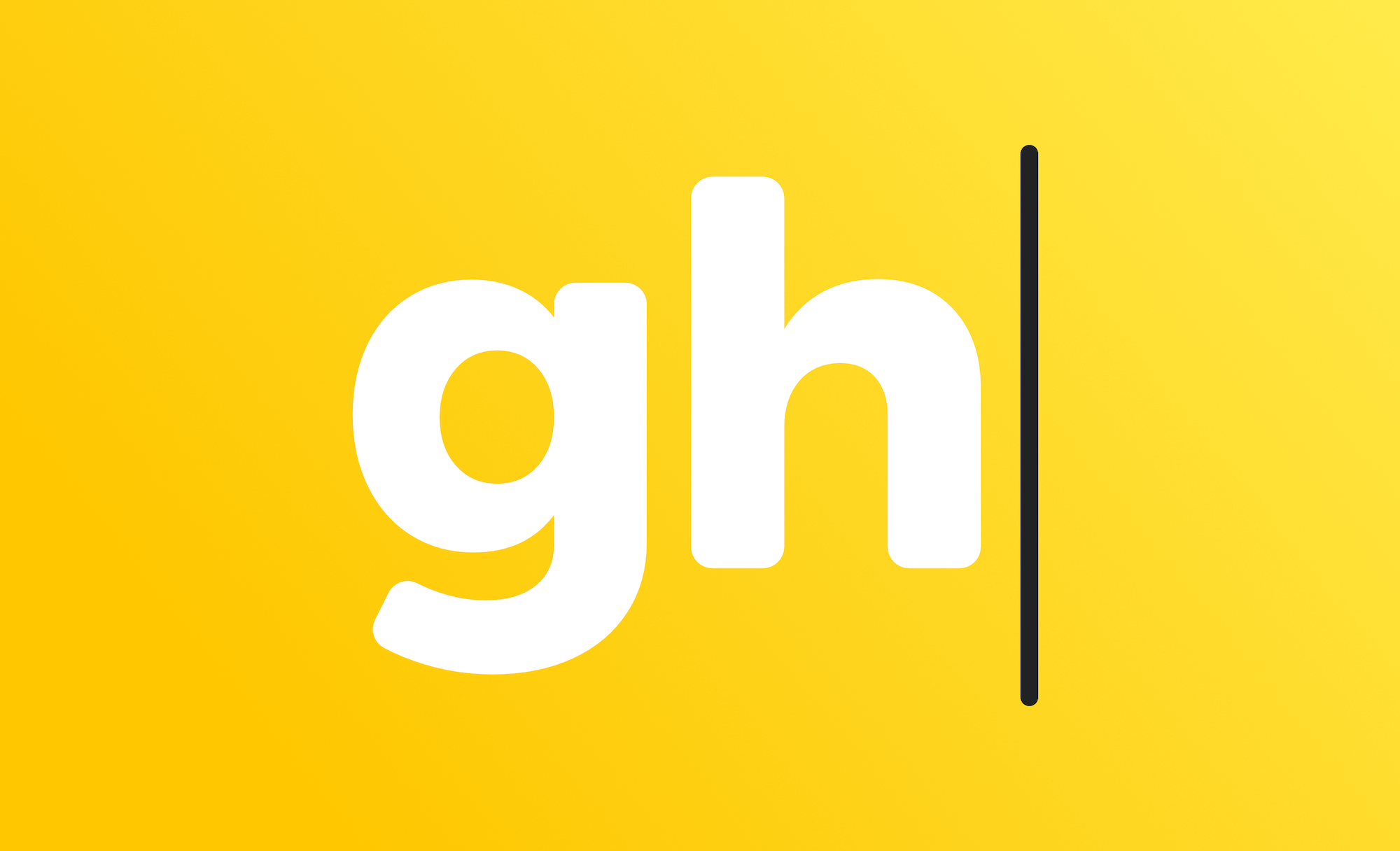 Here's a simple walkthrough of Ghost's editor that will help you get your first post out into the digital world in no time. What should your first post be about? Simple — explain why you started your blog and what you hope to accomplish with it. Once you get the first one published, you'll feel ready for more.
Creativity is a bit counterintuitive. You'd think that by using all of your ideas, you'd eventually run out. But what happens is every idea you use (either in a blog post, video, or newsletter) sparks a dozen more. This article will help you understand how this phenomenon works so that you can become an idea machine.
Creating well-researched content can help your blog content stand out online. Find out how to turn your ideas into compelling articles that your audience will love.

Now that you have a website, some fresh blog content, and a custom domain, it's time to start the foundations of building your business.
Growing an audience from scratch is difficult. It requires a commitment to delivering content consistently, a sensible marketing strategy, time and patience.
Rather than launching into a host of different tactics right away — you first need to understand the strategy behind them. The following method works in the modern creator economy, whether you're a TikTok influencer, a podcast host, or a blogger. We call it the Creator Funnel, and it looks like this.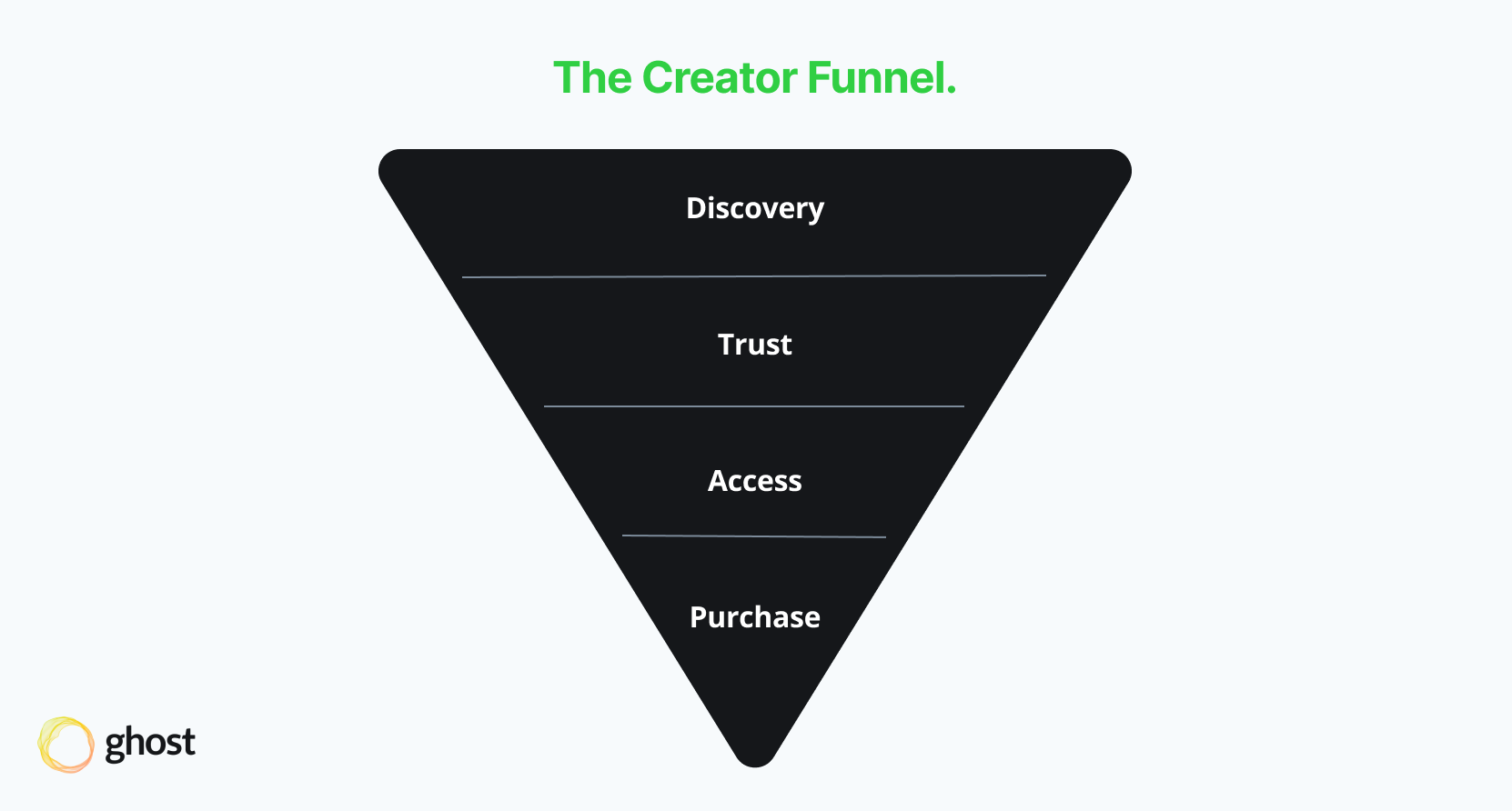 Understanding this content strategy early on will help you translate your blogging journey into clear stages so that you know exactly what to do at every step. Many bloggers get lost or burnt out because they don't understand what it takes to get real people to follow them and then convert their attention into income, and spend too much time on tactics that don't work.
If you're ready to get your content noticed, this guide is for you.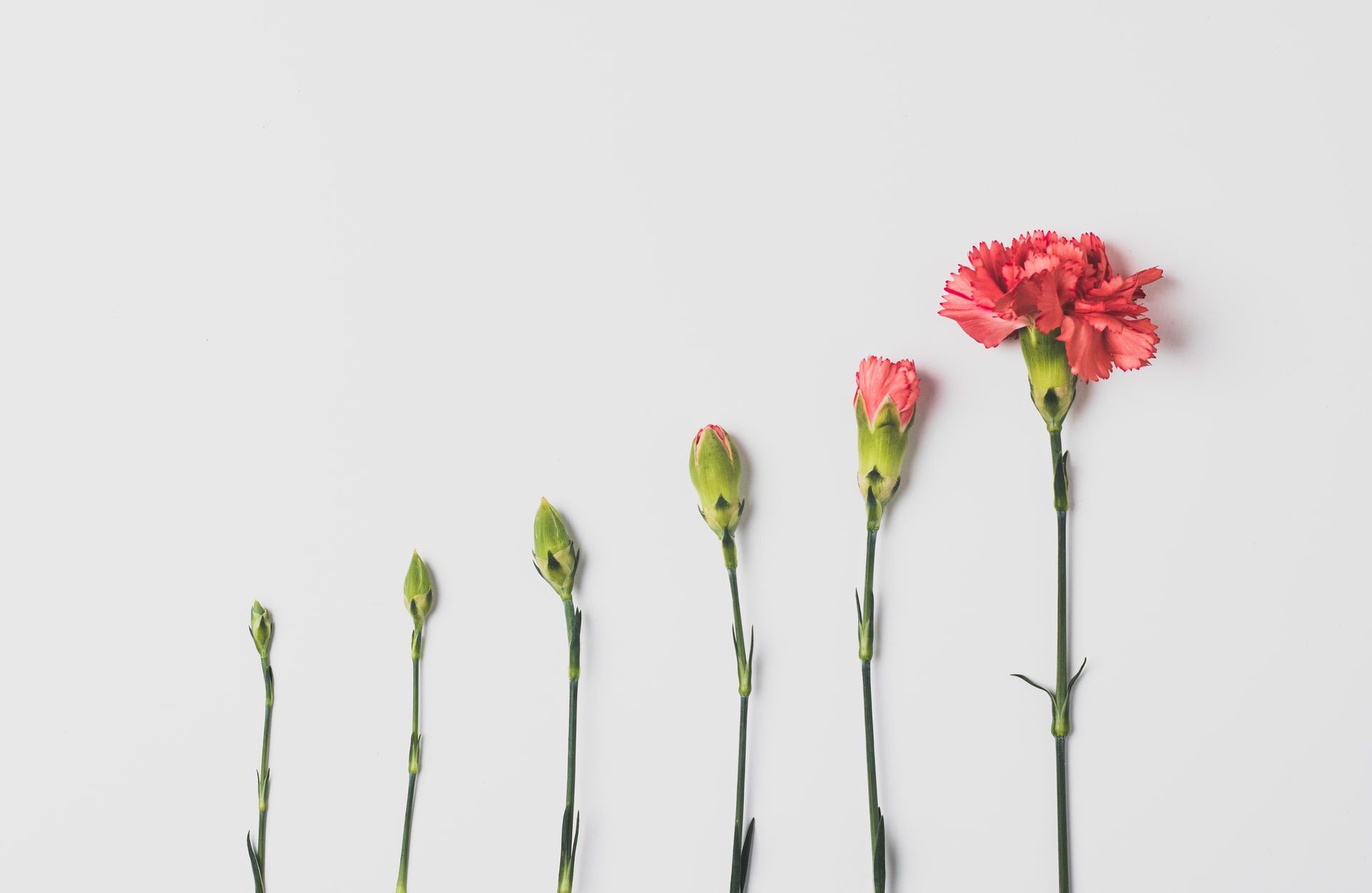 In addition to this article, we've created a library of resources on how to grow a loyal following online: Grow an audience.
Step 6: Make money blogging
Finally, this article wouldn't be complete if it didn't help you turn your blogging content and audience into revenue. There's a profound difference between hobby blogging and creating a publication for profit. If you want to start a blog and make money from your content, then you'll need to find a business model that works for you.
For now, it's important to know there are 6 ways bloggers make money online:
Paid memberships
Premium services
Sponsorships
Product sales
Ad revenue
Affiliate marketing
Every successful blog relies on one, or a combination, of these revenue sources.
For a complete guide on how these work, the pros and cons of each, and which we recommend as the best way for beginners to make their first dollar online, visit this resource: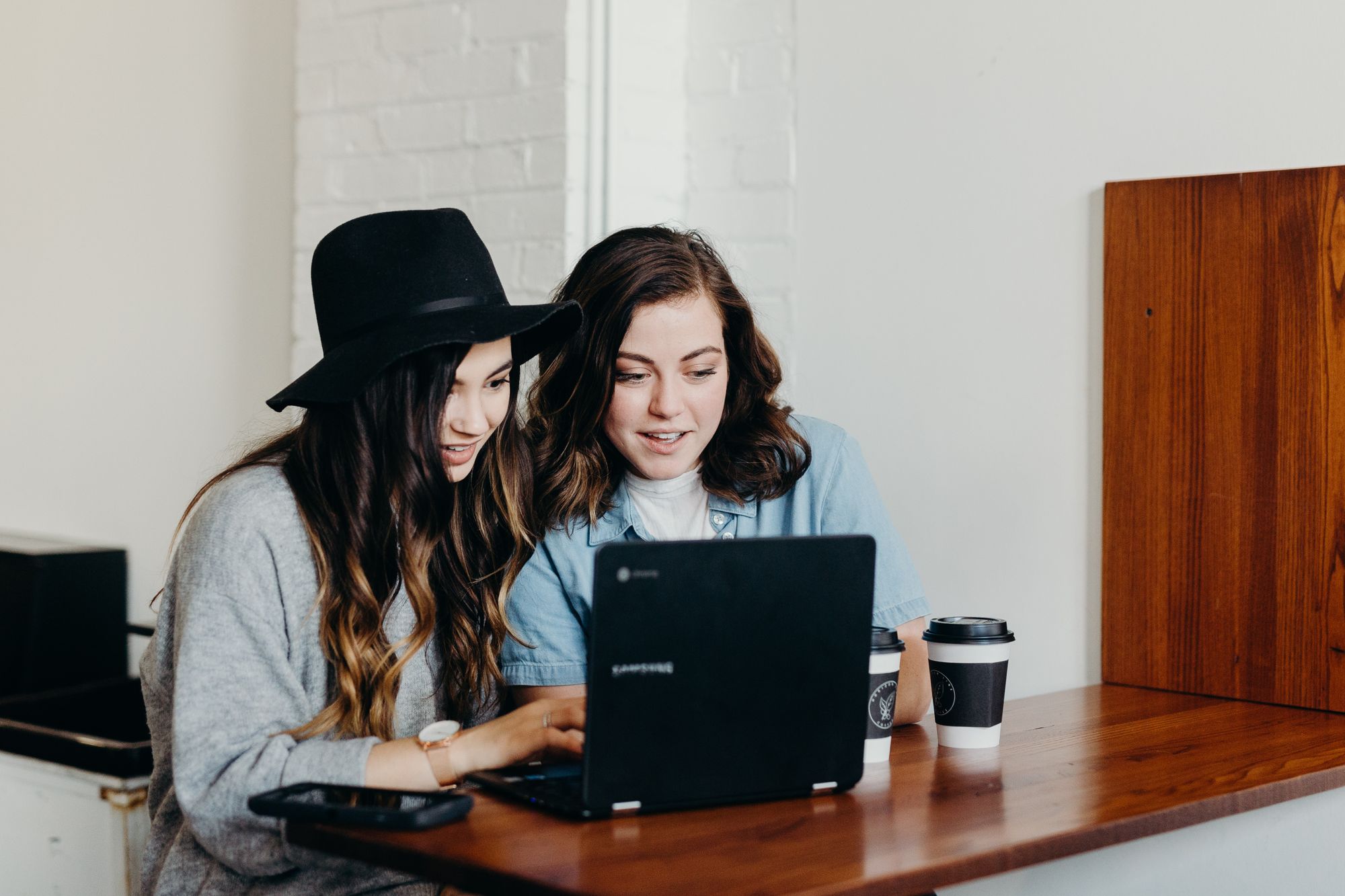 Congratulations! If you made it this far, you're well on your way to starting a blog. If you haven't taken the first step yet, do that now.
Blogging is the original rebel medium. It existed before any social media platform, and it'll be around, in one form or another, long after each outlet has grown cold. To blog is to stamp your fingerprint on the internet, it's to form connections you never thought possible, it's to make your ideas immortal.
Now it's your turn. Start the next chapter in your blogging journey today!
---