Tumblr vs Ghost
Ghost is a powerful, customisable alternative to Tumblr which puts you in charge.
In December 2018, Tumblr announced that they would be removing a huge amount of content from the platform following a dispute with the Apple App Store. Since then, we've had a lot of people visiting this page (understandably) looking for a Tumblr alternative!
Normally this page is a bit of a sales pitch for our product, called Ghost, but since there are a lot of frustrated people looking for answers right now - we've adapted things here just to try to help.
If you're looking for an equivalent social network where you can follow other users and both share and consume free content:
Then your best bet is probably going to be Mastodon.It's a completely decentralised social network which combines the best bits of Twitter and Tumblr, but the technology is structured in a way whereby it can never be shut down. It's also completely ad-free, and doesn't censor any content. You can join an existing Mastodon community or start a new one.
If you run a publication with a large audience as a business and you want professional software hosted on your own domain:
Well in that case, you might be more interested in what we do. Ghost is a completely independent platform which gives you control of the technology, the content and the audience - so nobody can shut you down. You can host the software yourself for free, or you can pay for our premium service where we take care of all the infrastructure/technical things for you.
Ghost doesn't have a network, so there isn't the same sort of following mechanism built in. Sites built with Ghost are better suited to established publishers with 1:many relationship to their audience, rather than the many:many relationship of a social network.
1. Ghost is a powerhouse
In terms of functionality, Ghost does significantly more than Tumblr - but it's also quite a different format when it comes to creating content.
While Tumblr gives you some basic editing functions and some Markdown support, Ghost has a full-blown rich editor which makes formatting posts a breeze. You'll find that you can accomplish a great deal more in terms of post layout and different types of content with responsive cards. Quickly insert images, embeds, Markdown or HTML.
"I wrote my first post on Ghost this weekend and it was a real joy. I love the markdown editor, it is exactly what I need and perfect for how I write my posts. Excited about where this will lead, Ghost feels like a great platform."

Switched from Tumblr to Ghost
Ghost's editor thrives for longer-form writing, and gives you much more space to be creative.
Custom Themes
One area where Ghost is similar to Tumblr is in themes, which are nearly the same. If you've ever built a Tumblr theme you'll find it very easy to do the same with Ghost.
The main difference is that Ghost themes are more powerful and more customiseable. You can do whatever you want without having tags/code stripped and removed.
Have a browse of our range of pre-made themes over on the Ghost Marketplace to get a sense of what's possible.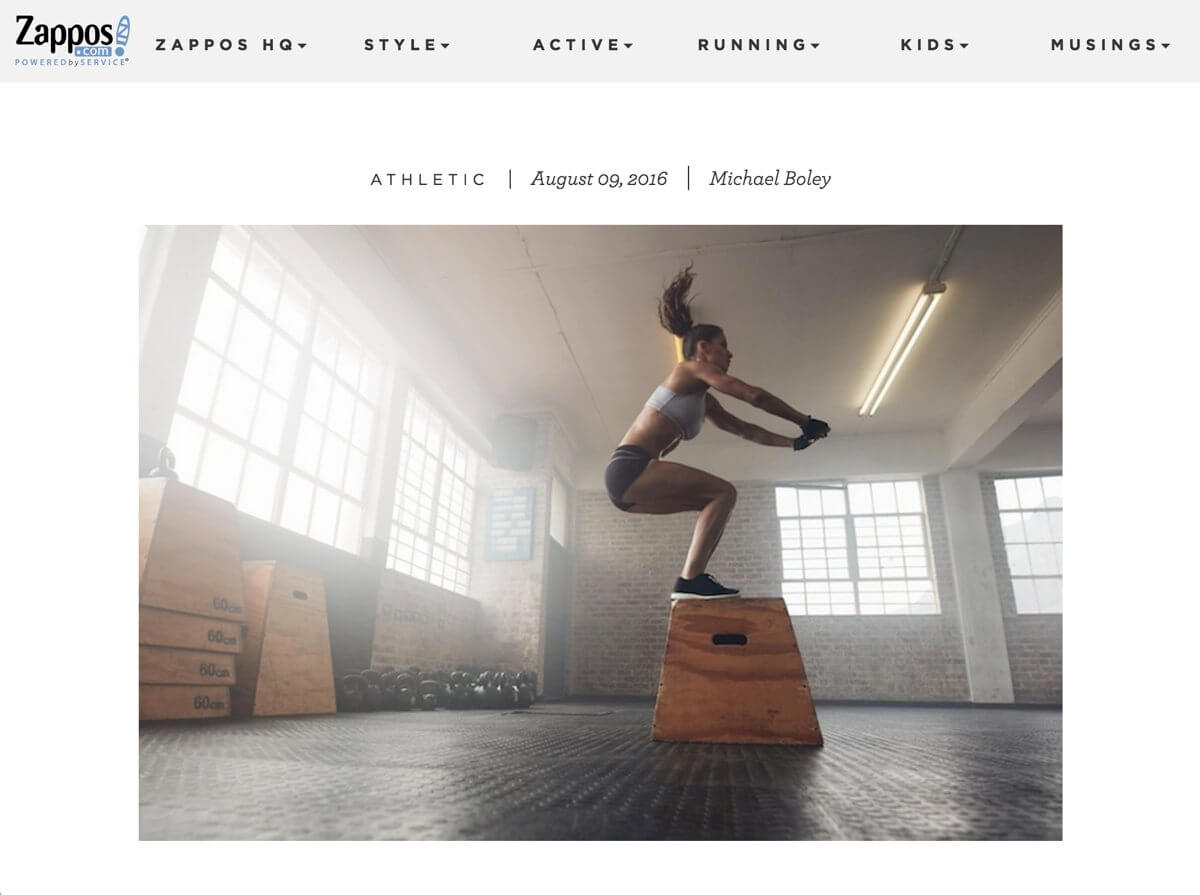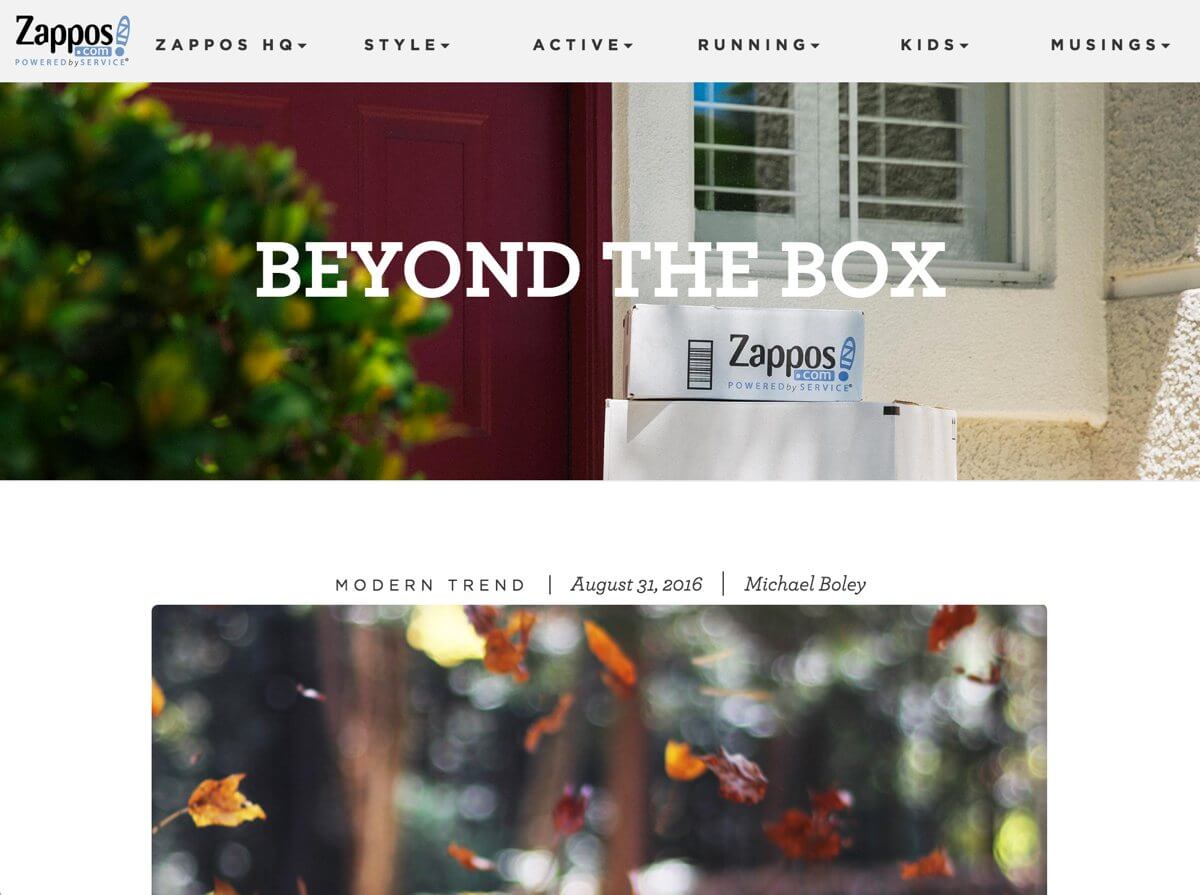 2. Ghost has SEO & social built-in
Ghost has the best support for search engine optimisation and social sharing features of any blogging platform in the world. You don't need any extra plugins or extensions, and you don't need to write any extra code. It just works.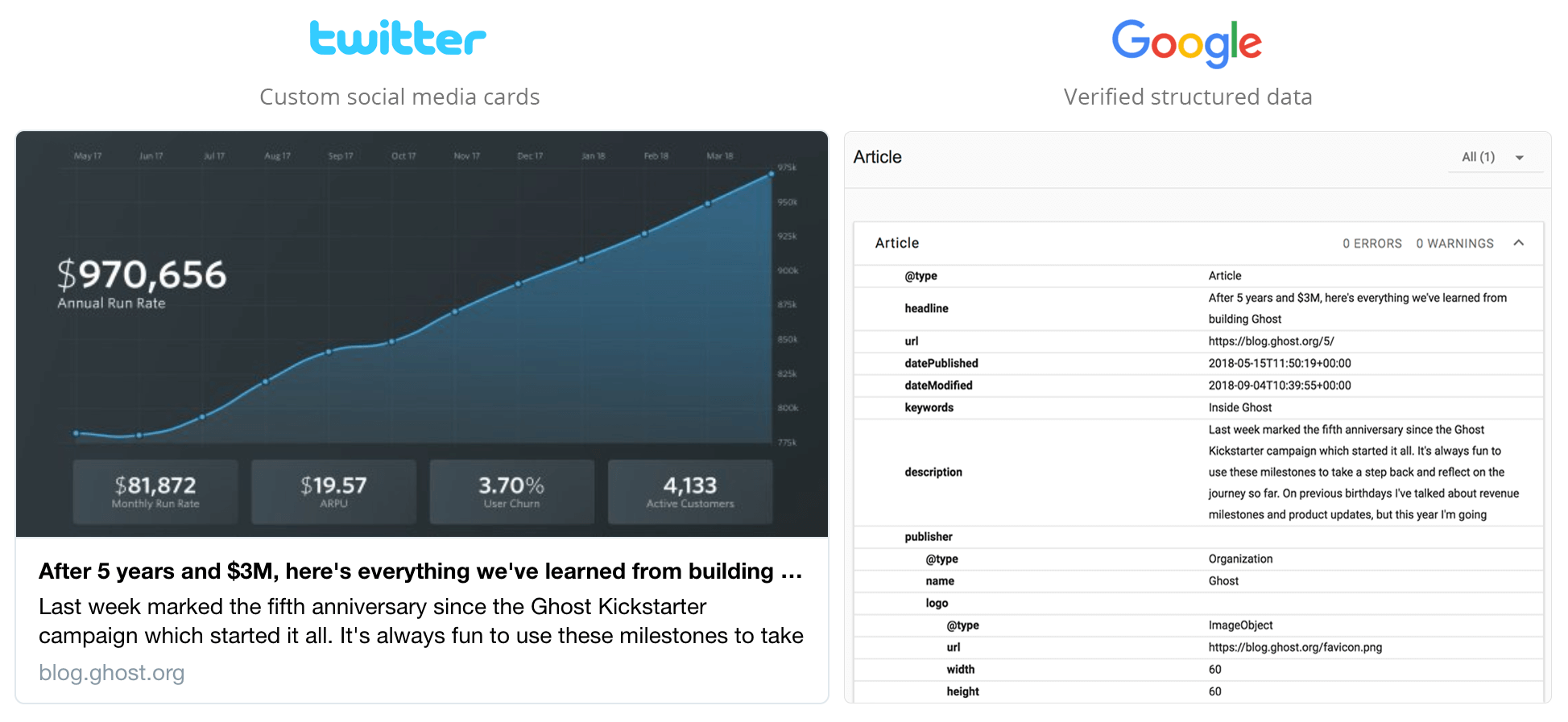 There are built-in XML sitemaps, Google AMP pages, canonical tags, optimised URLs, microformats, Facebook Open Graph tags, support for Twitter cards and clean semantic markup. All of this is done for you automatically, with no plugins needed.
3. With Ghost, you own your content
When you blog on Tumblr, you give up the rights to your content. They have the right to suspend, remove or repurpose your content as they see fit. (As everyone has recently discovered) All of your writing is contributing to Tumblr network. While this gives you the benefit of a network effect, where more people are exposed to your work, it means that you ultimately have far less control.
Ghost is completely open source software, which means that not only do you own your content outright - you also own the technology. So even if Ghost (the company) shuts down, you're still able to keep using Ghost (the software) for as long as you like. If you take your publishing seriously, this is really important.
Many people run their blogs as a business and depend on it for income, so they can't just afford to have some executive decide to shut them down one day with barely any warning.
4. Ghost is faster
Compared to other Tumblr alternatives out there, Ghost is the only platform built with a really modern technology stack. What does that mean for you? Speed. Lots, and lots of speed. Ghost sites load faster than just about anything else out there.

On top of that, downtime is limited by each site being separate. If Tumblr goes down: All Tumblr blogs are down. If a Ghost site goes down, none of the others are affected. It's far more stable and reliable to host your publication in a place where you know it's safe from attacks.
5. Build a business around your blog
With Ghost there are no limitations on what you can and can't put on your blog. If you want to use display advertising, that's fine. If you want to collect email addresses as leads to drive to your business, that's fine too. If you want to create a platform around your blog to start selling your book, that's A-OK.
If you're looking to graduate from the simple social-network style blogging of Tumblr to more serious publishing as a career: Ghost gives you a lot more flexibility.
"We're using Ghost's Pro service to host the blog for us. Works really well. Great writing experience compared to WordPress. WordPress is an incredibly powerful framework but because it supports the needs of so many websites and demands, it has grown into a sizable and cluttered tool."

Switched from WordPress to Ghost
Build your subscribers
Ghost has email subscriptions built in at its core. Once you've done all the hard work of attracting a new reader, it's important to keep them coming back again and again. Rather than relying on complex external systems to manage your subscriber database, Ghost has all of that built right in.
Easily collect, view, manage and export subscribers to your publication and start growing a real audience.
The most important aspect of any publication is understanding and growing a core readership base.
tl;dr: The lowdown
The short version? Ghost is best for serious publishing. Mastodon is better for running a simpler social account.
Ghost is best if…
You care about full ownership and control over your content
Customising and adapting the look and feel of your site is important
You want the best tool to scale your blog up for a large audience
You're looking to turn your blog into a business
You post more long-form content
Maybe consider Mastodon when…
You don't want to pay, you want it to be free
You want social network features of being able to follow/like other users
Extra advanced functionality beyond basic publishing is not needed
You post more short-form content
One last thing you should know
Ghost is an independent non-profit organisation. We build publishing tools for modern journalism & publishing because we believe freedom of speech is important. Our software is released under a free open source license, our business model is completely transparent, and our legal structure means that 100% of the money we make is reinvested into making Ghost better.
We're building a socially responsible, sustainable business which empowers people to share important stories and ideas. We're in this for the long haul.
"I've been a blog minimalist from the start, and finding a truly open source platform which reflects that minimalism and focus is incredibly refreshing."

Switched from TypePad to Ghost
You're now armed with knowledge! Hopefully this short guide was useful to give you a general overview of Tumblr compared to Ghost.

Switching to Ghost gives you the flexibility of a fully customisable publication, and we have a support team on hand if you need help migrating your data.

Hit the button below to give Ghost a try. It's completely free and unlimited for 14 days, no obligation.
Ready to give it a try?
Start a trial completely free for 14 days
and build your publication