Squarespace vs Ghost
Ghost is a powerful alternative to Squarespace where you control your content and your brand
Hello! Thinking about moving over to Ghost? Or trying to decide which platform to use for the first time?
You're probably wondering what the differences might be between a Ghost publication and a Squarespace site, so we thought we'd put together an overview to help you figure out which platform is right for you.
Squarespace
Pricing and transaction fees
From $9/mo

---

Ghost takes 0% fees
You keep all your revenue
1-7% of your revenue + $57 – $83/mo

---

For every $50k revenue
Squarespace takes $500 – $3,500+ per year

Email newsletters
✅ Yes, included
❌ Addon, from $24/mo+
Full custom design
✅ Yes, build a completely custom publication
❌ No, fixed template editing features
Open source
✅ Yes
❌ No, you're locked in
Bring an existing audience
✅ Yes, import an email list from anywhere
❌ No member imports
Automatic updates
✅ Yes, get new features when they are released
❌ No, your site is locked to a single version
What's the overall summary?
Ghost is focused on professional publishing and blogging. It's deeply customisable for professional use and powers thousands of company blogs. If this sounds like what you're looking for, then Ghost is for you.
If you're looking for a website builder where you can click and drag elements around to create some basic marketing or ecommerce pages, then Squarespace might be suitable for your needs.
So what does Ghost do better?
Ghost is explicitly focused on doing one thing really well: Publishing. So you can focus your time on the most important things, creating unique content and building a direct relationship with your audience.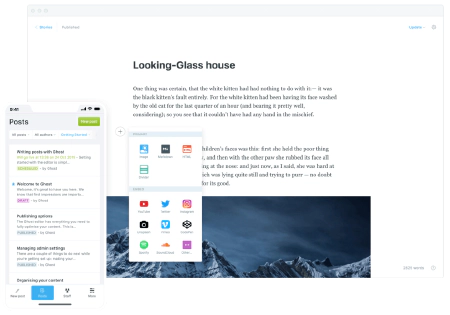 Creating content in Ghost is familiar and clutter free, and it supports dynamic 'Cards' to allow you to drop in images, embeds, galleries, bookmark cards and more.
People switch to Ghost because it provides a better writing experience, and gives ultimate control over your brand.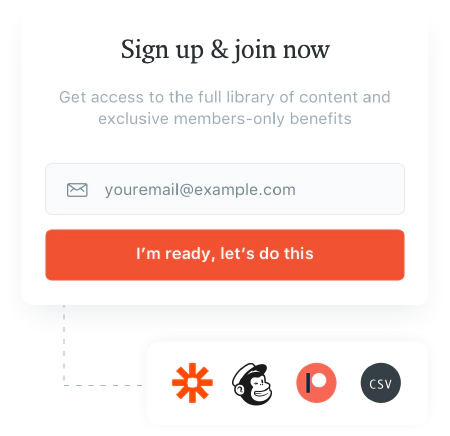 Ghost is a professional publishing platform, with a lot more fine-grained control over managing your content and your users.
You can organise content with tags and authors, use a custom domain, or even run a fully-fledged membership publication and send new content directly to your subscribers.
Build your own brand with Ghost
Ghost is all about giving you the tools to publish great content, but never locking you into one particular way of doing it. The platform comes with a clean, minimal default theme included, but you can also completely change and customise the front-end of your site to suit your specific needs.
Since Squarespace is a closed platform with a limited templating system, you're confined to the tools that are provided. This is fine if you want to build a small marketing website — but not so useful if you want to run a blog or have complete control over your brand.
With Ghost: You choose your domain, you choose your design, you choose your branding, and you choose your links. Each Ghost site is unique, and reflects the personality of its creator. Some examples: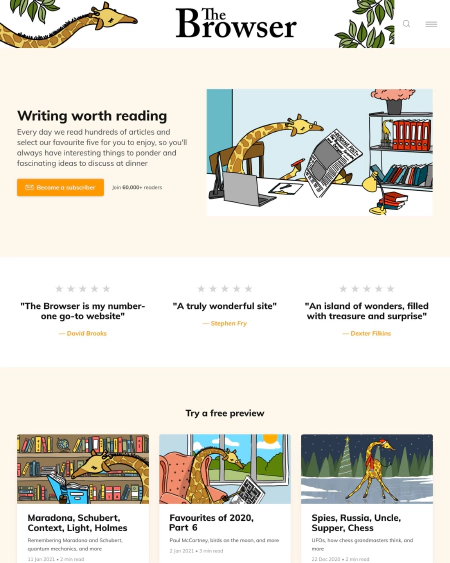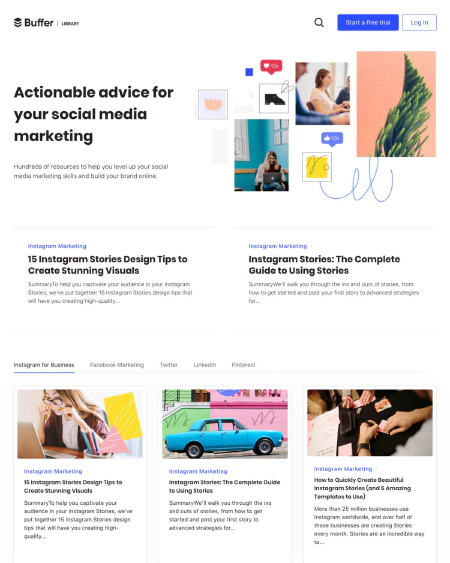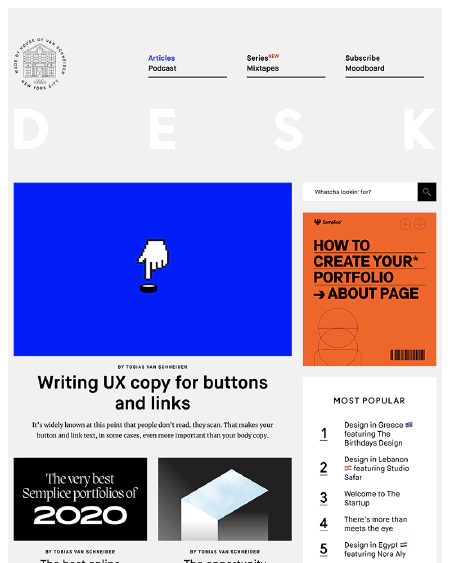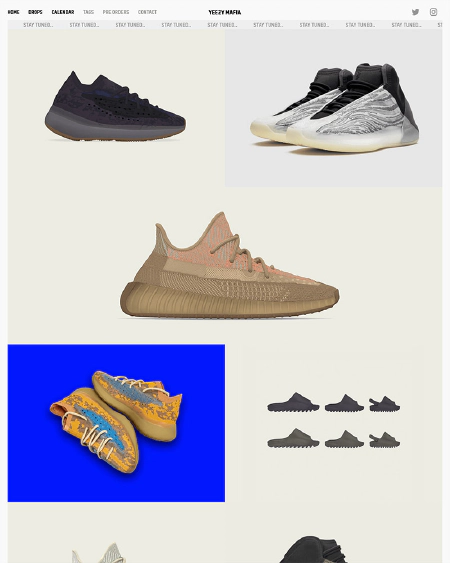 Building a business around publishing
With Ghost, you can turn your audience into a business with memberships and subscriptions, and generate predictable revenue from your work. The Members features in Ghost are easy to setup and everything you need to run a membership business or email newsletter is included, without needing to purchase any add-ons.
What's more – Ghost has been profitable and sustainable since its first year of operation, and because the technology is open source you have full control over it. Even if Ghost went out of business as a company: you would still be able to keep your business running and your site online in perpetuity.
For people who want the maximum available
Access all content
Weekly newsletter
Members-only comments
For people who want the maximum available
Access all content
Weekly newsletter
Members-only comments
Support indie publishing
Advertising-free!
Doing more than the basics
If you're a developer or a business trying to build more than a simple site, and wanting to integrate your site with other tools — Ghost is the only option which gives you enough power to build entirely custom workflows.
Squarespace is undoubtedly simpler of the two platforms to set up, but it's also more limited.
At its core, Ghost is a fully baked RESTful JSON API with a flexible architecture, and carefully considered client applications and services to go along with it. This means it can be extended, modified and customised for your needs in an unlimited number of ways.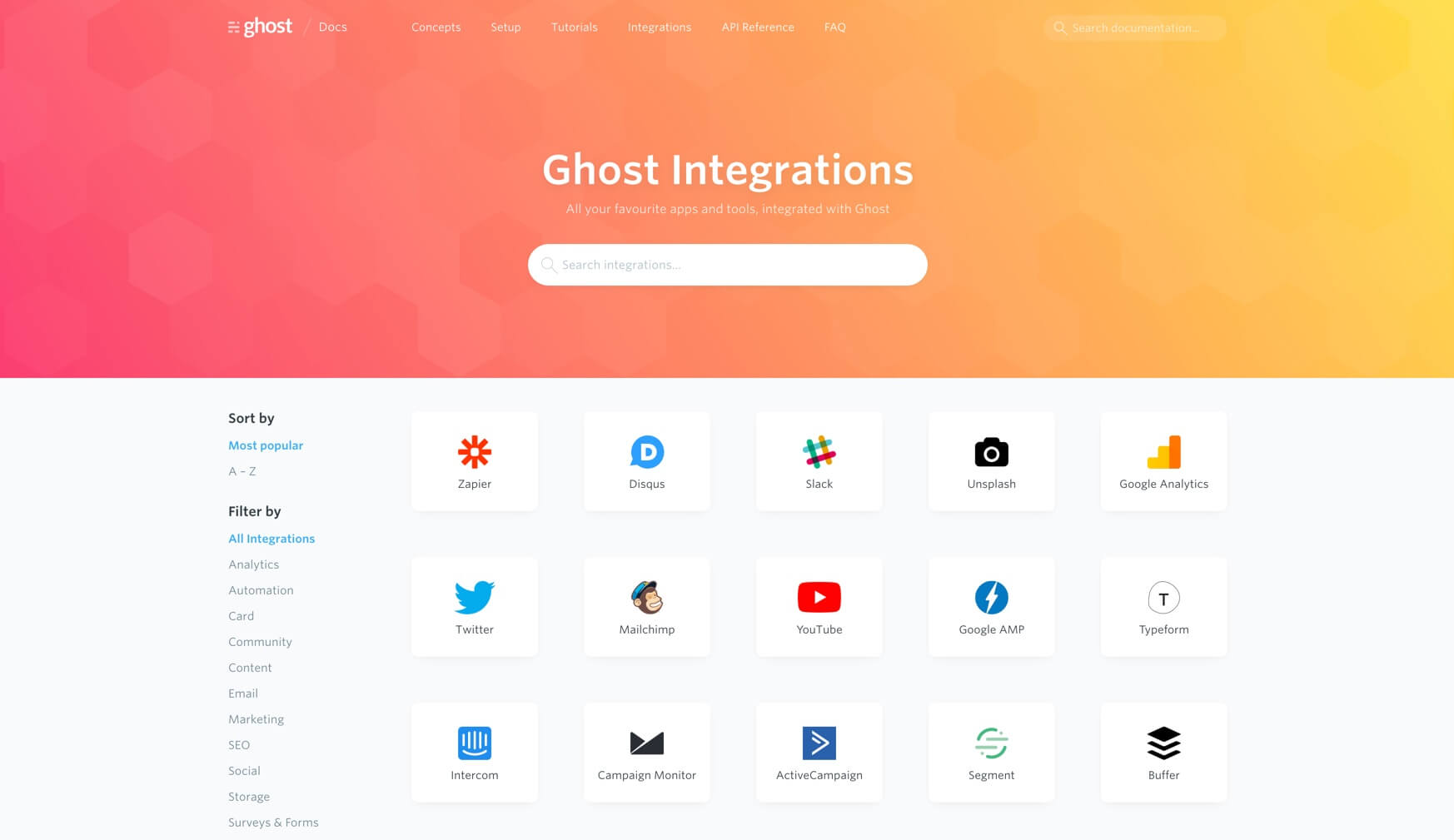 Compared to Squarespace, Ghost has more features out of the box and even more that can be built on top of the default platform. It's worth having a look at Ghost's core concepts, detailed tutorials, extensive directory of integrations as well as beautiful themes to get you started.
"Have been building paid membership newsletters with Ghost for two months now and ridiculously happy with the experience. It's the combination of amazing design with endless customisability if you want to have your own style. The writing interface is just SO nice — it feels like stepping inside a high-end minimalist house, you just want to live up to the beauty of it."

Switched from Substack to Ghost
TL;DR: The short version
Cut to the chase? If you want to run a custom publication, manage content and have access to powerful tools for writers, give Ghost a try with a free trial and figure out if it's right for you.
Ghost is best if…
Building a publication is something you do professionally, for work
It's important that you can make your site work the way you want it to
You're a developer who needs a real API to work with
Squarespace may be a better choice when…
You want to make a small website quickly
You don't need a blog or publication
You'd prefer a simple drag and drop page builder
One last thing you should know
Ghost is an independent non-profit organisation. We build publishing tools for modern journalism & publishing because we believe freedom of speech is important. Our software is released under a free open source license, our business model is completely transparent, and our legal structure means that 100% of the money we make is reinvested into making Ghost better.
We're building a socially responsible, sustainable business which empowers people to share important stories and ideas. We're in this for the long haul.
"I've been a blog minimalist from the start, and finding a truly open source platform which reflects that minimalism and focus is incredibly refreshing."

Switched from TypePad to Ghost
You're now armed with knowledge! Hopefully this guide was useful to give you a general overview of Squarespace compared to Ghost.

Still researching? Head back to the alternatives page.
Ready to give it a try?
Start a trial completely free for 14 days
and build your publication