Newspack vs Ghost
Ghost is the fast, modern Newspack alternative that's much easier to use
Hey there! Considering switching to Ghost? If so, you're probably trying to figure out whether it will be the right decision for you – and we wanted to help make that process a bit easier.
Scroll down and you'll find as many details as we can squeeze onto a single page to help give you an overview of Ghost vs Newspack compared. We'll also give you a straight-up comparison of features, customer experiences, pricing and performance.
If you're looking to migrate from Newspack to Ghost, our team can help (for free!) — Ghost is an active supporter of local news organisations, and offers additional support to small newsrooms. Find out more →
Newspack
Pricing
From $9/mo
From $750/mo
Custom news themes
✅ Yes
✅ Yes
Dynamic blocks for news publishers
✅ Yes
✅ Yes
Google Ad Manager integration
✅ Yes
✅ Yes
Google AMP integration
✅ Yes
✅ Yes
Audience segmentation
✅ Yes
✅ Yes
Sponsored posts
✅ Yes
✅ Yes
Analytics
✅ Yes
✅ Yes
Image credits
✅ Yes
✅ Yes
Media partners
✅ Yes
✅ Yes
Listings / directories
❌ No
✅ Yes
Native SEO
✅ Yes
🟡 With extra plugin - $0-199/year
Memberships
✅ Yes
🟡 With extra plugin
Paid subscriptions
✅ Yes
🟡 With extra plugin
Email newsletters
✅ Yes
❌ No, extra app - $20-2,500/month
Secure
✅ Yes
❌ Regular vulnerabilities
Fast
✅ Yes
❌ Significant performance issues
Easy to use
✅ Yes
❌ Very complex setup
Native REST API built-in
✅ Yes
❌ No
Open source
✅ Yes - Modern Node.js
Permissive MIT license
42,000+ stars on GitHub
✅ Yes - Legacy PHP
Restrictive GPL licence
280 stars on GitHub
Why should I consider Ghost over Newspack?
Newspack is a collection of WordPress plugins which are broadly designed to fulfill the needs of modern news publishers. In theory there's an almost unlimited of different ways you can configure it to work for different types of sites, but in practice it can often feel like a very disjointed experience with lots of disparate features that don't work well together.
WordPress is a generic content management system which is almost 20 years old, and no matter how many plugins you add to it: It's still WordPress.
Ghost is a modern platform designed from the ground-up to only serve professional publishers, so almost all the features of Newspack are already built into Ghost, in a single cohesive system. It's also significantly more affordable.
For publishers looking for a refined, mature tool specifically designed with their needs in mind, Ghost is the perfect tool for the job. For publishers who have extremely advanced legacy functionality on an existing WordPress sites, Newspack may be a more straightforward way to get some of the same features.
Are established news sites using Ghost?
Yes. Ghost proudly powers some of the most well-known news publications in the world, including Bklyner, The Stanford Review, Havard International Review — and every single newsletter publication produced by The Atlantic.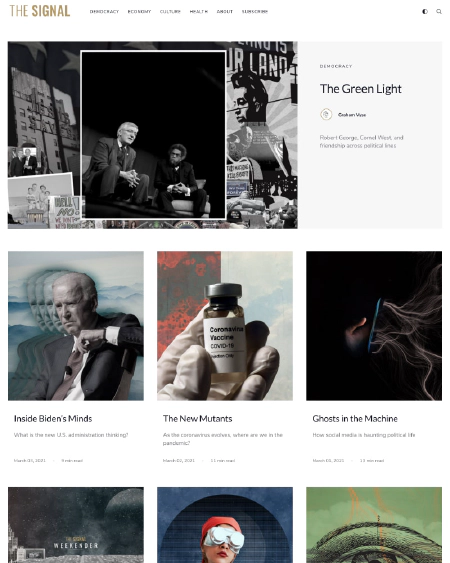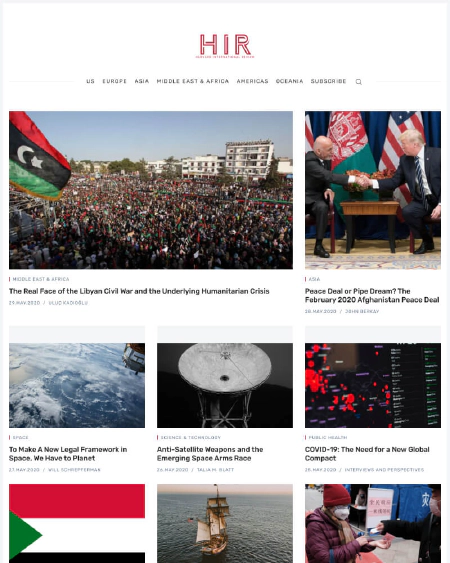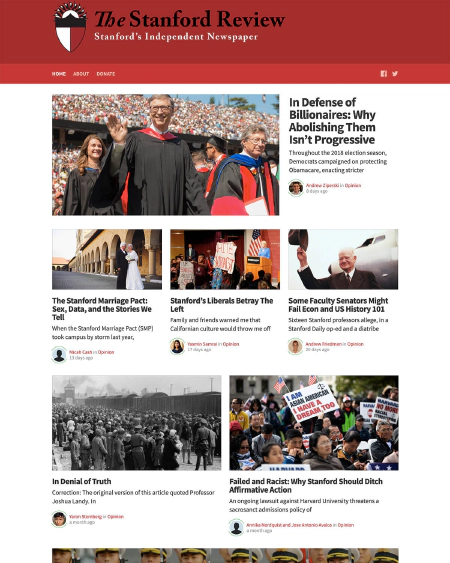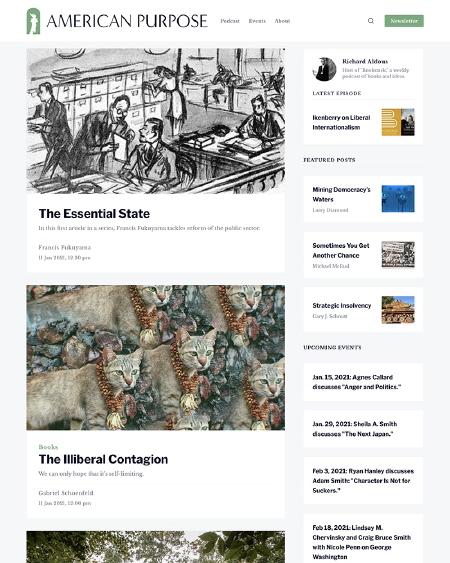 Publishers typically choose Ghost for its speed and simplicity, as well as the powerful and intuitive content editing experience. After all, the majority of your time should be spent writing and producing content for your audience — not messing with endless website settings. With Ghost, everything revolves around your content!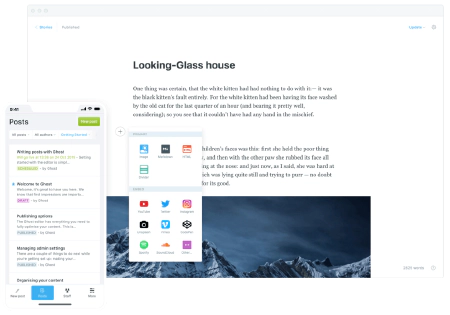 Our rich editor is designed solely around providing the best possible writing experience. It makes formatting posts flexible and straightforward, without requiring you to click through endless dropdowns and confusing menus.
Dynamic cards allow you to create beautiful image galleries, headers, videos, podcasts, products, quotes, callouts, embeds, signup forms, custom HTML and so much more.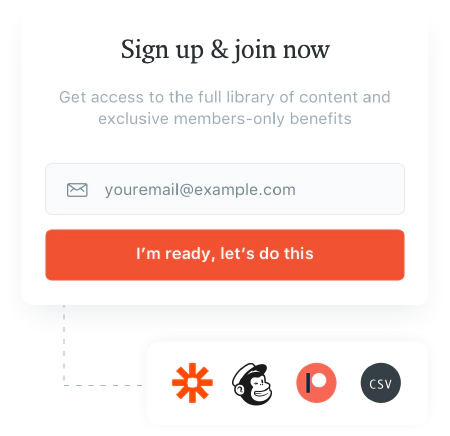 Ghost comes with all the tools you need to turn anonymous clicks into registered subscribers, so you aren't just driving traffic, but actually growing a loyal audience who care about your work.
You have full control over all your member data, so you can connect it to external services, download it, change it, or do whatever you need to be able to serve your audience better.
Build a powerful subscription business with Ghost
Ghost has native memberships and subscriptions built-in so your audience can sign up to your news publication, log into your website, participate in a community and receive updates by email. Every post you publish can be delivered as a newsletter, so people are always up to date when there's something new to read. You don't need any extra services or plugins for this, it's all included.
If you decide to sell paid subscriptions to your site, Ghost allows you to connect your own Stripe account and start accepting payments right away, with 0% payment fees. Publishers like Stratechery and The Information pioneered this approach years ago, and nowadays subscription based content is becoming more and more popular. Collectively, Ghost publishers are making over $10,000,000 per year from premium subscriptions, and this number is growing incredibly quickly.
Adding premium tiers to your publication can turn quickly turn an engaged audience into a sustainable news business.
For people who want the maximum available
Access all content
Weekly newsletter
Members-only comments
For people who want the maximum available
Access all content
Weekly newsletter
Members-only comments
Support indie publishing
Advertising-free!
"Have been building paid membership newsletters with Ghost for two months now and ridiculously happy with the experience. It's the combination of amazing design with endless customisability if you want to have your own style. The writing interface is just SO nice — it feels like stepping inside a high-end minimalist house, you just want to live up to the beauty of it."

10,000+ paying subscribers
Ghost is (much) more affordable than Newspack
Hosting WordPress is complicated, and hosting WordPress with the number of plugins that Newspack requires is even more complicated, so the pricing for Newspack starts at $750/mo and goes all the way up to $2,500/mo depending on your revenue, excluding email newsletters. If you send newsletters, you'll also need a separate account with a 3rd party provider that costs anywhere between a few hundred to a few thousand dollars per month.
Ghost pricing is straightforward and scales to publishers of all sizes, starting from just $9/mo - and increasing slowly as your audience grows with you. Newsletters are included in the price, too.

No overages, no ad-hoc random charges or additional fees for external services needed to make all your features work. Just one simple subscription, paid either monthly or discounted by 20% when paid annually.
"We're using Ghost's Pro service to host the blog for us. Works really well. Great writing experience compared to WordPress. WordPress is an incredibly powerful framework but because it supports the needs of so many websites and demands, it has grown into a sizable and cluttered tool."

Switched from WordPress to Ghost
Ghost is (a lot) faster
Because Ghost is powered by a modern technology stack using Node.js rather than legacy PHP – it's fast. In fact, compared to WordPress and Newspack, it's several orders of magnitude faster.

Independent tests have found Ghost to be up to 1,900% faster than WordPress. What does that mean? In the amount of time it takes Newspack to respond to 1 request, Ghost will have already responded to 19 of them. The speed of your blog impacts everything, from search engine rankings to reader engagement.
Doing more than the basics
If you're a developer or a business trying to build more than just a basic blog, and integrate your content and publication with other tools and workflows — Ghost has the tools you need.
At its core, Ghost is a fully baked RESTful JSON API with a flexible architecture and carefully considered client applications and services to go along with it. This means it can be extended, modified and customised for your needs in an unlimited number of ways.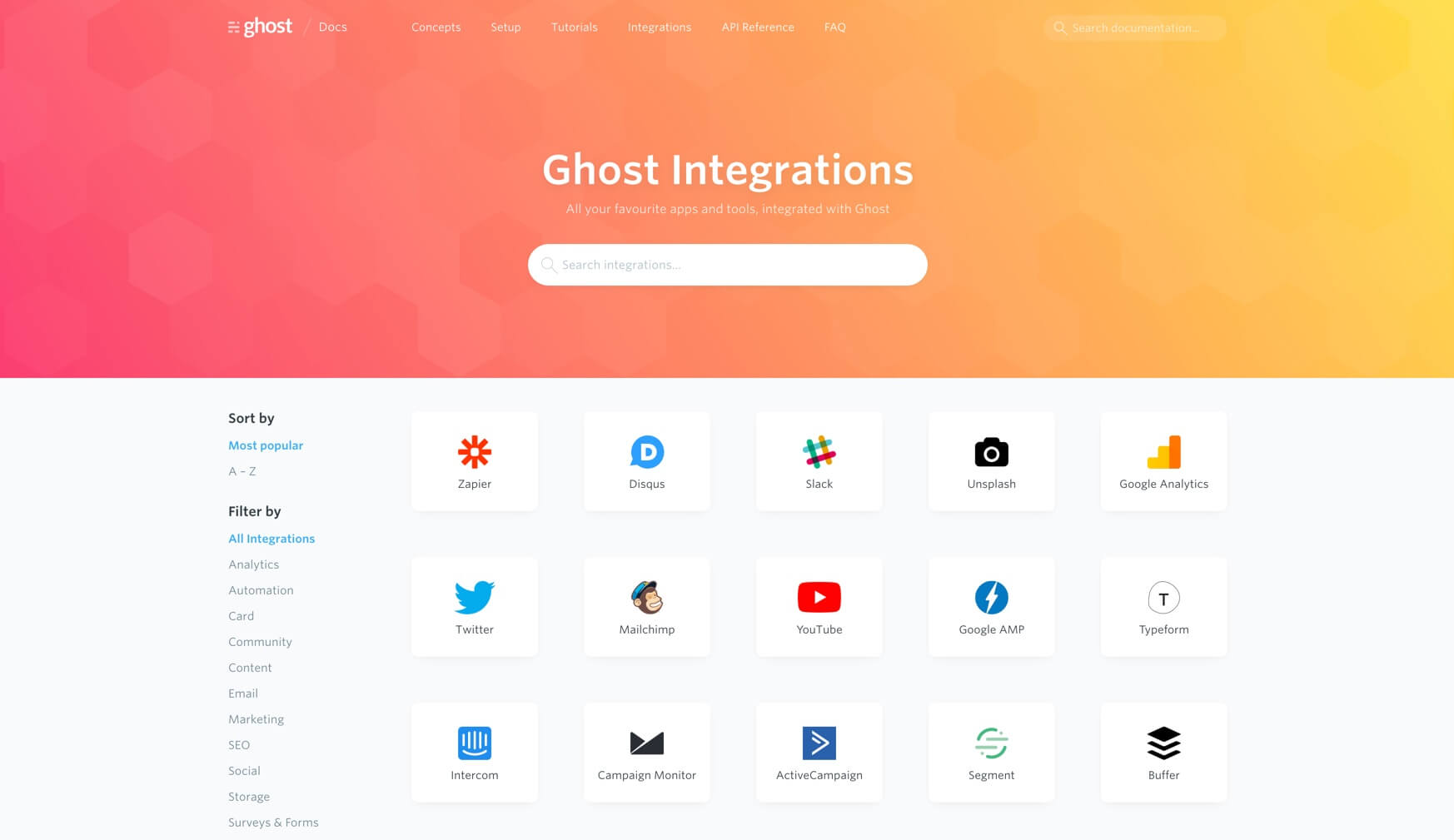 Want to bring your favourite tools along? That's no problem. In fact, Ghost integrates with just about anything, without the need for bloated plugins slowing down your site. It's worth checking out our extensive directory of integrations as well as beautiful themes and the official Ghost migration plugin to get you started.
tl;dr: The skinny
Cut to the chase? Ghost is better for publishing and blogging. Newspack is better for building a dynamic, complex website.
Ghost is best if…
You care about a well designed interface
Speed and performance are important to you
You want to spend more time writing, less time clicking
You want to build a sustainable membership business
You might be better off with Newspack when…
You want a complex business website, with custom coded functionality
You need specific functionality like marketplace listings or directories
You love the WordPress user interface
One last thing you should know
Ghost is an independent non-profit organisation. We build publishing tools for modern journalism & publishing because we believe freedom of speech is important. Our software is released under a free open source license, our business model is completely transparent, and our legal structure means that 100% of the money we make is reinvested into making Ghost better.
We're building a socially responsible, sustainable business which empowers people to share important stories and ideas. We're in this for the long haul.
"I've been a blog minimalist from the start, and finding a truly open source platform which reflects that minimalism and focus is incredibly refreshing."

Switched from TypePad to Ghost
You're now armed with knowledge! Hopefully this guide was useful to give you a general overview of Newspack compared to Ghost.


Ready to give it a try?
Start a trial completely free for 14 days
and build your publication
👋 We're hiring remotely, worldwide!
Join the team that's creating the creator economy —
See open roles →