How to support your members as an independent creator
Excellent customer support is important for any online business. Find out how to offer it 👇
---
Offering a great customer experience as an independent publishing business is important. Investing your time in delivering great customer support helps you meet your goals, since it helps attract customers, keeps them around for longer, and gives you valuable insights that help you improve your product.
These best practices and tools will help you shape and refine customer support for your growing publishing business.
Provide a contact email address
Most online subscription businesses handle their customer support entirely by email. This is a sustainable way to prioritize and handle issues, and gives customers anywhere in the world an accessible way to contact you directly.
When using email as your primary support channel, the most important thing to do is make sure your customers know how to contact you.
In Ghost, your support email address can be entered in Portal Settings, which can be accessed in the members Portal window. You can also include contact information anywhere on your site, such as a contact page, or in members-only protected content.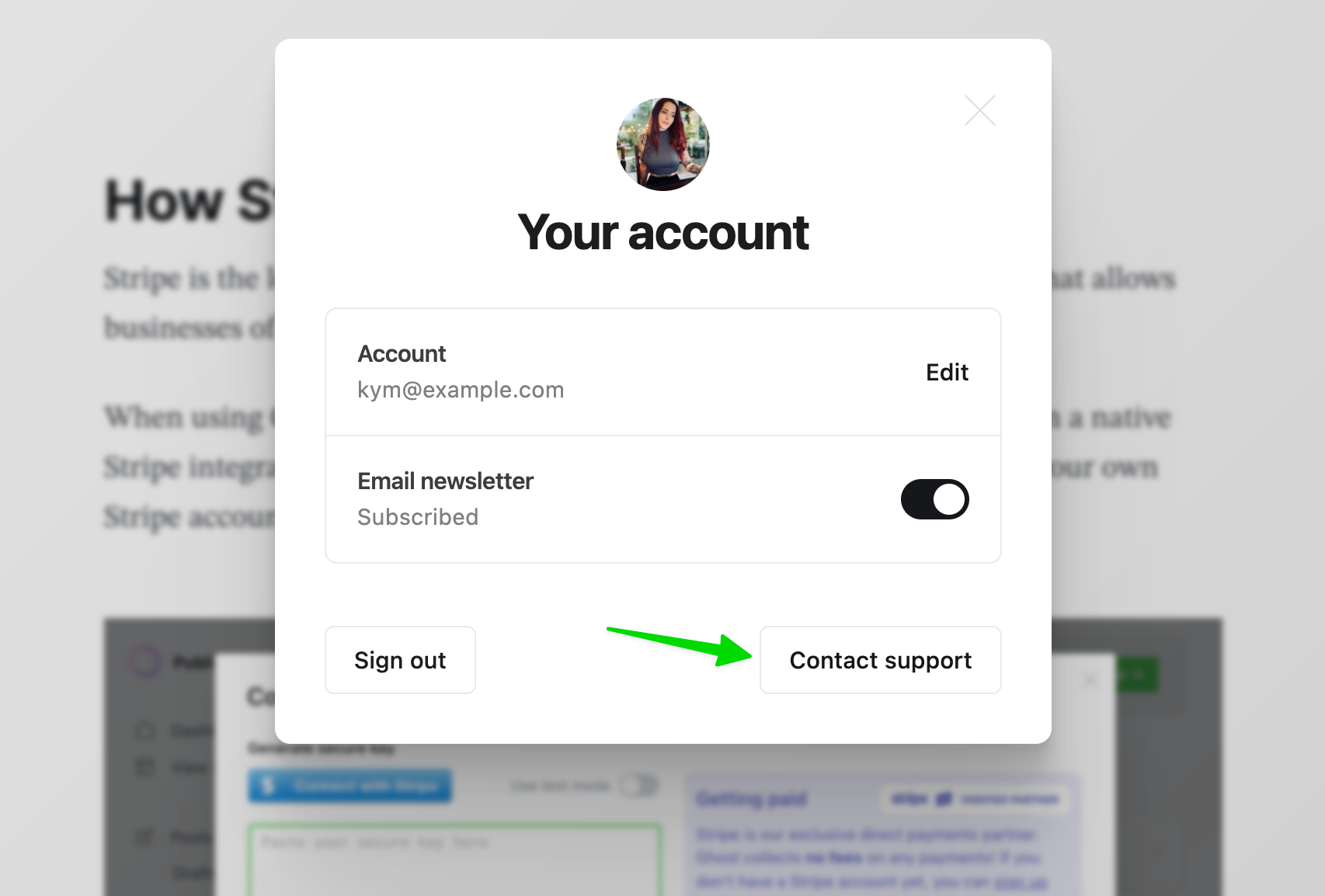 Set your terms
Running any type of online business comes with legal responsibilities. Since you're taking payments from customers, there are some key pieces of information that you'll need to put together.
Terms and conditions
Most online businesses present their terms and conditions on a page on the website, with a link in the footer. It is always recommended to consult a legal professional to help create terms and conditions that are suitable for your business.
Refund policy
Your refund policy should be clearly stated on your website (the terms and conditions page is a good place for this) and outline clearly what your refund policy is. Having a clear refund policy on your website gives you something to point towards when handling refund requests with customers.
Support expectations
It's best practice to let customers know when they can expect a response from you to manage their expectations. This is something that you can state on your website, or include in an auto-response email each time a customer contacts you. Be realistic when setting these expectations. For example, if you don't cover support tickets on weekends, be upfront about that fact.
Internal policies
As your business grows, and especially if you hire a team who help manage your customer support, it becomes increasingly important to have well-documented internal processes and policies about how you choose to deal with customer issues. An internal knowledgebase about how to deal with the most common support requests helps ensure you are providing great customer support.
As your business grows, and especially if you hire a team to help manage customer support, it becomes increasingly important to have well-documented internal processes and policies about how to deal with customer issues. An internal knowledgebase of the most common support requests and responses helps ensure you are providing great customer support consistently.
Get familiar with common billing tasks
Managing billing issues can feel daunting at first.
The good news is, you already have all the tools at your disposal thanks to powerful platforms like Stripe. By logging in to your Stripe dashboard directly, you'll find a useful billing dashboard to help you manage all types of scenarios as a business owner. Whether it's applying refunds and discounts or setting up automatic billing emails.
Check out these 7 tips for getting the most out of your Stripe account: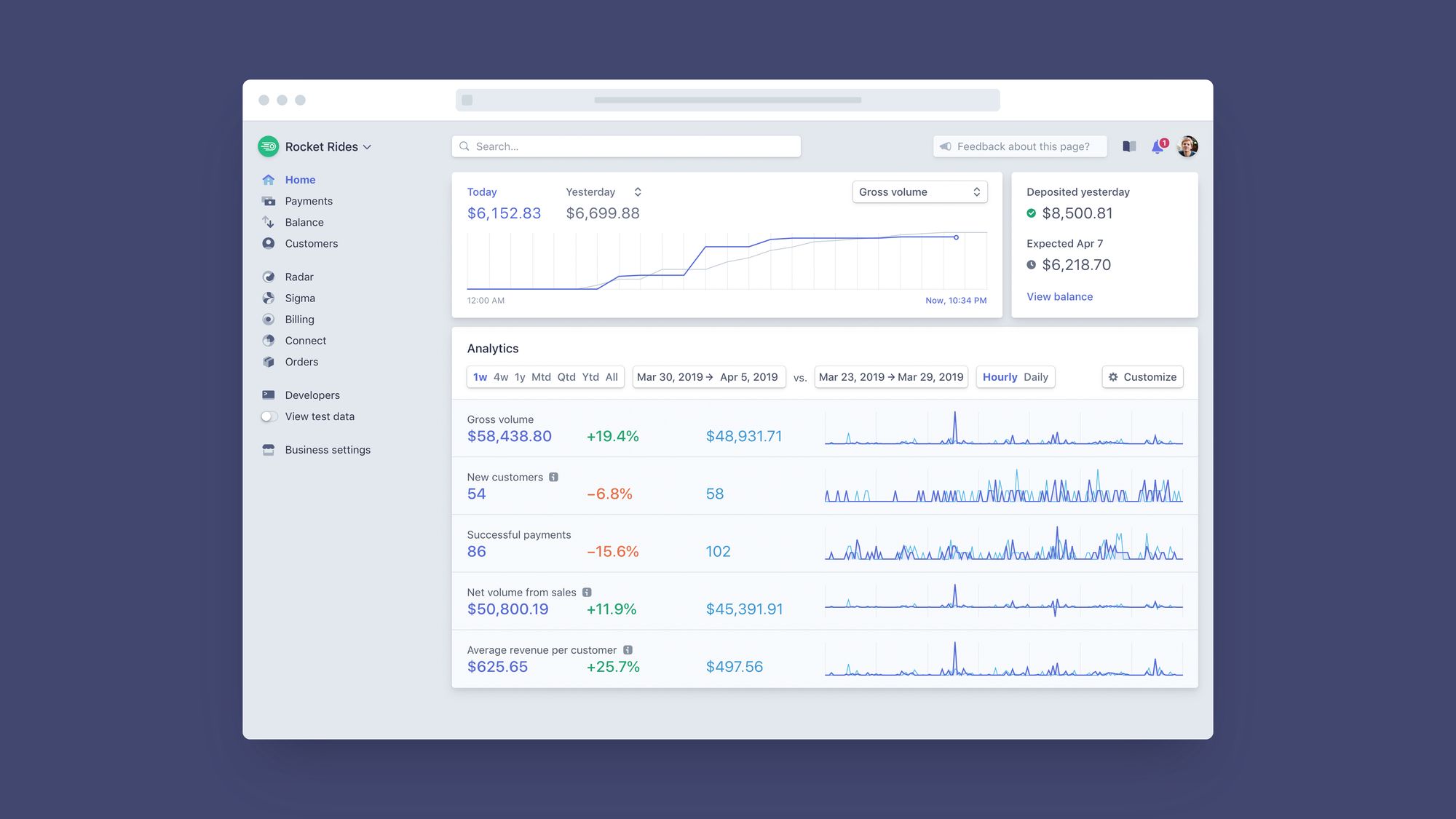 Use helpdesk software
There are plenty of comparable helpdesk tools out there that can help you provide efficient customer support, such as Helpscout, Kayako, Crisp, Front, LiveAgent and many more.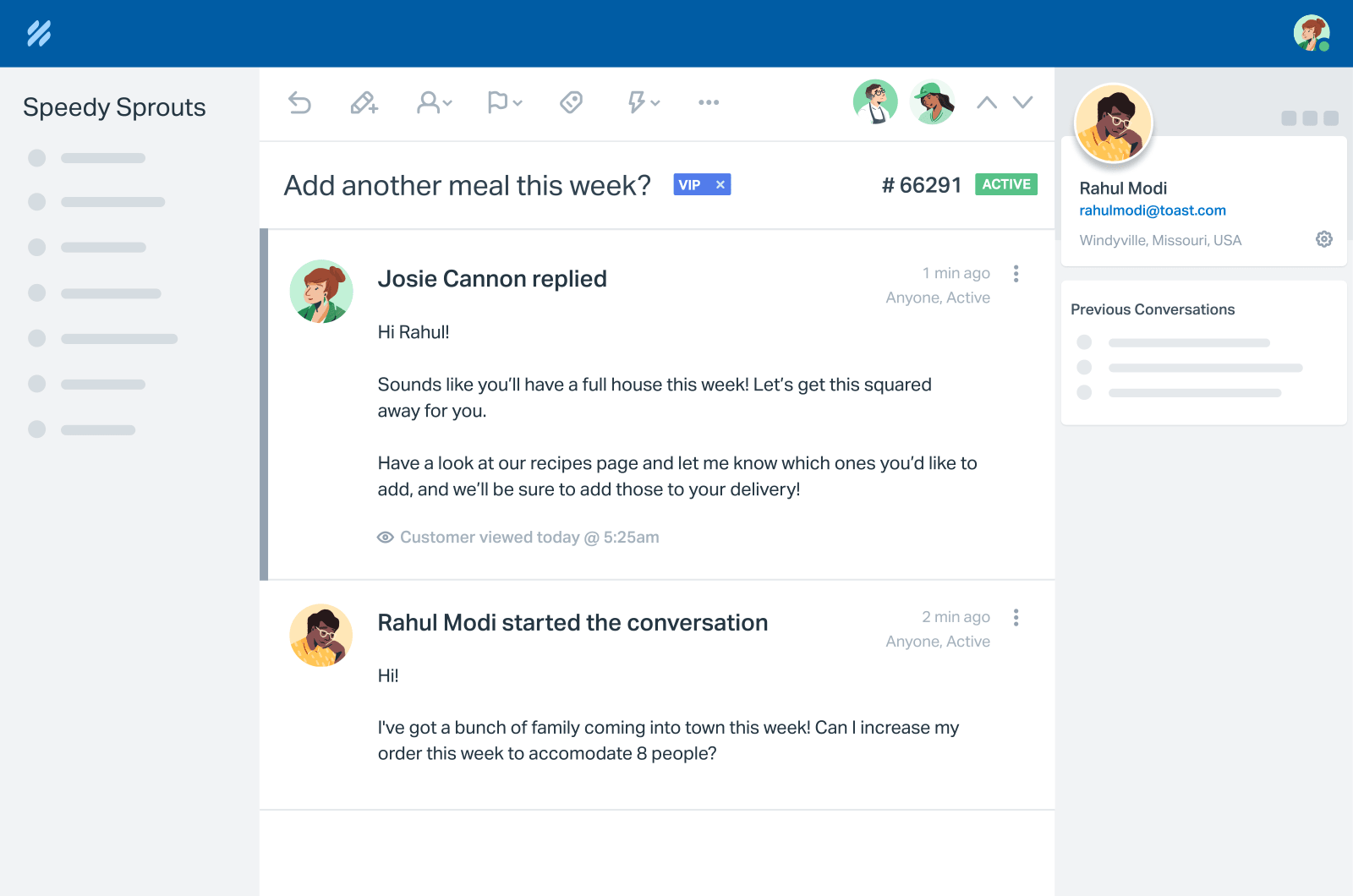 There are many benefits of investing in helpdesk software, including:
Keeps all customer emails in one place and makes it easier to search and find past support tickets when required.
Makes it much easier for more than one person to work on customer support collaboratively.
The ability to create draft response templates or "canned replies" to speed up your level of service.
Optional tools such as livechat or a popup helpdesk to help customers answer questions before they contact you.
Useful metrics to help you understand trends over time, your most common support requests, and more.
A good sign that it might be time to invest in helpdesk software is when your support volumes are increasing, and using a regular inbox or email client is starting to feel overwhelming. We recommend doing some thorough research into different helpdesk software to find something that suits your requirements and budget.
Get comfortable with the uncomfortable
Customer support isn't always easy. At some point, all businesses have to resolve difficult customer problems and complaints.
"83% of consumers agree that they feel more loyal to brands that respond and resolve their complaints" — Khoros
The key is to get comfortable with handling all types of situations. If your customers can count on you to solve their problems, they're much more likely to remain customers, and to say good things about you to others.
Working with customers directly requires patience and empathy — it requires putting people first. The core needs of a customer can be summarized as follows:
Friendliness — Customers seek friendly, human interactions.
Empathy — Customers need to know you understand and appreciate them.
Fairness — Customers want to feel like they're getting fair and reasonable answers.
Time — Customers want to hear from you within a reasonable timeframe.
Information — Customers want direct and relevant information about their queries.
Hire help
Many independent publishers and creators do their own customer support as a solo business owner, especially when starting out. This is a great way to get closer to your customers and provides many valuable insights. However, being so close to customer support can also feel like a double-edged sword, since it can be hard to separate your emotions from the issues at hand when you're so close to the business.
Doing customer support can also be time-consuming. So as your business grows, you may consider hiring someone to help with, or lead your customer support efforts.
Read more about how to approach making your first hires as a growing publishing business:
---
Providing great customer support is a crucial aspect of running a business. Without it, you risk lower retention rates or damaging your brand reputation. Investing in the tools and techniques highlighted above are the first steps toward providing a great customer experience.
---