How to setup and manage your Stripe account
Learn how to configure your Stripe account to work with Ghost, from custom branding to payment receipt emails.
---
Subscription based businesses benefit from a revenue source that is predictable and sustainable, which is why so many online businesses gravitate towards this business model.
The majority of publishers who use subscription commerce to generate revenue from their content use Stripe to power their subscriptions and payments. This resource will share 7 tips to manage your Stripe account effectively and help your business run smoothly.
How Stripe subscriptions work
Stripe is the leading online payment processing for internet businesses that allows businesses of every size to accept payments and manage customer data.
When using Ghost to run a subscription based business, you benefit from a native Stripe integration that allows you to connect your Ghost publication to your own Stripe account in a few clicks.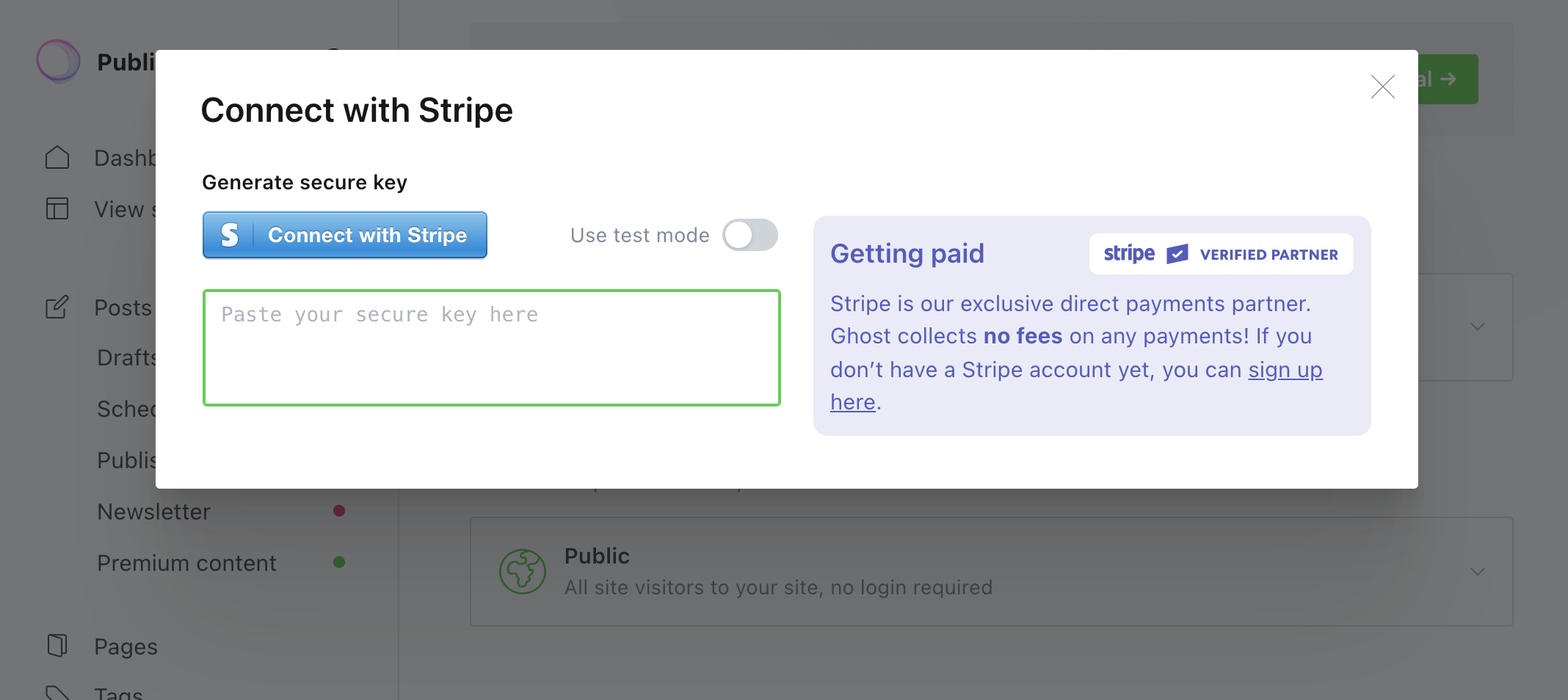 Once Stripe is connected, you can create premium subscription prices directly inside Ghost Admin — these products and prices will be automatically added within your Stripe account.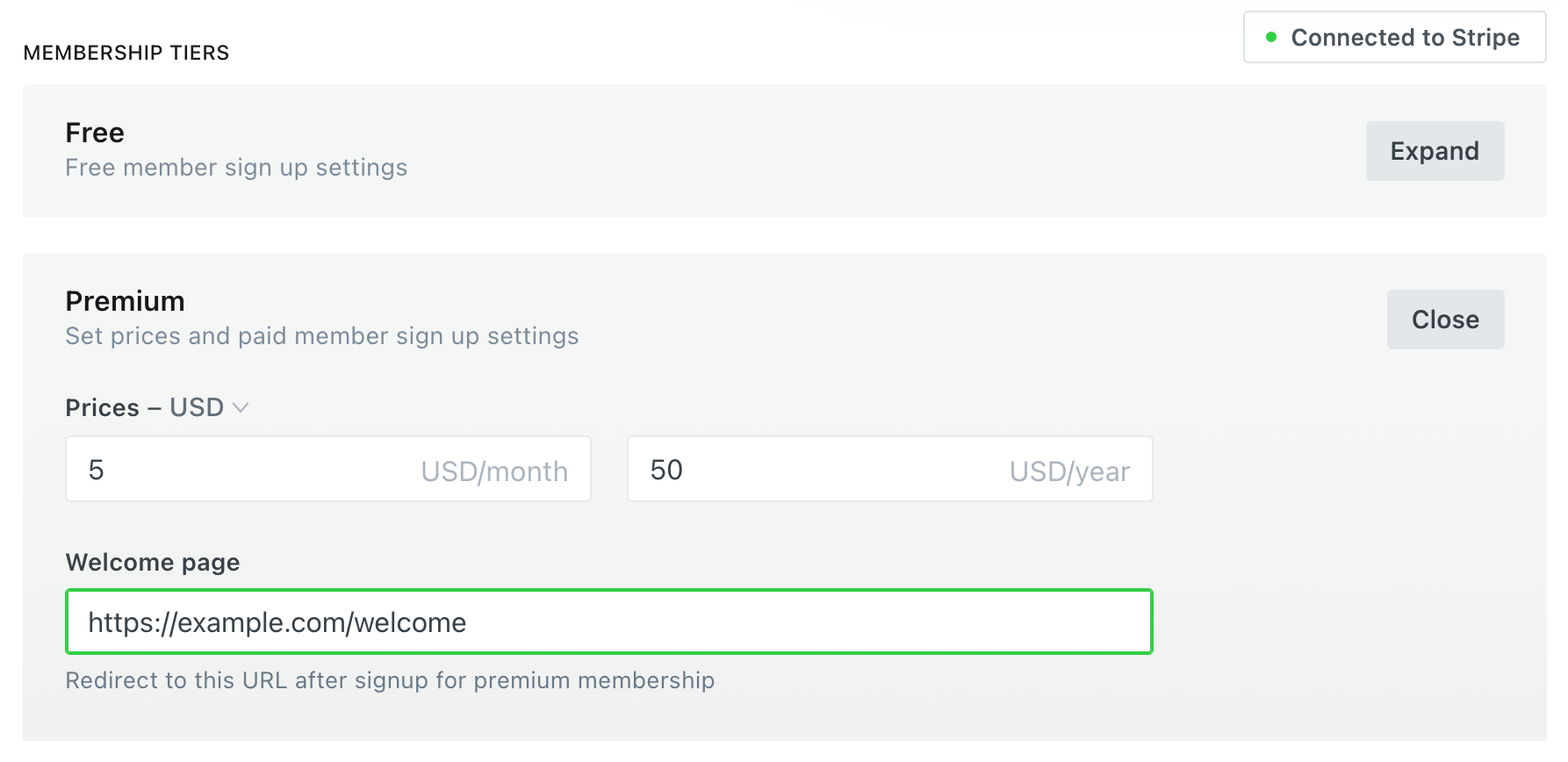 From here, you can configure Portal to display your subscription products on your website and invite your audience to support your work financially.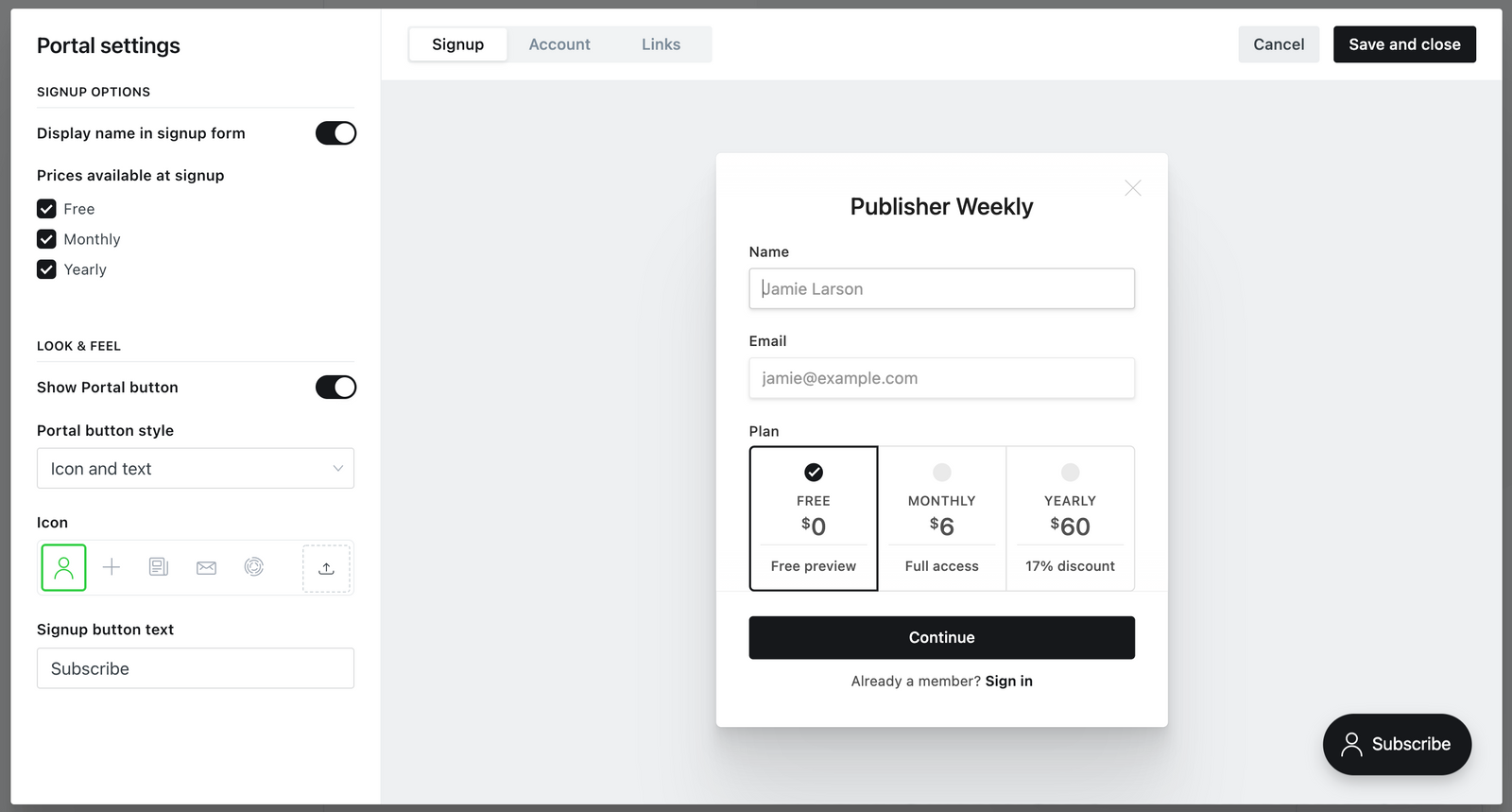 This setup process makes setting up a subscription revenue business accessible to all — whether you're a solo creator, indie publisher or a small team.
Next, you're going to want to understand how to get the most out of your Stripe account, so that you're well equipped to handle support requests, deal with taxes, and understand your business metrics.
Fortunately, there's plenty of Stripe features and integrations that can help you do this that are often missed or overlooked, so let's dive into it.
#1 Add branding to the checkout page
By default, the Stripe checkout page — the page where visitors land when they choose to subscribe to your content — will have a default appearance: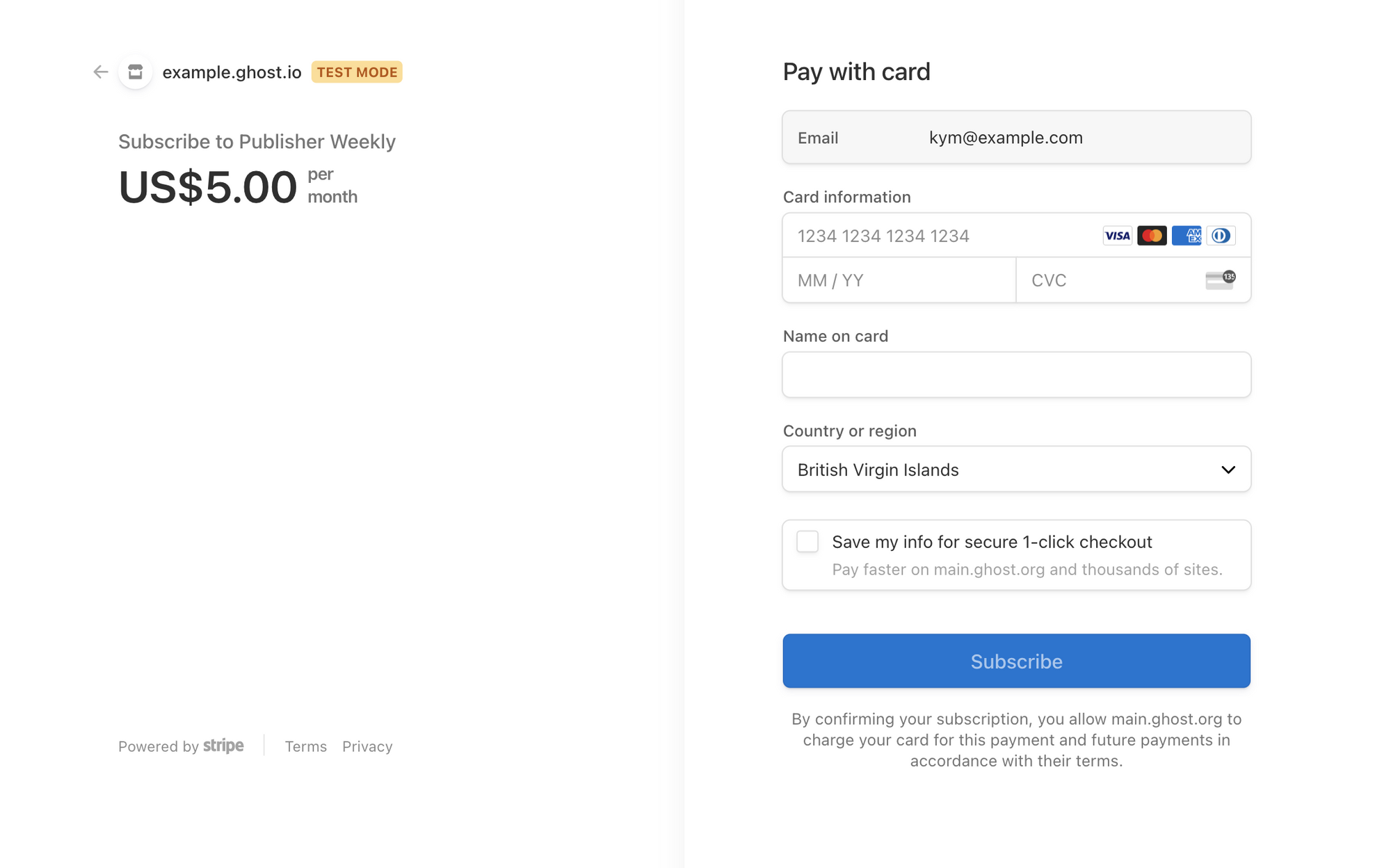 However, you can update this checkout page to include your own branding from your Stripe dashboard: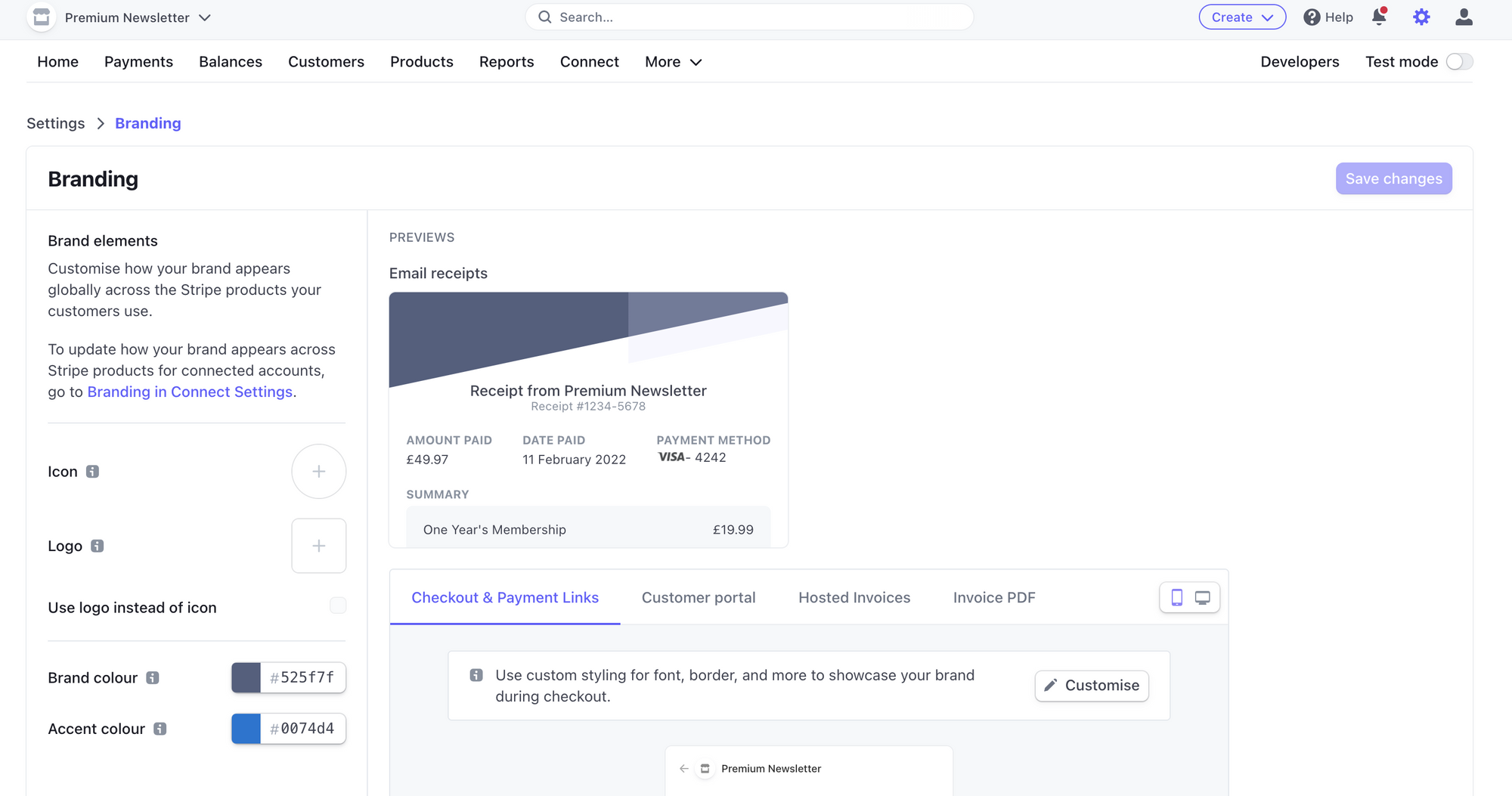 This allows you to add an icon, logo, brand color and accent color, to give your checkout page more personality.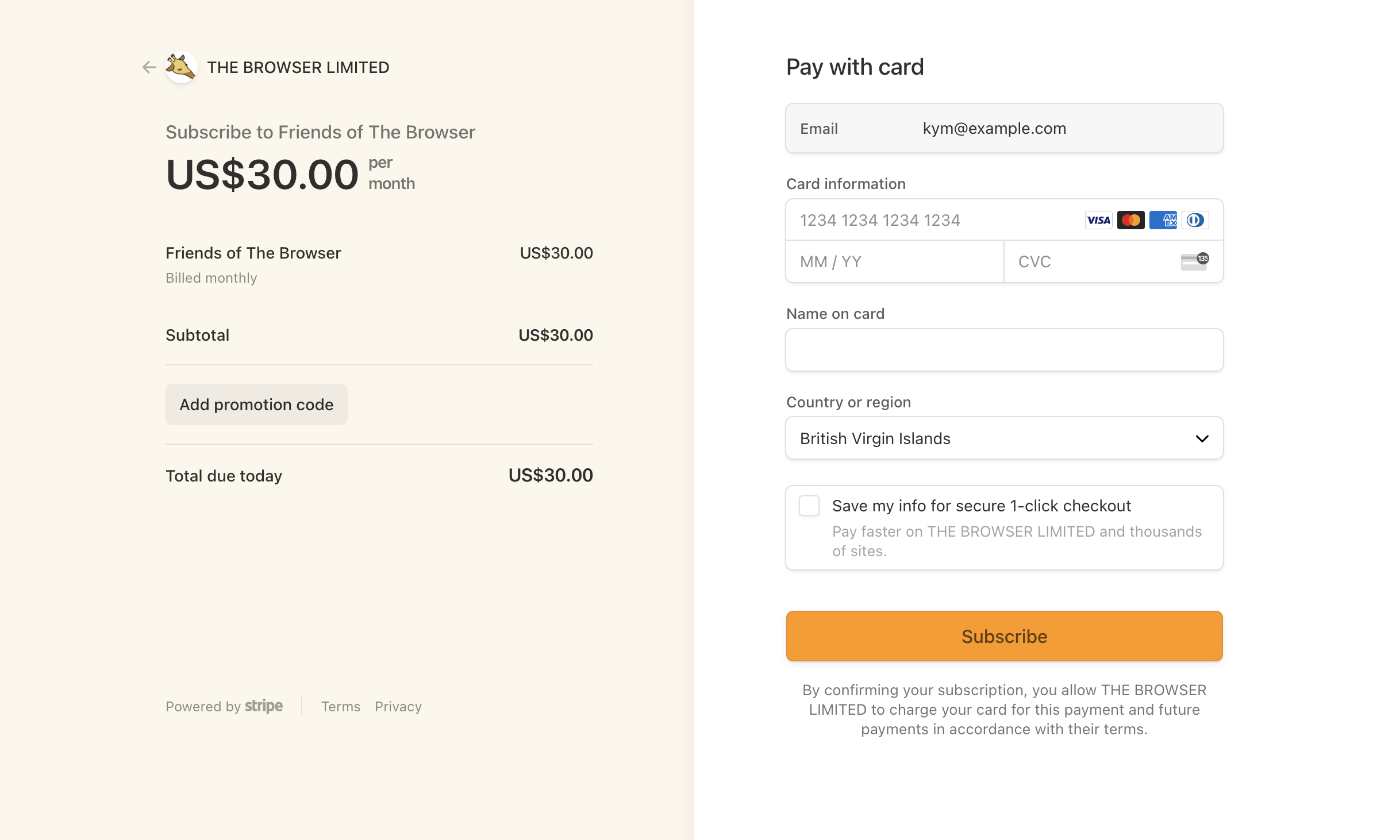 #2 Set up email receipts
It's best practice to deliver email receipts with an invoice to customers every time they make a payment. Thankfully, Stripe has a feature that handles this for you, and the automated emails use the brand settings that you have already put in place from the previous tip 🎉
To set this up, head to the Billing page, and ensure Email finalized invoices to customers is checked: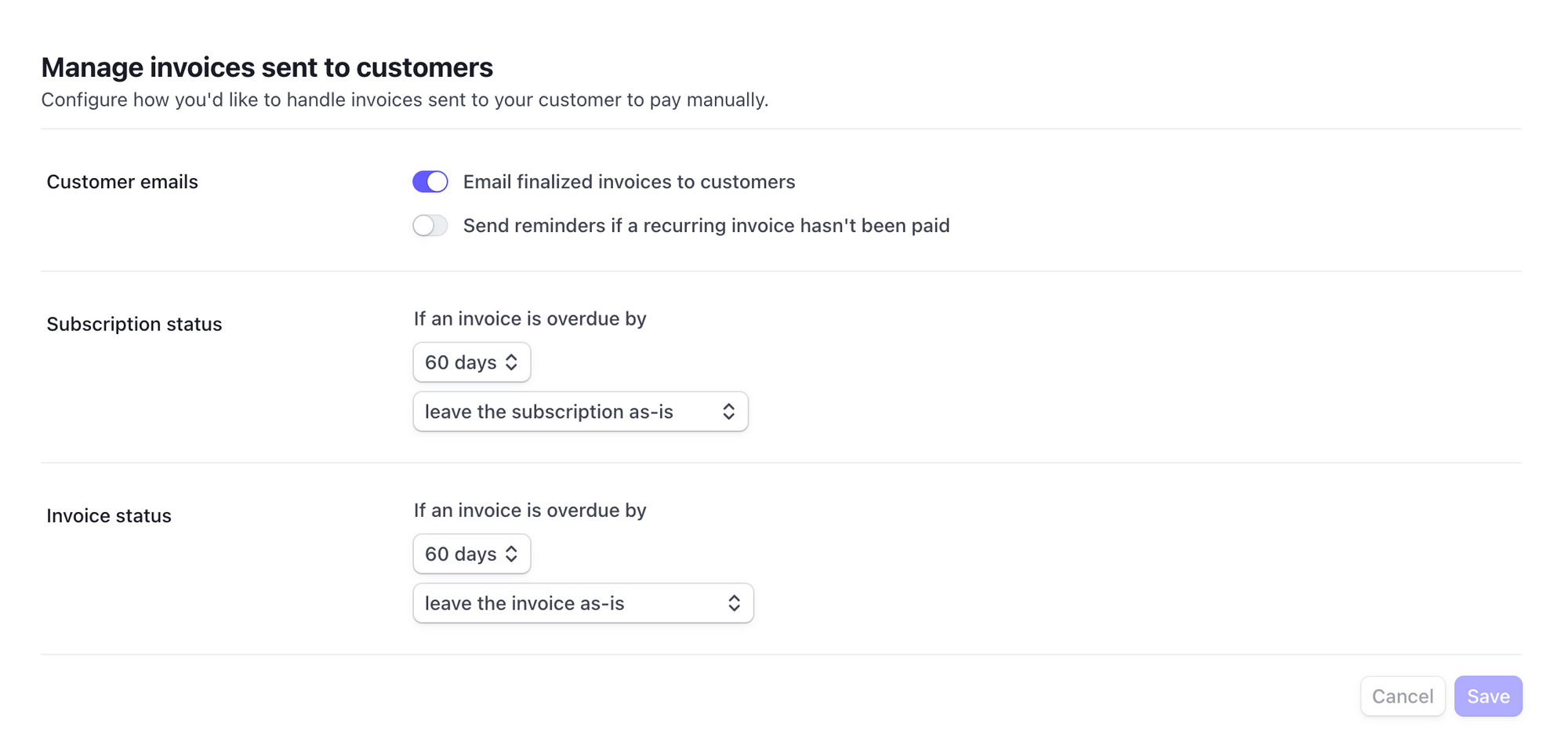 #3 Apply discounts
Knowing how to apply a discount to an existing customer's subscription is a useful trick to add to your toolkit to help you manage a number of scenarios. For example, you may want to offer short-term discounts to specific groups of customers, or offer a discount as a gesture of goodwill for a support scenario.
First, create a coupon in the Products section: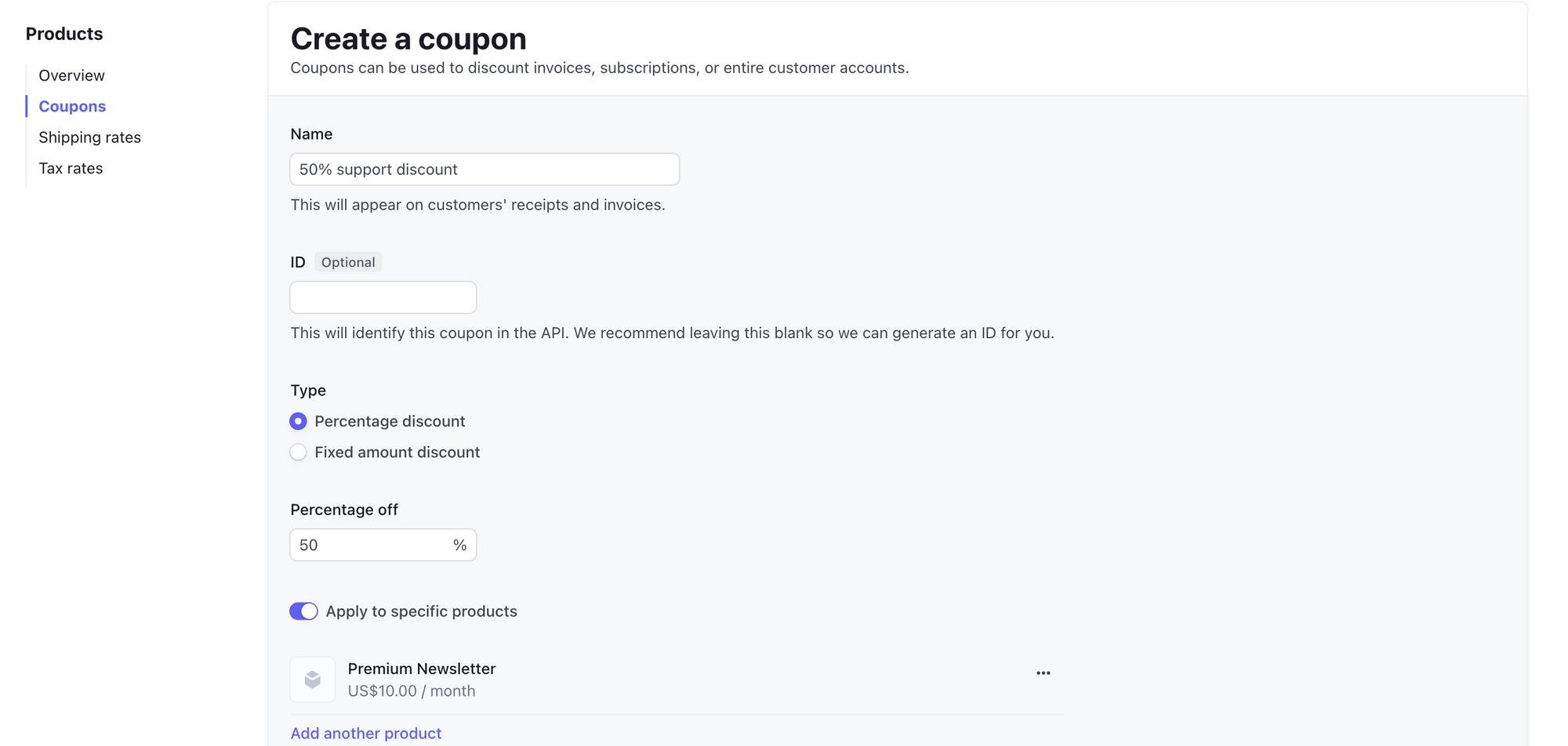 Next, find the customer you'd like to apply a discount to by searching for their email address and open up their customer information in the dashboard, and navigate to Apply coupon from the Actions menu: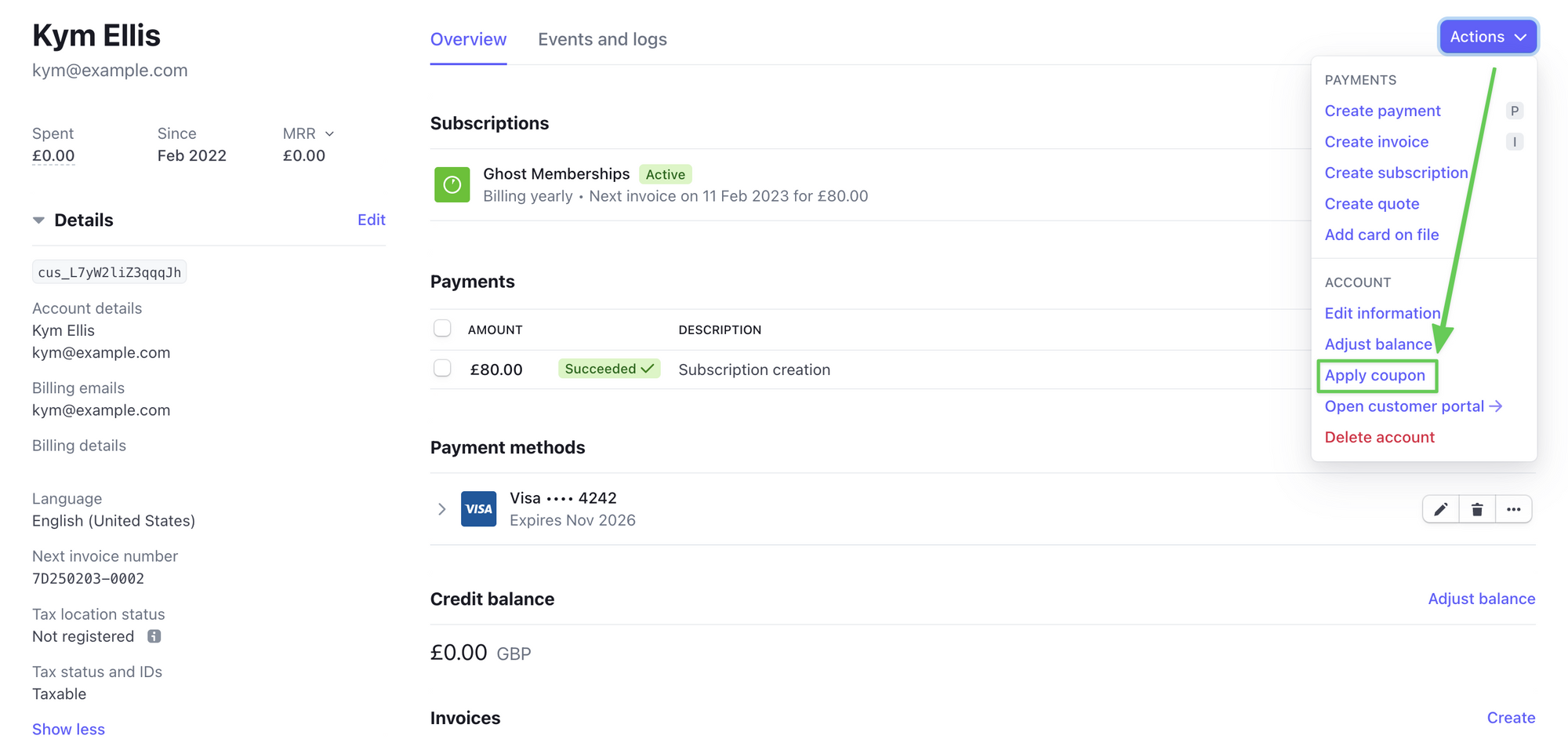 Then select the Coupon you created from the menu and apply it. Coupons can be revoked or applied at any time in this way.

🎁
If you'd like to run a special offer for new customers, you can use the
Offers feature in Ghost
to create sharable discounts.
#4 Giving refunds
Giving refunds is also an important admin task to understand for support scenarios, and this action can also be completed from within Stripe.
To process a refund, locate the customers profile from the Stripe dashboard. Under the Payments section, click the three dots to open the actions menu, and then Refund payment.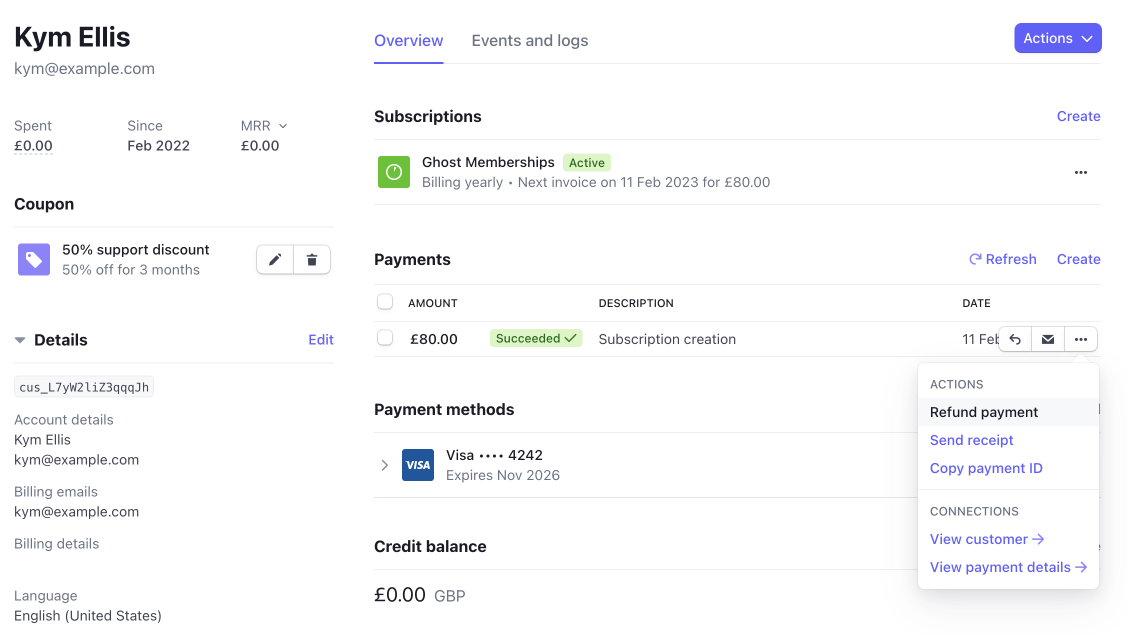 The refund screen asks for a reason for the refund which is useful for your own records. Once you've applied this, hit the Refund button and you're done.

At this point it's a good idea to let the customer know the refund has been processed and to let them know that this can take 5-10 days to appear.
It's also possible to have Stripe automatically deliver refund notification emails, by updating your email settings: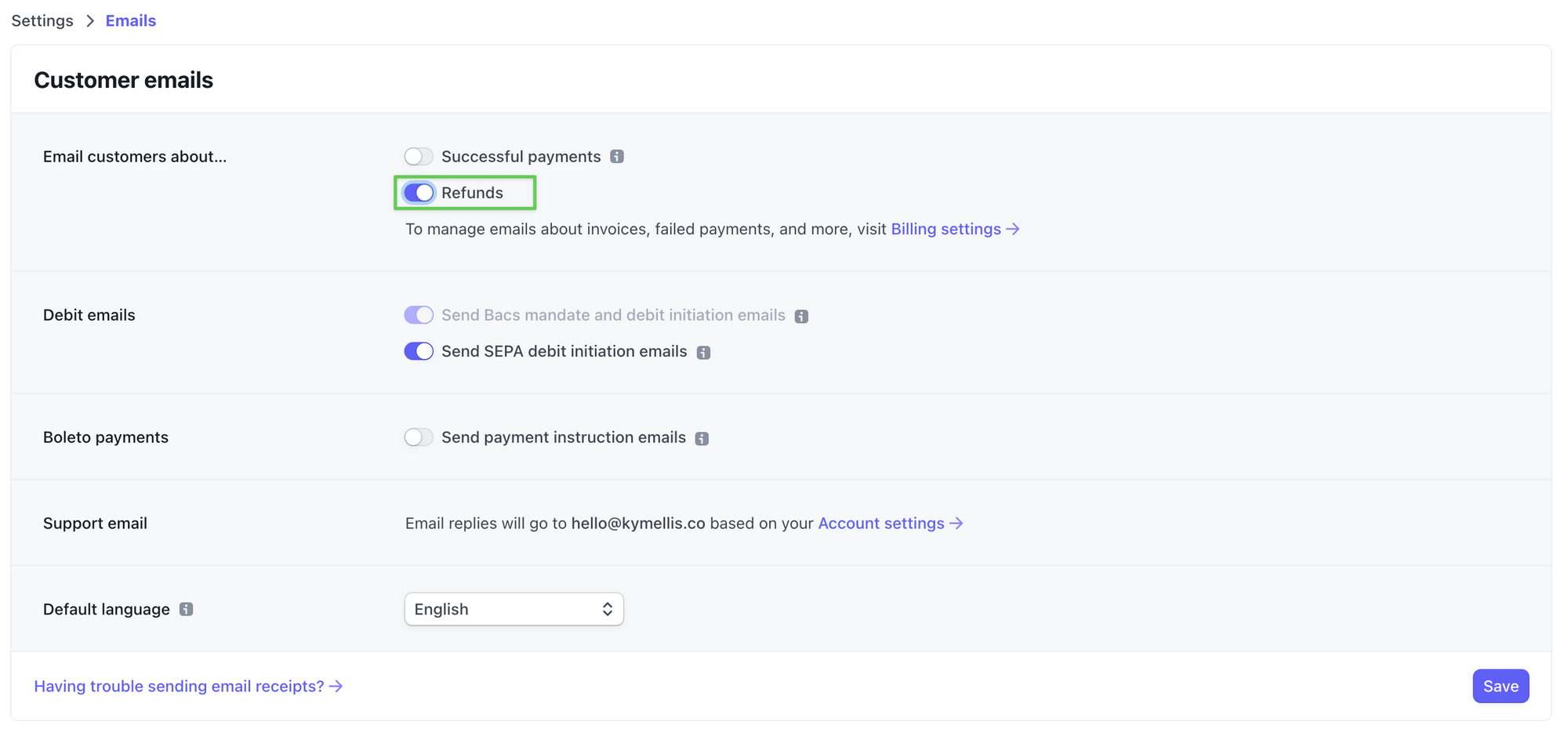 #5 Connect ChartMogul
While Stripe does have its own billing metrics feature that you can access in the dashboard, you may also want to consider integrating with a dedicated tool to help you analyze your business performance.
An integration with ChartMogul can help you do this — and it's free for accounts with less than $10K in MRR (monthly recurring revenue), which means you can get started for free.
The ChartMogul dashboard offers a clean, visual way to monitor business performance over time: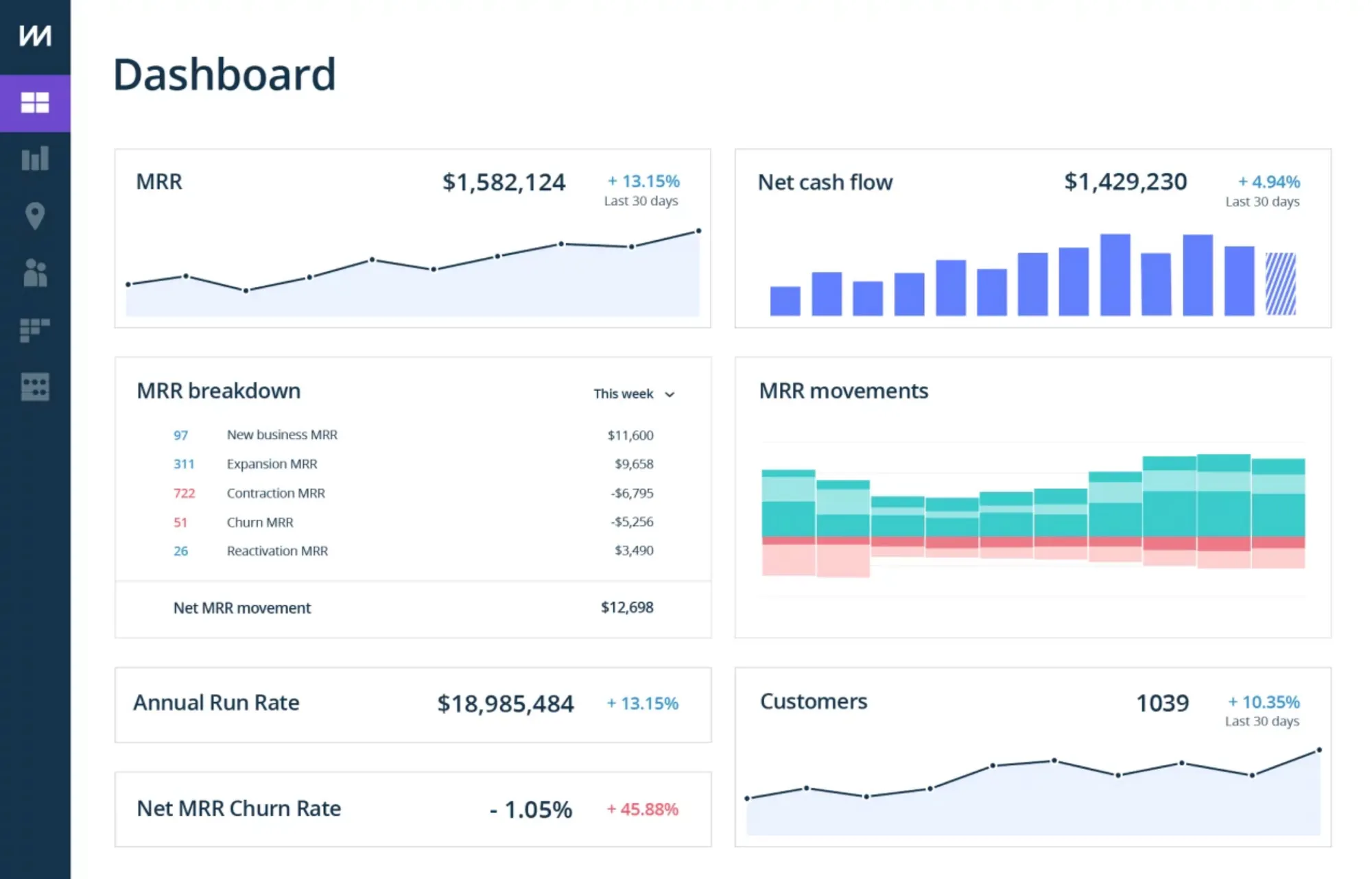 Learn more about understand the business metrics that matter in this resource:
#6 Keep business finances in check
A useful tip when getting started is to create a brand new bank account for your business, and connect that bank account to Stripe. This makes it much easier to manage your business financially.
Stripe have launched some Tax features but they are not yet suitable for a no-code setup with external platforms. As always, the best advice is to seek professional legal and accounting advice and services for your business.
#7 Minimize churn
In subscription commerce, churn reveals the percentage of people who stop being customers, whether by unsubscribing or canceling their product.
However, not all of your customers churn because they made a conscious decision to leave your product. Many of them will churn passively for a number of reasons including credit card expirations, failed payments, processor problems, or fraud protection.
This type of passive churn can actually make up a significant amount of your overall churn rate, since your customers often don't realize their subscription payments have failed. For this reason, subscription businesses opt to implement strategies to minimize this type of churn.
One of these methods is to use a dedicated dunning service, such as Churnbuster, which integrates directly with your Stripe account.
Dunning is a term used to describe the practice of business owners communicating with customers to remind them of payments due — tools like Churnbuster help you to automate this entire process and create personalized emails for failed payments.
There are also some native features within Stripe that are worth your attention. In the Billing section, it's possible to define parameters for how you'd like to manage failed payments, with Smart Retries, and automated emails for failed card payment methods.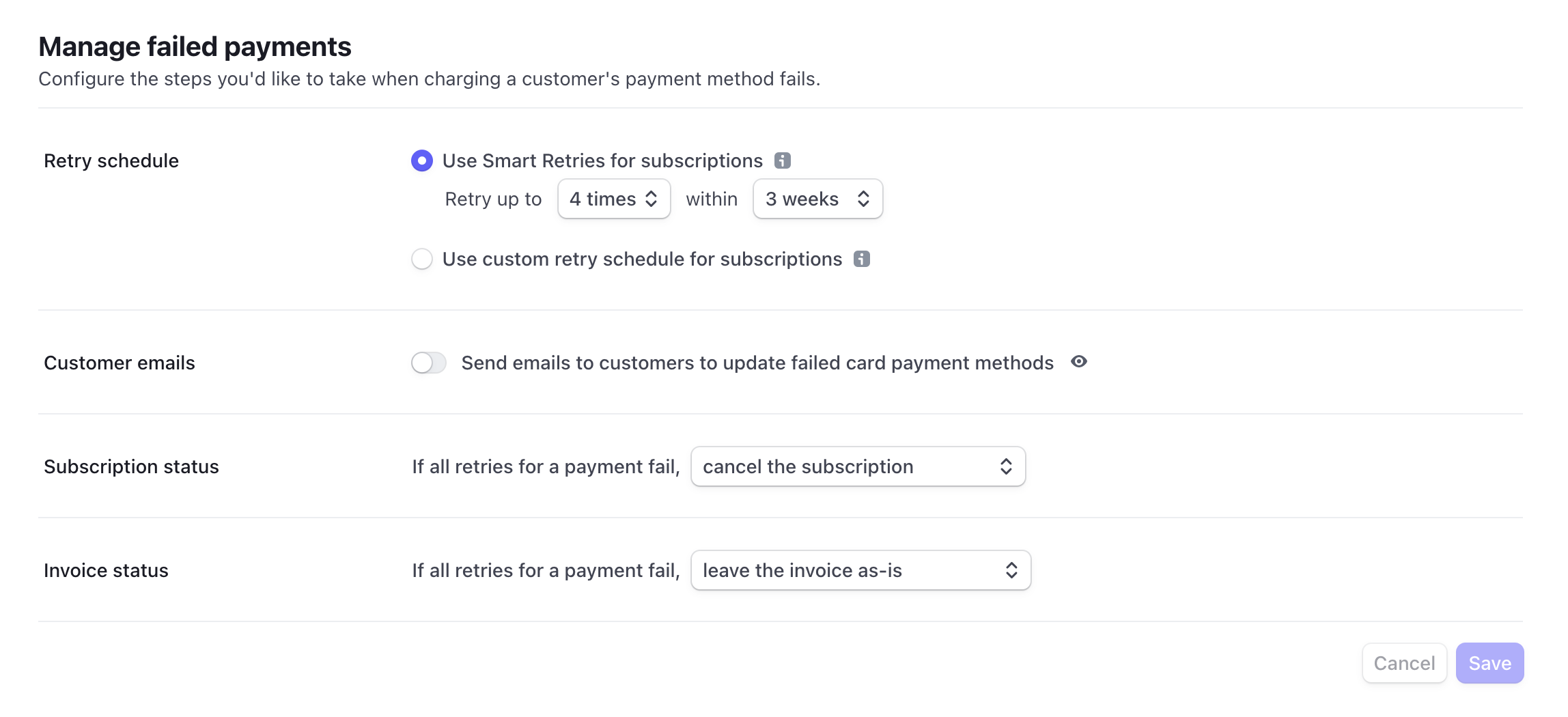 ---
You're now armed with actionable tips you can apply to your business today, and help you better manage your revenue, payments and customer support.
---