5 tips on transitioning from career to creator with Matt Brown
How to leverage where you've been into what's next.
---
When Matt Brown started Extra Points, a newsletter focused on the inner workings of college sports, they never thought it would become more than a passion project. Fast-forward three years and a layoff, Extra Points now boasts a subscriber base of over 10,000 readers, six-figure annual revenue, and big goals for the future.
So, how did Extra Points evolve from a nights-and-weekends side hustle into a full-fledged business, and why did leveraging past experience supercharge its success? In this resource, you'll discover the answer to those questions and more as we discover the 5 lessons Matt Brown has for aspiring newsletter creators.
Lesson #1: Experience is an unfair advantage
Many people pursue creative projects as an alternative to their day jobs: doctors moonlighting as novelists or lawyers painting their weekends away. But some have found a way to join the two and allow the skills, experience, and network they've built in their career to bolster their move towards independence.
Matt's route into journalism was a winding one, "I didn't go to journalism school. I taught elementary school, worked as a political organizer, and even spent time as a Mormon missionary."
Eventually, Matt found his way into sports journalism at SB Nation and spent years honing the craft, learning the industry, and identifying the untapped opportunities only practiced journalists could see.
"I figured out what kinds of unique stories I could tell. This was a combination of my education world, my sports world, my political science world, and so when I had to go into business for myself, I knew I could just focus on this one area (behind the scenes of college sports) which made the transition much easier."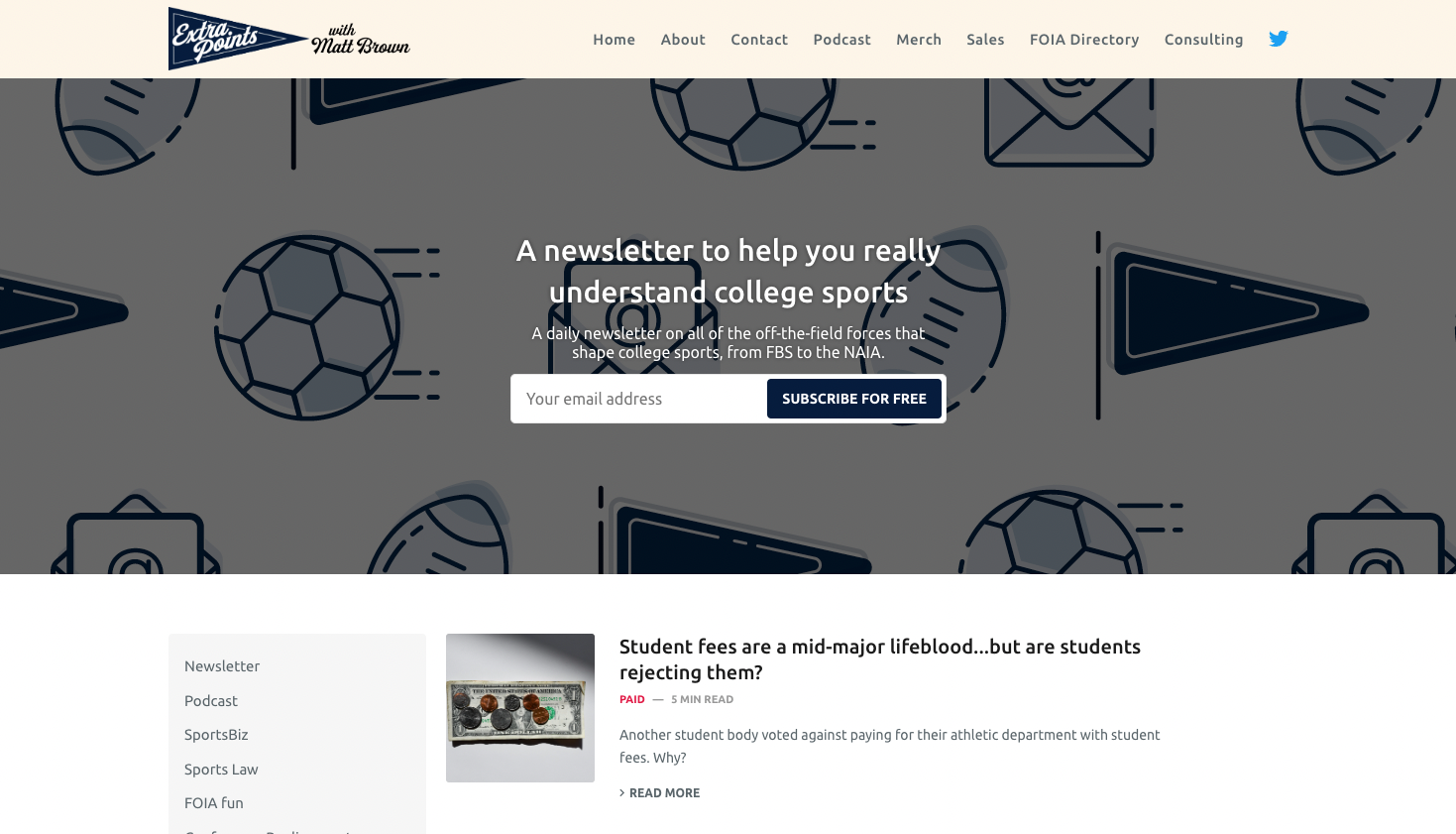 💡
As you think through the subjects you're interested in writing about, consider how your background could offer a leg up over your competition. What knowledge, connections, or resources do you have that most people don't? How can your history shape your future?
Lesson #2: Lean into limitations
Every limitation is an opportunity in disguise. For example, many foods that are beloved favorites today only came about through happy accidents (i.e., chocolate chip cookies resulted from a baker running out of nuts).
In a similar way, independent creators who don't necessarily have the funds, teams, or equipment of larger organizations can succeed by being distinctive. In the early days of a sports journalism career at SB Nation, Matt worked in a department going head-to-head against the biggest names in the industry. To win, they had to get creative.
"We couldn't compete on access. We didn't have broadcast rights like the larger publishers, so we had to figure out what we could do that was different from everybody else. We did that with voice, perspective, history, and records research."
Public records requests became their secret weapon — a segment out of reach for small publishers and not valued enough by big ones.
Matt also owes the success of Extra Points to a layoff that occurred near the beginning of 2020. This introduced a limitation of time and resources which pushed Matt to go all-in on their newsletter. If necessity is the mother of invention, then it might also be said that desperation is the father of creativity.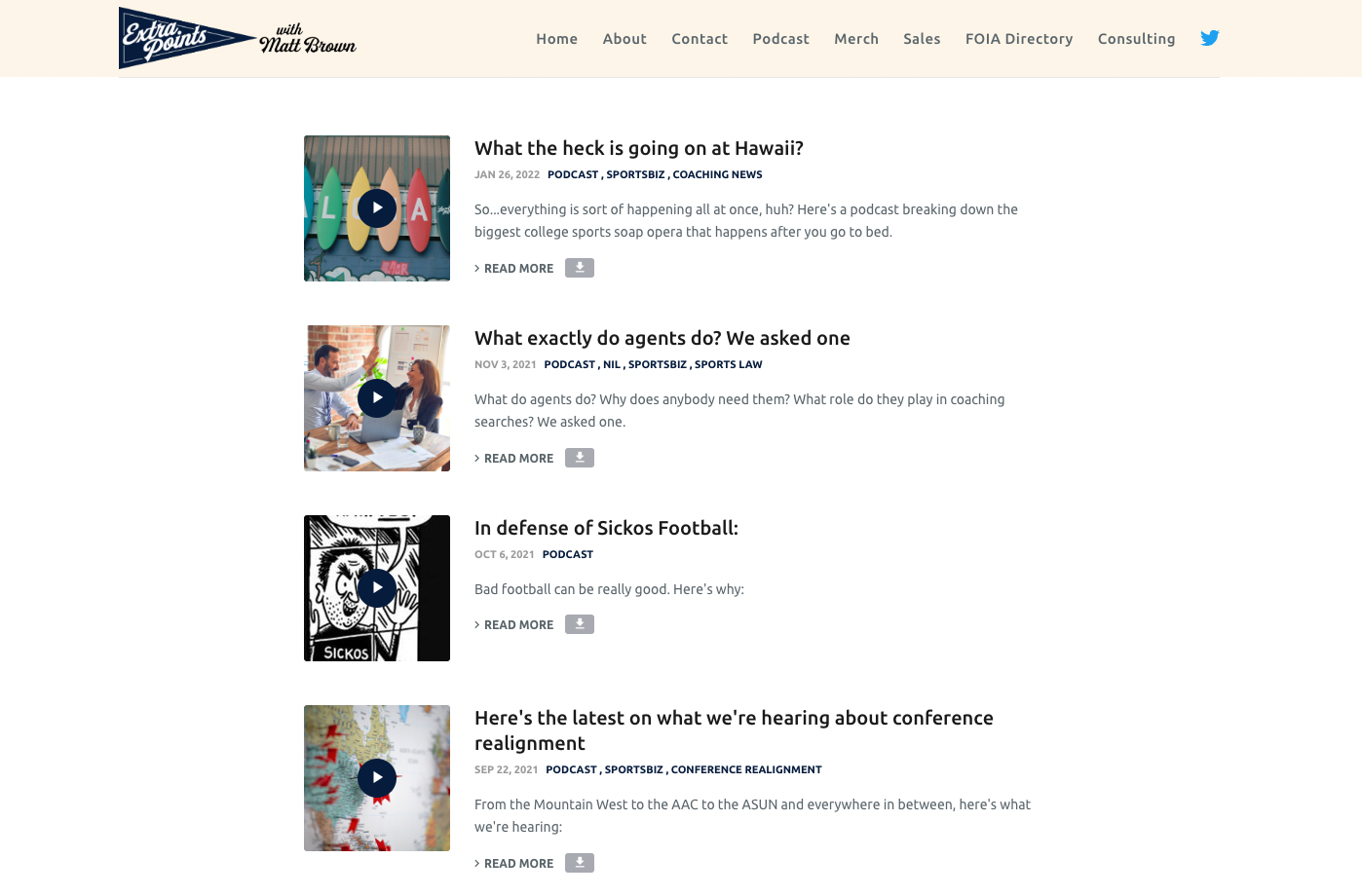 💡
If you find yourself feeling stuck, get specific about what you cannot do, then find a way around it.
Lesson #3: Pursue audiences that will pay
One of the most common mistakes new publishers make is to go after the widest possible audience. Just because you have a large audience, it doesn't necessarily mean they will be willing to pay. Often, it's the smallest segments that have the highest reason and ability to pay.
Matt Brown describes the Extra Points readership as follows:
"My typical subscriber falls into one of three buckets: college athletic professionals, giant sports nerds (I mean this with great affection because these people love the minutia), and college students and professors."
Although there are a massive number of sports fans, Matt found that most paying subscribers came from two smaller categories: athletic department staff and sports management professors. With this information in hand, Matt can focus monetization efforts on better serving these specific groups and has seen tremendous growth as a result.
"The people who are your audience will evolve as you and your content evolve. If you think about this as a business, don't only think about who wants what you make but what audiences will be most likely to pay."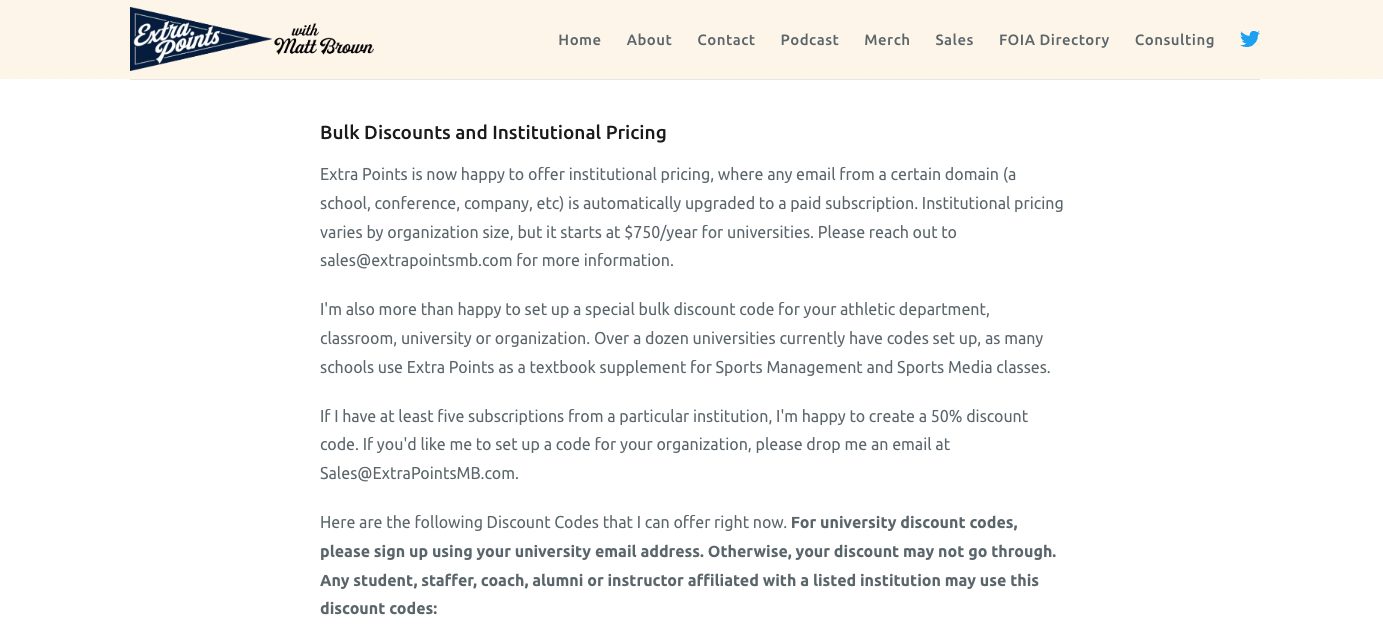 💡
As you build your audience, it's important to not treat them as one homogenous block. Understand the specifics of who your readers are and use that information to build a profitable business.
Lesson #4: Starting a business is a different kind of challenge
The classic book, The E-Myth Revisited, explains a dilemma that most creators don't realize until they've been in the trenches a while: being good at what you do does not mean you will (or even should) turn that skill into a business.
There's a lot more to running a company than just being great at your craft. If you want to build a sustainable, scalable machine that enables you to do your best work without constantly battling burnout, you need systems. Processes. And usually, help.
"I built this company during the pandemic working 80+ hour weeks. To be an effective small businessperson, which is what you're doing when you make money with a newsletter, you have to be willing to work hard at everything. The biggest misconception online is that if you make great content, nothing else matters. But that's a lie. The internet is full of successful content that sucks. You have to care a lot about how people find it and how it's going to make money."
When Extra Points was acquired by a larger publisher in November of 2021, it enabled Matt to take a step back, shed the tasks they didn't enjoy or weren't as good at, and refocus on their core expertise.
💡
As you strategize, plan for the long-term. What do you want your business to look like 1, 3, or 5 years down the road? And what can you do today to ensure you'll get there?
Lesson #5: Be data-informed, not data-obsessed
Finally, Matt has some advice for those creators who feel themselves on the edge of burnout, constantly refreshing their analytics to see if they've reached their latest goal.
"You can't let your personal wellbeing be dictated by your graphs. This journey is not one of linear growth. I've had months where my revenue grew 10% and months where it contracted by that much. It's a zigzag. You want to be data-informed, but not data-obsessed."
Matt went on to explain that data-informed means to be aware of what's working, what's not, and to constantly iterate towards improvement. Data-obsessed is a less healthy version where the focus on numbers, traffic, and conversion chip away at your creativity and hinder you from doing your best work.
Data is not the end-all, be-all of your success, especially if you're creating an email newsletter that's not subject to the volatile algorithms of social media and search engines. In the end, the best creators learn to trust themselves. They listen, watch, build, fix, and try. They don't always get it right, and that's okay because no audience expects perfection.
💡
Gathering good data takes time. So the more sustainable your work becomes, the more likely you'll be able to make the decisions that matter.
Nothing is wasted
As you decide what next steps to take on your creator journey, learn to value the assets you already have: professional experiences, personal victories, long-lived interests, and human connections. These are what make you a unique person and what could turn your newsletter idea into an extraordinary business.
---