How to use lead magnets to capture your first subscribers
Tap into this tried and true method of growing an audience by giving away free value.
---
Lead magnets are an essential tool in the creator's toolkit. When used correctly, they can help you build a bigger, more attentive audience faster than you thought possible.
That's a big claim. So, why are they so effective?
What is a lead magnet?
A lead magnet is an exchange of value between a creator and a customer. You (the entrepreneur or writer or YouTuber) make something your audience is willing to exchange their contact information for (i.e., an email address).
Below, you'll discover over twenty different types of lead magnets you can make to drive growth.
First, it's important to understand that lead magnets go by a few different names:
Lead magnet – Typically, a downloadable item is displayed in multiple areas on one's website.
Gated content – Protected, member-only style content that customers can only access by subscribing.
Content upgrade – A digital good that enhances publicly available content, such as a private video that further explains a blog post.
These terms are often used interchangeably and accomplish the same goal: gather contact information by delivering value.
Why do lead magnets work?
If you've ever downloaded a free ebook or a checklist or gained access to an exclusive report by entering your email, you've interacted with a lead magnet.
Lead magnets take advantage of a few psychological triggers, which makes them such effective marketing tools.
First, lead magnets are free. Zero-cost items are nearly psychologically irresistible to most people. Second, they offer customers immediate gratification through instant access or delivery. Third, lead magnets can move your audience from the trust to access phase by pairing them with social proof or evidence of your expertise.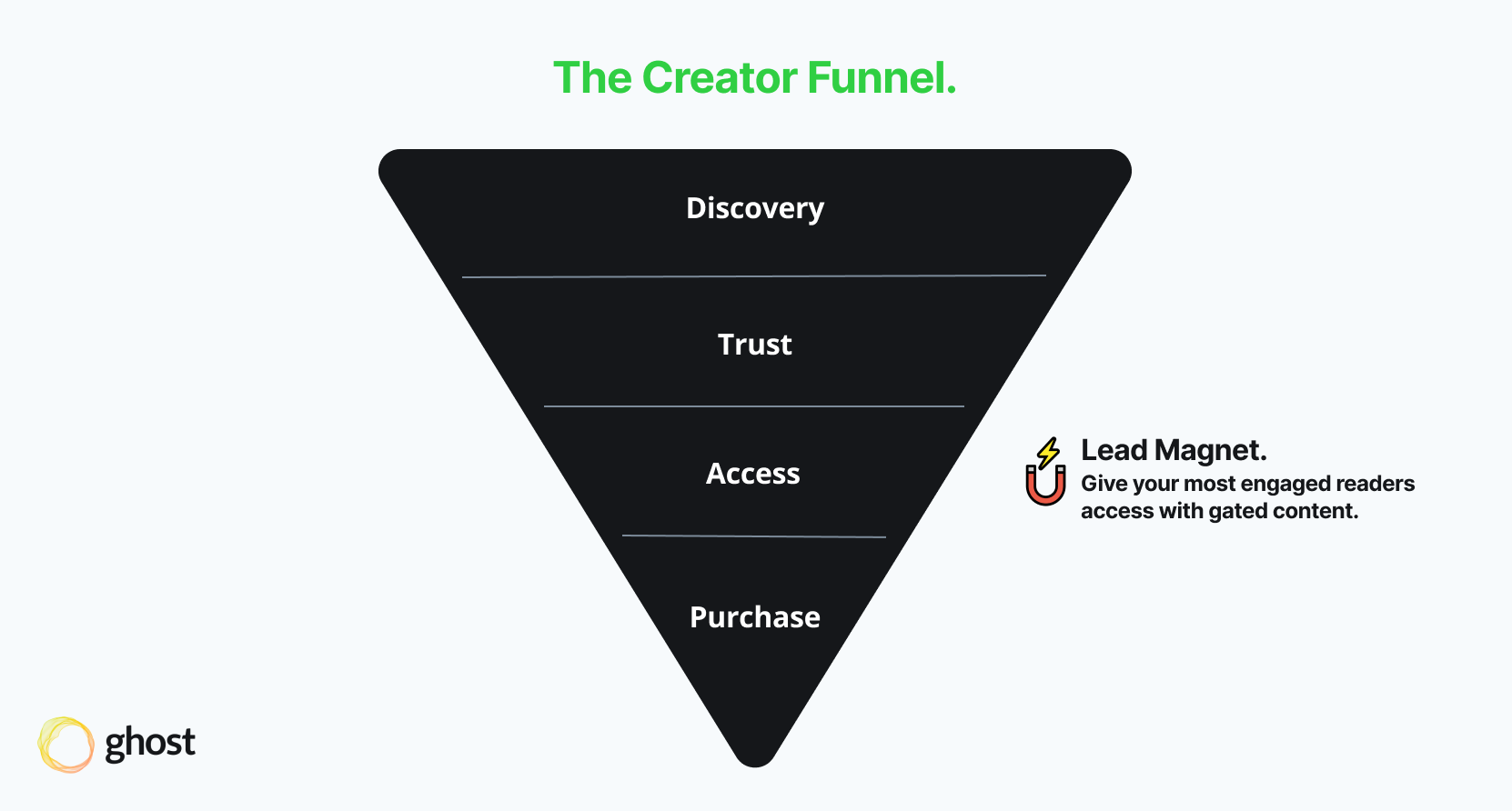 Tips for making your first lead magnet
If you've ever heard the argument that lead magnets no longer work, it's most likely because they weren't following one of these three tips.
Your lead magnet must be something people are willing to pay for.
Yes, they're meant to be given away for free. But free doesn't mean poor quality. The most effective lead magnets solve real problems and are packaged in such a way that makes getting them for free a no-brainer.
While it's possible to stitch together a simple lead magnet using free tools and templates online, don't forget to be brutally honest with yourself during the process.
Would you pay for what you've made? How much? Is your lead magnet legitimately better than your competitors, or does it feel rushed?
A great lead magnet offers visitors a highly relevant, quick win.
No one needs another "10 tips to do x" generic pdf ebook. The internet bombards users with tons of content, most of it useless. If you want to stand out, be specific.
What can you deliver to your audience members that helps them solve a real problem in 10 minutes or less? What's a challenge you struggled with on your journey that you can help others shortcut? What common mistake do you see people in your niche make that could be remedied if they knew this one thing?
Lead magnets must lead somewhere.
Lead magnets exist as one step in a clear onboarding process. One of the biggest mistakes new creators make is not building anything around the initial communication.
What happens after your customer gets their lead magnet? How do you continue to build the connection?
By taking the time to map out your audience's journey, you'll be better equipped to serve their needs by creating content that meets them where they're at.
20+ types of successful lead magnets
A lead magnet can be any item that offers your customers value in exchange for their contact information. The following list is by no means exhaustive. Instead, it's meant to spark your own creative ideas that align the content you make with what your audience values.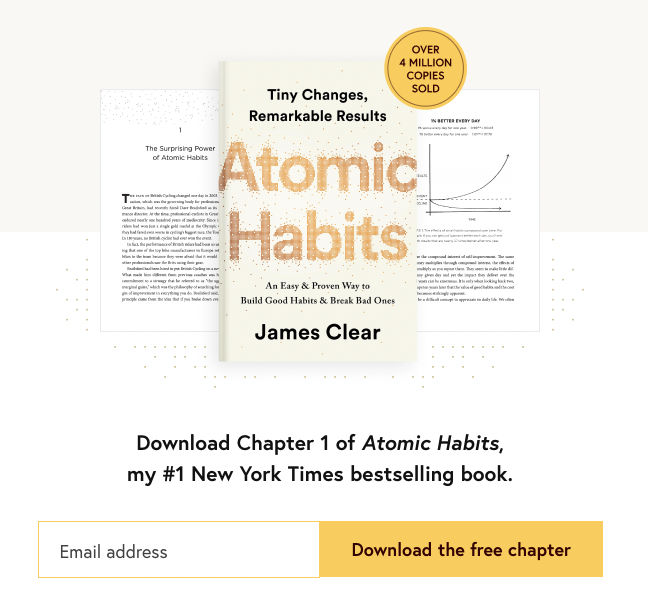 A checklist that saves users time by giving them step-by-step directions.
A small pdf ebook with specific, actionable advice.
A mini-course, delivered via video or email, that helps them accomplish one thing.
The slides or PowerPoint from an exclusive presentation.
A portion of a product that is available for sale.
The results from a quiz available on your site.
A premade script, such as interview questions or a sales conversation walkthrough.
Repurposed content (e.g., making your published content available in a different format, like turning text into video).
An exclusive audio training or interview.
A curated list of resources, tools, books, or niche-specific items.
Low-content downloads, such as a workbook or planner.
An in-depth case study with applicable takeaways.
An exclusive industry report with original research.
Access to a library, vault, or collection of materials.
A downloadable image or infographic.
A behind-the-scenes look at your creative process.
A cheat sheet with simple to follow directions.
Access to a live or archived webinar.
Templates which can be printed out or used with specific software applications.
A swipe file for inspiration.
Entry into a private, virtual community.
How to make a lead magnet in Ghost
Ghost is a publishing platform built for independent content creators. Whether you want to create a newsletter, blog, or membership site, Ghost can help you do that with no code and 0% fees.
Ghost also makes it easy to implement lead magnets.
The public preview feature allows you to place a divider within any post or page where a call-to-action will be displayed prompting visitors to enter their email to access the content.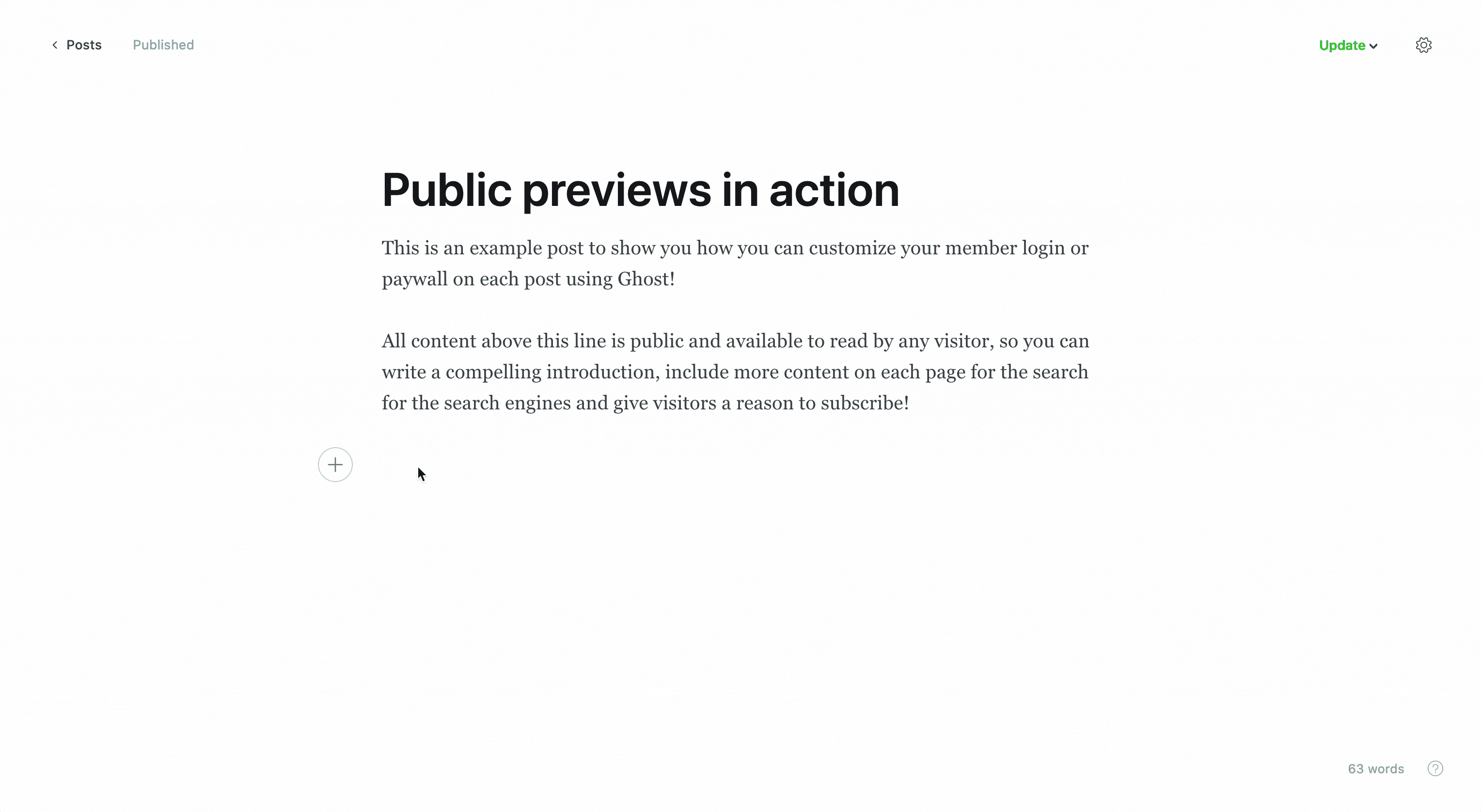 Then, you can either link to your lead magnet or use the file upload card so subscribers can download it immediately.
This means you can:
Create a detailed landing page for your lead magnet using the public preview feature
Include a lead magnet within an article using the public preview feature
Embed links to download your lead magnet content from Dropbox or Google Drive behind the member email requirement
Integrate with third-party email tools such as Mailchimp or Drip to deliver your lead magnet content via an automated email
Automate giving new members access to your lead magnet content using Zapier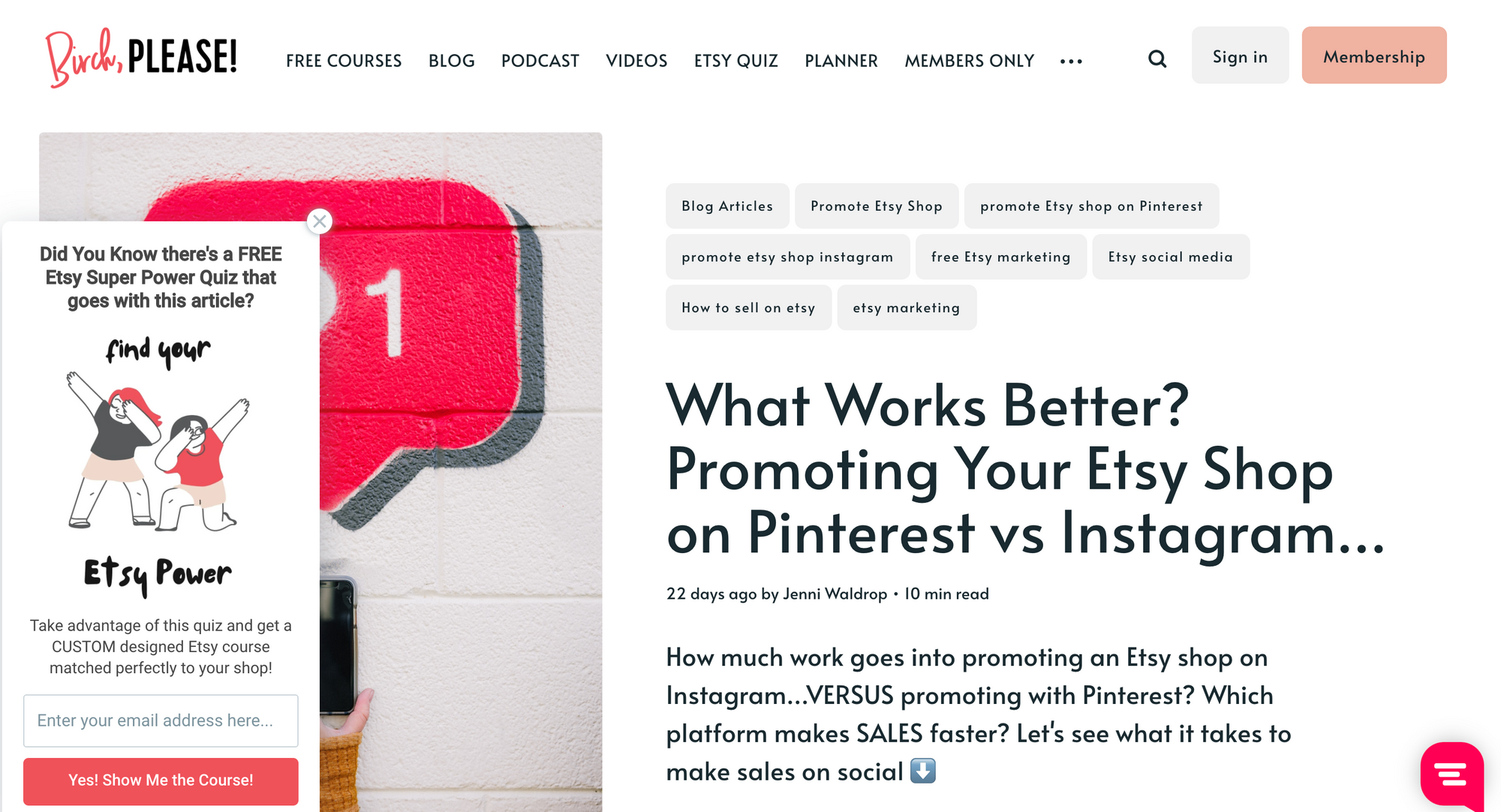 💡
Free download:
If you'd like to see a public preview lead magnet in action, and grab a useful Notion template in the process, visit this article:
The complete newsletter checklist
Lead magnets are here to stay
Although the platforms and techniques used to grow an audience may change, the core principles remain the same.
Lead magnets are an excellent way to deliver immediate value to interested visitors, and grow your creator funnel in return.
Take some time to review the lead magnets your favorite creators use, analyze the ones that resonate with you, and create something your audience won't be able to resist.
---