How to build an online community around your content
Use this six-step process to build a digital group your members will love.
---
Online communities are one of the best ways to foster better alignment with your audience, encouraging trust and growth for your business.
For content creators, starting your own community can have an incredible upside if you do it right. We're going to take a look at the benefits and the exact steps you need to take to get started.
What is an online community?
An online community is a group of individuals who connect through digital platforms in order to communicate with one another.
Publishers, creators, and business owners create communities so that their audiences can communicate with them, and each other, more directly.
Virtual groups are usually organized around:
Shared interests
Common goals
Collective experiences
Or local initiatives.
Social media platforms like Twitter and Facebook are online communities in their own ways.
However, because they are open to the public and contain such a broad mix of content, people will often make their way to more niche groups where they can make specific connections, such as connecting with a favorite writer or those participating in a communal challenge.
Online communities come in all shapes and sizes. In terms of membership types, these three are the most popular:
Open to the public
Private with an application for membership
Invite-only.
Any of the above models can be free or paid.
Communities may exist as evergreen, perpetual groups or time-based ones that expire and dissolve once they've served their purpose.
✅ Pros of online communities
Deeper interaction with the audience
Generate content ideas and marketing copy from conversations
Increase customer engagement and loyalty
Create additional value for your paid product(s)
Receive immediate feedback on new products or initiatives.
❌ Cons of online communities
Typically, you need to build an engaged audience first
Healthy groups require lots of time to manage, taking resources away from other commitments
Additional costs depending on the platform or tool you choose
You may attract spam members
Without a constant stream of new content or members, the community will decline.
The best groups balance these elements so that both the members and creators benefit.
Free vs paid communities
Paid communities have a fair amount of overlap with their free counterparts. Both offer a space where people with shared interests, goals, experiences, or localities can connect.
But paid communities go further by charging for access. This naturally filters out most people so only the most dedicated participants join the group, leading to several key differences:
🔓 Free community
🔐 Paid community
Membership size
Anyone can join.
Tend to grow larger and faster.
A paywall acts as a filter.
Tend to be smaller communities
that grow at a slower pace.
Type of community
Useful for novel topics
and broader audiences.
Best for communities that
help their members achieve
a specific goal.
Business goal
Reaches a large audience
and brings awareness to
your brand.
Deepens your relationship
with your audience
and provides revenue
for your business.
Moderation
Tend to have lots of
inactive or spam users.
Less overall users, but users
are more active, with little
to no spam.
For creators with established fanbases, the advantages of paid communities will often outweigh those of free ones, especially if you're able to combine a premium community as an additional perk or upsell with other types of content, like a newsletter, blog, or podcast.
NomadList is a free database of the best places to travel and work. The Slack community of over 26k people is only accessible to paid subscribers.
Trends by The Hustle is a premium newsletter that offers community to their top-tier subscribers.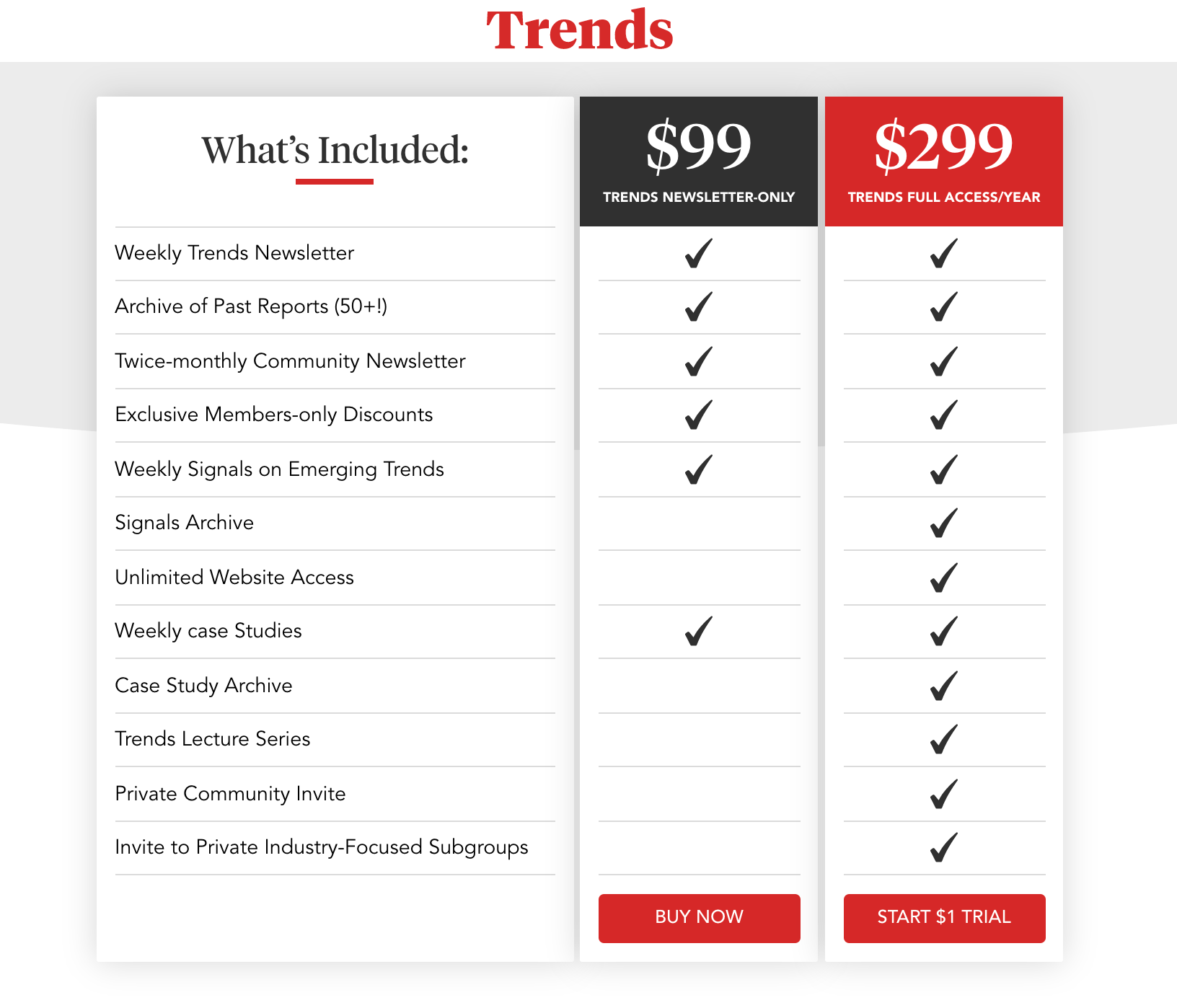 How to build an online community in 6 steps
Building a great group of any kind takes patience, strategy, and creativity. Below are six actionable steps to help you go from concept to community.
1. Build your audience first
"Start with a newsletter, podcast or YouTube channel. Audience-to-community solves the chicken and egg problem." — Dru Riley
Communities can function as powerful multipliers for your audience and business goals. However, the best communities are founded with momentum behind them.
💡
Communities grow out of audiences.
If your goal is to create a vibrant online group, start by attracting the type of people you would like to join. This means harnessing the power of a content marketing funnel so that you can be discovered, build trust, and ultimately transform attention into income.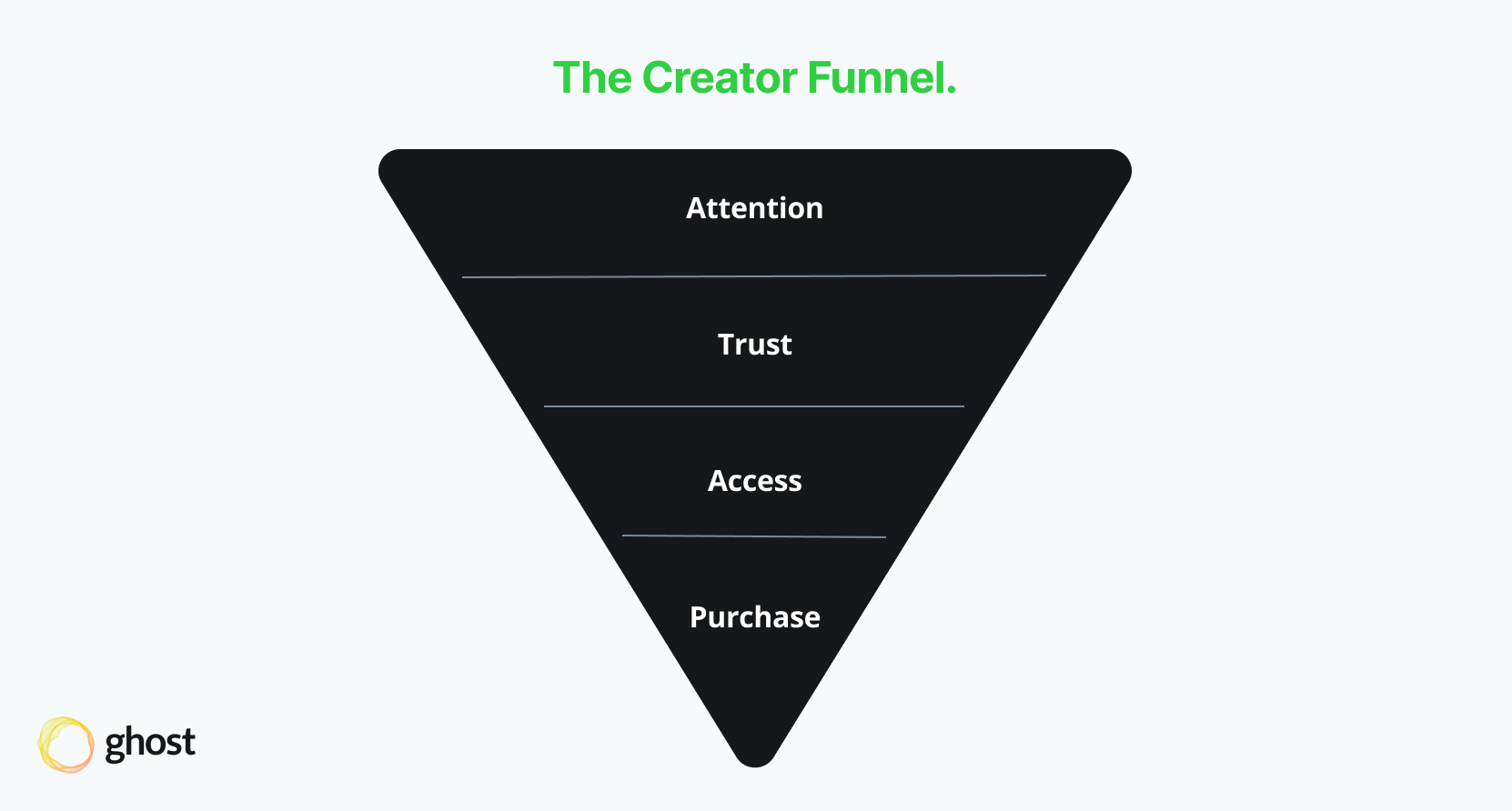 At Ghost, we launched a community for publishers and creators. It's a private community that anyone can apply to become a member of.
You don't need to use Ghost to be a member, but we used our existing audience and customers to find the first 100 members.
2. Define the goal of your community
Every online community contains two goals:
What will it accomplish for you as a publisher or business owner?
What will the community provide for its members?
The purpose of the first goal is to make sure that the group provides you with value as its originator.
Will it deliver you fresh content ideas, help you stay accountable for production, raise your status within a niche, or lead to increased revenue, directly or indirectly? Without clear incentives, running, moderating, and promoting the community will simply become another item on your to-do list.
The purpose of the second goal is to ensure that your group has a strong enough value proposition to attract the right kind of members.
Who and what will they gain access to? Is it a place to pitch ideas and receive feedback? Will they learn things that help them to save time, make money, or be more productive?
When Femstreet launched their private community, they explained their goal as follows:
"...the goal is to create a curated community with access to the best content, connections and opportunities for women in tech and VC."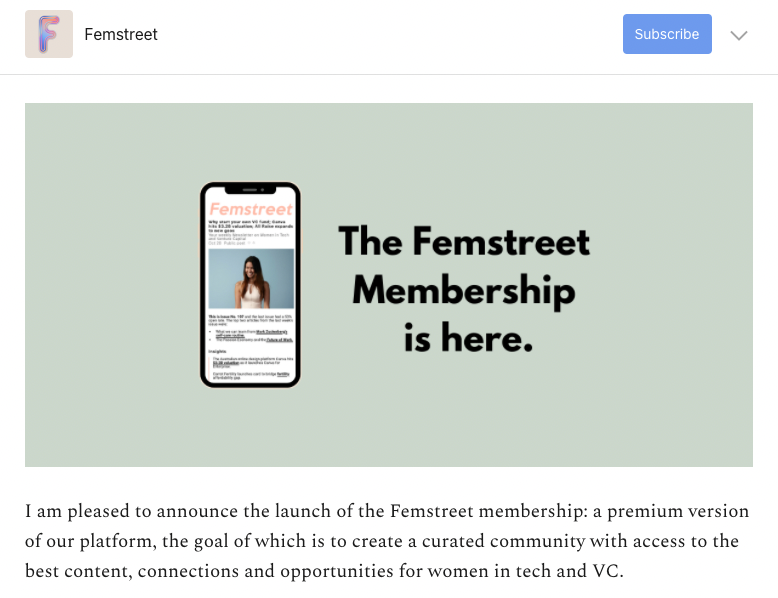 This single sentence accomplishes a few things right away:
Explains what type of group it is (curated and premium)
Identifies its target members (women in tech)
Describes the kind of content people can expect to find inside (exclusive articles, job opportunities)
Points users towards a shared goal (support women in the tech industry).
Well-defined goal statements attract compatible people while repelling those who aren't a good fit. Furthermore, the more precise your goal statement, the easier it will be to draw in your first members.
3. Choose a community platform
There are plenty of available options for community-builders, many of which can be integrated with a newsletter or membership website using Zapier. Here are a few popular examples that other community leaders use:
Facebook (free) — Love or hate it, Facebook is still a great place for private or public groups and communities.

Slack (free) — Slack is built for team communication more than community, but that hasn't stopped hundreds of successful community builders such as Nomadlist and Demand Curve from using it for this purpose.
Discord (free) — Discord is a Slack-style chat application that is most commonly used by gaming communities. You can spin up your own server on Discord in a few clicks.
Circle (paid) — Circle's community interface combines the best bits of Facebook and Slack into a slick, purpose-built community platform. We use Circle for the Ghost community.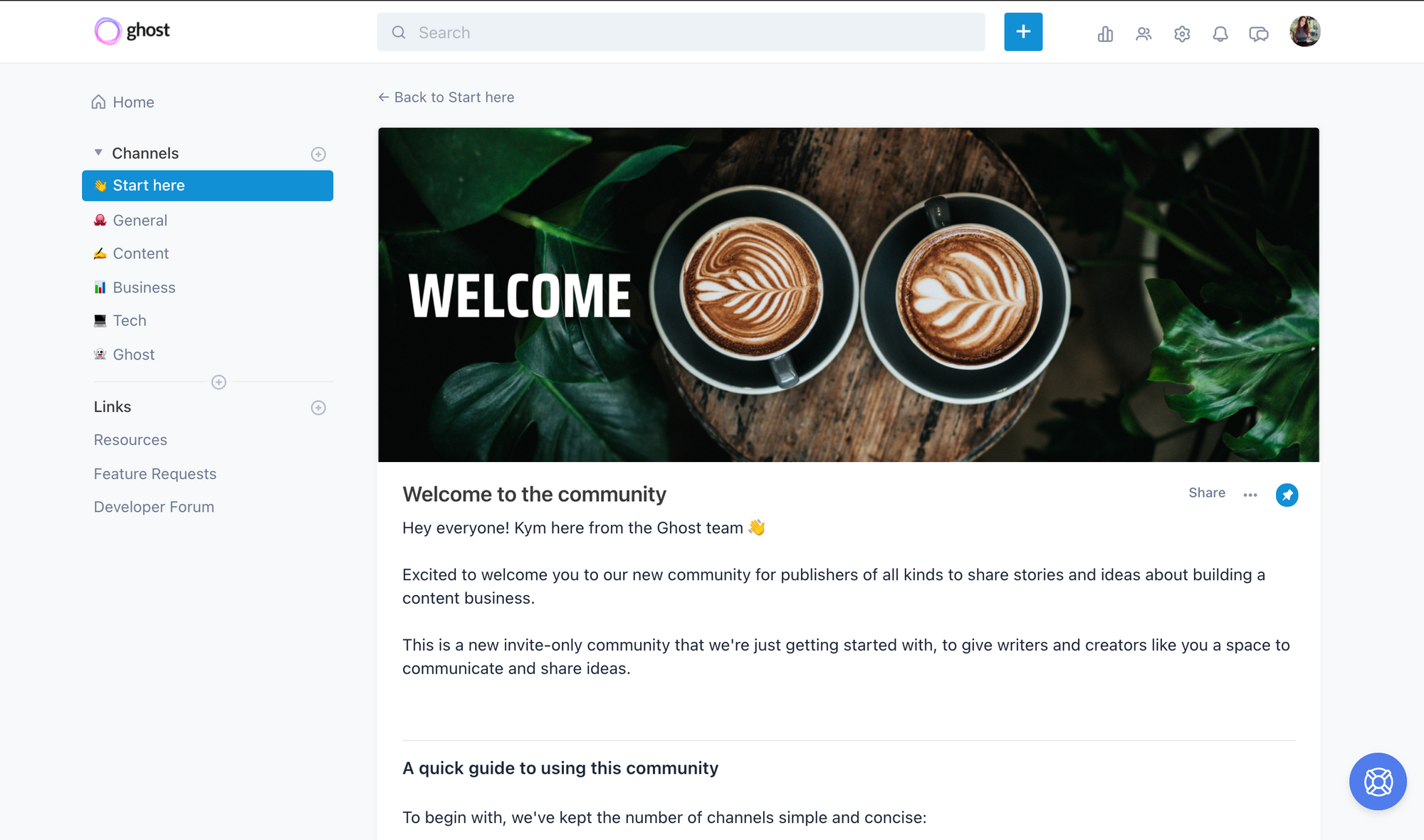 Cove (paid) — If you don't want to spend time moderating an entire community, but still want to give people the opportunity to connect with you and other members of your audience, you could opt to add comments directly to your content. For example, Cove is a Ghost-native solution that allows you to put comments behind a subscription barrier.
Tools for paid communities
If you're launching a premium community, you need a tech stack that allows you to take payments in a subscription format, and a community platform that allows full protection so only logged-in members can access it.
Typically, you'd connect the dots between your membership platform and your community. For example, creators using Ghost with Circle can automate this process using Zapier to automatically invite new paid members to a Circle community. ⚡️
Platform considerations
Ease of use. The easier a tool is to use, the more likely it will actually get used. Make sure your platform contains an easy sign-on process, simple navigation features, and can be accessed from a mobile device.
Affordable cost. Many robust community tools do have a price tag, even if your intention is to make the group free for members. Look for a tool that has an affordable entry-level price point, avoids taking a percentage of your profit, and will scale with you as you grow.
Alignment with goals. Because you spent time dissecting why your group exists and how it will work, you should have a good idea of what features will help you accomplish these elements. Different platforms suit different goals, so it's worth trying them out before making a decision.
4. Set up, organize, and onboard
Once you've chosen a platform, the next phase of work revolves around nailing down the details of what your members will see and experience once they join.
Here's some tasks to keep in mind:
Set up: Name the group, customize branding colors and imagery, check member settings are correct (language, permissions, etc.).
Organization: What channels/rooms/threads exist? How will you start and encourage interaction? Is there a schedule for certain types of content?
Onboarding: What is the first thing members will see when they log in? Are the community rules publicly displayed? Do new members receive any special email sequence or checklist? Is there an introductions area for new members?
How you handle each of these will depend on the type of community you want to develop.
For the Ghost community, we decided to keep things simple so that new members could easily navigate the community, organizing the community into five distinct channels that covered most of what we knew our members wanted to discuss: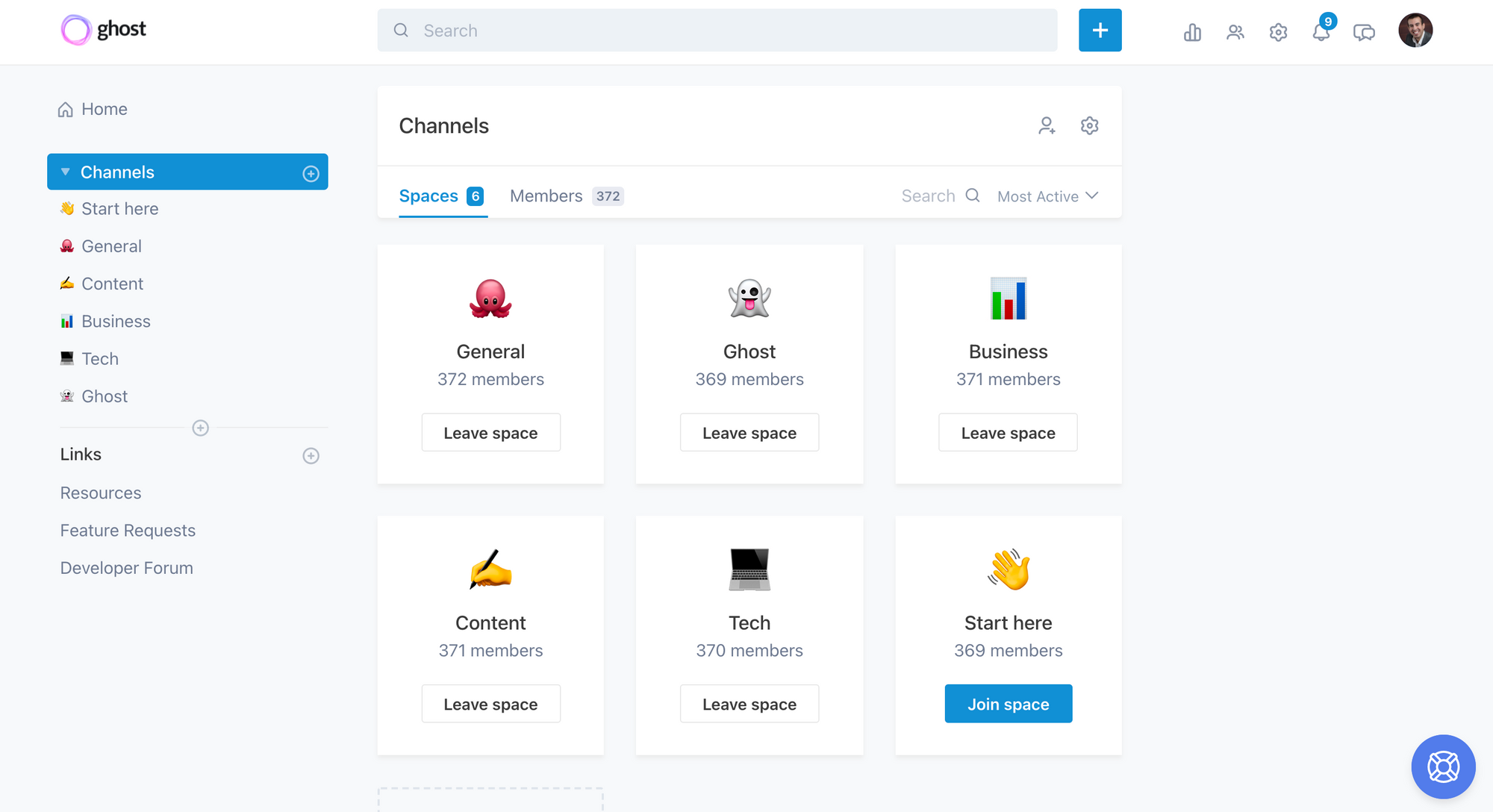 As the community and conversations start to grow, these can be revised and added to. Each individual channel has an introductory post so that members understand how to use each space.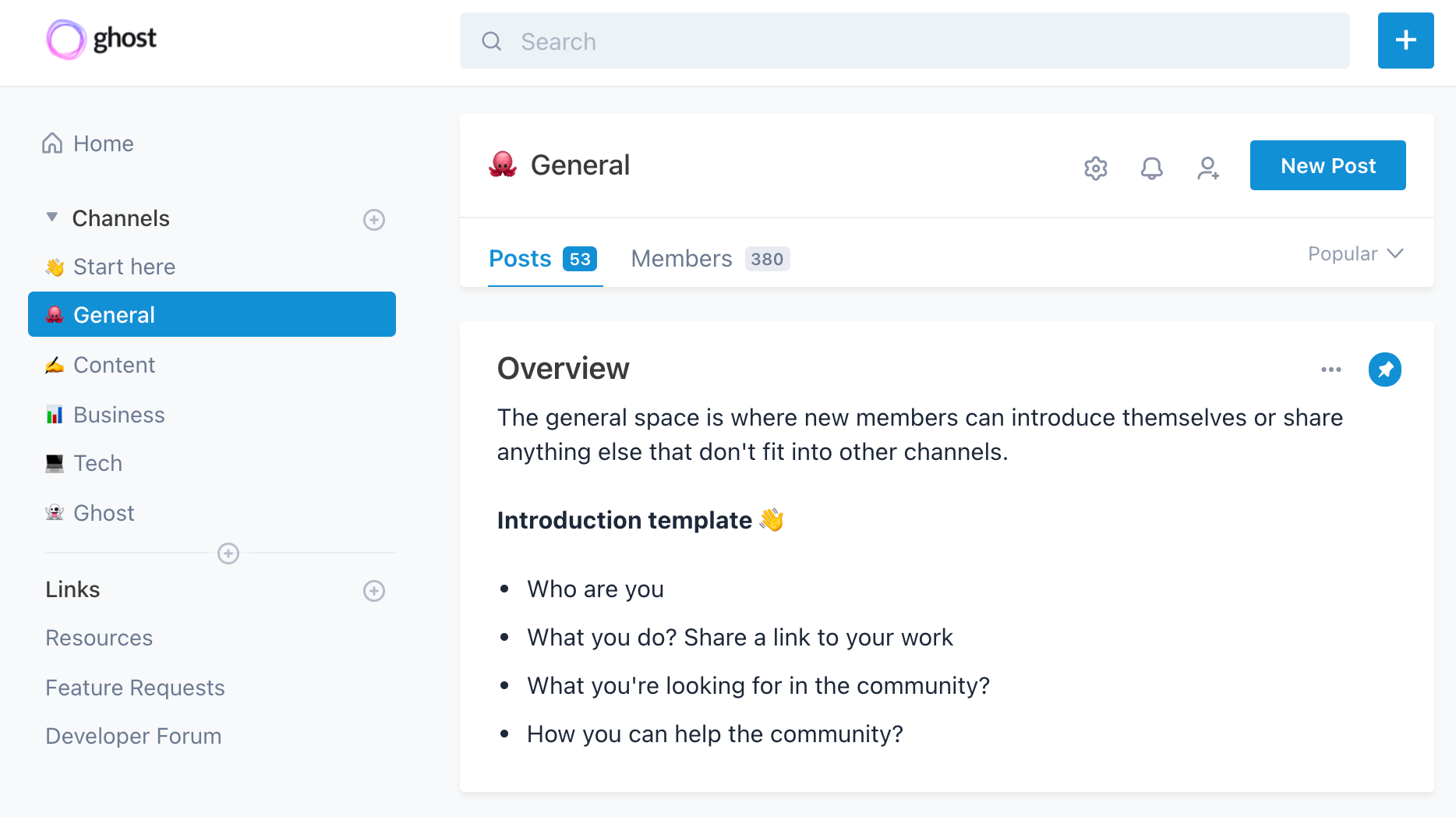 In the beginning, our team ensured there was activity happening every week by sharing interesting ideas, articles and asking questions.
Over time, the community members started to become more engaged. Even though the member's list is still relatively small (<500), most of the content is now user-generated. 🎉
5. Launch, promote, and track
The last stage of building an online community is recruiting people to join it and then measuring what they do once they're inside.
Here are a few ideas of how you can begin to launch a paid community:
Consider inviting early adopters or VIP members from your existing audience first.
Send an email to your list and let them know that you're launching a new community, and offer them free or discounted access for a month.
If you know who your most active members are, consider personally inviting them first.
The Ghost community started with a soft launch, where a specific group of people were invited (our newsletter subscribers).
After that, the private community was promoted on the Ghost dashboard to extend the community out to our entire audience, to build the foundations of a healthy, productive community.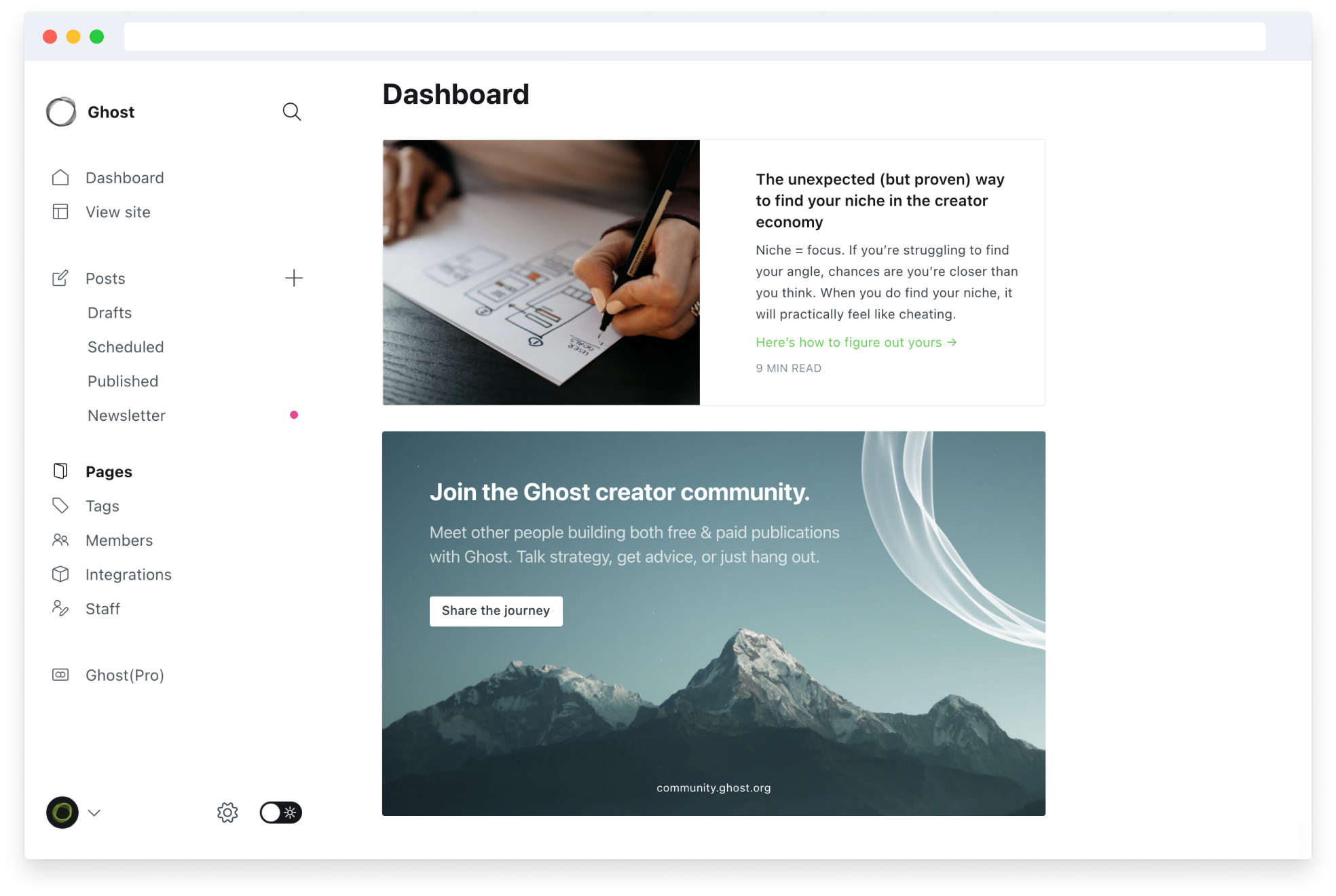 Tracking success
Make sure you check out the statistics that your chosen tool offers.
In Circle, for example, admins can track analytics such as the number of members added, how many are active or inactive, and what spaces are generating the most engagement.
This type of information allows you to gauge what's working so you have more data to make decisions going forward.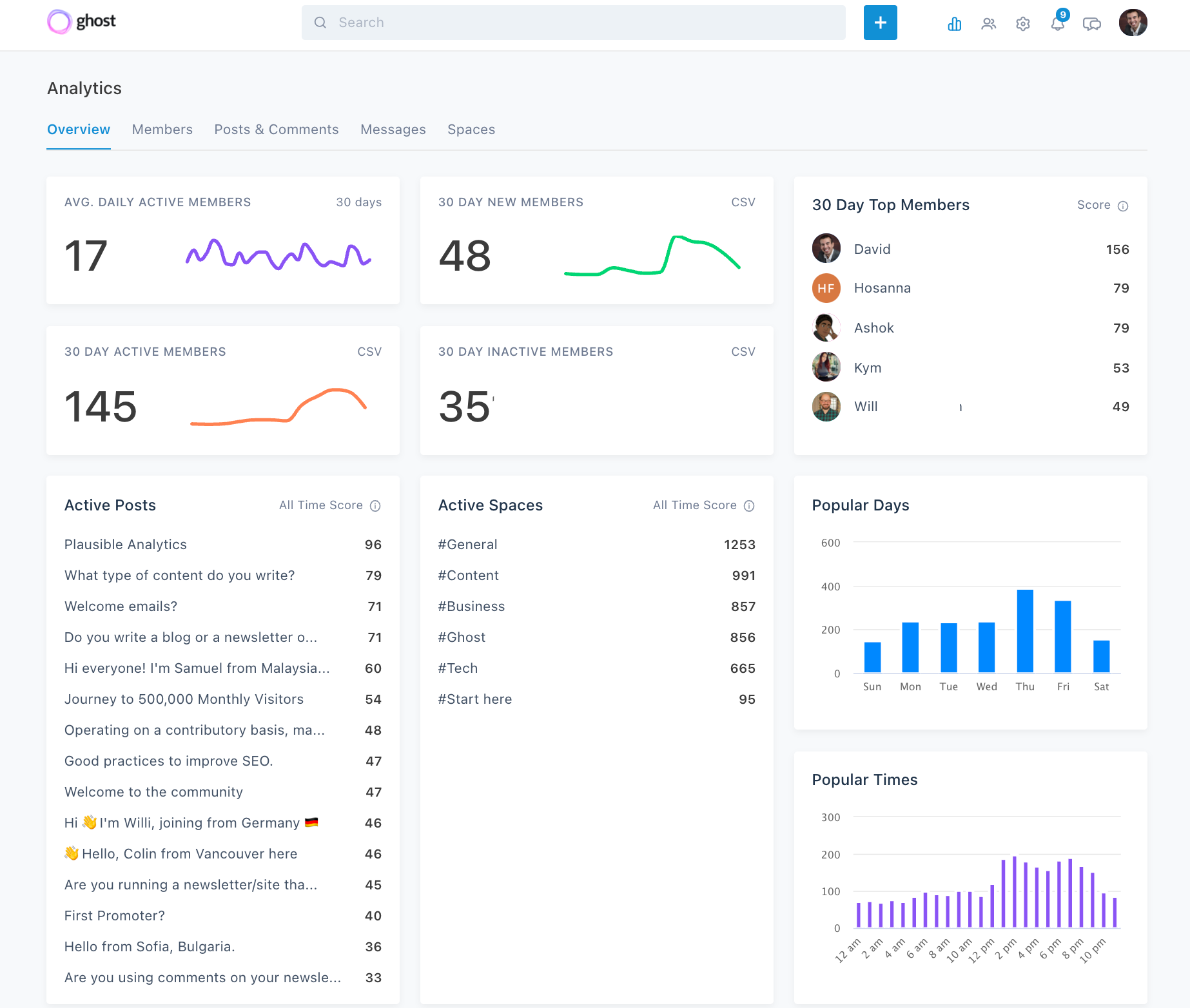 Start by asking these 3 questions
Who are my first ten users? The goal of a soft launch is not to create a vibrant group overnight. Rather, it's to begin testing your assumptions around what works, what your audience needs, and to identify what needs to be fixed before it grows too big. Aim to attract a handful of dedicated users who are willing to provide feedback. Often, these initial members are best sourced from your personal and professional networks.
Where does my audience exist? Community promotion is a long game. Make yourself and your community visible by spending time where your audience lives online. At the start, focus on non-scalable actions that will get you noticed, such as answering questions on Quora, frequenting public communities on Facebook or Reddit, and creating content for other publications.
What does success look like for my group? Reaching back to step one, if you don't know why your community exists, it's near impossible to decipher whether or not it's accomplishing its purpose. Success can also mean different things at different times. For the Ghost community, the engagement metric is more important than the total number of members, so that is the figure the team measures for success. For your community, decide what statistics best support your long-term goals as a creator.
6. Moderate your growing community
Whether you're a solo creator or part of a team, take the time to write down who will be in charge of your community and how many hours they should plan to dedicate to it on a weekly or monthly basis.
Afterward, begin answering some basic questions in a shareable document about how the group should function:
How will new members be invited and added?
What language, topics will be tolerated?
How will conduct issues be handled and members removed?
What communities can you look to for inspiration or guidance as you create your own?
These items will help you create the rules members must abide by. Here's an example from a Facebook group for email newsletter publishers.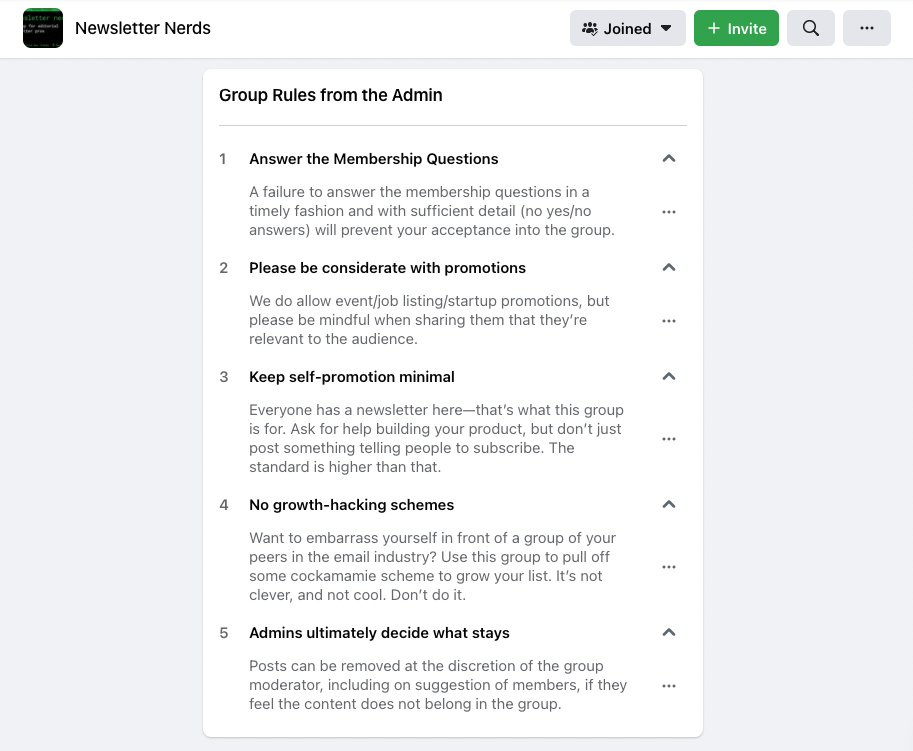 Although these may appear basic, posting explicit guidelines can go a long way towards curbing unwanted content in your community while keeping it relevant and enticing for new members.
Moderation is an ongoing requirement, so the easier it is to maintain (by setting clear expectations, asking for help, and using automations when possible), the longer it'll be around to serve its members.
The power of online communities
Online communities are a powerful amplifier. They can supercharge your audience's loyalty, trust, and engagement with your content. But these rewards come at a cost as healthy communities require investments of time and energy.
The best solution for many creators is to create paid online communities instead of free ones. These offer the same variety of benefits while providing an additional, steady stream of resources to your business.
Whichever type you choose, the best time to start your new group is now!
---