Which creator tech stack is right for you?
Understand the benefits and limitations of the platforms you choose to run your business with this guide.
---
Choosing a tech stack that works for you can be challenging, so we've broken down all of the core components and considerations for publishers and creators in this article.
If you're just getting started or thinking of switching platforms, you'll soon have a good idea of how to start your platform research, what to look out for, what tools are essential to your creator business, and what is a nice-to-have.
Let's get to it.
Three components of the creator tech stack
A tech stack is the collection of software and digital tools required to operate a business online.
The main components that creators need to launch an independent business are:
A content management system (CMS) with a website where your content is published
An email service provider (ESP) to deliver email newsletters
A payment processor to take payments from customers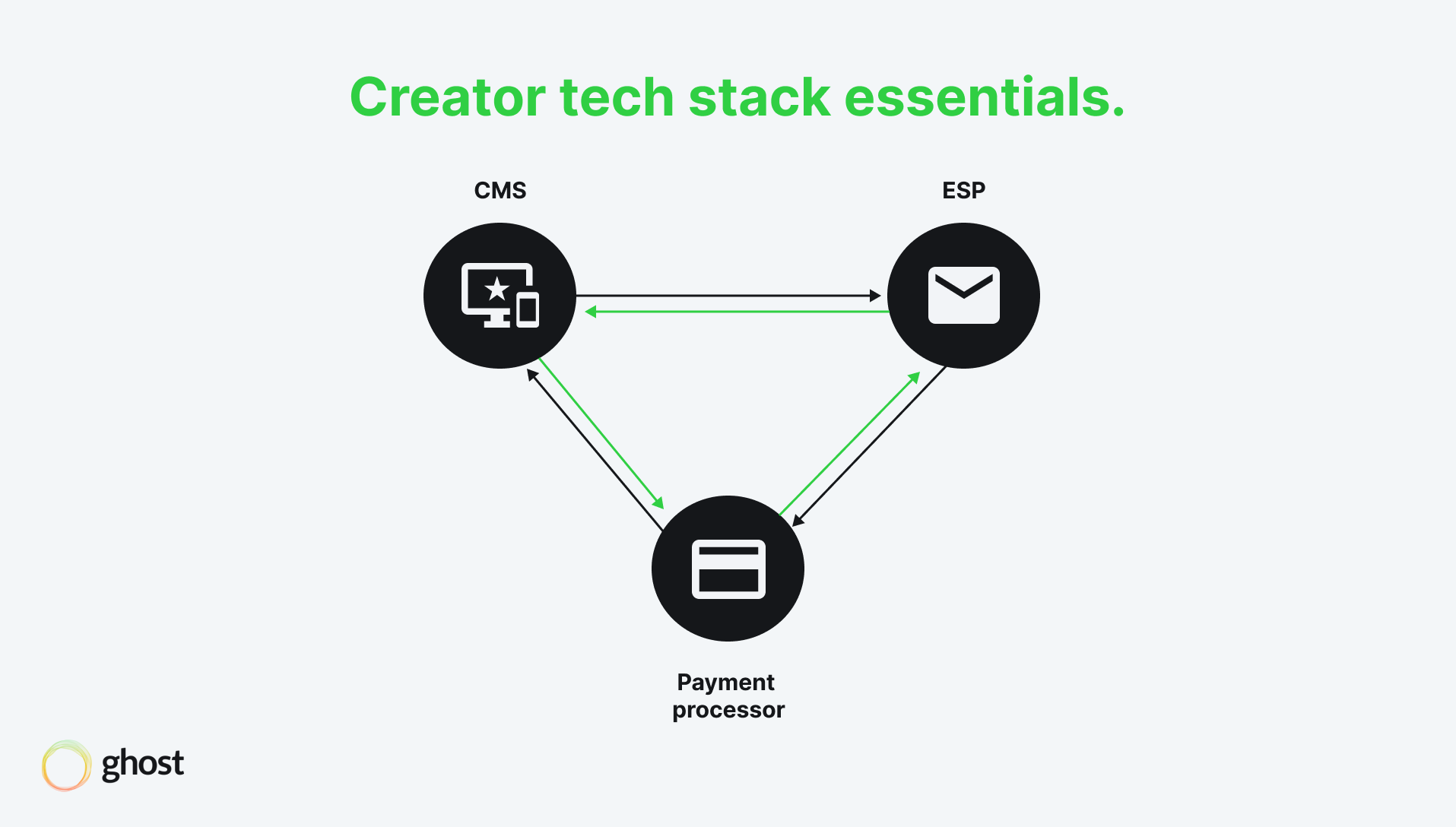 CMS
Your business needs a website, and behind that website, you need a content management system that allows you to create, publish and manage your content effectively.
Here's a checklist of the main features creators need from their CMS:
A distraction-free environment to create content
Ability to publish dynamic content (images, embeds, audio, video)
Content tagging so you can create sections, e.g. newsletter podcast
An easy way to allow visitors to subscribe by entering an email address
Multiple authors and staff users to manage your business
Member management features to keep track of your audience
SEO features: XML sitemaps, structured data, custom metadata, etc.
The benefit of building your creator business with a fully-fledged CMS at the heart of it is that you have much more flexibility to customize your branding, organize your content and grow your team.
ESP
Online businesses of all kinds have always used email as a delivery mechanism, and growing an email list is a core growth strategy.
The creator economy is no different, except the fact that for many creators an email newsletter actually is part of the product they are selling.
Some creator platforms (like Ghost or Substack) have native email newsletters built-in. This means you don't need an extra service to deliver your newsletter.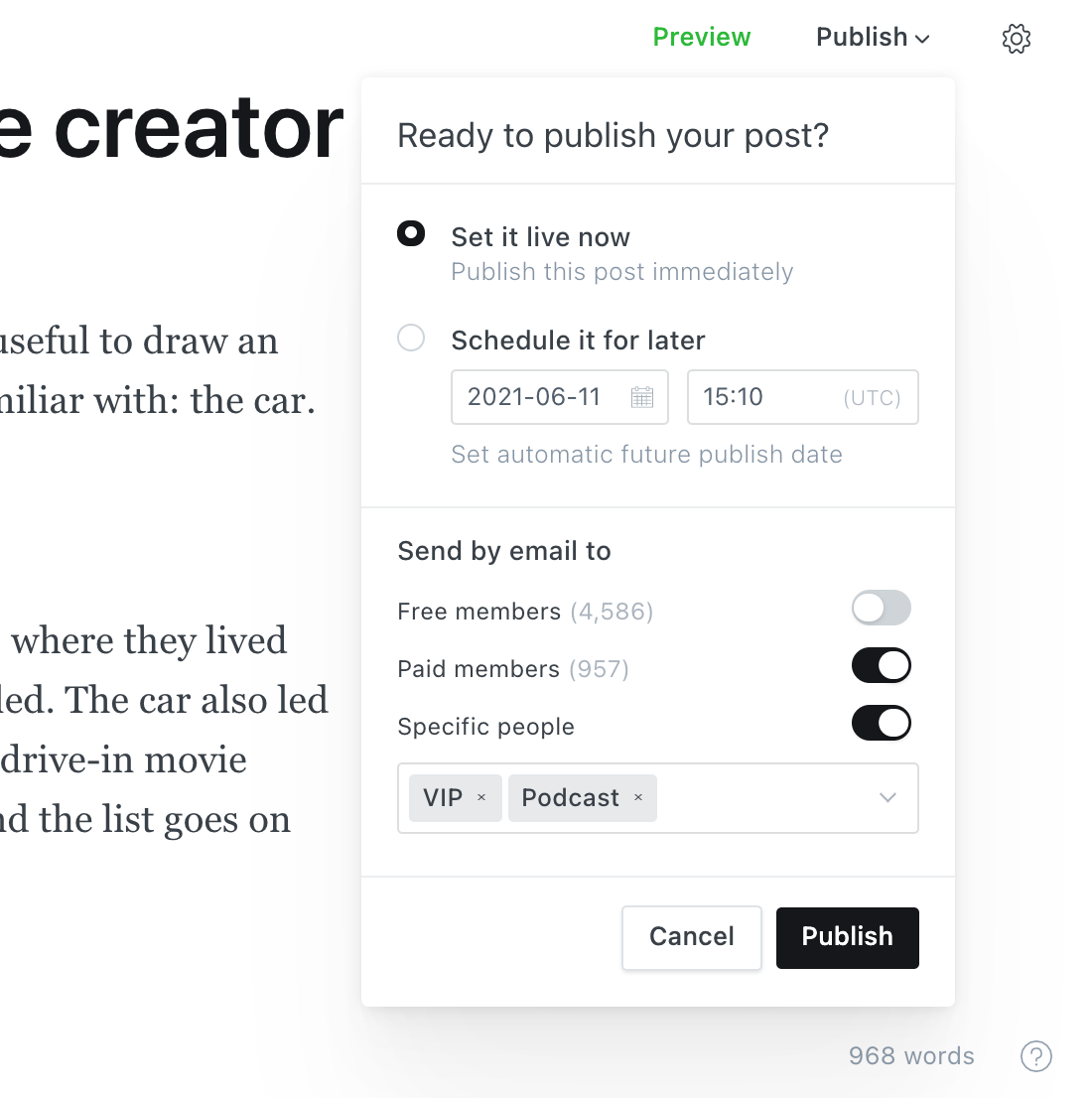 If your platform doesn't have native email newsletters, or if you want to send more complex marketing emails like an automated welcome series, then you'll want to consider using an external ESP. Popular options for creators include EmailOctopus and MailerLite.

If you're using Ghost, it's possible to connect your membership website to an external ESP using the Zapier integration.
Payment processing
The third crucial component of the creator stack is having the ability to take payments from customers. Thankfully, in recent years many platforms have built direct integrations with payment processors like Stripe, to give creators an easy way to start their business without needing to build a custom billing system from scratch.
Even if platforms use the same payment processor under the hood, each varies in terms of fees and data portability (this means you can change platforms and take your audience with you).
To give some real-world examples:
Ghost
Substack
Patreon
Gumroad
Payment
processor
Stripe
Stripe
Proprietary
Proprietary
Fees
0%
10%
5 - 12%
3.5% - 5%
Portable
data?
Yes
Yes
No, locked in
No, locked in
Payouts
Your own Stripe
account
Your own Stripe
account
Monthly
Weekly
Open vs closed platforms
Relying on closed platforms often means giving away the connection to your own audience, a percentage of the financial upside, or both. Closed platforms are often easier to get up and running with when you're starting out, but provide few options to customize as you grow.
Comparatively, open and decentralized platforms have a few more steps and considerations at the beginning but give you much more control and flexibility long term.
| | Ghost | WordPress | Substack | Patreon |
| --- | --- | --- | --- | --- |
| Custom website | ✅ Yes | ✅ Yes | ❌ No | ❌ No |
| Custom domain | ✅ Yes | ✅ Yes | ✅ $50 fee | ❌ No |
| Organize content with tags | ✅ Yes | ✅ Yes | ❌ No | ❌ No |
| Multiple authors | ✅ Yes | ✅ Yes | ❌ No | ❌ No |
| Member management | ✅ Yes | ❌ Requires extra plugins | ✅ Yes | ✅ Yes |
| Collect subscribers and deliver emails | ✅ Yes | ❌ Requires extra plugins | ✅ Yes | ❌ No |
| Deliver emails? | ✅ Yes | ❌ Requires external ESP | ✅ Yes | ❌ No |
| Integrate with external tools | ✅ Yes | ✅ Yes | ❌ No | ❌ No |
| Payment processing | ✅ With 0% fees | ❌ Requires extra plugins | ✅ With 10% fees | ✅ With 5-12% fees |
Whatever you choose, it's important to fully understand what you are signing up for. This is your business, after all.

Here's five questions to ask when comparing platforms:
Who owns my content? You should be able to export your own content.
Who owns my email list? Your email list should be accessible and available to download at any time.
Who owns my customer data? If you own the payments and customer data, that means you can switch platforms. If you don't, you're locked in!
Do I get all of my revenue? Some platforms take a fee out of your total revenue earned.
Can I integrate my business with other tools? Some platforms don't have an API which means you can't use external tools to extend your business.
Ownership of your data is an important consideration that directly impacts your business and your bottom line. This is one of the most overlooked considerations creators make when choosing their platform. Learn more: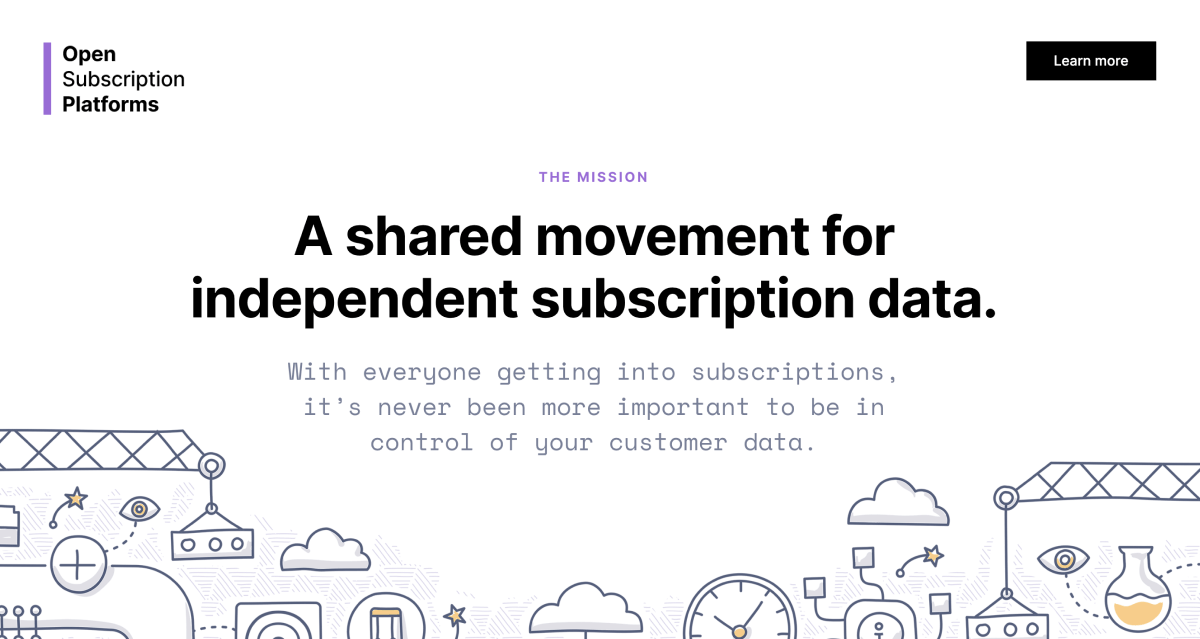 Additional creator tools
Now that we've covered all the things you need to launch a business in the creator economy, let's take a look at other tools you can add to your stack if you're using a platform that allows integrations.
Everything from this point onwards is a nice-to-have, and whether you decide to use any of these tools depends entirely on your requirements and budget.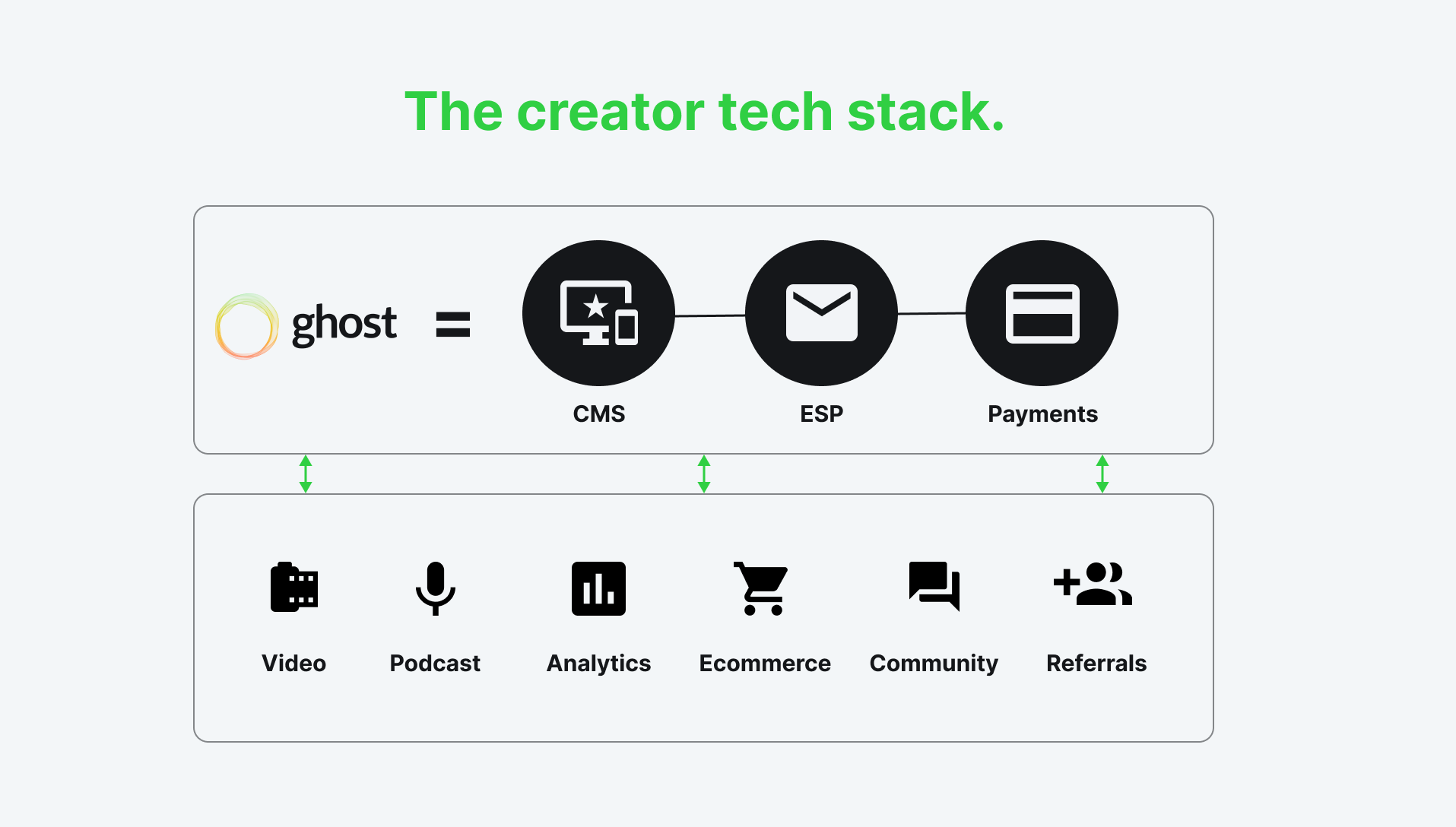 Analytics
Many creator platforms have some form of analytics built-in. For example, in Ghost you can see email stats and member activity on the dashboard and on the individual member pages.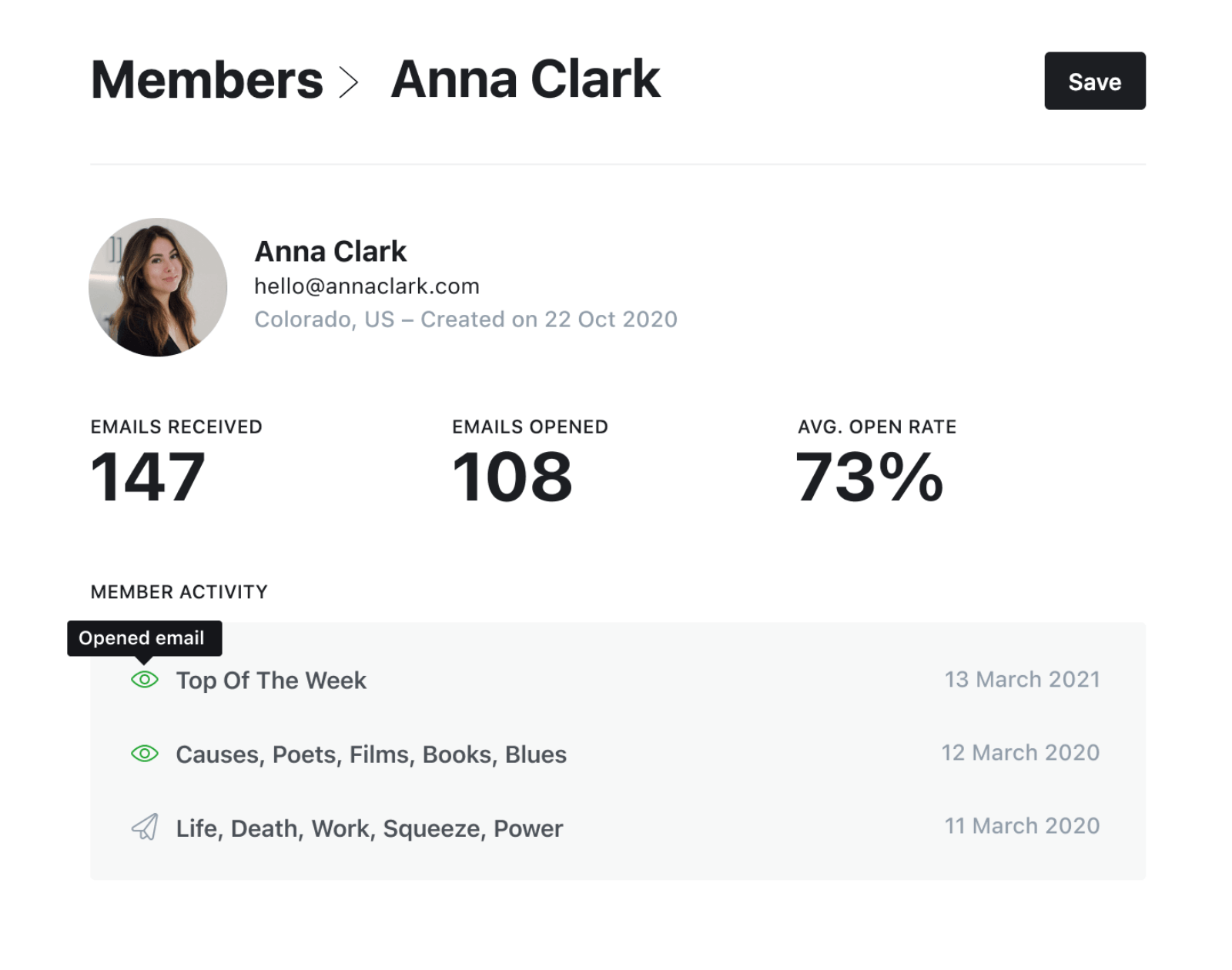 Beyond this, the majority of creators choose to set up website analytics so they can monitor traffic and trends over time, set up custom goals, and track traffic sources using UTM parameters.
Google Analytics (free)
This is probably the most widely used analytics tool because it's free and there are lots of tutorials about how to use it on the internet. The downsides are that the data is inconsistent and unreliable (many browsers and ad blockers prevent the GA script from loading) and the analytics dashboard can be overwhelming, with lots of information that most people don't need.
Plausible (paid)
We like Plausible because it's open source, privacy-focused, and has a very neat implementation that keeps website performance in check. The dashboard is clutter-free and offers just the right amount of information suitable for most creators.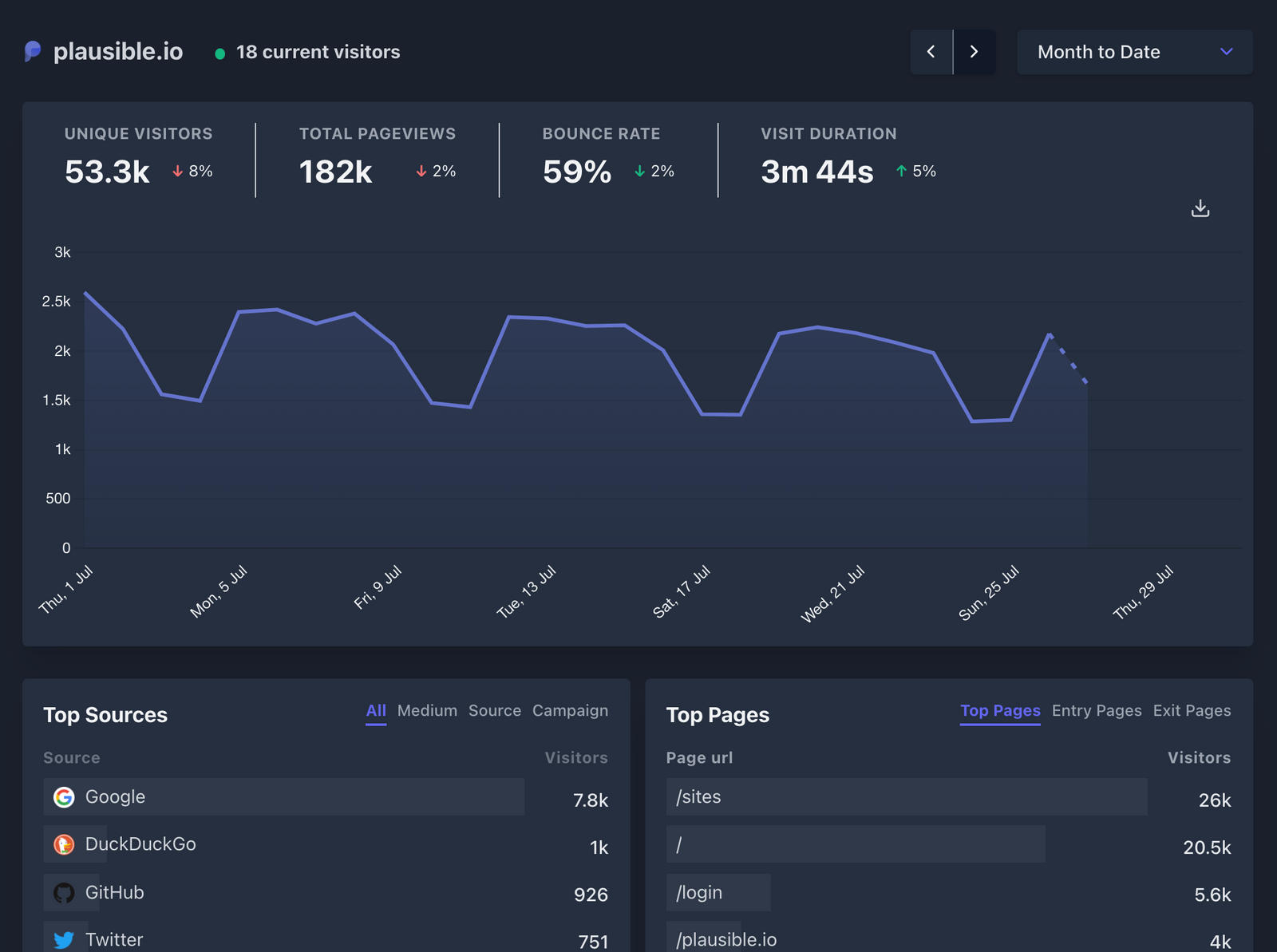 New media, communities & eCommerce
Some creators work with different formats such as video, some run communities, and some sell physical goods. Once you have an established audience, selling other products to that same audience is one of the smartest and fastest ways to grow.
Here's an overview of the most popular tools for the job:
🎶 Audio
Commonly used tools to upload podcast content include Spotify, Stitcher, and SoundCloud. Captivate.fm and Transistor.fm are great options with the ability to run premium podcasts with protected audio.
🎬 Video
YouTube is the go-to place for video creators, and a great social channel to grow an audience that can later be directed to your paid products. Alternatively, Vimeo Pro and Wistia both offer content protection for video if your content is for paid members only.
👨‍👩‍👧 Communities
If you want to launch a community for your audience, there are lots of options to consider including Disqus, Discord and Circle. If you're not opposed to it, Facebook Groups can work really well too.
🛍 Ecommerce
Ecommerce tools are useful for people who are selling physical products to their audience, or digital products with one-time payments. There are plenty of tools out there to help you sell products like this, with embeddable buy-buttons that you can use on your website, including Shopify, BigCommerce, Snipcart and Gumroad.
Business management
Finally, some creators use tools to manage a variety of business needs. Whether it's to improve workflows, perform competitor research or understand the financial health of their business.
Here are some of the most popular tools used by creators today, that you might find useful too:
Notion is a workspace that you can use to organize just about anything, including your content calendar.
Ahrefs is a great SEO research tool — read more about how to leverage SEO for your membership business.
Zapier allows you to set up automations without writing any code.
FirstPromoter allows creators to build referral programs to grow their audience.
ChartMogul gives creators a better sense of the financial health of their business.
The Grammarly writing assistant helps you write better, with a free browser extension.
Ulysses is a popular writing app for Apple devices.
Wrapping up
As a creator, the benefit to choosing a tech stack that you have the most control of is that you always retain full ownership of your business. Taking the time to fully explore your options is important, whether you are just getting started, or thinking of switching platforms.
---