Why content distribution is the key to growth
You're creating great work. Make sure people see it.
---
Every creator must answer two questions to build a successful online business: What will I create? and How will people find it?
Creating content is only one-half of the creator puzzle. Distribution is the other half. The more you internalize this idea, the better results you'll see from your work.
In this guide, you'll learn what it means to distribute content, why it's important, and exactly where to start.
Content distribution explained
Content distribution, or content promotion, is the process of sharing new content that you have published using carefully selected methods, to help your work get recognized, boost engagement, and increase conversions.
There are many different ways to promote your content, depending on what type of content assets you are promoting, and which distribution channels you decide to focus on.
Distribution channels
In the marketing world, content distribution channels have been distilled into three distinctive areas:
Owned channels – This is when you own the promotional content, such as sharing on your social profiles, optimizing for SEO, and delivering email newsletters to your subscribers.
Earned or shared channels – This is when you leverage other people's audiences, and the content promotion is not owned by you. For example, when other creators share and mention your work on social media, write reviews, or when other people mention your brand.
Paid channels – This includes any promotion methods that cost money, such as paid ads on social media, sponsored content, or newsletter sponsorships.
| Owned channels | Earned/shared channels | Paid channels |
| --- | --- | --- |
| Blog posts and articles | Brand mentions | Pay-per-click campaigns |
| Email newsletters | Guest posts | Social media ads |
| Your social profiles | Shares | Newsletter sponsorships |
💡
Typically, paid channels bring in faster results, but they cost an upfront investment. Owned and earned channels are organic, and generally take a longer time to build up, but are much more sustainable and provide more longevity.
Getting started with a content distribution strategy
Now we understand what content distribution is, and the different channels where it takes place — but you're probably wondering how to determine what a good strategy looks like. There's no one-size-fits-all strategy, but below you'll find five leading questions to help you build something that works for you.
#1 — Where are your audience?
It's important to align content promotion with your audience. You need to know where your audience are, what problems they are looking to solve, and what type of content they prefer.

Start by thinking about who will benefit from your content the most, and then follow that thread to find out where your audience can be found. This is the best indicator of which channels you should use, since this is where you'll find the people who are most likely to engage with your work.

#2 — What is your content?
Assessing what content you have to distribute is an important first step, since it will further inform the tactics that you use for great promotion.
Types of content can include news articles, research studies, long-form blog posts, how-to guides, case studies, checklists, landing pages, and newsletter issues. It's also important to take into account different content mediums, such as videos and podcast content.

Conduct a content audit to understand what types of content you already have to promote, and then cross-reference this with the distribution channels that are at your disposal. Hopefully, these should align. If not, you may need to consider how your content or distribution strategy need to adapt.
💡
A great way to save time is to plan your content and distribution at the same time. Each time you plan a new piece of content, make sure there is a distribution checklist in place.
#3 — What are your channels?
It's also useful to audit what channels you have access to in detail, to find out where your existing strengths are. For example:
Does your website get a lot of organic traffic? If so, double-down on SEO.
Do you have a big following on a social media platform? If so, use it.
Do any of the people who support your work have audiences of their own? If so, can you collaborate with them to help you promote your work?
Are you able to put revenue into paid channels? And if so, do you have the skills or team to manage ads or sponsorships?
It's always a good idea to lean on your strengths first, and identify areas that you could develop over time — especially when it comes to longer term strategies like SEO and influencer relationships.

#4 — What is your message?
The message you are sharing each time you promote a piece of content needs to reflect how you are catering to the needs of potential readers, while also promoting your brand consistently.
The way you deliver this message may vary depending on the type of content, and the distribution channel being used. Make sure you have a plan to deliver a consistent tone of voice.

#5 — What does success look like?
After putting in so much work on your content distribution strategy, it's important to know how your efforts have paid off. There are lots of different tools to track the performance of your content, depending on how you are delivering it.
Website analytics and Search Console to track organic traffic from SEO
Email analytics to see open rates and click-rates for newsletters
Ask influencers to add UTM parameters to their links to your site, so you can see how much traffic comes from these mentions
Likes, comments, replies and upvotes to see how well your posts on social media platforms are performing
Track clicks and conversions for any paid ads or sponsorships.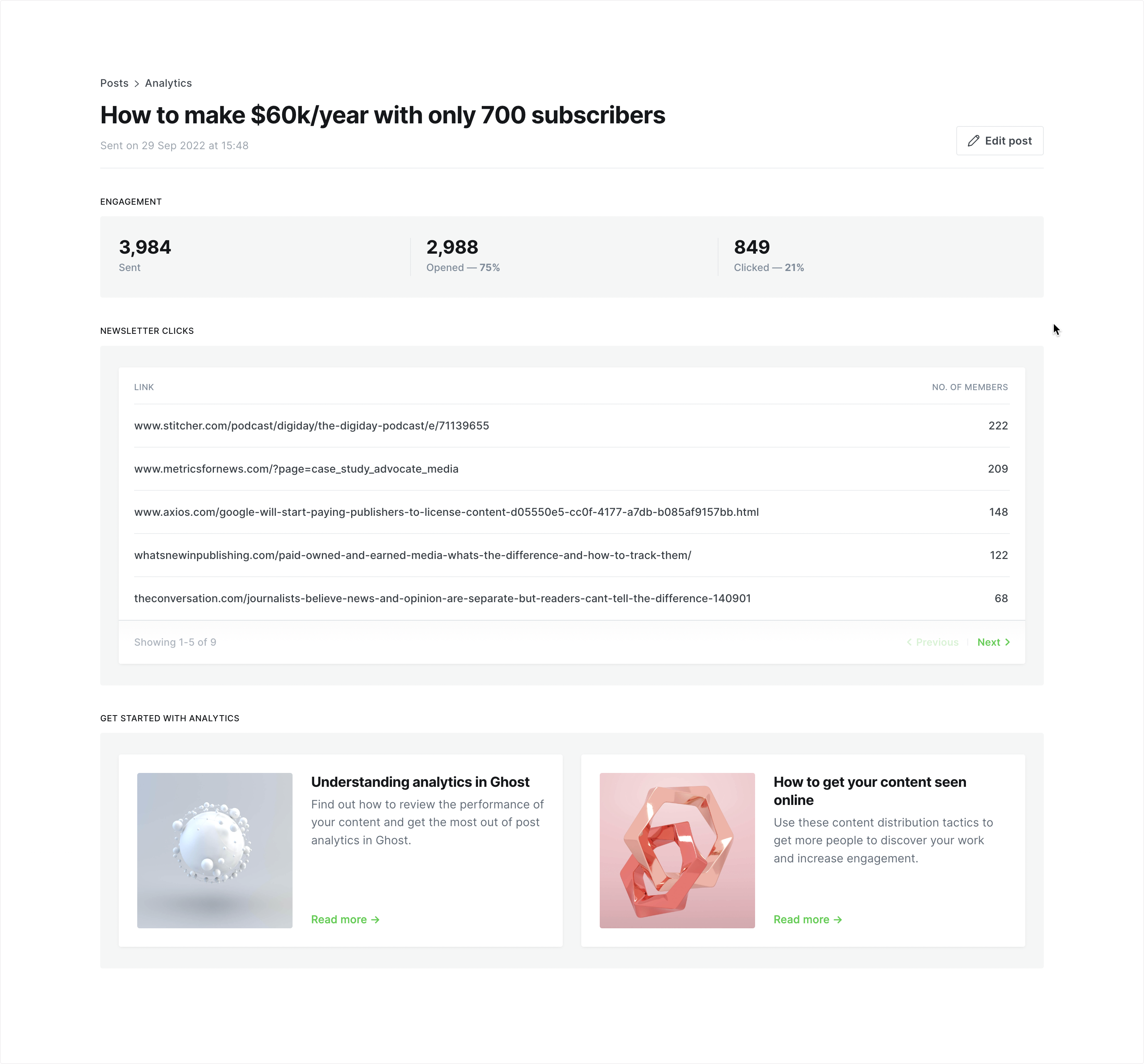 Content distribution models
Steph Smith, author of Doing Content Right, suggests model with six parts:
Bedrock: Reliable channels that take a long time to build, like SEO.
Viral: Platforms that have a very small chance of a very high return, like Reddit.
Social: Social media channels but with a focus on community-building.
Syndication: Copy and repost your work elsewhere, like taking a blog article from your website and reposting on Medium or LinkedIn.
Targeted: A non-scalable strategy where you direct message potential fans and influencers to engage with what you've made.
Paid: Spending money to get your brand and work in front of others.
With so many options available to you, it can be hard to know where to begin. Thankfully, you don't have to juggle 20 different platforms in order to find success. By doing a few things consistently, you'll soon build the traction you need to reach your creator goals.
Here's our suggestion for a 4-step sustainable content distribution strategy.
Start with SEO. Search engine optimization is a free traffic source that takes time to grow. Start by publishing public content, on your blog or on another search platform like YouTube, and using a guide like this to make sure people can find what you've made: A beginner's guide to SEO.
Choose a community. The fastest way to grow as a new creator is to do unscalable things: reply to questions, start one-on-one conversations, help others in your niche, and only post links to what you've made when appropriate. A subreddit or Facebook group about your topic is a perfect place to invest a few hours each week to meet this requirement.
Commit to a social network. People often don't see the results they want on social media because they spread themselves too thin. To avoid this mistake, dedicate your time and effort to a single platform (Twitter, TikTok, Instagram), master how it works, and stay consistent. A resource like this article, How to get more followers on Twitter, will show you the right approach (plus, you can use this basic framework on any platform).
Syndicate. To syndicate means to "publish simultaneously" in multiple places — like reposting an article from your blog onto Medium. Another, usually more effective, option is content repurposing. For example, if you write a 1,000-word article, you can pull out quotes from it to tweet, illustrate the main idea into an image to share, or read the article aloud and publish the recording as a podcast. As you increase the number of ways people can engage with your content, you also increase the number of people who will engage.
Final words
Ideally, a creator should be dedicating the same amount of time and effort to distribution as they do to creation from day one. For every hour you spend writing, researching, filming, or publishing, you should also spend an hour sharing, mastering a social platform, starting conversations in digital communities, and reaching out to new potential fans.
By now you should have a good idea of how you want to promote your content. The next step is putting this into action. Start by building a content promotion checklist into your workflow, so content promotion doesn't get left behind.
---