Proven discount strategies for publishers
Setting up the right timing for your offers is as critical as finding the right amount.
---
Discounts and special offers are powerful marketing tools.
When used correctly, they boost conversion rates by leveraging urgency and pricing psychology. But when these tactics are exploited, they drive customers away and cheapen your brand in the process.
In this article, you'll learn how to position, structure, and time your offers so they benefit your ideal customers as well as your bottom line.
💡
For clarity, the terms discounts, coupons, and special offers will be used interchangeably throughout this guide since all of them have the same goal of saving customers money.
Pros and cons of discounting
Before diving into the tactics of making your offer work, it's important to identify both the upsides and downsides of this strategy.
Pros
Discounting drives action with urgency, which can lead to more customers and revenue (at least in the short term).
Studies have shown that when customers receive a discount or coupon it causes them to feel happy and relaxed.
Special offers can be implemented quickly and easily thanks to technology.
Cons
Discounts can cheapen your brand identity by lowering the perceived value of what you offer.
Applying too steep of a discount without the proper strategy could cause your business to lose money on every new customer.
Although offers are easy to implement, they can be difficult to get right. Be prepared to dedicate time and resources to find what works.
All that being said, offers are a tool used by many of the most successful creators, newsletter writers, and publishers. In the steps that follow, you'll see how to maximize the benefits of offers, while minimizing the drawbacks.
Step 1: Decide on your marketing goal
It's best to begin with the end in mind. Start by asking yourself, what do I want to accomplish by offering a discount?
Give non-subscribers a reason to buy?
Increase the number of new monthly or annual subscribers?
Keep already paying subscribers around for longer?
Typically, discounting strategies are about striking a balance between two key metrics: conversion and retention.
Conversion goals focus on the number of new paying subscribers your offer can bring in the door. Retention goals focus on how long those new paying subscribers stick around.
You can read more about how these work, both individually and together, here: Pricing your offers: Conversion vs retention.
Depending on the goal, your structure, language, and even discount amount will vary.
💡
Best practice
: Aiming to grow annual subscribers is an excellent goal for most publications as they tend to be the most profitable customers to pursue because of their
high lifetime value
.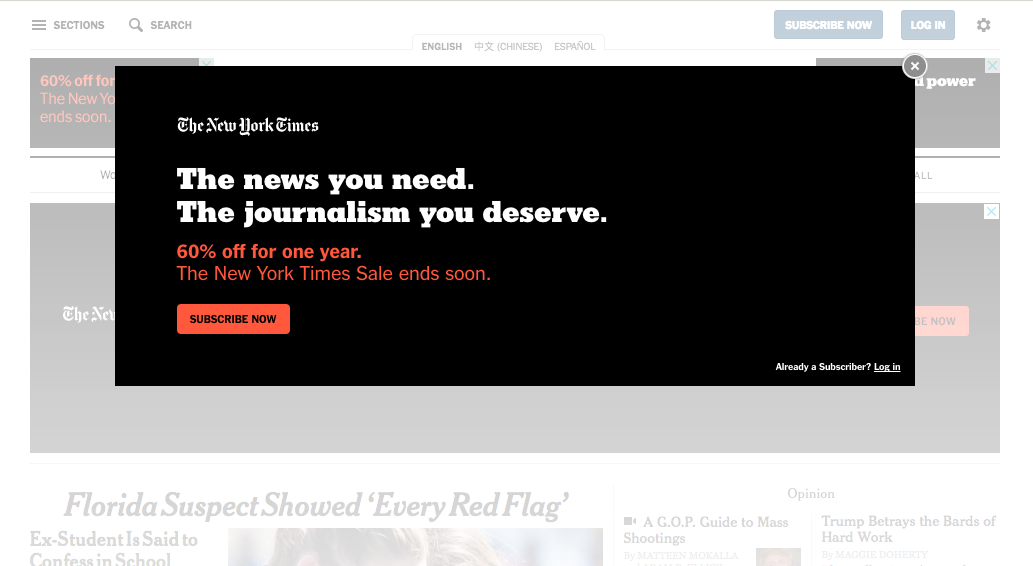 Step 2: Time your discounts purposefully
Psychology researcher Nick Kolenda writes that discounts should come with clear reasons and explanations. Otherwise, they can appear irrelevant or desperate, damaging your brand in the process.
When you're just starting, introductory offers can be a great way to get the momentum going for your project. One example is the early adopter pricing used by Rediverge.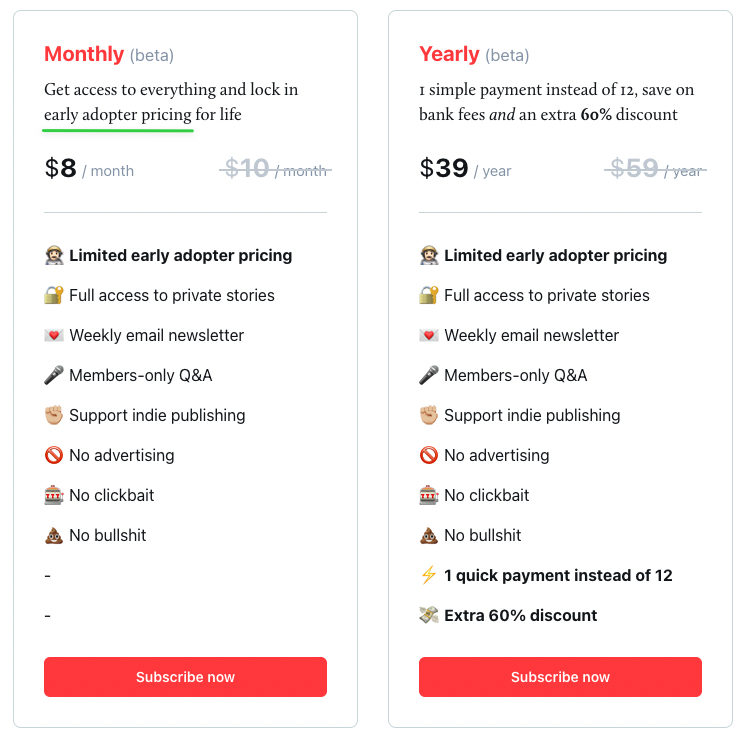 For the best results, place a limit on these offers, such as a date when the introductory offer expires or a cap on how many people can claim it.
Throughout the calendar year, leverage national holidays, special events, and significant dates relevant to your niche. Each of these is an opportunity to present time-sensitive offers to your audience with clear reasoning attached.
However, running discounts for every possible date is counterproductive because soon, your audience will become blind to them.
Instead, choose 1-2 dates per year spaced apart. This will allow you to build up and then satisfy the demand for your product at regular intervals.
Infrequent discounts can also work well when used on rare occasions and paired with a meaningful reason.
For example, let's say you recently covered a topic you know your free audience is interested in reading — but the article will be available for paid members only. This is a perfect opportunity to present an introductory offer since there's a specific value your new members could take advantage of immediately.
Step 3: Communicate your discounts effectively
Finally, make sure the value your subscribers receive from any discounts is explicit.
Use round numbers that are easy to communicate and resonate with people (e.g., 50% off versus $17.26).
Author Jonah Berger provides evidence that you should communicate discounts as a percentage when the price is less than $100, and as a dollar amount when above that threshold. (e.g., 20% off $40 vs. $30 off $150).
Emphasize what your audience will gain (increased benefits), save (lower pricing), or lose (limited time opportunity). And don't be afraid to repeat yourself.
Lead with great content and only rely on discounts as the final nudge. Value should be the driving force of growth, not just a low price.
Final tip
Although powerful, discounts and special offers are not magic bullets.
Make sure they are part of a well-rounded marketing plan, implemented rarely, and only used as the last push to get customers who are already receiving value from your content.
---