Should you sell newsletter sponsorships?
Sponsorships can be a great way to monetize, but they're not a good fit for every creator.
---
Are sponsorships right for my newsletter?
If you're asking these kinds of questions, it's likely you've already accomplished a number of very important steps: narrowing down your newsletter topic, growing an initial audience, and finding a creative rhythm with your work.
The next logical step is to choose the right monetization strategy.
Your options include premium subscription models, running ads, selling physical or digital products, joining affiliate programs, or working directly with sponsors.
Each method comes with its own set of opportunities and challenges. As Ben Thompson of The Stratechery writes, "your business model is your destiny." Here are a few things to consider for the sponsorship route.
✅ Pros
Allows you to keep your content publicly available instead of locking it away behind a paywall.
Gives authors the opportunity to build industry relationships with business owners and/or other writers.
Creators can have more creative and financial control over what's included in their newsletter compared to traditional ads.
Offers flexibility since sponsorships are usually shorter-term agreements.
❌ Cons
This strategy typically requires a larger audience.
Working with individual sponsorship partners can be time-consuming, which takes time away from your creative work and audience interaction.
Sponsorship rates can vary drastically depending on your niche and target audience.
It can be an inconsistent revenue stream when compared to alternatives like subscription models.
6 questions to ask before getting sponsored
The best way to know if sponsors are the right strategy for your newsletter is to make sure you're asking the right questions. Below are six questions that will help you think through the components of this method so that you can make the best decision for your product and audience.
How big is your list?
Depending on the format, sponsorships are usually priced in a CPM (cost per 1,000 subscribers) or CPO (cost per email opened) format. Because of these pricing models, sponsorships tend to work better for larger publishers who have crossed the thousand-subscriber threshold.
If you are still in the early stages of growing an audience, focus on building a great product and a loyal audience before experimenting too much with monetization.
💡
Example:
TheSkimm
waited until their list had grown to 150,000 subscribers before they began including sponsored content. This enabled them to charge a premium price, build a waitlist of eager sponsors, and develop a hard-earned trust with their audience.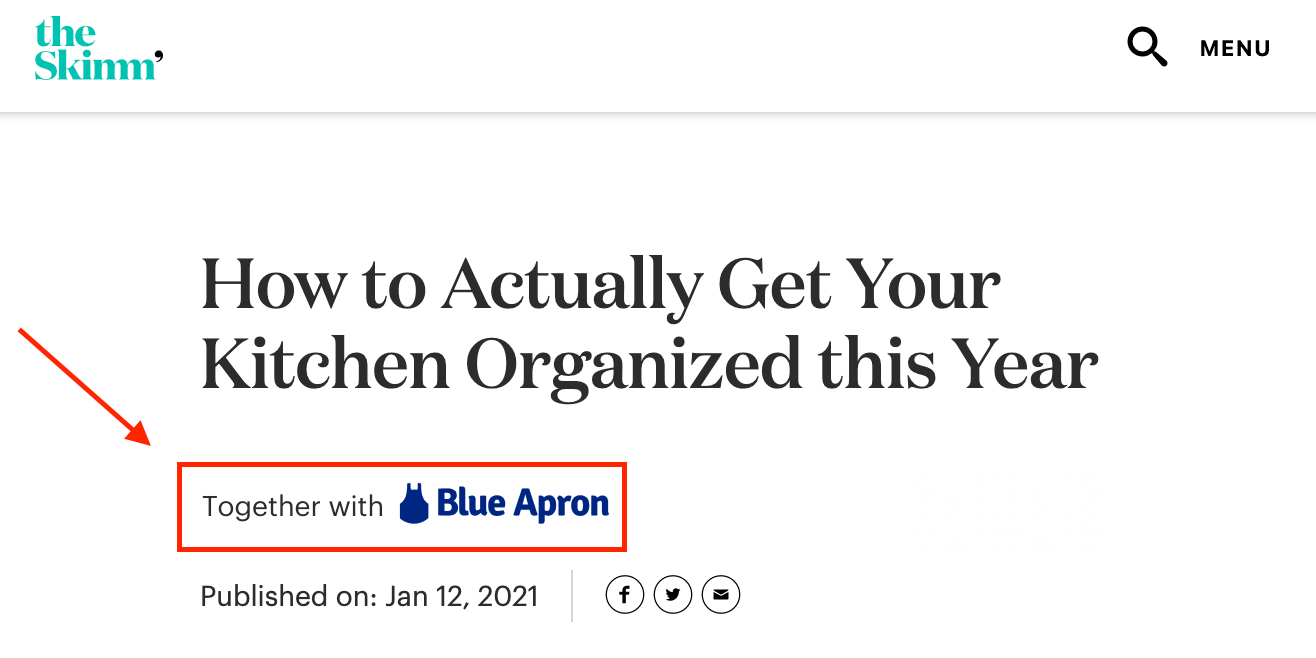 Are there products and services that align with your audience's needs?
The entire subject of sponsorship success can be boiled down to a single word: alignment.
When there is alignment between your newsletter topic and a sponsor's product or service, everyone wins. Your audience gains access to a relevant deal, your sponsors achieve a positive ROI on their investment, and you solidify your publication as a valuable resource for both parties.
People dislike ads because they are often irrelevant and disrupt their content experience. When choosing what sponsors to work with and how to include them in your content, make sure to avoid these two common pitfalls.
What is the value proposition you offer readers?
What do readers expect to see every time they open your newsletter?
If you've promised them a shortlist of curated links but instead send them a long-form article about your sponsor's product, you've broken their trust.
Reader intent must shape how you choose to monetize as much as it influences the newsletter content itself.
The more deeply you understand what readers expect from your publication, the better you'll be able to decide whether sponsorships make sense as a revenue model, and if so, which ones fit best.
How do you want to spend your time as a publisher and creator?
Many newsletter monetization methods are relatively passive.
Pasting affiliate links or encouraging audience members to upgrade to a premium subscription requires significantly less face time than selling sponsorship spots to businesses. This method requires at least a basic level of business acumen and sales skills.
Depending on your personality type and long-term goals, it's essential to consider whether you have the bandwidth to pursue this revenue stream properly.
Do you have access to the data sponsors want to see?
One way sponsors check to see if alignment exists between their product and your newsletter is to review the data.
This normally contains information such as basic demographics (country/city where they live, age, gender), total subscriber count, open and click-through rates, and the types of sponsorships available.
Whether you choose to work with sponsors or not, it's important that you can measure the data. Ghost comes ready with native engagement analytics, as well as a suite of integrations for deeper research.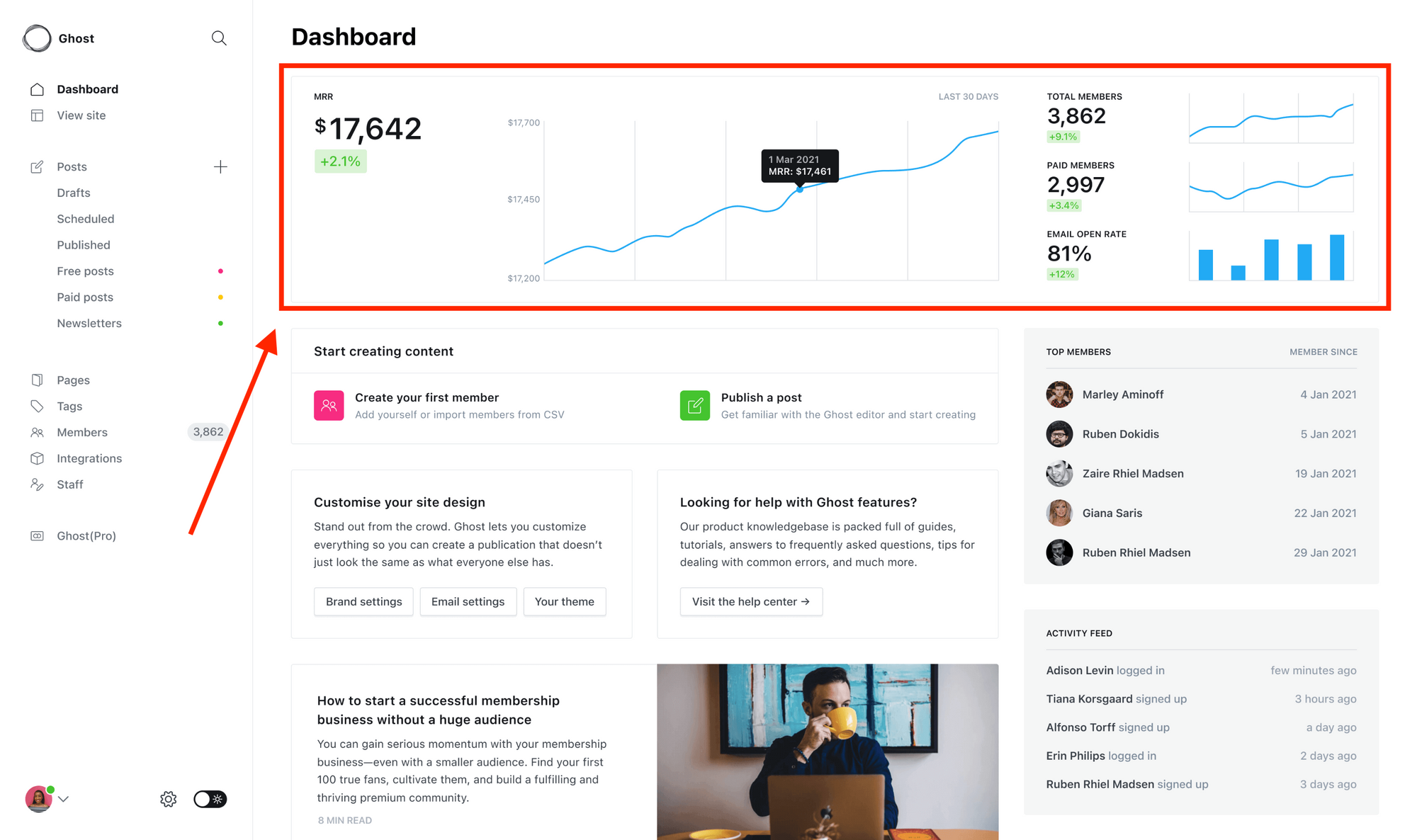 Do sponsorships make financial sense for your publication?
Finally, it's important to calculate how much money your sponsorships could make and whether or not it's worth it.
Although sponsorships can pair well with other revenue models, no reader wants to open a newsletter trying to squeeze out every possible cent from each issue.
Standard newsletter CPM rates range from $5-$200 depending on the niche, audience size, and sponsorship type. Most newsletters will find themselves charging sponsors between $25 and $50 for every thousand subscribers who open their emails.
For example, a newsletter with 10,000 subscribers and a 45% open rate could expect to make $112.50 to $225.00 for every issue sent.
This strategy makes sense for publishers who have the time and resources (e.g., team members and advertising funds) to grow very large lists and can dedicate a portion of their newsletter space to sponsors without disrupting the reader experience. However, sponsorships are not automatically recurring, like premium subscriptions, and require effort apart from publishing a great newsletter.
Sponsorships might work for you
Sponsors are one of many ways to turn your audience into income. Many of the biggest publishers have made this model work for them. However, it does present unique challenges for creators with smaller audiences. Use these questions to identify whether sponsorships are right for you.
---