5 lessons on getting your first subscribers from Maker Stations
Learn why solving your own problem is still the best way to grow an audience.
---
Reaching your first 100 email subscribers is an important milestone. It signals you're beginning to find a rhythm with your content and that people want what you have to offer.
Ilya and Lena are two Ghost users that have just surpassed this goal with their project Maker Stations.
In this Creator Story, we'll take a look at five lessons their success can teach new creators about starting well!
Sections of this interview were edited for clarity.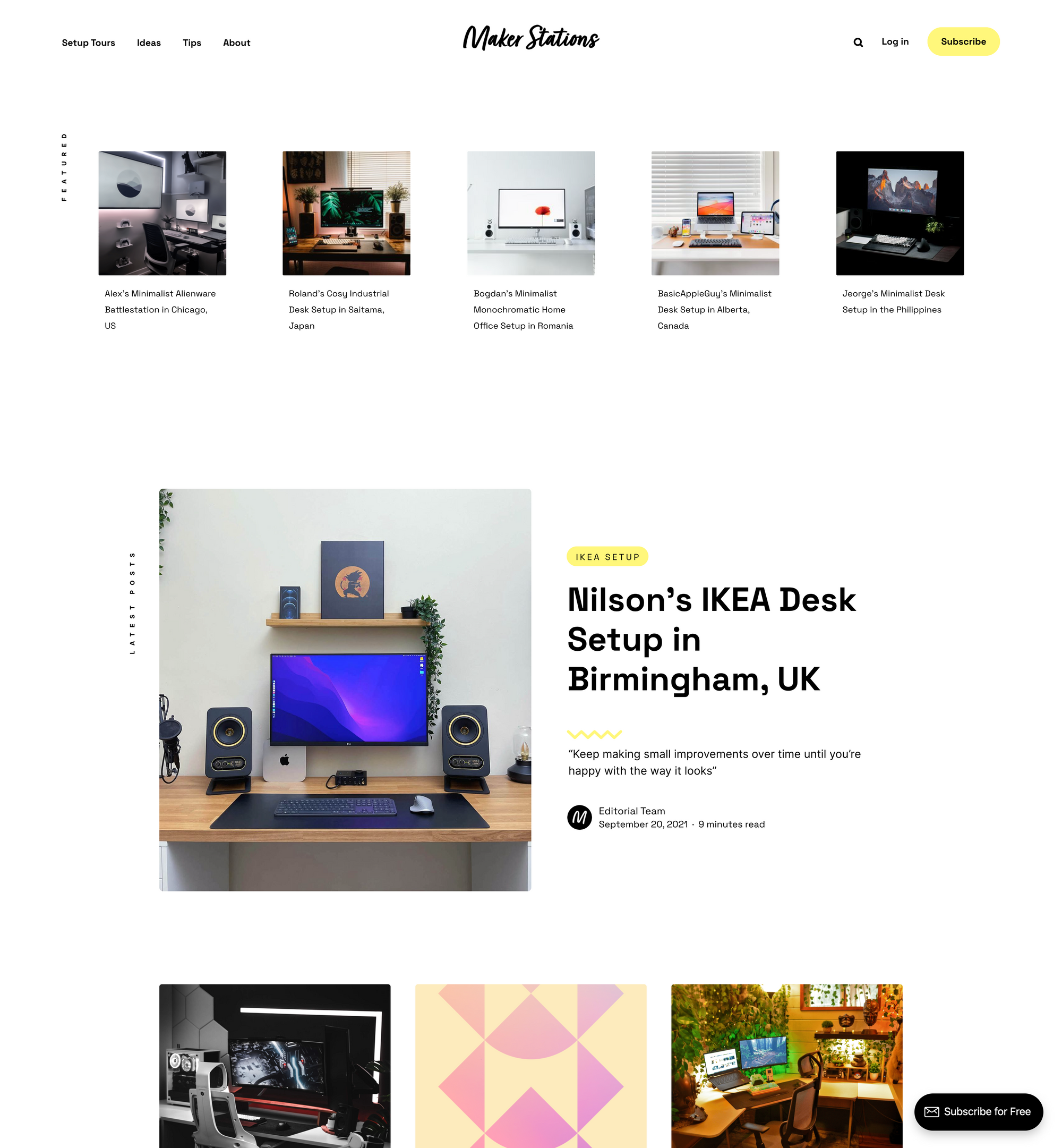 Lesson #1: Play to your strengths
When deciding on a project, it's tempting to pursue whatever seems to be trending at the moment.
However, the most successful endeavors are built with longevity in mind because it takes time, patience, and grit to grow something from the ground up. One of the best ways to ensure you'll stick with your newsletter, blog, or publication for the long run is to ensure it plays to your strengths.
For example, here's how Maker Stations describes its mission:
"We curate beautiful and functional home office setups from makers around the world, and, most importantly, tell stories of people behind them."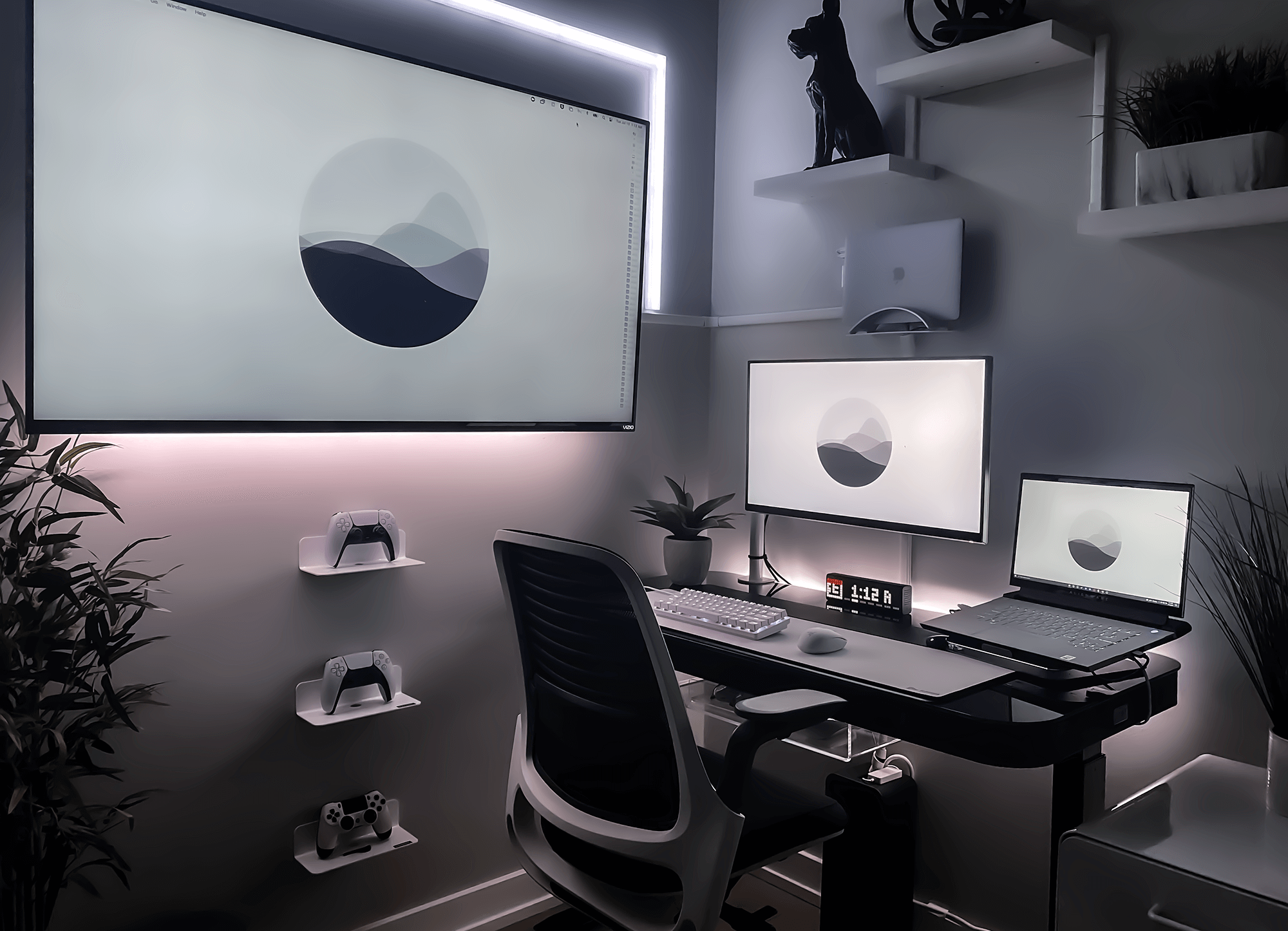 So, how does this align with the founder's strengths?
"[Ilya:] I worked as a Design Lead and in my spare time, I take joy in portrait photography. Once, my photo series about Edinburgh was featured by BBC News."
Maker Stations brings together several of the founders' strengths:
Interest in design
Skill in photography
Ability to interview and share people's stories.
Many creatives find that their rare combination of experiences is what leads to unique positioning in the market. Nothing is wasted.
Lesson #2: Solve your own problem
All of the best advice about online entrepreneurship can be summarized in four simple words: solve your own problem.
Ilya writes,
"Offices can be fun in their way, but to be honest, I always struggled to focus in a noisy, open environment. That, along with a pandemic, prompted me to look for some desk inspiration."
It was during this search that the founders noticed a gap in the market. Although they could find beautiful images online, they were single photos instead of collections. Plus, they were anonymous — there was no story or context about the people who used those spaces every day.
Maker Stations was created to solve this problem and offer readers the type of content the founders wanted for themselves.
Lesson #3: Focus your efforts
The next lesson highlights the discipline and wisdom displayed by the Maker Stations team.
"To kick things off, we had to terminate another much-loved side project (as they say, 'kill your darlings'). Otherwise, the new commitment wouldn't have been possible with us having two full-time jobs. We decided to keep only one side project to give it the full attention and effort it deserves."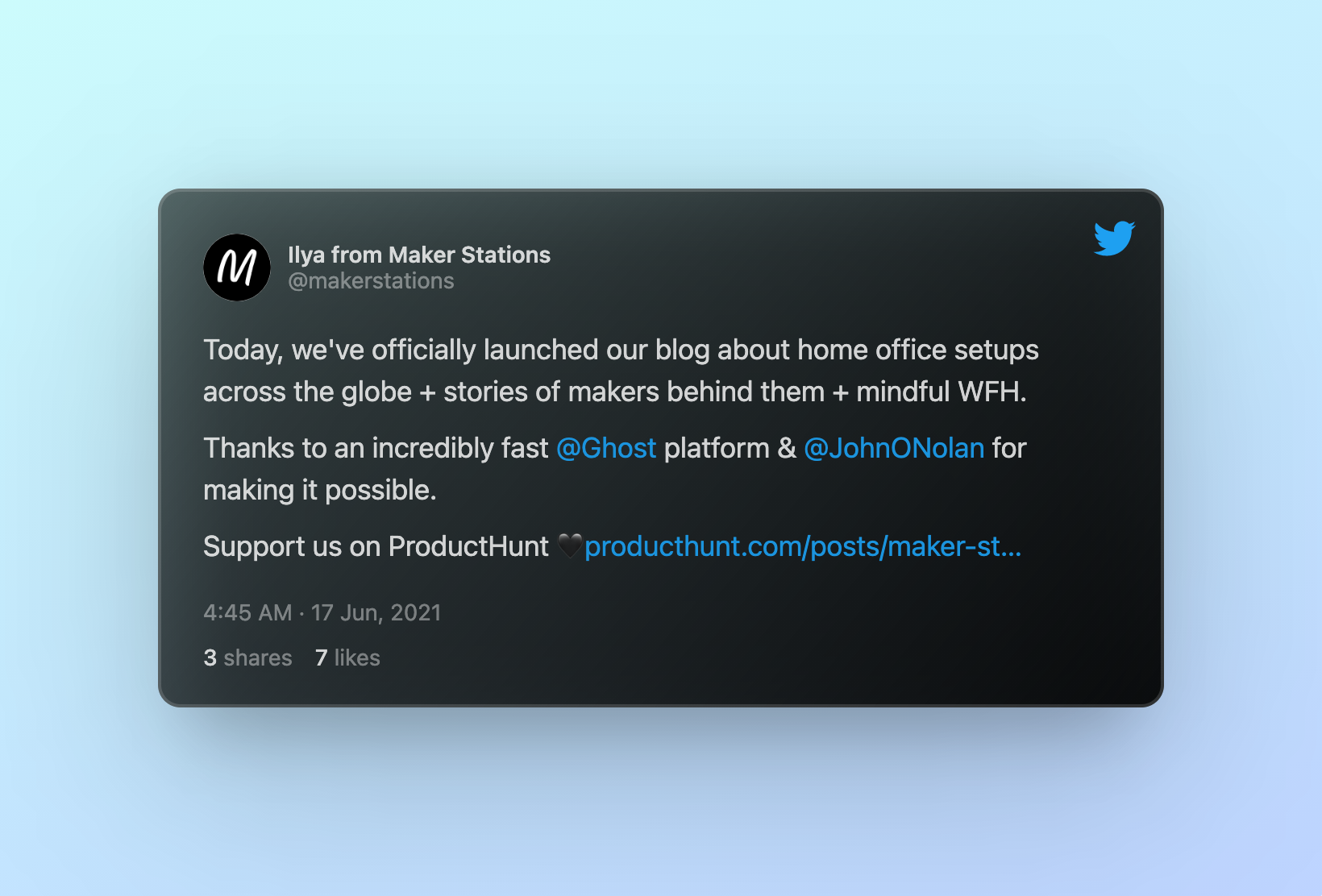 Ilya and Lena went all-in on Maker Stations. They shut down their Shopify store, tightened their commitments, and focused wholly on their new Ghost blog and newsletter.
Creators tend to wear many hats and juggle numerous projects simultaneously. But spreading yourself thin can lead to poor quality work and burnout.
When starting something new, be sure to audit your current commitments and find ways to make room for your project. You can do anything, but not everything.
Lesson #4: Start with your personal network
Maker Stations grew to 169 subscribers within 5 months of launching.
Here's how they described their early growth strategy:
"We reached out to our friends 1:1, as well as former and current colleagues. We asked them to sign up for an email list if they found our blog useful. Our first 15 subscribers were contacts we knew personally.
I think that leveraging your personal network is the best way to get your first subscribers [...] primarily because you already have established relationships with these people."
Your circles of influence are your secret weapon when growing an online audience. Family, friends, colleagues — many of these people will support your work if you're just willing to ask.
Don't be afraid to stretch outside your comfort zone and try things that don't scale.
Lesson #5: Lean into niche communities
With a strong foundation, clear focus, and initial momentum in place, Maker Stations turned their attention outwards to find their first true fans.
To do this, they focused on the niche communities which first sparked their interest in the space.
"I got in touch with owners of outstanding workplaces on Reddit and Instagram. After we interviewed them and published it on the website, we politely asked them to share it with their own network, as well as link to it from their own website."
This win-win scenario is a brilliant growth tactic. Creators get their work professionally profiled by Maker Stations, and the blog receives recognition in front of an entirely new audience. Rinse and repeat.
Ilya and Lena applied this same niche community mindset when they launched on Product Hunt.
"We earned about 140+ upvotes and landed our first paid subscriber. That meant there's an audience out there willing to pay money for the value we provide."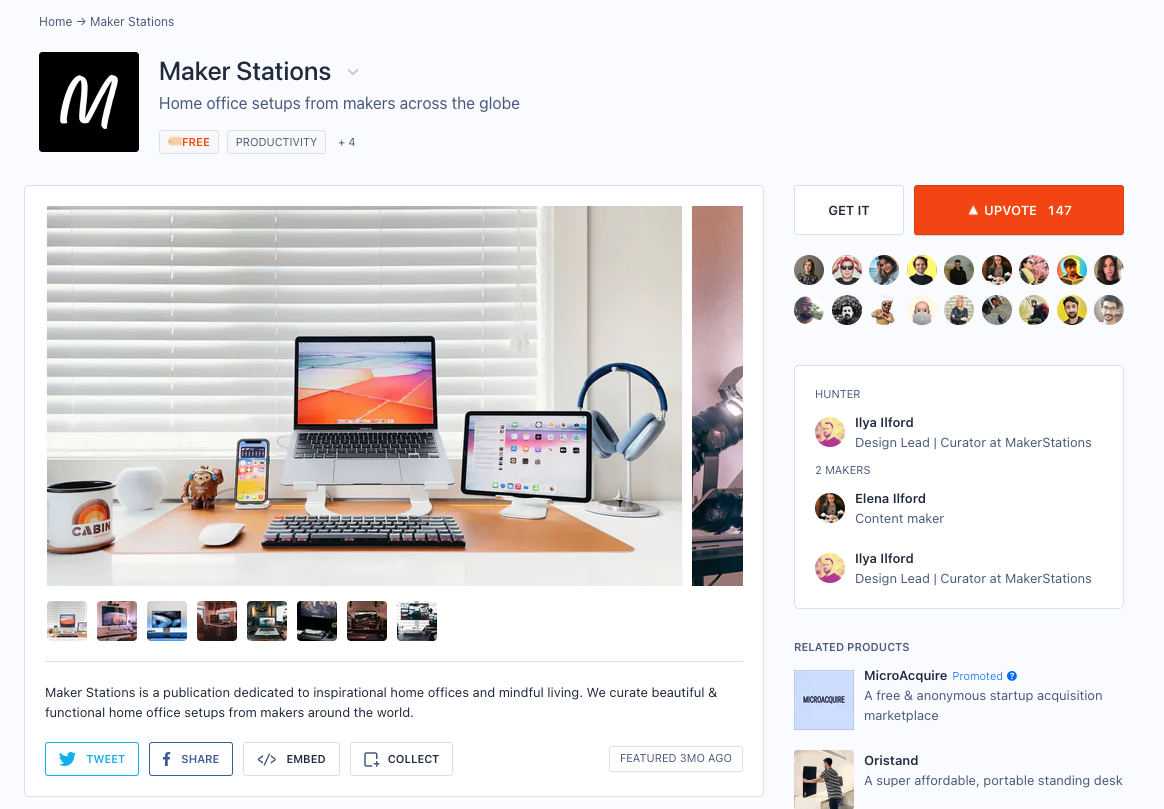 To grow quickly, think small.
Instead of trying to reach everyone, find small, active communities where you can add consistent value. The more specific your messaging, the more likely it'll get noticed by the right people.
Closing advice for new creators
When asked if there was anything else they'd like to highlight about their process, they noted they're still figuring it out. But in the end, it's about getting the basics right.
"It's about making many small (and medium) bets with an iterative approach. Create high-quality content and be as patient as a fisherman and the growth will come."
If you're ready to start your creator story with Ghost, click here.
---