#142 (Special Edition) – Tools to turn your audience into a business
This special edition covers the launch of Ghost 4.0. This update brings native memberships and subscriptions, a dashboard, a collection of themes, a new $9 starter plan, and more.
---
This newsletter is run by the team at Ghost and we've never been more excited to share what's new — so we hope you don't mind that this issue is a little different than usual!
Powerful creator tools for independent publishing
In 2013, our original vision for Ghost launched on Kickstarter. The catalyst was a simple question: what would a platform dedicated to publishing look like? Eight years later, thousands of publishers (like you!) are using the platform to publish professionally.
This week we announced our latest major release, Ghost 4.0, which brings creators of all kinds a better platform to build a website, grow an audience, sell premium subscriptions and send email newsletters.
Writers who launched Ghost sites last year are already generating more than $2Million per year in revenue for their own independent subscription commerce businesses.
And we're only just getting started.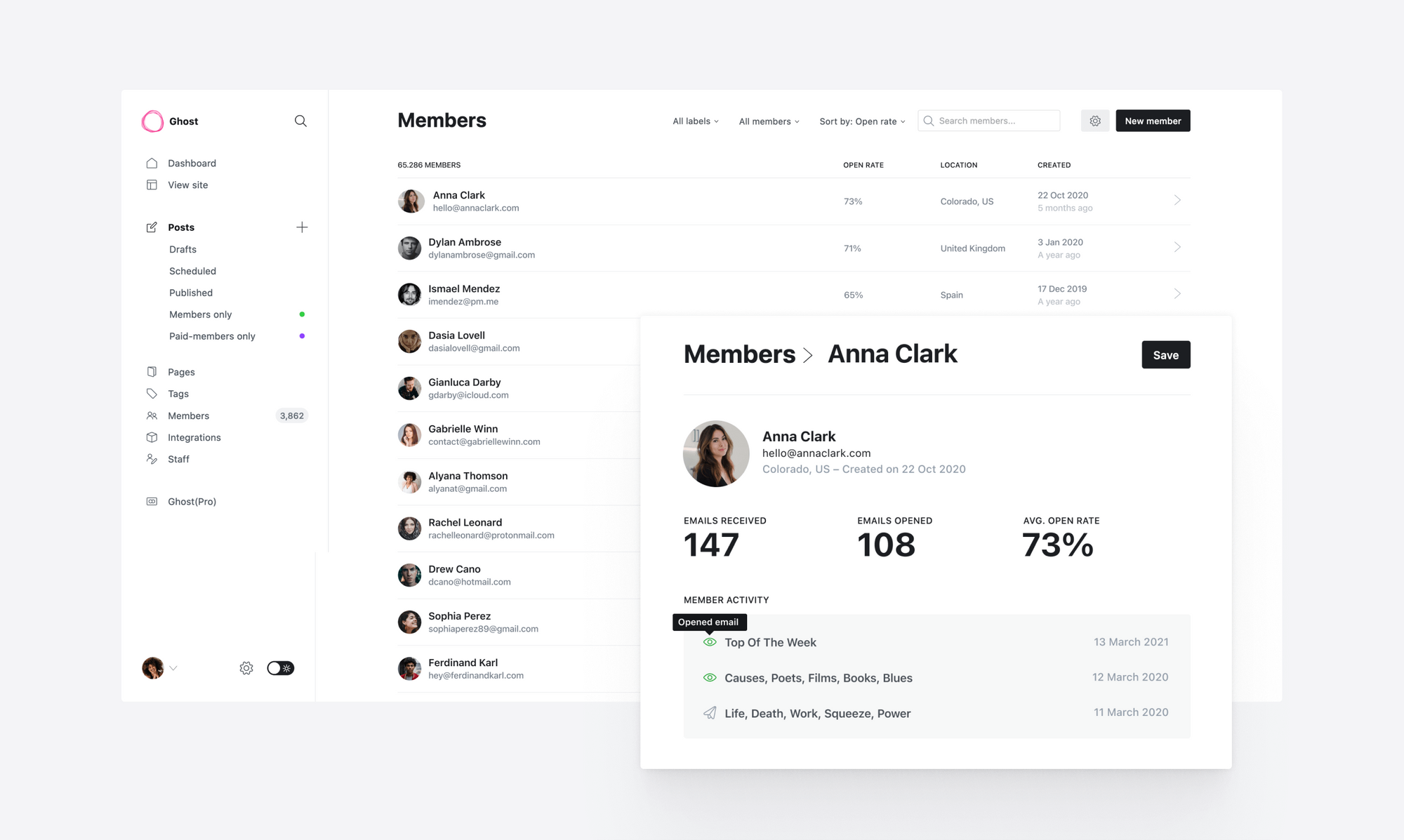 ---
What you can do with Ghost 4.0
💰 Build memberships and subscriptions in 135 currencies with 0% payment fees — so you can build a sustainable business around your content.
📬 Deliver email newsletters in a couple of clicks — focus on creating, instead of juggling a complicated tech stack.
📈 Access powerful insights from a brand new dashboard — to give you the information you need to achieve the success you want.
💻 Implement an embedded memberships and subscriptions UI in any theme — get up and running fast, no code required.
💅 Choose beautiful themes, get access to Ghost experts, and enjoy more customization options — give your content the design it deserves.
⚡️ Start publishing from $9/mo using the new Starter plan — never let cost stop you from creating.
Here's a complete list of what's new (there's  so much more).
---
👏 Join the conversation
Find out what others are saying about Ghost 4.0, ask questions over at Product Hunt, or join our invite only community.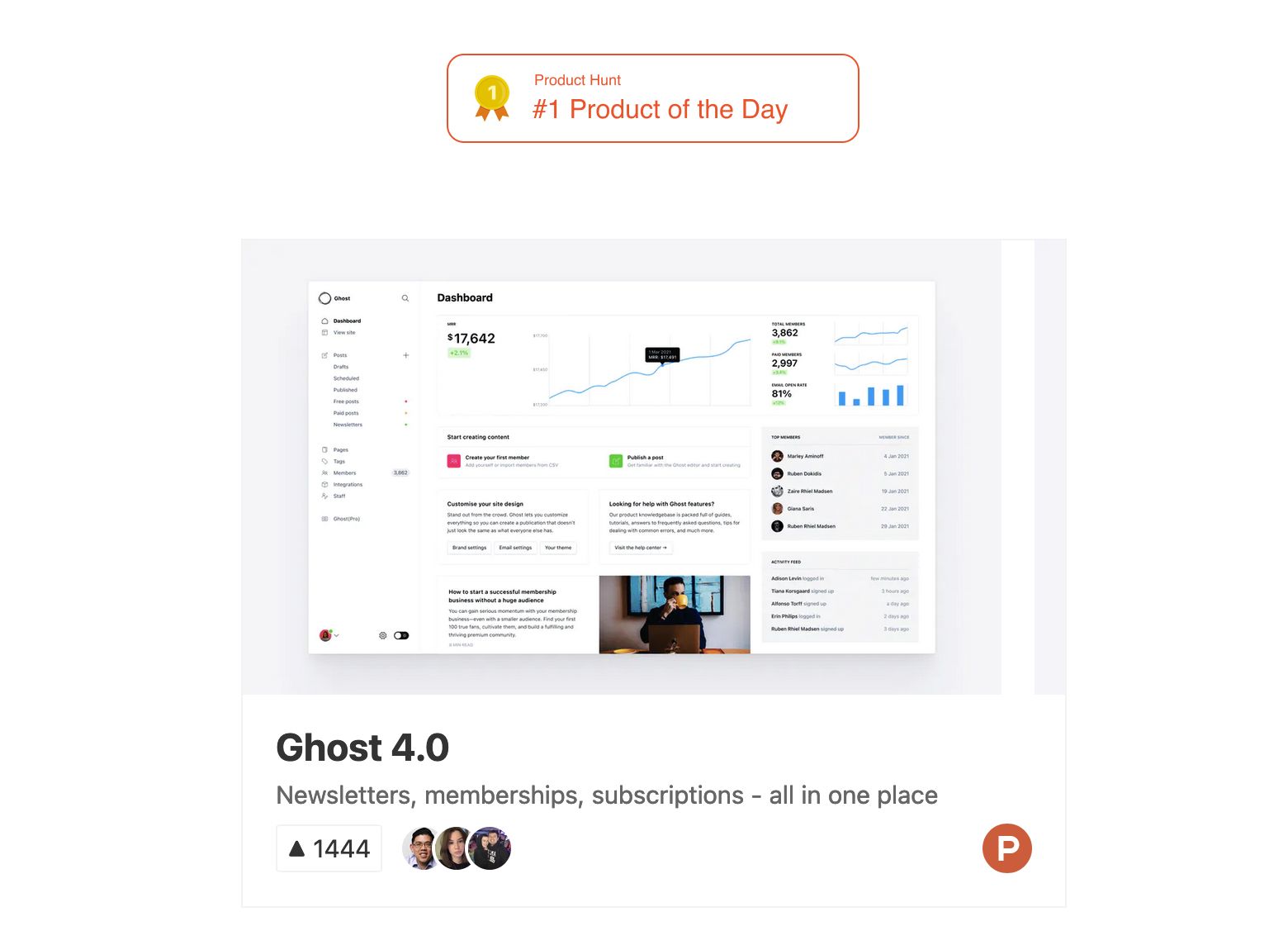 "Switched our blog from HubSpot to Ghost a year ago -- turned out to be a great decision." — Danny Greer
Congrats to the @Ghost team on 4.0 launch. TLDR: Build a subscription audience, track engagement, and develop themes with ease. My review after years of using is ⭐️⭐️⭐️⭐️⭐️ — Alex Welcing
With the ridiculously impressive 4.0 release from Ghost today, I really don't understand why any professional newsletter or membership site would go anywhere else. If you're serious about serving your readers and quality independent publishing, I cannot recommend Ghost enough. — Uri Bram
Newsletter curation and discovery is one of the biggest problems facing readers and writers, and Ghost is the best solution I've seen. Plus, it's just beautiful. Congrats! — Süheyla Şeker
---
📰 In the news this week
The Secrets Behind Morning Brew's Growth to 2.5 Million Newsletter Subscribers
The World of Newsletter Acquisitions
Financial Times CEO: Publishers don't have to choose between ads and subscriptions - they can have both
Why email newsletters are the unlikely star of 2021
Facebook to Offer Self-Publishing Tools for Content Creators
Why newsletters are key for habit formation
Parse.ly's 2020 content analytics report: what publishers need to know
---
❤️ Enjoy this newsletter?
Forward to a friend and let them know where they can subscribe (hint: it's here).
Wanna get featured? Submit a story for us to include.
Anything else? Hit reply to send us feedback or say hello.
---