How to build an independent local news product
Local news is in crisis. Traditional outlets saddled with debt are closing, leaving "news deserts" behind them.
---
News deserts are communities where a local news publisher has closed, and there remains a gap in local reporting. We're now seeing more news deserts than ever before, and in this void, people are resorting to social media which is often filled with polarizing and false stories.
Between 2002 and 2020, news publishers lost $24 billion in annual revenue. Two thousand five hundred papers shuttered outright — The Roadmap for Local News
Established newspapers, which may have been in print for over a hundred years, are closing under the combined pressures of falling revenues, debt, and high overheads.
The hyperlocal opportunity
The spaces left behind by legacy media are opportunities. There is important work to be done and real money on the table.
In the face of the local news crisis, laid-off community reporters and activists are turning to websites and newsletters to build a new independent model for local news.
With a lower cost base, and without years of debt, local news can be reimagined as a sustainable business delivering real public service. Using tools like Ghost and Stripe, web-first publishing can be set up with very low investment, using a subscription model that breaks the reliance on failing ad revenues, and no technical skills are required to get started.
5 lessons for launching a local news product
Ghost partnered with the Google News Initiative in 2021 to support their funded bootcamp for up-and-coming local news publishers. Many participants are now running thriving local news publications, offering unique reporting to their communities.
We caught up with three of these publishers, RANGE media, Madison Minutes, and Sioux Falls Simplified, to find out what their top 5 considerations were for building an independent local news product from the ground up.
1 - Apply for local or regional programs and grants
Building an independent newsroom from scratch involves a lot of moving parts. That's why most local news outlets seek financial and strategic support when starting their business.
Participating in a bootcamp was absolutely a catalyst that helped us launch — Megan Raposa, SF Simplified
There's a lot of support to choose from, including bootcamps, communities, grants, and fellowships. Initiatives that are dedicated to strengthening the local news industry include LION Publishers, Indiegraf, The Knight Foundation, Google News Initiative, American Journalism Project, and the Meta Journalism Project.
Joining a bootcamp or workshop typically comes with long-term benefits, as the community doesn't end once the bootcamp is over.
Our bootcamp cohort is still in touch, we meet regularly to share knowledge and ideas. Journalism is a team sport. It's good to have other people around — Luke Baumgarten, RANGE Media
2 - Plan your business model from day one
A successful local news business needs to be sustainable, which means you need to be able to expand your reach and generate revenue in order to keep producing quality journalism.
Making money through the cover price of a newspaper and competing in a competitive ad market was proving unsustainable, so publishers are rethinking their model and how they connect with audiences.
Today, subscriptions are providing many large and small publishers with a more sustainable option, but it's not the only option. In fact, many publishers combine multiple revenue streams. Whatever path you choose, it's important to iron out your strategy from day one.
In their first year, RANGE Media focussed on building a loyal audience of free subscribers but later discovered that having their business model strategy figured out early on was a huge benefit when it was time to monetize in the second year.
If you want to run a successful indie newsroom with a couple of reporters, think about your business model from day one and invest in that early. It may be true that you have to prove you can deliver a service before you ask for money for it, but you still need to start thinking about your model and testing it in the early days — Luke Baumgarten, RANGE Media
When the time came to launch a paid offering, RANGE attracted 100 paying members within a few weeks, and has since grown to almost 400 paying members. An incredible testament to all of the hard work and early planning.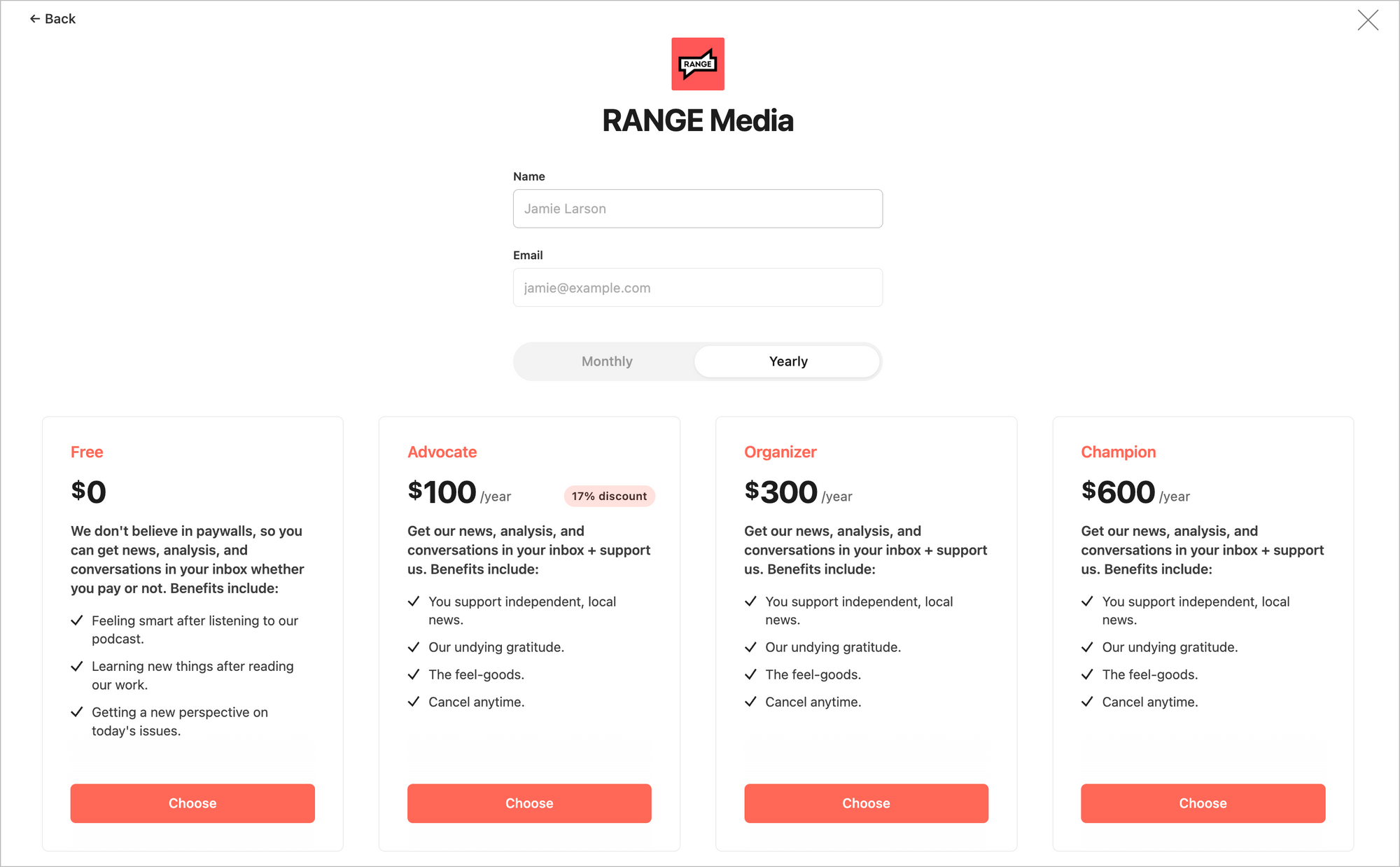 When launching Sioux Falls Simplified, Megan Raposa invested in sponsorships that have since grown into the publication's primary revenue stream. By reaching out to local businesses, Megan partnered with sponsors willing to pay a fee to have their stories told and shared with the SF Simplified audience.
I was surprised by the number of businesses who have stories they need to tell and wanted our help to do it — Megan Raposa, SF Simplified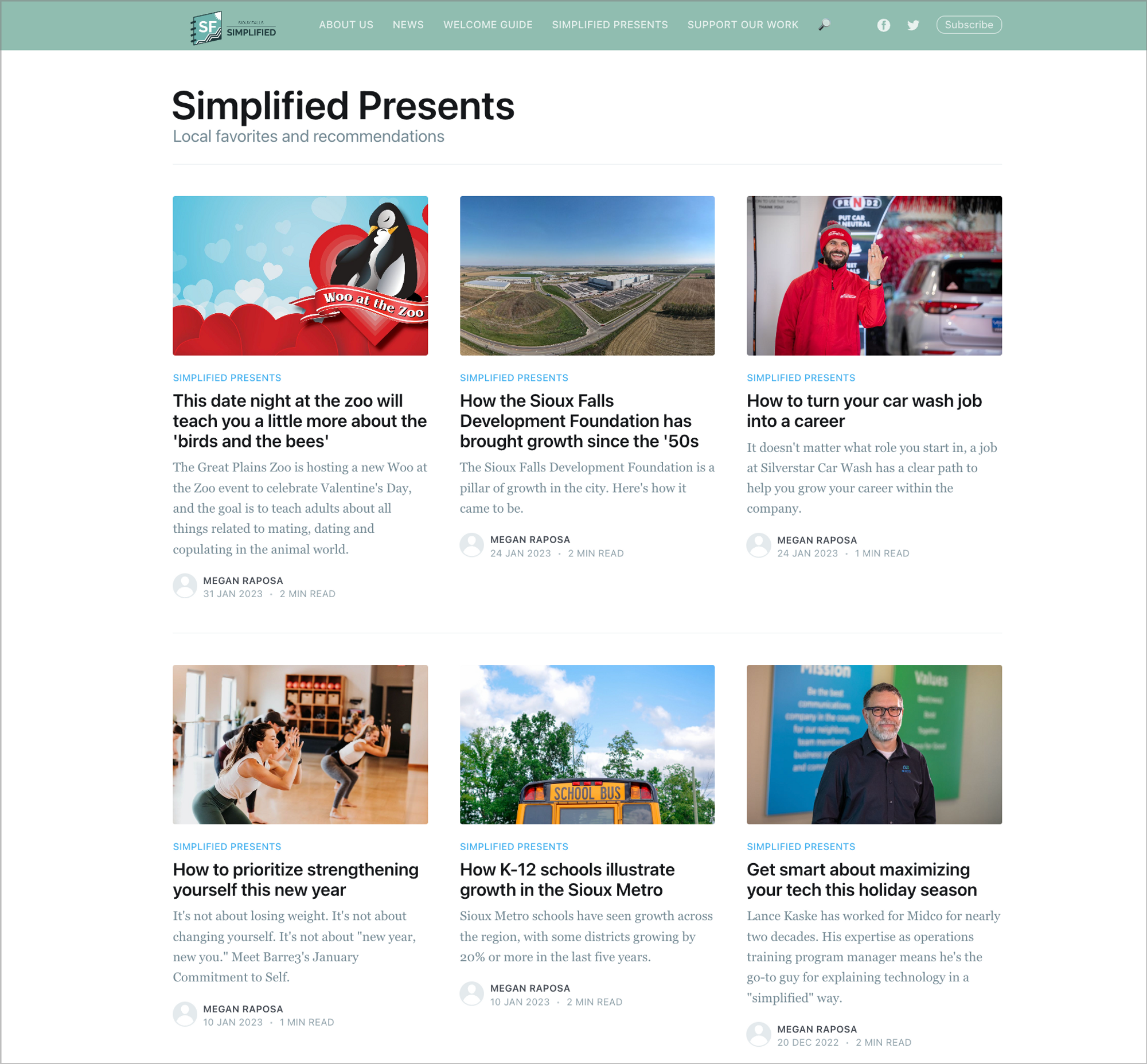 What's unique about SF Simplified's approach is that rather than placing arbitrary ads in the content, Megan writes interesting stories on behalf of sponsors whose values are aligned with SF Simplified. This has created a sustainable source of revenue for the publication, without sacrificing the quality of its content.
💡
Ghost is open-source, independent, and funded 100% by its users. With 0% payment fees, all of the revenue you generate for your local publication is yours to keep.
3 - Launch with a minimum viable product
As is true with any type of digital product, it's important not to fall into the trap of trying to build all of your ideas and make everything perfect before launching. Doing so takes up valuable time that you could be using to put your work out there while growing an audience at the same time.
For most independent publishers, sustainability isn't just a money issue, it's also a time and burnout issue, which is why it's so important to prioritize what is truly going to move the needle.
Start small, and add on as you go. Don't wait until everything is perfect. Don't act on all of your ideas before you launch. I started with just two stories a week and that was enough — Megan Raposa
It's true that some research and planning needs to happen upfront (see: planning your business model from day one), but much of this will be an ongoing and evolutionary process, so it shouldn't prevent you from getting started.
This applies not only to your journalism but also to your team. Many local news products launch with one or two founding members and bootstrap the business alongside a full-time job.
Create a minimum viable team. Build a structure that will allow you to keep building an engine that keeps growing — Luke Baumgarten
When you're ready to grow, fellowships are a common method of getting the funding needed to expand your team in the first few years, to help increase the breadth and depth of your reporting.
Hayley Sperling and Sam Hoisington, the founding duo of Madison Minutes, started by working on the business part-time, later securing a fellowship that allowed Hayley to go full-time. RANGE Media, now a team of three, was also able to hire their first full-time editor through a fellowship.
4 - Create a transparent mission statement
Local news supports a local community, and in order to get your local community to rally behind your work, it's important to provide a clear message about what you offer.
Your about page is one of the most important pages on your website — a space where you can let your community know who you are, what your mission is, and what they can expect from you.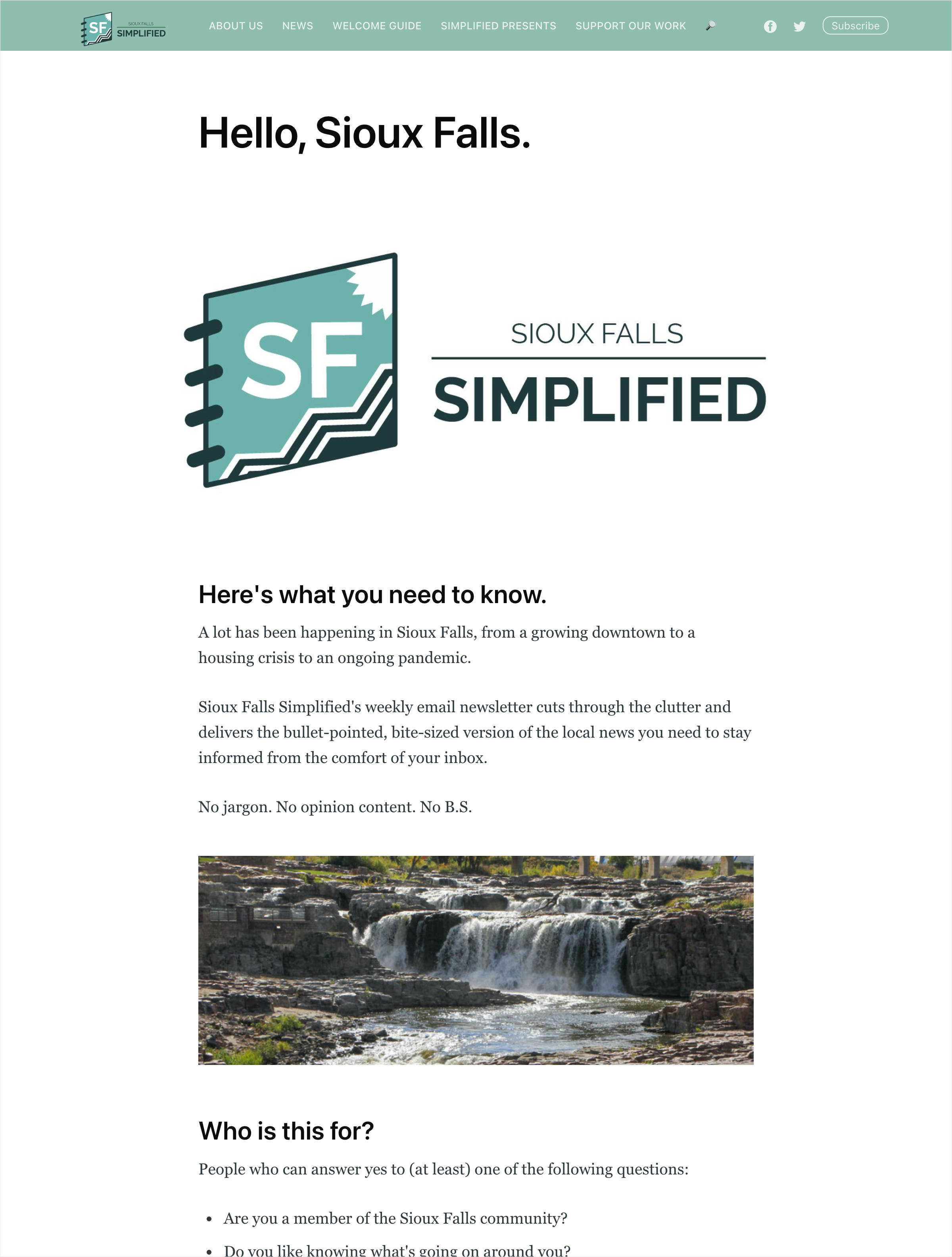 Adding an about page in Ghost is as straightforward as creating a new page, adding your content, and adding the URL to your site's navigation. It's also possible to create a welcome page where new subscribers land when they first sign up for your email newsletter.
Here's the top considerations for your about and welcome content:
Introduce who you are — Showing the names and faces behind your journalism helps readers relate to your work. You might also choose to share details about your background, how you started, and how you operate as an independent newsroom.
Share your mission and values — What are the goals of your local journalism, and what values do you adhere to as reporters? This is your opportunity to stand out, take a stand for what you believe in, and give people who share your values a reason to sign up.
Summarize the value you offer — Your about content is a great place to shout about what value you offer to your readers and your community and offer a transparent explanation about what people will get if they subscribe as a free or paid member. A great example of a strong value is helping people save time while staying ahead of what's going on in the local area.
5 - Leverage growth channels
All businesses are dependent on marketing channels to grow. This is where you follow up on your business model and put it into action.
Most businesses will have one or two marketing channels that drive the vast majority of their growth. As a small independent business, it's important to figure out what works for you, and focus your energy there. Here are the top two marketing channels for local news:
Asking readers for support
Directly asking your audience to support your work financially can feel difficult, but if you're creating something your readers truly value, it can also be an effective and rewarding way to grow your business.
Hayley and Sam challenged Madison Minutes readers to step up and support their free daily newsletter, allowing them to continue delivering a great product.

Within a month of directly asking their readers for financial support, Madison Minutes saw a 40% increase in paid members, and a 44% increase in MRR (monthly recurring revenue).
We're putting ourselves out there by challenging our readers to step up to the plate, and our community is responding — Sam Hoisington, Madison Minutes
The key to success when asking directly for support is to make it extremely clear what you're asking for, and why.
Reiterate value. Remind your audience what your reporting offers, highlighting what they'd be missing if you were to stop publishing.
Get specific. Set a shared goal that your community can participate in, such as # the number of paid members, and crucially, spell out exactly what readers will get once this goal is met.
Be transparent. Sharing behind-the-scenes insights about your business help your audience understand your ask more clearly. For example, if you're in the process of working on your product full-time, or hiring new writers, share this context.
Ask more than once. Give your audience multiple opportunities to consider your ask. Madison Minutes' success was a result of sending five ****fundraising campaign emails, in addition to asks embedded in the daily newsletter.
💡
Delivering your big ask using Ghost is made possible with the email newsletter and audience segmenting features: Send campaign emails to specific people in your audience, without publishing them on your website. Read more about
sending email newsletters
.
Community
There are plenty of ways to get your work in front of a larger audience in your local area without running expensive social media advertising campaigns because you have the advantage of your target audience being a local community.
Participating in the community helps spread the word and build trust. For example, consider making guest appearances on podcasts or local radio, getting involved in online communities, and attending or hosting in-person events.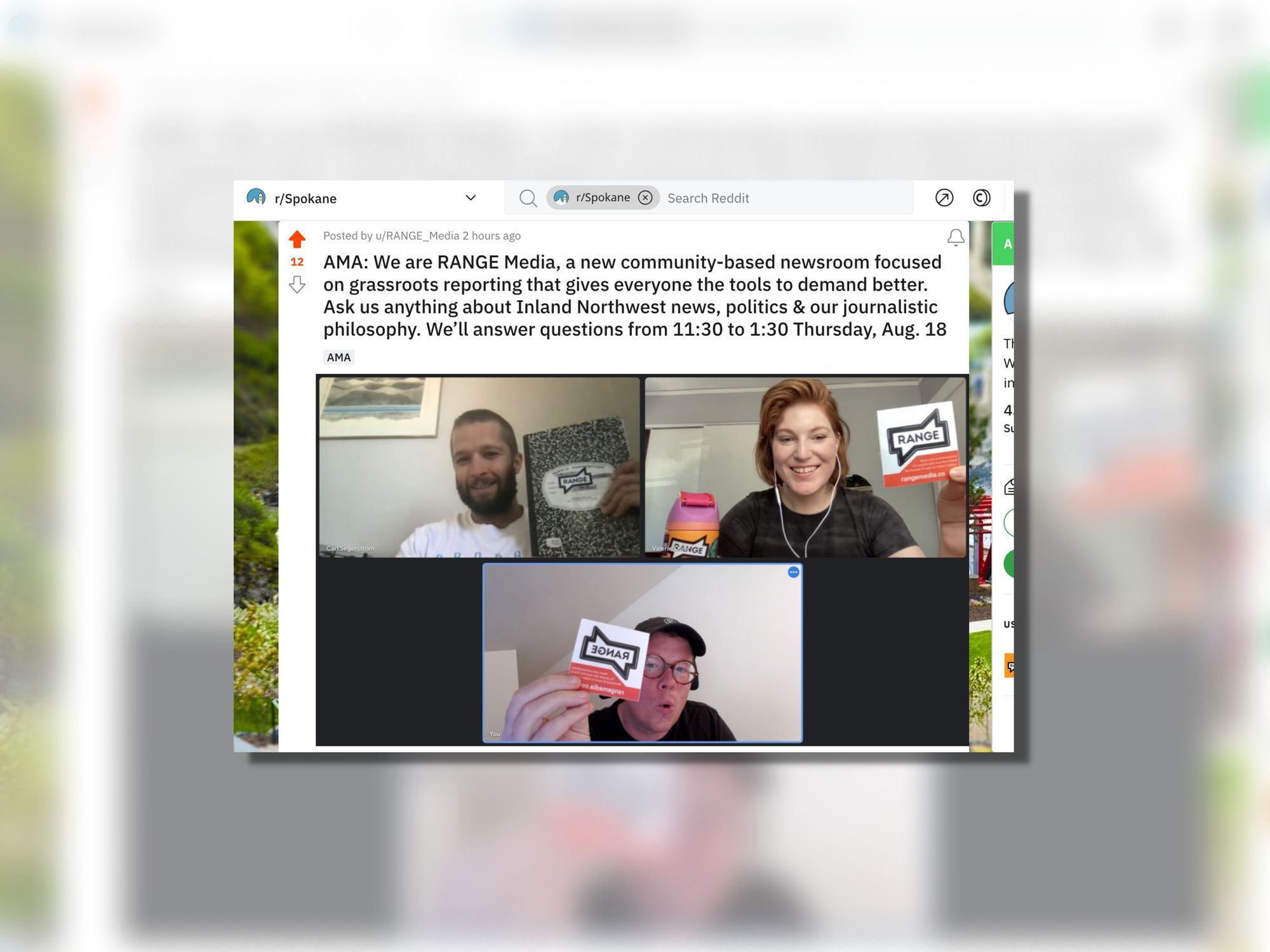 Leveraging the power of community is also a great way to encourage word of mouth, which is often the most valuable and powerful marketing asset you can have.
---
There are more business models, tools, and resources than ever before to create a truly independent local news business where you have a direct relationship with your readers, and the potential to generate sustainable revenue to fund your work. Use these five steps to start making a huge impact in your local community.
---