How to create your first content calendar: A step-by-step guide
Few tools can transform a creator's business like this one.
---
Creating your first content calendar can feel like a herculean feat. But it doesn't need to. In simplest terms, a content calendar helps you know what to publish and when to publish it.
Using this resource, you'll learn how to build a streamlined process for your content planning, so that you can get more done in less time.
💡
Single-channel vs. multi-channel calendars. The word "channel" refers to the different places you publish content. A single-channel calendar focuses on one platform — ideally your own blog or newsletter.

A multi-channel one brings in every social media network, online community, syndication opportunity, and more. When just getting started, stick to the simplest option. This will prevent the feeling of overwhelm from interfering with your creativity.
Why is a content calendar useful?
Creating and maintaining a content calendar takes time, but there are many benefits that make this time well spent.
Organize idea generation. It's not uncommon for creators to jot down their content ideas wherever they see fit in the moment (g., sticky notes, email, text message, restaurant napkin). Creating a central location, one that you can access quickly and easily, will help you keep track of every valuable idea while reducing duplication and time-wasted spent looking for random notes.
Simplified collaboration. As your creative business grows and you bring on help in the form of editors, writers, and assistants, having the ability to work together will be key. An organized calendar helps everyone know what needs to be done, by when, and who's responsible — so that no balls get dropped along the way.
Realistic pacing. The most common enemy of content work is burnout. It can feel like there's always more to be done. Plus, without a schedule in place, it can be difficult to see how much has already been accomplished. Setting up a clear calendar of duties can help set clear expectations and boundaries for everyone involved.
More effective strategy. Working in your business often holds you back from working on your business. By taking time to plan weeks, or even months, of content in advance, you'll be better able to take advantage of profitable trends, evaluate growth areas, fix weak points, and build for long-term success.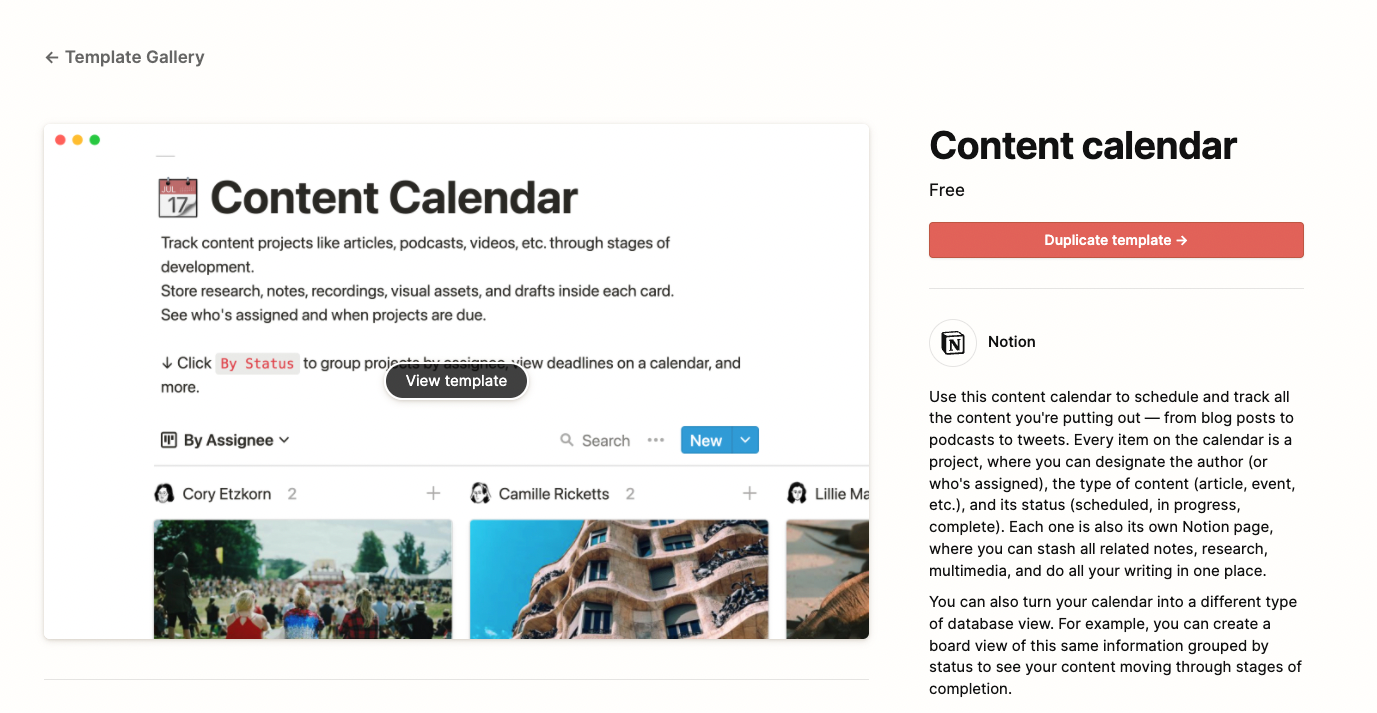 Where to begin?
Before you decide which tools to use and what your calendar should look like, it's important to answer a few basic questions first. These will give your planning a clear direction so that you don't get lost in the details.
What are you scheduling? As mentioned above, a content calendar can be used to schedule many different channels. For our purposes, we want to focus on the main one: your blog or newsletter. Depending on your publication, there might be several different types of content you provide for your audience. All of this can, and should, fit within a single calendar. The goal is to get everything you need to do into a single place so that you can allocate your time, money, and energy appropriately.
How often are new posts released? The volume of content you make will influence how you build your process. A daily newsletter will need a slightly different setup than a long-form blog pushing one article a month. More content will likely require additional tags or categories to keep everything straight.
Who is helping? A simple question worth asking is, does everyone have access to what they need? If you have an editor or an assistant as part of your process, make sure they can see and control the aspects they're responsible for. If you're a solo creator, create a calendar that compliments the different hats you wear within your business: publisher, editor, marketer, etc.
The point of asking these questions first is to bring what you need into a calendar template, instead of letting the template dictate it for you. We've found that creators who start with a tool, versus examining their own process, often fall into paralysis by analysis and give up on these structures too early.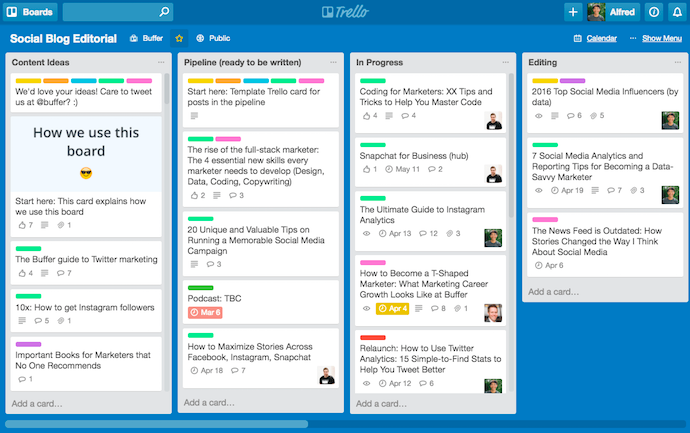 Now that you have a better idea of what you're building, we can look at a few tools to help you get there.
Recommended tools for content calendars
There is an ever-growing collection of tools you can use to plan and schedule your content. You can use free options like Google Sheets or Google Calendar; premium options like Coschedule or Loomly; or adapt project management tools like Trello and Monday to meet your needs.
The best option is to use a tool you're already familiar with. For starters, these two choices are especially user-friendly: paper calendars and Notion.
Physical content calendars that you keep in a planner or on an office wall can be a great option, especially for solo creators, because they offer all of the same benefits in a low-tech way. Simply write what needs to be published on specific dates, with as little or much detail as needed. As an extra layer of organization, you can use different colors to refer to different types of content (e.g., blue pen equals emails, green pen equals blog posts, etc.).
Opting for a large wall calendar can help make the process more visual and set it apart from the rest of your to-do's.
The next option is Notion, an all-in-one productivity tool that allows you to write and edit your content within the calendar of your choosing. As mentioned above, they have a free template, along with many tutorials online. The following video tutorial includes a few advanced elements but is still a great resource for first-timers.
What information do you need?
At this point, you have a few ideas about what your content calendar is for and what tool you'll be using to build it. The next part is to decide what information is essential.
For example, when we create a new idea for our board in Notion, we include the following components:
Potential title
Short overview of where the idea came from
Who is the target audience
Does the article solve a problem or answer a question
What else has been written on the subject
SEO keywords we want to rank for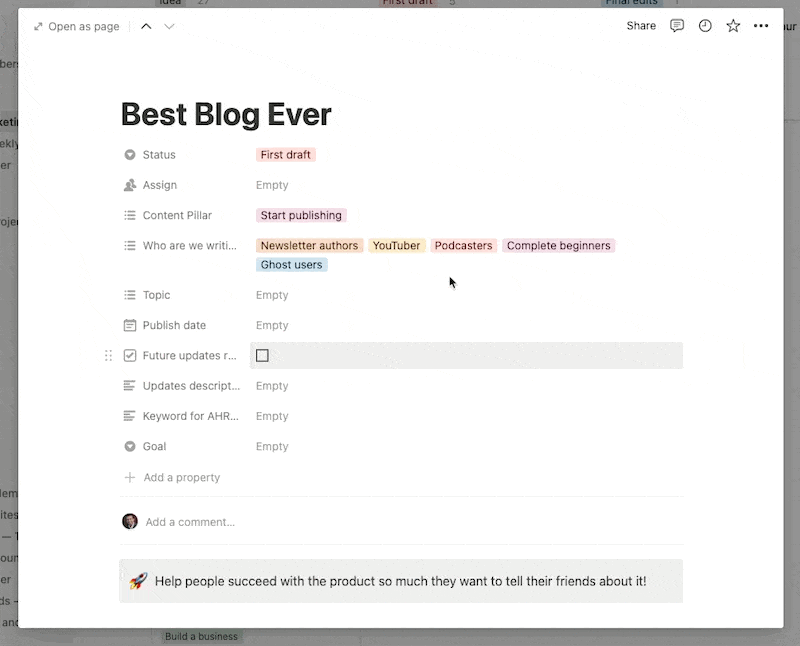 A paper calendar likely won't have room for all of these details, so you might stick to: title, target publishing date, and a sentence or two about the idea. Regardless of the format you choose, the goal is to always know what you're working on now and next. The more material you include, the easier it will likely be to bring your ideas to life.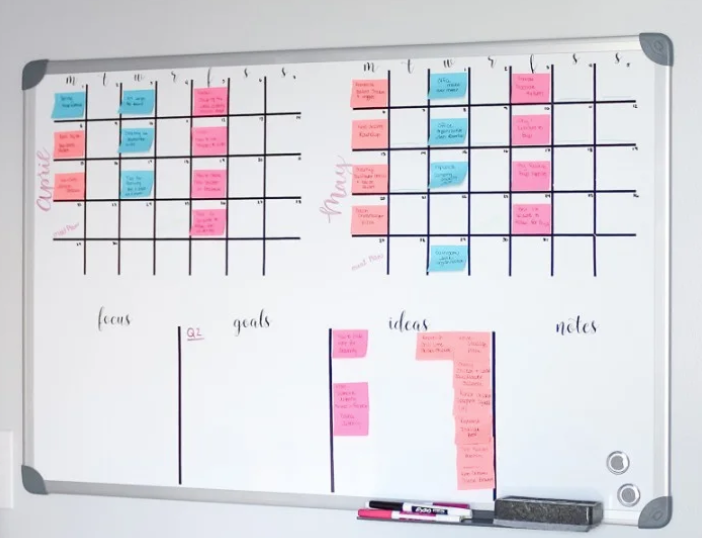 Here are a few suggestions on what to include when jotting down ideas and filling in your calendar:
Title
Keyword(s)
Audience
Target date
Research notes or links
Distribution plan (which can be turned into its own content calendar down the road).
Closing tips for successful planning
A content calendar will simplify your publishing process and enable you to produce more content, at a higher quality, faster. That being said, there are a few best practices that will keep you in control and prevent the calendar from becoming a monster of its own.
Schedule in batches.
Giving yourself creative runway is the biggest upside of this kind of system. Most creators will benefit from planning at least 10+ pieces of content ahead. For daily creators, that means scheduling out the next 2 weeks of production. For weekly creators, this might mean batching an entire quarter of work. And for those who create fewer, longer pieces, a content calendar might include your entire year's worth of plans.
Task-batching like this will help you spell out larger content strategies, reduce your administrative work, and boost your creativity.
Plan for breaks & inspiration.
As you organize your schedule, remember to include time for recharging. It may seem doable to create non-stop for months on end, but all of that mental work will catch up with you. When possible, build in recurring breaks to engage with non-work hobbies and relationships. If you want to be a long-term creator, this is non-negotiable.
Arrange your content around milestones.
Using holidays, product launches, and niche-specific dates as markers can help you build a vibrant creation schedule. For example, if you plan to launch a membership in three months, publish content that helps prepare the audience for it. Another illustration is to make holiday-specific content when appropriate, such as a year-end review or a holiday-related list.
Content calendars are the perfect tool to help you start publishing consistently. Keep it simple, build as you go, and give yourself the opportunity to create more than you thought possible!
---