How to get your first 100 email subscribers
Starting from zero? Use this guide to find your founding audience members.
---
Growing an email list is an essential step to building a sustainable online business. Here's a collection of proven ways to attract your first 100 free subscribers.
Basic steps for growing quickly
For new creators, it can seem like there are mountains of new information to learn before you can begin. But in reality, there are only a few pieces you need to have in place in order to start collecting emails and growing your subscriber list.
These basic steps are:
Make sure you have a clear email signup form on your website so visitors can subscribe to your email newsletter.
💡
The Portal experience in Ghost allows you to create a website and invite visitors to subscribe so you can send email newsletters directly from Ghost. You can set all of this up from the admin panel, no code required.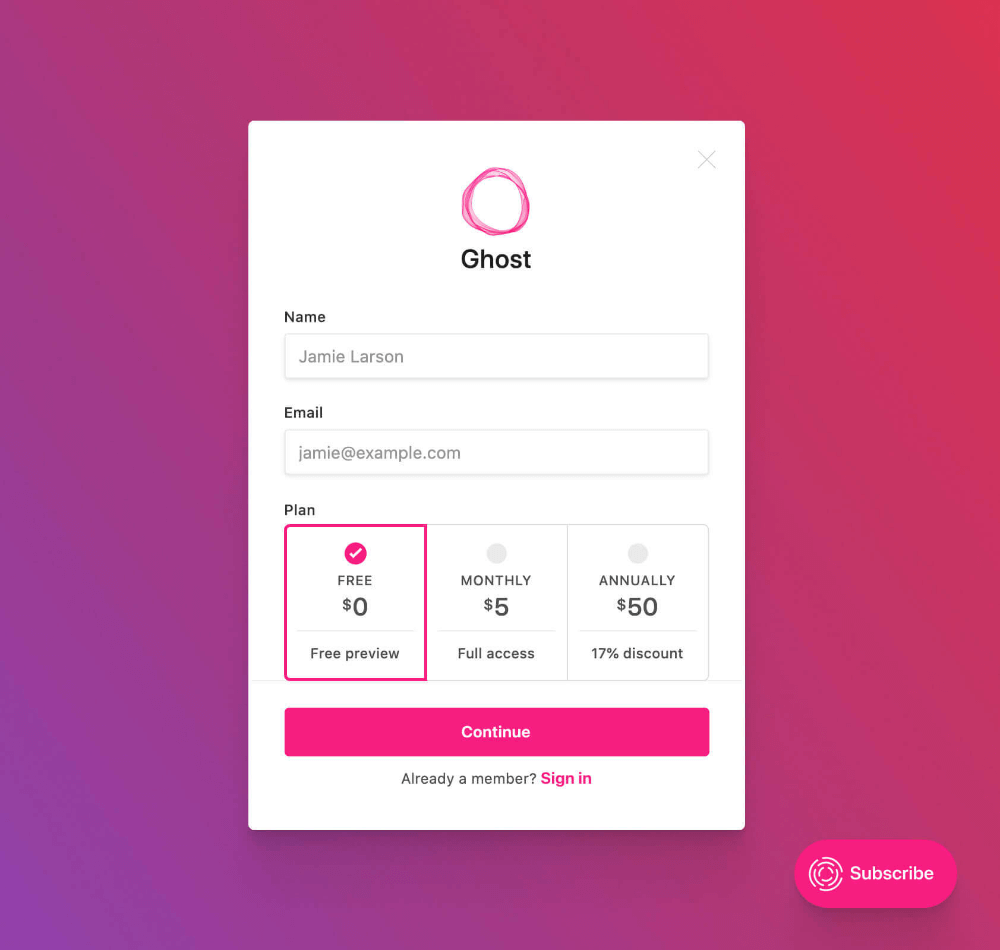 Create a strong value proposition so that your readers and visitors have a reason to subscribe. If your content is protected, consider sharing a screenshot or preview of your newsletter so that potential subscribers can see what they're in for.
Be direct with your ask. Use clear language such as subscribe and join, instead of check this out or let me know your thoughts.
In the beginning, do things that don't scale. Real growth occurs much slower than viral articles and gurus would have you believe. It's linear (5, 10, 15) long before it's ever exponential (200, 400, 800).
Experiment! This guide contains proven steps for getting your idea off the ground and in front of the right people. However, there's always room for flexibility and creativity. Ultimately, this is your audience, and you'll develop a sense of how they want to be reached.
How to grow from 0 to 10 email subscribers
The following strategies encourage creators to ask within each of their circles of influence; starting with the people who are most likely to support you and working your way out.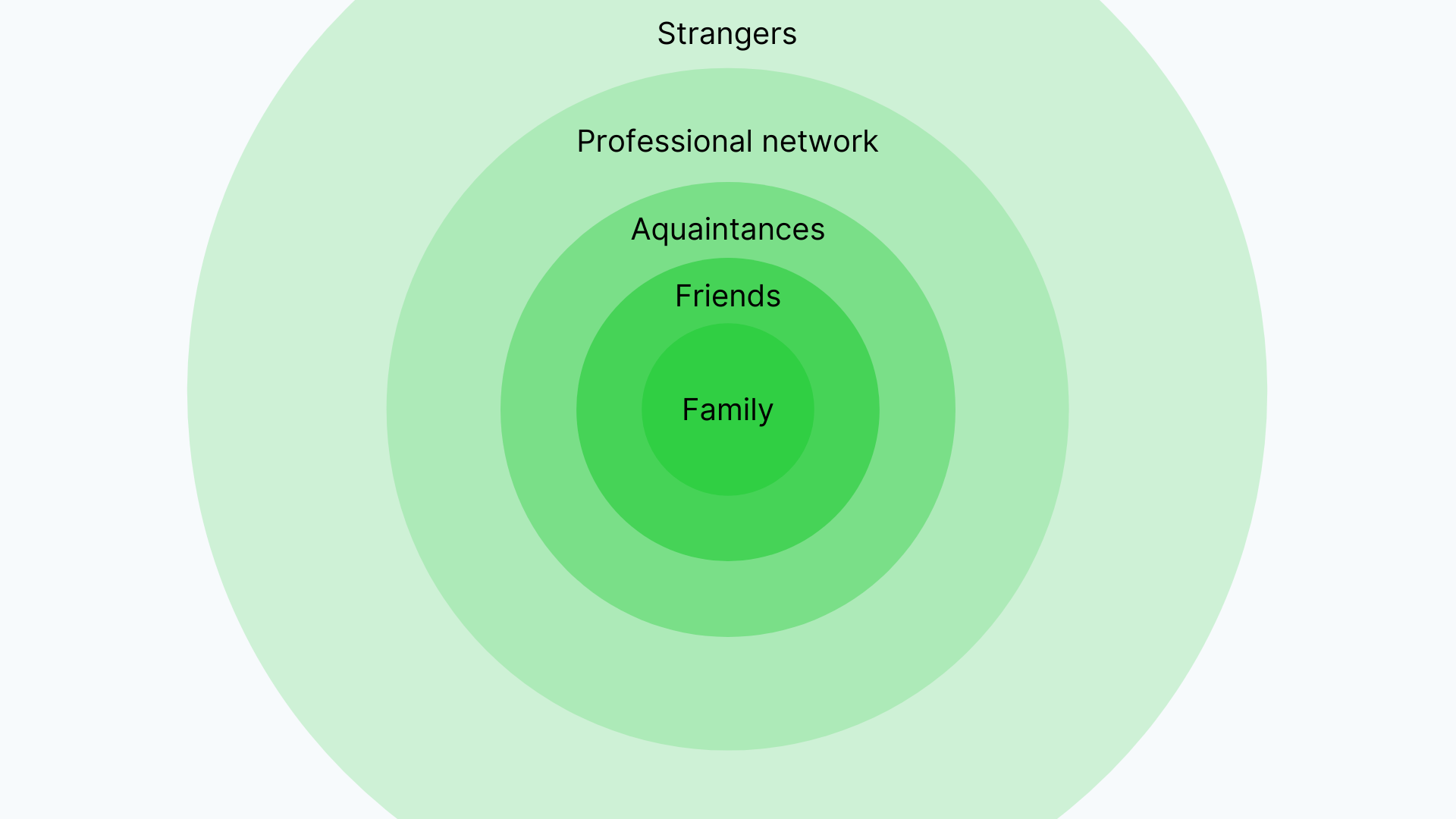 Audience: Friends and family
Format: In-person
Zero is intimidating. You've got content to share but no one to share it with.
The best way to remedy this dilemma and gather your first few subscribers is to invite the people who already support you.
Family members, friends, colleagues, neighbors. People who already know, like, and trust you.
It's okay if some of them may not be a perfect match for the content you're creating. At this stage, the goal is simply to stretch your "asking" muscles and attract a small group of people rooting for your success.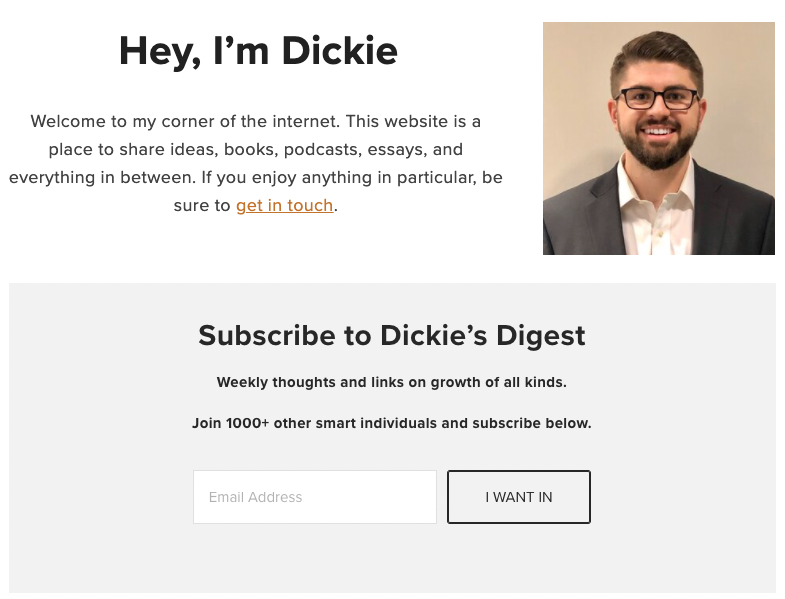 How to grow from 10 to 50 email subscribers
Audience: Coworkers, contacts, and 2nd-degree connections
Format: Individual messages
The next phase requires grit to accelerate growth to the next level.
Here's the premise: almost every Facebook friend, Twitter or Instagram follower, LinkedIn connection, or email contact is a potential subscriber.
However, it's important to avoid the temptation to spam people.
Set aside time each day to craft a few individualized messages to the people who would be most interested in what you're creating, send them off, and respond accordingly. You'll be surprised how many people are willing to support your new project when asked directly.
This strategy takes time, but there are many benefits, such as the opportunity to refine your message, receive valuable feedback, and re-engage relationships with your network that could be even more helpful down the road.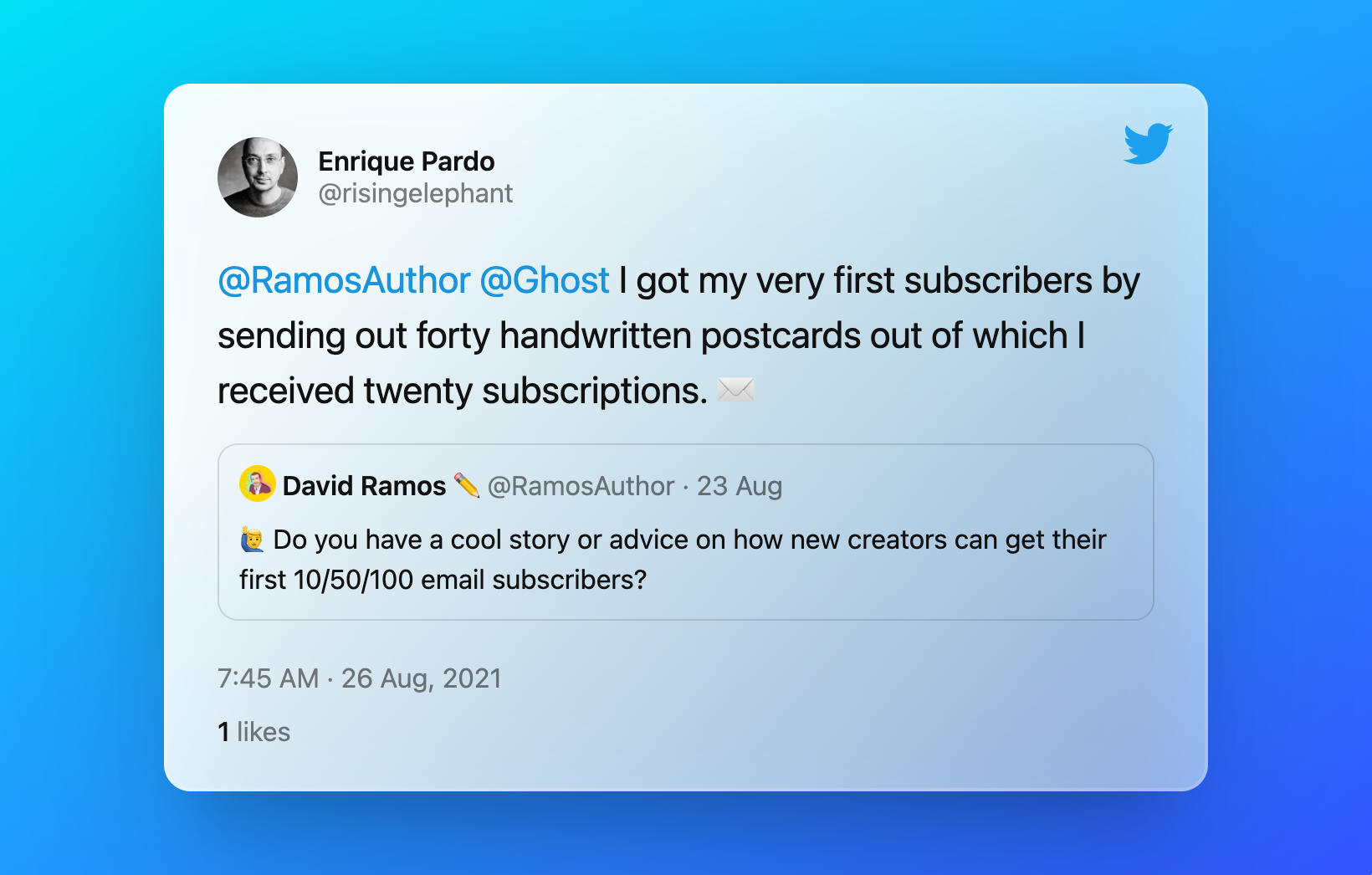 How to grow from 50 to 100 email subscribers
Audience:  Connections in your niche
Format: Individual messages & in-person
With a steady foundation in place, it's time to branch out and start making connections outside of your immediate circle.
Forming relationships with people interested in the same areas will lead to new ideas, opportunities, and growth.
For example, a newsletter about the economy would benefit from connecting with professionals in finance, psychology, and even history. This collection of different viewpoints will be able to offer unique feedback, interesting content ideas, and some may even become subscribers.
For a cuisine-focused publication, befriending restauranteurs, bartenders, or travel bloggers could help you break into burgeoning niches while also planting seeds for future collaborations.
Here are a few ideas on how to get started.
Attend events for your niche.
Conferences, meetups, or digital events are an excellent way to meet like-minded people who might be interested in your work.
Speak to other creators.
The creator economy is unique in that it tends to grow more through cooperation than competition. It's useful to build a support network with like-minded people, which can lead to collaborations, co-marketing, or podcast interviews.
Create shareable content.
One of the most valuable ways to get more people to discover your email newsletter is to create public content on your website that is shareable.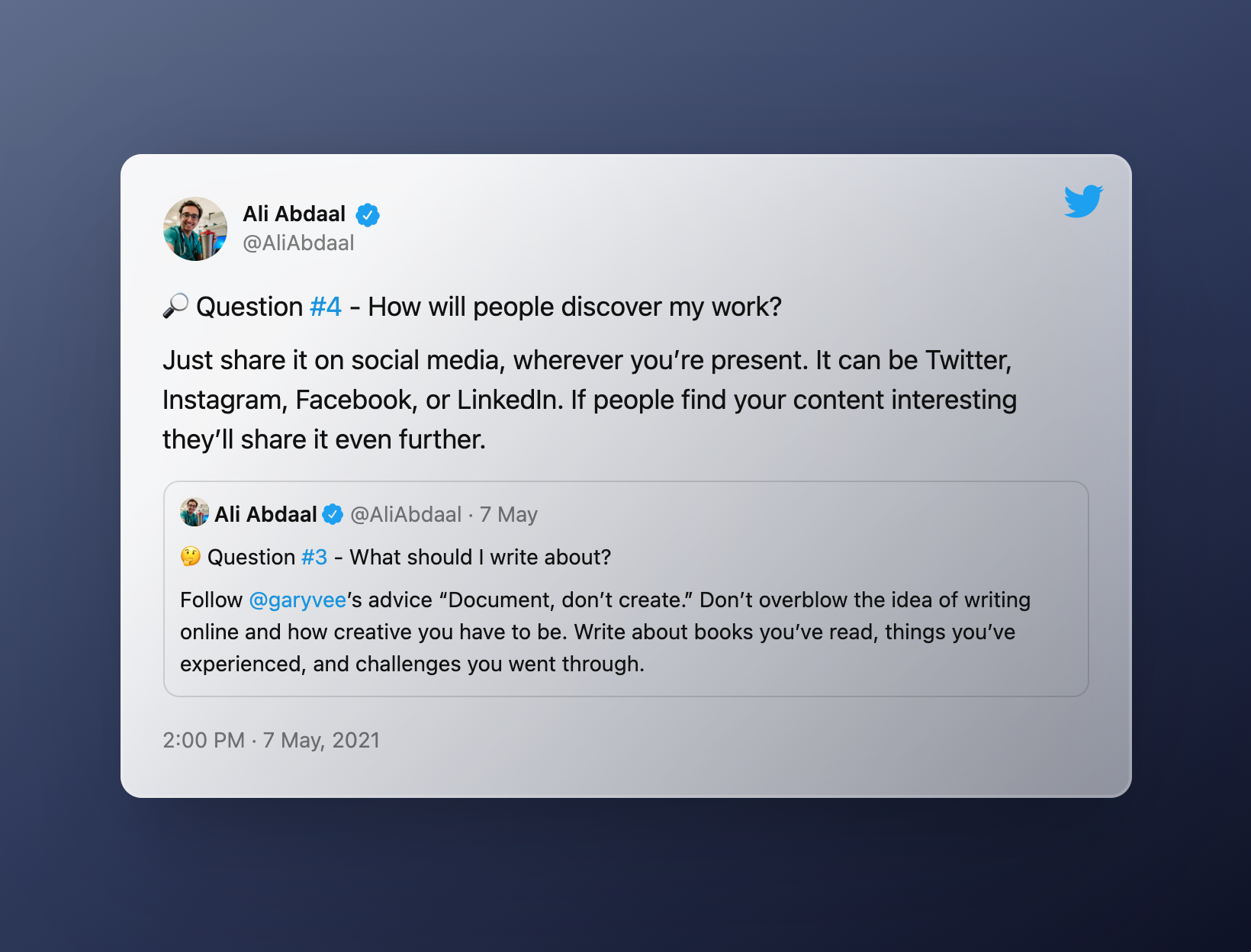 Lay the groundwork for SEO.
Search engine optimization, or the practice of getting Google to recommend your content to searchers, is a long game. Don't overthink this, just get started by writing valuable and unique content about topics your audience find engaging. You can always optimize later.
Ask current subscribers to share your work.
Word-of-mouth is the most effective and trusted form of marketing. That's because trust is a rare and valuable asset, and when people share your work, they're leveraging their own trust in your favor.
You can routinely ask readers to share your writing by adding a call-to-action to either the top or bottom of your posts. Here's how the writer Mark Manson does it.

You can also tie your requests to specific occasions, such as the start of a new month, holiday, business milestone, or date important to your niche.
The more people who know what you do, the better. Don't be afraid to lean on your subscribers and their networks for early expansion.
Growth requires action
Regardless of the milestone you're trying to reach, action is the name of the game.
Creators who get uncomfortable, try new things and ask questions are the ones who reach their 100-subscribers goal and beyond.
Now it's time for you to get to work.
---