A beginner's guide to SEO for publishers and creators
You don't need to be a marketing expert to get started with SEO. Here's how!
---
The benefits of adding SEO to your toolkit as a publisher is that it can be a highly cost-effective and sustainable growth mechanism. It's a way to advertise your content, services or products, without paying for clicks directly.
However, because this is a long-term growth strategy that requires time and patience, many publishers avoid it completely.
The good news is, you don't need to be an experienced marketer to get started with SEO. The following tips provide a recipe for success that is proven for independent publishers.
SEO explained
🔎
Search Engine Optimization is the practice of creating and optimizing content on the web for search engines (primarily Google), with the goal of having your content discovered by people who are searching for specific keywords.
Google's algorithm
Behind the scenes, Google uses a myriad of ranking factors in its algorithm to determine how to provide the best possible search results for their users.
These ranking factors include things like site speed, number of backlinks, relevancy of words and phrases, engagement, and many more.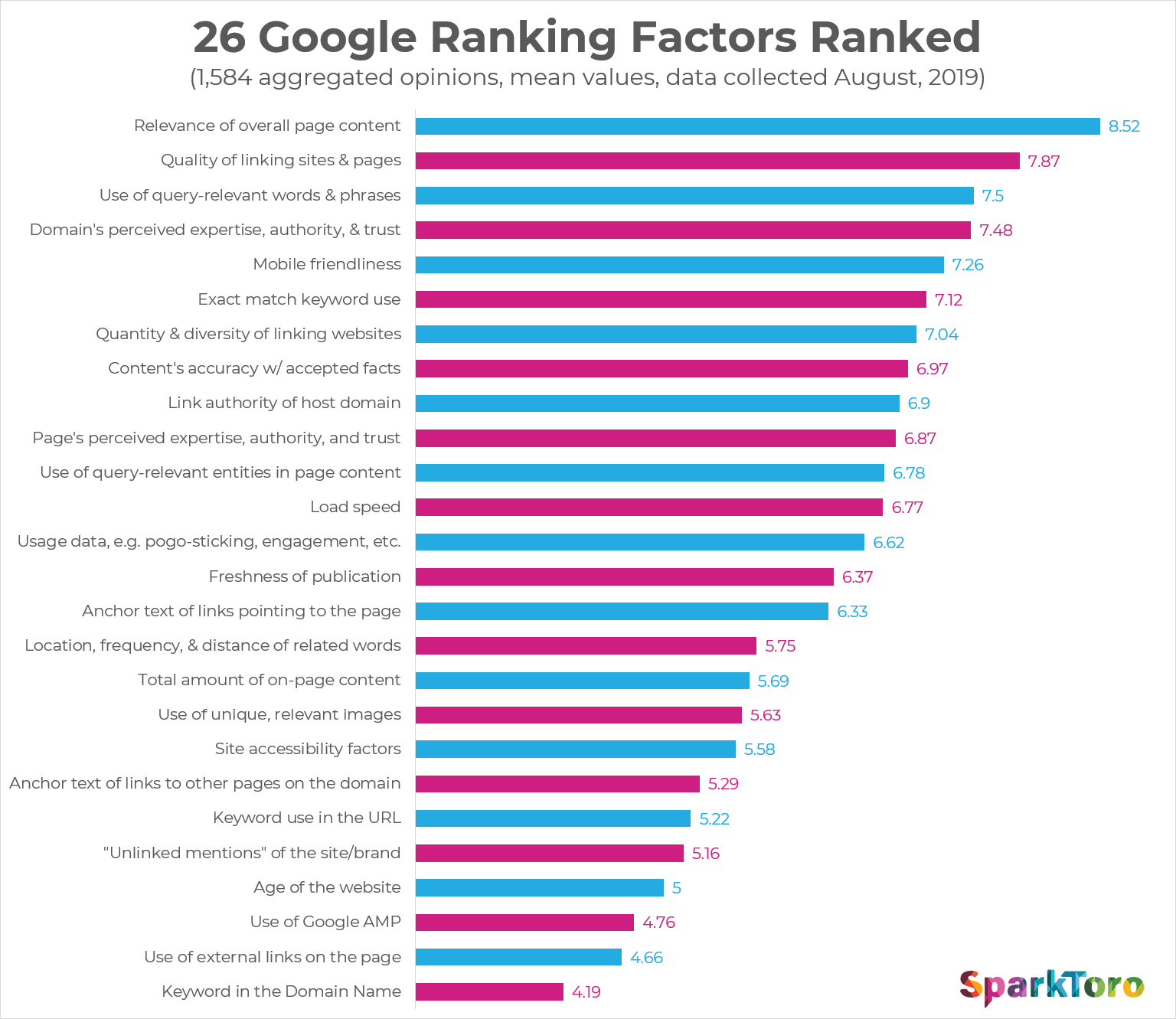 Google's algorithm is always changing and adapting. When you attempt to rank for a specific search term, you're going up against this algorithm, and every other website that is trying to do the same thing.
Competition vs Opportunity
Since some of the most important ranking factors are based on your domain's authority and the number of backlinks you can acquire, this can make SEO feel very daunting for beginners and new publishers.
According to a recent Ahrefs report, it takes an average of 2+ years for content to rank in the top three positions, and only 0.3% of pages ranked in the top 10 spots for high-volume keywords manage to achieve that in under one year.
But it's not all bad news.
In recent years, Google has started to rely heavily on engagement as a key ranking factor, because that is the easiest way for the algorithm to understand whether an article is solving the searcher's problems. This levels the playing field a little for less established websites — providing you're up for the challenge of creating unique and engaging content.
It is also true that each year up to 20% of keywords that people search for are entirely new - which means opportunity is always expanding.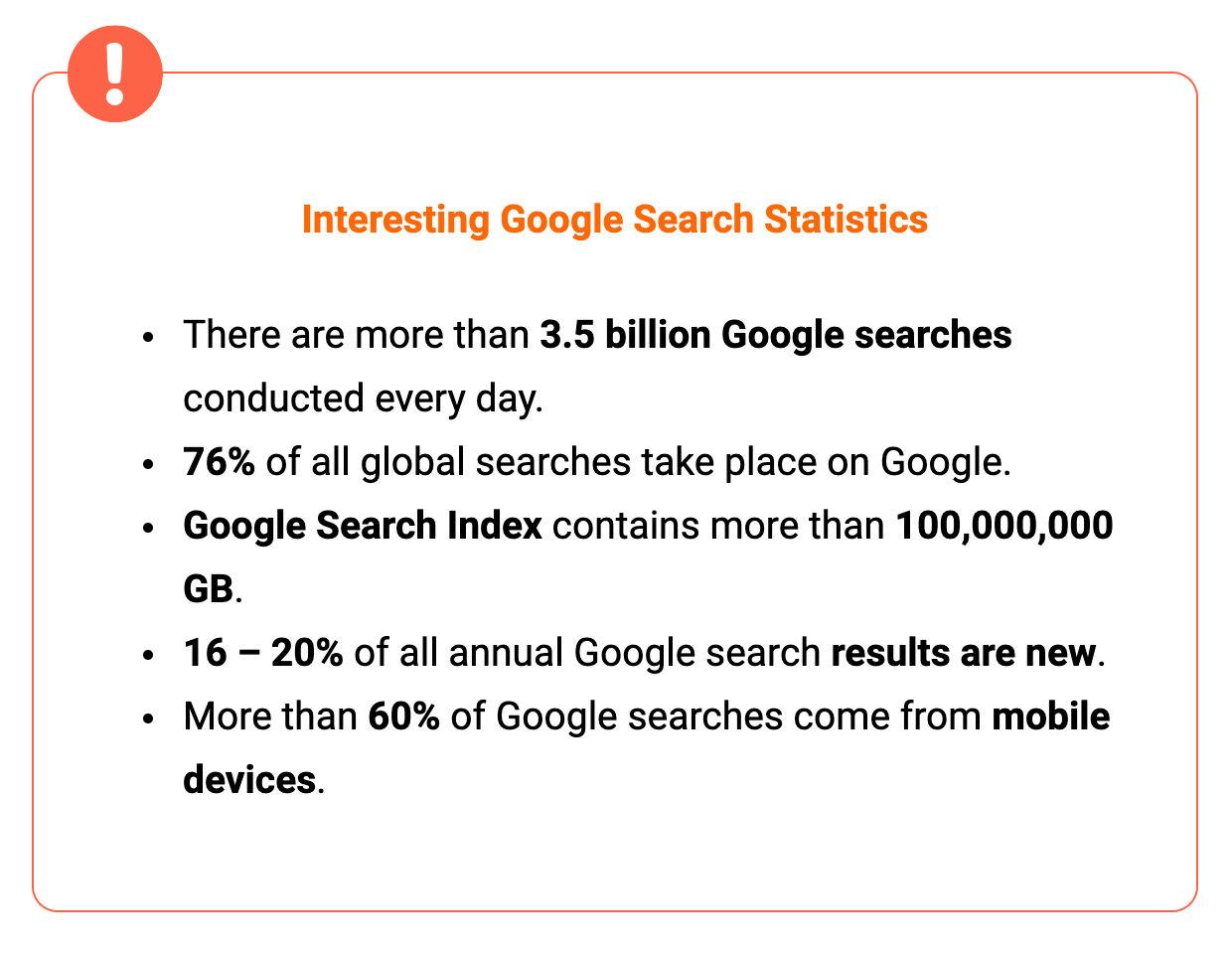 With more than 3.5 billion searches per day, there are a lot of low-volume keywords that are less competitive. As we'll outline further in this resource, that is where you should begin!
5-step process for SEO success
The following 5-step process is sustainable and repeatable, and has proven to be successful for many publishers:
Create unique, engaging and shareable content, focusing on your area of expertise.
Pick a platform that does the technical stuff for you.
Target low-volume/low-difficulty keywords.
Monitor your progress over time.
Iterate!
Let's take a deeper look at each step and what tools you'll need along the way.
#1 Start with what you already know
It's not uncommon to get stuck in the weeds of "SEO research" — only to lose sight of the things you're already good at. To make SEO work, you're going to need to create unique content, and there's no better place to start than with what you already know.
Start by generating a list of content ideas that you feel will be irresistible to your target audience. No idea is a bad idea at this stage — this is your area of expertise, so allow your creativity to lead.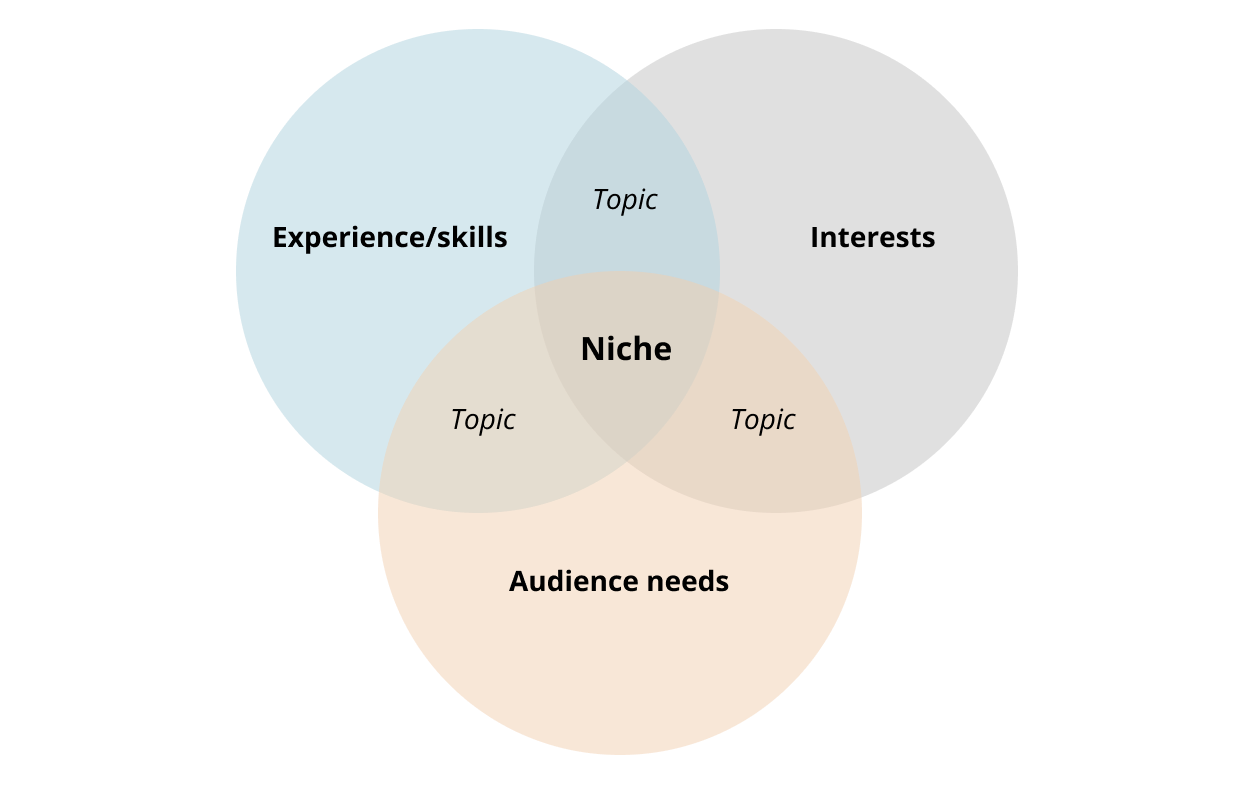 Great SEO content isn't written for robots or algorithms. Quite the opposite. The algorithm is designed to understand what humans who enter words into a search engine want. So the more your content meets the needs of real people who are entering a search query, the better.
Here are some useful questions to ask when coming up with unique content ideas:
What problems can I solve for my readers?
What questions can I answer?
What topics can I provide the most unique insight on?
What do I have the most authority to write about?
What do I have an opinionated stance on?
What is my audience most interested in?
What are the most valuable pieces of content I could create?
Do I already have published work that could be optimized?
#2 Pick a platform that does the hard work for you
The most crucial step before dedicating any time to SEO is to make sure you host content on your own domain, so any investment in SEO will benefit you directly, rather than your platform.
After that, the technical aspects of SEO can and should be handled by your publishing software. This saves you a lot of time, and allows you to focus on what is most important: Creating great content.
When publishing with Ghost, all of the technical pieces you need are taken care of out of the box, without the need for additional plugins or downloads:
XML sitemaps — a sitemap is what Googlebot will use to crawl your website. All Ghost sites have automatically updated sitemaps, just type yoursite.com/sitemap.xml into your browser to check it out.
Custom meta data — Adding custom meta data for your posts is recommended. Though Google may not always choose to use it, you can view this as your opportunity to encourage searchers to click on your website from the search results page.
Canonical tags — Every time you publish an original piece of content, Ghost automatically adds a rel=canonical tag, which tells Google your URL is the original source.
Site performance — Ghost is powered by a modern technology stack and themes have clean semantic markup. This means it performs very well. Independent tests have found Ghost to be up to 1,900% faster than WordPress.
Structured Data — Structured data is automatically implemented on your Ghost publication, to help Google understand the content on the page.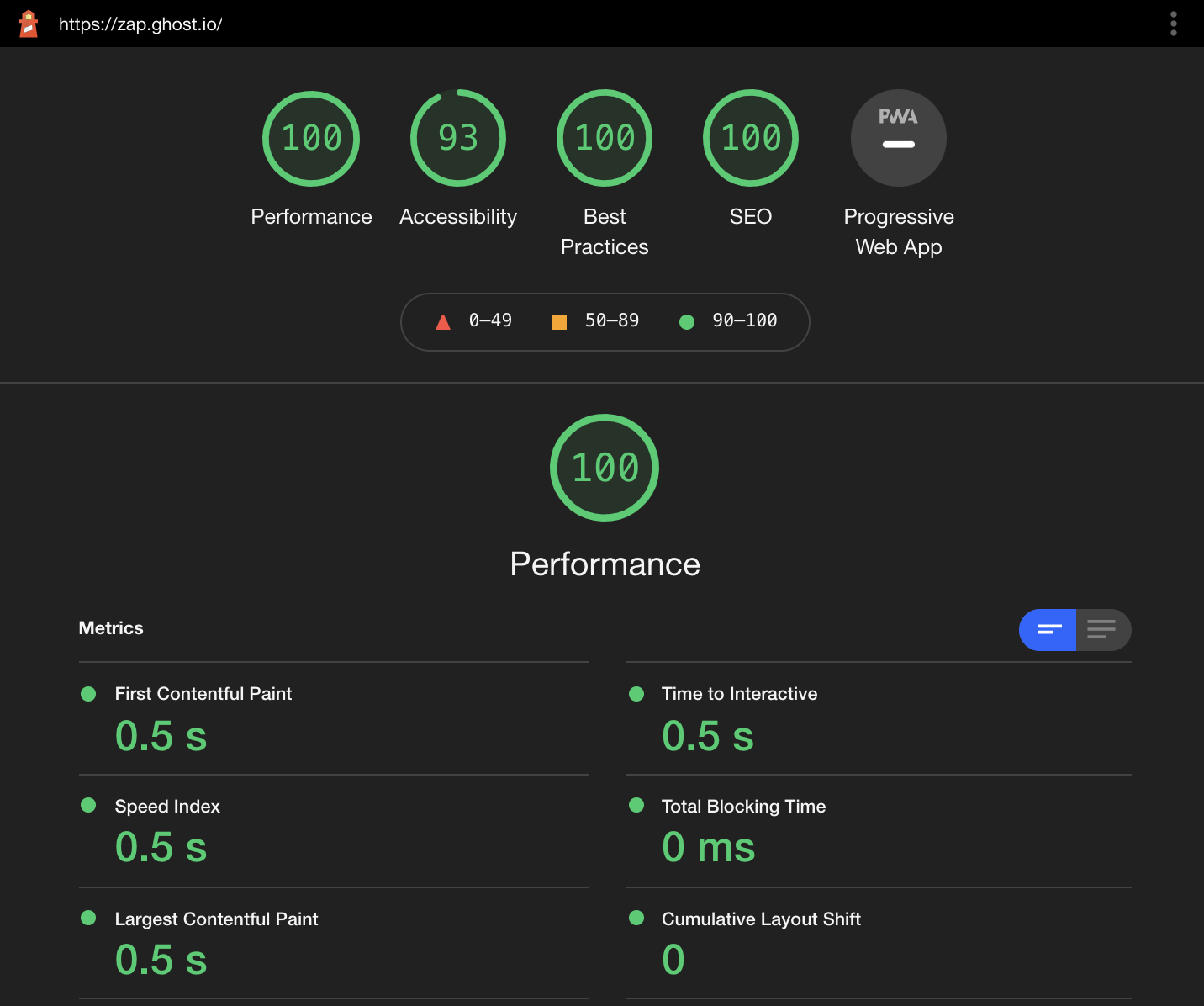 A baseline Ghost publication performs very well in site performance audits. Providing you use a well designed theme, and keep the number of external scripts and large files to a minimum, you'll benefit from great site speeds.
#3 Target low competition keywords
Now you've got some content ideas and an SEO-friendly publishing platform, it's time to research what keywords you're going to target, and then put that research into action.
Having content ideas in place serves as a great starting point, because you already know where you can offer value. From here, you need to identify:
Keywords — Find out what keywords people are already using, that you're able to target (low-volume, low-competition).
Search intent — Understand what people are actually looking for when they use those search queries, so you can create accordingly.
Competition — Discover who already ranks for these keywords, so you know what you're up against.
Ideally, you'll want to invest in an SEO tool to help you do this research. Ahrefs is the best tool in the industry to audit your website, perform competitor research, and do keyword research. They also have several free tools that you can use. If Ahrefs is outside of your price range, you could check out alternatives such as Ubersuggest, Mangools or Majestic.
Let's walk through an example of how to do this research.
Keywords
In this example, the niche is productivity and remote work, and the content idea is to write an article about how remote workers can communicate effectively.
To begin, let's try communication at work as the keyword, using the Ahrefs Keyword Explorer tool: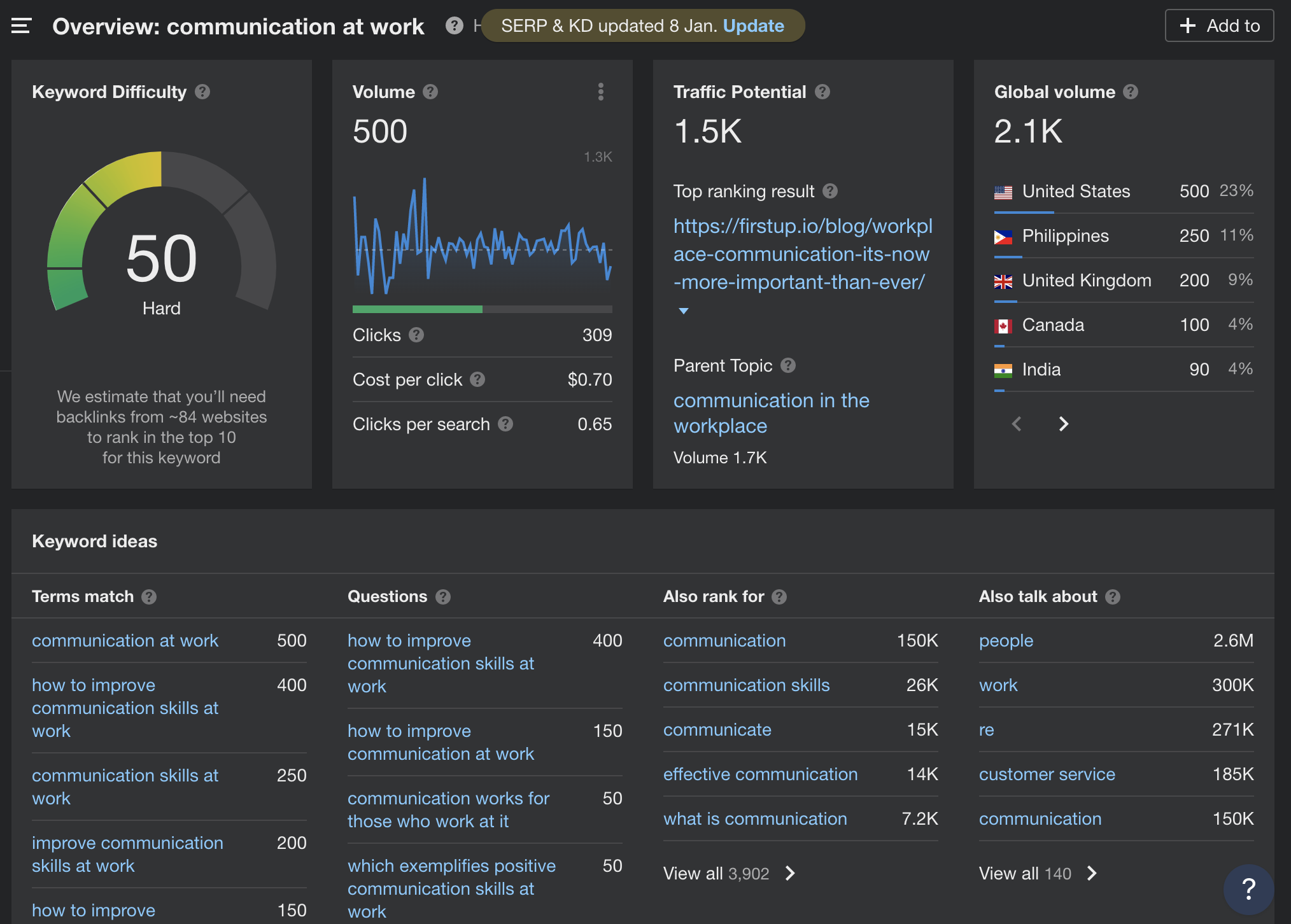 As expected, this keyword has pretty high volume (2.1k searches per month worldwide), with a keyword difficulty of hard. Ahrefs estimates that I would need backlinks from ~84 websites to rank in the top 10. Not only that, this keyword is not relevant enough for the content idea in this example.
Now let's try remote work communication: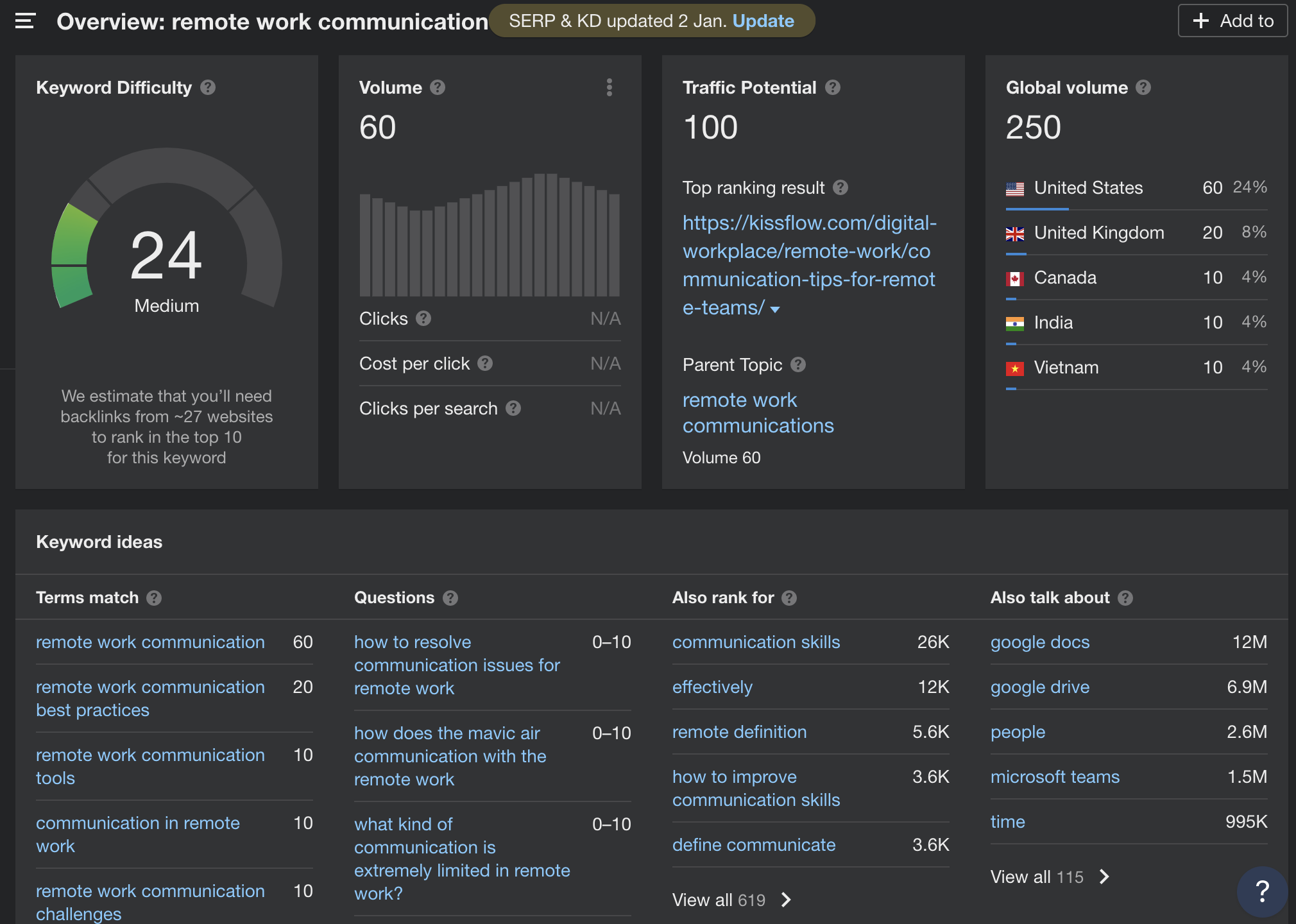 Already, this brings up keyword ideas with lower volumes and difficulties. By continuing to follow the breadcrumbs of suggested terms, you can formulate a list of keyword ideas:
| | Global monthly volume | Difficulty |
| --- | --- | --- |
| communication at work | 2,100 | Hard |
| how to improve communication skills at work | 1,300 | Hard |
| how to improve communication at work | 300 | Medium |
| remote work communication | 250 | Medium |
| remote work communication best practices | 20 | Hard |
| remote communication | 1,100 | Medium |
| how can virtual leaders ensure effective communication with remote workers | 30 | Medium |
| what is remote communication | 60 | Easy |
| remote working communication tips | 20 | Easy |
| team communication | 1,400 | Medium |
| effective team communication | 800 | Hard |
| remote team building | 1,900 | Hard |
Compiling a list is useful, because it helps determine what we might use as the primary and tertiary keywords. Articles usually rank for more than one keyword. In some cases, they may actually end up ranking for a keyword you didn't expect.
This list is a great way to compare and contrast what keywords you want to target, and which terms you might consider weaving into the content.
🎓
Predict the longevity of the keywords you want to target by seeing how they are trending over time using Google Trends.
Search intent
Search intent is how the Google algorithm interprets what people are searching for, or what problem they are seeking to solve, when they enter a search query. Google's goal is to understand what most users want when searching, so they can provide the best overall experience.
Most people who use Google aren't clear about their search intent, and many keywords and phrases can have multiple meanings. Google's algorithm is always working hard to read between those lines, and makes decisions on behalf of their users in order to serve up a useful results page. This is important for you to understand, because you want your content to end up on that search page.
Let's try this out.

In the keyword list above, there are two options that align with the content idea, aren't too competitive, and have some monthly volume: remote work communication and remote communication.
Entering these keywords in Google gleans an insight into what types of content Google has decided match their search intent: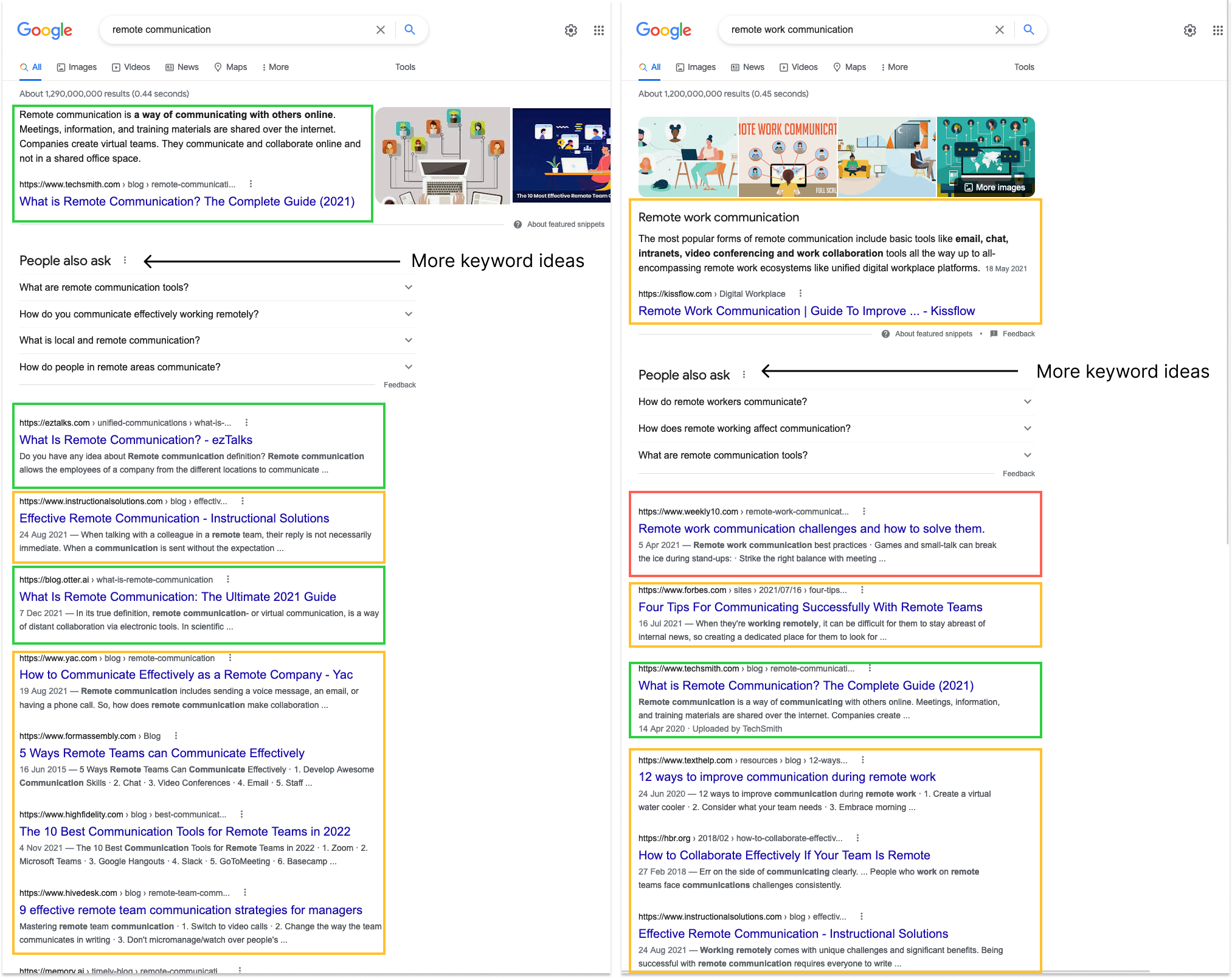 Both of the search results pages for these terms provide a hybrid of results:
Answering a question: "What is remote work communication?"
Informational how-to guides: "How to communicate effectively as a remote company"
Problem solving: "Remote work communication challenges and how to solve them"
A hybrid results page like this is great, because it gives you multiple avenues to explore with your content.
If a results page consists of only one type of content, that usually indicates the algorithm has a narrower view of what people are looking for when using that query. In other words, you'd need to create similar content to compete.
At this point, we can assess if the search intent matches our content idea and what we have to offer. If the answer is "yes", let's check out the competition.
🎓
Tip: It is normal for rankings to fluctuate. They also won't always appear in the same order for everyone, since Google adjusts this according to your search history and location.
Competition
Let's take this one step further by looking at some of the top ranking articles in Ahrefs. Here's the article that ranks in the top position for the keyword remote communication: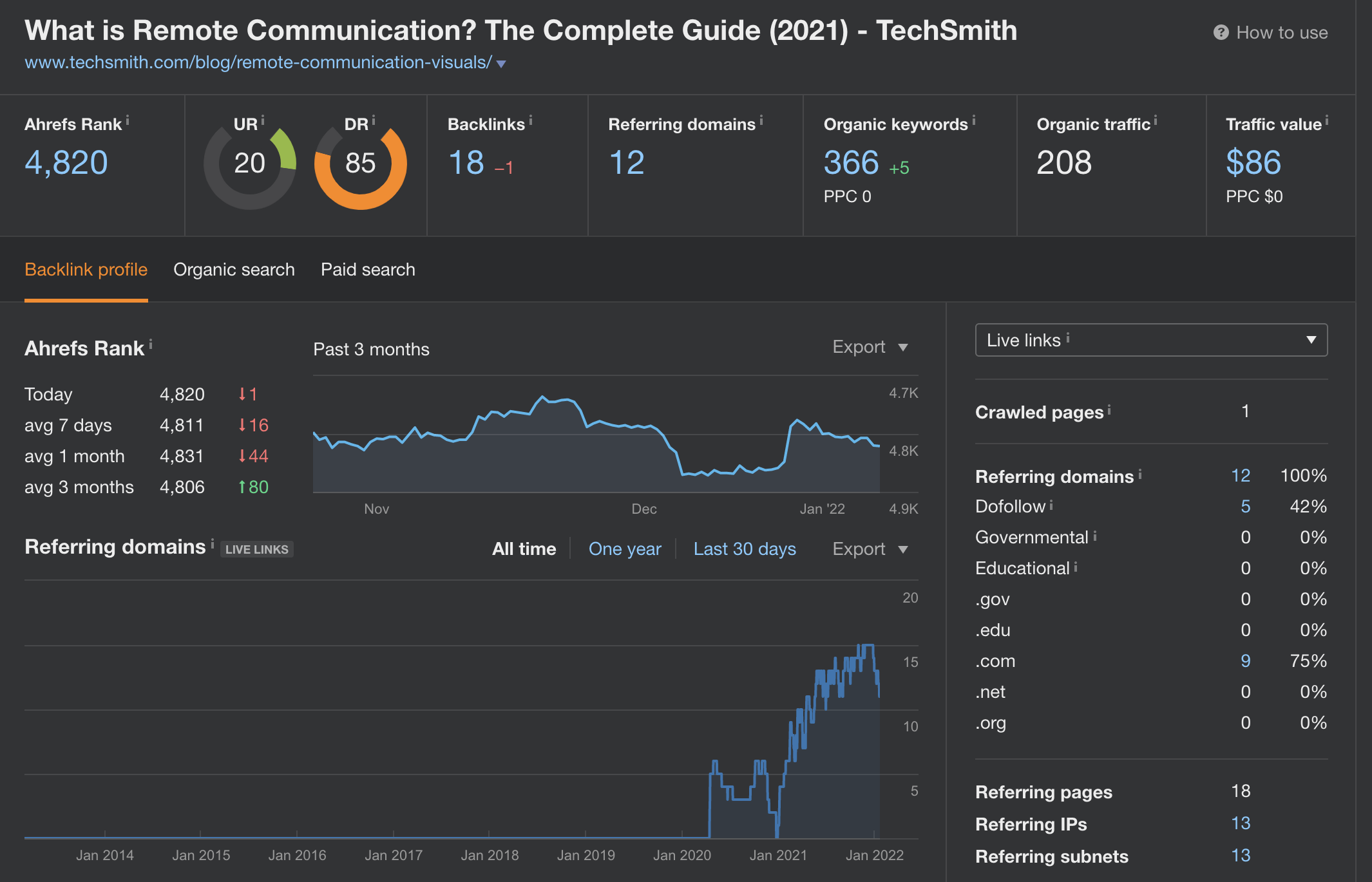 From here we can see the top ranking website's domain rank (DR), URL rank (UR) and number of backlinks.
By repeating this exercise with all of the articles on the first page, you'll quickly be able to assess what you're up against, and compare and contrast to your own site's metrics.
It's not a hard rule that you must have a stronger domain with more backlinks, but ideally you'll be in the same ballpark as your competition.
Clicking on the number of organic keywords this URL ranks for brings even more insights: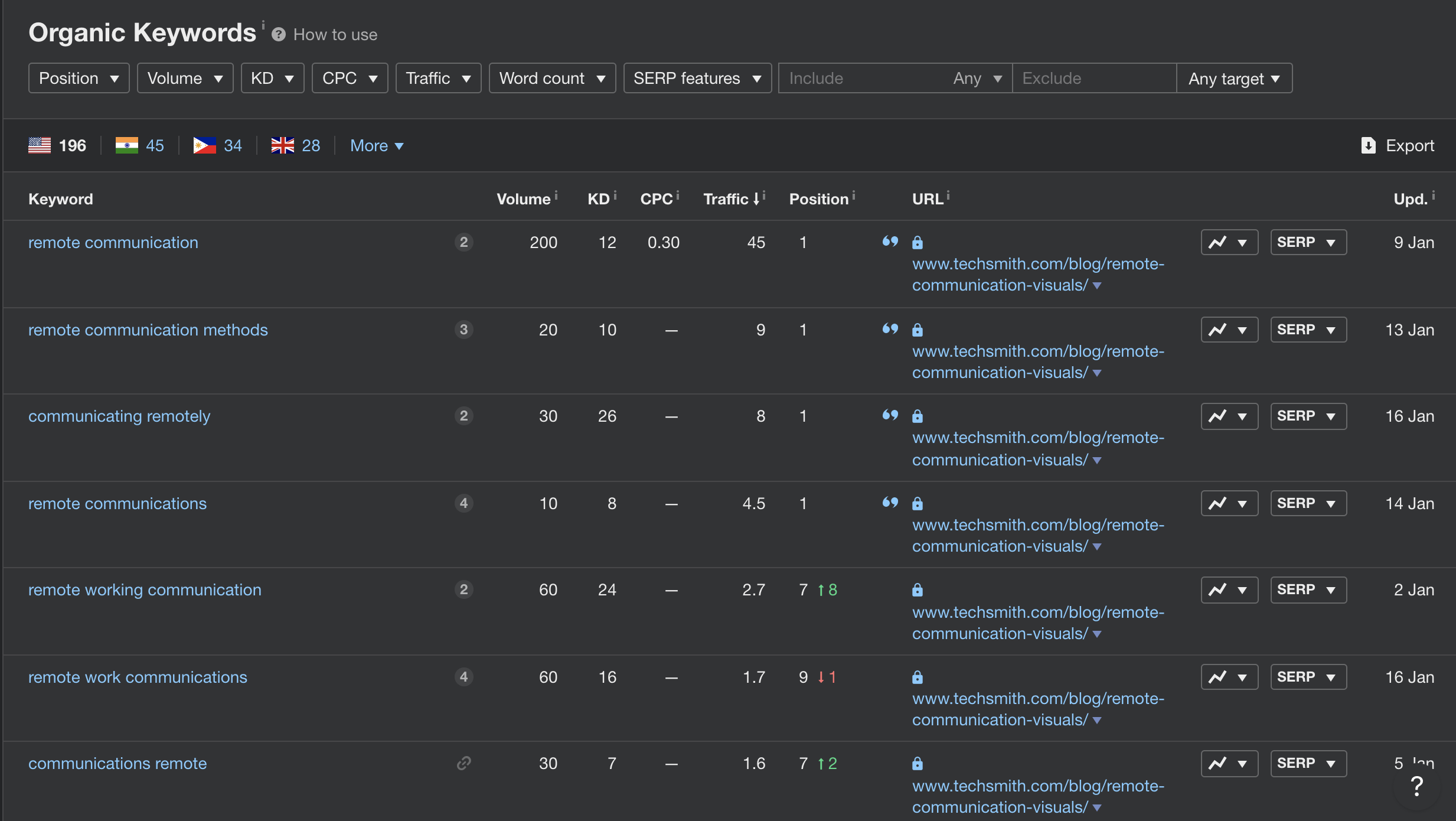 Here we can see that this page is in the top 10 position for several other keywords that we haven't unearthed in our research: remote communication methods and communicating remotely.
These new keyword ideas can be added to the list, and this whole process can be repeated until you've found a primary keyword that meets the following criteria:
Low volume, but not too low. Typically between 40-400 searches per month, but your mileage my vary depending on the topic and keyword you're targeting.
Has a level of competition that you're comfortable going up against — ideally with one or more results on the first page that have similar domain authority to your own.
Is highly relevant to your content idea and what you have to offer.
Creating your article
Once you've identified the primary keyword, it's time to put your research into action. Here's a few principles to follow:
Create a piece of content that truly delivers on the search intent.
Review the competition's articles, and aim to create something that is different, or better, than what ranks on the first page of results.
When possible, include your primary keyword in the title, URL, content and meta data of your article.
#4 Monitor long-term results
The hard part is done. Now it's time to wait and monitor. If you're using a paid tool, you can add the keyword to their rank tracking tool, to see how things are shifting:

Consider implementing Google Search Console, a free tool that helps you measure your site's search traffic performance. Here's a tutorial for integrating search console with a Ghost publication.
The most useful data you'll find is in the Search Results report, which shows you how many impressions and clicks you are getting from Google, with a list of all the search queries people are using to find your content.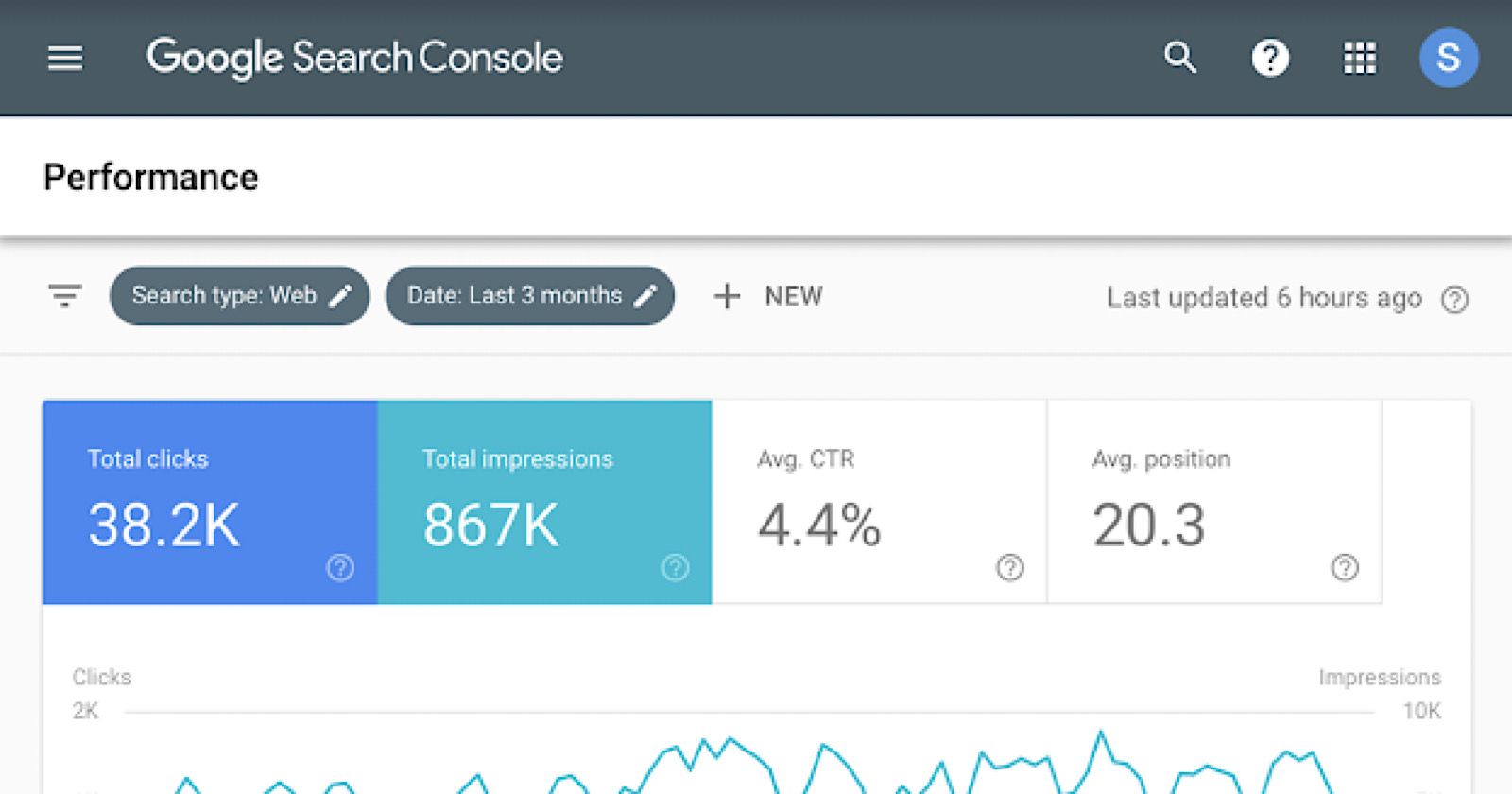 Expect to be monitoring this for the long-term, and aim to check in once a week to keep an eye on things. While you are patiently waiting, a few other things you can do to help give your content a boost include:
Add internal links to your article from other pages on your site (always recommended).
Distribute your content frequently, to give it an engagement boost.
Check the time on page metrics in your analytics tool of choice. If it's below average for this page, consider updating the content to keep readers hooked.
Ask other publishers in your network to link to your article.
🎓
Tip: As a new website, it's going to take a some time for Google to start ranking and recommending your content (up to a year, or longer). Your focus at the beginning is to produce the highest quality content you can.
#5 Iterate to keep content performing
The final step of the process is to iterate when the results start to appear. As your article (hopefully) climbs the rankings, pay attention to what keywords it is ranking for, and adapt as necessary.
Make sure your content remains fresh and relevant, and update it when needed. Keep adding internal links across your website when the opportunity presents itself, and if possible, attract additional external backlinks.
Meanwhile, as you're waiting for your first optimized article to climb the rankings, you can circle back around to step one and start the entire process again with a new content idea.
Using SEO to grow your audience
SEO is all about following your creativity, doing some research, and taking some informed bets on keywords that you think can drive profitable action for your business.
SEO is a marketing strategy, after all, so you'll want to think about how to use the free traffic you gain from Google to your advantage.
Some common ways to do this include:
Grow your free audience by adding email subscribe CTAs to ranked articles
Promote your paid offering, if you have one
Generate revenue from affiliate marketing, or sponsorships.
Even though you're building a reputation for a domain you own, Google does still control the algorithm, and often make updates that can cause major fluctuations. For that reason, it's always useful to diversify. This is just one of the tools in your toolkit.
---
Final words
If you're a solo publisher, or a small team, the most important thing to do is to keep it sustainable by following your creativity. Chances are, you already have a great idea — all you need to add is a little bit of SEO research.
Remember: Start small, wait, and then iterate.
---