The ultimate creators guide to membership websites
A membership website is the core component of launching a creator economy business.
---
The recurring revenue business model that has sustained the software industry for many years has now been unlocked for creators, who can harness this model using a membership website to manage their business.
A membership site gives you the ability to publish gated content, and charge a recurring fee, so your most loyal readers and fans can support your work.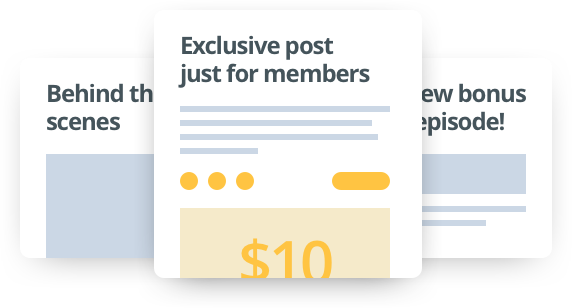 Creators, writers and journalists using memberships and subscriptions are generating $thousands+ in predictable revenue per month! It's the same principle used by creators on Patreon as well as many other independent publishers, such as Stratechery and The Information.
Who are membership websites for?
Anyone who wants to build a business around their content or creative work can benefit from a membership website. Including but not limited to: writers, bloggers, journalists, podcasters, video creators and newsletter authors.
What ever you're creating – if it provides enough value to persuade people to pay for a subscription to access it, then running a membership site that you own is the most effective, long-term solution for your business.
It's also an attractive option for existing creators who are finding it difficult to generate reliable revenue using alternative methods like advertising and affiliates.
What are the benefits?
There are many ways to monetise a website or blog, but selling memberships online has many unique benefits that you won't find elsewhere:
Your revenue is predictable and sustainable
You control everything, without needing to rely on other brands or ads
You don't need a large, broad audience to succeed
Your members belong to a specific niche, make the choice to subscribe, and are genuinely invested in your work
You can build trust and form a relationship with your members
These benefits can't be applied to other models, such as advertising, brand deals or niche affiliate marketing.
How much money can be made?
Let's start with a realistic statement: In order to make money with a membership site, you need to produce something unique that provides value to people. We'll discuss this in more depth later.
Once you've figured out how to provide genuinely valuable content that people want, there really are no limits. You could create a media empire that is entirely powered by member subscriptions, or you could run a small community as a side-project.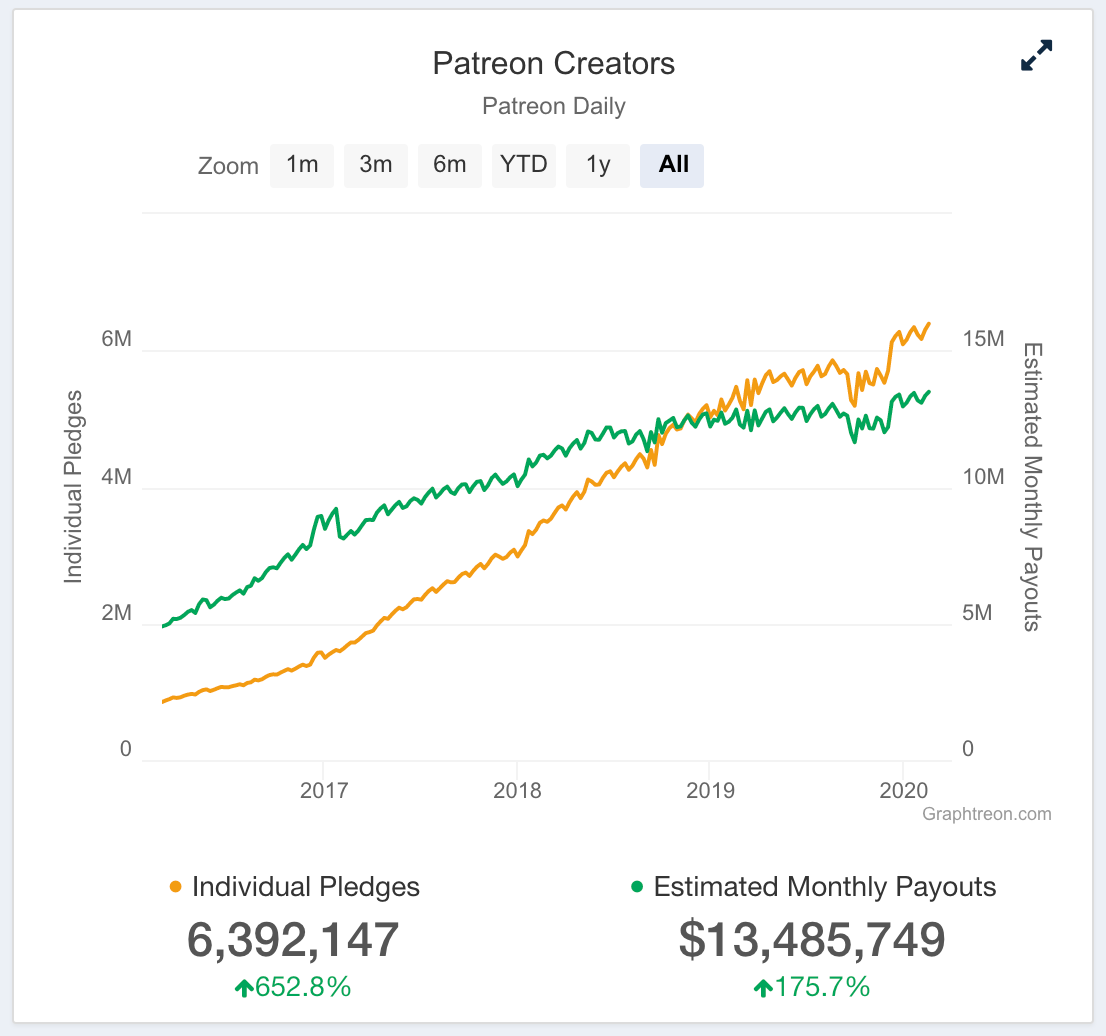 Just take a look at stats on Graphtreon, which showcases estimated earnings of Patreon creators, or at some of the example newsletters in our recent post about premium newsletter businesses.
Contrary to other business models mentioned above, you don't need a huge audience to find success. Many membership websites that exist today only need to convert a small percentage of their readers in order to start generating revenue each month. Use the calculator on our members page to see for yourself.
---
Choosing the right tools
As with any type of online business, you're going to need to rely on some tools. At the very minimum you need a platform or piece of software that will allow you to share content, protect content behind a login and take payments from your members.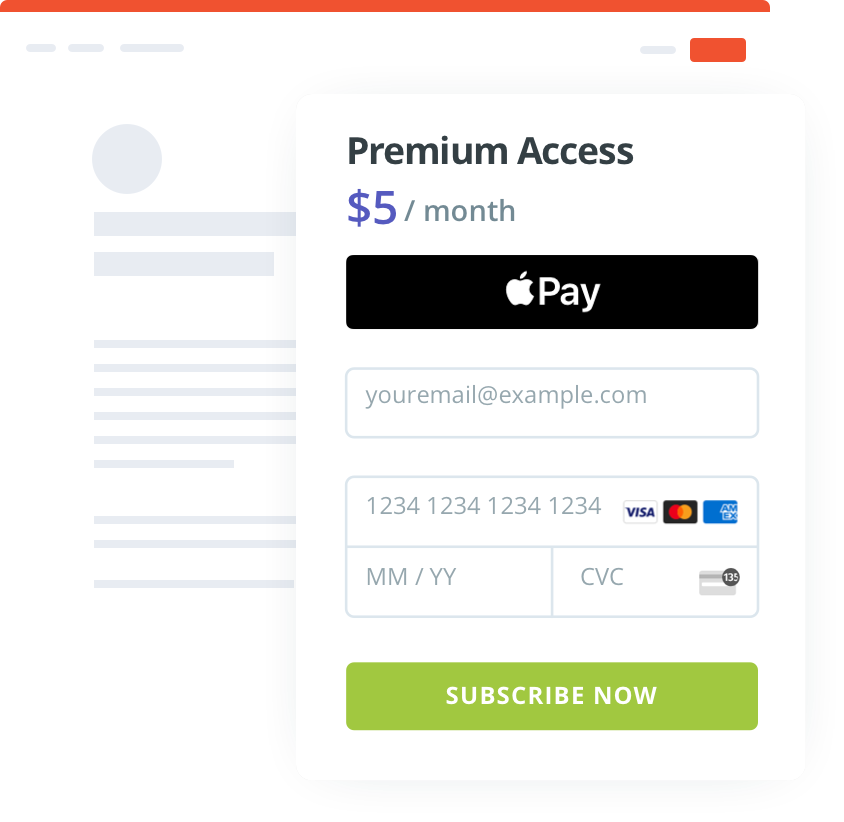 Find a platform that can do everything you need
In reality you're probably going to want a whole lot more functionality than this, such as:
A nice environment to create and edit content
Robust membership management tools
Email newsletters
Custom domains
Custom theme/website
SEO functionality
Integrations or features to support a wide range of additional requirements, such as analytics, social, community & referral programs
Factor in the cost
Other important considerations are how much all of your tools are going to cost each month, and importantly, whether your chosen payment solution takes a percentage of your revenue, and if so, how much!
Do your research
There are a growing number of platforms available to build and manage a membership website, including Ghost. By the time you have finished reading this article you'll probably have a better idea of exactly what features you need, at which point the research process will be much easier. Until then, let's zoom out and explore how to find a niche, build a strategy and launch a membership website.
💡
Ghost compared
: find out how Ghost stacks up compared to other membership site platforms.
---
The importance of uniqueness
Common objections to launching a membership site are usually along the lines of: "I'm not sure if people would pay for my content". It's a valid concern because the truth is, unless you have a unique value proposition, it will indeed be hard to build a business with your content.
Not every article about this subject will tell you this because it sounds too much like hard work, but we like to think of it as a creative challenge that applies to all business owners. The silver lining is that there are literally thousands of niches out there, and each one holds opportunity for creators like you.
Before starting out, spend some time researching how you're going to provide premium content that a specific group of people want to pay for. Here's 3 examples of real membership sites, and a glance at how they're offering something genuinely unique.
The Browser curates reading materials on every imaginable topic

This publisher scours the internet/world for the best and most interesting things to read so you don't have to (saving you time). As they say on their about page, The Browser ensures you "always have something to read on the train and interesting things to share with your friends". They have thousands of subscribers from this very unique approach to curation, entertainment and information sharing.
Hot Pod is the most influential publication about Podcasting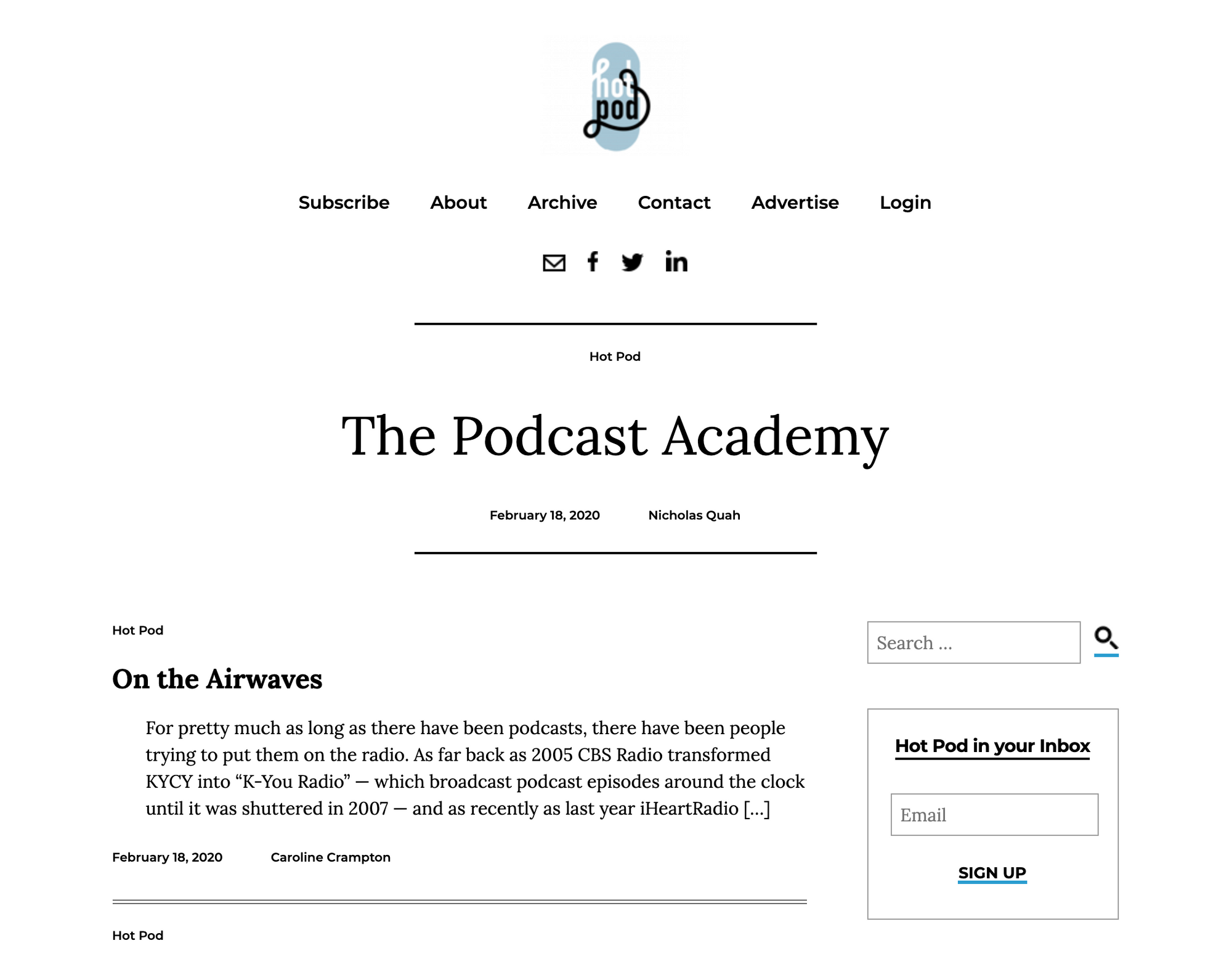 Publisher Nick Quah created Hot Pod to provide analysis and insight about the growing podcast industry, taking advantage of a relatively new niche and providing high-quality information that people within this industry couldn't easily access elsewhere.
Stratechery became the go-to resource for analytical tech industry blog posts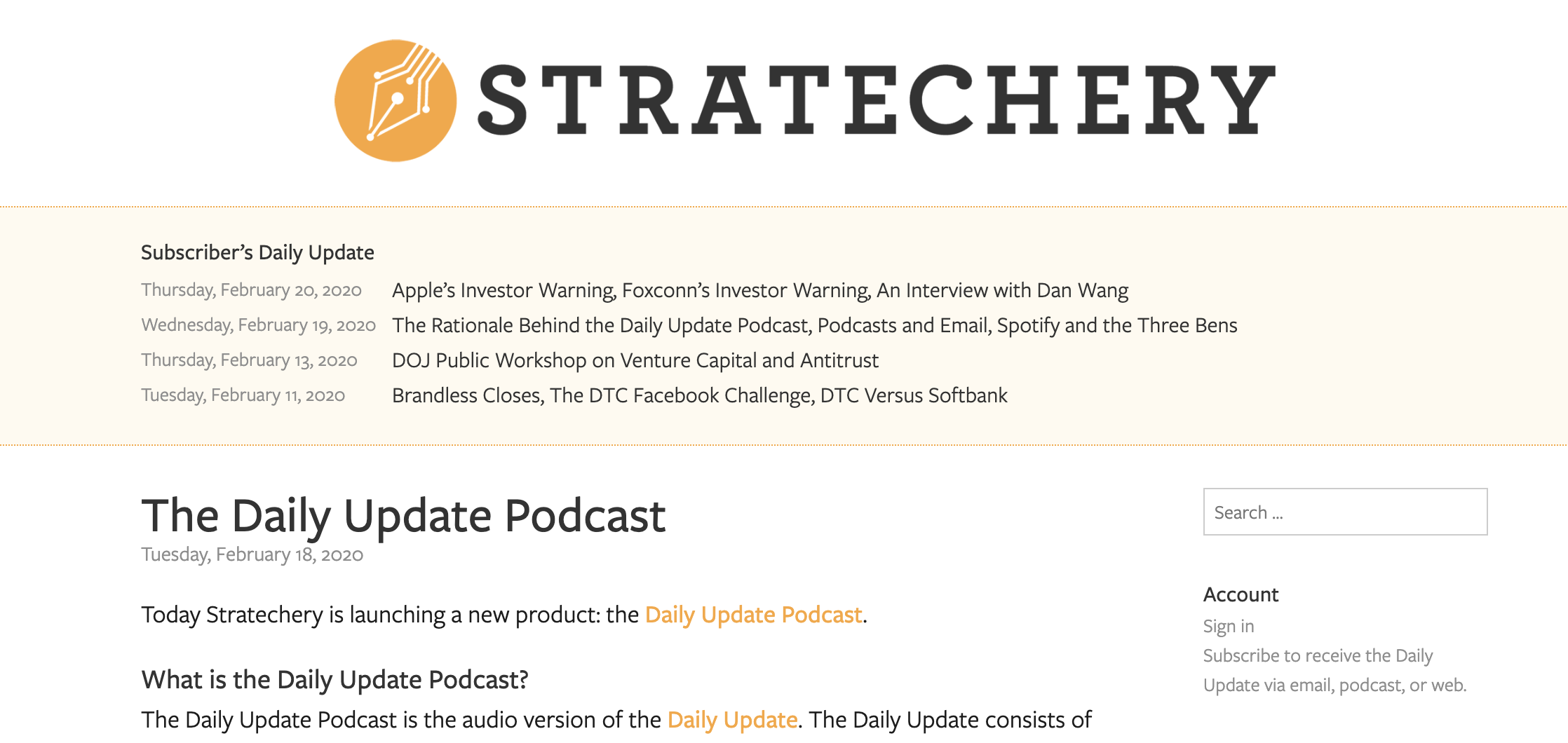 Ben Thompson created Stratechery to provide deep analysis of the strategy and business side of tech & media, and it's impact on society. This unique approach combines a very specific aspect of this niche (strategy + business) with some of the highest quality content available, and has gone on to be one of the most successful examples of a membership business.
Ideas for your own unique offering
There are plenty of examples out there. Most of them fall into one of the following categories:
Offering the best analysis, information and research
Helping people to make better decisions about things like business or politics
Curating content which save time for the reader
Provides entertainment
This list is definitely not exhaustive. How will you differentiate your content?

To go against a lot of advice on the internet – we're not advocating you copy existing membership businesses, you need a unique offering entirely. Even if someone is already doing memberships in your specific niche, you need a new angle that provides your audience with something they simply can't miss out on!
💡
Tip: Searching forums, Quora and Reddit is a great way to find out what people in your niche are really asking for!
---
Membership models & pricing
There's a lot of flexibility with a membership site to provide a variety of content formats and benefits to members. In fact, most membership businesses offer some sort of hybrid approach where paid members have access to several different things.
This can include email newsletters, blog content, reports, videos, podcast episodes, courses, community, open office hours, long-form essays, interviews, music, art, photography... the list goes on!
Using Ghost, creators can combine all kinds of content formats using the editor and rich embeds. Add images, galleries, videos, audio, social cards and much more directly to a post, and then turn it into a member-only post or email it to your subscribers in a few clicks!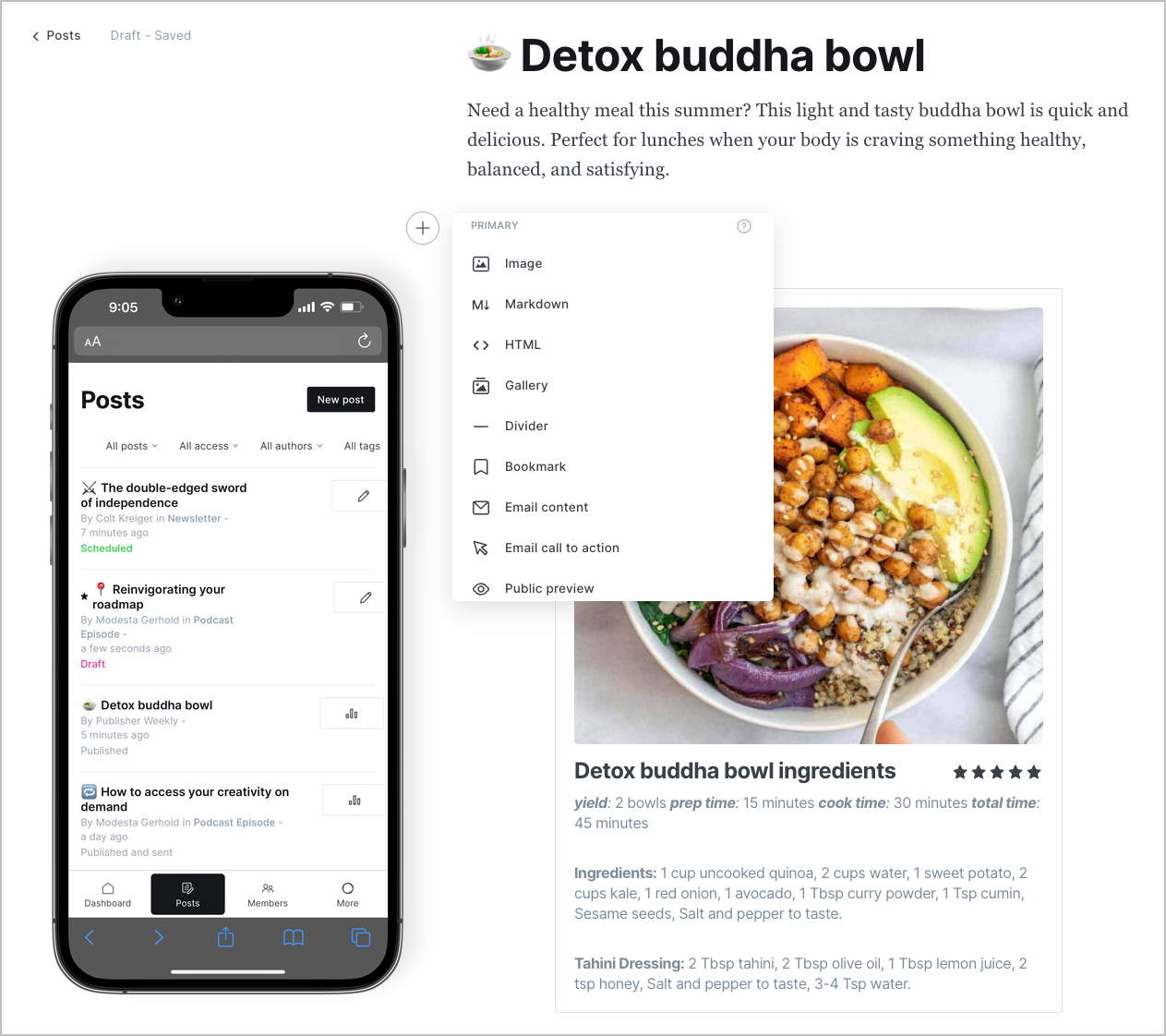 Adopting a hybrid approach gives you the opportunity to provide more value to your members, or even test out something new. It also allows you to consider pricing tiers that offer different benefits. However, we advise to keep pricing as simple as possible, as adding too many tiers can confuse people and drive them away. Decision paralysis is a real thing.
Having the clearest possible value proposition is crucial, especially when getting started, which is why Ghost offers two plan options for monthly and yearly subscriptions by default.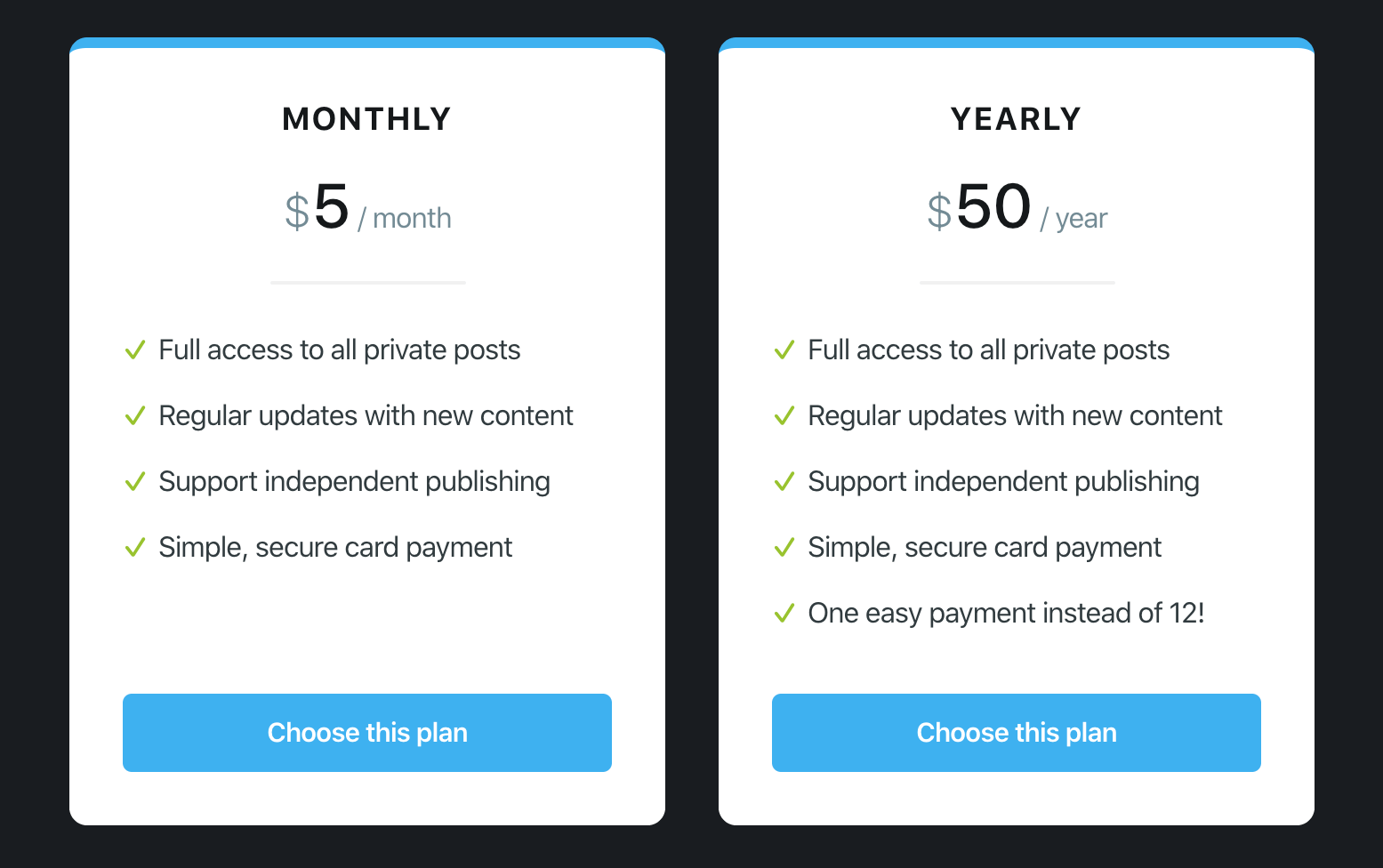 A few other considerations for your membership model pricing:
Pricing is not a set it and forget it thing. Running a business that relies on recurring revenue requires a lot of trial and error. Starting out with early adopter pricing and slowly increasing your prices is a great way to start this process early on.
Most content creators undervalue their work, or suspect that no one will pay for it, which leads to pricing models that are unsustainable. Patreon discourages creators from setting pricing below $5/month.
Figure out how much value you are offering from the get go. Ask your friends or existing readers how much they would pay. Compare the value of your work against what people would be able to access for free. This is actually a great way to iron out your uniqueness. If your conclusion is "people can get this exact content for free", then it's probably time to go back to the drawing board.
Know your audience! This report suggests that the majority of membership businesses charge somewhere between $25-49 per month, and B2B membership businesses are more likely to price over $50 than B2C businesses.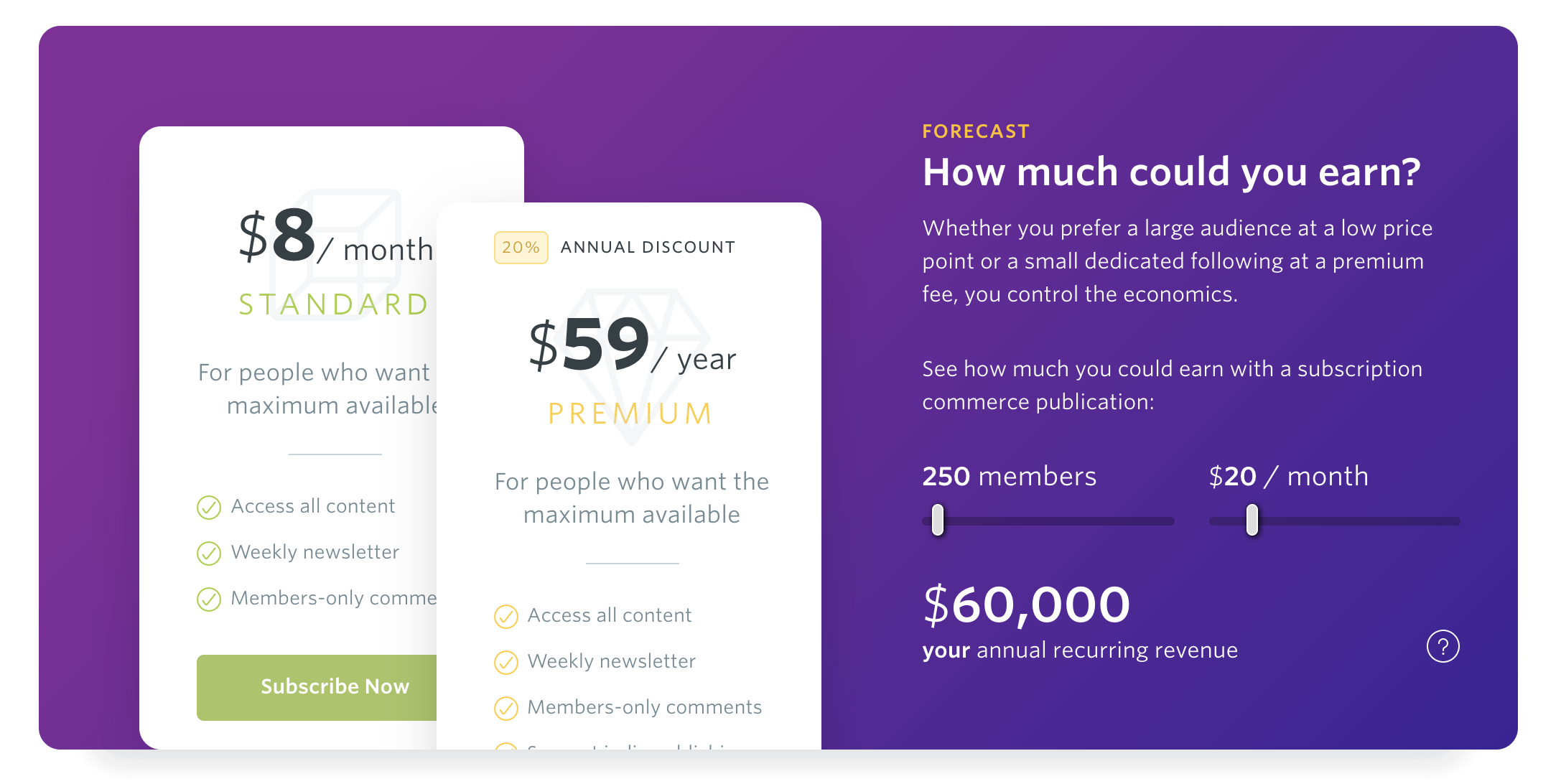 Try working this out backwards. How much do you want to make?
Let's say your goal is $5,000 per month – you'd need 500 members paying $10 a month, or 250 members paying $20 a month. Using this perspective, you start to understand how much value you need to provide and how many members you would require to start hitting your goals.
---
Launching, marketing, and retention
Creating unique content is step 1. Once you have figured that out and picked a platform to power your membership site, you're ready to start putting actions in place to attract a loyal audience. After that, you should start to think about building relationships and retaining your subscribers.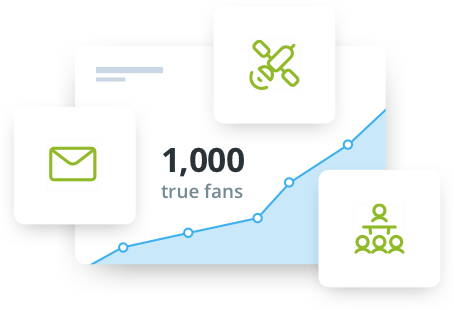 Launching a membership website
By far the most common option is to launch to an existing audience by inviting or importing your subscribers from another website, email subscription list or anywhere else. In addition to this (or if you don't have an existing audience) you can use some combination of the following:
Social media – this works best if you have an existing account with followers
Communities – be careful with self-promotion, but if you're active in relevant communities, you can share your new membership site here
Press outreach – are there existing outlets that might give you coverage?
Crowdfunding – some publishers like The Correspondent use this method to raise funds and run a fully-fledged marketing campaign prior to launching
Early adopter pricing – most membership sites start out with cheaper pricing for their founding members, which is a great way to get started when you haven't yet built a reputation
Especially starting out, it's important to make sure your membership site promotes your content clearly and concisely. Ideally you need a home or an about page and some existing content previews, alongside a very strong call-to-action.
Ghost Members has a purpose-built theme called Lyra which allows you to do all of this in as few steps as creating a site, uploading a theme and configuring your membership & pricing settings.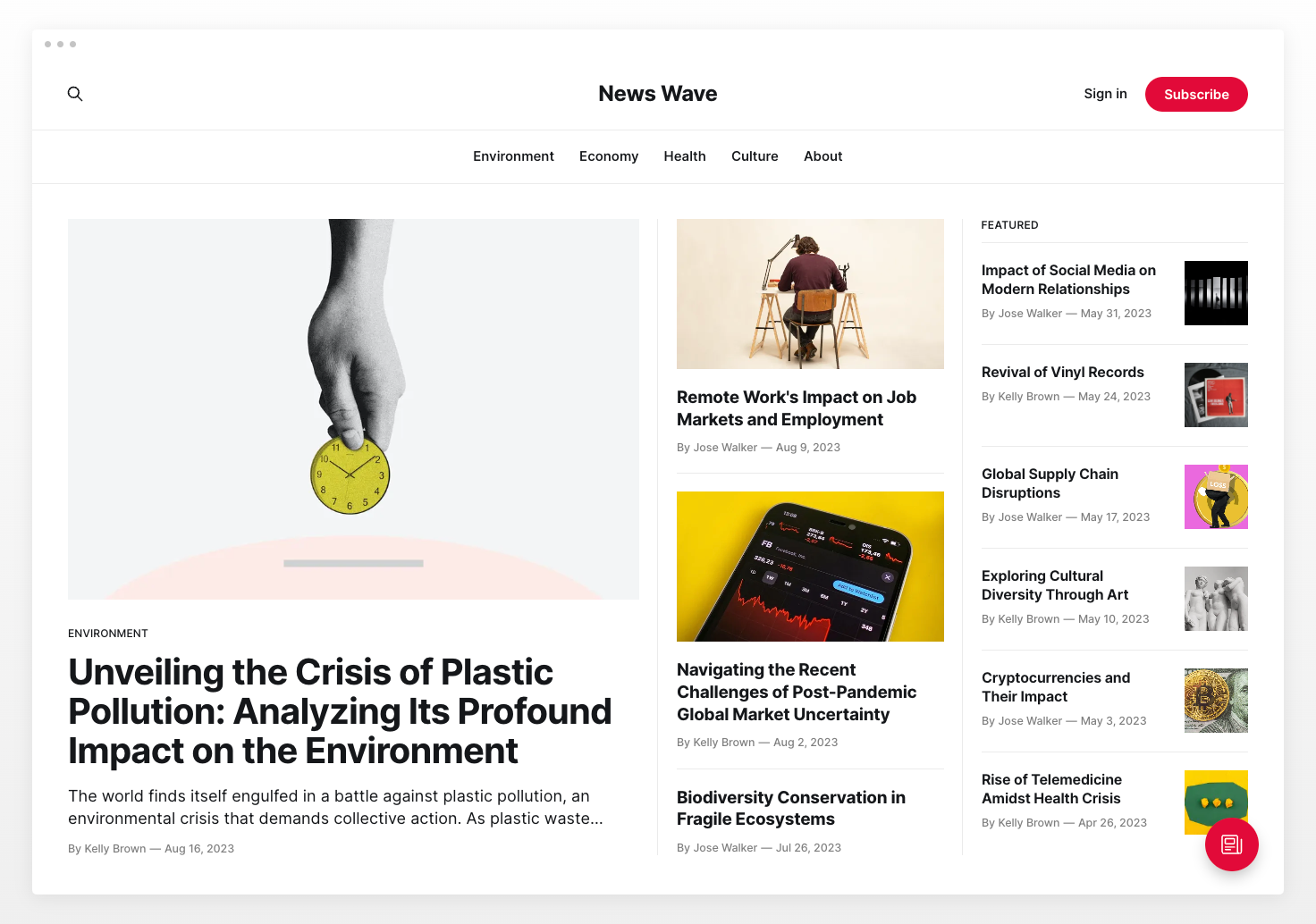 Case study: Rediverge
Rediverge.com was built with Ghost and has a custom homepage to deliver the message of what subscribers will benefit from, with very prominent buttons to subscribe. It was predominantly launched to an existing audience on Twitter, and used early adopter pricing to attract it's first 250 subscribers within a month.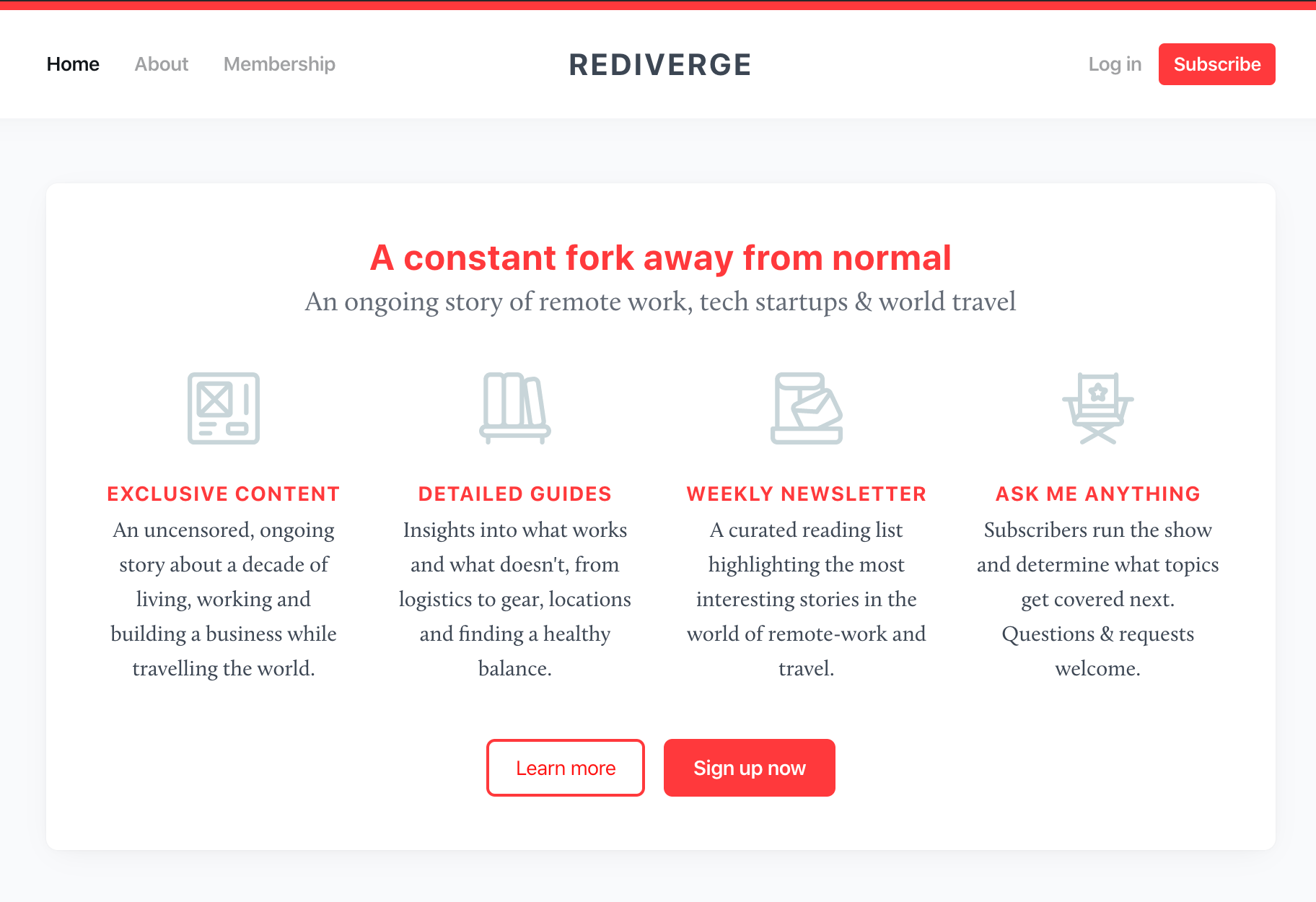 Attracting new members
After the initial launch, you're going to need some tactics to continue to grow a loyal audience. There's several ways to market your membership business, here's some of the most common approaches that you can use.
SEO + public content
Gated premium content is not really designed to perform well in the search engines, since it's secured behind a login. However, not all of your content has to be behind a paywall. This means you can still create SEO content to target relevant keywords and build a reliable source of organic traffic over time.
This is not something that can happen overnight, so it's good to start investing your time in this early on to reap the benefits in the future.
With Ghost you can choose from Public, Members only or Paid-member only content in a single click from each post. Additionally, the platform comes with comprehensive search engine optimisation features, without the need for additional downloads or plugins. All you need to do is bring the content and apply custom meta data!
Remember, each public post also serves as a marketing opportunity for your premium content, so make sure there are clear paths for people to convert from every single piece of content you create.
Email
Another option you have available to you with a membership site is to have both free and paid members. Many publishers use this method to convert their website visitors into leads by offering a free email newsletter which is generally sent less frequently than the paid newsletter.
For example, access levels to content in Ghost can be used to achieve this, and email newsletters can be sent directly to the selected access level in a couple of clicks.
---
---
As with the SEO tactic mentioned above, you should always retain your best and most unique content for paid members. You can also use that content to persuade free members to upgrade to a paid subscription.
The New York Times is one of the most famous news media outlets to use subscriptions on their website, and they use this strategy to great effect. Here's one of their emails to a free member, which is an unapologetic invitation to subscribe.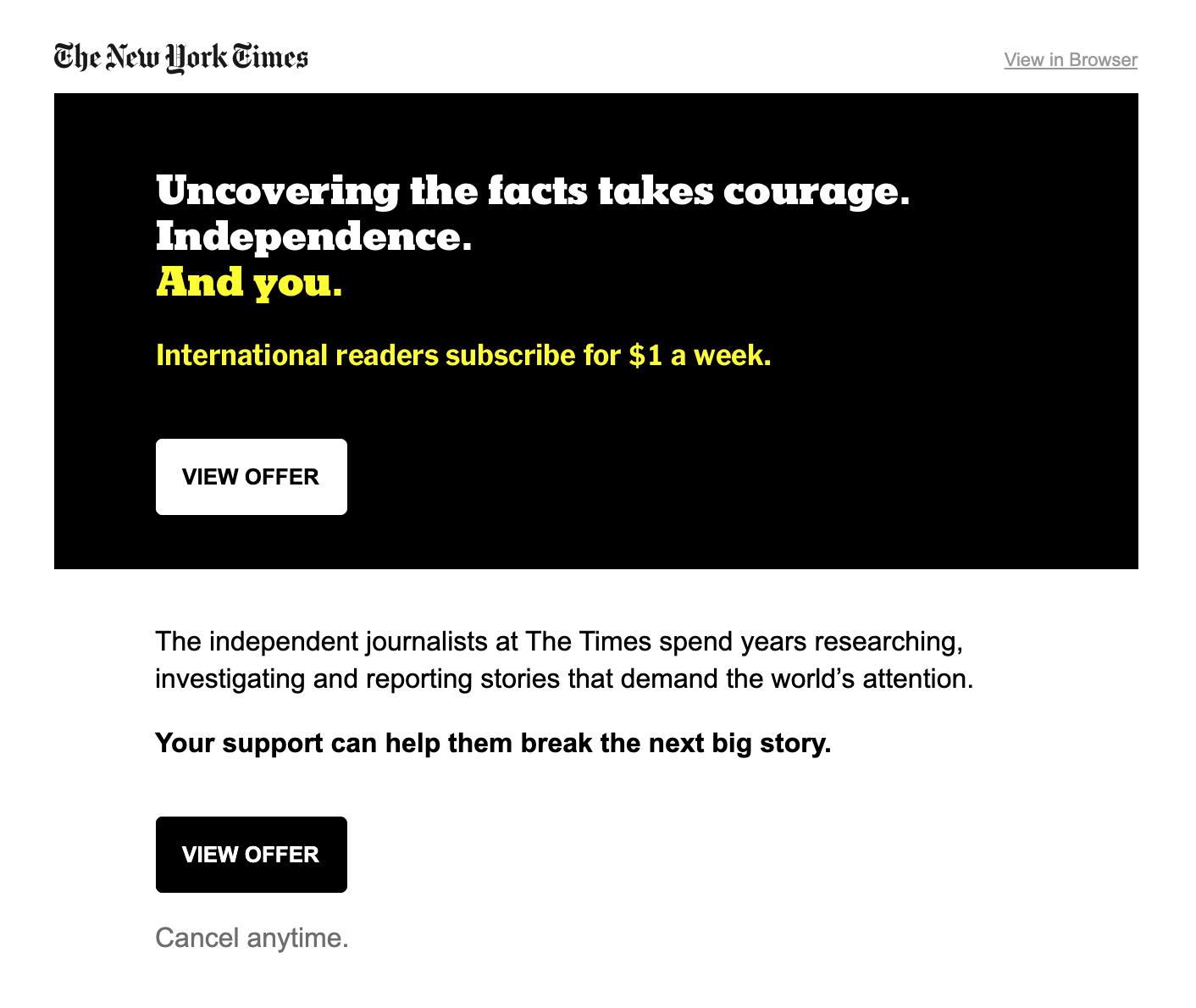 Other ways to promote premium plans to free members is to provide a teaser of what they could access if they subscribed. Let your best content do the talking!
Social
Creating a social account for your membership product, or using a personal account to promote your work is a great way to get noticed, especially if you have an existing audience. If you don't, this is also something to begin spending time on as soon as possible so that you can increase your reach.
💡
Tip: Depending on your niche, you might find that a specific social platform is better suited for you. Find out where your audience hangs out, and make sure you research what other people are doing on social!
Ads
We generally wouldn't recommend using something like Google PPC ads when you're starting out, as they can be very expensive and competitive. Advertising on social media however, can be a good way to build awareness of your membership site with a very specific and targeted group of people. It generally tends to be more cost-effective too!
You can either run ads, or use sponsored posts with public articles on your site. Again, pick the right platform for your niche. Where ever your audience spends the most time is the strongest indicator!
Word of mouth
Your existing members spreading the word about your membership site is probably the most powerful tool you have to market your business. While you can't force them to do this, you can definitely foster this behaviour by asking your biggest fans to share your work, by running a referral program, and by reiterating the value your members are receiving from their subscription in emails.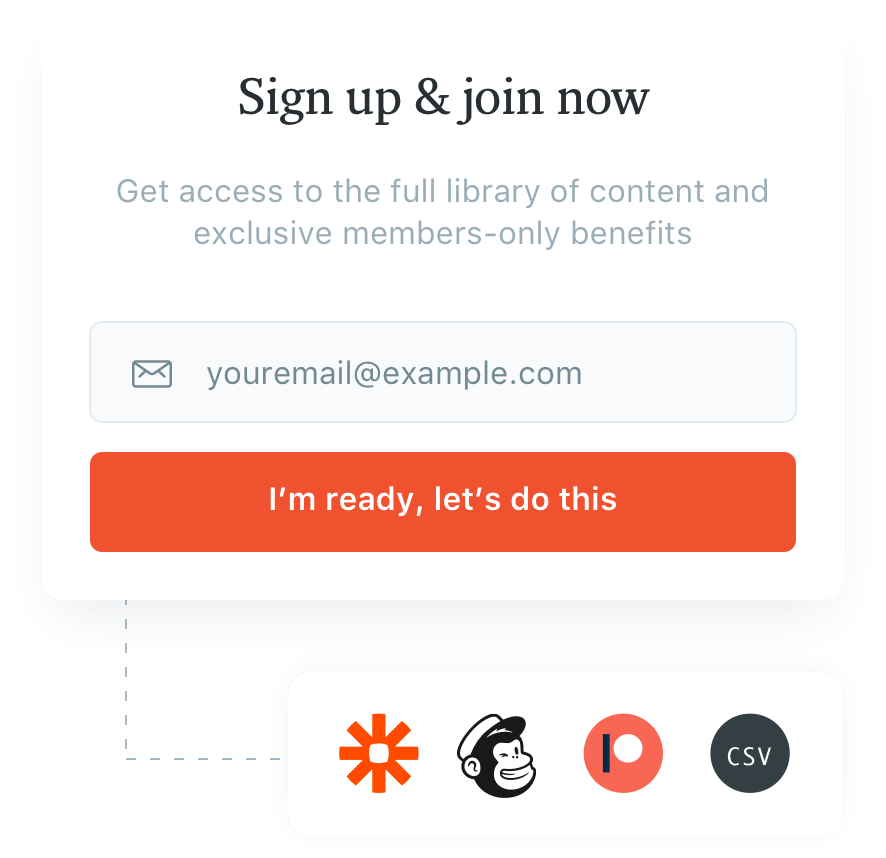 A great benefit of creating unique content for a very specific audience who are interested in a niche topic is that they often talk to each other naturally. Providing your content is worthy, word of mouth will occur naturally.
Building relationships
Now you've launched a membership site and have started actively marketing your content to attract members, the final part of the cycle is to put plans into place to retain them.
Preventing churn is a huge topic to cover, so we've distilled some of the key considerations here:
The number one thing to focus on at all times is to continue to provide value with ongoing unique content or any other benefits. This should always be the number one focus. If your members can get everything they need by paying one single monthly fee, and aren't consistently receiving new content, they're going to churn out.
Don't be a stranger. Make sure you are sending new content to your members via email with adequate frequency. You can also consider using an onboarding sequence to welcome new members and ensure they stick around. For example, using Ghost, you can easily integrate with an onboarding email tool via Zapier.
Always provide a way for members to contact you and provide feedback or start a conversation – many membership businesses like De Correspondent have found that transparency and allowing members to have a say is a very positive retention technique.
Remind your members of the value they are getting in your communications. This is especially useful if someone tries to cancel. Many companies like Amazon and most software companies (like us) use some sort of messaging along the lines of: "Are you sure you want to lose access to X".
Use a tool like ChartMogul or ProfitWell to keep track of your subscription business growth. Tools like this help you to identify if and when you have churn issues and give you insights about the health of your membership driven business at a glance.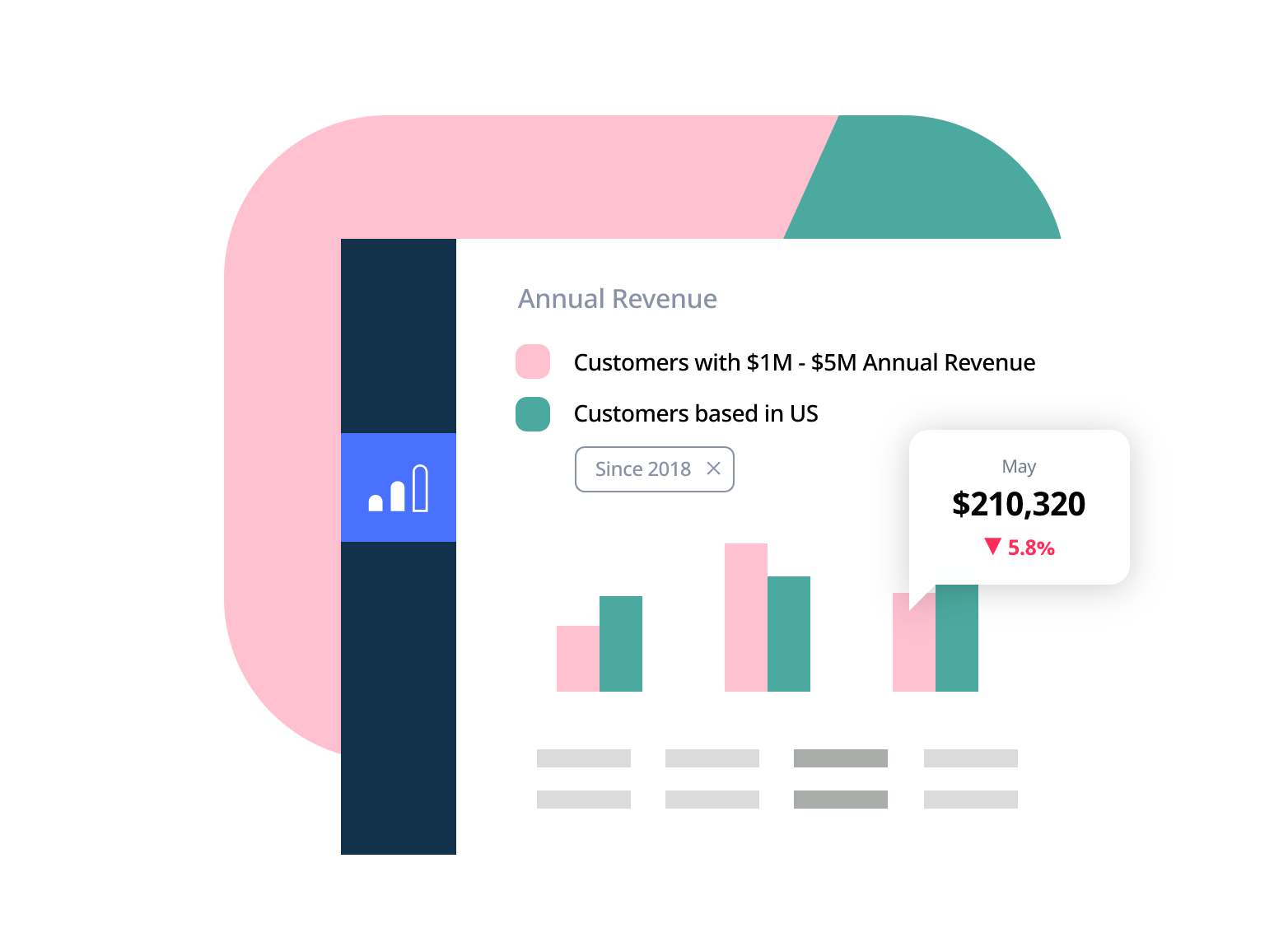 ---
Final thoughts
We've covered what membership websites are and who they are useful for - as well as outlining how to find the right platform, the importance of making your content truly unique, and everything from setting your pricing, to launching and marketing.
Along with an increasing number of tools supporting subscription-based technology, membership websites have become the most exciting way to build a real independent business as a creator or publisher of any kind. We're really excited to see what you'll do next.
While this article is in-depth, there's so much more we could expand on in future. Make sure to subscribe below & receive an email when new posts are published! 📬
---