7 ways to make money on YouTube without ads
Bring sustainability to your growing creator income on YouTube by branching out.
---
It's difficult to imagine a creator economy without YouTube. From viral cat videos to in-depth tutorials, there's truly something for everyone. This tremendous reach is why so many talented creators flock to the platform.
According to a study on professional content creators, nearly half of those surveyed cited YouTube as their primary platform.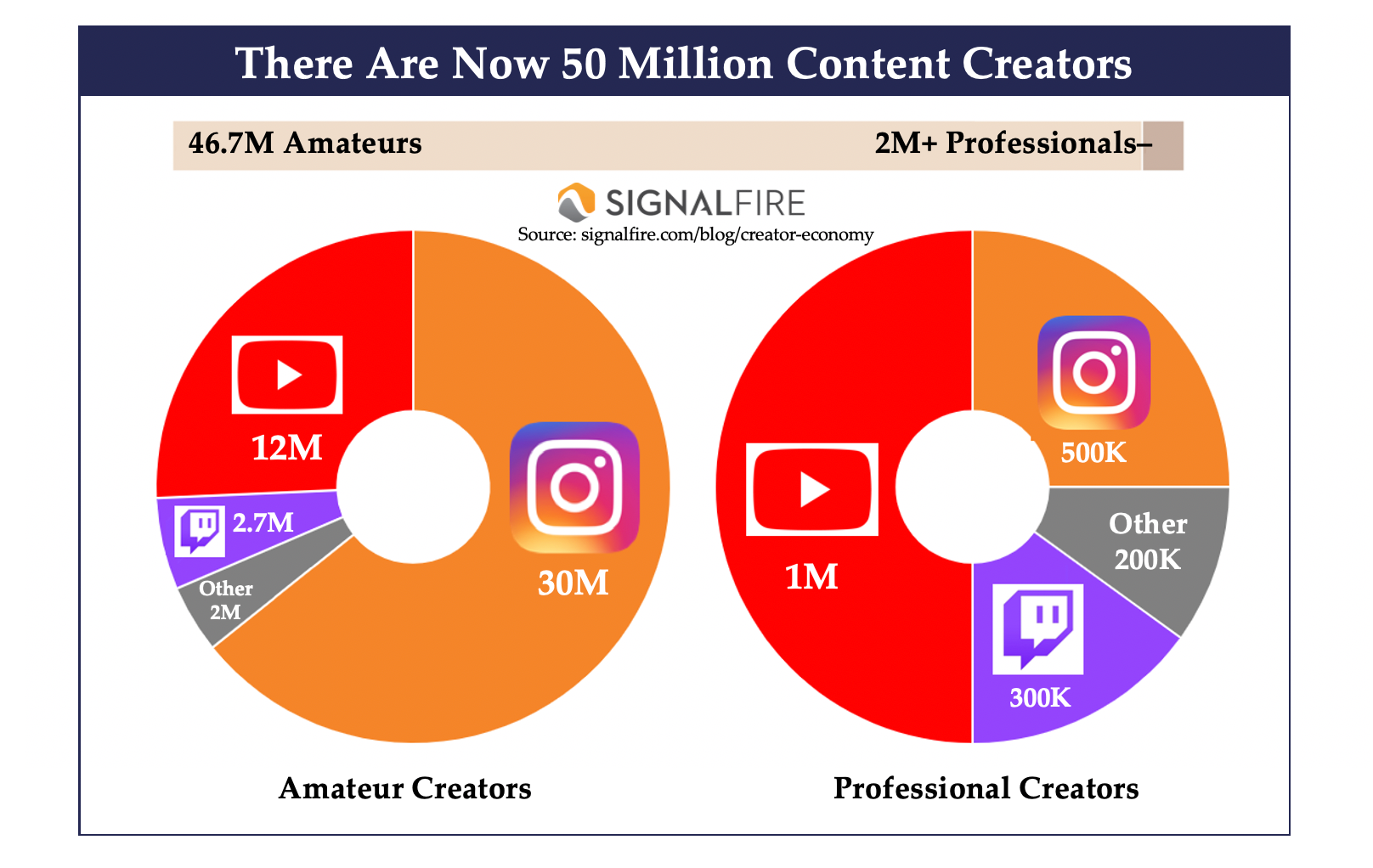 One of the reasons for this dominance is that YouTube began paying their users early on through the creation of a Partner Program. YouTube partners earn money through ad revenue from the advertisements shown across their videos.
The simplicity of this model attracted millions of makers and led to several success stories. However, it wasn't long before creators started realizing the dangers of relying solely on ad revenue for their income.
The money generated from ads fluctuates wildly, without channel owners getting any say in the matter. Furthermore, YouTube gets the final vote on who can and cannot monetize their content. This means that many gifted video creators have poured hours into videos only for them to end up demonetized or completely taken down from YouTube.
Thankfully, there are alternative ways to make money on YouTube. In fact, you'll find that the most successful creators rely on ad revenue the least. This article will introduce 7 additional income streams real creators use to earn money without relying on ads.
Let's dive in!
💡
Pro tip: From our research, we've found that the direct support method (#3) is the most sustainable option for new and established creators alike. Creators who focused on developing this revenue source as their primary business model tend to experience more consistent, reliable income as they grow. If your goal is to become a full-time creator, keep this in mind.
#1. Merchandise and Physical Products
Merch is often the first alternative revenue stream creators add to their channels. With the rise of tools like Spring, it's easy for you to print your channel's logo on a wide range of products such as:
t-shirts
hoodies
tote bags
mugs
pillows
hats
leggings
and more!
Plus, YouTube has made it even easier for creators to sell their physical goods with the addition of their merch shelf. This tool allows certain platforms (Spreadshop, Spring, and Suzuri) to integrate directly with YouTube so that you can display your products directly beneath your videos.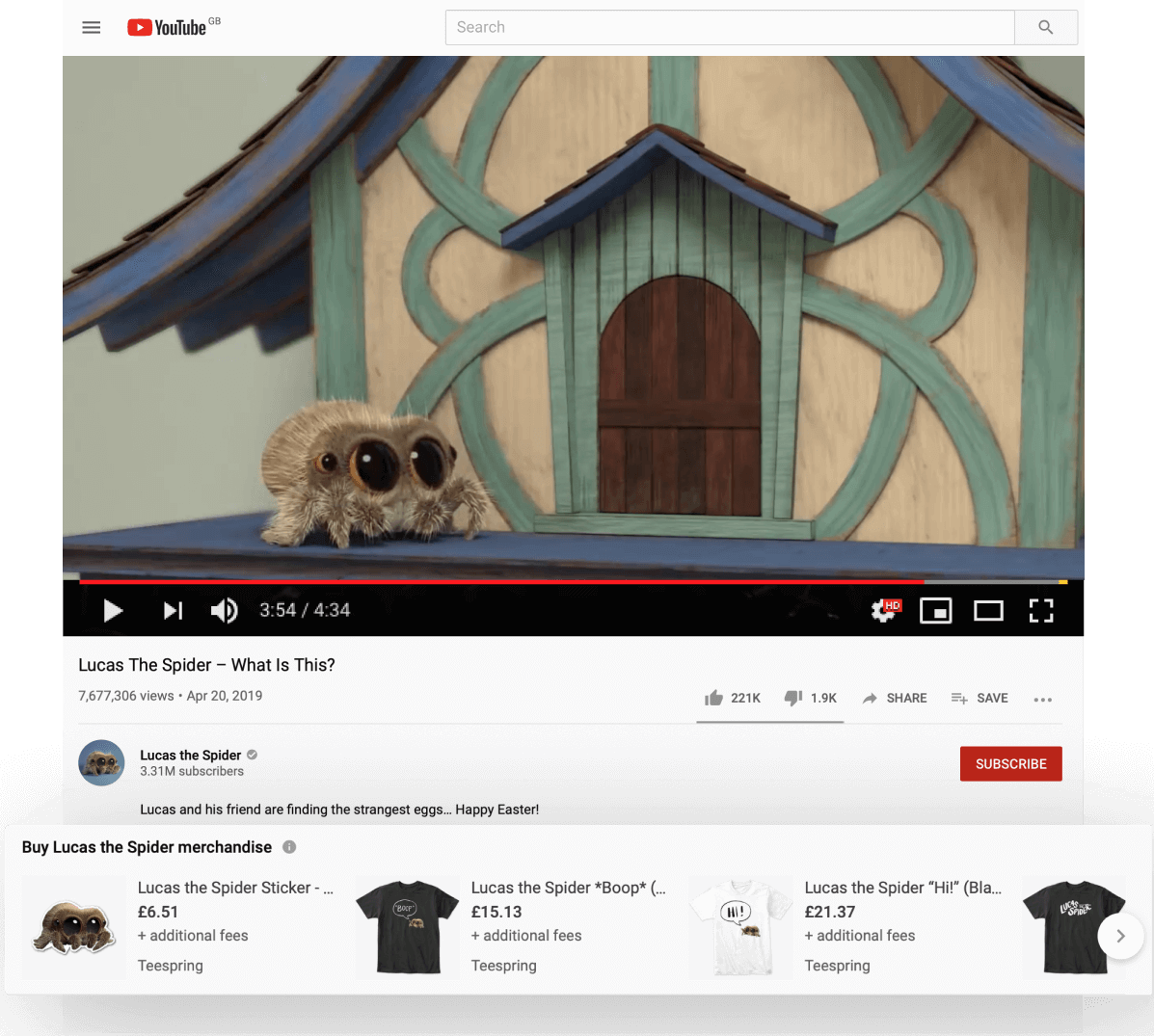 Giving your audience a physical product, whether it's a t-shirt or mug, is a great way to deepen your relationship with them while simultaneously equipping them with a way to advertise your brand.
One channel that has taken its merch strategy to the next level is TeamRICHEY, a fitness vlogging channel run by Craig Richey and Jasmine Cabourn. Together, they leveraged their online audience into building a brand called HSTL. Made which sells everything from t-shirts to barbells. To ensure their products' quality, they work directly with a manufacturer and host periodic launches versus the traditional always-on drop shipping model most creators use.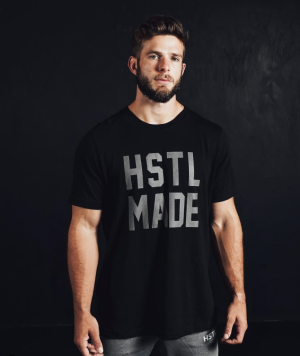 Every revenue stream has its pros and cons. Here are a few to consider for merch.
✅ Pros of merch
Easy to set up with available tools.
Can lead to free advertising by the audience.
Low-cost way for audience to support creators they enjoy.
❌ Cons of merch
Often expensive to produce with low-profit margins.
Risk of low-quality products.
No recurring revenue.
#2. Digital Products
A natural evolution from physical products is digital ones. These usually take the form of information products such as ebooks and online courses, as well as paid, private communities.
YouTuber Gillian Perkins is an excellent example of a channel that uses this model well. Perkins makes videos for aspiring entrepreneurs on the topics of productivity, creativity, and online business.
In addition to the free videos available on their channel, Perkins invites members of the audience to learn more by engaging with their products:
The ebook Sorted, available on Amazon.
Online courses on the topics of starting a YouTube channel, creating a business plan, and attracting an audience.
A private membership community called Startup Society.
Not all digital products need to be educational. Other examples include templates, printables, recipes, music, fonts, preset filters, and more.
✅ Pros of digital products
Free to replicate with higher profit margins.
More control over pricing, distribution, and quality.
Opportunity to charge higher prices.
❌ Cons of digital products
May require lots of time or a high level of technical knowledge.
Less opportunity for free advertising (fans can't "wear" a digital product in public).
The creator needs to set aside time for customer service to support products.
#3. Direct Support — 💯 Our top pick
Direct support is one of the fastest-growing areas of creator revenue. This avenue was popularized by Patreon where fans could fund their favorite creators for a few dollars a month in exchange for additional content or access.
One successful example of this is the channel Gone with the Wynns. To date, they have 1,400+ patrons paying $2-250 per month to fund their videos.
YouTube entered the direct support space in the last few years by offering creators two options to receive money from their audiences. The first is memberships, which gives audience subscribers additional perks during live chats. Here's an example from Graham Stephan's channel.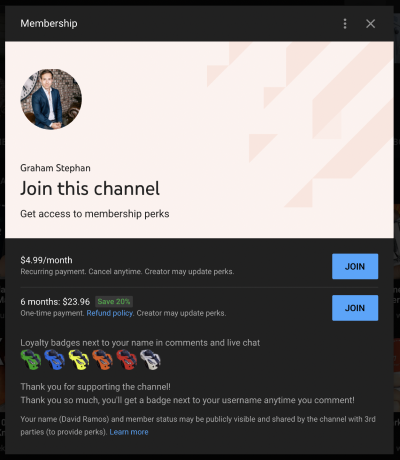 The second option YouTube added is called applause, which is essentially a tip jar built into the YouTube platform. The following example is from the channel Psych IRL.

One of the biggest caveats to direct support are the fees associated with every platform.
Patreon takes 5-12% of total earnings.
Tip jars like Buy Me A Coffee take 5%+ of every transaction.
The built-in YouTube options (memberships and applause) take 30%.
This is why many creators are turning to platforms like Ghost, which takes 0% so that makers can keep more of the money they earn.
✅ Pros of direct support
Additional income that isn't tied to a product.
Offers true fans a way to show their support.
Possibility for recurring income through subscriptions.
❌ Cons of direct support
Beware of associated fees.
Can lead to an increased workload depending on how you incentivize supporters.
More effective in personality and cause-driven niches.
#4. Repurpose content
Repurposing your content is one of the most efficient ways to increase the ROI on every item you create. Authors do this by turning their book chapters into web-friendly SEO articles. Artists and photographers also practice this strategy by reposting their images with different arrangements, filters, or edits on multiple platforms.
One way video creators can take advantage of this tactic is by transforming their video content into written and audio forms.
Shelby Church, a YouTuber known for their house tours and Tesla videos, transcribed one of their most popular videos and posted the article on Medium. That single article went on to make over $6,000.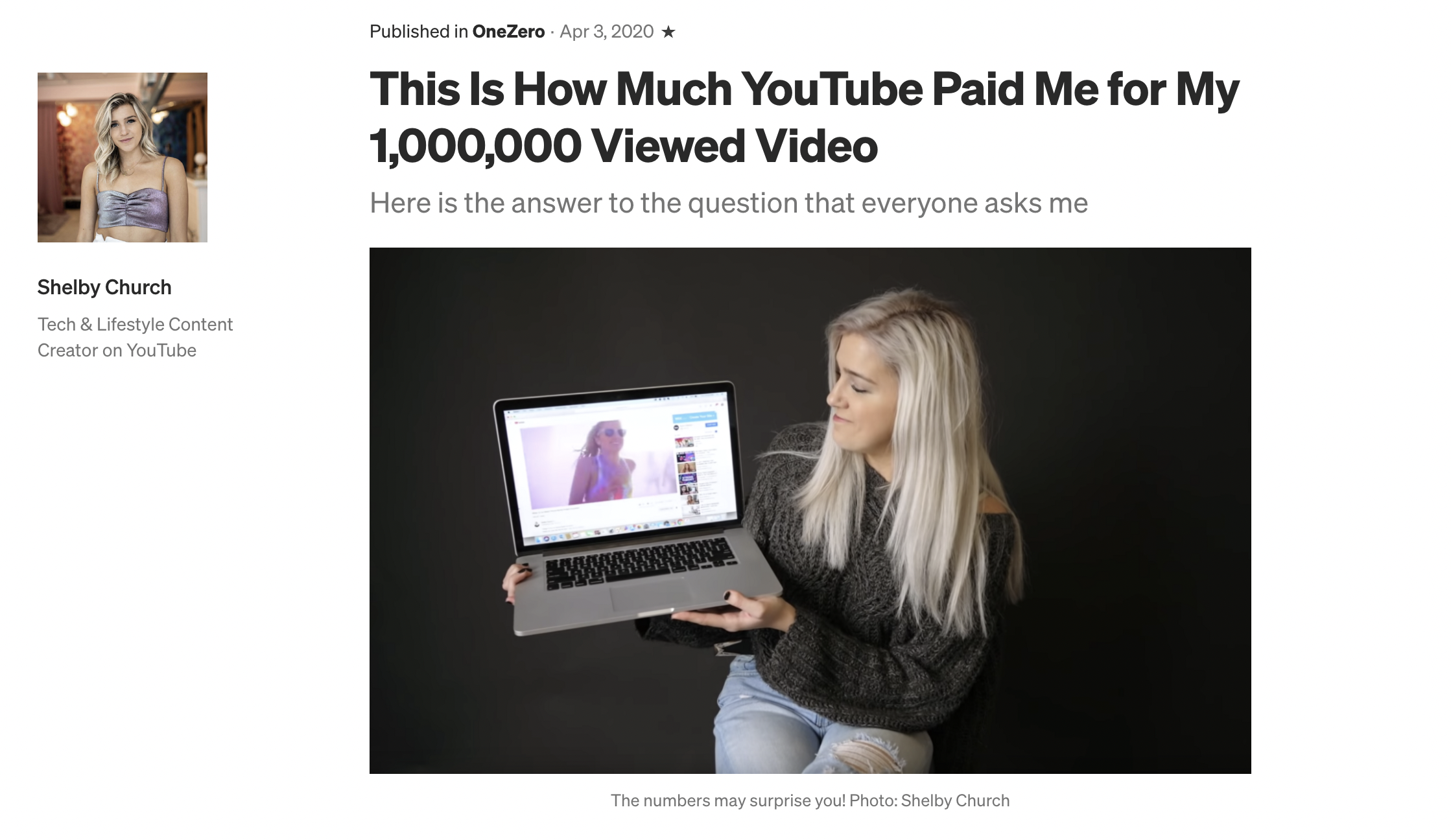 Repurposing your content allows you to reach potential fans outside of the YouTube sphere while taking advantage of the monetization opportunities available on other platforms.
One tool that can simplify this process is Descript, a video editor that can automatically produce podcast audio and written transcripts from your video files.
✅ Pros of repurposing content
Recycles content, reducing the need to continually make something new.
Opportunity to attract fans outside of YouTube.
Digital tools can make this a relatively quick process.
❌ Cons of repurposing content
Requires you to adhere to the rules and limitations of other platforms.
Needs time and patience to grow a new audience.
Monetization options can be unreliable.
#5. Affiliate recommendations
One of the benefits of growing an online audience is they begin to trust your experience and expertise. Their trust can then be leveraged in the form of recommended tools, products, and experts.
This recommendation cycle is called affiliate marketing. Creators find products they enjoy using and subsequently earn a small commission when they recommend them to their audience.
Nick Nimmin is especially effective at using this strategy to support their channel. Nimmin creates content for fellow aspiring video creators, primarily those interested in mobile and live video. The description section of each video they create contains a series of links directing the audience towards recommended tools such as:
TubeBuddy, a tool for tagging videos.
StreamYard, a live streaming solution.
Videoleap, a mobile app for editing videos directly from one's iPhone.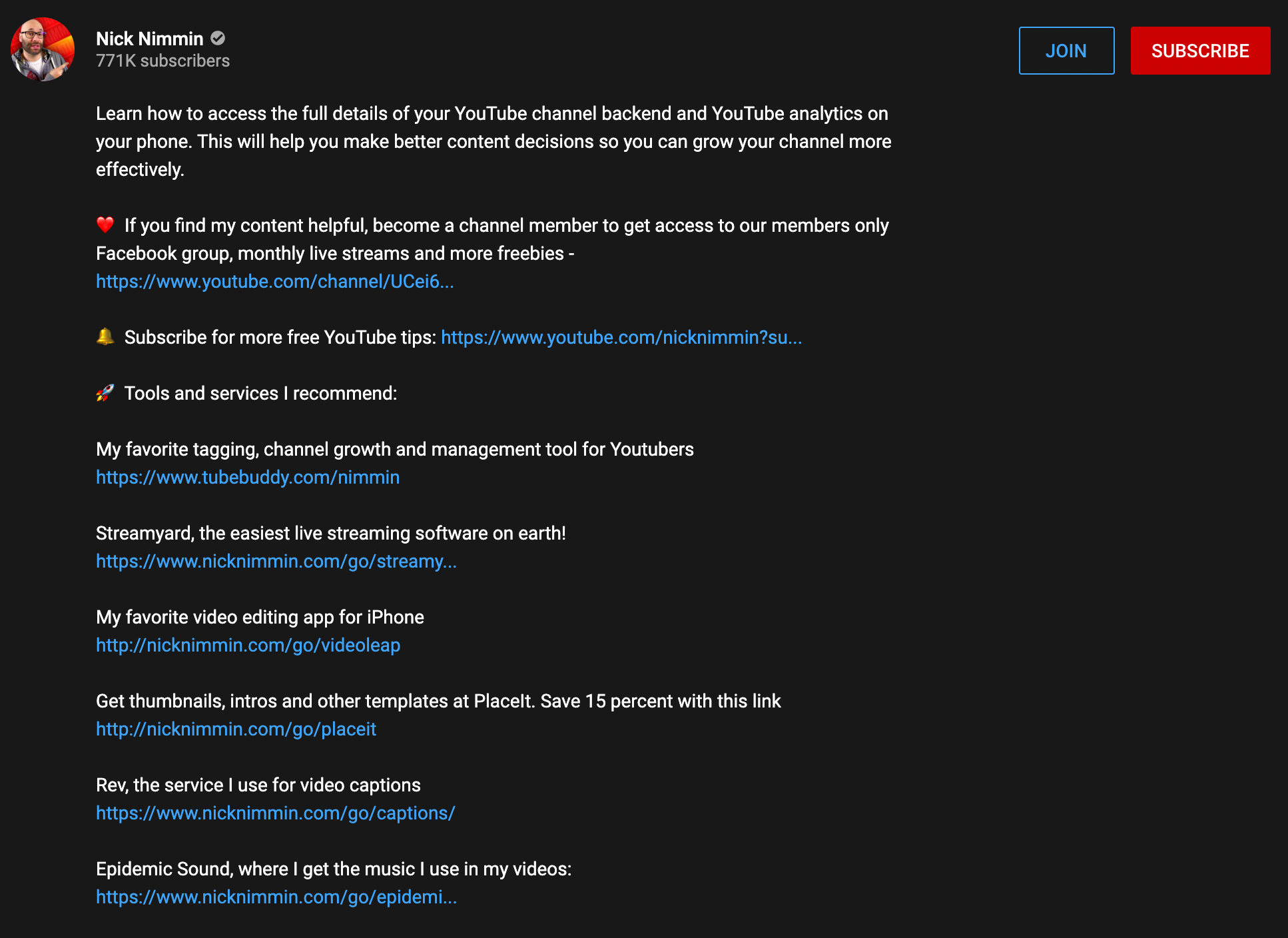 Nimmin includes anywhere from 5-8 recommendations in each video description so that fans can easily find the products mentioned in videos. Additionally, Nimmin also creates content around the recommended tools themselves, such as tutorials on how to use them correctly.
Every niche has specific tools, books, and resources unique to it. If you're interested in using affiliate marketing as a revenue stream for your channel, take some time to audit the things you use and consume on a regular basis. Then, research whether those items have affiliate or referral programs you could join.
✅ Pros of affiliate marketing
No products to manage yourself.
Works for both high-ticket and low-ticket items.
One of the most beginner-friendly methods.
❌ Cons of affiliate marketing
Less control of the product or service.
Some programs offer very low percentages.
Possibility of audience members not returning once they take recommendations.
#6. Partnerships and brand deals
It's helpful to think of this category as big brother to affiliate marketing and ads.
For partnerships, creators still leverage the trust they've built with their audiences. But, instead of their income relying on how many people take their recommendation, the businesses pay the creators in advance.
Similarly, for brand deals and sponsored videos, creators take time to promote businesses directly in their videos. This way the video isn't interrupted by an ad, and the audience gets to hear the advertisement directly from a trusted figure.
YouTuber and professional photographer Peter McKinnon generates the majority of their income through this method. McKinnon's been able to work with a number of high-profile brands including Adobe, Epidemic Sound, Squarespace, Skylum, and more. One of their most successful brand deals was a collaboration with Nomatic, which produces several camera gear products.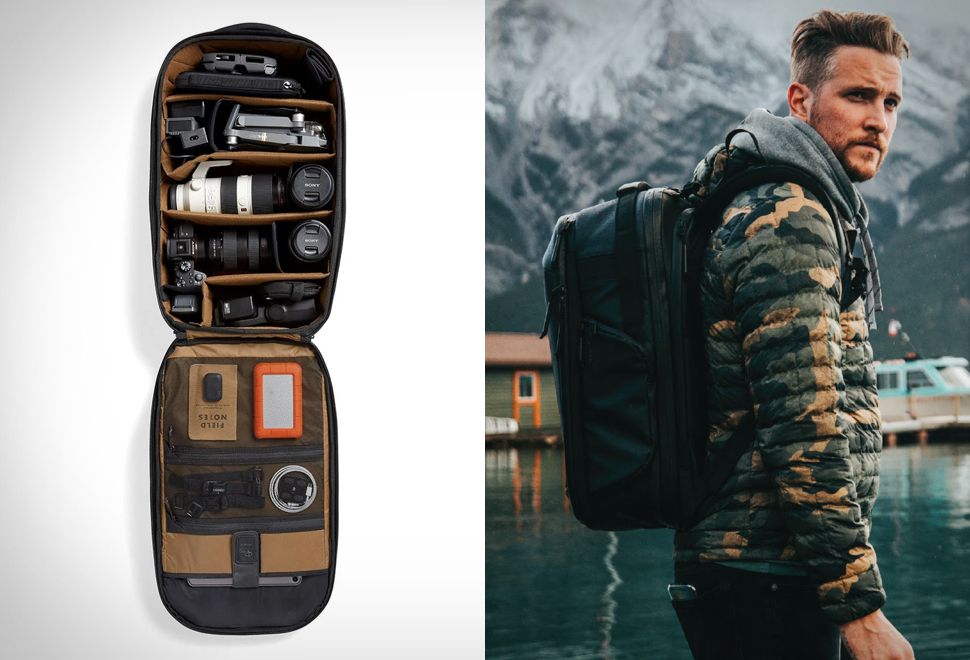 It's worth noting that this revenue stream is typically reserved for larger channels. Brands seek out influencers with established audiences where trust is present. However, smaller creators are still in luck as more businesses are starting to see the value in micro- (10k-100k followers) and nano-influencers (1k-10k).
✅ Pros of partnerships
Can be very lucrative for high-profile creators.
Opportunity to build industry relationships.
No products to manage yourself.
❌ Cons of partnerships
Leveraging the audience's trust is always a risk.
Creators usually have little control once sponsorship is accepted.
Potential income is capped; some creators would earn more through other methods.
#7. License your content
The final monetization method covered in this article is the practice of licensing your content to larger media groups. If you're familiar with how stock images work, then you'll recognize some similarities in the model.
Creators submit their videos to aggregators who either pay a one-time fee for complete ownership or a smaller fee for editorial use (meaning the ways they're allowed to use the video is limited).
One of the most popular examples of licensed content is the channel Fail Army, a subsidiary of Jukin Media (a company that enables users to submit videos or license other's content). Fail Army curates the best fail videos online and arranges them into themed collections.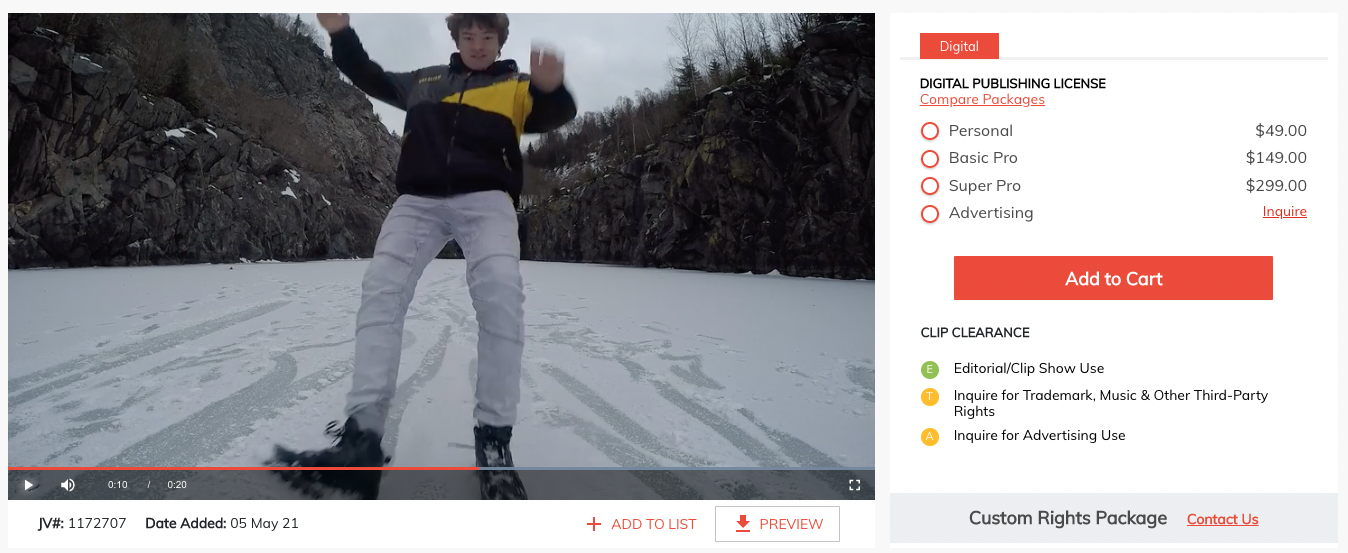 If you create niche content, or segments of your videos have viral potential, this may be a good avenue to pursue. Also, if you're looking to raise the level of production in your videos, adding licensed content to your work might be an option to consider.
✅ Pros of licensing
Chance of increasing exposure to your creative work.
Opportunity to make revenue more than once from the same video.
Could lead to additional business partnerships.
❌ Cons of licensing
Little to no control over how your content gets used down the line.
Some media companies pay very little for content.
Requires creators to relinquish ownership of creation.
Final tips for successful monetization
It's possible to make money on YouTube without chasing unreliable ad dollars. In this article, you've seen at least seven channels that are building sustainable businesses around alternative income streams.
That being said, here are a few takeaways every creator should be aware of as they seek to monetize their channels.
Diversify your income from day one. The best time to put safeguards in place is before you need them. Don't wait until you've hit 100,000 subscribers before you start getting your monetization pieces in place.
Use revenue streams that make sense for your audience. If you run a baking channel, don't promote an affiliate program for new tires. Choose streams that align with who your audience is (teens, adults, fitness enthusiasts, food connoisseurs, etc.) and what they want (new baking tools, t-shirts, online courses, etc.).
Move towards platforms you own. Your fans on YouTube are a rented audience. This means you're able to access some of them by publishing a new video, but ultimately YouTube (not you) decides who will see that video. Every creator must funnel their supporters towards platforms they own so that no middlemen can stop them from sharing and communicating with their followers.
Making money on YouTube is an exciting process that requires strategy, creativity, and grit. Remember that every channel you look up to once began precisely where you are today.
---