How to leverage SEO as a new creator with François Douville
The power of organic growth for solo creators.
---
The quote "if you build it, they will come," made famous by the film Field of Dreams, is a controversial one in the marketing world. On the one hand, creating something of quality is bound to gain attention. But every creator and business owner must work to get initial traction.
Your work has to get noticed before it can be appreciated, read, and supported. Growth requires intention. And of all the growth levers one can access, search engine optimization (SEO) stands as one the best options. It's reliable, cost-effective, and compounds.
The trick is to pursue an SEO strategy that makes sense for the size of your operation.
As a solo operator, François Douville knew exactly what they wanted to build with their website Noncodeur. But with limited time and resources, they had to get picky about the opportunities they pursued. Fast forward to today, and their site now attracts thousands of organic visitors per month on autopilot.
So, how did they accomplish this? And what SEO tips can you apply to your project?
Tip #1: Use your interests to your advantage
Content on the internet is fragmented into an endless number of sub-topics and micro-niches. Even within a mainstream topic such as fitness or personal finance, if you dig deep enough you can find SEO opportunities with lower competition.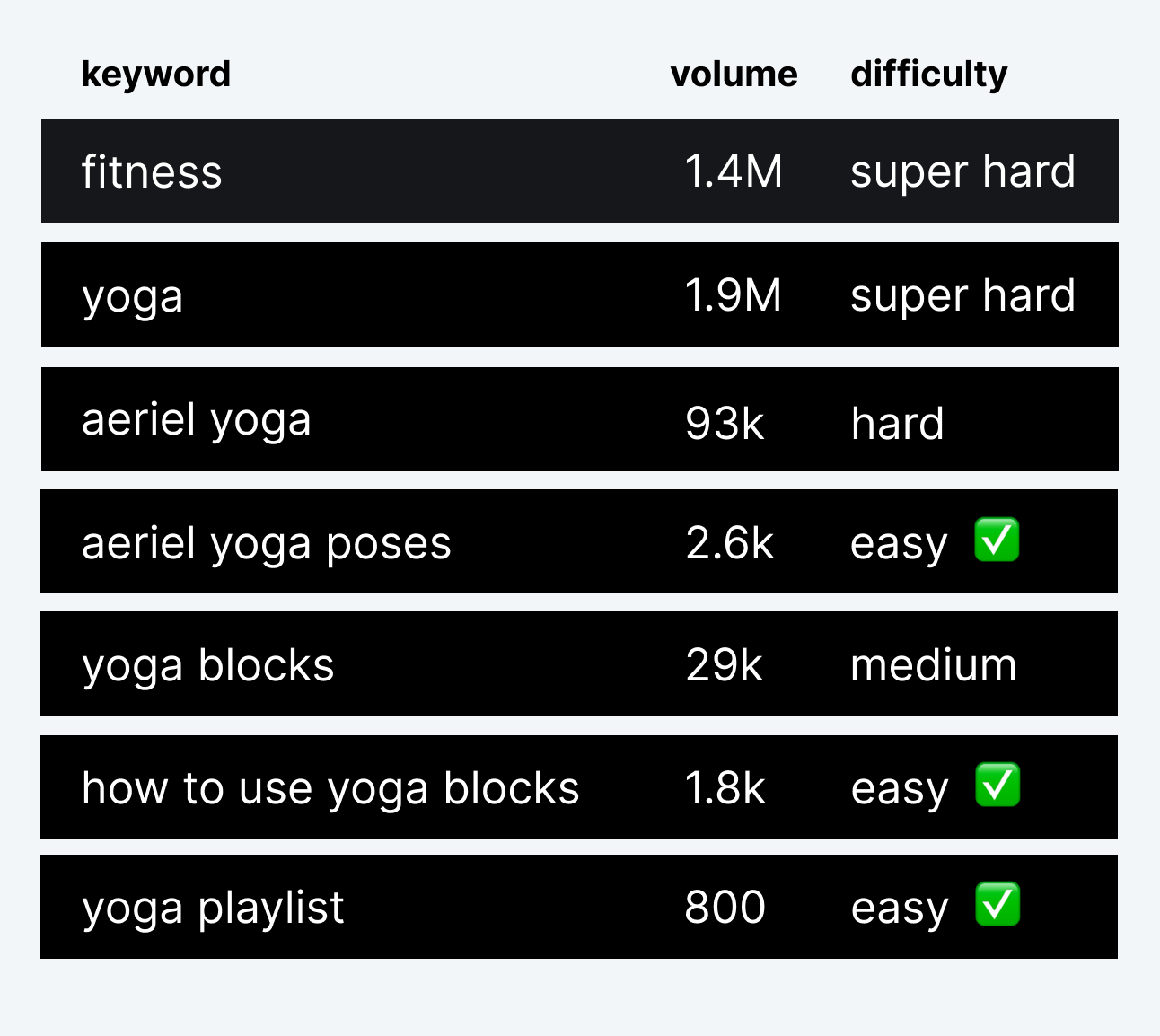 To find these untapped markets and underserved communties, you need to follow your curiosity and expertise.
Trained as a scientist, François became interested in technology after managing a project's website. Eventually, they stumbled into the world of no-code tools — software solutions that allow you to build complex things without needing to learn coding languages.
"The no-code movement is growing rapidly in the last few years and the needs of no-code technologies are quite diverse. I used a lot of no-code tools in the past for side projects, but also for the pleasure to discover them. So, I just had to document my experience to take action."
By documenting their progress publicly, going after low-competition terms in their niche, and writing in their native language of French, Noncodeur has spouted into one of the fastest-growing no-code resources for beginners.
💡
Start by creating for yourself. What do you find helpful? Solving your own problems is a powerful way to attract your first fans.
Tip #2: Prioritize content production
As François's content started to gain traction, they began learning more about SEO and realized this growth channel is a long game. Getting your content to rank well requires both people and search engines to trust your work. The best way to build that trust is to produce great content over a long period of time. That, above all else, should be the first priority.
"When I was starting out, I spent too much time on changing my website's theme, adding new features, and finding a business model - when I should have been trying to grow my audience. To do that, I had to write."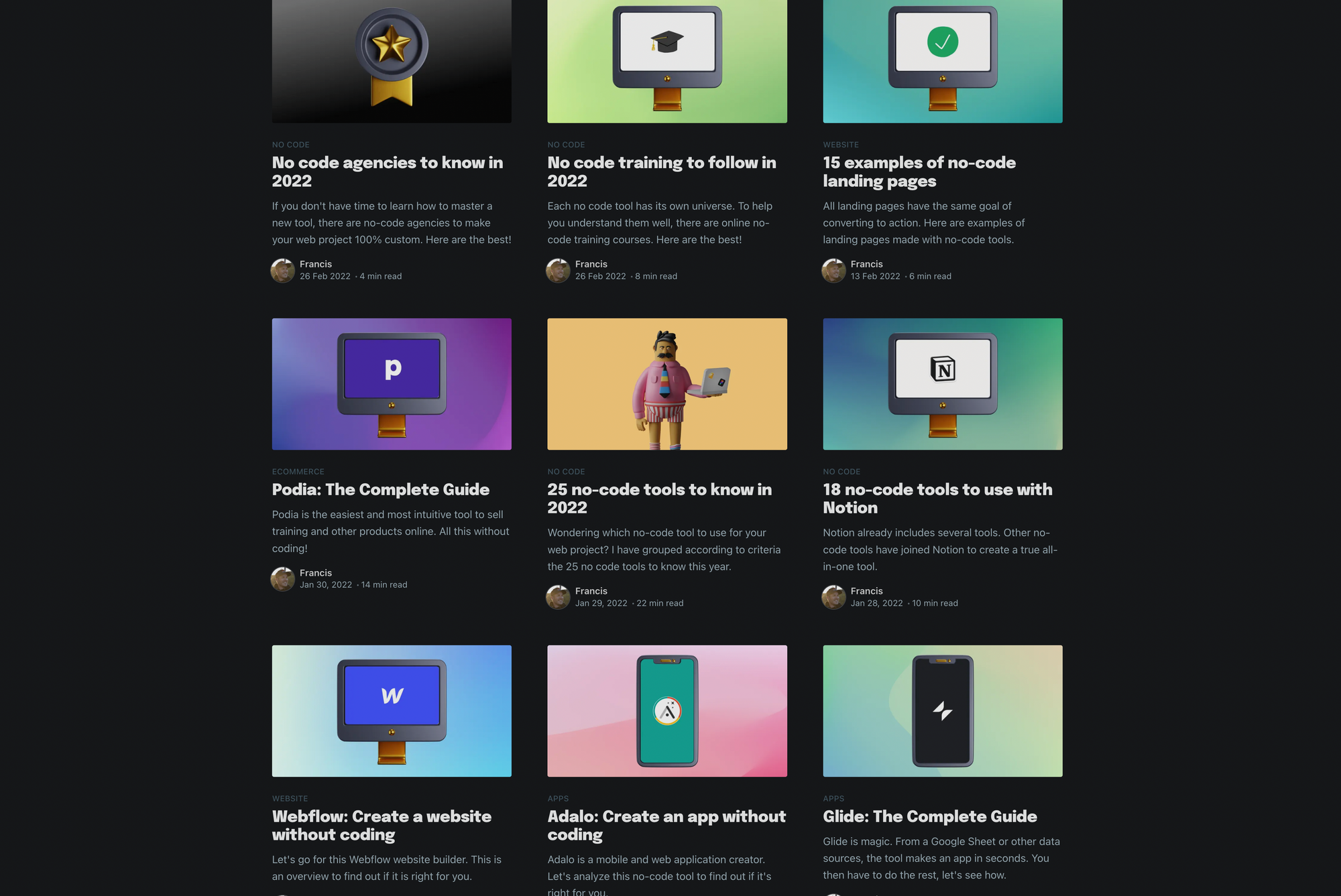 There's a saying that it's easier to steer a car in motion. Blogs and newsletters are similar in that as you publish more content and build momentum, you'll get a clearer sense of what works and what people want to see more of. Planning and strategizing can only get you so far in the beginning. Putting your work out into the world is the only way to get better.
Tip #3: Utilize templates to simplify
With production prioritized, the next challenge becomes balancing the workload. Most creators start their projects as evening and weekend endeavors, where they dedicate the few spare hours they have to build their dream.
One way to streamline this process, and keep publishing quality high, is to use article templates.
"I have been publishing the same type of content since the beginning. I have templates for each type of article, and they have changed a bit, but the essence remains the same. My articles are typically long (often over 3,000 words) and fall into one of 3 types: tutorials, guides, and reviews."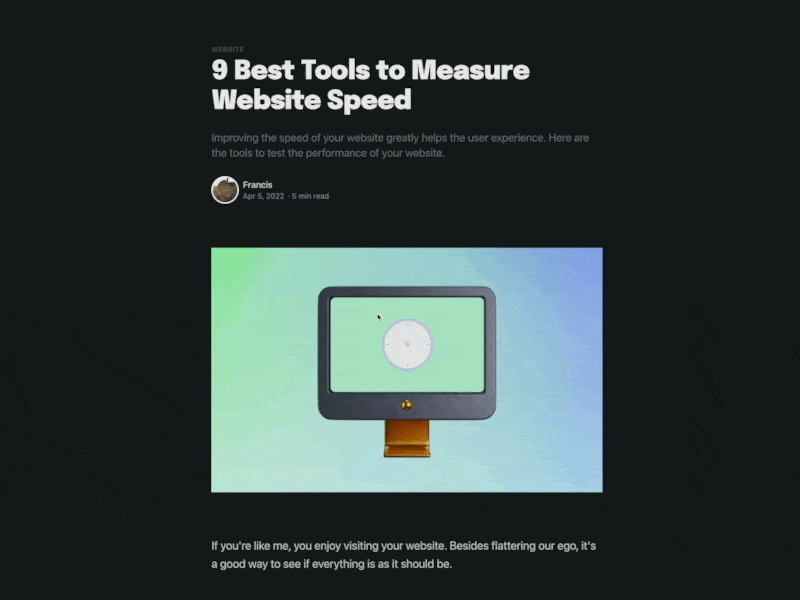 Half the battle of growing a blog or newsletter is knowing what to write every time you sit at your workstation. By curating a selection of templates, you can eliminate this problem and harness your creativity more effectively.
Tip #4: Build backlinks through relationships
As mentioned previously, SEO is about trust. The more trust you build online, the more likely your content will be shown to searchers.
One of the primary ways Google and other search engines measure this trust is through backlinks. Every time a trusted website links to a post or page on your site, a portion of that trust is shared, boosting your ranking in the process.
The challenge is that getting other sites to link to your content can be difficult and time-consuming. To solve this problem, some marketers rely on shortcuts, such as buying links. But these solutions are short-lived at best and detrimental to your site at worst.
One of the best strategies is a time-tested one: guest posting.
"The most difficult part of SEO is getting backlinks from other websites. Why it's important? This sends a signal to search engines that your site is credible. This increases the authority of the website and the chances of ranking on more keywords with lots of competition. I started guest blogging for this. I target websites with a DR (domain rating) of at least 50 and write an article for them, adding at least 1 backlink per article."
One sustainable way to implement this strategy is to simply dedicate a portion of your regular writing time to making content for others. For example, every fourth article you write could be a guest post. This is useful because it integrates promotion and backlink-building into your process, enabling other people to discover your work while you build authority online.
Tip #5: Follow SEO best practices
Finally, it's important to recognize that SEO is both strategy and tactics. Strategy covers the big items like publishing consistently, focusing on quality, and building relationships in your niche.
Tactics are the more granular actions you can take to ensure your content performs as well as possible. One of the best tactics you can begin with is choosing the right tool for your project. From there, it's about small changes that make your website fast, user-friendly, and interesting.
"Ghost has everything I need to make a living from my blog. If you choose a theme and don't make any changes, you can get away without writing a line of code."
Here are François's top tactical SEO tips specifically for Ghost:
Add images in .webp instead of .png or .jpg
Keep your URLs short, with the same terms as the targeted keyword
Optimize the meta title
Update articles regularly
Use titles (heading tags: H1, H2) to organize content
Set the post access to Public or use the public preview divider for Members only articles (only public content will get indexed by search engines)
Add internal links in your articles to related articles and pages
Long-term growth starts today
The ironic thing about the Field of Dreams quote at the beginning of this article is that it's mostly true for SEO. If you publish great content, optimize it for SEO, and use a great tool like Ghost to deliver it — they will come. But all of that can only happen once you've started.
Hone in on what interests you, get strategic, and start writing. The opportunity is ready and waiting for you.
---