How to start a local newsletter
Local journalism is coming back in a big way. Here's how to strike out as a local publisher.
---
Traditional newspapers have experienced many challenges due to the rise of the internet. However, local journalism is experiencing a resurgence in the form of email newsletters.
From small towns to big cities, independent writers and journalists are finding new ways to keep the local inhabitants informed, entertained, and connected through digital content.
In this article, you'll learn the components of a great local newsletter, the required steps to start your publication, and what resources are available to help you on your journey.
What is a local newsletter?
A local newsletter is a digital publication that serves a location-based audience. These newsletters typically cover the news and current events in a city, town, or specific geographic area.
As you discover the steps required to start a local newsletter, you'll see that there is no one right way to succeed. Each one serves a unique audience through various content and business model configurations.
6 Steps to starting your local newsletter
Below is a series of actions you can take to clarify your strategy and start building momentum right away.
#1 Choose your audience
The first step to planning your publication is to figure out the specific audience you want to serve. For a local newsletter, this means choosing the area you want to write for.
Whether it's a small town or a big city, you should consider writing for:
The people who currently live in that location.
The people who live nearby and may be interested in your content.
People who have lived there in the past and have ties to the locale.
People who no longer live there but still have family who do.
People who are considering moving to that area.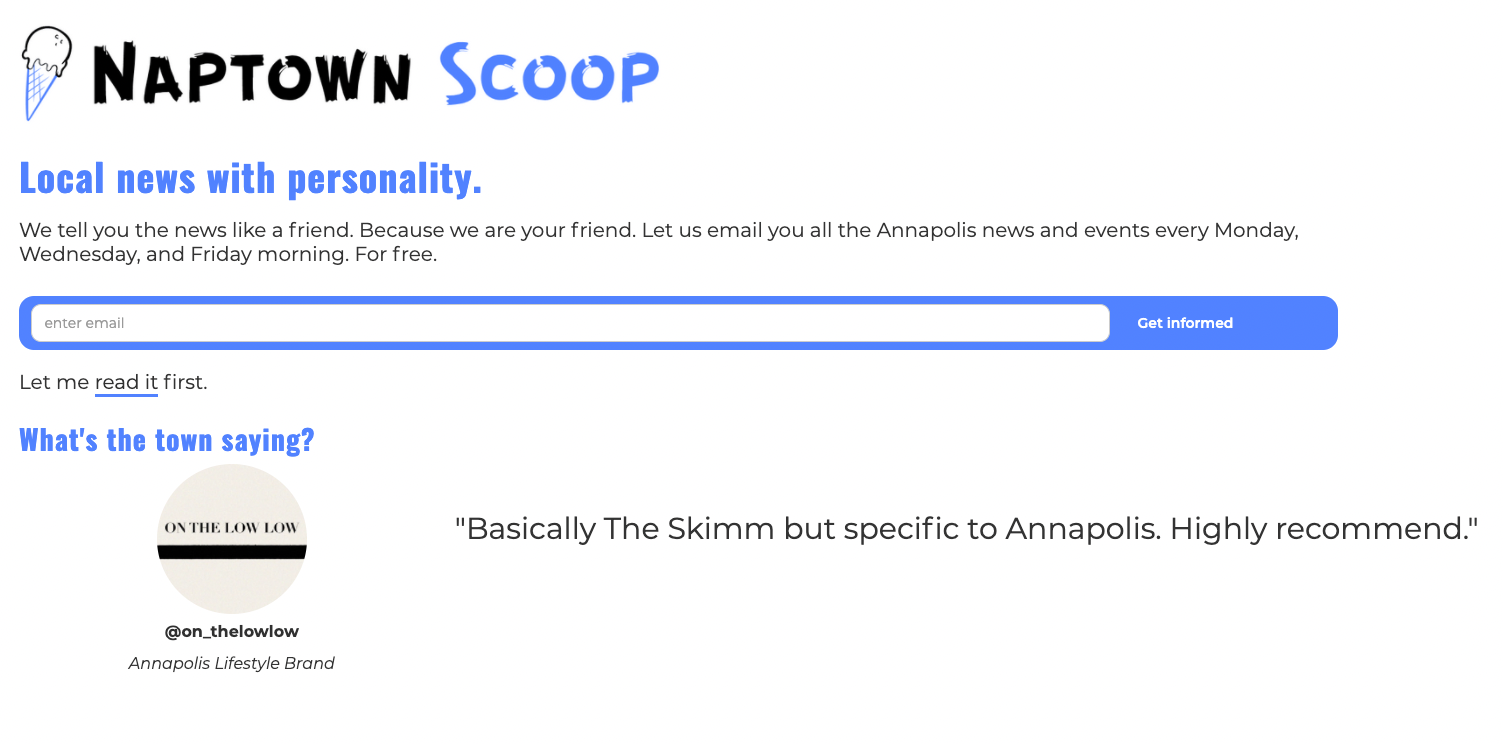 It's important to consider the size of the population you plan to attract.
If you live in a small town, it might be a good idea to broaden the scope of your publication to include the surrounding areas. If you live in a major city, consider focusing on a specific region within city limits that will allow you to create more targeted content.
This initial focus on who will help shape your content and business model down the line.
#2 Select content that solves a problem
People associate local newsletters with traditional news stories, but that is only one option. There are multiple types of newsletters one can create:
Reporting
Analysis
Curation
Artistic
Practical
Hybrid
Time-sensitive or limited-edition
It's possible to create a geographically-based version of any one of these.
An independent journalist could produce original long-form stories on local issues; a local artist could curate work from nearby creators; a local chef could provide recipes and cooking tutorials using local produce.
The Google News Initiative playbook, a guide for local publishers, advises aspiring writers to define the problem their content solves in the following format.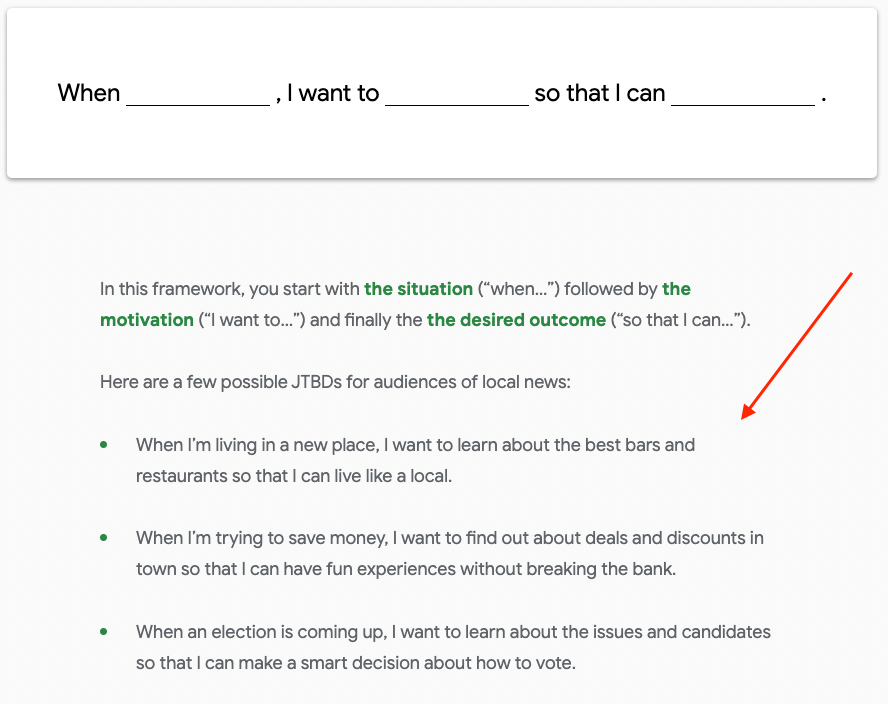 Choosing the problem you want to solve (the what) along with the type of content (the how) will help you craft a unique publication for your audience that is both useful and enjoyable.
#3 Clarify publishing expectations
Starting a newsletter from scratch means you get to decide many essential details. Here are a few questions you'll want to answer early in the process.
How frequently will you publish?
Most email newsletters publish on a weekly schedule. News publications tend to release content more frequently, sometimes even publishing multiple times per day.
When starting to shape your offering, make sure readers know exactly when and how often to expect new editions. Remember, more is not always better, which brings us to the next question.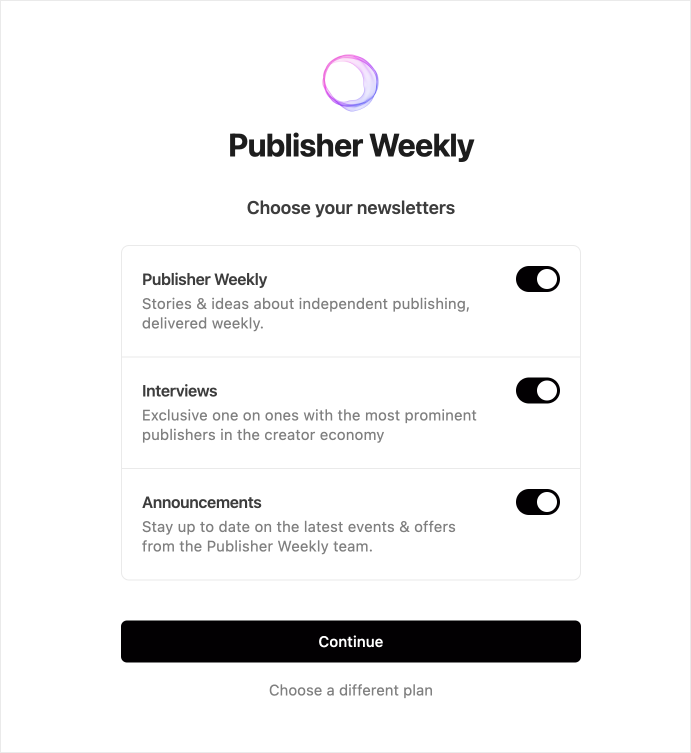 How long will each issue be?
The length of your content will influence its publishing schedule.
For example, if you plan to release a several thousand-word piece of original research in every issue, that would be nearly impossible to produce on a daily schedule as a solo writer.
Choose a length and format that allows you to build for the long term. You can always iterate as the newsletter grows and readers offer feedback on what they'd like to see more or less of.
Will you hire help?
Producing a steady volume of content can be challenging when the entire process (research, writing, editing, publishing) relies on one person.
It's helpful to ask whether your newsletter would benefit from freelance or full-time help, what roles would most need to be filled, and how much revenue would be required to support them.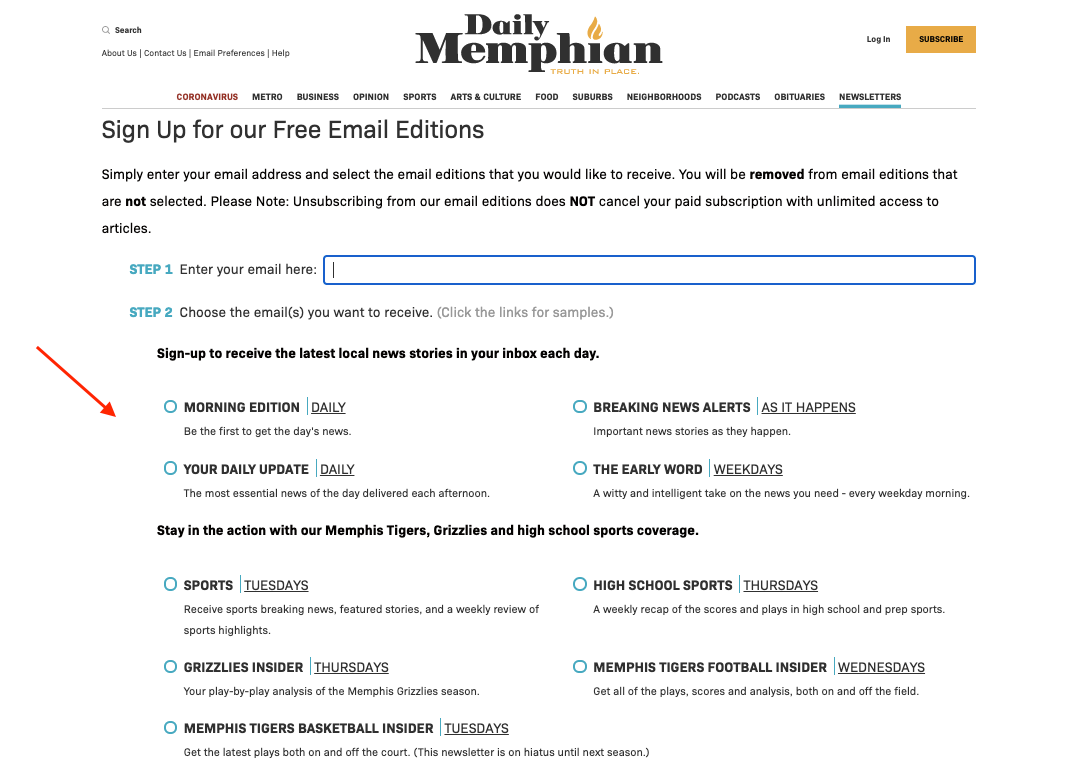 Clarifying these factors early will give your project direction during its growth.
#4 Decide on a business model
Digital newsletters normally monetize in a few different ways:
Publish free content that makes money through ads, sponsorships, or affiliate links
Publish protected content that requires readers to purchase a membership to access
A combination of the two.
Eric Barnes, founder of the local newsletter The Daily Memphian, argues that "local journalism didn't fail, its business model did."
Barnes is referring to the ad-driven model most newspapers relied on. This strategy depends on a very high readership, which causes publishers to create content that will get as many clicks as possible, and this pushes against the core value of local publications and journalism.
Many modern newsletters are turning to premium subscriptions, which enables them to build sustainable businesses with smaller audiences. Some examples include:
The Daily Memphian at $99/year.
Downtown Albuquerque News at $100/year.
Gallatin News at $20/year.
While there are pros and cons to different business models, recurring subscriptions have proven to be the most sustainable for all types of business, from technology to publishing, so it's worth considering this route as your core business model. You can still supplement your revenue using other models, too.
#5 Focus on a single growth strategy
At this point, you're almost ready to start publishing content and sharing it with your community. But first, it's important to address one of the most common misconceptions new creators fall into: if you build it, they will come.
The internet is filled with interesting content, and people live busy lives, so the chances of them searching out your brand-new product, in the beginning, are slim. You'll need a growth strategy to get the momentum started.
Here are a few growth channels to choose from:
Attend in-person local events, personally hand out invitations to your newsletter to people you meet.
Purchase ads on Facebook that target your geographic area.
Go all-in on one social channel (Instagram, Twitter, etc.) and network with local accounts.
Play the long game by writing SEO-friendly articles on local topics of interest.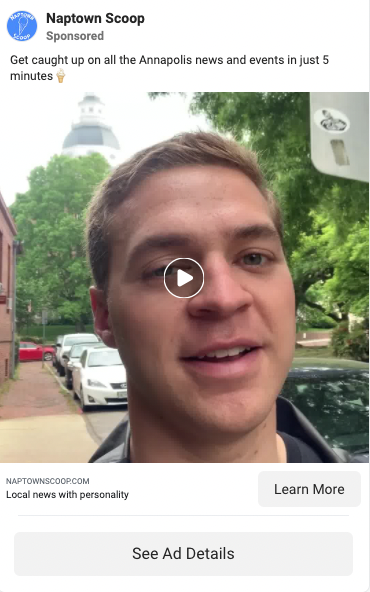 A localized publication will rely on relationship-driven growth more than other types of digital content, so it's crucial to invest time away from your computer whenever possible.
#6 Get started now
Finally, the biggest roadblock is thinking you must have it all figured out before publishing your first issue.
Iteration and experimentation will solve most of the problems you encounter along the way. As the saying goes, it's easier to steer a ship in motion than one sitting in the docks.
Figure out who you want to write for, what problem they have that you can solve, how you will solve it (while making money in the process), and how to reach them with your solution. Once you can answer those questions, you'll be on your way to creating a local newsletter people won't want to miss.
Tips to help you grow your newsletter
Let's wrap up this resource with a few tips from a collection of successful newsletter authors.
Sam Parr of The Hustle suggests that writers subscribe to other newsletters to see what's working. A few great resources to help with this are Project Oasis, Axios Local, and 6AM City.
Ryan Sneddon of the Naptown Scoop recommends new creators be responsive by replying to every email, direct message, or phone call they receive. These initial one-on-one conversations serve as the foundation for future growth.
Josh Spector of For The Interested encourages authors to set specific end goals, such as publishing 100 issues of their newsletter. This offers them a clear finish line which can serve as motivation when challenges arise.
Finally, use a platform that will grow with you over time. That last thing you want is to be inundated by extra costs and technical headaches once your publication gains traction.
Ghost was built with independent creators in mind for exactly this reason.
---