Blazing fast mobile performance: AMP for Ghost
Ghost has already had great mobile performance from day one, with a responsive admin area and default theme - but now we've stepped that up a gear once more with full support for brand new Google Accelerated Mobile Pages.
What does all this mean for you? Ludicrous speed! Take a look at Troy Hunt's story on the recent Dropbox hack, loading over 3G: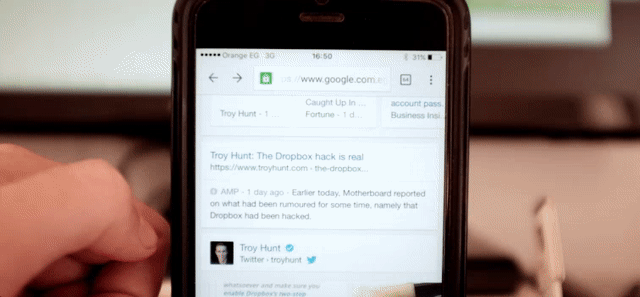 You can access the AMP equivalent version of any post on your blog by simply adding /amp to the end of any post URL. AMP versions are all generated for you, and there's nothing you need to do![1] Here's the AMP version of this very post.
All Ghost blogs render a default AMP template, but of course this can be overridden at a theme level if you'd like to customise your colours, branding and typography. Here's a tutorial on how to customise AMP for Ghost in your theme.
It's still early days for AMP, Google is a little bit inconsistent about when it does/doesn't decide to show an AMP version of a post in its search results - but we're pretty excited about it all the same!
---
Ghost(Pro) users already have access to all of this right now, log in to your blog and have a look! Users running Ghost on their own servers can grab this feature by upgrading to Ghost 0.10.
---
Do be aware that at this early stage of AMP support there are a few things which can break it (like affiliate tracking embeds or other complex code which we can't properly parse). ↩︎
Get notified when we ship new features.