Introducing Ghost 2.0
A powerful new editor, multi-language support, custom homepages, dynamic routes, custom structures and much more
Closing in on our 200th release, Ghost 2.0 is an upgrade which is focused on power and flexibility.
For the first time since we started, Markdown is no longer the default way to write in Ghost (although it's very much still available) — and the rigid blog structure of a single stream of posts has been removed. The scope and breadth of publications which Ghost can create has significantly expanded.
The short version: A new editor, multi-language support, custom routes, custom site structures and content collections are now all built-in.
There have been over 1,500 commits since 1.0 last year, with improvements, refactors, features and fixes to make Ghost 2.0 a stable, robust upgrade.
A new editing experience
The most obvious thing that's new is: there's an entirely new editor. To most people the format will be very familiar, but in this case it's also both open-source and extensible. More than just a formatting toolbar, this new editor has got some tricks up its sleeve.
Imagine Medium's editor and Slack's integrations had a beautiful illegitimate lovechild. That's the vibe we set out to accomplish.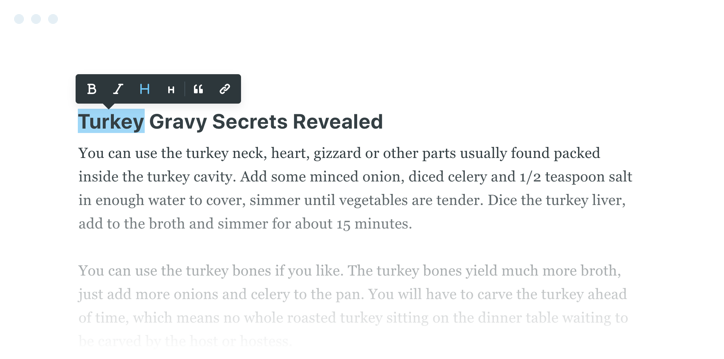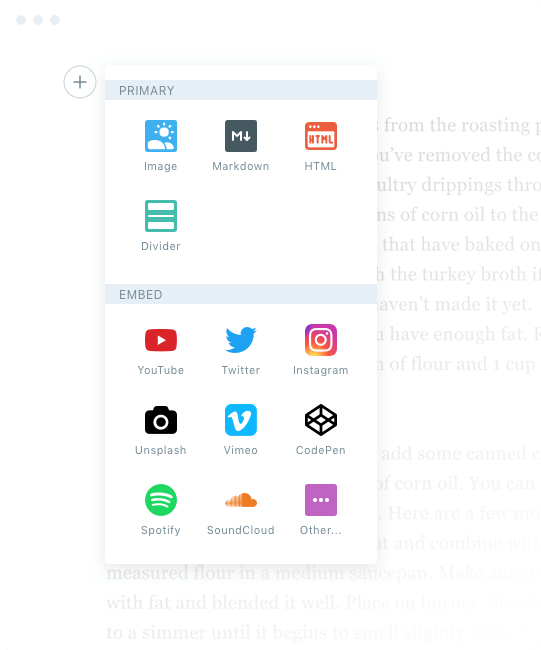 Dynamic cards
Modern publishing means working with a wide variety of content types from rich text to rich media. While you can still tell your story with words, the new editor also allows you to pull in dynamic blocks of content like photos, videos, tweets and embeds to really bring a story to life.
Inserting cards can be triggered with a + menu, but there's also a familiar / command to help you quickly insert content without leaving the keyboard.
We're shipping a base set of some of the most commonly used cards today, but we'll be adding support for many more in the future. Our old Markdown editor is now a card within the new editor, so if you preferred that one: Don't worry, it's still there and it still works just the same!
Fully extensible
The new experience is built on MobileDoc — a portable JSON-based document storage format that can store blocks of content and translate their output into a variety of formats such as HTML, RSS, AMP, NewsML, or just about anything else you can think of.
Being built on a sane, open standard means that developers will be soon be able to build their own cards for custom publishing experiences from simple charts to detailed recipes.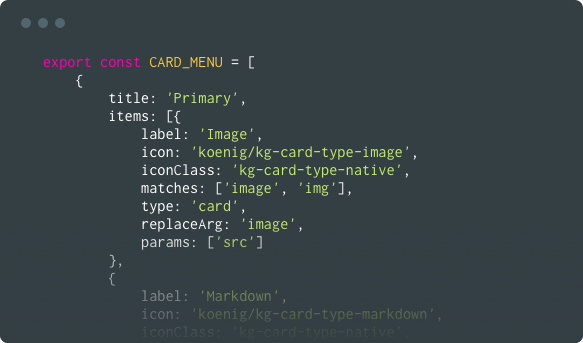 Deliberately focused
There are a lot of projects out there which started out as an editor and ended up as a completely unintelligible page builder. While we wanted Ghost's editor to do more than before, we also very deliberately made sure it didn't try to do too much.
Ghost's editor is still about doing one thing, really well: Writing.
Features you've been waiting for
Some of the most-requested options for flexibility we've ever had
Multi-Language Sites
You can now configure your site to support multi-lingual content served across unique URLs with SEO-friendly, semantic templates. Now you can publish in English, German, Spanish or just about anything!
More than 50% of Ghost users speak a language other than English so this has always been one of our most hotly requested features.
Custom Structure
Rather than having a static and hard-coded site structure it's now possible to define your own site routing. This unlocks countless ways to build your site to suit a wide variety of publication needs, for example:
A custom homepage on / with posts published on /blog/
Custom URL structures, like /year/author/post-title/
Include tags in permalinks, like /recipes/post-title/
Content Collections
Think beyond blog posts. Create different sections of your site to support different content types. Collections can have entirely different templates, RSS feeds, design and behaviour.
Split your site into /blog/ and /podcast/ areas with a custom iTunes XML feed for the latter. No problem.
Chronological Content
You can sort posts into any order, not just reverse-chronological. Any type of series which is added to over time is now easy to set up.
Post Series
Tutorials
Courses
In case you missed it
All of these things are also brand new since 1.0
Unsplash Integration
Enjoy high-quality photography in your posts from the world's most generous community of photographers.
Zapier Integration
Power-up your site and connect to thousands of external services to your site with a Zapier integration.
Multi-author posts
Add multiple people to the byline of any post so that everyone involved gets credit when the article is published.
Post Code Injection
Add custom scripts and styles to the header/foot of individual posts for full control over performance and rendering.
Custom post templates
Level up your style & customise the editorial design and add unique art direction for individual posts.
Custom social data
Ensure your content is optimised with fully customisable meta data for Facebook and Twitter sharing cards.
How to get Ghost 2.0
Anyone can spin up a new site on Ghost(Pro) in the space of a couple of clicks, with an unlimited 14 day free trial as standard. All new sites are automatically running on 2.0. If you haven't tried Ghost for a while, now's a great time to give it a fresh shot!
Already got a site on Ghost(Pro)? Log into Ghost.org and click the "Upgrade to 2.0" button! There are some short instructions and we'll automatically test your theme for compatibility, everything else is automated for you. If you don't see a button, we've already upgraded you automatically! Log in and enjoy.
Self-hosting Ghost? Upgrading to 2.0 is fairly straightforward with Ghost-CLI and should take about 15 mins. For details, see our full migration guide for Ghost 2.0.
What's coming up next
Ghost 2.0 marks the end of a long number of cycles focused on improving the publishing experience, and our next steps are going to be around adding completely new functionality to Ghost as a platform. We've got quite a few exciting ideas in mind to tackle next… but that's a story for the Ghost 3.0 release.
Until then, don't be afraid to stop by the Ghost forum and say hi - or come and help out on Github if you're interested in being a part of building the next features along with us. Nearly everything we do is open source, and we can always use the help!
Get notified when we ship new features.