You're in good company
Thousands of the world's most important organisations use Ghost
Why choose Ghost?
Privacy, security and speed are some of the most common reasons for why large companies and publications favour Ghost for their publishing needs.
We've found that most modern teams setting up new publications get given the same brief: Use an open platform which is stable, make sure it's fast + SEO friendly, and make absolutely certain it's not PHP. Ghost has quickly become the most popular platform to check all those boxes.
Enjoy a standard of technology which you normally only get building in-house: A Node.js core + a full JSON API with a permissive MIT License, all of which have received extensive independent security audits and penetration testing.
Ghost's advantages attracted Elon Musk's OpenAI team to publish all of their research using Ghost.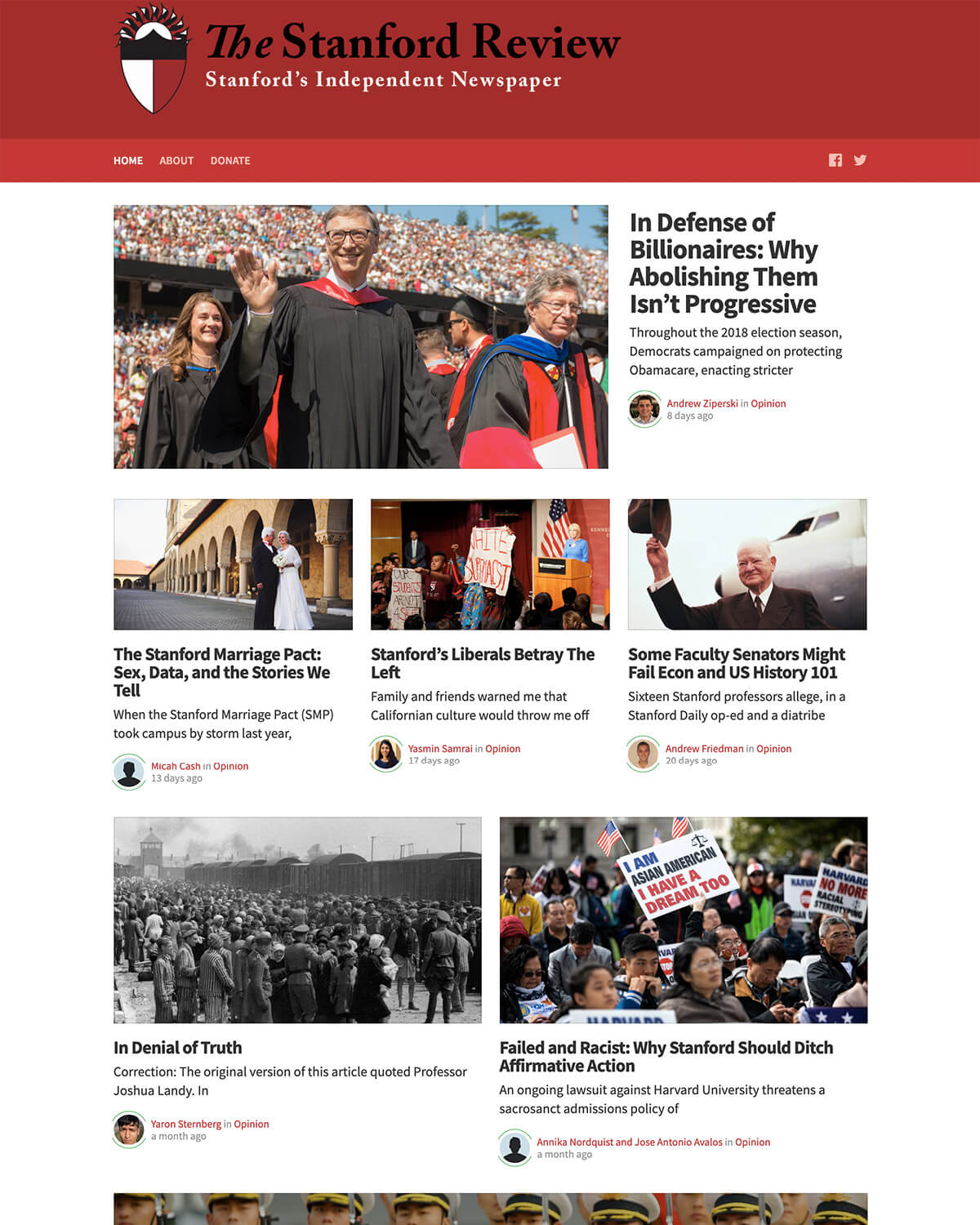 But what about Medium?
Medium is a great social network to use for promotion, while Ghost allows you to build out your own platform and your own audience.
When you're building a publication you should always use social networks like Twitter, Facebook and Medium to promote your content & find new readers. But once you've got those readers: What next? Social networks give you zero control over your audience, and if they decide to change algorithms or disappear, then so does your readership.
You can loosely think of it like this: Social networks are like running ads or guest spot in somebody else's magazine. By contrast, using Ghost is like creating your own magazine and owning the full, custom experience from cover to cover.
Multiple people on The Stanford Review team publish on Medium, but the newspaper has smartly built out its core publication on top of Ghost.

What's the best way to run Ghost?
Ghost can either be run on our fully managed hosting, or directly integrated into your own infrastructure depending on what you prefer.
The majority of people tend to run Ghost on our fully managed PaaS called Ghost(Pro). This removes the headaches of server management, security monitoring and software updates completely — and allows you to focus on the other aspects of your business where time is better spent.
Some larger organisations such as Apple and Square choose to run Ghost on their own private networks where they're able to make some deep core modifications to the software in order suit specific use cases.
For these types of companies we're always pleased to offer Enterprise Cloud contracts to ensure that their software is always secure, up to date, and running optimally.
Can I modify it for my needs?
Ghost has a very simple admin UI for a smooth user experience, but under the hood you still have full control over how it works.
Things like automatic XML sitemaps, RSS feeds and dedicated SEO & Structure Data meta fields mean that there's a lot which Ghost just does for you, right out of the proverbial box. But it can also be adapted to suit a huge number of use cases.
Front end modifications for things like analytics, styling and scripts are easily done at a theme level. You can plug in multiple database via an ORM layer, while your file system can live almost anywhere using a custom storage adapter. Even integrating a full search index using something like Algolia is possible with a few tweaks.
Our friends over at Speedtest.net even run a modified base URL setup to serve their site on speedtest.net/insights rather than insights.speedtest.net.
What about design?
Create a custom design from scratch, choose a pre-made template, or modify our default theme to suit your style and brand.
Our theme API gives you full control over the look and feel of your publication, with a strong focus on both flexibility and performance. You can build a theme completely from scratch, or you can select one of the many pre-made templates available in our theme marketplace.
A fast-track to getting a new publication online is to use the Ghost default theme as a base and modify it to suit your brand. This allows you to get up and running with minimal fuss, benefitting from hundreds of hours of development already done for you. If that's not for you, you can always start from ground zero and create a stunning custom publication like FullStory did.
Whatever you decide, you're in the driver's seat.
Ready to give it a try?
Start a trial completely free for 14 days
and build your publication