Send us Your Requests

We've just added a brand new user help menu to Ghost with quick, direct links to the best places to get support. There's also a shiny new item at the bottom of this menu: Wishlist.
Creating the world's greatest (and most modest, obviously) publishing platform is no small task. We have more plans for Ghost than a hipster at a typewriter convention. But sometimes we wonder: What's the most important thing that we should be working on next?
For the last few months, we've published a public roadmap of the things we're working on, and allowed people to vote for the things they care about the most. There have been two shortcomings though:
Most people don't know that it exists
You can only vote on the features which are already there. If you have a request that's not on the list already... well... you're stuck.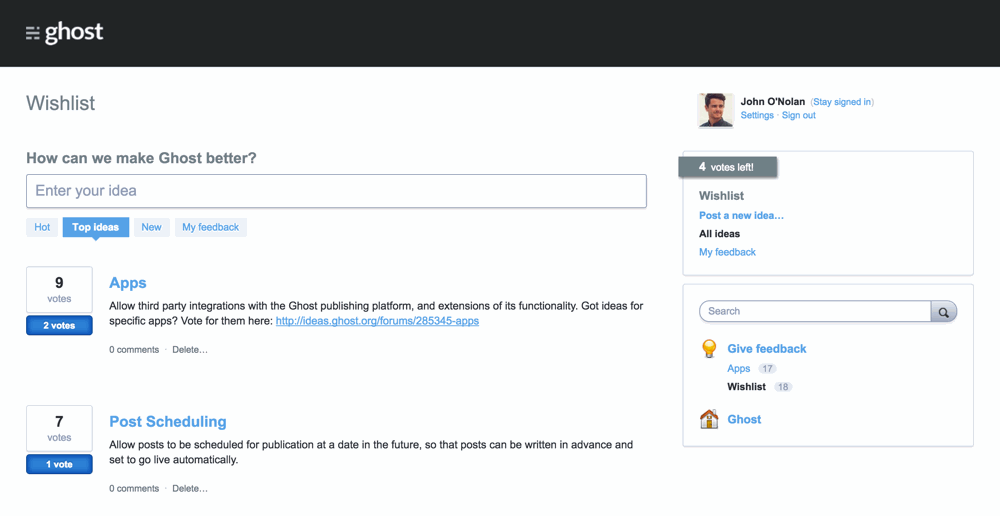 The wishlist menu item now will take you over to our new Uservoice feedback forum where you can submit as well as vote on the features and ideas which you would like to see in Ghost. Much simpler.
So, we're listening:
Ghost(Pro) users already have access to the new help menu right now, there's nothing you need to do! Users running Ghost on their own servers can grab this feature by upgrading to Ghost 0.5.10.
Get notified when we ship new features.