Public Dev Meeting 8th July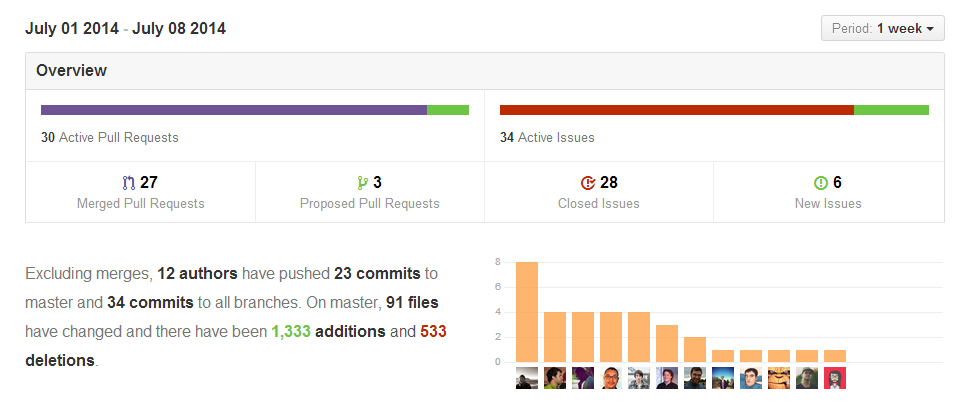 The pulse for the last week looks a little slower that the two weeks before. We have had less people working on the project, but also the pieces of the Multi-User project are much bigger than the small clean-up issues we have been working on for Ember. All that being said, we've delivered a few big and important pieces of Multi-User this week - it's now possible to invite a user to your blog!
During the meeting, we punted a number of issues over to a new 0.5.x Milestone. We're totally focused on delivering Multi-User, but once that milestone (and the enormous amount of refactoring that comes with it) is out of the way, we will start releasing more frequently. We're left with ~40 issues, most of which are assigned and expected to be finished within the next week. As always, we are still looking for more people to help us wrap this project up.
We also had a discussion around the proposed PRIVACY.md document. This is a new file,  that will live in the root directory just like the popular SECURITY.md, which describes all of the features of Ghost which may be considered to have an effect on privacy, all the way down to the use of Google Fonts. This document provides absolute transparency as to what the Ghost software does, and we hope the concept will be adopted by the OS community.
Finally this week, we planned a core developer Google hangout for 6:30pm on Thursday.
Next week, we'll be putting together a plan for how to test the extensive changes coming in 0.5 ready to release it. Anyone willing to get involved with testing will be very much appreciated.
Full details:
The full logs of the meeting are available from Slimer, our IRC bot (who is also on GitHub by the way!).
What is this?
We hold a public development meeting pretty much every Tuesday at 5:30pm London time in the #ghost channel on freenode. In this meeting we discuss progress, important issues, and what is and isn't on the Roadmap. It's a chance for everyone to get involved and have their say about where Ghost goes next.
Hope to see you at next week's meeting: Tuesday 15th July, 5:30pm London time.
Get notified when we ship new features.