Public Dev Meeting 5th August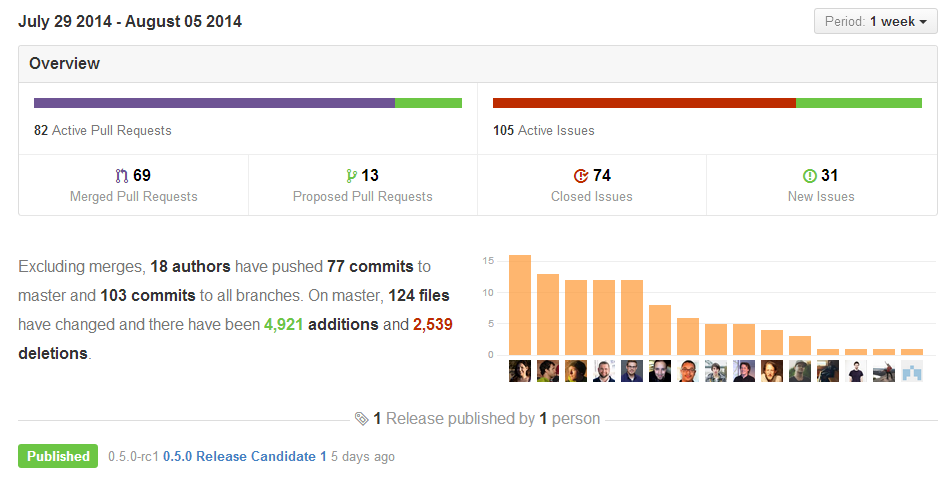 There has been significant progress towards releasing 0.5 since last week's meeting. All the remaining open issues for the Multi-User project were closed, the first Release Candidate was cut, and ~50 bugs were raised against it. Those bugs have all been triaged and assigned to either be closed before this release or punted to a later release. Already ~40 bugs have been fixed, we're back down to just a handful of bugs, and RC2 is expected to be cut shortly*.
From here, we'll run through testing again with RC2, find and fix any further bugs and hopefully deliver a final Release Candidate on Friday.
The official public release of Ghost 0.5 is scheduled to happen on Monday 11th August.
IT'S LESS THAN A WEEK AWAY FOLKS!
Between now and the release, we're hoping for lots more testing, particularly around the upgrade process. Test-only PRs are very, very welcome, as there's quite a lot of low coverage throughout the app. Additionally, we'd love suggestions on how to improve the upgrade and install documentation to make Monday's release as smooth as possible.
* Update: Release Candidate 2 has been published
Full details:
The full logs of the meeting are available from Slimer, our IRC bot (who is also on GitHub by the way!).
What is this?
We hold a public development meeting pretty much every Tuesday at 5:30pm London time in the #ghost channel on freenode. In this meeting we discuss progress, important issues, and what is and isn't on the Roadmap. It's a chance for everyone to get involved and have their say about where Ghost goes next.
Hope to see you at next week's meeting: Tuesday 12th August, 5:30pm London time.
Get notified when we ship new features.