New Ghost(Pro) Plans & Pricing
Today we are announcing a new set of plans and pricing for our Ghost(Pro) service. I'd like to share some details of how and why we're doing this. Tl:dr; We're increasing plan prices and increasing the resources in each plan. It's a better model for us and more value for money for you. Also: No more penalities for traffic spikes.
How We Started Charging
When we launched Ghost(Pro) at the beginning of 2014, we took a giant leap into the unknown. With Ghost (and even Node.js) being so young, creating a hosted infrastructure to support thousands of instances of Ghost was a big challenge. In short: we actually had no idea how many instances of Ghost we could even fit on a server, because no one had ever done it before. This made working out the cost of hosting a Ghost blog relatively difficult.
The second biggest factor in our initial pricing was the fact that when we launched, Ghost was at version 0.3. It was a newborn baby with 3 features and a whole lot of ambition. There simply wasn't that much you could do with it, yet, so the initial value in subscribing to Ghost(Pro) was relatively low.
With those things in mind, we set our prices at a low barrier to entry, and with relatively conservative plan limits while we started benchmarking our infrastructure and working our tails off to build more features into Ghost itself.
What We've Learned Since Then
For a first attempt, we did quite a good job of positioning our pricing as an entry-level product. That being said, we quickly learned a great deal about where we were going wrong and what we could (and should) be doing better.
Lesson 1: We didn't ask for enough on price.
An entry level price point of $5 is a really good rate for a VPS hosting plan. But we're not offering a VPS! Ghost(Pro) is a fully managed service with automated installs, upgrades, backups, performance optimisations, and a content delivery network serving your blog from 27 different data centres around the world. This costs more time and money to run, and it also provides a lot more value in the time and money it saves users.
We're a not-for-profit organisation, so we can't take any venture capital or investment. Ghost(Pro) is what keeps the lights on the for entire Ghost project. While our current pricing has allowed us to create something sustainable, we need more revenue to grow our infrastructure and our team so we can compete with all the (very well funded) closed platforms out there.
Lesson 2: We didn't give enough on value.
The other big thing we learned was which things our users care about most. Initially we set quite high limits on number of blogs per plan, but we found most people didn't use more than 1. We also set quite low limits on views per plan, and we found that people were very nervous about having to try and keep their traffic within plan limits - which is something that's (of course) totally unpredictable.
The value that you get from a Ghost(Pro) blog is when you publish something and it manages to reach a large audience of people. That's what our users care about, and we didn't do a good job of aligning the value of plans with this. You shouldn't be penalised for publishing great content and getting a traffic spike.
What We're Doing Now
For the last few weeks, we've been rolling out new pricing for new customers. Effective today, our old plans will subsequently be discontinued for new users.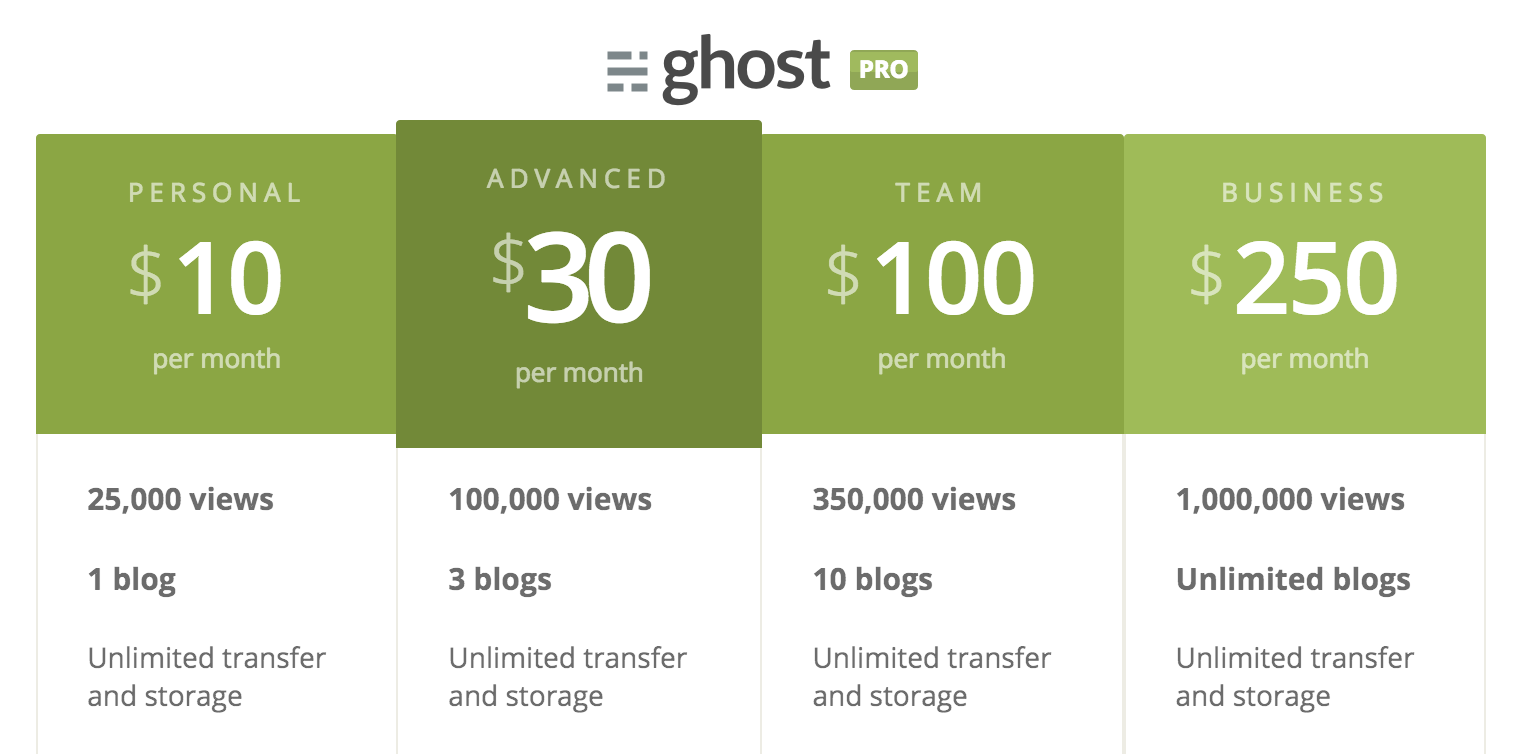 There are three main changes in our new plans:
1. Plan Prices Have Gone Up
Our entry level Ghost(Pro) plan is now $10, and we have new larger plans for users with a consistently high level of traffic. Increasing our minimum service level allows us to run a much more healthy business, and continue to hire great developers to work on Ghost and make it better for the entire world.
The Ghost software itself remains (and always will be) completely free of charge.
2. View Allocations Have Gone Up
We've more than doubled the view allowance in every plan. This means that relative to usage, prices have effectively gone down. Many customers will be able to downgrade plans and receive the same number of views. Bandwidth, storage, and all other things you would pay for on a traditional host remain unlimited.
3. No Suspensions When You Exceed Plan Limits
Previously if you went over your view count in a month, you would be asked to upgrade your plan or your blog would be suspended. Effective today, we are completely stopping this process. All Ghost(Pro) users will now be allowed to exceed plan view limits by any amount without penalty. If you hit the front page of Hacker News, your blog will stay online and we'll keep on serving it to all your readers.
If we notice that you've exceeded your plan limits for 3 consecutive months, we will send you an email to ask you to move to a higher plan. In short: All customers will now pay for usage based on their average traffic, and never be forced into a higher plan because they had a traffic spike in one particular month.
Q&A
How are existing users affected?
No changes. We will honour existing plans for all of our early users who made starting Ghost(Pro) possible. If you want to change over to our new plans, you'll actually get a lower price based on usage. Many users can now also downgrade to a cheaper plan with the same number of views, if they choose. But we'll leave that decision up to you.
If you do want to make the switch, just head over to your acount billing area.
Why these numbers?
We spent a long time crunching digits and analysing every possible similar service which people pay for. We sent out a survey to thousands of our existing users to ask the how they felt about our prices. The general consensus was that we were underpricing, and we could offer more value per plan.
Who can I talk to about this to learn more?
As always, you can reach us any time (day or night) on support@ghost.org. We'd love to hear your feedback, and help you with anything you might need.
It's been an incredible journey so far creating a service which people genuinely love, and we're only at the very beginning. We are proving a brand new, sustainable, open source business model to the world, and it's you – our users – who are making it possible.
Get notified when we ship new features.