Announcing Ghost for Journalism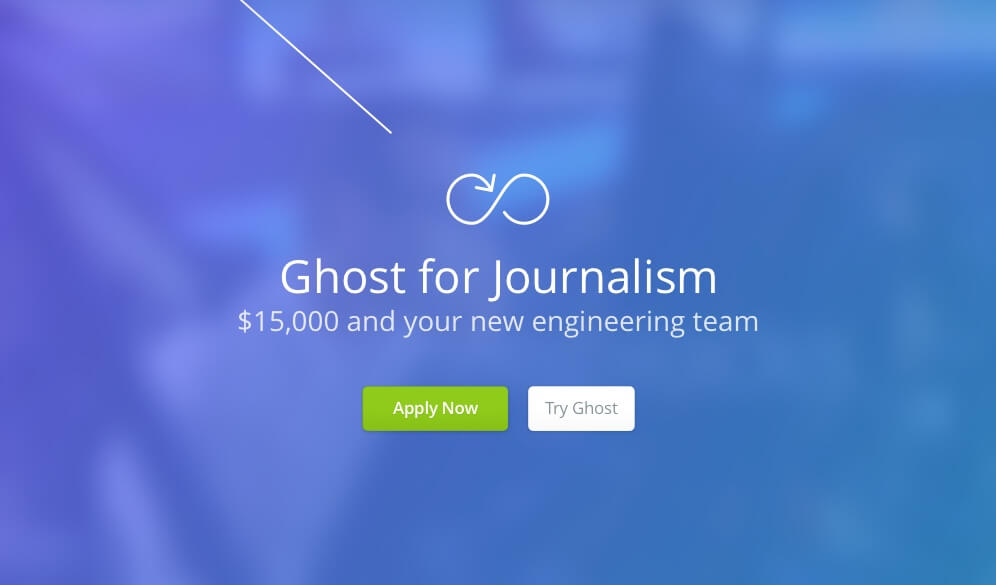 This year we're very excited to be dedicating our entire 10 person full-time Ghost team to helping grow three independent publications, along with $45,000 in resources toward their efforts. We're calling it Ghost for Journalism.
But I'm getting ahead of myself, let me explain:
Next month, we're going to release Ghost 1.0 – which represents a significant milestone as we acknowledge that we've now built everything that the first version of the platform was supposed to accomplish. It also serves one other purpose, which is a major version bump to signify the breaking changes we're about to make in order to set the stage for what's next.
We've been building Ghost as the web's next great platform for independent publishers for about three and half years now, and we've now reached a really interesting inflection point. We started this journey to create a simple, well designed blogging platform which could be used by just about anyone. That was always going to be step one. But right back to the Kickstarter campaign that we launched with, I've been talking about how we want to serve and have an impact on independent journalism.
That's what's next.
We have a huge list of features that we want to build, as well as a very large list of requested features that our users have asked for. The question for us, of course, is how to prioritise them in a way that leads Ghost towards the future that we have envisaged for it.
This is really important. We could build anything, but what we build will determine the direction of the platform and the organisation.
Long term, we want Ghost to be an incredible platform for the world's best journalism, and that means we need to build features to attract exactly those people. This year we're making a very conscious decision to focus on just that.
There are 3 main areas we're going to work on next:
Namely:
Memberships
Logged-in experiences for visitors & better data for publishers
Subscriptions
Content delivered directly to readers, wherever they are
Payments
Integrations to allow publishers to build new revenue models
We believe that the most significant technology issues affecting independent publishers is growing an engaged audience and finding a path to financial sustainability. So those are the things we're really excited about working on.
To that end, this year we're doing something different. We've created the very first Ghost Journalism Development program to find and work with three great new publications.
Our goal is to find three fantastic new publishers to work with and help them grow their audiences throughout 2017, as we build out these features (and others) explicitly around their needs. In addition, we'll be offering up $45,000 in Ghost(Pro) credit, along with access to our internal tools, data, and technology partners.
We're by no means the only people in the world working on creating better tools and business models for news. We are, however, the only people doing it full-time and releasing everything we do as open source; to put the ownership of the platform back into the hands of the people who use it.
Regardless of where you distribute your content to reach your audience, it has never been more important to own and control your own home on the web; safeguarding against the uncertainty of unstable social networks which come and go.
That's what we're building. Sound like something for you?
Click here to find out more and apply for the program
What you can do to help
This is a big deal for us, but the trickiest thing is going to be getting this idea out into the world so that the people who would benefit most have the chance to discover it. Many, if not most of those people are likely outside of our existing audience. So, we have a favour to ask :)
Would you help us share this news so we can try to get it to reach as many people as possible, outside of our little bubble?
Here's a pre-written status to make it extra simple:
Just launched! 👉🏼 Ghost for Journalism, a $45,000 development program seeking independent publishing upstarts. /changelog/journalism/
Tweet this now Buffer it for later
Please enjoy these 1-click buttons for Ultimate Efficiency™️, or of course you can also just copy/paste if that's more your thing.
Get notified when we ship new features.