Envato offering $7,500 to anyone who builds a Ghost theme in the next 60 days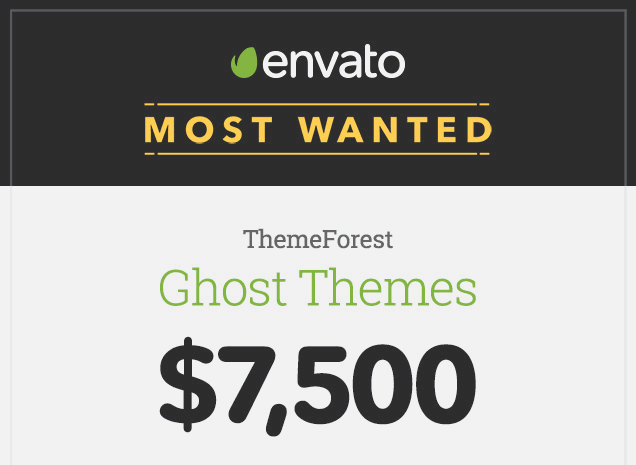 When Ghost launched back at the end of 2013, Envato put up a $5,000 cash prize for developers creating Ghost themes and adding them to the ThemeForest marketplace. This week, they've launched a brand new "Most Wanted" competition with a whopping $7,500 up for grabs.
What You Can Win
The 5 best Ghost themes win $1,000 each
$1,500 bonus prize for the best editorial experience + a featured slot on the Ghost Marketplace.
$1,000 bonus prize for the most submitted/approved Themes
This means that a single Ghost theme author could win up to $3,500!
What is all this anyway?
Themeforest is a premium marketplace where you can sell digital items, so occasionally they run competitions like this to build up their catalogue of products in various categories and attract more customers. So, even if you don't win any prizes, you can still earn revenue for all your hard work just by selling your item!
There's a strong focus (just like last time) on really high quality themes which make use of all Ghost's features, while presenting a well considered, beautiful editorial experience.
Best of all, we helped Envato put all of this together and we're keeping a very close eye on the theme submissions which get approved! We'll be helping to promote as many of the best designed themes as we can throughout the competition.
Click here to read all the details about the competition and find out how you can get involved. Yes, this is the world's longest descriptive link text. I mean, hey, I could probably stop at this point but why kill a good thing? Ok but SERIOUSLY go check out the details because this is pretty cool.
The competition runs through to October 16th, so get moving!
Get notified when we ship new features.