Ghost 4.0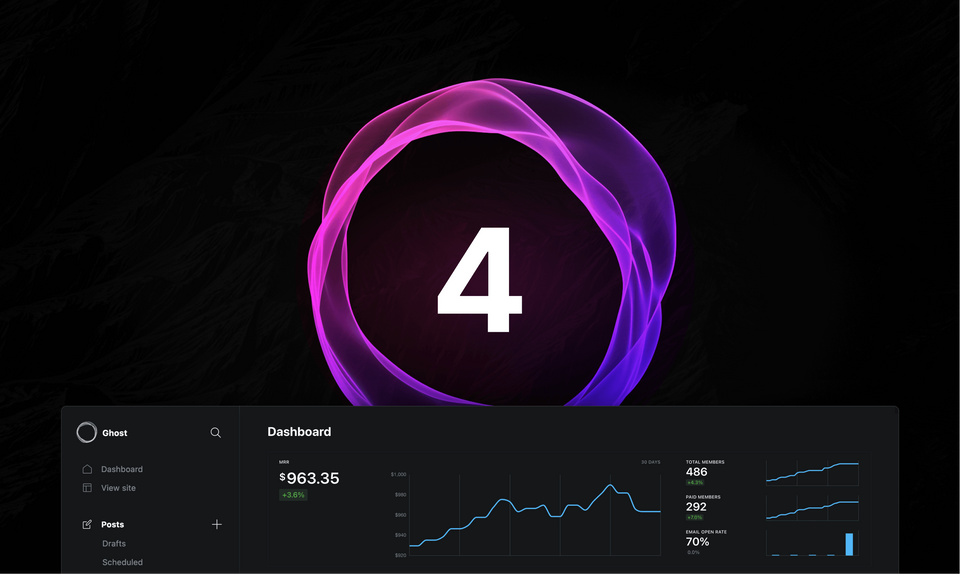 Almost exactly 8 years ago, we announced the first prototype of Ghost on Kickstarter. Today, over 20,000 commits later we're releasing Ghost 4.0, the latest major version of the product, as well as small refresh of our brand.
If you're short on time, here are the abbreviated highlights of what's new:
We made the dashboard! Get detailed insights into how content and members are performing so you can understand what's working.
Memberships and subscriptions are now natively part of the core platform - no longer in beta. Publishers who started sites with Ghost last year are now making more than $2Million per year in revenue from the platform.
Email newsletters are now natively built into Ghost. This time last year we sent about 6,000 emails per month on Ghost(Pro). Today it's several million.
We launched a brand new post-preview UI, showing you what your post will look like on web, mobile, email, social and search - all in one place.
Premium subscriptions with Stripe now work in 135 currencies, with support for Apple Pay, Google Pay, and 0% payment fees .
We've created an embedded memberships and subscriptions UI, called Portal, which works with every Ghost theme. Past, present and future.
Member management now includes the ability to impersonate users for support, generate single-use authentication links, and collect cancellation feedback.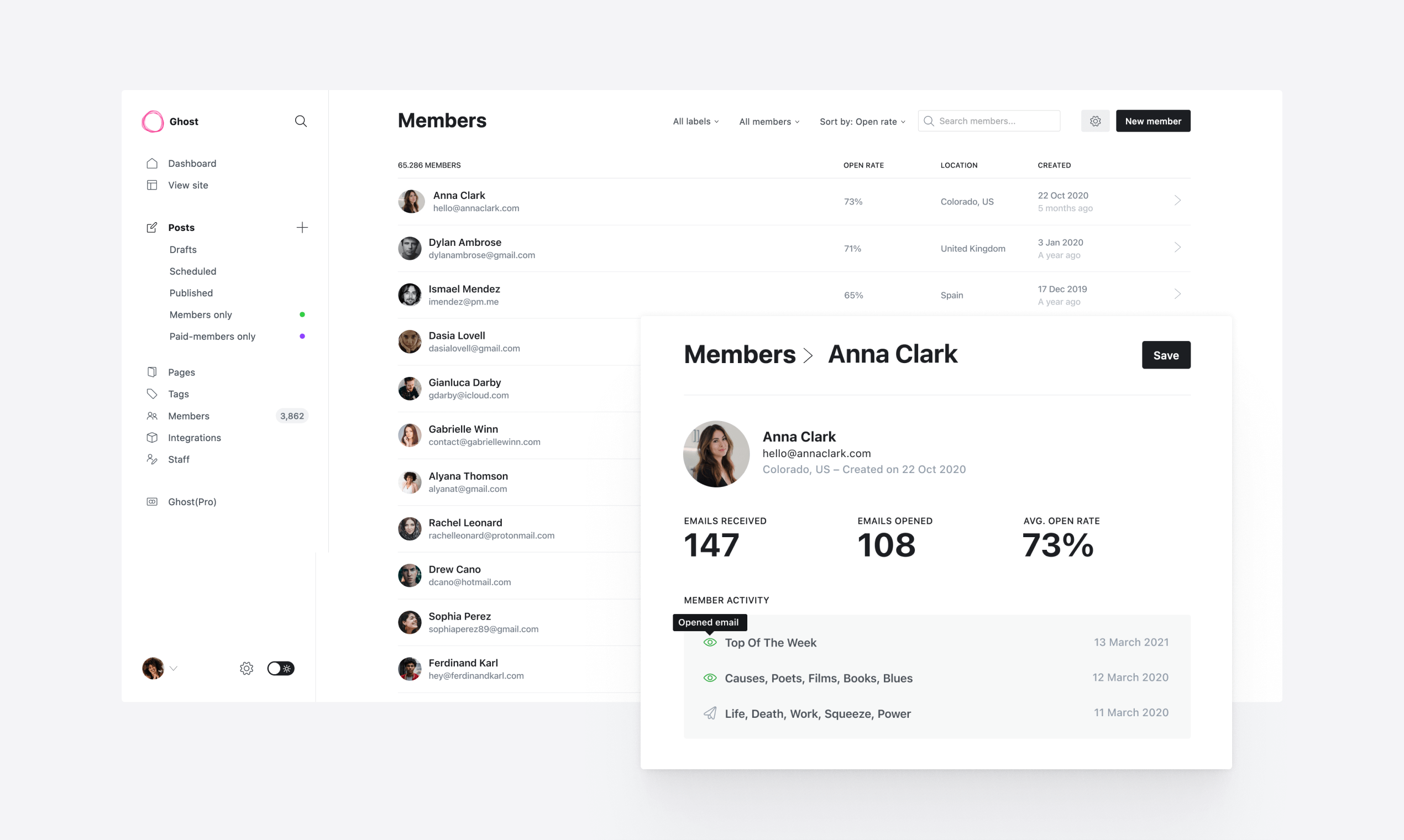 Our new members importer can migrate data from all other email and member platforms, including payments, making it super easy to switch to Ghost.
Speaking of switching to Ghost, we created a new concierge team in charge of helping people migrate from other platforms (for free). Docs and more details here.
We added a new quick-start setup flow for new Ghost users, with a streamlined way to enter all the most common settings needed to launch a new site.
Those settings include a brand new Brand Color option, which allows site owners to customise their site, UI and theme with injected color variables.
We acquired the most popular theme company for Ghost, IVEEL, and released all their premium themes as official, free and open source. Including our first dedicated newsletter theme.
We also re-built the Ghost Theme directory, including live previews and automatic installs - so you no longer have to download/upload zips for our official themes.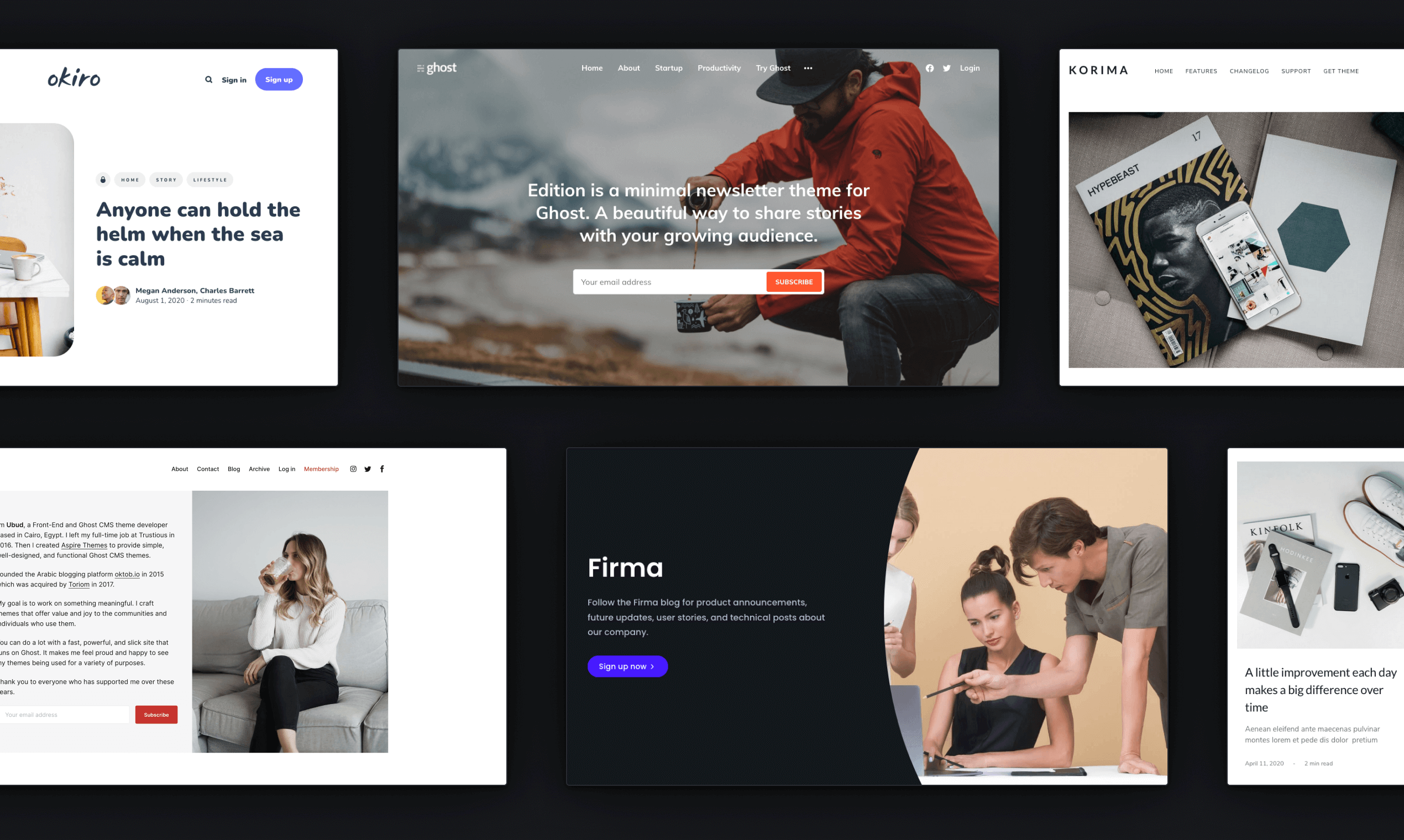 We made a brand new Experts directory, for people who are looking to hire developers to help build them custom Ghost sites.
We massively improved our Zapier app with members features, overhauled our Integrations Directory, and created a new global Marketplace that brings all these things together.
On the subject of integrations, we built a native integration with FirstPromoter into Ghost core. Now you can launch advanced referral and affiliate programs for your members. Enter your API key to enable the integration, and all the tracking is handled for you automatically.
We added content snippets - now you can turn any piece of content in Ghost into a re-usable snippet to power your publishing workflows. Forget media library, this is an everything-library.
Ghost now outputs automatic responsive, lazy-loading images. Everywhere. Average front-end performance jumped by more than 50%. Ghost was already extraordinarily fast, but now it's pretty trivial to hit 99-100 speed scores on LightHouse - on par with static sites.
Major refactors of Ghost's codebase have also improved overall performance in terms of requests-per-second by 40%, reduced latency by 30%, and made serving requests after start/restart faster by 300%.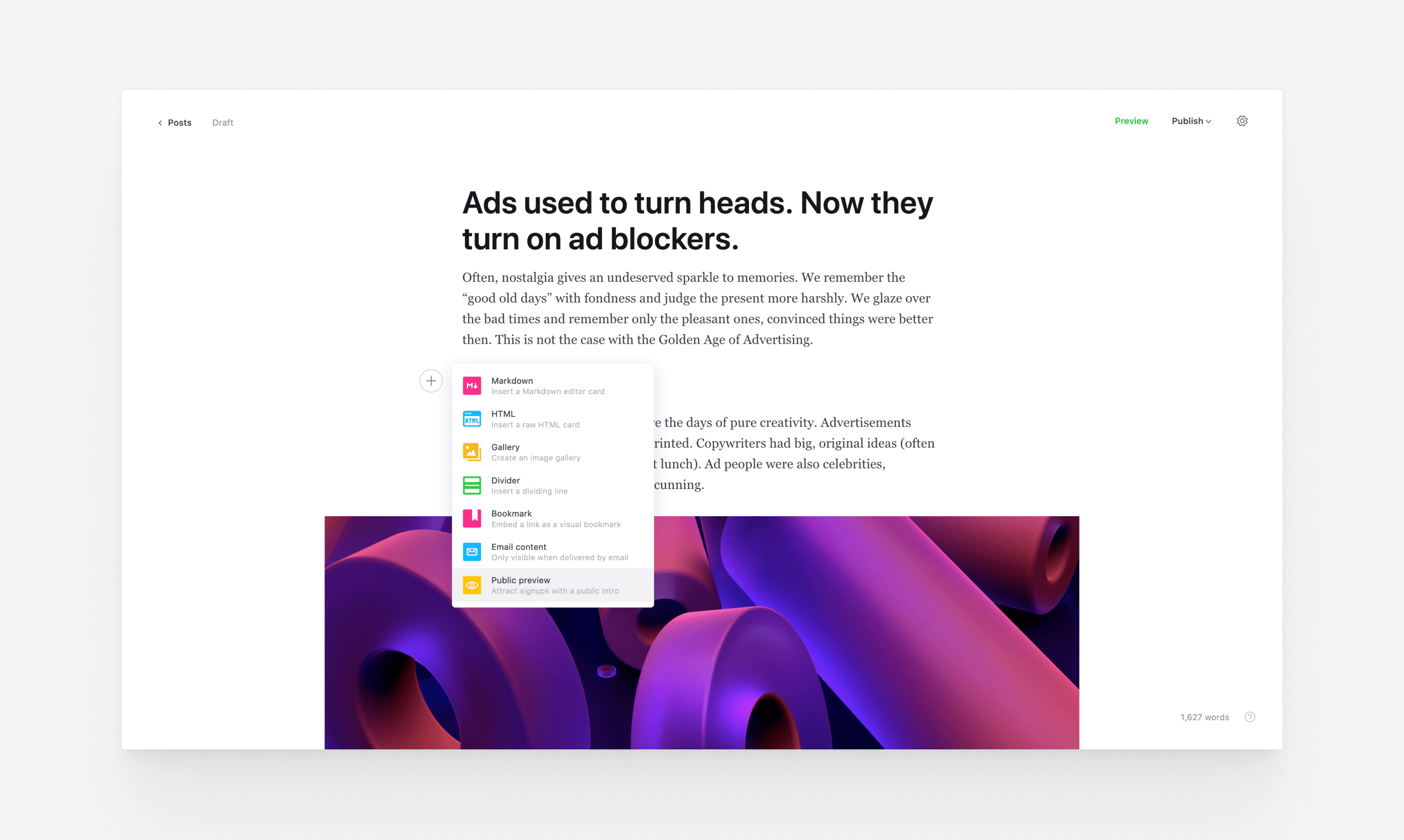 We launched a new $9 Starter plan on Ghost(Pro), to make easier and better value to get started with Ghost than ever before.
We also rebuilt all our Ghost.org systems for signup, signin, billing, account management, documentation, help center and refreshed our blog. All of those have significantly improved.
Ghost is now a team of 21 people with $3.3M annual revenue, and over $7M lifetime revenue. We're still a fully independent non-profit organisation with no outside funding or shareholders, building the best product we can for our users, giving away all our intellectual property under a free, open source license.
In the last 12 months our growth rate has increased by 200%, and we now serve a billion requests each month on Ghost(Pro).
We're hiring! Especially for infrastructure engineers, designers and full-stack product engineers. We employ people full-time to build open source software and help empower the first major generation of the creator economy.
Seriously. This is the abbreviated highlights. Our last major release was in October 2019, so it's been quite a while since Ghost 3.0. The team is twice the size now as it was then, and we've been shipping more than ever before.
I've never been more proud of the product we've built or the team that makes it.
Memberships, subscriptions and the creator economy as a whole is a noisy space right now. Many companies building products in this space weren't around 8 years ago, and most won't be around 8 years from now. We will be.
Decentralised, open source technology is methodical, powerful, and inevitable.
---
How to get Ghost 4.0
All new sites on Ghost(Pro) are running Ghost 4.0. You can spin up a new site in a few clicks with an unrestricted 14 day free trial. If you haven't used Ghost for a while, now's a great time to give it another try.
Already got a site on Ghost(Pro)? Log into Ghost.org and click the "Update to 4.0" link in your admin panel, any time.
Self-hosting Ghost? Updating to 4.0 is very straightforward with Ghost-CLI and should take about 15 mins — here's the Ghost update guide.
---
What's next?
If you're still here and still reading, you might be wondering what's next. That's how these things usually go. You spend a couple of years baking a magnificent cake and you say "here is our cake, behold the icing in all its splendour, would you like some?" - and invariably the response is "what will be in the next cake".
Fair enough.
The next cake is custom plans. Right now Ghost has monthly, yearly and complimentary plans built-in by default, but soon you will be able to define any plan you like with custom properties. Nice.
After that, who knows.
Maybe a croissant.
---
Get notified when we ship new features.