Ghost monthly blog report: July 2015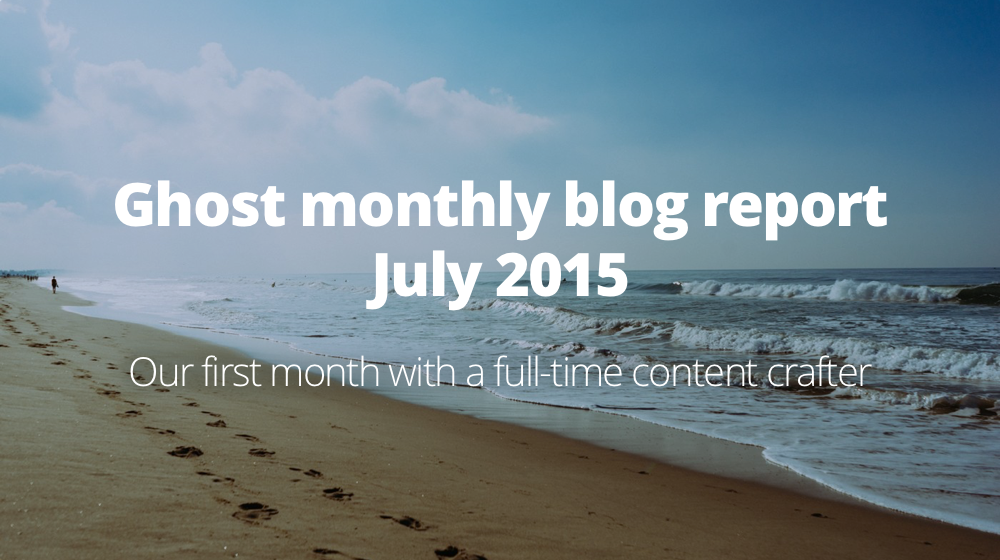 At the end of July I joined the Ghost team for a two-week trial and subsequently came on board full-time as their first content crafter. (yay!) If you've seen my writing on the web before, you might remember me as Buffer's first content crafter, or from my freelance content writing for companies like Zapier and Crew.
At Ghost, we're just getting started on what's going to be a very fun, very intense journey into content marketing. Initially I'm going to be coming at you three days a week (ideally—things might be a little slower as I settle in) on this very blog with research, ideas, and advice about writing, building your blog, and finding new ideas to write about.
Later on we've got some exciting plans to explore other content formats, and making related content easier to find when you're on the blog.
To keep me on track with my plans for the Ghost blog and to help me figure out what's working and what's not, I'm going to write up a report every month like this one. The metrics might change over time as our strategy evolves, but if I miss anything you're curious about let me know in the comments.
We're learning as we go, and sharing whatever we find in the hopes you might find it useful too.
---
So here's our inaugural content report. This covers my two-week trial period, but the rest of the month we didn't have a full-time content crafter on board. All numbers are compared to the previous calendar month—in this case, June 2015.
How much work did we get done?
Posts published: 5 (3 more than last month)
Your thoughts are worth sharing: how to find the confidence to start blogging, 381 uniques, 1 comment
How I write research-based posts, 1,667 uniques, 20 comments
Belle Beth Cooper is a Ghost, 613 uniques, 7 comments
The ins and outs of content syndication, 1,076 uniques, 3 comments
The insanely slow road to building a blog (and why most people give up), 3,177 uniques, 27 comments
As we try new experiments in the future I'll be detailing those in this section, too.
How many people cared?
Uniques: 34,561 (+8%)
Page views: 41,821 (+10%)
Time on page: 2' 6" (+15%)
Top referrals: Twitter, inbound.org, Hacker News
Blog newsletter subscribers: total 2,242, +6% (new: 122)
Top 3 posts:
Next month - August 2015
August's focus is mainly on increasing content production and finding a rhythm in my workflows. I'm starting to settle into a routine and John, who'd previously been handling all content production, has been helping me tie down some of the smaller, fiddly parts of getting posts ready to publish so I can speed that part of the process up.
My aim is to publish 3 posts/week throughout August.
---
Anything I missed that you'd like to know? Leave me a comment and I'll do my best to answer it!