Ghost blog report August 2015: 160% more content, 114% more traffic, and 9% subscriber growth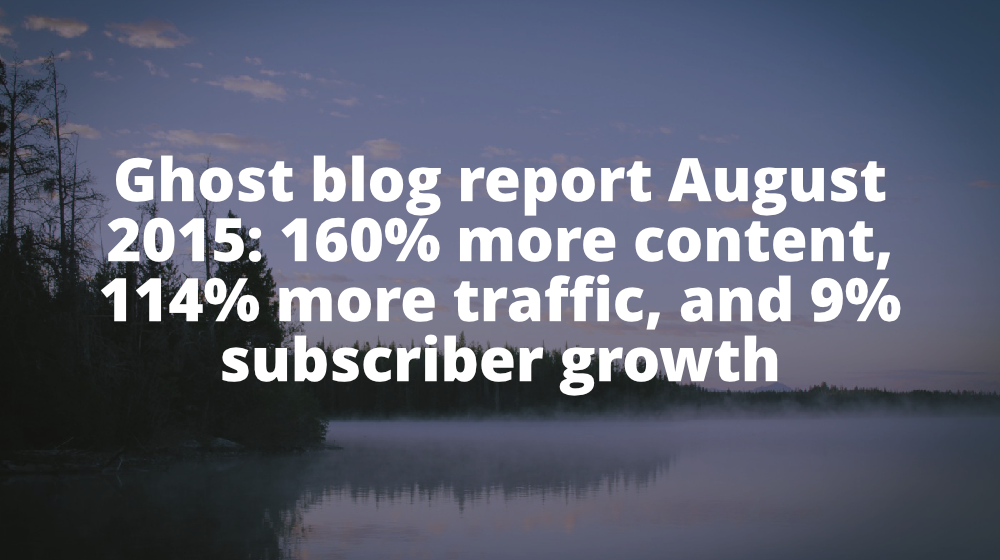 Every month I publish a report on my progress with content at Ghost. Check out last month's report here.
August was my first full month at Ghost, so we saw a dramatic increase in posts published. My aim was to publish 3 posts per week, which I kind of achieved. Earlier in the month I was counting announcement posts that John published in my 3/week, but we've since decided I can still publish three posts around any timely announcements we share on the blog.
John and I worked through some big conversations this month around our strategy and the audience we want to attract. We came to the decision that a simple strategy would be the best approach, so I'm aiming for a 10% increase in newsletter signups each month. Everything else in our strategy is flexible, so I can experiment with what works best to increase subscriber numbers.
This month I didn't quite hit 10% but I wasn't far off at 9%, and that's still a big improvement over previous months which have averaged around 5-6% subscriber growth.
How much work did we get done?
Posts published: 13 (8 more than last month)
Averages for August content:
Other completed tasks:
How many people cared?
Uniques: 73,796 (+114%)
Page views: 90,291 (+115%)
Time on page: 2' 2" (-3%)
Top referrals: Hacker News, Twitter, Facebook
Top 3 posts
New blog newsletter subs: total 2,398, +9% (new: 194)
John's company update post from April was submitted to Hacker News this month, which accounted for a huge influx in traffic.
What worked? What didn't?
This month my main focus was increasing our content output. This helped us increase traffic, but if you remove the huge spike in traffic that came from Hacker News, our traffic was only up 43%. Still a good improvement, but more humbling than the 114% overall increase.
Looking through the content itself, a few things are clear:
Some posts didn't get much attention at all.
The worst performing posts are also the most recent. Over time visits and sharing increases—this may be due to us sending weekly roundups of new content to our newsletter, rather than emailing immediately when we publish a new post.
The content that performed best, combined with our top performers from before I joined Ghost, tells me our audience right now is interested in Ghost as a company/developing and designing for Ghost, and improving their writing. Posts focused on content marketing seem to be performing the worst so far.
Going forward I want to focus on two areas:
Getting to know our audience better. I've included a survey in the bottom of this post to get your opinion on what topics you'd like to read more about. I'll also try asking our newsletter subscribers more directly when they signup what they're interested in.
Growing our audience with low-hanging fruit. I love making big changes, but to start with I think the best approach is to grab any low-hanging fruit I can. This will be things like improving our newsletter autoresponder, testing the frequency and structure of our newsletter, and making some changes to the blog's design so it's more focused.
Next month - September 2015
My 1-month roadmap deadline has come and gone, so here's how I did: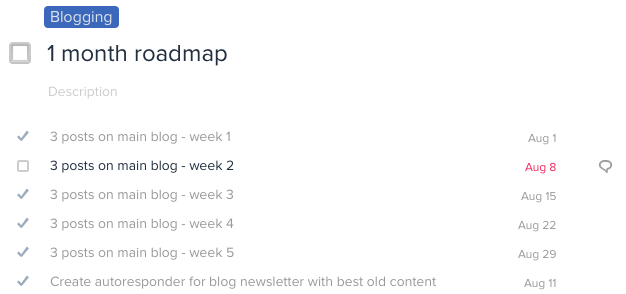 Only one task unchecked! Not bad. That week I published 2/3 posts as I was catching up on a lot of polishing from drafts I'd started the week before.
Overall we averaged 3 posts/week, which was my aim for August.
I'll continue working towards getting 3 posts out every week and increasing newsletter signups in September. I'm also getting stuck into my 3-month roadmap tasks, so here are a few things I'd like to get done in September:
Complete a roadmap of development and design tasks I need done for the blog. This will make it easier for the dev/design team to plan and help me get these things done.
Ramp up production on the dev blog. This month I'm hoping to work with our developers to get a feel for what kind of content they'd like to produce and how I can make that process easy and fun for them so we can publish more often on the Ghost dev blog.
Launch a new newsletter. I'm working on creating a curated newsletter of useful links for bloggers and content marketers, and I'd like to get that set up and launched in September.
One more thing
I'd really like to know more about who you are and what you like to read. I want to write posts that you love, so I've made a survey so you can tell me what you most like reading about. I'd really appreciate if you could choose a topic or two in the survey below. There's only one question, so it'll take you just a few seconds.
And finally, thanks for being a Ghost blog reader! Grab me in the comments if you have any feedback or questions.